Our future with fish - Investigating customer attitudes, behaviours and motivations
→
If your browser does not support JavaScript, please read the page content below:
Our future with fish - Investigating customer attitudes, behaviours and motivations
→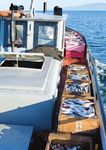 1 Our future with fish Investigating customer attitudes, behaviours and motivations Our future with fish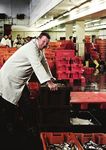 2 3 Our future with fish Our future with fish Foreword By Justin King, Sainsbury's CEO "To put it simply, if we stick with eating just a few species of fish, there will not be enough supplies of our favourite fish left to go around. "All of us need to broaden our minds and appetites by buying and cooking currently less familiar species of fish. Doing so will help all species survive, ensuring we have sustainable supplies of this healthy protein to eat in the future. In particular, we need to eat more than just the five most popular fish choices – tuna, cod, salmon, haddock and prawns.
"We want to encourage more consumers to vary the fish in their diet. But we know there's no simple, overnight solution. At Sainsbury's, we recognise our campaigns like Switch the Fish are about gradual change that will, over time, build momentum. We see it as a long-term investment. "We're proud to be the UK's leading retailer of independently certified sustainable fish. We want to build on our existing knowledge, to better understand why our customers have the current preferences they do, and how we can persuade them to broaden their repertoire to include new and sustainable fish species."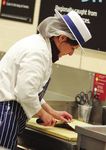 4 5 Our future with fish Our future with fish Comment By Richard Benyon, Minister for the Natural Environment "As the UK Fisheries Minister, encouraging people to eat sustainable fish is a subject very close to my heart. "My day-to-day work is focused on safeguarding our natural marine environment for future generations to enjoy. The UK is leading the way internationally to make sure that our seas and fish stocks stay healthy, and I'm delighted to see Sainsbury's is continuing to push for change.
"But the problem of diminishing fish stocks remains. We still have important work to do in Europe to mend the broken common fisheries policy, which has contributed to the depleted state of our fish stocks. Fixing it means we will have a secure supply of fish as a healthy food source, without destroying fish stocks and damaging the marine environment. "But while I continue to push for this reform in Europe, not all the problems lie with the broken common fisheries policy and there is much that we can all do closer to home to help the cause. We must learn to adjust our own individual behaviours, to broaden our tastes away from the main five species of fish which are under such environmental pressure. Fish like dab and coley are just as delicious as some of the more well-known species. "However, until we can find these types of fish on the supermarket shelves as easily as the more famous species, our old habits will remain. Retailers and consumers have huge power through the choices they make to help achieve healthy fish stocks, profitable fishing businesses and vibrant coastal communities. Again, I would like to congratulate Sainsbury's for all the work it's doing on this globally important issue."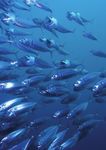 6 7 Our future with fish Our future with fish Introduction By Ally Dingwall, Sainsbury's Aquaculture and Fisheries Manager We have commissioned this report in association with the Future Foundation to bring together an assessment of anticipated trends, motives and behaviours for buying, cooking and eating fish. "Our aim is to continue the debate and interest in sustainable, alternative fish choices and, above all, to help our customers make considered choices about the fish they buy. "We have worked with the Future Foundation to conduct an original programme of consumer and expert research, examining trends in consumption of fish over the past three decades, and identifying some of the social, economic, and geographic factors impacting on our consumption of fish. As a result, the following report reviews the impact of Sainsbury's own fish sales and campaigns, plus some of the social and economic influencers impacting on our national, everyday attitudes to one of our best sources of healthy protein. "Our intention in presenting this research is to understand some of the consumer drivers of our fish eating habits, and how they are changing over time. Understanding the customer perspective is of vital importance if producers and retailers of fish are to continue to meet the challenge of putting a diverse and sustainable array of fish on the UK 'menu' in years to come. "We always assess the biological state of any given fishery, and what management regime it may need. We have developed a sustainability rating system with our main fish industry partners, and we apply this to all the fish we sell. We continually push ourselves towards our goal of getting all our fish 'green-rated' and ultimately independently certified, which means the source is sustainable. We do not sell any red rated fish.
"Challenging our reliance on the 'big five' is an important part of that drive towards sustainability. But alternative does not automatically mean a fish species is also sustainable. All our fish choices, whether from the big five or alternative species, need individual assessment for sustainability." When we talk about the 'big five' we mean the fish species which have the highest consumption levels in the UK. Alternative fish are, simply, any other fish outside of the 'big five'. tuna cod salmon haddock prawns The 'big five' fish species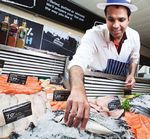 8 9 Our future with fish Our future with fish Contents Page Chapter one of this report looks at trends in overall levels of fish consumption amongst UK adults, and at trends in the share of fish consumption accounted for by the 'big five' species versus alternative fish. In assessing future prospects, we identify key drivers and barriers to eating fish in general, and alternative fish in particular. Chapter two examines key influencers on fish consumption. We look at the role of family members, celebrity chefs and other 'external' influencers, including the role of UK retailers, in shaping the fish we choose and the way we eat it.
Chapter three looks in more detail at the relationship between fish and health. Examining the potential benefits of fish to the UK diet, we see how far our increasing awareness of health and nutrition extends to fish. Chapter four looks at fish in the context of the family. We explore recent trends in children's consumption of fish, how changes in family eating habits may be impacting children's fish consumption, and the barriers parents face in encouraging their children to eat fish. 10 20 28 41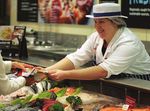 10 11 Our future with fish Our future with fish CHAPTER 1 UK fish consumption trends and predictions The average UK adult is eating more fish than a generation ago. Trend data from the National Food Survey (NFS) and Expenditure and Food Survey (EFS) show how per-head consumption of fish is now around two per cent higher than in 1975. The current picture: what's encouraging and discouraging us from eating fish It seems that personal well-being is the primary driver for increasing fish consumption, with 51 per cent of our survey respondents saying that health concerns had encouraged them to eat more fish this year than last. Only one per cent said that health concerns encouraged them to eat less. However, against the major driver of health, there are several reasons cited for not eating fish. Most commonly mentioned is price, with 33 per cent of UK adults in our survey saying that 'concern over the rising price of fish' had encouraged them to eat less fish in the past year, and 46 per cent saying that cost is a barrier to eating fish in general. Other significant barriers to eating fish are lack of recipe knowledge (34 per cent), lack of availability of fresh fish in local shops (28 per cent), lack of time to prepare from scratch (28 per cent), 'not liking the smell it makes' (24 per cent)1 and difficulties planning ahead for meals (17 per cent). Prices of most major foods in the UK have seen significant increases in recent years. The share of total household spending on food fell from more than a quarter in the 1960s to one pound in every ten by the mid-2000s. But recently the trend has reversed. Food now accounts for 12 per cent of total household spending. This figure rises to 16 per cent among the UK's poorest households. Factors impacting on the amount of fish people eat Encouraged me to eat more fish Key: Makes no difference Encouraged me to eat less fish 51% 48% 78% 18% 1% 4% 64% 33% 2% Health concerns Concerns about sustainability or over-fishing Concern about rising prices Base: 2,014 UK adults who eat fish Source: Sainsbury's / The Future Foundation 2012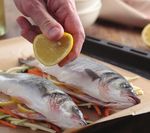 12 13 Our future with fish Our future with fish A special analysis of the impact of price rises on UK eating habits published by DEFRA in March 2012 shows that consumers are spending more on almost all foods, while also 'trading down' to cheaper alternatives and reducing the amount they buy. When it comes to fish, UK consumers appear reluctant to spend more, so have responded to price rises solely by 'trading down', or reducing the amount they buy. Consumption of fish may well be influenced by another important factor however, which comes through in our survey data: concerns about sustainability. Some 18 per cent of fish-eating adults said they were eating less fish because of sustainability concerns. Of these, 40 per cent said it was because of confusion about which fish are sustainable. Another 37 per cent cited the variability in the meaning of sustainability between supermarket retailers. The third most common reason, at 35 per cent, was the cost of sustainable fish. It therefore appears that sustainability issues can influence consumption trends. Looking ahead - future trends in the fish economy More efficient and less wasteful ways of producing and catching fish, plus a broadening consumer appetite for currently less popular fish, can result in a sustainable increase in the supply of fish to consumers. Eating a wider range of fish will help take pressure off the most popular fish stocks. With more people on the planet than ever, we need to develop broader buying habits. Increasingly choosing alternative fish with sustainable, long-term fishery management regimes means we can make more available for everyone while caring for the future well-being of fish supplies. Development of feed technology for aquaculture According to the United Nations, aquaculture - farming fish in sea cages, inland reservoirs or enclosures - is one of the fastest growing sources of protein in the world today.
While the demand for food supplies to feed farmed fish has previously been a problem to aquaculture sustainability, innovations are in progress. These are allowing fish farmers to produce fish more efficiently, with increasingly better 'feed to fish' conversion ratios. Sainsbury's is also finding ways to reduce the marine content of fish feed, by adding more vegetable material. This further improves the sustainability of farmed fish. Development of more selective fishing technology and better use of catches Everyone in the fishing industry has a vested interest in limiting 'by-catch' – which is fish unintentionally caught in most fishing gear - and discards. Better fishing technology that, for example, has introduced nets designed to reduce by-catch can help fishermen limit discards. There are also initiatives and trials aimed at making sure that a greater share of what is caught gets used. An ageing population A further important factor as we move through to 2030 will be a significant demographic shift to an older UK population. The acceleration begins dramatically from around 2015 as the UK's 'baby-boom' generation starts to turn 60. Trends show that older people eat more fish than other age groups, so an increase in demand is likely to follow.
A return to disposable income growth We assume that a return to gradual but steady increases in household spending power2 from 2013 to 2030 will serve to steady the proportion of household spending on fish. This is despite the general upward pressure on current prices coupled with the economic slowdown which has resulted in the recent dip in consumer spending on fish. Increased health awareness Between 1980 and 2011, tracking data shows the proportion of UK adults who said that 'staying fit and healthy' was a personal concern rose from 56 per cent to 78 per cent. At the same time, much of the population has become more aware of health issues connected to eating too much fat and calories. In an even shorter time-span, awareness of omega-3 fatty acids as good for health has grown significantly among UK adults. We expect health concerns, and awareness of the health benefits of fish, to continue to rise, boosted further by an ageing UK population with a greater preference for fish. The rise of epicurean taste While unevenly spread across the population, there are significant cultural trends towards more adventurous cooking and a serious appetite for discovering new and unusual foods. This growing group of UK adults, who aspire to be experts about food and enjoy experimenting with new recipes, provides an ideal market for the alternative fish offer.
14 15 Our future with fish Our future with fish We have mapped all these long-term trends in fish consumption against an analysis of how fish consumption changes as people age, and demographic forecasts. This gives us an estimate for overall levels of fish consumption in the UK from now to 2030. The forecast shows that adults' weekly consumption of fish in the UK will grow from just under eight million kilograms today, to 9.23 million kilograms by 2030, an increase of 17 per cent. Yearly, this equates to a total UK adult consumption of 410,000 metric tonnes of fish in 2012, rising to around 480,000 metric tonnes in 2030.
This forecast represents a four per cent increase in fish consumption for each person by 2030. Much of this is down to the ageing profile of the population, with the percentage of UK adults who are aged over 65 set to rise from 21 per cent in 2012 to 27 per cent in 2030. But we must also account for the expected growth in the UK adult population. This is set to rise from 51.4 million in 2012 to 57.8 million by 20303 . So the overall weekly consumption of fish in the UK will rise from around 8,000 metric tonnes a year in 2012, to around 9,200 metric tonnes by 2030.
Eating alternative fish: barriers and drivers Returning now to the subject of alternative fish, our survey reveals that many types of alternative fish are already well-known and well-liked by large proportions of UK adults. 81 per cent have eaten plaice, 79 per cent have eaten mackerel, 72 per cent trout, 60 per cent herring, and 59 per cent pollock. In every case, the great majority who have eaten these fish say that they like them. Other species are popular, but have not yet been tried by the majority of UK adults; for example, 47 per cent have tried monkfish, and 44 per cent have tried coley.
Going further down the list of the 'little 50' (Sainsbury's has sold more than 50 different 'alternative' types of fish and seafood in the past two years), we find growing proportions of adults haven't yet tried them. For example, only one in ten fish-eating adults have ever tried pouting and only eight per cent megrim. So, the great majority of UK adults have already eaten and enjoyed a range of fish that extends well beyond the 'big five' – there is plenty of positive consumer experience to build on. But it is equally clear that lack of familiarity remains a challenge as we go further down the list of fish species. While around three-quarters of fish eating adults who have never tried various alternative fish types say they would be 'happy to try' them, this still leaves one in four – despite eating other types of fish - saying that they simply 'do not want to try' unfamiliar alternative species.
This said, overcoming our inbuilt reluctance to try new things is getting easier over time – with both children and adults in the UK more willing than in the past to try new foods. Our increasingly cosmopolitan attitudes towards eating is a fundamental driver of uptake for alternative fish, guaranteeing lively interest in alternative fish in coming years. Added to cosmopolitan lifestyle, is price. While alternative fish are not necessarily cheaper, species such as pollock and coley are more cost-effective alternatives to cod, and this will be an important factor in increasing levels of consumption in the future. At the same time, the fact that alternative fish occupy a much broader price point range suggests that there are benefits, not only to consumers wanting to limit food expenditure, but also to those seeking premium products as part of the UK 'foodie' culture. We note in this connection the recent success of sea bass, which is by no means a 'budget' alternative. Total weekly fish consumption by UK adults, 2012 - 2030 10,000,000 9,000,000 8,000,000 7,000,000 6,000,000 5,000,000 4,000,000 3,000,000 2,000,000 1,000,000 2012 2013 2014 2015 2016 2017 2018 2019 2020 2021 2022 2023 2024 2025 2026 2027 2028 2029 2030 Total weekly kilograms fish and seafood consumed by UK adults Sources: NFS / EFS / GAD / Sainsbury's / The Future Foundation 2012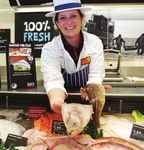 16 17 Our future with fish Our future with fish Volume of fish sales accounted for by the 'big five' species Examining Sainsbury's product sales data4 over an entire 24-month period, from 2010 through 2011, there is an underlying downward trend in the share of fish sales accounted for by the 'big five'. However, sales of 'alternative' choices are on the rise. This underlying upward trend in volume sales of alternative fish products is apparent in most subcategories of fish. It is, however, most notable in fresh pre-packed fish, with alternative fish sales up from 11.6 per cent of units sold to 13.2 per cent between 2010 and 2011. In frozen fish the alternative fish volume sales rose from 44.9 per cent to 46.1 per cent over the same time period. The chart below shows that on this basis we can expect a steady, continuing increase in the proportion of fish sold in the UK that is outside of the 'big five'. The chart shows our prediction for the proportion of alternative fish volume sales. From having a 34.7 per cent share of all fish products sold today, alternative fish choices will account for just over half of fish products sold in 2030. Percentage of fish products sold that are 'alternative', 2012 - 2030 100% 90% 80% 70% 60% 50% 40% 30% 20% 10% 2012 2013 2014 2015 2016 2017 2018 2019 2020 2021 2022 2023 2024 2025 2026 2027 2028 2029 2030 Percentage of fish products sold that are 'alternative fish' Sources: Sainsbury's / The Future Foundation 2012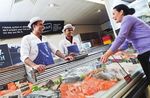 18 19 Our future with fish Our future with fish While the 'big five' still dominate the consumer shopping basket, there are signs that some of the lesser-known species are gaining popularity. Sainsbury's sales data suggests the following are the rising stars of the fish counter: Sea bass: A popular performer during 2011, with volume of sales rising by 57 per cent. Hake: After putting hake on the fresh fish counter during last year's Switch the Fish campaign, Sainsbury's has notched up 40,000 unit sales. A mild fish, with a more subtle flavour than cod, hake is popular in Spain because of its firm, sweet, white meat and medium flake. Of consumers who had eaten hake in our research, 84 per cent said they liked it, making it the second choice of alternative fish after plaice.
Pollock: One of the UK's most eaten, but least recognised, alternative fish. Some 83 per cent of consumers who had eaten pollock said they liked it. Many processed fish foods contain pollock, so people are often eating it regularly but unknowingly. Sales of fresh pollock also advanced well during the past year, rising by 15 per cent between 2010 and 2011. Coley: Also known as saithe in Scotland, coley is a sweet-tasting fish with a light texture. It is similar to cod, but with a darker colour that lightens on cooking. After being included in the Switch the Fish campaign in June 2011, counter sales of coley reached over half a million units in the remainder of 2011, rising by 16 per cent on the same period in the previous year.
Tilapia: Sales of this fish have grown enormously over the past two years, with Sainsbury's volumes more than doubling, and sales rising by 117 per cent between 2010 and 2011 following the introduction of two new tilapia products. Tilapia is one of the world's most popular farmed fish, and because of its vegetarian diet has great potential for being sustainably farmed in the future. Tilapia is already the fifth-most popular fish in the United States. Fish of the future
20 21 Our future with fish Our future with fish CHAPTER 2 Fish consumption influencers and the role of UK retailers We asked Nick Southgate, Behavioural Economics Consultant at the Institute of Practitioners of Advertising, to explain the challenges and strategies for promoting fish. "Celebrity chefs have become important in shaping perceptions, but there can be a real performance anxiety about cooking. If you don't know about something you tend to worry about it going wrong rather than right, which is what makes people conservative in their food choices. So we have to find a way of teaching people a rule that you're allowed to fail in the kitchen, or find ways of limiting how wrong it can go. "Good marketing techniques include increasing the amount of alternative fish through 'mix and match' deals, or offering any 'alternative fish' at half price when you buy a 'big five' fish, so people will choose it to finish the deal. "If your aim is to get new fish varieties in the shopping basket, then it makes perfect sense to use these tactics. The motivations are often the simplest ones. People can then pick up the sustainability message off the back of them. "One example that's still moving a lot of fish off the counter in this country is people eating fish on Friday, and that is a great, simple rule. If we could get more people on the 'fish on Friday' habit that would be fantastic." We have to find a way of teaching people a rule that you're allowed to fail in the kitchen, or find ways of limiting how wrong it can go. " "
22 23 Our future with fish Our future with fish The retailer as influencer, educator and guardian of choice Overall, 24 per cent of people questioned felt supermarkets directly influenced their choices of fish. There was a noticeable evenness of ages amongst respondents sharing this view, suggesting that retailers have the ability to reach out to people across the generations. The research also found: • Around 28 per cent of people mainly shopping at Sainsbury's for fish say their fish choices have been influenced by retailer campaigns or retailer information. This is the highest proportion of any major UK supermarket's main customers.
• In second place was Morrisons. One in four of their customers said they were influenced by retailer campaigns or information. And third was Asda at 24 per cent. • Among the 'big four' supermarkets, the lowest proportion of fish-eating customers influenced by retailer campaigns or information were those of Tesco, at 21 per cent. This analysis suggests that a strong retailer commitment to influencing and educating customers about fish is starting to yield benefits and influence shopping behaviour.
Retailers offer choice and product information. Yet before this they inevitably have to choose what goes on the shelves, with buyers selecting product ranges from the wealth of offers from food producers and manufacturers. Shoppers also admit they do not always have the time available to weigh-up all the information during a supermarket trip that must fit in with a hectic work and family schedule. One in five of our respondents say they shop 'in a hurry'; ten per cent have children in tow; and 17 per cent confess to shopping 'on autopilot'.
Our survey reveals that 39 per cent said they thought about prices or compared price information on their last supermarket shopping trip. But only 18 per cent of adults said that they read or thought about nutrition. And just seven per cent said they read or thought about environmental concerns. Things that influence the way we cook and eat fish TV chefs showing how to cook fish TV documentaries about fish / the fishing industry Experiencing new fish dishes while abroad / on holiday Cookbooks Retailer campaigns or information about fish at my supermarket Finding new fish recipes on the Internet Government campaigns or Government information about fish 45% 35% 34% 29% 24% 22% 14% Mother 27% As the graphic shows: • Almost half of all UK adults say the way they cook and eat fish has been influenced by celebrity chefs. And 35 per cent say they have been influenced by TV documentaries about fishing.
• Experiencing new fish dishes while on holiday is also important in changing the way we cook and eat fish, especially among older consumers. • Some 29 per cent of people say cookbooks are an important source of recipe inspiration, while 22 per cent of people seek new recipes on the Internet.
24 25 Our future with fish Our future with fish This is not to say that nutritional and environmental issues are failing to shape our shopping choices in the long term. They are, and retailers have a role to play in communicating key messages to consumers as part of the shopping experience. But when it comes to the reality of everyday life, people are looking to retailers to help make life simple, and that includes product information. There is also an underlying expectation that retailers will take a responsible approach to the products they sell. For many shoppers, the single and most significant practical choice they have time to make is who they shop with. Those supermarkets with buying policies that chime with their customers' concerns will make life simpler for the shopper.
To achieve this, retailers need to work ever more closely with other agencies, and especially environmental accreditation bodies, to provide the consumer with independent assurance. The credibility of the retailer's ethical or environmental claims rests on the associations that they have with the organisations they use for product validation and assessment. Labelling and Marine Stewardship Council (MSC) certification Sainsbury's is the largest UK retailer of MSC certified sustainable fish products. By the end of next year around 90 per cent of the wild fish sold by Sainsbury's will have MSC certification and carry the eco-label. While Sainsbury's are leading the way, others are following, and at a global level too. MSC-certified products now sell in more than 70 countries worldwide.
Carrying the MSC eco-label on packaging gives a retailer the ability to communicate a very simple, clear message to consumers that the product comes from a well-managed and sustainable fishery. As the graphic above shows, most consumers recognise the most common eco-labels. But aside from the Fairtrade logo, which almost six in ten respondents said they recognised and which encouraged them to buy, no other eco-label yet has majority recognition and understanding in the UK. However, eco- accreditation is still growing and evolving. Where Fairtrade leads, others are likely to follow.
On 17 June 2011, in a UK first, Sainsbury's offered any customer asking for one of the 'big five' species at the fish counter, a sustainable, lesser known alternative for free. This unprecedented move allowed shoppers to try varieties such as pouting and coley in a risk-free way. The offer resonated with customers, week-on-week sales of all fish went up 12 per cent in volume on the Switch the Fish day and sustainable fish varieties went up 32 per cent year-on-year and 40 per cent week-on-week. The campaign brought to life the UK's dependence on the 'big five' species, encouraging consumers to widen the range of fish they eat as well as make sustainable choices from the ones they already enjoy. The impact of the campaign appears to have been sustained through 2011. Following the initial phase of the Switch the Fish campaign, Sainsbury's saw counter sales of alternative fish varieties such as coley, pouting, rainbow trout, hake and megrim total some 524,000 units between July and December 2011, compared with 434,000 units in the same period in 2010 – an increase of 21 per cent. Sainsbury's 2011 Switch the Fish campaign Eco-labels: recognition and impact Know what it means, does encourage buying product Know what it means, doesn't make a difference Seen it, but don't know what it means Not seen it before Fairtrade 58% 30% 5% 7% Marine Stewardship Council Key to labels Forest Stewardship Council Freedom Foods Energy Saving Trust 22% 16% 5% 51% 19% 20% 18% 43% 20% 13% 14% 53% Forest Stewardship Council 19% 29% 30% 21% Base: 2,014 UK adults who ever eat fish Sources: Sainsbury's / The Future Foundation 2012
26 27 Our future with fish Our future with fish The MSC label has experienced strong growth in awareness over the last couple of years. Research carried out in the USA, Canada, UK, Germany, France and Japan in 2010 shows that, across these regions, 23 per cent of the adult population is now aware of the MSC eco-label – up from nine per cent in 2008. With more and more products gaining certification, the MSC label will become more prevalent. As a result recognition is set to increase further. Our data suggests that MSC labelling has a real power among the one in three UK adults that know it. And among those understanding each eco-label, the highest proportion who said the label 'encourages me to buy the product' – some 64 per cent was found among those who understood the MSC eco-label. Who influences the way we cook and eat fish?
Overall, 72 per cent of respondents said that when it came to cooking and eating fish, someone they knew influenced them. This suggests that it is the people around us, past and present, who shape our fish-eating habits. Not surprisingly perhaps, the proportion of people saying that they have no personal influencers about how they cook fish increases in older age groups. Around 40 per cent of 55 to 64 year-olds say they have no influencers, compared with 14 per cent of 16 to 24 year-olds. That this group at such an early age has no source of guidance about eating fish, even from family members, gives cause for concern.
As the graphic above illustrates: • Mums come top as the people with the most fish influence, with 27 per cent of people saying their Mum is their main influence in the way they cook and eat fish. • Husbands and wives come second, with 21 per cent, while the increased presence of Dads in the kitchen comes through in an eight per cent showing. Persons who most influence the way we cook and eat fish Dad 8% Friends 2% Mum 27% Grandmother 3% Girlfriend or boyfriend 6% Grandfather 1% Children 2% Husband, wife or civil partner 21%
28 29 Our future with fish Our future with fish CHAPTER 3 The impact of fish on UK health Annie Denny, Sainsbury's Nutritionist, on key trends that are making our diets more and less healthy, and the importance of fish as a food choice. "There are different perspectives about whether we are getting healthier as a nation. We know that obesity has increased, but if you look at vitamin and mineral deficiencies, or consumption of total fat, you can see that our diets have in some ways improved. "As a population, we're now over-nourished compared to historically being under- nourished. However, this doesn't mean to say that everyone is getting enough essential vitamins and minerals. Both calcium intakes and vitamin D deficiencies are an issue, and iron is often a mineral teenagers lack. Riboflavin and some of the B vitamins are also of some concern for children.
"If you were to swap from fattier foods at meals to white fish, then you're most likely swapping to a lower calorie option. This will have an impact on your calorie intake and therefore potentially your weight over time as well. Fish is a really good provider of vitamins and minerals too. "One of the key ways in which switching to more fish in the diet would be of benefit is that oily fish tends to be higher in the unsaturated fats and omega-3, whereas meat tends to be higher in saturated fat. "The role of fish at the centre of a meal is also important in creating a balanced diet. People are far more likely to serve vegetables alongside fish as part of a family evening meal, than they would be with something like pizza. So eating fish can even drive the 'five-a-day' target for fruit and vegetables! "One of the perceptions we need to work on is the idea that fish is inconvenient to cook. If anything it can be quicker to cook than meat. Retailers can help to communicate this message and demonstrate how fish is both convenient and healthy."
30 31 Our future with fish Our future with fish Awareness of UK fish consumption guidelines Government guidelines tell us we should all eat two portions of fish each week. We asked our survey respondents to tell us what they knew about eating certain food and healthy eating recommendations. • While 77 per cent of adults in our survey correctly identified the 'five-a-day' target for fruit and vegetables, only 27 per cent correctly identified the 'two-a-week' target for fish. • Awareness of the 'two-a-week' target was significantly higher among women, at 32 per cent, than men at 22 per cent.
• Respondents aged 18 to 24 years showed the lowest correct awareness of the 'two-a-week' guideline, while those aged 55 to 64 have the highest awareness at 31 per cent. Demographic and geographical variations in fish consumption and knowledge Differences in frequency of consumption by age, gender and income Overall, our survey data suggests an average frequency of fish consumption of 1.18 times a week5 . While no group quite reaches the 'target' level of eating fish twice a week, some demographics are getting a lot closer than others. Our survey suggests that: • Men (1.26 times a week) eat fish more often than women (1.12 times a week). • The frequency of eating fish increases steadily across the age range, with 18-24 year-olds (1.09 times a week) having the lowest frequency, and 55-65s (1.33 times a week) having the highest. • Household income also appears to be highly significant – with people living in the lowest income households (less than £15,000 per year) eating fish on average 0.99 times a week, and higher income households (£70,000 or higher) averaging 1.49 times a week.
Age differences in fish knowledge and familiarity Large differences in the frequency of eating fish between younger and older consumers go alongside large differences in familiarity and knowledge. The table below shows some of our key indicators of 'familiarity with fish' – and how dramatically these vary by age. Victoria Taylor, Senior Dietician at the British Heart Foundation, said: "You're making a nutritious choice if you include fish as a source of protein in a balanced diet. Oily fish in particular can help us to keep our hearts in good shape.
"When eaten regularly, the type of omega-3 fat that oily fish provide can help to reduce the risk of heart disease and can also reduce your chances of dying of a heart attack. People should aim to eat one portion of oily fish a week; those who have had a heart attack should aim for two to three portions each week. And if you do opt for a fish supper it's worth using healthy cooking methods too, like baking, grilling or steaming instead of frying." Omega-3 fat that oily fish provide can help to reduce the risk of heart disease. " "
32 33 Our future with fish Our future with fish As we can see, younger adults in the UK have experienced a significantly smaller range of fish than older adults, they are far less likely to know how to fillet a fish, and far more likely to report problems with cooking fish without undercooking or overcooking it. Cohort analysis of NFS/EFS data shows that people have always become more familiar with fish as they go through life. Our survey data shows us how much progress today's younger adults will have to make, if this process of 'growing into fish' is to continue in the next generation. Geographic differences in fish consumption and familiarity with fish There are also significant differences between people living in different parts of the UK; our survey research reveals both regional differences, and also some effect of the proximity to the sea, on some measures. The graphic below shows how consumption of fish varies across UK regions. Indicators of familiarity with fish, by age group Frequency of fish consumption, by government office region Age group Number of alternative fish tried from list of ten Percentage who claim to know how to fillet a fish Percentage who say they often under or overcook fish6 16-24 3.5 23 % 27 % 25-34 4.8 30 % 27 % 35-44 5.5 31 % 25 % 45-54 6.3 44 % 19 % 55-65 6.7 55 % 14% All aged 16-65 5.4 37 % 22 % North East Scotland 48% 1% 16% 18% 11% 7% 5% 44% 22% 17% 6% 7% Eastern 3% 49% 18% 21% 4% 4% South West 3% 45% 14% 24% 2% 12% Wales 9% 40% 13% 21% 3% 15% East Midlands 5% 46% 15% 19% 3% 12% North West 5% 53% 11% 21% 3% 7% Northern Ireland 3% 44% 22% 20% 0% 10% West Midlands 4% 53% 11% 20% 5% 7% London 5% 40% 16% 23% 7% 9% South East 6% 45% 14% 23% 3% 9% 4 or more per week Key to map 2 / 3 times a week Once a week Once every 2 weeks Once a month Occasionally - but less than once a month
34 35 Our future with fish Our future with fish As the graphic shows: • Londoners eat fish most often, averaging 1.34 times a week, while people in Northern Ireland eat fish least often, averaging just 1.01 times a week. • Broadly speaking, the English eat fish more often than the Scots, Welsh or Northern Irish, but there is no clear North-South divide in England. We also found that people living in coastal towns and villages ate fish slightly more often than others (1.26 times a week against 1.17 elsewhere), although the difference is not perhaps as large as we might have expected, and proximity to the sea only appears to make any difference on the coast itself – there is no evidence of a gradual decrease as one travels further inland. As the table shows, geographic differences also exist in 'familiarity' with fish: • People living in the East of England score 'highest' here, having the broadest 'repertoires' of alternative fish, being most likely to know how to fillet a fish, and least likely to experience problems with cooking fish. • Conversely, Scotland and Wales accompany lower frequency of consumption with relatively narrow repertoires, the lowest percentages claiming to know how to fillet a fish, and relatively high levels of problems with cooking fish. • Northern Ireland is something of an exceptional case here – although people in Northern Ireland eat the least fish and have the smallest repertoire, they are the most knowledgeable and competent when it comes to filleting and cooking fish. What fish the Northern Irish know, they know well it seems. Perhaps surprisingly, we also see that people in coastal towns and villages barely eat a broader range of 'alternative' fish than others, despite eating fish more often, and tending to be more competent with filleting fish. Language and understanding fish nutrition Compared with other sources of protein such as beef, chicken, lamb and pork, fish has many different varieties and species. This presents the customer with choice but can also present confusion.
Shoppers have to distinguish different fish names, often with regional variations. Then there are the differences of white fish, oily fish and shellfish. Textures vary from the meaty, almost steak-like consistency of tuna to delicate, flaky fish such as plaice. With many different individual species on offer, people are often uncertain what alternative, sustainable fish they can replace for their regular 'big five' choices. UK consumers have also been introduced to a growing range of nutritional terms in recent decades, and our survey research shows widely varying levels of recognition and understanding. For example: • Awareness of the health benefits of omega-3 fatty acids has reached a high level in a relatively short time. Some 94 per cent of survey respondents said they had heard of them, and believed they were healthy. • Understanding of 'fatty acids' is less clear. While most UK adults recognise the term, more people believe fatty acids are an unhealthy rather than a healthy choice.
Indicators of familiarity with fish, by regions & distance from sea Age group No. of alternative fish tried from list of ten % who claim to know how to fillet a fish % who say they often under or overcook fish7 Scotland 5.2 31 % 21 % Wales 5.2 29 % 23 % Northern Ireland 4.9 41 % 16 % North West 5.4 35 % 25 % North East 5.4 36 % 19 % Yorkshire & Humber 5.1 37 % 20 % East Midlands 5.6 38 % 25 % West Midlands 5.7 42 % 22 % East of England 5.8 42 % 17 % London 5.6 37 % 27 % South East 5.2 34 % 21 % South West 5.5 42 % 23 % Lives in a coastal town or village 5.6 42 % 21 % Not coastal but under 40 miles from sea 5.4 37 % 21 % Lives more than 40 miles from the sea 5.5 37 % 23 %
36 37 Our future with fish Our future with fish • Around 65 per cent of respondents recognised hydrogenated fats as unhealthy, with 52 per cent knowing that polyunsaturated fats are a healthier choice. This leaves between one in three to a half of all adults uncertain of the positives and negatives of different types of fats. • When going further into nutritional advice, consumers begin to struggle. Only 19 per cent said they had heard of the long-chain fatty acids EPA and DHA, while 57 per cent had simply not heard of them at all. Against this background, we asked our survey respondents if they thought that various health messages were true of all fish, true only of white fish or 'oily' fish, or not true of fish at all. Here, we found that: • Around 61 per cent correctly associated 'being high in omega-3 fatty acids' to oily fish only, while 23 per cent thought it was true of all fish. • Nearly half recognised fish as a relatively low-calorie food, and only two per cent believed this was not true of any fish. But nearly a third of respondents said they were not sure or had no idea about fish and calories. • A narrow majority, 51 per cent, correctly believe that all fish contain essential minerals like iron, calcium, zinc and selenium. However, 36 per cent were not sure or had no idea.
• Again, a narrow majority, 53 per cent, correctly believe that all fish have benefits for children's growth and development, but around a third were not sure or had no idea. And 12 per cent wrongly thought this was only true of oily fish. Barriers to eating healthily and eating more fish 22.2% 16.4% 13.5% 12.6% 10.1% 8.7% 8.2% 4.3% 3.9% Cost Lack of recipe(s) knowledge / how to cook Local shops have poor fresh food / fish Not enough time to prepare from scratch Kids and other family members tend to dislike healthy meals / fish Regular supermarket has poor fresh food / fresh fish Hard to plan ahead for meals Temptation of sweets or unhealthy foods Worries about allergies Barriers to eating fish It is crucial for retailers to combat the widespread view that cost is a barrier to healthy eating.
" " 22.8% 8.9% 7.5% 13.1% 8.2% 5.9% 9.4% 18.4% 5.6% Cost Lack of recipe(s) knowledge / how to cook Local shops have poor fresh food / fish Not enough time to prepare from scratch Kids and other family members tend to dislike healthy meals / fish Regular supermarket has poor fresh food / fresh fish Hard to plan ahead for meals Temptation of sweets or unhealthy foods Worries about allergies Barriers to eating healthily
38 39 Our future with fish Our future with fish As we can see: • Cost and the lure of sweets or unhealthy foods are the two top barriers to eating healthily in general. But cost, lack of cooking knowledge and lack of access to quality produce stand out as key barriers to eating fish. • Perhaps not surprisingly, lack of recipe and cooking knowledge is a much more common barrier for younger consumers. All these findings on nutritional knowledge and barriers to healthy eating speak to us of a population increasingly concerned by health, and increasingly knowledgeable. Going back a generation, we suspect a much poorer understanding of different types of fats, and especially which specific foods contain them. While the 'temptations' of unhealthy foods may always be with us, it is crucial for retailers to combat the widespread view that cost is a barrier to healthy eating. Around two-thirds of UK adults hold this mistaken belief. More persuasive, informative action must highlight the 'win-win-win' potential of some types of fish. It's affordable, healthy and convenient to prepare. The return of fish on Friday?
One striking trend in the data is a seeming revival of the tradition of 'fish on Friday', with Friday evening fish meals increasing by 4.4 per cent since 20088 . Perhaps, as our lives become increasingly unstructured, with flexible working patterns, on-demand media and a '24/7' society, there is a small but potentially significant hankering for occasions that are 'time markers'. These events can help us relax, marking transitions from working time to leisure time, and give our home life a renewed sense of structure. The problems that our increasingly unstructured lives give rise to are certainly clear, especially for younger adults: our survey research shows that one in four adults say that difficulty in planning meals is a barrier to eating healthily, and this rises to almost one in three (31 per cent) among 18-24 year-olds. Age differences in attitudes to meal planning are surprising. This may reflect some of the problems younger adults face as, compared with other age groups, they show a greater desire for a more structured approach to planning meals. According to recent research from nVision and the Institute of Grocery Distribution (2010): • 39 per cent of today's 15-34 year-olds shop with a meal plan in mind, compared with just 35 per cent of people aged 55 and over. • 25 per cent of 16-35 year-olds would like to see their supermarket provide weekly meal plans, compared with just 10 per cent of people aged 65 and above.
• 61 per cent of 16-24 year-olds say they enjoy planning their leisure time, compared with just 56 per cent of 45 to 54 year-olds. These findings suggest that younger UK adults may now actually be more positive about meal planning, and weekly structuring of meals than their older counterparts. Together, they add to the notion that 'fish Fridays' could be a trend to watch - if recent trends continue, the proportion of fish meals falling on a Friday would rise from one in five today (21 per cent), to one in four (25 per cent) by 2022.
40 41 Our future with fish Our future with fish CHAPTER 4 Fish consumption and children Family preferences are probably most important when children are young. There is a window of opportunity while weaning children to familiarise them with different food flavours and textures, including those of fish. The emergence of new food 'taboos'? We also looked at food 'taboos' in our survey. We found that large proportions of people now report feeling uncomfortable eating various kinds of ethically 'questionable' foods, and significant numbers say they would refuse to eat certain foods 'in all circumstances': • 56 per cent prefer not to eat 'battery-farmed' eggs, and 21 per cent say they would refuse to eat them in all circumstances.
• 47 per cent prefer not to eat non-free-range chicken, and 13 per cent say they would refuse to eat it in all circumstances. • 60 per cent prefer not to eat pâté de foie gras, and 20 per cent say they would refuse to eat it in all circumstances. • 47 per cent prefer not to eat veal, and 29 per cent say they would refuse to eat it in all circumstances. By contrast, the proportion of people who say they prefer not to eat 'cod caught by drift net' is 29 per cent, with seven per cent refusing to eat it in all circumstances. This is similar to the proportions who prefer not to eat, or would refuse to eat, bananas or chocolate that are not fairtrade. What this data shows us is that while concerns about sustainable fishing methods and fair trade are less prevalent at present than concerns about animal-welfare, when it comes to food preferences they are already important for many people. For around one in 18 UK adults they are part of the new 'taboo' foods. This data also shows us the potential for concerns about food production to change our attitudes to food. Within the space of just a generation, a majority of UK adults have now come to be averse to battery-farmed eggs. We think issues about fish production can come to have the same emotional resonance among UK consumers in the longer term as awareness of the issues grows.
42 43 Our future with fish Our future with fish And with young children and young people having more influence than ever over what a household eats, getting the fish habit early is crucial. The importance of schools Many children now reach school age without any experience of fresh fish, or even processed fish products. So schools also have a role to play by both explaining the importance of fish in the diet and creating opportunities for pupils to give fish a try. While only one in 50 people recognised 'school dinner' cooks as an influence on how and why they eat fish, this rises to one in 25 among 16 to 24 year-olds. While this is still a small figure, it suggests potential opportunity for school staff to influence children and young people about eating fish. Adopted standards for fish, including oily fish, in the school food trust guidelines for school dinners is a welcome development. But few schools serve up whole fish, such as sardines. There is suggestion that schools can do more outside the canteen too, such as day trips to fisheries or practical lessons in handling and cooking fish.
Trends in children's and families' fish consumption National-scale surveys of children's diets have been conducted on three separate occasions in recent decades. But differences in research method and lack of publicly available comparable trend data mean the long-term picture on children's fish consumption is unclear. Our own analysis of NFS and EFS trend data since 1979 suggests that, in the long term, the growth in fish consumption between younger and family life-stage households is still happening, and may possibly intensify with each successive generation.
However, published family food survey data suggests that recent declines in fish consumption have hit families with one and two children. According to Kantar Worldpanel trend data, the proportion of 11 to 16 year-olds eating fish at least once a fortnight has fallen from 73.1 per cent to 68.6 per cent since 2008. In the past generation it is this group for whom family meals have changed most. Trends in family meals and barriers to giving children fish Recent declines in fish consumption among 11 to 16 year-olds gives cause for concern. We know most people eat more fish as they get older, and analysis of NFS and EFS trend data suggests that this is still true today. But if children start from a lower consumption base or no base at all, there is a possible impact on the quantity of fish in our future diets and consequently the nation's health. To better understand the drivers of this decline, we asked survey respondents with under-18 year-olds still at home about how their eldest child eats today9 .
We also asked them to think back to when they were the same age, and tell us how they ate then10 . This gives us a comparison between today's children, and those of a generation ago. Changes in children's eating habits Under 18's today Gets to have snacks during the evening Is usually happy to try new foods Expects to have a strong say in what the family eats Is expected to eat whatever is served Tends to be a fussy eater Expresses concerns about impact of food on environment to parents Most evenings eat the same meal as parents Most evenings eat something different from parents Under 18's a generation ago 48% 51% 22% 46% 69% 44% 72% 35% 42% 26% 9% 21% 17% 7% 59% 19%
44 45 Our future with fish Our future with fish The graphic opposite shows how things have changed: • Where a generation ago more than 69 per cent of children were 'expected to eat what is served', among today's parents less than half say their child is expected to do so. • Today's children are more than twice as likely to have a strong say in family meals, to get evening snacks, and to be described as 'fussy eaters'. • Of those eating something different from their parents in the evening, the percentage has changed from 19 per cent to 35 per cent between the generations. However, the majority still say they usually eat the same meal. • While today's children have a far greater say on what the family eats, so too are they more open to trying new foods. Importantly for sustainable fish, modern children are also twice as likely to express concerns to their parents about the impact of food on the environment.
These results agree with other sources of trend data on family meals. Time-diary studies show cooking time has halved during the past generation, down now to an average of just 23 minutes a day. Also there is a diversification and 'flattening' of the time patterns for eating habits. Time-diary data for the 1960s shows sharp 'spikes' of eating around 12 to 1pm, and 6 to 7pm. But today people eat at far more varied times of day, and are less likely to have set mealtimes. While children's eating times, especially those of younger children, are generally more regular than those of adults, they are also experiencing an increasing lack of routine to meals.
Particular barriers to feeding children fish Against this background, what barriers do parents experience when it comes to giving children more fish to eat? 24.4% I worry about bones 9.1% It's too much trouble to prepare 19.5% I worry that it will go to waste 6.1% It's up to them what they eat - I don't have much say 12.2% They will only eat white fish (e.g. cod) 15.2% They will only eat processed fish (e.g. fish fingers) 13.4% I don't know any fish recipes they would find appealing Barriers to giving children fish
46 47 Our future with fish Our future with fish The graphic shows how: • Parents' worries about bones and the potential for wasted food tend to be the biggest concerns, but significant numbers of parents report that their children will only eat processed fish, or only eat white fish. • Another concern that tends to be more prevalent among parents of young children is that fish is 'too much trouble to prepare'. • But perhaps of most concern is the small but significant group of parents who say that they simply 'don't have much say' in what children eat. Even among children as young as 7 to 11 years, around one in ten parents say that 'it is up to them what they eat'. This can present a barrier to serving fish at mealtimes unless children and young people are already accustomed to eating fish.
Perhaps of most concern is the small but significant group of parents who say that they simply 'don't have much say' in what children eat. " " Conclusion Our report has sought to identify the main issues about the future of fish consumption in the UK. The good news is that, among most people, interest and awareness about nutrition, food sustainability and provenance is growing. How greatly individuals embrace these issues depend on many factors. These include family behaviours, personal experience and motivators, intergenerational differences and a long-term increase or decline in household wealth. Sources of authority and influence, and greater access to information technology and media, also play a part. For retailers, the challenge is to encourage interest in more varieties of alternative, sustainable fish and to supply information that will help shoppers choose and cook fish with confidence. Often the issues are complex. This presents a challenge: how to communicate with customers in a way that leaves them feeling clear about the issues and the action they want to take. If they feel overburdened with detail, the risk is an 'ignore-and-do-nothing' approach. As the report authors, we at Future Foundation believe the following to be of greatest importance to the future of UK fish consumption.
48 49 Our future with fish Our future with fish Managing choice and the role of the retailer Retailers are important providers of information to consumers. They have considerable power to influence the shopping choices of large proportions of their customers. We also see that retailer campaigns are increasingly being 'plugged in' to popular culture, often through the backing or involvement of celebrities including TV chefs. These connections help make messages strong and lasting, and can dramatically shape shopping behaviour. Communication strategies need to exploit all marketing, advertising and public relations channels in a coordinated way. Campaigns must encompass in-store promotions, social networking sites and traditional TV and print media. Messages need to connect with consumers' everyday feelings, concerns and motivations, and tie-in with cultural trends.
Our report shows how important retailers are, not only in providing new choices to consumers, but also in making choices for them. They act as guardians of safety, quality and ethical issues. Shoppers place a certain faith in their local food retailer doing the right thing. That places a moral mantle on the shoulders of supermarkets that they must manage responsibly. Looking to the future, online shopping offers great potential in helping consumers quickly make ethical and personal decisions about the foods they buy. At a click they will 'filter' food choices by preferred criteria such as sustainability, dietary needs, calories or price.
Family behaviours What is happening with 'kid-power' at the dinner table reflects broad and long-term trends in attitudes to family life and parenting. Children hold greater sway over the household than ever before, and parents generally encourage their children to express opinions and develop a sense of their own individual taste at ever-younger ages. Retailers and product manufacturers will need to assess their approach to young people. If the key concerns are the 11 to 16- year age group, then the industry needs to consider how better to attract the 'tween-and-teen' audiences with tailored marketing and product offers. Authenticity versus convenience Some of us want it all: convenient ways to shop, cook and eat, but also a reconnection with food so that we understand provenance, preparation and make considered decisions about what we buy. Here consumers appear, paradoxically, to be moving in two directions at once. Can we become more knowledgeable and concerned about food, while also wanting it to be simple and convenient?
The solution to this tension in people's lives is to find the right compromises and new 'win-win' solutions. 'Component cooking', where all the ingredients for a home-cooked meal are sold in a single package, is a good example. They offer the potential to help people marry together the experience of handling and cooking fish with speed, convenience and reassurance. And while there are people fascinated by adventurous food and cooking, there are others who know little about food, and do not have the basic skills to shop for and prepare meals from scratch. It will continue to be crucial for the industry to track evolving consumer attitudes to fish and the place fish has in people's regular diets. It is the motivators and drivers of everyday shopping and eating that will have the biggest impact on our future with fish.
50 51 Our future with fish Our future with fish Footnotes 1 Parents only. 2 This forecast depends on an assumption of a return to long-term real disposable income growth (albeit a low level of growth) from 2012 onwards, as predicted by our forecasting partners Oxford Economics. 3 According to the Government Actuary's Department (GAD) 4 Sales analysis based upon fresh and frozen fish with identifiable content only (that is, excluding products combining both 'big five' and other species, for example fish pie mix), and excluding sales of fishcakes. It may of course be observed that Sainsbury's sales may not be representative of UK fish consumption by species. While we acknowledge that this is almost certainly the case, we would argue that a) overall percentage shares of consumption accounted for by the 'big five' in Sainsbury's sales (65 per cent) closely matches share of consumption accounted for by 'big five' in Defra (2007) 'apparent consumption' data (64 per cent) and Kantar Worldpanel (2011) percentage of meal occasions (65 per cent). b) other survey- based sources clearly under-report sales of certain types of fish, especially important 'alternative fish' such as pollock and coley, and c) that the direction of change found at Sainsbury's over the last two years does provide a good proxy for the future nationwide. This is because Sainsbury's, in our view, with their sourcing, labelling and promotions policy are already doing exactly what the mass market will be doing, or be obliged to do, over the next two decades.
5 This is broadly comparable to Kantar Worldpanel data, which reports overall average frequency of 1.1 times per week. 6 Base is those who eat fish at least once a fortnight only. 7 Base is those who eat fish at least once a fortnight only. 8 According to Kantar Worldpanel data the per cent share of evening fish occasions falling on Fridays increased from 20.5 per cent to 21.4 per cent between 2008 and 2011 – a four per cent increase in the size of the proportion of fish meals happening on Fridays.
9 We excluded parents of under-twos from this question, and ensured that this resulted in a sample in which ages of eldest children were broadly representative of the entire age range 2 to 18 years. 10 Although probably subject to some recall bias, we think this data gives us a good sense of the direction of change in children's and families' eating habits. About this report The Future Foundation research programme Our aims Our key research aims for this project were to better understand: • Exactly how often and when UK adults are eating fish. • Why people do or do not choose to eat fish. • The place of the 'big five' versus alternative fish, in the marketplace and in consumers' perceptions.
Drawing further on our survey research, sales data, expert interviews and long-term consumption trends, we created forecasts for per-head and total consumption of fish in the UK to the year 2030, and per head and total consumption of 'big five' versus 'alternative' species of fish to 2030. Methodology We used a three-pronged approach to research this project. First an audit of existing quantitative research sources. Second, an original programme of nationally representative survey research among 2,163 UK adults aged 16-65. And third, expert interviews with specialists in three key areas: fisheries, nutrition, and behavioural change.
Survey research In our new survey research we set out to recruit a UK sample of at least 2,000 fish-eating UK adults aged 18 to 65 years, broadly nationally representative by gender, age group and household income band. We also recorded the age and gender information of adults who claimed never to eat fish, resulting in a total sample size of 2,163, and delivering a fully nationally-representative view of fish consumption among adults aged up to 65 years. Interviews were carried out online, using respondents recruited by Research Now during April 2012. All data analysis was carried out by The Future Foundation.
52 Our future with fish For more information: www.sainsburys.co.uk www.sainsburys.co.uk/fish www.j-sainbury.co.uk Sainsbury's Supermarkets Ltd 33 Holborn London EC1N 2HT Tel: 020 7695 6000