Project communication
If your browser does not support JavaScript, please read the page content below:
Project communication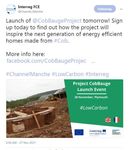 Project Communication April 2018 2 / 30 Disclaimer: You are permitted to print or download this material for your personal use. This material can be used for public use, provided the source is acknowledged and the publisher is given a prior notice. Interreg programmes are welcome to adapt the contents of this material for their projects and use without the need for prior information to Interact. None of this material may be used for commercial purposes. The information and views set out in Interact documents do not always reflect Interact's opinions.
Publisher Interact Programme Date 04.2018 Publication leader Arkam Ograk www.interact-eu.net
Project Communication April 2018 3 / 30 Table of contents Introduction ___ 4
Daily programme support to projects ___ 5
1. Legal basis ___ 5
2. Whose responsibility ___ 6
3. What should be the aim ___ 7
4. How are the projects supported ___ 8
Visual identity guidelines ___ 9
Trainings ___ 9
From planning to project closure ___ 11
5. Monitoring ___ 13
6. Evaluation ___ 15
Promotion of projects ___ 16
1. Why promote projects ___ 17
2. Whose job is promotion ___ 18
3. Target groups of project promotion ___ 20
4. Which projects to promote ___ 21
5.
Formulating promotional messages ___ 22
6. Highlight the EU support ___ 22
7. Make use of different channels ___ 23
On the website ___ 24
Videos ___ 25
Social media ___ 25
Press 27 In writing ___ 28
Public showcase ___ 29
Pan-European channels . 30
Project Communication April 2018 4 / 30 Introduction Despite their relatively small budgets, Interreg programmes generate thousands of cooperation projects that positively impact the lives of European citizens and connect the territories of the European Union with each other as well as with their neighbours. Projects are key messengers showing the benefits of EU funding with their concrete activities directly targeting citizens. This makes well planned project communication essential to convey the messages efficiently. In doing so, the bulk of the responsibility falls on the shoulders of programmes to promote best practices and to support projects in their communication activities, during planning, through implementation and after finalisation.
Effective project communication is a key element of successful projects. Programme efforts to achieve it will be examined in two aspects in this publication:  Daily programme support to projects in project communication  Effective promotion of projects by the programme The tips and observations listed in the following chapters intend to provide the reader with a guiding reference in programme efforts. Interreg programmes' experiences are compiled by Interact on occasions of network meetings, face to face interviews and online surveys. You may, of course, have your own innovative approaches and useful tips.
Interact will be happy to hear them and further enrich this publication with your input. Although closely related, project communication shall not be confused with the capitalisation of project results. This guide aims to provide support to programmes in dealing with projects' communications and the promotion of projects. Download publication Communication of capitalisation in Interreg.
Project Communication April 2018 5 / 30 Daily programme support to projects This section aims to build a common understanding and approach in daily Interreg programme support to project partners in handling project communication. 1. Legal basis The obligations of beneficiaries regarding information and communication measures for the public are included in: Annex XII, section 2.2 of EC Regulation 1303/2013. Commission Implementing Regulation (EU) No 821 2014, particularly lays out the rules for the EU flag, how to display the emblem and how to create permanent plaques or (temporary) billboards.
The Commission Implementing Regulation (EU) No 447/2014, of 2 May 2014, especially Art 24, particularly lays down obligations for visibility of projects funded under IPA. The regulations contain a set of general, compulsory measures, but each programme can develop additional requirements, which they insert in subsidy contracts, partnership agreements or other programme documents.
Project Communication April 2018 6 / 30 2. Whose responsibility? Communicating projects is a shared responsibility involving both programme bodies and project partners. On the project partners' side, not only the person in charge but all the project team shall be committed to the promotion of the project and the dissemination of its good results in their respective countries and regions.
One of the key first steps in effective project communication is to ensure communication is not left orphaned. Project partners are usually focused on the key project activities and financial management of the project to meet their objectives and making sure they are fulfilling their contractual obligations. This is very natural. But communication may be neglected if there is not enough programme encouragement and emphasis on how important it is as well as its ownership. There is not a common application among the programmes of roles and responsibilities of project partners in communication.
Some programmes have a communication officer per project while in others this task is taken care of by one of the project partners. Having a dedicated and qualified communication manager per project will positively impact quality, direction and consistency in the project's communication. In addition, you as a programme will appreciate a "go to" contact person in projects overseeing communication activities and materials, following up on tasks and responsibilities among project partners. Similar to in a programme, project communication officers need to be supported by their "content colleagues" with timely provided information, as people who are well informed about projects' progress content-wise.
Project communication officer's tasks may include:  Prepare a communication plan comprising communication objectives, target groups, key messages, activities, channels, delivery timeline, task division among the partners, budget etc.  Coordinate the implementation of the plan ensuring consistency of the communication activities across the partnership  Monitor the results of the communication activities and adapt as needed in order to achieve the objectives set.  Ensure programme visual guidelines are observed  Liaise with the programme regarding all communication matters
Project Communication April 2018 7 / 30  Investigate and exploit project promotion channels  Exchange good practices with other programmes and Interreg projects 3.
What should be the aim? The overall aim in project communication efforts should be to ensure high quality communication at programme and project level. While it is important to ensure that the eligibility rules are observed by the projects, it alone does not ensure efficient communication. Once legal compliance is ensured, the focus should be on:  Support to projects in understanding and applying the communication rules  Improve visibility of projects and their results  Ensure good quality project communication materials  Urge partners to highlight the support from the EU and national funds  Ensure efficient branding, both at programme and Interreg level  Facilitate inter-project exchanges  Support projects in handling specific communication topics in a way to ensure that programme communication objectives are met, such as organising wellplanned and impactful events, creating videos, reaching out via social media and traditional media, creating or evoking emotions when communicating to the public, etc.
Project Communication April 2018 8 / 30 4. How are the projects supported? Programmes support project partners mainly via guides and manuals, communication trainings and personal support via daily communication channels. In most programmes, project implementation manuals, visual identity guides and project communication strategies/plans are the main reference documents for partners in planning and implementing their communication activities and materials. It can be one or all of them. In all cases, carefully prepared and clear guides by the programme in the early stages will make your job easier during project implementation.
The following topics can be covered in your guiding documentation and trainings:  Legal requirements, programme rules and obligations in project communication.  Visual identity of the programme and its practical application  How to set up a communication strategy/plan with a strong focus on achieving and measuring results (i.e., change in audience´s knowledge, perception and behaviour). What data to store for the evaluation of the performance of communication activities?1  How the project and the programme communications complement each other  Key points concerning intellectual property rights in communicating projects  Templates on programme level for specific communication products, such as brochures, posters, PowerPoint presentations, banners, etc.
Examples of good project communication products and activities  Encouraged use of most convenient and multiple tools  Channels (programme, pan-European, other) available to partners for promotion of projects  Clear instructions on how project partners can support programme communication: e.g., type of photographs and videos you need from the project, the way they should deliver those to you etc 1 This should be coordinated with your colleagues carrying out the overall evaluation of the programme
Project Communication April 2018 9 / 30  When and how they can contact the programme for direct guidance?  If relevant, good examples Visual identity guidelines Almost all programmes provide the project partners with guidance and template files for the EU flag and textual references. Here are a list of other visual elements and templates programmes have been providing for the use of the partners:  Programme logo, together with EU flag specifications.  Logos for projects (designed by programme or via extensive and clear guidance).
Icons and images related to the programme specific objectives.
Visual elements such as cover, header and footer for printed tools and online channels.  Templates for infographics, beneficiary posters, billboards, presentations, web banners, e-mail signatures, flyers, brochures, etc. Interreg Brand Manuals for detailed guidance on Interreg branding Guidance on EU flag Trainings Trainings are unique opportunities where you bring together project partners and guide them through the most important aspects of project communication.
Depending on the available resources and number of projects, Interreg programmes have been training project partners on communication either by specific communication trainings (less common) or by communication sessions during overall project implementation trainings (more common). Consider livestreaming the training to allow participation by more partners and make the recording available for future reference and holding webinars to guide project partners through all the above topics.
Project Communication April 2018 10 / 30 Examples from programmes In addition to the compulsory project communication plan from each project, the Interreg Danube Programme guides project communications with a Visual Identity Guidelines, Project Communication Toolkit (adapted from the Interact toolkit) and a digital user manual for project webpages hosted under the programme website, while also providing different templates.
Check here. Interreg Europe programme has, in addition to the chapter dedicated for communication in the programme manual, a guide on the preparation of project communication strategies already for applicants and guidance on how to implement it once they are beneficiaries, a webinar dedicated to project communications, various templates for the use of projects, a specific guide on project webspaces under the programme website supplemented by CMS screencasts.
Interreg Europe provides outstanding support online: - Webinars (on project development, reporting, etc.) - Weekly online Q/A sessions: we collect questions during one week and answer them lively via webinar each Friday during the open calls. - Our annual events we have are also online: We design a special programme for the ones who follow the event online. - Chat hours: after an online event, we offer a chat hour that participants can network with each other, exchange on project ideas, etc." Interreg Europe Programme Interreg 2 Seas Programme guides projects with an all-in-one project communications "factsheet", accompanied by templates France – Wallonia – Flanders programme has combined visual identity manual, templates and technical guidance for projects in a single page.
Interreg Sudoe programme guides projects on communication within an overall project implementation manual. Examples of project communication training agendas and presentations from Interreg Danube Transnational Programme and Interreg Europe Programme Lead "by example" In your written guidance and on trainings, do not only explain and instruct the project partners on good communication products but also show them the examples that can inspire them!
Project Communication April 2018 11 / 30 From planning to project closure Project promotion starts as early as the application stage as this is the stage at which the objectives and activities of a project are planned.
Encouragement and good guidance by the programme during this phase in prioritising communication will help to improve project communication notably. The first stage is to make sure the project partners strategically planned their communication already at the application phase as it will be difficult to adjust the contract once projects go into implementation. One way to do this is by defining a separate communication plan as a requirement and providing them with a template for it. This could be made a part of the application either in the electronic system (e.g. eMS) or as an annex.
Having the preparation of a communication plan as a requirement, even with a template, will not necessarily ensure well planned communication of projects alone. It works best if reinforced by guidance and recommendations on how to prepare such plans during info days/project preparation workshops. This is also a good occasion to remind partners about designating a person responsible for communication throughout the project, whether exclusively or partly. The projects will have a budget and plan for activities already in place in their application whether or not it covers communication in a communication plan format.
Even if a plan as such does not yet exist, it is still advisable to plan the project communication in a more strategic way and with more detail in the early phase of the project and to clearly agree on the division of responsibilities. Some programmes request a communication plan not at the application phase but at an early stage of implementation, for example together with the first progress report.
It is recommended to write down a communication plan, even for a small project. That way the project will have a document that partners can agree upon. It will serve as a document A communication plan is a communication strategy but on a smaller, project scale. It should still include the main aims for the project's communication activities and not just list activities. Check the communication toolkit for further guidance on preparation of communication strategies.
Project Communication April 2018 12 / 30 to refer to periodically. If a written plan doesn't exist, it can be easy to forget the non-urgent (but perhaps more important) activities.
The level of detail in the project communication plan can be adjusted to the needs of the project in question. It is always important to underline the question why: Why communicate to a target group and why should they be communicated a certain message. Project communication does not become obsolete as soon as a project is contractually finalised. All the good things done with your programme funding are still there and probably undiscovered by many people. Ensuring they are discovered depends on the system you put in place for guiding project partners and ensuring their commitment during the project implementation.
Sometimes activities done during the project already support this aim, e.g., placing a nicely designed plaque on the project site (which in some cases is an obligation imposed by regulation), or making sure the branding elements you provided to projects for audio-visual products appear on, for example, a video. During as well as after the project lifetime you can invite the partners to your promotional events, conferences, outdoor events to showcase their finalised projects. The European Cooperation Day initiative, in this respect, provides you with a unique platform for such a promotion. These activities require finances that may be difficult for the project partners to cover by themselves and they may need your programme support.
Examples Interreg NWE requires applicants to include information also about internal communication in the application form (project management work package). The project "Danubeparks Connected" is a successor of two previous South East Europe Programme projects. They have created a brand and a network for the promotion of the results of previous closed projects. Interreg Europe has produced several interactive reports and web-documentaries: * * Projects financed by the programme also actively participate in the RegioStars awards. Be prepared for unforeseen communication needs Not everything that can happen in project communication can be foreseen and ad hoc needs can arise even during implementation of a well written communication plan.
The programme should be ready to provide support to project partners in such cases. Some programmes provide flexibility for budget reallocation. Encouraged use of free and online tools, passing on your expertise and channels you are aware of will also be appreciated by project partners as they will be provided with basic skills and free tools to address the unforeseen needs and maybe even planned activities.
Project Communication April 2018 13 / 30 5. Monitoring Monitoring should focus on whether or not projects are succeeding in reaching their communication objectives. Too often programmes limit the monitoring to check if the activities were carried out or not. When monitoring communication materials and activities of the projects, remember to draw the line between obligations to fulfil contracts and recommendations to improve the quality of project communication. Partners, due to resource constraints may eventually be overwhelmed with all the requirements and recommendations feeling equally responsible to fulfil all.
Make sure the programme communicates to them about what is a must and what is recommended is clear.
Define how you monitor project communication activities and materials, and how the process is handled and roles divided within the programme:  Who is monitoring project communication activities such as checking progress reports, answering requests related to communication, monitoring project websites, making recommendations for social media use, etc.  How are you supporting project managers in ensuring visibility rules are observed?  Which materials are you checking: all materials, bigger materials or on demand? Are you asking projects to send the layout of major materials for approval before finalisation?
How do you follow up on the events?  Are you joining site visits to check communication materials on the spot? How to monitor project websites? If you are hosting project websites under the programme page, you have already made your job easier. You are able to see the latest updates on your CMS. Check how different project pages perform with analytics. This makes their guidance and support also easier for you. If projects have separate websites, you should track the links to the websites and regularly check them and make recommendations for improvements.
Project webspaces hosted under the programme website * Project websites *
Project Communication April 2018 14 / 30 Manage your project communities There are various ways to manage your communities of project partners for communication purposes. Here are a few tips inspired by how programmes have been handling it. Project partners on the website: Create a programme communication community with projects, provide them free of charge access for the use of programme's applicable communication platforms. Create and make use of a good communication network out of programme bodies, external stakeholders and project partners to pass on important information about your projects and ask them to publish it on their channels when opportunities arise.
Cooperate via social media, make good use of social media community management tools to better monitor and coordinate social media campaigns with projects, choose from one or more of the following:  A public twitter list with all project accounts, so that all available project updates are accessible from one single timeline, not only by you but also by external followers,  Thematic or merged LinkedIn groups with available project pages which can serve as an inter-project exchange platform,  Facebook groups with your projects key people (make sure to have their consent due to the privacy principle) Example from the Central Baltic Programme
Project Communication April 2018 15 / 30 6. Evaluation Evaluation of projects' success in communication will not only help you measure the broader success of your communication strategy but will also allow drawing conclusions on project partners' performance in communication and re-structuring your support based on their strengths and weaknesses. In order to do this more systematically and efficiently, below are a few tips to support the projects in the evaluation of their communication activities:  Request projects to report on result indicators linked to the programme communication objectives.
You will need to identify to what extent project communication indicators contribute to your overall programme communication indicators.
Make sure projects collect data on the performance of their communication activities to ensure the necessary data for evaluation is available.  Make sure the project website traffic data and social media reach (post reaches) is being tracked.  Encourage projects to prepare evaluation surveys for events.  Monitor the communication activities in progress reports to evaluate the activities periodically and also to ensure the availability of data for the evaluation of the project's communication activities.
Encourage projects to keep a track record of media coverage and to compare the number of press releases sent to the number of media outlets with how many news articles were actually published.
The type of data you request will depend on the channels the projects identified for project communication, ideally with your support. Therefore you may consider a list of key indicators for each possible channel to be utilised by projects from which you could then extract project specific indicators. Some programmes include a mandatory section on evaluation in project communication plans which they check and make recommendations for improvement if necessary. Check an example of a list of communication indicators by the Interreg FranceWallonie-Vlaanderen Programme
Project Communication April 2018 16 / 30 Promotion of projects Which projects and what kind of achievements to promote, to whom, how to formulate the key messages, and which channels to use? It all depends on your programme objectives. What does your programme want to achieve? Who can do that for you? What kind of messages should you be conveying in order to convince these target groups to become aware of your project achievements, get involved and make use of its results? In the previous section we examined the ways programmes support beneficiaries to improve project communication in which the job is done by projects.
This section focuses on the job done by the programme itself to promote the projects.
Project Communication April 2018 17 / 30 1. Why promote projects? As an Interreg programme with cooperation at its core you want to promote your projects in order to: Ensure transparency. An important reason for promoting projects is to guarantee the transparency of the activities implemented by projects by showing how the EU and national funds have been used. Managing Authorities are responsible for the publication of a list of beneficiaries. Promotion of projects starts there but this first step certainly does not ensure promotion alone and needs to be supplemented by efficient communication measures.
Ensure your programme is known for providing funding to improve the life for the citizens in the topics your programme defined as priority in the programme area. This way more organisations can become interested in the funding, and your programme can get more project applications to choose from and therefore, in the end, better projects to fund. Ensure more people interested in projects' themes participate in project activities and make use of project results. Reinforce a positive EU image by promoting cooperation stories funded by the EU in the age of fake news and increased Euro-scepticism.
The EU is a success story of cooperation and it is inherent in Interreg.
Gain prestige for your programme, programme bodies and project partner organisations who put massive effort to make the good results happen. Promote the Interreg brand. There are thousands of brands out there. We want to create space for ourselves.
Project Communication April 2018 18 / 30 2. Whose job is promotion? Daily task / programme body Joint Secretariat Managing Authority Contact/Info points Monitoring Committee National Authorities Overall control over project promotion activities
Collecting information and creating the project stories
Identifying projects and channels through which they are promoted
Inviting highlighted projects to major programme and external events
Direct contact with authorities regarding the promotion of projects
Allocating tasks among programme bodies or asking for assistance in promoting highlighted projects on their channels
Attending project events
Providing guidance related to the visual identity, to programme bodies and projects partners
Providing guidance to projects, training, informing and inviting to EU wide events to showcase the project results
Approving JS proposals, guidelines, procedures etc
Procuring the tools/services needed for promotion, including projects
Project Communication April 2018 19 / 30 Providing input to communication strategy and annual plans
Daily task / programme body Joint Secretariat Managing Authority Contact/Info points Monitoring Committee National Authorities Attending higher profile events
Reaching out to programme stakeholders' institutional channels (e.g. ministry website, municipal journal, etc)
Reaching out to media through organisations' press offices
Participation in best practices or other types of project promotion activities.
Distributing products prepared for project promotion to local target groups
Organising promotion events of project with partners from specific countries
Collecting information for JS and maintaining contact with NA
Inviting projects to the national events
Support at national level, especially with events
Reaching out to policy makers
Disseminate information about the programme and its projects
Participating to local project promotion events
Support in national, specific rules and project promotion opportunities
Table: Project promotion programme bodies chart
Project Communication April 2018 20 / 30 The above chart shows roles and responsibilities the programme bodies have in the promotion of projects, compiled via an Interact survey, to let you see an overview of the practice among the programmes and to inspire you with your own task division. Promotion is everyone's job in a programme. While communication officers are responsible – and they should be– for overseeing the overall planning, implementation and evaluation of communication; promoting projects is more of a shared responsibility of all programme bodies, sometimes even of the monitoring committee.
In many cases, however, the joint secretariats with support from the managing authorities do the bulk of the job with other programme bodies helping out spontaneously and seldom systematically. 3. Target groups of project promotion In communication, knowing who you talk to is the key element in identifying the what, how and where to talk to them. Your own prioritisation will depend on what you would like to achieve and with whom, but here is a list of potential audiences you may want to highlight your projects to, listed in an order of priority as expressed by programmes.  Potential future applicants  Thematic/sectoral groups based on the type of project such as NGOs, SMEs, educational institutions, public authorities etc.
Policy makers  EU community (EU institutions, other European Social and Investment Funds (ESIF) programmes, EU grassroots)  Citizens primarily inside but also outside the programme's geographical area
Project Communication April 2018 21 / 30 4. Which projects to promote? A frequent misconception is taking "informing about projects" as "communicating projects". Information is inherent in communication but it alone is not sufficient for good communication. The two go together and it comes down to how you prepare this package. Publishing a list of all projects funded by your programme is an information activity and also a requirement to ensure transparency. However, it alone is not sufficient to call it 'communicating' and 'promoting' projects. So which projects should you promote? Answering this question requires good knowledge about the contents of your project portfolio and therefore you as a programme are the ones to know.
But how do you work with the variety of project outcomes? The process has started when you defined your communication target groups and objectives as a means to achieve your programme objectives. These target groups and objectives set the way for you to pick the right projects to promote. In the light of this you may ask:  Which projects can provide tangible results showing true impact in reaching your programme objectives?
Which projects address an actual issue in the programme area? E.g. migration, floods, jobs  Which projects address an issue that is of wider public interest? E.g. health services, environment, job creation  Combined with the above, which partners formed a well-established partnership to achieve their goals, to underline the added value of cooperation?  And importantly, which projects can actually show what they did with available communication tools, e.g. nicely designed short videos, photos telling the story, infographics showing the improvements at a glance, etc. If not available, are you as programme able to prepare such materials?
What to highlight in a project? Sometimes showing the tip of an iceberg is enough to inform the viewer of what lies underneath. Although it will depend on your own variables, here are a few ideas for what aspects of the project can be highlighted:  Direct impacts on the lives of project's target groups and wider public  Most spectacular outputs  Number of people it positively effects and other key figures  Key improvements: o economic growth, e.g. jobs created by a rural development project o environmental improvements, e.g. wildlife saved, emissions/pollution reduced, forestation increased, improvements in air quality, etc.
o innovation, e.g. new techniques, methods discovered or ones that became widespread  Project partnership. As a cooperation programme, show what people across borders can achieve by working together.
Project Communication April 2018 22 / 30 5. Formulating promotional messages When you want to feature a series of projects, skip the typical "project summary" facts and focus on the improvements brought by the project such as:  What has the project done that made a difference?  What is improved compared to the situation before the project?  What would happen if the project was not implemented?  What was the benefit of cooperation? How could the results not have been reached without cooperation of the partners?
Once you spark interest and convince the viewer of the benefit, they are more likely to go to the sources you provide for the "project summary" facts and more.
6. Highlight the EU support The European Union is a product of many parts. The parts make up the entity of the EU. Interreg is one of them. Always use the brand "Interreg" to refer to European Territorial Cooperation and the fact that the project is financed by the European Union. As an overwhelming majority of programmes have gone for the common Interreg logo, the process is in a way self-promoting. Each time you use your programme logo, you contribute to the joint perception of the Interreg brand. Use your programme logo as prominently and frequently as possible.
Use your programme visual identity and Interreg brand elements. When talking about achievements, opportunities, facts or other information under thematic objectives, make use of the thematic icons. Mention the EU funding and the amount of the funds in written pieces such as interviews, articles, news reports, newsletters etc. However, remember that people should be in focus and the technicalities are only there to support it. Have them available but keep the focus on the story. As much as promoting the EU as an entity, emphasis on cooperation benefits is essential for programmes whose key focus is territorial cooperation.
Project Communication April 2018 23 / 30 When formulating messages for projects "do you want to see what the EU is doing for you?" is a good message, but the scale of reach may be limited to the already EU-friendly people. Consider formulating it around "do you want to see how our project(s) improved ...? It is funded by the EU". This way, you are talking to a variety of individuals interested in the project's topic and what it offers regardless of their stance of the EU. Once sparked interest, your measures for EU visibility will ensure that the target is aware of the achievements of the project thanks to EU funding.
An example of combination of Interreg brand with project's topic on a project's Twitter page: 7. Make use of different channels Having identified why you are promoting the projects, to whom, by whom and with what kind of messages, now you are ready to pick the most suitable channels. Making good use of different channels does not necessarily mean making use of all of them. It is rather utilising channels that will deliver your messages to your identified target groups in the most effective way.
Modern consumers are lazy, have limited time and are selective. Being aware of the typical behaviour of these consumers and your technical abilities in using different channels will provide you with a head start.
Use multiple channels to increase your chance of reach.
Project Communication April 2018 24 / 30 On the website Publish a summary and basic facts of the funded projects on your website. But you cannot expect people to regularly visit your site and dig into it to find out the best projects. Therefore, feature some flagship projects that are your best examples and highlight them prominently. Ensure there are well written simple descriptions and rich visuals to promote these flagship projects on various platforms at any time. The rich visuals may include high quality images with the true spirit of the project, short and simple videos, professionally designed infographics with key data, etc.
Highlight important project news that are of wider interest on the programme website and help the project partners reach a wider audience. Make good use of the national websites of your programme countries. Use the map in this page to find the national websites in all member states: https://interreg.eu/links Websites of project partners and of other organisations they are a member of can provide excellent targeted promotion opportunities. Encourage projects to make use of such channels. For example, a project on cross border cooperation between medical institutions may be promoted on the websites of the associations that the partnering hospitals are a member of.
This way, viewers with a specific interest in the project's actual theme will not only get informed about the project's achievements but they will also be aware of the funding your programme –therefore Interreg and the EUprovided to address a cross-border issue.
Good example: Only six projects featured as cooperation stories by the Interreg Mediterranean Programme, to reflect added value of their programme and Interreg Good example: A project is featured among many, on Interreg Europe's discover projects page
Project Communication April 2018 25 / 30 Videos Consider using videos for promoting your achievements. The videos should be kept short and show what your programme actually achieved through a selection of your best projects. Ensure the availability of authentic footage from projects. To do that, identify in advance how you are gathering such footage: are you filming the projects on the spots yourself, hiring external film makers or asking project partners to film and send to you? Make sure project partners are aware of their role and what you ask from them.
You could feature interviews with people directly benefiting from projects to pass on the key messages through authentic stories. Use simple storytelling techniques: Bad situation – project – improvement of bad situation for the better. Consider providing the projects with an editable video template which they can adapt to their own projects. Interact publication 'Interreg in Motion' for more tips on videos Social media The use of social media as a source of information about what is going on in the projects is of major importance to the programmes. By following the projects in social media you are able to keep yourself up to date about their achievements, events, promotional products and more.
Building a strong connection and feeling of cooperation between programme and projects on social media can be used to enhance the feeling of working together and helping each other reach out to wider audiences such as by sharing/re-tweeting each other's relevant posts.
Feature social videos with key project achievements, prepared by the programme or projects. On relevant days e.g., World Water Day --- remind followers of your projects on water treatment, use the hashtags created for campaigns to highlight such days. Share catchy visuals generated by projects.
Project Communication April 2018 26 / 30 Share project news on external media with links. Help out projects with promotional campaigns by announcing and sharing their contents. Help spread content from other Interreg programme accounts. Subscribe to a twitter list of Interreg projects that is constantly updated, help spread the word.
A few examples to inspire your posts about projects:
Project Communication April 2018 27 / 30 Press Here are a few points to consider to increase the chance of your projects' coverage by mainstream media:  Actuality of project topics/results. For example, a region suffering from flood will be more alerted to a news piece about your project that works on cross border solutions to floods  Relevance of project achievements to the country/region that makes up the audience of the media you are targeting  Present a story that the media and society can identify with. Abstract profound concepts are good for background articles, features and other formats.
If you would like to attract the attention of local media, present a local story, e.g., a project that helps the city be more environmentally friendly.
Keep a journalist contact list that you can send your interesting stories to. Even better is to work with journalists focusing on certain topics and target only them when you have something related to their interest.  Build a win-win partnership with the journalist. The institution is not the only party seeking the accomplishment of an objective (to have the information published) but also the journalist gets benefits from this partnership: an interesting story, attractive or powerful images and the possibility to include sources that are valuable for their media.
Check communication toolkit: media chapter for dealing with press at the programme level.
A few examples "We had some projects, especially in the medical field, which attracted the attention of national TV channels, both from Romania and Serbia. The journalists presented the major cross-border impact of this type of projects. They were on project sites (in hospitals) and they filmed the rehabilitated buildings, they filmed doctors performing medical acts, with the approval of patients." Interreg IPA CBC Romania - Serbia Programme
Project Communication April 2018 28 / 30 The University of Mons had a press conference about six projects they led and it went the next morning on the national radio (BEL RTL = biggest audience in the morning in Belgium). Interview (in French) here (BEL RTL Régions category - 3'39'') Another project by the same programme also had an impactful launch event (lots of participants, lots of articles, tweets, etc.) Project 3Smart, funded by the Interreg Danube Transnational Programme In writing Whether you are promoting projects through news, newsletters, blog posts or another written method, the way you formulate the text and its accessibility will determine its impact.
Give a brief overview of the output/result generated by the project and links to a more detailed story/product. These can be inventories, researches, online platforms, maps, publications and many more things. Keep in mind the readers' existing knowledge on the issue and make it easy reading for also those who are not familiar with the specific field. Feature one or several projects in your programme newsletter issues depending on availability of project activities or results and publish e.g., an interview with project partner(s), an article written by a beneficiary or other type of content by projects.
These can focus on their project management experience or promotion of their project's actual content and results. Remember to whom you are writing while formulating the messages (e.g., encouragement for streamlined project management would be relevant for potential applicants/beneficiaries but for policy makers showing actual results is more interesting). Whether the text is to be published in a programme or some other newsletter the writer should always be aware of whom the newsletter is sent to.
We have had several projects featured on national TV, on both sides of the border, most prominently the two projects dealing with demining. the projects deal with a very important issue of national and international importance, but also innovative and attractive communication tools have been used (theatre plays, sporting events etc.) that helped increase visibility of the projects." Interreg IPA CBC Hungary – Croatia Programme
Project Communication April 2018 29 / 30 Sometimes you don't need a whole article to promote a project. A sentence with the most crucial details from a project can help you achieve that promotion.
Examples:  "Did you know? Thanks to ... project funded by our Programme people in ... regions can now get ... service faster, cheaper and more efficiently."  "By the time ... project is finalised, emissions in ... region will be reduced by XX%"  "Thanks to the ... project, border regions in ... and ... countries now have ... and ... benefits"  "With the observation system established as a part of ... project funded by our Programme . and ... countries can now jointly monitor ship wastes illegally disposed to X river" Support project related contents with visuals and links to further details and contact details as much as possible.
Check communication toolkit chapters on clear writing, storytelling, newsletter, media, social media. Public showcase Consider organising joint events with projects and/or ensuring programme representation on major project events added value of which can be:  Help in project promotion, e.g., by increasing media visibility  Show project partners that the programme cares about their project  Help them in highlighting key programme messages in their event by taking a role (e.g., as speaker, moderator or trainer)  Monitor project event, make recommendations  Increase the project partners' commitment
Project Communication April 2018 30 / 30 Display good project practices and results as well as good communication examples at programme events. Showcase on thematic events, e.g., achievements of an innovation project on a university innovation event, agriculture project on a local agricultural fair, scientific projects on university events etc. These occasions should be used as effectively as possible and can be done either by the programme or the project staff or even together. Pan-European channels Here are a few pan-European channels that can give a base to your best projects: DG Regio projects page Panorama magazine of the European Commission Interreg website Urge participation in European Cooperation Day to showcase the projects that can speak to the public.
Cooperate with them and/or urge them to open their doors to the public as part of your EC Day activities.
Take part in Europe in my region campaigns annually Apply for Regio Stars award for with your best practices Take part in European Week of Regions and Cities Contact pan-European media: European Review magazine, Politico, Vocal Europe, etc. Make sure your projects' data is being transferred automatically to Keep.eu Also check: Storytelling chapter in Interact publication "Communication of capitalisation in Interreg"