QS-APPLE 2018 Conference and Exhibition EXHIBITOR'S MANUAL
If your browser does not support JavaScript, please read the page content below:
QS-APPLE 2018 Conference and Exhibition EXHIBITOR'S MANUAL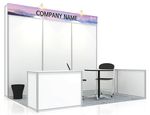 1 Organizing partners: QS-APPLE 2018 Conference and Exhibition 21 - 23 November 2018 Chung-Ang University Seoul, Korea EXHIBITOR'SMANUAL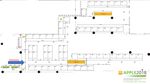 2 Organizing partners: EXHIBITOR'S MANUAL Name of Company (Exhibitor): _ _ Name of Contact Person: _ _ Company Address: _ _ _ _ Telephone number _ _ E‐mail address _ _ _ _ Signature / Company stamp Date Please return this page by fax or email upon receipt of this Exhibitor Service Manual to: QS‐APPLE 2018 QS Asia Quacquarelli Symonds Pte Ltd 20 Sin Ming Lane # 02-61 Midview City, Singapore 573968 Tel: (65) 6457 4822 Fax: (65) 6457 7832 Attention: Ms.
Ashley Wong Email: ashley@qs.com We acknowledge receipt of the Exhibitor's Service Manual for "QS‐APPLE 2018" Exhibition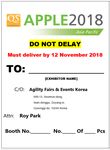 3 Organizing partners: CONTENT The Exhibitor Manual outlines all of the logistical details that will help you to have the most productive exhibiting experience. There can be a lot to do and we hope the information provided will help you to plan your participation in the upcoming QS-APPLE 2018 Exhibition in a timely, cost- effective manner. You should have a full set of the Exhibitor Service Manual, which comprises of the following: INFORMATION / SCHEDULES Contact details Checklist General Information In‐Hall Operations Schedule Rules & Regulations Conference Floor Plan Booth Layout Note: Exhibitors are strongly recommended to study the contents of this Exhibitor Service Manual carefully and act on all relevant matters promptly so that your requests can be processed smoothly.
Please remember to make a copy of the orders forms for your reference before submission. ORGANIZER: ‐ QS Asia Quacquarelli Symonds Pte Ltd 20 Sin Ming Lane # 02-61 Midview City, Singapore 573968 Tel: (65) 6457 4822 Fax: (65) 6457 7832 Ms Lena Tan Ms Ashley Wong Events Manager Events Assistant Tel: (65) 6457 4822 Tel: (65) 6457 4822 Fax: (65) 6457 7832 Fax: (65) 6457 7832 Mobile: (65) 9005 4254 Mobile: (65) 8188 4305 E‐mail: lena@qs.com E‐mail: ashley@qs.com
4 Organizing partners: For all enquiries on technical matters and on-site operations, please contact: OFFICIAL CONTRACTOR: Pico North Asia 6F Hana Bldg, Teheran-ro 108 gil 12, Gangnam-gu Seoul, Korea, 06174 Jiny Kim Tel : + 82 2 568 Mobile: + 82 10 6560 3859 Email : jiny.kim@kr.pico.com Website: www.Pico.com
5 Organizing partners: CHECKLIST All compulsory forms must be completed and returned by Exhibitors, even if the services are not required or not applicable. For services not required, simply indicate "Not Required / Not Applicable" across the forms.
Late submission of forms will result in non-guarantee of requested services Exhibitors who purchase spaces after the stipulated deadlines are to return the forms immediately. Orders are valid only when accompanied with payment received in FULL. Orders without payment will not be entertained.
S/N DESCRIPTION SUBMISSION DEADLINE 1 Exhibitor Profile Form 31st August 2018 2 Complimentary registration link (Registration fee waived based on sponsorship entitlement) 31st August 2018 3 Fascia Form 31st August 2018 IMPORTANT IMPORTAN T IMPORTANT
6 Organizing partners: GENERAL INFORMATION THIS EXHIBITOR'S SERVICE MANUAL FORMS A PART OF THE TERMS & CONDITIONS STATED IN THE CONTRACT FORM. 1. Venue Chung-Ang University 221 Heuk Seok-Dong, Dong jak -Gu, Seoul, Korea International Admission : TEL +82-2-820-6396, FAX +82-2-813-8158 / International Cooperation : TEL +82-2-820-6575, FAX +82-2-815-5771 2.
Freight Forwarding - Exhibition Materials Please note that the exhibition venue is unable to accept direct shipments of exhibition materials, prior to exhibition setup due to spatial limitations, thus they have requested that we appoint holding site for all advance exhibition shipments. All shipments will be delivered to the exhibition venue on 16th Nov 2018, for setup on 20th Nov 2018.
As such, the Organiser has appointed Agility as the official freight forwarder and site handling agent for the exhibition. We highly recommend that all exhibitors engage Agility as their freight forwarder to avoid any unnecessary delay or losses of shipments. Should exhibitors engage another freight forwarder, please complete the Freight Instruction Service Form for submission to Agility to facilitate freight handling at the exhibition site. Kindly coordinate with your preferred freight forwarding partner to send your exhibition materials directly to Agility – Fairs & Events Warehouse. Agility Fairs & Events Logistics will only be receiving shipment from 5th November till 12th November 2018.
Anything later than the stipulated deadlines will not be accepted.
Exhibitors are advice to contact Agility before sending any shipment to the warehouse so that Agility can take note/track the shipment on behalf of the exhibitors. Contact details as below: Ms Ling Seok Li LSeok@agility.com DID: +65 6571 5635 Kindly note that Exhibitors and their appointed freight forwarder are solely responsible for all information required for customs clearance and custom tax payable. The Organizer and Chung Ang University shall not be liable for any delay or loss of shipments.
7 Organizing partners: Please attach the shipping labels provided below on the cartons/packaging for identification purposes.
This is to avoid confusion, delay or misplacement of your materials with other Exhibitors. You may make as many copies as you require for your shipments.
8 Organizing partners: 3. Operations/Event schedule Build‐up (Non-Official Contractor): 19 November 2018 08:00 – 18:00 Exhibitor registration & move‐in : 20 November 2018 14:00 – 17:00 Exhibition : 21 November 2018 09:00 – 15:30 22 November 2018 09:00 – 16:30 23 November 2018 09:00 – 14:30 Teardown : 23 November 2018 15:00 – 18:00 4. Admission 21 November 2018 Open to delegates 22 November 2018 Open to delegates 23 November 2018 Open to delegates Note: No late work is permitted. Independent stand fitting contractors must complete their work according to scheduled list.
All exhibits must be in place by 17:00 on 20 November 2018.
Kindly assist to have all crates and cartons unpacked as soon as possible, so that they can be removed to keep the walkways clear. Exhibitors may begin to pack up materials, supplies and literature when the exhibition officially closes at 14:30 on 23 November 2018. We strongly discourage exhibitors to start packing up before the official closing timing, so as not to lose out on potential delegate traffic. All display materials must be cleared from the exhibit hall by 17:00 on 23 November 2018. Should any exhibitors fail to remove their materials, the Organizer reserves the right to remove it at the Exhibitors' expense.
Should any exhibitor decide to engage their own third-party contractor, the set-up timing is from 08:00 – 18:00 on 19 November 2018. Noisy work such as drilling, hammering, cutting etc, can continue during daylight hours, subject to complying with the venue's "no noise "rule. The exhibition area must be kept clean and in an orderly manner at all times. 5. Stand cleaning The Organizer provides general cleaning of stands and gangways. All Exhibitors are responsible for their own removal of bulky stand materials or crates/pallets during exhibition build‐up and teardown. Exhibitors are fully responsible for keeping their own booth clean during the exhibition.
Exhibitors are only allowed to litter the unwanted things/garbage at the garbage disposal area. Exhibitors are reminded not to obstruct the gangways with their exhibits during the build‐up. The Organizer reserves the right to invoice any Exhibitor for any removal of excessive stand materials that are left behind by them. No crates, cartons or packing materials are allowed behind Exhibitor's booths along the walls of the exhibition hall.
9 Organizing partners: 6. Indemnity The Exhibitor will be responsible for all direct/indirect loss or damage caused either to the venue or any other part of the complex by any person in attendance at the event on behalf of the exhibiting entity (other than those under the control or direction of Chung Ang University) or any non-official contractors engaged by the client for the event and the Exhibitor must immediately pay Chung Ang University, on demand, the cost of rectification of any damage. 7. Security General hall security will be provided during the build‐up, event days & teardown. However, there will be no guaranteed protection against theft.
It is the sole responsibility of the Exhibitors to ensure that their valuables, i.e. money, handbags and wallets are kept in lockable cupboards (out of sight and reach) and are removed from the hall daily. Exhibitors are fully responsible for any item lost or stolen at their own booth and it is the Exhibitor's responsibility to contact the police to make any report. 8. Insurance Please be advised that the Exhibitor is responsible for any injury sustained by any person(s) while working or visiting the booth during this period. All Exhibitors are advised to take up insurance coverage against theft or loss of goods and third-party injury.
Exhibitors participating in this exhibition shall INDEMNIFY the Organizer against all claims of whatever nature (which may be made against the Organizer) arising out of or in any way connected with such Exhibitor's participation in the exhibition. 9. Food & beverage Chung Ang University has sole catering rights which means that no external food and beverage are allowed to be consumed within the venue. 10. Power supply & general lighting The Organizer will provide general hall lighting during the exhibition period. Supplies to stands will be switched off at source after the exhibition closes each day.
11. Electrical installations & fittings Please note that the Official Contractor has been appointed to undertake ALL electrical work on-site. These electrical works include lighting installation, wiring & connection etc. No other electrical contractor will be permitted to carry any electrical works on-site for safety reason. If you require your lighting or power points to be positioned in specific locations on your stand, please write to the Official Contractor before 29th September 2018. If you do not indicate preferences, the fittings will be fixed in positions thought appropriate by Official Contractor.
Any changes thereafter will incur charges.
Exhibitors and non-official contractors must note that all power outlets are for single machine/product use. These power outlets are not allowed to be used for illumination purposes (e.g., spotlights/downlights affixed in existing display showcases, etc.). No electrical installation may be suspended from the roof of the exhibition hall or affixed to any part of the building structure. No fitting may protrude beyond the boundaries of the installations and must be adequately protected against excess current.
10 Organizing partners: USAGE OF MULTI‐PLUGS AND EXTENSION CORDS IS STRICTLY PROHIBITED as it may cause an overload and electrical tripping, which will result in disruption to the conference and exhibition.
All space-only stands will need to order for main power from the Official Contractor. The Organizer reserves the right to refuse connection to any Exhibitor whose equipment is deemed unsafe. 12. Lifts Passenger lifts are not to be used for transporting freight or equipment and furniture including tables, chairs, boxes, etc. The use of trolley is prohibited in the passenger lifts. Delivery of exhibits or hand carry items by personal four-wheel trolley or fordable trolley must be used and only permissible to and from loading bay.
13. Exhibitor badges Each exhibition booth will be entitled to complimentary Exhibitor badges, based on package entitlement. Badges must be worn at all times during this period. For security reasons, all badges are strictly non‐transferable. The Organizer reserves the right to evict any Exhibitors, who are not wearing the Exhibitor badges with the lanyard provided. 14. Exhibitor Profile in QS-APPLE Conference Program Book All Exhibitors will receive a complimentary 50‐word profile listing in the Conference Program Book. The Conference Program Book contains the official conference program and exhibition guide.
Every delegate will be given a copy and it will be circulated in the press and distributed widely for publicity purposes.
Please email your profile within a week upon receipt of email confirmation to Ms Ashley Wong at ashley@qs.com. 15. Accommodation Please refer to the Official Hotels page via this link for the recommended hotels.
11 Organizing partners: 16. Visa Foreign nationals entering Korea are required to have a valid passport and an approved visa issued by Korean embassy or consular offices. However, citizens of many nationalities are now permitted visa- free entry to Korea for a limited period under certain conditions. All visitors must hold a passport with minimum validity of six months as of the date of entry.
Kindly click here for more detailed information. Should you require an invitation letter to facilitate your visa application, please write to register@qsasia.com with the following information: Salutation: Full Name: Designation: Department (if any): Organization: Country: 17. INTERNET ACCESS Complimentary Internet access will be provided for delegates at exhibition area throughout the whole event.
RULES & REGULATIONS The rules and regulations listed below are designed for the protection of all Exhibitors. Exhibitors and their appointed agents/contractors must observe the rules and regulations stated in this Exhibitor Manual. DEFAULT IN OCCUPANCY Any Exhibitor failing to occupy the contracted space is not relieved of the occupation or payment of the full rental of such space. All display systems and equipment/products must be installed and completed by 17:00 on 20 November 2018. Unoccupied space may be repossessed by the Organizer for any purpose as it may see fit. Failure to notify the Organizer of cancellation in advance will cause Exhibitor to lose priority for exhibition space.
RESELLING / USE OF SPACE The Exhibitor is strictly forbidden to assign, sublet or resell, in whole or in part, their contracted space without prior permission from the Organizer. Any Exhibitor caught violating this sub-letting prohibition will be asked to remove all illegitimate third-party business cards, materials and exhibits (promotional or otherwise) from its booth area IMMEDIATELY at its own cost. The contracted Exhibitor may share this space with affiliated co‐Exhibitors, providing that the primary identification on the structure is that of the primary Exhibitor. Exhibitors are reminded to obtain prior written permission from the Organizer if the Exhibitors wish to conduct the said activities for their subsidiary or non-official company.
All co‐Exhibitors must comply with all Exhibitor conditions and rules and regulations. The contracting Exhibitor will be primarily liable for all financial and performance covenants to all parties involved.
12 Organizing partners: VIOLATIONS AND PENALTIES The Organizer may, at its discretion, reduce priority points for violation of these rules and regulations. In addition, substantial violations of any of these rules and regulations by the Exhibitor shall make the Exhibitor liable to forfeit their payment to the Organizer. It is to the Exhibitor's advantage to contact the relevant parties prior to arriving on exhibition site for all queries. Upon evidence of any substantial violation, the Organizer may enter and take possession of the space occupied by the Exhibitor and may remove all persons and goods at the Exhibitor's risk.
The Exhibitor shall pay all expenses and damages, which the Organizer may thereby incur.
THE ORGANIZER RESERVES THE RIGHT TO PURSUE ANY ACTION IT DEEMS NECESSARY IN THE BEST INTEREST OF THE EXHIBITION AND IN FAIRNESS TO ALL EXHIBITORS. LIABILITIES The Exhibitor assumes the full financial liability for damage to the facility or neighboring exhibits caused by the construction of the Exhibitor's stand structure (other than by Official Contractor). The Exhibitor may not nail, drill and apply paint, lacquer or other coating to columns, walls or floors of the venue or material provided by the official stand builder on rental basis. For exhibitor using adhesives, please ensure that no residue is left at the walls after removal.
If damages are found after the event, the relevant charges shall apply.
If any part of the exhibit hall or material is destroyed or damaged the Organizer reserves the right to cease permitting any Exhibitor to occupy the assigned space during any period of the exhibition. In the event that occupation of the assigned space during any period of the exhibition is prevented by strike, acts of nature, national emergency or other causes beyond the control of the Organizer, the Exhibitor hereby waives any claim against the Organizer, including a refund of rent paid for the period it was prevented from using the space.
The Organizer, Official Contractor or Venue owner reserve the right to have any items obstructing or restricting access to the above removed at the Exhibitors cost, without any liability for loss or damage.
The Organizer shall not be liable to or be responsible in any manner whatsoever for any loss or damage to the Exhibitors property (including the Exhibition Materials) or any part thereof howsoever caused whether by the aforesaid Official Contractor or the Freight Forwarder or arising from or during the moving transportation or shipment to or from the exhibition premises or otherwise. LIMITATION OF LIABILITY / INSURANCE The Organizer would like to remind the Exhibitor of the limits of liability as agreed to on the original signed contract for exhibit space.
The Exhibitor assumes responsibility and agrees to indemnify and defend QS and Chung Ang University and their respective employees and agents against any claims or expenses arising out of the Exhibitor's use of the event premises. The Liability for the Exhibitor for any breach of this Agreement, or arising in any other way out of this Agreement, will not extend to any incidental or consequential damages or losses including (without limitation) loss of profits. In any event, the Organizer accepts and agrees that the maximum liability of the Exhibitor under or otherwise in connection with this Agreement shall not exceed the amount payable by the Exhibitor under
13 Organizing partners: this Agreement. However, if it is determined that any damage or losses have taken place because of negligence of the Exhibitor's failure to adhere to the guidelines set in this document, then the Exhibitor assumes responsibility of such damages or losses. To avoid such circumstances, it is advisable for the Exhibitor to take up a single show/exhibition insurance policy at its own cost. FILM AND AV DEMONSTRATIONS / CENSORSHIP / COPYRIGHTS It is the responsibility of the Exhibitor who wishes to play audio/visual material at their booth to secure the necessary copyright permit if necessary.
The Organizer bears no responsibility for any legal actions, fines, litigation, etc. incurred by any Exhibitor who has not obtained the said permit. Sound levels must be set at a level that will not interfere with or annoy other Exhibitors. The Organizer reserves the right to reduce the sound level and/or switch off any audio/visual display that causes complaints. The Organizer's decision is final if such a dispute arises. PROMOTION DURING THE EXHIBITION Exhibitors are not permitted to place stickers, signs or posters anywhere in the hall other than within their own stand. Likewise, Exhibitors' representatives are not allowed to distribute brochures, pamphlets, etc.
along the gangways, near entrances/exits and lifts. The Organizer and Venue owner have the right to remove anyone flouting this order.
The Exhibitors shall ensure that the exhibits prohibited by Korea law are not displayed to the public. The expenses incurred in the removal of the said exhibits and all claim for compensation by the aggrieved party, if any, shall be payable by the Exhibitor. Balloons containing helium and live animals are prohibited within the venue.
14 Organizing partners: Conference Venue Layout Fire, Medical and Security Emergencies The Organizer reserves the right to limit any constructions or demonstrations that pose as potential safety hazards. Inflammable materials are strictly prohibited in the Exhibition Hall.
All fire protection systems, exits and evacuation routes must not be obstructed. No item may remain within 3 meters of any exit. Storage of any combustible materials within the Exhibition Hall is prohibited. Any toxic or hazardous material which include flammable liquid and compressed gas are prohibited. Exhibitors who wish to use gas stove (gas cylinders or canisters), please inform the Organizer or Official Contractor for approval.
In any medical emergency, please call the relevant emergency contact number provided here. SMOKING POLICY Chung-Ang University is a non-smoking venue. Smoking is strictly prohibited at all times in all public areas, inclusive of foyers, registration counters, meeting rooms, Organizer's office, restrooms, hospitality lounges and exhibition halls. PHOTOGRAPHY OF EXHIBITS Photography of exhibits and displayed equipment (other than your own) is strictly prohibited. Please note that other Exhibitors have the right to request for photographs not to be taken without prior permission. Audio/tape recordings within the exhibit hall or meeting rooms are prohibited.
The appointed photographer by the Organizer and the press are exempted from this rule.
15 Organizing partners: STORAGE The Organizer will provide designated storage behind the exhibition hall for any packing cases, surplus materials or other properties of the Exhibitor. Exhibitors are to ensure that their surplus materials and packaging materials are stored in an orderly manner in the designated storage area behind the exhibition hall, so as not to obstruct the emergency exit route. The minimum aisle width applicable throughout the entire exhibition is approx. 2.1 metres. Exhibitors are not permitted at any time to obstruct of any aisle space (yellow box), or obstruct access to the emergency exit, fire hose and fire extinguisher cabinet or building control access door or open panels, etc.
The Organizer, Official Contractor or Venue owner reserve the right to have any items obstructing or restricting access to the above removed at the Exhibitors cost, without any liability for loss or damage. Exhibitors who need the Official Contractor to keep their goods after the exhibition will be charged based on the quantity of goods, transportation, storage and labour.
REMOVAL OF WASTE "Bare Space" independent stand contractors or stand interior decorators are responsible for removing their own building waste and off‐cuts from the site at the end of each day. At the end of the exhibition, non-official contractors must remove from the site all the materials, especially the double‐sided carpet tape used on their clients' stands, by the hours stated in the "In‐Hall Operations Time‐Table". Should the non-official contractors fail to do accordingly, their performance bond funds will be used to pay for such removal by the official cleaning agency.
The Organizer reserves the right to charge any Exhibitor concerned who has no Performance Bond placed with the Official Contractor for removal of excessive waste (stand construction debris, crates/pallets, cartons, packing materials or literature) on the exhibition floor.
Exhibitors are advised to remind the non- official contractor hired to remove all material before leaving the hall. Removal of crates and/or cartons remains the responsibility of the Exhibitor. DILAPIDATION Exhibitors are responsible for the cost of any damage or dilapidation to the exhibition premises, whether caused by themselves, their agents, and contractors or by any person or persons employed or engaged on their behalf by such agents or contractors.
OPERATION OF STANDS / CONDUCT AND BEHAVIOUR All exhibition stands must be fully staffed and operational throughout the opening hours of the Exhibition. Exhibitors must not participate in any activity that causes, or is likely to cause, annoyance to visitors or other Exhibitors. All activities of the Exhibitor and the exhibiting staff must be confined to the stand or site allocated. No advertising, demonstration such as mascot, or canvassing for business may take place elsewhere within the exhibition hall. This includes the distribution of leaflets, brochures, journals, etc. FORCE MAJEURE The exhibition may be postponed, shortened or extended due to any cause whatsoever outside the control of the Organizer.
In such an event, the Organizer shall not be responsible for any loss incurred by the Exhibitor directly or indirectly attributable to the elements of nature, force majeure or orders and directives
16 Organizing partners: by any governmental authority, and fees paid by the Exhibitor, in full or any part thereof, are refundable at the sole discretion of the Organizer. AUTHORITY OF PREMISES In the event of any problems or disputes on‐site, the decision of the Organizer, being lessee of the premises, will be final. The Organizer also reserves the right to amend any earlier decision made in order to meet and satisfy any unforeseen or prevailing circumstance for the benefit of the Exhibition and concerned parties.
PAYMENT OF EXHIBITION SPACE No Exhibitor may begin stand construction or move their exhibits into the hall or surrounding area until the Organizer has received full payment.
ELECTRICAL SUPPLIES AND INSTALLATION For safety reasons and the protection of electrical installation at the exhibition premises, all power installations from source to outlet (exhibition stands) must only be carried out by the appointed Official Contractor. All distribution boxes where required and deemed necessary by the Official Contractor will be hung or mounted on the walls or structures of the stand. Exhibitors are to inform their non-official contractor about the positions where such distribution boxes can be mounted. Any deviation from this regulation will only result in supplies not being switched on until the Exhibitor submits in writing to the Organizer or the Official Contractor to discharge Exhibitor from any liability whatsoever.
The Organizer seeks your kind cooperation in this matter, as it is beneficial to all parties concerned. The Official Contractor (in consultation of the Organizer) reserves the right to disconnect electrical supply to any installation not supplied and fitted by them from your stand, which in the opinion of the electrical/safety officer is dangerous or will cause annoyance to visitors or to other Exhibitors. BARE SPACE STAND CONSTRUCTION Exhibitors and their non-official contractors must take note and adhere to the timings for the build‐up and teardown periods stated in the in‐hall operations schedule when preparing and constructing their stands and exhibiting displays.
The Organizer has appointed Pico North Asia (Korea), as the Official Contractor for all shell scheme package stands. Exhibitor may employ a non-official contractor of its choice to construct stand interiors and any free‐ standing display or fitment that may be required, subject to the following rules and regulations: Exhibitor is required to inform and obtain consent from the Organizer before the non-official contractor is allowed to work on-site. The Official Contractor reserves the right to reject any Contractor and design deemed inappropriate.
Exhibitors are responsible for the cost of restoring any damage or dilapidation to the stand structure, floor covering, light fitting, or any part thereof, caused by themselves, their agents or by any person employed or engaged on their behalf.
No additional fittings or displays, including additional name boards, covers, logos, balloons, etc., are to be attached, nailed, screwed or drilled to the stand structure provided by the Official Contractor. If this instruction is ignored, the Official Contractor reserves the right to charge the Exhibitor or non-official
17 Organizing partners: contractor concerned for any damage to their materials. Materials used for lining, drapes or overhead structure or as part of the theme or display to the public must be rendered non-flammable as per "The Malaysian Fire & Rescue Department" requirement. The use of flammable materials is strictly prohibited unless treated with fire retardant. In relation to non-electrical works, Exhibitors are encouraged to engage the services of an Official Contractor. All free-standing fittings must be structurally safe and should NOT EXCEED the ceiling height of exhibition hall.
Failure to obtain written approval can result in costly alteration on site in the event that the designs or installations contravene fire and safety regulations, booth height and boundary or any space contract rules and regulations.
The design of Double-Decker/Multi Level booths must also submit engineering drawings to guarantee compliance of the static loading standards. The drawing must be accompanied by load calculations and only carried out by a certified registered engineer under the Board of Engineers Malaysia. Exhibitors shall not erect any sign, devices or furnishing ornament outside the booth area. The major painting of display and exhibition material is not permitted in the venue, as well as spray painting. Only non- toxic, primarily water-based paints are permitted.
All construction works of booths etc must be fully completed during the build-up period. No touch up or correction works will be permitted one hour before opening of event. During the dismantling day, Exhibitor must ensure that their appointed contractor is responsible to complete the removal of their exhibition booths and any unwanted materials. Exhibitors or non-official contractors who fail to comply, shall be billed with a disposal fee at the discretion of the Organizer. Non-official contractor will sign a written contractor activity sheet to guarantee conduct, proper schedule of production and observance of the Exhibition and Hall's regulation.
The Non-official contractor will be allowed to bring their material onto the site or commence work only when Performance Bond is received and the contractor activity sheet signed.
The Official Contractor may provide assistance in hanging or displaying exhibits on the stand structure whenever possible. Please consult them if you require their assistance. Any cost incurred will be borne by the Exhibitor. No painting, wallpapering or pasting on panels is allowed. Exhibitors who wish to have such works done on the panels must inform the Official Contractor, who will provide a quotation and carry out the work. Any double‐sided or adhesive tapes belonging to the Exhibitor or non-official contractor must be removed from the panels after the exhibition before leaving the premises.
Please ensure that your display is of a high and acceptable standard. Any exhibit or process which generates noxious or toxic fumes, exhaust or smoke will not be tolerated. In the interest of the exhibition as a whole, it may be necessary to remove or alter something in a stand if the Organizer feel this action must be taken. This will be at the expense of the offending Exhibitor. No financial credit or item‐exchange will be given by the Organizer or the Official Contractor for any shell scheme package items not utilized.
18 Organizing partners: SHELL SCHEME EXHIBITORS The Official Contractor have a range of furnishings, stand fittings, graphics and lighting to decorate and make your stand exclusive.
Please ensure that any standard items hired for the shell schemed exhibition booths are supplied by the Official Contractor. All standard items are supplied by the Official Contractor and are on a rental basis. Exhibitor must return all items in good condition and will be responsible for any damages incurred during the period of use. *Subject to change Fascia One digital print on white signage per aisle (max. 30 characters without logo) Additional charges are applicable to add extra fascia for double booths. Additional charges are applicable to add logo on Fascia. If you would like to include logo on fascia, the Hi-Res artwork needs to be sent to Official Contractor by 31st August 2018 for print.
Please complete the Fascia Form by 31st August 2018 to confirm the name appearing on Fascia. Electricals Each booth will have 2 x 10-watt LED light and 1 x 220V power plug. Furniture Each booth is provided with: - 1 x Lockable cabinet - 1 x Low Round Table - 2 x Chairs
19 Organizing partners: Changes to the basic booth structure and design are subject to Organizer's approval and can only be performed by the Official Contractor. Charges incurred for any additional fittings and furnishing will be payable by Exhibitor to the Official Contractor. The standard height for all shell schemed booths is 2.5m.
Any design which exceeds this height must submit an application and seek approval from the Official Contractor. For Shell Scheme and Upgraded Scheme Booth, please note that no additional booth, fittings or display may be attached to the shell scheme structure except for those approved by Official Contractor. Any protruding or cantilever signage must conform to the specifications approved by the Official Contractor. No devices, such as electricity cables, water/compressed air pipes and telephone lines inside or near the booth may be removed, cut or diverted without the permission of Official Contractor.
Aisles indicated on the layout plan must be kept clear of all exhibition goods or decorative materials in order to facilitate traffic. All display items (such as bunting, banner, display cases, products etc) should be displayed inside booth area.
No suspension may be made from the ceiling of the exhibition halls, nor any fixtures made to the structure of the building. The fascia, shell schemes and plug points belong to Official Contractor. Any damage to this will be for the Exhibitor's account. No painting of panels will be allowed. No holes may be drilled or hammered into any of the sections – please use double-sided tape only and remove them after the exhibition. Should there be an damages caused by the double sided tape removal, the exhibitors will be liable for the replacement cost. Failure to comply with these stipulations will result in the Exhibitors accountability for the total loss incurred by Official Contractor.
Ensure that electrical products are in good working condition. Multi-way adapters are not allowed. No venue property shall be damaged and Exhibitors will be held liable for any damages. Any item of display may not project over the frontage of the stand space or be allowed to encroach into aisles. Graphics and Signage The Official Contractor can provide you with graphics and signage's should you require any. Please do advise your requirements so that a quote can be provided for the same. Once the graphics are confirmed, the artwork needs to be sent to Official Contractor in Hi-Res format for print.
Full payment is required before the production/printing of the graphics. Company Name on the Exhibition Booth and Exhibition Directory Exhibitors' company names as stated in the application will be printed on booth fascia and exhibition layout plan. The name which is shown on the booth's fascia/decoration (for customized booth) must be the same as the name of directory.
Exhibitors who wish to show their brand/publication name or group company name on their fascia/decoration which differ with the name of directory, MUST request and obtain prior approval from Organizer, by providing the relevant documentation, to prove that the Exhibitor's company is the brand/publication owner or is appropriately licensed thereby, or is a member of the same group of companies as the Exhibitor, at least 3 months before the commencement of the Exhibition. The Organizer reserves the right to decline any Exhibitor's request if the documentation is not completed. No display of brands/publication name or other company names on booth fascia/decorations is permitted.
20 Organizing partners: The Organizer reserves the right to request Exhibitor to change their booth fascia/design or amend the decoration of booth in case of non-compliance. Stand Boundaries and Design Restrictions Please ensure the design of your stand befits not only your company's standards, but also those of the exhibition. The Official Contractor reserves the right to disallow stand plans and designs should they be deemed to be inappropriate. Designs must be of acceptable standard. No Exhibitor may place any display material and exhibit or allow a dividing wall or any part of their stand design and fitting beyond their contracted boundary.
All stands, irrespective of height must have at least one half of any of the frontages facing an open aisle. The maximum height allowed is 2.44m (8ft). Additional Furniture, Lighting, A/V Equipment or Plants These can be ordered directly from the Official Contractor by 29th September 2018. Charges incurred for this additional equipment will be on Exhibitor's account and paid directly to the Official Contractor before the event. Kindly contact the official contractor to enquire about any furniture requests. Order confirmation & delivery Once your order has been processed, you will be issued an invoice which is your order confirmation and must be brought to the exhibition along with proof of payment.
Your order will be delivered to your booth by the Official Contractor during build-up of the Exhibition.
Deadline for services orders All orders for services must be received before 29th September 2018. Cancellation 30% cancellation fee will be imposed for cancellation of confirmed orders. There will be no refund for cancellation during show days. Payment For payment details, please contact the official contractor directly for all payment matters. No services/items will be supplied or installed until completed forms and payment are received in full.