SPA AND WELLNESS TREATMENT MENU - Silver forest boutique lodge and spa
Page content transcription
If your browser does not render page correctly, please read the page content below
SILVER FOREST PHILOSOPHY

Our philosophy at Silver Forest is to provide the client with a luxuri-
ous and relaxing environment where you are encouraged to escape
from the stress of everyday life and take time to rejuvenate your
mind as well as your body.

We have specifically chosen products that not only achieve total
relaxation in their treatment delivery, but also have amazing results
in the targeted areas prescribed.

For our regular clients our Therapists are trained to be your advisors
in beauty and relaxation and can help prescribe your home care
routine so that you truly benefit from the products.

Our Silver Forest Spa menu offers a variety of health and beauty
treatments to ensure our guests are pampered, nurtured and
relaxed.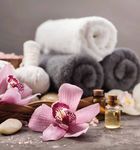 SPA FACILITIES
4 Treatment rooms – 2 single treatment rooms and 2 couples treatment rooms.
Our beautiful rooms cocoon your senses and are designed for total relaxation
from the outside world.

       Spring   |   Single treatment room with en-suite shower
       Summer |     Couples treatment room with en-suite shower
       Autumn |     Single room dedicated to massage therapies
       Winter   |   Couples treatment room with en-suite Spa Bath and shower
SILVER FOREST THERMAL SUITE
Rasul/Steam Room                            Jacuzzis
A traditional cleansing ritual combining    Warm Jacuzzis with Hydrotherapy jets to
specialised muds with steam for total       help with circulation and relaxation.
relaxation and body cleansing.              Chromotherapy Room
Traditional Sauna                           Lie back and bathe in the changing colour
Relax in the dry heat followed by a cold    spectrum for total relaxation and balance.
shower for the ultimate benefit of this
                                            Health Bar
treatment.
                                            Complimentary teas and waters to help
Cold Bucket Shower                          rehydrate during your time at the spa.
The combination of heat and cold has
                                            Outdoor Pool and Sun Deck
many health benefits to be used following
                                            Unwind outside with the sound of birds
a hot sauna or steam.
                                            and forest views and take a dip in our
Hydro Pool                                  cooler outdoor pool or simply relax on
Powerful Hydrotherapy jets to ease away     one of our day beds.
tension in your back, neck and shoulders.
SILVER FOREST SPA
PACKAGES

We design packages that relieve
stress, detoxify, cleanse and purify or
simply refresh and rejuvenate with
finishing touches added to return you
to the outside world feeling and
looking your best. A focus on nature
and a combined sense of place with
Vinotherapy representing our Wine-
lands location and Healing Earth
giving us a truly natural African
journey you are sure to find a journey
to suit you. Should any of our current
packages not suit your needs, please
do not hesitate to discuss your
requirements and a personalised
package will be created for you.
SPA PACKAGES
African Rejuvenation ~ The Essence of Nature
(Full Day) 7 hours | R2735
60 min in Thermal Suite Relaxation with a choice of a drink
African Forest Journey
Healing Earth Facial
Luxury Manicure
Luxury Pedicure
Buddha Bowl Lunch

Vinotherapy Togetherness ~ The Essence of the Winelands
(Half Day) 4 hours | R4250 (for 2 persons)
Private Rasul for two
Thermal Suite Relaxation with a glass of MCC
Healing Earth Pinotage Facial
Wine Crush Massage
Buddha Bowl Lunch with a glass of local Wine
(Full Day) 7 hours | R5185 (for 2 persons)
Add on a Wine Manicure and Pedicure served with a glass of MCC

Romantic Reconnection for two ~ The Essence of Love
(Half Day) 5 hours | R4350 (for 2 persons)
Thermal Suite Relaxation
Marula and Neroli Body Polish
Couples Marula and Neroli Massage
Healing Earth Pinotage Facial
Romantic Two Course Lunch with a bottle of MCC
Mother Earth ~ The Essence of Nurture
3 hours | R2350
75 min Mother to be Massage
30 min Facial
Foot Regeneration with choice of Lacquer or Gel
Luxury Manicure
Buddha Bowl Lunch served with Fresh vitamin filled Juice

Bride to Be ~ The Essence of Beauty
(Full Day) 7 hours | R2650
Thermal Suite Relaxation
60 Min Healing Earth Facial and consultation with your therapist
Healing Earth Body Journey of your choice
60 Min Full Body Massage
Luxury Manicure
Luxury Pedicure
Choice of Lacquer or Gellish

Candlelight Night Spa ~ The Essence of Romance
R1495
Thermal Suite Relaxation with a glass of MCC
Mini Rasul
30 Min Wine Crush Back Massage
30 min Pinotage Hand and Foot therapy
3 Course Dinner with a bottle of House Wine
Hot Stone Heaven
3 hours | R1295
60 min Hot Stone Massage
Hot Stone Manicure
Hot Stone Pedicure

Quick Revival
2 hours | R1395
30 min Rasul
45 min Massage
5 min Facial.

Create Your Natural Journey
3 hours | R1700 | 4 hours | R2200
30 min options:      60 min options:
Body Polish          Thermal Relax incl 20 min Rasul
Hand Therapy         Body Journey
Foot Therapy         Luxury Pedicure
Massage              Luxury Manicure
Express Facial
Thermal Relax
Rasul
Time for Him ~ The Essence of Man
4 hours | R1995
60 Min Facial
Choice of Healing Earth Body Journey 90 mins
Manlicure or Sole Therapy

Relaxing Date for two
3 hours | R2650 (for 2 persons)
Thermal Suite Relax with a Glass of MCC
Couples 60 min Massage
2 Course Meal with a bottle of House Wine

Time Together
2 ½ hours | R1200 (for 2 persons)
Thermal Suite relaxation 1 hour
2 Course Lunch OR Dinner with a bottle of House Wine
MANI-PEDI-CURE
LOUNGE
Relax in our Luxury Lounge with
butler service for complimentary
teas and spa waters and let our
expert technicians work their
magic on your hands and feet.
Pedicure & Manicure DUO | 75 min | R895
Four hands Manicure and Pedicure focus on feet, legs, hands and arms for an ultimate Manicure and Pedicure
Luxury experience. Includes your choice of lacquer.

Luxury Pedicure Detox/Relaxing | 90 min | R450
Celebrate your feet with this wonderful luxurious Pedicure treatment. Your feet are soaked in African Joy ener-
gizing salt soak, scrubbed with a luxurious peppermint foot polish and embalmed in Shea butter. Relax as you
receive a hand and arm massage. Pure bliss for tired feet.

Luxury Manicure Anti-aging | 90 min | R395
The ultimate hand ritual. Your hands are polished with pure Shea Butter polish and cuticles restored with indige-
nous healing oils. Your hands are then massaged with African Shea Butter and covered with warm mits. You will
feel totally relaxed as you receive a foot and lower leg massage while the warm oils penetrate into your skin.
Pinotage hand balm or oil is applied, leaving your hands feeling totally invigorated.

Foot Scrub and Nourish | 30 min | R250
Using award winning African Potato Nourishing Balm Massage.

Foot Regeneration | 45 min | R395
For total well-being of feet and lower legs, especially after long flights, massage from toes to knees, increases
circulation, mobility and reduces swollen feet and ankles.
Silver Forest Wine Manicure | 60 min | R425
Silver Forest Wine Pedicure | 75min | R465
Enjoy soaking in a pinotage foot/hand bath while you are served a glass of wine or grape juice to enjoy. The
manicure/pedicure includes an invigorating scrub, hot towels mask, massage, cuticle and nail care and paint.

Classic Manicure | 45 min | R300
Includes shaping, cuticle work and varnish.

Classic Pedicure | 45 min | R330
Includes shaping, cuticle work and varnish.

Specialist Medi-pedi | 90 min | R475
A unique treatment for dry and cracked feet. With a single, gentle treatment all the dead skin can be removed
from the heel using a chemical foot peel.

Medi Heel Peel | 45 min | R295

Gelish Soak Off and Reapply | 45 min | R225
Perfect for a quick glamour look with no fuss 2 weeks after initial application.

Soak Off Gelish | 30 min | R100

Gelish Paint | 15 min | R100 (when added on to any Manicure or Pedicure)
When applied in place of lacquer as part of a Manicure or Pedicure.

Cut, Shape, Polish (Nails Only) | 30 min | R250
!QMSMEDI COSMETICS
QMS medicosmetics is the
ultimate in anti-aging and skin
regeneration with each product
developed from a medical under-
standing of skin functioning.

Formulated by Dr. Erich Schulte,
an aesthetic surgeon, lecturer
and international authority on
skin aging and skin regeneration,
based on research led by collagen
enhancing technology to create a
bespoke regenerative system of
skincare. Erich Schulte has devel-
oped some of the most ground
breaking advances in skincare.
Experience powerful, intelligent
skincare formulations based on
scientific logic not miracles.

Our Facial therapists have been
highly trained to analyse your
personal skincare needs and pre-
scribe the best solution for you.
SPECIALIZED FACIAL THERAPIES
Deep Cleansing Intense Treatment | 60 min | R690
This is a deep pore cleansing treatment with an algae mask, leaving a healthy, balanced, hydrated skin.

Sensitive Skin Rebalance | 60 min | R850
Clears impurities calms inflammation and regenerates the skin, designed for problematic and acne skin.

Activator Treatment | 60 min | R895
Hydrates, refuels and energises the skin, perfect for tired skin and Brides to be.

Collagen Rejuvenation Treatment | 90 min | R950
Skin is left firmer with more volume, fine lines are reduced and texture improved.

Sk Alpha Treatment | 60 min | R895
Combats damaged, exhausted and tired skin through microcirculation, skin left visibly smoother.

Neo-Tissuedermie Treatment | 90 min | R1150
Combats signs of aging, perfect for mature skin.

Pigment Corrector Treatment | 90 min | R1550
Target excessive and irregular pigmentation.

Specialized Body Therapies
Anti-Cellulite Contouring Treatment | 60 min | R850
Upper Body Tone and Hydrate | 60 min | R850
Prolift Upper Arm Treatment | 60 min | R850
OPTIPHI | SKIN
REJUVENATION PEEL
Experience true skin rejuvenation
results without the unpleasant
side effects. A solution to all skin
conditions by combining regener-
ative capabilities of Glycolic Acid
and intensely hydrating active
ingredients.
Optiphi Skin Rejuvenation Peel | 60 min | R695
This anti-aging, radiance boosting skin peel will rejuvenate the skin; improve elasticity and
smooth skin texture. The strength of this chemical peel is tailored according to your skin
condition with 25% - 35% pure glycolic acid. Advanced AHA peel also available once your skin
has adapted to the 25% and 35% peel (Cleanse, peel, extractions, serum, mask, massage, mois-
turise & sunscreen).

Active Back Treatment | 45 min | R595
Glycolic acid peeling treatment specific to back, improves skin tone and texture, targets
hyperpigmentation, breakout and premature aging, promotes true skin rejuvenation.
Jasmine and Baobab Skin Protector
60 min | R595
Powerful synergy of antioxidant and protective actives leaves skin soft
and renewed giving youthful radiance and a plumping effect.

Marula and Rose Skin Hydrator
60 min | R595
Tone and Renew, excellent for tired and dehydrated skin.

Neroli and Rose Skin Balance
60 min | R595
Pollution and Decongesting, replenishes and decongests skin leaving
it cleansed, hydrated and flawless.
African Forest Journey | 135 min | R795
Enter the Soul of Africa with treasures of indigenous spice extracts and succumb to a state of complete relax-
ation and bliss. Healing Earth has formulated a powerful blend of coffee, cinnamon, cloves and orange essential
oils and extracts creating a memorable spice experience. An energising, detoxing body polish follows. You are
then wrapped in a coffee, cinnamon and orange gel to eliminate toxins, firm and energise skin. Experience a
lovely mini facial whilst the wrap is working. This is completed with a full body massage using signature balms
and aromatherapy oils.

Sacred Tree Sensory Experience | 90 min | R695
A luxurious escape, pure indulgence with lingering extracts of Marula and Neroli. A Marula and Neroli body
polish followed by aromatherapy or balm full body massage. Bring along your loved one for a synchronised,
energy fusing massage to honor the connection that exists between you.

Pinotage Wine Crush Journey | 135 min | R895
Warm Pinotage body polish gently removes skin debris preparing for an intoxicating pinotage clay wrap
allowing open pores to absorb powerful antioxidants, vitamins and minerals deep into the skin. Relaxes tired
muscles and joints, invigorates circulation and repairs skin damage and glow. End with an aromatherapy mas-
sage tailored to your needs. Hydra'vine - Hydrate | Detox'vine - Detoxing | Relax'vine - Relaxing | De-stress'vine
- Destress and Energise.

African Potato Miracle SOS | 90 min | R695
Luxurious treatment to repair and heal skin on a cellular level. A miracle healing anti aging treatment our African
potato balm is used to treat all skin ailments from eczema, rough skin, painful skin, dry and damaged skin. Start
with a gentle body polish followed by a luxurious full body massage using our miracle balm.
Muscle Melt Journey | 90 min | R895
Deep Tissue work with a theraputic Forest body butter with Rosemary and Sandalwood. Hot stones are incor-
porated on the most tense and troublesome muscles by melting away stress and tightness. A finishing appli-
cation of a cooling detox gel to flush out toxins and inflammation.

Uplifting and Energising Journey | 90 min | R895
The hand picked organic Rosemary and Rose oil in the Joy body butter will not only create a pleasant
ambience but will also awaken your senses. The engergising massage is an invigorating massage where
movements of our therapist hands encourage circulation, toning muscles and refreshing your body in the
most excellent way. This treatment will leave you with soothing feelings of being restored, refreshed and
re-energised.

Detox Journey | 90 min | R895
Our powerful Healing Earth Mongongo Nut Detox Journey will aid your body to eliminate toxins and boost
circulation whilst the golden rich oils will leave you with a radiant glow. Continue with a vigorous detox body
polish and complete your journey to wellbeing with a powerful lymph drainage massage using our Mongon-
go nut oil. Enjoy a cup of tea in our Tranquility Lounge to finally let go of any negative energy still in you and
leave feeling light and refreshed.

BODY EXFOLIATIONS
Marula and Neroli 30 min | R395
Relaxing

Coffee Cinnamon and Orange | R395
Energising

Mongongo Nut | R395
Detoxing
TOUCH THERAPIES
Silver Forest Signature Massage | 90 min | R895
We invite you to indulge in the healing properties of Africa's most treasured natural ointments in a holistically
reviving treatment. Your journey begins with the refreshing signature foot ritual. Your senses will be enveloped
in the heavenly scent of Jasmine and Baobab oils. Your body and mind will now enjoy the healing properties of
the massage which uses relaxing touch therapy combined with our organic African Potato body butter. To end
your senses will re-awaken by breathing techniques with our cooling detox gel.

Deep Tissue Sports Massage | 90 min | R895
Deep Tissue Sports Massage | 60 min | R750
For the stressed individual this massage applies deep pressure, reflex points and a muscle release oil to
ease muscular strain.

Hot Stone Massage | 90 min | R950
Hot Stone Massage | 60 min | R795
Using Warm Volcanic stones to rid the tension choose your own essential oils to focus on your personal
areas of concern.

Pinotage Aromatherapy Crush Massage | 90 min | R795
Indulge in our anti-oxidant rich Pinotage Crush massage. Rich in reservol and grape stem cells our Pinotage
Grapeseed Oil is blended with essential oils chosen for their efficiency to create the maximum benefits and
an enhanced sense of wellbeing.
Hydra'vine - Hydrate | Detox'vine - Detoxing | Relax'vine - Relaxing | De-stress'vine - Destress and Energise
Mother to Be Massage| 60 min | R850
For expectant mothers, this massage applies nurturing movements for the ultimate in relaxation.

Swedish Massage
60 min | R750 | 30 min | R495
This treatment medium pressure and long continuous strokes using specific oils to suit your mood.

Indian Head Massage
30 min | R390
Indian head massage is a relaxing holistic treatment that uses acupressure massage on the head, face,
neck and shoulders.

Reflexology
30 min | R390
Please ask for availability for our reflexology specialist.

Lymphatic Drainage Massage
90 min | R795 | 60 min | R595
Uses very light pressure and long, gentle, rhythmic strokes to increase the flow of lymph and reduce
toxins in your body.
GROOMING
Brow Wax and Shape | R85
Lip/Chin/Cheeks     | R85
Full Face incl Brows | R240
Underarm            | R150
Half Arm            | R150
Full Arm            | R175
Half Leg            | R190
¾ Leg               | R270
Full Leg            | R290
Back/Chest          | R220
G String            | R220
Bikini              | R200
Brazilian           | R270
Hollywood           | R320
THREADING
Threading is an Ancient Eastern Method of hair removal, using cotton string twisted around your fingers
and using a very skilled set of techniques. This is a great alternative for clients who are on any skin thinning
medication such as Roaccutane or high doses of Vitamin A or simply has very sensitive skin. This method
of hair removal is less sensitising to the skin.
Brows/Lips/Chin        | R125
Side of Face           | R150
Full Face incl Brows | R300

TINTING
Brows/Lashes           | R100
Brows and Lash         | R150

LASHES
With years of experience and top brand lashes, our experts will give you a luscious set you will not
want to be without.
Full set Lashes        | 120 min | R795
2 week fill            | 60 min | R395
3 week fill            | 90 min | R550
RASUL CHAMBER
This body cleansing ritual is part of everyday life all across the Middle East but we hardly ever treat ourselves
to this ancient practice. A luxurious take on a traditional bath. With the use of mineral-rich mud along with heat
and steam, this cleansing ritual or ceremony is meant to be therapeutic in several ways. The treatment soothes
and warms the muscles, so it's an ideal preparation for a massage. The mud deep cleanse and the minerals
moisturise, resulting in softer, smoother skin. This self-applied experience starts with you exfoliating your body
with a scrub rinsed off and followed by an application of specialist mud to the specific areas of your body. Whilst
the mud is on you will steam for 20 minutes until the rain comes down from the ceiling and you can begin to
rinse off the clay.

PRIVATE RASUL CHAMBER FOR 45 MINUTES
Rasul Experience for 2 | R600
For extra Romance or Luxury add a bottle of MCC and some Chocolate treats for R250 for 2 persons.

THERMAL SUITE RELAXATION
Our thermal Suite consists of two warm Jacuzzis, Cool Hydro Jet Pool, Traditional Sauna, Steam Room and
Showers. Following the therapeutic Kniepp Therapy principles it is recommended to relax in warm followed by
cool for 10 minutes per treatment for full regeneration.

Thermal Suite
60 min | R350 (2 people) | 2 hours | R600 (2 people)
Thermal Suite
for one hour when added on to another Body Treatment | R150 (per person)
MEN'S GROOMING
MENU
The Silver Forest men's
grooming menu offers a selec-
tion of cutting edge treatments
which have been designed to
specifically address the unique
skin and lifestyle needs of a
man.
QMS Mens Purifying Facial | 60 min | R990
A deep pore cleansing treatment which not only firms and moisturizes the skin and removes impurities
but also refuel the skin with active-ingredients thus leaving the skin refreshed and re-energized.

Medi-Heel Sole Therapy | 60 min | R457
Dead skin cells are sloughed off feet and legs. Relaxed with a specialist foot and lower leg massage,
skin conditioned with a mask, cuticles are treated and neatened, nails filed and buffed to a shine.

Manlicure | 60 min | R435
Relaxed with a specialist foot and lower leg massage, skin conditioned with a mask, cuticles are treated
and neatened, nails filed and buffed to a shine.

Look Smart | 30 min | R295
Cut, File, Buff Hands or Feet.
 Massage
Choose from our Specialised Touch Therapies. Discuss your specific concerns with your Therapist to
gain the most benefit from your massage.