The MAGIC programme: evaluation
If your browser does not support JavaScript, please read the page content below:
The MAGIC programme: evaluation
The MAGIC programme: evaluation An independent evaluation of the MAGIC (Making good decisions in collaboration) improvement programme Evaluation April 2013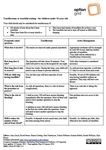 © 2013 The Health Foundation The MAGIC programme: evaluation is published by the Health Foundation, 90 Long Acre, London WC2E 9RA Authors Ewan King Jean Taylor Rebecca Williams Tim Vanson Organisation Office for Public Management 252b Gray's Inn Road London WC1X 8XG www.opm.co.uk Contact Ewan King 020 7239 0872 eking@opm.co.uk
THE MAGIC PROGRAMME : EVALUATION How do you get shared decision making into practice? Despite a growing body of evidence that highlights the benefits of shared decision making1 and a growing political, professional and patient consensus in its favour,2 embedding shared decision making into the day-to-day reality of hard-pressed health services remains a challenge.
A small group of passionate frontline staff, managers and academics in NHS sites in Newcastle and Cardiff joined together in the MAGIC (Making good decisions in collaboration) programme to take on this challenge, seeking to implement and embed shared decision making at individual, team and organisation level. The Health Foundation funded their work because we want a more person-centred healthcare system; one that supports people to make informed decisions about, and successfully manage, their own health and care, including choosing when to let others act on their behalf. We want a system which delivers care that is responsive to people's individual abilities, preferences, lifestyles and goals.
This independent evaluation investigates how the MAGIC teams got on. It is a rich resource that synthesises learning and captures the complex interaction between individual beliefs and behaviours, professional identities and system dynamics that can help or hinder shared decision making. 1 See, for example: The Health Foundation. Helping people share decision making. The Health Foundation, 2012. www.health.org.uk/publications/helping-people-share-decision-making 2 See, for example: Health and Social Care Act 2012; Charter of Patient Rights & Responsibilities, Scottish Government; 'Shared decision making: A summary of learning from the event, 3 November 2011' – Royal College of Physicians; National Voices' response to 'Liberating the NHS: no decision about me without me', August 2012 The evaluation provides important insights into professionals' motivations for adopting – and, indeed, for resisting – shared decision making.
Some were not convinced of the benefits of patients having more voice in decisions about their care. Others were driven by motivations as providers of healthcare: to reduce the risk of litigation, to increase compliance, to reduce consultation rates. For others, however, adoption of shared decision making was clearly driven by a desire to support patients to understand their options and make choices on the basis of their values and in the context of their individual circumstances and relationships.
The evaluation also provided insights into barriers to implementing shared decision making from a patient's perspective.For example, for some patients, expectations of deferring to clinical authority are ingrained: the programme stopped giving satisfaction questionnaires to patients before a consultation as the patients often filled them in saying they were satisfied before seeing the doctor or nurse, highlighting the limitations of patient satisfaction tools. This deference might be compounded by low health literacy, self- efficacy and confidence, putting some groups at potential disadvantage unless health services and healthcare professionals pay attention to the issue.
Systems, too, are not yet designed to support shared decision making: one team felt that shared decision making would be supported if certain service users had information in advance, but there was no easy way to identify the relevant service users. Designing systems to support shared decision making also requires broader incentives, such as the Quality and Outcomes Framework, to be better aligned with supporting it. Health Foundation commentary

THE HEALTH FOUNDATION While this evaluation helps us understand the social, psychological and system challenges to implementing shared decision making, it also provides some very practical learning about how to overcome them. The report shows the factors that can result in: – – clinicians having a 'lightbulb' moment, when they understand what shared decision making really is – – patients taking decisions that reflect their values and preferences – – organisations putting in the infrastructure and support necessary for change.
Embedding shared decision making can be hard and slow, but it can also create positive change within health systems and in the lives of patients.
The evaluation also confirms the vital role of training clinicians in shared decision making, complementing learning from our Co-creating Health programme.3 Not only can training increase knowledge and understanding of shared decision making, but it can also help clinicians see afresh the reality of their own behaviours. The MAGIC programme found that, whilst many health professionals thought they were 'doing it already', once they really understood what shared decision making is, they realised that it is more than good communication skills and involves a different type of relationship. Role play and a facilitative learning approach, which enables participation and reflection so that clinicians can diagnose and resolve issues themselves, also had a powerful part to play in this awakening.
Working with and training multi- professional teams create a shared goal and momentum for change, making changes more likely to stick; training individuals in isolation from their peers can leave them without sufficient leverage to enact change. This evaluation reinforces the imperative to take a multi-faceted approach that addresses attitudes, behaviours and infrastructure. Information, decision aids and measurement tools may be necessary to implement shared decision making. However, whether those tools are effective or not will be determined by an attitude, among both clinicians and patients, that sees decisions belonging to the patient, as well as the behavioural repertoire to support patients to make informed decisions that meet their priorities and preferences.
3 The Health Foundation. Co-creating Health: Evaluation of the first phase. The Health Foundation, 2012. www.health.org.uk/publications/co-creating-health-evaluation-phase-1 If we are to fulfil the Wanless vision of a 'fully engaged patient',4 supporting people to make decisions about their health and healthcare that are right for them, then we all have much to do. Commissioners and service planners need to design services around the patient's journey, rather than around the organisation that provides care. They need to ensure that programmes which support people to develop their health literacy, and to have the confidence to act as equal partners in their care and treatment, are embedded in those pathways.
NHS England needs to lead the way to developing robust and meaningful measures of patient participation in decision making, and designing payment systems to reward partnership better. Health Education England, Local Education and Training Boards, NHS Education for Scotland, the professional regulators, royal colleges and education institutions all have their part to play in developing education and training that will enhance clinical skills in supporting people to take decisions about their health and healthcare.
The MAGIC programme and its evaluation offer, both through the teams' successes and from their challenges, valuable insights and a richness of practical resources. These resources can support individuals, teams and organisations put shared decision making into practice, enabling them to transform services to embed mutual responsibility. The two teams in Newcastle and Cardiff are now more than halfway through the second phase of the MAGIC programme. They are developing their models to support a change in culture, a change in practice and the adoption of tools and behaviours that will enable a new relationship between people and health services.
We will continue to share the lessons and resources from their work on our shared decision making resource centre (www.health.org.uk/sdm). Adrian Sieff Assistant Director The Health Foundation 4 Wanless D. Securing Our Future Health: Taking a Long-Term View, Final Report. HM Treasury, 2002.
www.hm-treasury.gov.uk/consult_wanless_final.htm
Contents Executive summary . . ii Introduction . . ii About the evaluation . . ii The MAGIC improvement programme . . ii Key findings . iii 1. Introduction . . 5 1.1 About shared decision making . . 5 1.2 The MAGIC programme . . 6 1.3 About the evaluation . . 9 2. The starting position of clinical teams . . 15 2.1 Awareness of, and attitudes towards, SDM . . 15 2.2 Readiness of teams to engage in SDM . . 16 2.3 Practical experience of using SDM tools such as decision aids .
. 16 2.4 Care pathways and systems . . 17 2.5 Patient awareness and involvement . . 17 2.6 MAGIC clinical teams . . 18 3. Implementation processes and learning . . 20 3.1 Changing professional attitudes . . 20 3.2 Building clinicians' skills and confidence . . 28 3.3 Raising patients' awareness and changing their expectations . . 32 3.4 Integrating SDM into the existing health system . . 38 3.5 Structuring clinician/patient interactions in new ways . . 42 3.6 Embedding SDM in healthcare settings . . 53 4. Conclusions . . 63 4.1 Overarching conclusions . . 63 4.2 Creating the right leadership, culture and behaviours .
. 66 4.3 Delivering and embedding SDM within clinical settings . . 68 4.4 Creating a health system that is ready for SDM . . 70 Appendix: Evaluation methodology . . 71
The MAGIC programme: evaluation OPM page ii Executive summary Introduction The Health Foundation's MAGIC (Making good decisions in collaboration) improvement programme began in August 2010 and will run until October 2013. It aims to support clinical teams in primary and secondary care to embed shared decision making (SDM) with patients in their everyday practice. This evaluation covers the first phase of the programme. The Health Foundation commissioned a consortium of experts to implement the programme, led by Professor Glyn Elwyn at Cardiff University and Professor Richard Thomson at Newcastle University.
Clinical teams were invited to participate from primary and secondary care settings across two NHS sites: Newcastle upon Tyne Hospitals NHS Foundation Trust and Cardiff and Vale University Health Board.
About the evaluation This independent evaluation of the MAGIC programme was conducted by the Office for Public Management (OPM). The main aim was to explore the process through which SDM was implemented, eliciting insights about what worked well and what worked less well – and in what circumstances – rather than establishing the impact of the programme on measurable outcomes. The evaluation findings are based on a range of data, including the development of a programme logic model, observations at MAGIC team meetings, in-depth interviews with participants and stakeholders, an online survey of clinical teams and interviews with patient representatives.
In-depth interviews with staff and patients formed the basis for seven improvement stories, published in the Health Foundation learning report Implementing shared decision making (www.health.org.uk/publications/implementing-shared-decision- making).
The MAGIC improvement programme Programme aims and objectives The aims of the MAGIC programme are: • to demonstrate that shared decision making (SDM) can feasibly, affordably and sustainably become a core characteristic of routine clinical care, both within primary and secondary care and at large scale • to build practical and transferable knowledge about how this can be achieved and what the conditions for success are. Programme activities The programme was delivered through activities including: • skills development and engagement, such as introductory and advanced skills development workshops for participating clinicians • guidance on developing, adapting and implementing decision support tools • facilitation and peer support for clinical teams
The MAGIC programme: evaluation OPM page iii • support in involving patients, including setting up patient forums and implementing a campaign – Ask 3 Questions – to 'activate' patients (increase their awareness of SDM). Key findings Creating the right leadership, culture and behaviours to implement SDM The evaluation found evidence that the programme has succeeded in building participants' understanding and awareness of SDM, and developing their skills and confidence to apply the approach in practice. However, it proved difficult to successfully engage a small number of stakeholders, particularly senior clinicians.
These stakeholders demonstrated a continued reluctance to engage fully with the programme, partly due to perceptions that SDM would be too time consuming. Some clinicians needed to see more evidence to be persuaded to adopt SDM – particularly evidence of its impact on clinical and patient outcomes. Programme activities that were successful in building ownership and supportive behaviours in relation to SDM included: • getting buy-in from senior leaders, board members, strategic managers and commissioners • sharing available evidence (including the patient experience and feedback wherever possible) on the difference SDM can make to outcomes, and its benefits for patients and clinicians alike • tapping into different staff motivations to improve interactions with patients • ensuring that all clinical staff benefit from SDM training, with advanced skills training for specific staff (using role play and sharing practical skills to apply SDM) • training project teams in quality improvement (QI) methods • using local facilitators (clinical peers with relevant knowledge, experience and enthusiasm) to support others implementing SDM.
Success was more likely where SDM was aligned with broader objectives such as developing more patient-centred care. Encouraging ownership and buy-in from the start, from the full range of staff involved in implementation, proved vital, as did the commitment and vision of enthusiastic leaders who were able to keep SDM high on the organisation's agenda. Local clinical champions played a key role, and local facilitators were helpful in providing regular encouragement and support to colleagues involved in implementation. Delivering and embedding SDM in clinical settings The evaluation found that the MAGIC programme successfully supported clinical teams to test and develop a range of SDM tools, approaches, and changes to clinical practice.
This included decision quality measures (DQMs), shared decision making questionnaires (SDMQ) Option Grids, Brief Decision Aids (BDAs) and marketing campaigns. Many of the decision support tools and other inputs (such as the Ask 3 Questions campaign materials) have proved useful and popular, incentivising staff to develop and refine their own tools. By promoting the use of decision support tools that are tailored to different settings and conditions, the programme has helped clinical teams to build a more systematic and consistent approach to conducting patient conversations.
While it was not possible to assess which had the most impact, there was widespread use and positive feedback on many of the tools piloted within the programme. This is especially true of brief in-consultation decision support materials (Option Grids, Brief Decision Aids