THE RESURGENCE - 97TH
If your browser does not support JavaScript, please read the page content below:
THE RESURGENCE - 97TH
02 THIS MATCH THE WANDERER The views in this publication are not necessarily the views of the Western Sydney Wanderers FC. Material in this publication is copyrighted and may only be reproduced with written permission from the club. ADVERTISING For all advertising enquiries for The Wanderer or partnership with the club contact the Corporate Partnerships Team by sending an email to corporate@wswanderersfc.com.au or visit corporate.wanderland.com.au PHOTOGRAPHY All photography in The Wanderer is courtesy of Ali Erhan, Eric Berry, Getty Images, Kellie Lemon and Steve Christo.
REGULAR COLUMNS THE LETTER 05 WARM UP 06 FIVE THINGS 11 PLAYERS TO WATCH 13 Brought to you by Turner and Freeman TODAY'S MATCH 16 JUNIOR WANDERER ZONE 18 TAKE FIVE 25 Brought to you by Turner and Freeman IN THE COMMUNITY 27 CORPORATE NEWS 29 OUR PARTNERS 31 FEATURES THE RESURGENCE 08 The Western Sydney Wanderers have found their feet ahead of their return to Wanderland MAJOK INSPIRING NEXT GEN 14 Abraham Majok has followed in the footsteps of a distant relative BRIDGE ON THE CUSP OF 250 20 Mark Bridge is on the cusp of reaching a major Hyundai A-League milestone NPL ON THE RUN 22 The Wanderers have continued to make a nameforthemselvesintheNPL2competition WANDERERS FC V LEEDS UNITED BANKWEST STADIUM SATURDAY 20 JULY 2019 HISTORY WITNESS Tickets on sale now through Ticketek bankweststadium.com.au
Aqualand are proud to be Senior Partners of Western Sydney Wanderers 2018/2019. Sales Suite open 7 days, 10am to 4pm. 64 Mackillop Drive, Baulkham Hills. bellevueresidences.com.au • 1800 958 074 AQUALAND AUSTRALIA HAS BEEN DELIVERING PROPERTY DIFFERENTLY SINCE 2014 Nestled in the heart of Norwest, plant the seeds for an incredible future. Now Selling. The Aster Collection, comprising 14 grand land lots from 705m2 . Secure your place in this coveted new neighbourhood with our stage one limited release.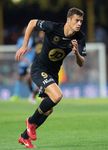 Mitsubishi Electric, proudly supporting The Western Sydney Wanderers FC.
Support Your Team in Style MSZ-EF Series » Energy Efficient » Wi-Fi Control (Optional upgrade adapter required per unit) » Platnium Filter For more information on our products please visit www.mitsubishielectric.com.au Phone:1300 280 625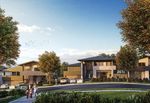 05 VISIT WANDERLAND.COM.AU  #SYDNEYDERBY THE LETTER Asafamily,wefoundWesternSydneyWanderersthroughearlyinterventionprogramswith mysonwhoisontheautismspectrum. Wegotagreatopportunityforhimtobeaplayermascotandwecamealong,hemetsomenewfri endsfromoutsideofschool andactuallymadesomenewconnections.Wethoughtthiswasareallygoodactivitytotapi ntoandwebecamemembers-that startedourWesternSydneyWanderersjourney.ThegrowthoftheWesternSydneyWanderer shasreallyunitedWesternSydney aroundtheircorevalues,becausetheyareverysimilartowhatishereintheWest.TheWan derersprovideasenseofbelonging, somethingtobeapartof,somethingtoshareamealover,somethingtobuildyourownperso nalnetworkandthat'swhyIwear theRed&Blackwithpride.
GabrielleDracopolousMember#12312
06 Tonight we're celebrating our members! Thanks to our membership partner The Coffee Emporium, we're giving back to our members who have supported us this season! By simply scanning in to tonight's match our members have already gone into the running to win some great prizes. Join us at The Coffee Emporium Members Lounge pre-match to find out more and collect your free mug! MEMBERS APPRECIATION MATCH I t's almost better than Christmas... It's Derby Day with the Red & Black hosting their cross-city rivals in the final Sydney Derby at ANZ Stadium tonight.
The Wanderers head into tonight's match after a recent 3-2 loss to Newcastle Jets at McDonald Jones Stadium. Goals to Roy O'Donovan, Dimitri Petratos and Angus Thurgate cancelled out goals from Rashid Mahazi and Keanu Baccus, securing all three points for the home side. It was an entertaining first half by the Red & Black who dominated from the outset and should have gotten more out of the fixture. Despite the Jets taking the lead through O'Donovan, Mahazi made the scores level before the end of the first half. Mahazi hadn't scored in any of his previous 86 Hyundai A-League games but broke his duck with a towering header from Alex Baumjohann's free-kick.
The second half saw Petratos put the Jets in front after an error by keeper Vedran Janjetovic before Baccus fired home an epic long-distance effort.
There would be one final twist in this epic contest as Thurgate capitalised on a mix-up at the back from Brendan Hamill and Tarek Elrich to slot into the bottom corner. (Top) All smiles from Mitchell Duke at training, (Left) Vedran Janjetovic in the zone at training Tonight's match will be an interesting test for the Red & Black who have been consistently building on their previous performances. The Sky Blues will be flying high though after a last-gasp winner against Melbourne Victory in the Big Blue last Saturday night. Goals from Brandon O'Neill and Kosta Barbarouses inside the first 16 minutes looked like it would be the story of the match until Milos Ninkovic's late heroics.
Butit'snotallpositivesforSydney,whohave beenthrownaspannerintheworksintheir Derbypreparationswithamid-weekAFCAsian ChampionsLeagueclashagainstShanghaiSIPG. Despite the two sides very different positions on the Hyundai A-League ladder this season, one things for certain is that previous results are thrown out the window when it comes to Derby day. So buckle up and get ready for another very entertaining Sydney Derby fixture.
MATCH PREVIEW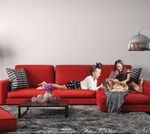 FOLLOW US @WSWANDERERSFC      #SYDNEYDERBY WARM UP 07 The Matildas qualified for their third Women's World Cup on this day in 2003. In the team's last Oceania qualifying campaign before moving to Asia, Australia finished first in a five-team round-robin tournament with a final match day win over New Zealand, qualifying directly into the Women's World Cup later in 2003. Despite being the strongest team in Oceania over the previous decade, the Matildas struggled in their three World Cups from 1995 to 2003. Andrew Howe @AndyHowe_statto is Australia's leading football statistician.
He is co-author of the upcoming Encyclopedia of Matildas, now available for pre-order from fairplaypublishing.com.au. It is with great sadness that we share the news of the passing of our Foundation Powerchair player and Foundation Member #17403 Alex Scollard and Foundation Member #19168 Daniel Newcombe. Our deepest sympathies go out to the Scollard and Newcombe families and friends during this difficult time. Alex was a true inspiration for those afflicted with Duchenne and had recently completed the 172km Walk 4 Duchenne earlier this year with his family. His family have asked in lieu of flowers donations can be made at Save Our Sons Duchenne Foundation - saveoursons.org.au.
Daniel was a massive Wanderers fan who attended the home games with his dad Ross. Daniel participated in the World Powerchair Hockey Championships with the Australian Sliders last year in Italy. ON THIS DAY VALE ALEX AND DANIEL COURTESY OF ANDREW HOWE  @ANDYHOWE_STATTO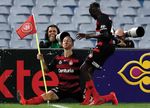 THE RESURGENCE THEWANDERERSHAVEFOUNDTHEIR FEETAHEADOFTHEIREPICRETURNTO WANDERLAND STORY BY JESSICA CSASZAR  @JESSICACSASZAR W ith less than 100 days to go until the Red & Black return to their spiritual home of Wanderland to take on English giants Leeds United, the Wanderers have began their run to form in the perfect way ahead of their trip home.
It has certainly been a mixed bag of results for the Wanderers since they began 'wandering' throughout Sydney Olympic Park after the demolition of Pirtek Stadium in Parramatta.
Their displacement has brought it's own set of challenges but under the guidance of head coach Markus Babbel, the Wanderers look to have finally found a new spark. The Wanderers late resurgence at the end of the 2018/19 season can be credited to many things. Firstly, the arrival of many new and important recruits during the January player window has sparked a new form of life in the squad. Mitchell Duke, Kwame Yeboah and the late signing of Giancarlo Gallifuoco have given the Red & Black not only something to sing for, but something also to believe in. In particular, Duke's impact at the club has seen him aptly named the "Duke of Western Sydney" - a credit to his passionate nature and fiery determination every time he steps onto the park.
WATCH WSWTV  #SYDNEYDERBY FEATURE 09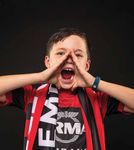 Duke alone has had 19 shots on target in his eight matches for the club, converting four of those and one which included a very memorably splits goal celebration. The 27-year-old has also pushed the Red & Black to new heights thanks to his leadership off the park, treating each training session as if it were game day and providing guidance to the next generation of Wanderers. Quietly in the wings, Kwame Yeboah has also been making fantastic progress and his own impact at the Red & Black. Having returned to Australia following stints in Germany with Borussia Mönchengladbach, Paderborn and SC Fortuna Köln, Yeboah has made the Red & Black his own.
Having featured in eight Wanderers matches so far, Yeboah has had a total of 17 shots and has two goals to his name. Gallifuoco,havingfeaturedinahandfulofgames sofar,hasbeenthegritandfortitudetheWanderers (Left to right) Mitchell Duke celebrates his goal with his signature celebration, Keanu Baccus celebrates with Kwame Yeboah in Perth havebeenmissing.Playingbothastartingroleand arolecomingoffthebench,theyoungsterhasso farhadan80%tacklesuccessrate. A bully in the midfield, Gallifuoco will not doubt be looking to make a name for himself in tonight's Derby going off his recent passionate displays for the club.
Apart from the new faces to don the Red & Black hoops at the back-end of the season, the next generation of Wanderers stars have also helped the Red & Black build for not only their return to Wanderland but also for future generations to come.
The Wanderers have had a league high of youngsters get minutes in their senior ranks this season and from what we've seen so far, the future is very bright. There's no doubt that we will be seeing the likes of Keanu Baccus, Nicholas Suman, Tass Mourdoukoutas, Tate Russell, Marc Tokich and Mathieu Cordier and Kosta Grozos in the Red & Black in many years to come. Andthirdandfinallywithbeliefandconfidence, comesaverypowerfulresurgence. Senior players such as Brendan Hamill, Tarek Elrich and Vedran Janjetovic have all been thriving under the tutelage of head coach Markus Babbel and will be no doubt looking to kick it up another notch next season when the club returns to Wanderland.
Despite it's challenges, the trade-off for this season has been worth it with the Red & Black set to return to Wanderland stronger than ever. The countdown is officially on for the Wanderers return home and we can't wait to see what's to come. 10
11 VISIT WANDERLAND.COM.AU  #SYDNEYDERBY FIVE THINGS
13 43 63 turnerfreeman.com.au SYDNEY PARRAMATTA PENRITH CAMPBELLTOWN WOLLONGONG NEWCASTLE WE TURN LIVES AROUND For over 60 years Turner Freeman has been turning workers' lives around by fighting and winning compensation claims against big corporations and insurance companies.
proud supporter and legal partner of the western sydney wanderers fc Asbestos claims Workers compensation claims Road accident claims Public place accidents Medical negligence Conveyancing Family law Employment law Wills & probate Will disputes HOW WE CAN HELP YOU: No win, no fee* Home and hospital visits available Obligation-free consultation Free case assessment National strength – local focus HOW WE MAKE IT EASY: *Conditions apply in some cases Our team's goal is to win your case
PLAYERS TO WATCH MahazijoinedtheWanderersthis seasonfromVictorianPremier LeagueclubMorelandZebras. Thedefensivemidfielderhas hadawealthofexperienceinthe HyundaiA-League,winningboth theChampionshipandPremiership in2014/15aswellastheFFACup in2015.Mahazihadn'tscoredin anyofhisprevious86Hyundai A-Leaguegamesbutbrokehis duckwithatoweringheader lastSaturdayinRound24ofthe HyundaiA-Leagueagainstthe NewcastleJets. Paulo Retre joined the Sky Blues in June 2017. The versatile Retre, who has experience playing in defence and both as a defensive and attacking midfielder won a number of accolades during his first season at the club.
13 PLAYERS TO WATCH FOLLOW US @WSWANDERERSFC      #SYDNEYDERBY 7 7 45.9% 41.9% 1 1 INTERCEPTIONS INTERCEPTIONS DUEL SUCCESS RATE DUEL SUCCESS RATE GOALS GOALS MAHAZI #22 MIDFIELDER #8 MIDFIELDER RETRE
14 ABRAHAM MAJOK HAS FOLLOWED IN THE FOOTSTEPS OF DISTANT COUSIN AWER MABIL TO INSPIRE A NEW GENERATION OF AFRICAN AUSTRALIANS MAJOK INSPIRING NEXT GEN A braham Majok remembers watching on in awe as young Awer Mabil erupted onto the Hyundai A-League stage six years ago. Little did he know that he and the then-Adelaide United teenager had more in common than he originally thought. Not only are Majok and Mabil former Kenyan-born refugees to South Sudanese parents, but also happen to be distant cousins through Majok's grandmother.
Indeed, it is the same Kakuma camp where many hardships were endured by both as young children which Mabil returned to in 2014 to establish his Barefoot to Boots charity, earning him the FIFPro Merit Award last November.
This remarkable journey, coupled with some eye-catching displays for the Socceroos, has catapulted Mabil into the national spotlight in recent months and inspired the 20-year- old Western Sydney Wanderers striker Majok. The pair's shared story of hope is one mirrored by thousands of African Australian migrants across Australia. And, on the back of his distant relatives rapid rise to stardom, the young Wanderers front man is also emerging as a torch bearer for the most ethnically diverse region in the country. "It's crazy how far he's gone now," said Majok. "Having people like him there sets a standard to show that anything is possible regardless of where you come from.
"It gives you that hope that although, okay, I'm in a different country and different culture, there's opportunities out there for you to make something of yourself.
"You've just got to have that belief to push yourself. And with him being there as a role model for the kids coming up now as well to see that you can do something with your life as long as you put your mind to it and keep pushing. "With myself now, in this position, I meet a lot of other kids as well that tell me that want to be like me. "I keep telling them 'just be yourself and you'll go far'. 'Just keep believing in what you do.' It's incredible and it's unbelievable at the same time.
"Having someone like him there (helped) guide me to where I am today." Majok and his family arrived in Australia in 2005 and settled in Blacktown at the age of seven, where his mother gently forced him to take up football to ease the transition from Kakuma.
WATCH WSWTV  #SYDNEYDERBY FEATURE 15 (Top to bottom) Majok modelling the Wanderers away kit this season, Majok control possession against Newcastle Jets The move met with initial resistance, but Majok would eventually join local club Marayong and feverishly studied YouTube videos of Cristiano Ronaldo and stay back at his local park until darkness. He was eventually signed by Mount Druitt Town Rangers, with whom Majok received his breakthrough moment - a late double against the Wanderers National Youth League side in 2017.
Three players on that evening - Majok, Tate Russell and Mathieu Cordier - all made their maiden Hyundai A-League starts for the Wanderers this season.
The trio join the likes of midfield general Keanu Baccus, goalkeeper Nick Suman and defender Tass Mourdoukoutas as a cluster of Wanderers academy graduates currently in Markus Babbel's first team plans. "It's very special for all of the boys, especially through playing the academy together and to be able to get the opportunity to play in the first team," he said.
"It definitely makes me proud especially to represent the Western Sydney area as well. "It just shows that anything can happen. I know the area so well, I've always been a fan, I'd seen a few games. "To find myself playing alongside players currently in the team it just like a surprise and a shock that I go through daily."
TONIGHT' SCORE 16 LADDER P PLAYED W WINS D DRAW L LOSS F GOALS FOR A SCORE SCORE VS VS ROUND 25 MATCHES CLUB 1 PERTH GLORY 2 SYDNEY FC 3 MELBOURNE VICTORY 4 WELLINGTON PHOENIX 5 ADELAIDE UNITED 6 MELBOURNE CITY 7 NEWCASTLE JETS 8 WESTERN SYDNEY WANDERERS FC 9 BRISBANE ROAR FC 10 CENTRAL COAST MARINERS SQUAD S B # NAME POSITION SPONSOR ¨ ¨ 1 Danijel NIZIC Goalkeeper Centuria ¨ ¨ 3 Giancarlo GALLIFUOCO Midfielder ¨ ¨ 4 Joshua RISDON Defender Pepper Money ¨ ¨ 5 Brendan HAMILL Defender Vaccaro Group ¨ ¨ 6 Kosta GROZOS Forward G.P.P.SkipBins ¨ ¨ 7 Nick FITZGERALD Forward McDonald's ¨ ¨ 9 Oriol RIERA Forward Mitsubishi Electric ¨ ¨ 10 Alex BAUMJOHANN Midfielder Aqualand ¨ ¨ 11 Bruce KAMAU Forward Castle Hill Hyundai ¨ ¨ 12 Mitchell DUKE Forward ¨ ¨ 13 Tass MOURDOUKOUTAS Defender Hertz ¨ ¨ 16 Jaushua SOTIRIO Forward ¨ ¨ 17 Keanu BACCUS Midfielder Best Signs ¨ ¨ 18 Mark TOKICH Midfielder Pronto Cloud ¨ ¨ 19 Mark BRIDGE Forward TurnerFreemanLawyers ¨ ¨ 20 VedranJANJETOVIC Goalkeeper Joe Black ¨ ¨ 21 Tarek ELRICH Defender Transport for NSW ¨ ¨ 22 Rashid MAHAZI Midfielder Club Marconi ¨ ¨ 23 Lachlan SCOTT Forward ¨ ¨ 24 Raúl LLORENTE Defender Access Fire ¨ ¨ 27 Kwame YEBOAH Forward ¨ ¨ 28 Roly BONEVACIA Midfielder Multiquip ¨ ¨ 32 John ROBERTS Forward ¨ ¨ 33 Tate RUSSELL Defender ¨ ¨ 34 Patrick ZEIGLER Defender Wet'N'Wild ¨ ¨ 40 Nicholas SUMAN Goalkeeper ¨ ¨ 49 Abraham MAJOK Forward Western Sydney University COACH ASSISTANT COACHES Markus BABBEL Jean-Paul DE MARIGNY Arthur DILES Davide DEL GIOVINE SUBSTITUTES OFF ON looking for great food..
looking for great coffee.. www.thecoffee thecoffeeemporium/australia
17 VISIT WANDERLAND.COM.AU  #SYDNEYDERBY TONIGHT'S MATCH 'S MATCH SCORE GOALS AGAINST GD GOAL DIFFERENCE PTS POINTS SCORE SCORE VS VS CORRECT AS OF ROUND 24 P W D L F A GD PTS 24 16 6 1 50 22 28 54 24 15 3 6 41 26 15 48 24 13 5 6 47 30 17 44 24 10 7 7 42 34 8 37 24 10 7 7 31 29 2 37 24 10 6 8 32 29 3 36 24 8 5 11 32 34 -2 29 24 6 5 13 40 49 -9 23 24 3 6 15 32 59 -27 15 24 2 4 18 27 62 -35 10 SQUAD # NAME POSITION S B 1 Andrew REDMAYNE Goalkeeper ¨ ¨ 2 Aaron CALVER Defender ¨ ¨ 3 Benjamin WARLAND Defender ¨ ¨ 4 Alexander WILKINSON Defender ¨ ¨ 5 Jop VAN DER LINDEN Defender ¨ ¨ 6 Joshua BRILLANTE Midfielder ¨ ¨ 7 Michael ZULLO Midfielder ¨ ¨ 8 Paulo RETRE Midfielder ¨ ¨ 9 Adam LE FONDRE Forward ¨ ¨ 10 Milos NINKOVIC Midfielder ¨ ¨ 11 Daniel DE SILVA Midfielder ¨ ¨ 12 Trent BUHAGIAR Forward ¨ ¨ 13 Brandon O'NEILL Midfielder ¨ ¨ 14 Alex BROSQUE Forward ¨ ¨ 16 Reza GHOOCHANNEJHAD Forward ¨ ¨ 17 Anthony CACERES Midfielder ¨ ¨ 18 Jacob TRATT Defender ¨ ¨ 19 Christopher ZUVELA Midfielder ¨ ¨ 20 Aleksander CISAK Goalkeeper ¨ ¨ 21 Mitchell AUSTIN Forward ¨ ¨ 22 Siem DE JONG Forward ¨ ¨ 23 Rhyan GRANT Defender ¨ ¨ 24 Cameron DEVLIN Midfielder ¨ ¨ 25 Joel KING Defender ¨ ¨ 30 Thomas HEWARD-BELLE Goalkeeper ¨ ¨ 31 Luke IVANOVIC Forward ¨ ¨ COACH ASSISTANT COACHES Steve CORICA Ufuk TALAY Rob STANTON John CRAWLEY SUBSTITUTES OFF ON eemporium.com.au
Can you spot the five differences below? 18 1. Which Wanderer recently reached 100 matches forthe club? 2. Namethetwosignings theWanderersmadein January 3. Following tonight's match, how many games do the Wanderers have left at ANZ Stadium and who are their opponents? 4. What was the score in the Wanderers Round 23 match against Melbourne City and who were the goal scorers? This week's Junior Wanderers are from St Clair Strikers in the Nepean FA! The team were our player mascots at our last home match against Melbourne City!
ARE YOU A JUNIOR WANDERER?  Snap a photo and tag @wswanderersfc on Instagram to feature in the next issue of The Wanderer.
30% OFF SHOP WANDERERS ALL PRODUCT IN STORE TONIGHT ONLY