45 virtualgala - National Dance Institute
Page content transcription
If your browser does not render page correctly, please read the page content below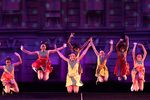 45 YEARS OF INSPIRING CHILDREN THROUGH THE ARTS 45 virtualgala

 MONDAY, APRIL 26, 2021
 7:00 PM EDT

 nationaldance.org

 1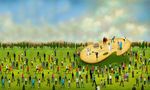 Norvin congratulates tonight's honorees
 Helen Stambler Neuberger and
 Jim Neuberger.
 What a team!
And to our dear friends Mimi and Arnold...
 You are stars!

 2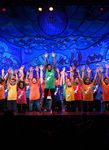 45 YEARS OF INSPIRING CHILDREN THROUGH THE ARTS

 Jacques d'Amboise Ellen Weinstein
 Founder & President Artistic Director

 5
And the Board of Directors invite you to celebrate National Dance Institute's

 4 virtualgala
 MONDAY, APRIL 26, 2021
 7:00 PM EDT

 HONORING
 Helen Stambler Neuberger and Jim Neuberger

 WITH JOYFUL PERFORMANCES BY
 The Children of National Dance Institute

 AND A SPECIAL TRIBUTE IN MEMORY OF
 Shirley Young

 VIP VIRTUAL DESSERT RECEPTION TO FOLLOW
 Dedicated in sweet memory of Donald Tober

 WITH SPECIAL THANKS TO OUR SPONSORS

 Arnold S. and Madaleine
 Penner Foundation

 3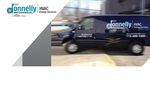 GALA CHAIRS
 Valerie & Charles Diker
 Madaleine Berley & Arnold S. Penner
 Kathy & Joe Mele

 GALA VICE CHAIRS
 Lauren B. Cramer
 Lisa A. Huestis & David E. Van Zandt

 GALA COMMITTEE
 Donya & Scott Bommer Laure & Maximilien Maisonrouge
 Ellen & Richard Chassin Jenny Morgenthau
 Thom Collins & Matthew Goodrich Christopher Schlank & Amy Zhen
 Trudy Chan & Thomas Discepola Anya Herz Shiva & Dr. Andrew Shiva
 Jennie L. & Richard K. DeScherer Danielle Diniz & Daniel Ulbricht
 Patricia Dugan-Perlmuth Judy & Stanley Zabar
 Sari Chang Guthrie & Kevin Guthrie

 STAR COMMITTEE
Yahya Abdul-Mateen II Adrian Danchig-Waring Steve Jordan Teresa Reichlen
Charlotte d'Amboise Joaquín De Luz Kevin Kline Desmond Richardson
David Amram Megan Fairchild Rebecca Krohn Chita Rivera
Alec Baldwin Robert Fairchild Ask la Cour Calvin Royal III
Hilaria Baldwin Whoopi Goldberg Norm Lewis Nev Schulman
Mikhail Baryshnikov Kathryn Grody John Lithgow James Taylor
Ashley Bouder Lysiane Luong Grooms Terrence Mann Daniel Ulbricht
Isabella Boylston Red Grooms Ann Martin Edward Villella
Homer Bryant Sterling Hyltin Sara Mearns Wendy Whelan
Michael Cerveris Bill Irwin Mandy Patinkin Tony Yazbeck
Glenn Close Dharon Jones Tiler Peck

 BOARD OF DIRECTORS
 CHAIR
 Helen Stambler Neuberger
 VICE CHAIRS SECRETARY
 Deborah Colson Carole Sobin
 Sari Chang Guthrie TREASURER
 Kerry Sperling Moelis Marc S. Solomon

Charlotte d'Amboise Lisa Huestis Nili de Rothschild CHAIR EMERITA
Jacques d'Amboise Ed Hynes Christopher Schlank Kathy Mele
Lauren B. Cramer Jermaine Jones Anya Herz Shiva DIRECTORS EMERITAE
Richard K. DeScherer Steve Jordan Eva-Maria Tausig Ketty Maisonrouge
Valerie T. Diker Robert D. Krinsky Daniel Ulbricht Susan Newhouse*
Patricia Dugan-Perlmuth Maximilien Ellen Weinstein Jacynth Paterson Orridge*
Annabel Fan Maisonrouge Heather Weston Judy Weston*
Dufftin Garcia Jenny Morgenthau Yadey T. Yawand-Wossen Shirley Young*
Muna Hishmeh Arnold S. Penner
 *In Memoriam
Edith Hoffmann Daniel Rayner
 4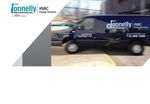 A Message From
 Our Founder

 GOOD

 "Good"….. as in good health
 "Good"….. as in good heart
 "Good"….. as in good soul
 "Good"….. as in doing good
 "Good"..... as in sharing good
 "Good"..... as in good friends, as are you

 "Good" is a good word to have

 Jacques d'Amboise
 Founder & President, National Dance Institute

 5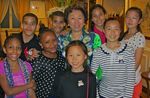 A Message From
 Our Artistic Director

 Dear Friends,
 Welcome to National Dance Institute's 45th
 Anniversary Gala. We are thrilled to be sharing
 this special milestone with you.
 In preparing for tonight's celebration, a beautiful
 slideshow of NDI moments has been playing in
 my head—the people, the performances, and
 the transformations mark the years like stars in
a brilliant NDI constellation...each memory and achievement accompanied by
overwhelming gratitude.
NDI's success and the impact it has made in delivering the best in arts education
did not happen on its own. A collective of extraordinary individuals ensured that
NDI was poised to arrive at this very day—strong, determined, and ever-faithful
to our mission.
First among them is our beloved founder, Jacques d'Amboise, the visionary who
dazzles us with his sheer brilliance, his incomparable talent, and his big, kind,
generous heart.
And none of what we achieve would be possible without our superb staff, our
dynamic and dedicated board of directors, and all of you, our loyal friends and
supporters. Your unwavering commitment to our children is heart-lifting and
appreciated beyond measure.
This past year has marked one of the most difficult in our history. But NDI forged
forward undeterred, ever more attuned to the social, emotional, and physical
needs of the children we serve, and to the role we play in making the world a
more just and humane place in which to live. We vow to always do more.
As we look to the next 45 years, I thank you for being by our side, for believing
that the arts are vital to a child's education, and for giving generations of young
learners the skills and opportunities that will help them choreograph a future
filled with creativity, empathy, and possibilities.
With enduring gratitude,

Ellen Weinstein
Artistic Director
 6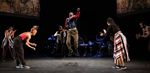 STARCHILD PROGRAM
Help our children reach for the stars! National Dance Institute's arts education
programs transform the lives of thousands of New York City public school children and
their families each year. With your support of our StarChild Program, we will be able to
bring the magic and joy of the arts to even more children.

 $25,000 ADOPT A SCHOOL
 For 45 years, NDI has been a steadfast partner of New York
 City public schools. Your generosity will help bring our joyful
 and engaging arts and learning programs to an entire grade of
 children for a full year.

 $10,000 ADOPT A CLASS
 This year, NDI is inspiring students online in their classrooms,
 living rooms, kitchens, and backyards throughout New York. Your
 support will make it possible for an entire class (from wherever
 they are learning!) to experience the transformative power and
 collaborative spirit of the arts for a full year.

 $5,000 MAKE A DREAM COME TRUE!
 At NDI, we believe that every child is a dancer. Your involvement
 will help children with disabilities to experience the thrill of the
 arts through movement, live music, and performance.

 $2,500 KEEP THE MUSIC PLAYING
 Live music is integral to all of NDI's arts education programs. Your
 donation will ensure that NDI musicians and their music fill not
 only our classrooms, but the lives of our young dancers as well.

 $1,000 SPONSOR A DANCER
 NDI is reaching thousands of school children each week from all
 corners of the nation's largest public school system with our rigorous
 and participatory arts and learning programs. Your contribution
 will help ensure that each and every one of these dancers has the
 opportunity to experience the joy and power of the arts in their lives.

 7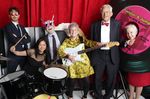 THE HELEN STAMBLER NEUBERGER
 ARTIST-IN-RESIDENCE PROGRAM
 MEET NDI'S 2020-2021 ARTIST-IN-RESIDENCE:

 CAMILLE A. BROWN & DANCERS
 The Helen Stambler Neuberger Artist-in- Dancers from the company have joined NDI
 Residence Program is a one-year residency throughout the year to lead our Celebration
 designed to support the creative process Team dancers in master classes and have
 of a movement-based artist of color. The created original dance works for our
 position offers emerging or established students. The NDI children will also have
 artists an opportunity to develop their craft the opportunity to interact with Ms. Brown
 while working with elementary and middle during a Question-and-Answer session.
 school students. NDI's teaching artists have taken part in a
 professional development workshop based
 National Dance Institute's 2020-2021 on Camille A. Brown & Dancers' "Every
 Artist-in-Residence is Camille A. Brown & Body Move" initiative, rooted in the belief
 Dancers. Founded in 2006, the company is that "social dance works as a powerful tool
 led by Camille A. Brown, an award-winning for social change."
 Black female choreographer whose work
 reclaims the cultural narratives of African National Dance Institute's Artist-in-Residence
 American identity. Program is made possible through the
 generous support of Helen Stambler
 "I am truly excited by this partnership with Neuberger and Jim Neuberger.
 NDI," Ms. Brown said. "I have been a fan
 of their programming for a while so it's
 wonderful to now be collaborating. Cheers
 to the journey!"

Photo: Camille A. Brown & Dancers in "ink"; Photo by Christopher Duggan
 8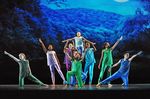 PROGRAM
 Dancing in the Streets I Can Dance!
 Choreography by Bianca Johnson An excerpt from the documentary film directed
 by Ben Nathan
 Performed by the Children of NDI ALL OF US FILMS
 Arranged by Yakir Ben-Hur
 StarChild Appeal
 Music & Lyrics for "Papa Was a Rollin' Stone" Hosted by Bill Irwin
 by Barrett Strong & Norman Whitfield
 Music & Lyrics for "Get Ready" by Tribute to our Honorees
 William "Smokey" Robinson Helen Stambler Neuberger & Jim Neuberger
 Introduced by Charlotte d'Amboise &
 Music & Lyrics for "Dancing in the Street" by Terrence Mann
 Marvin Gaye, Ivy Hunter, &
 William "Mickey" Stevenson Remarks
 Music licensed through Sony Anthony Reyes, NDI Alumnus
 Music Publishing (US) LLC We Can Do That
 Performed by Paul Adamy, Yakir Ben-Hur, Based on "I Can Do That" from A Chorus Line
 Jaimie Kelton, Jerome Korman, Al Orlo, Music & Lyrics by Marvin Hamlisch and
 Trevor Sommerville, and Greg Stamper Edward Kleban
 This video was filmed on location through Additional Lyrics by Jerome Korman
New York City Council's Open Culture Initiative. Performed by NDI Alumni Sarafina Belafonte,
 Kemuel Cuffy, Bianca Gonzalez, Ben Korman,
 Welcome Ben Nathan, Neptune Pringle III, Alisa Reyes,
 Ellen Weinstein, Artistic Director and Nazarria Workman
 Tribute to Shirley Young Do You Love Me
 Film narrated by Frank Wood Introduced by Steve Jordan
 Musical offering by Yo-Yo Ma with poetry by
 Jacques d'Amboise Choreography by Mary Kennedy with Fiona
 Mills and Ellen Weinstein
 Museum of DREAM Performed by the Children of NDI
 Choreography by Kay Gayner and Agnes
 McConlogue Ferro Music & Lyrics by Berry Gordy, Jr.

 Music & Lyrics for "Higher Ground" by As performed by The Contours
 Stevie Wonder Music licensed through Sony Music Publishing
 Music licensed through Sony Music Publishing (US) LLC and Universal Music Enterprises
 (US) LLC and Universal Music Enterprises This video was filmed on location in
 Performed by the Dancers of the Jackie Robinson Park
 NDI DREAM Project

 With appearances by: Alec Baldwin, Harry Belafonte, Charlotte d'Amboise, Whoopi Goldberg,
 Kathryn Grody, Bill Irwin, Steve Jordan, John Lithgow, Terrence Mann, Brian Stokes Mitchell,
 Mandy Patinkin, Daniel Ulbricht.
 Performances by NDI's Celebration Team are made possible through the generous support of
 the Judy and Josh Weston Family Foundation.

 9
ABOUT NATIONAL DANCE INSTITUTE
At National Dance Institute (NDI), we believe the providing children with and without disabilities
arts have a unique power to engage all children and the opportunity to perform together. Videos in
motivate them toward excellence. our DREAM Project@Home and ndiLIVE! on
 YouTube series bring on-demand dance and
Through our award-winning arts education music classes to the public via social media, and
programs, we serve children of diverse our ndiLIVE! AfterSchool classes on Zoom allow
backgrounds, abilities, and socio-economic positions children everywhere to experience the joy and
— transcending systemic barriers and expanding magic of NDI programs free of charge.
opportunities for all children to become their best.
Our professional teaching artists foster in students a NDI disseminates our acclaimed teaching method
love of dance and music, a curiosity about the world, through the NDI Collaborative for Teaching &
and a desire to achieve. These dedicated teachers Learning, a professional development program
help our young dancers learn to work together as for teaching artists, dance educators, musicians, and
they develop persistence, empathy, and confidence organizations worldwide. Every year, professional
to support their success in school and in life. artists and educators from around the globe
 participate in our trainings and emerge from this
Since our founding in 1976 by New York City transformative experience with an advanced set of
Ballet principal dancer Jacques d'Amboise, NDI teaching tools and a deepened understanding of the
has empowered the lives of more than two million power of the arts in education.
children. Under the artistic direction of Ellen
Weinstein, NDI has developed a unique, proven Throughout our history, NDI has seeded programs
teaching methodology that uses dance and music both nationally and internationally. There are
to improve children's critical thinking, develop their currently 12 Associates of National Dance
global perspective, and hone their social-emotional, Institute (ANDI) thriving in the United States
communication, and collaboration skills. that utilize NDI's pedagogy to serve over
 30,000 children every year. Internationally,
During this time of remote and in-person learning, NDI has been working in Shanghai, China and
NDI has consistently maintained operations and has in Beirut, Lebanon to train teachers in NDI's
continued to provide arts education to public schools groundbreaking methodology and to promote the
in New York City and throughout the country. social development of children, helping them gain
Students are engaging with NDI through live, confidence through the study of dance, the arts,
synchronous classes, recorded videos, and virtual and international collaboration. These International
performances. We also offer customized, remote Programs serve more than 8,000 children annually.
programming for school districts, charter school
networks, and education organizations who are In the fall of 2011, NDI opened the doors to our
looking to incorporate the social-emotional benefits permanent home—the National Dance Institute
of the arts into their distance learning instruction. Center for Learning & the Arts located at
 217 West 147th Street in Harlem. The NDI Center
NDI fulfills our mission by offering our core is home to three dance studios, two art galleries,
programs to all children free of charge. Our green rooms, administrative offices, and the Howard
inclusive In-School Program in New York City Gilman Performance Space, which has seating for
public schools ensures success for every child. Our 175 and has been used for NDI classes, rehearsals,
Advanced Programs give our most motivated performances and events. The NDI Center has
children the opportunity to deepen their dance become a beacon for children, teachers, and artists
and music study by joining our SWAT Team or in our local Harlem community, throughout New
Celebration Team, and by attending our Irene York City, and worldwide. It will be open once
Diamond Summer Institute. The NDI DREAM again when public gatherings are deemed safe and
Project (Dancers Realize Excellence through Arts appropriate.
and Movement) is our inclusive dance program

 10
2020-2021 PARTNER SCHOOLS
MANHATTAN PS 130M Speyer Legacy School
 partner since 1985 partner since 2011
PS 1M 143 Baxter Street 925 Ninth Avenue
partner since 1985
8 Henry Street PS/MS 161M
 partner since 2011 BRONX
PS 2M 499 W 133rd Street
partner since 1985 PS 51X/Bronx STEM &
122 Henry Street PS 183M Arts Academy
 partner since 1991 partner since 2015
PS 7M 419 E 66th Street 695 E 182 Street
partner since 2013
160 E 120th Street PS/IS 217 MS 302X
 Roosevelt Island partner since 2015
PS 40M partner since 2021 681 Kelly Street
partner 1979–1998; 645 Main Street
2005–present
320 E 20th Street IS 223/Mott Hall BROOKLYN
 partner since 1984
PS 87M 71-111 Convent Avenue PS 10K
partner since 2011 partner since 2012
160 W 78th Street PS 234M 511 Seventh Avenue
 partner since 2007
PS 110M 292 Greenwich Street PS 169K/
partner since 2009 Sunset Park School
285 Delancey Street PS 452M partner since 2016
 partner since 2010 4305 Seventh Avenue
PS 116M 210 W 61 street
partner since 2021 PS 235K
210 E 33rd Street The Filomen M. partner since 1998
 D'Agostino Greenberg 525 Lenox Road
PS 123M Music School
partner since 2011 partner 1989–2004;
301 W 140th Street 2008–present QUEENS
 Housed at 92nd Street Y,
PS 124M 1395 Lexington Avenue PS 45Q
partner since 1985 partner since 2012
40 Division Street Hunter College 126-28 150th St
 Elementary School
PS 126/MAT partner 1981–1984; PS 201Q
partner 2000-2010; 1997–present partner since 2021
2019-present 71 E 94th Street 65-11 155th Street
80 Catherine Street

 11
NDI STAFF
Jacques d'Amboise Marketing and Cherita Griffin Angel Reed
Founder & President Communications Office Manager Dr. Jenny Seham
Ellen Weinstein Reanne Rodrigues Mike Pitsikoulis Elizabeth Sellner
Artistic Director Communications & Facilities/Studio
 Eliana Slurzberg
 Brand Manager Manager
Artistic Staff Tracy Straus
 Jaimie Kelton Llewellyn Smith
Kay Gayner Social Media Assistant Facilities Maintenance Carlos Thomas
Associate Artistic Ellen Weinstein
 Emily Reid
Director/Co-Director
of DREAM Project Programs Assistant to the
 Aileen Barry Founder Musicians
Jerome Korman
Music Director Senior Director of Seiko Akita
 Education & Outreach Production Tony Allen
Emily Meisner
Director of NDI Samantha Belth Kit Westerman Antoine Alvear
Collaborative for Director of Advanced Technical Director/
Teaching & Learning Adrià Barbosa
 Programs Producer
Bianca Johnson Ly Bedaña
 Natalie Correa
Rehearsal Director of Program Coordinator, Teacher/ Yakir Ben-Hur
Advanced Programs NDI Collaborative for Choreographers Micha Gilad
Yakir Ben-Hur Teaching & Learning Jennifer Aks- Claudia Govantes
Associate Music Ariel Fonner Neuman
Director Tim Harrison
 Program Assistant Kelly Buwalda
Tracy Straus Todd Keller
Artistic Associate Sofia Baeta Jessi Colón
 Program Assistant Jerome Korman
Ly Bedaña Andrea Davey- Mark Kross
Music Associate Agnes McConlogue Gislason
 Ferro Jonathan Smith
Jessi Colón Jennifer Eisenberg
 Co-Director of Yaniv Taubenhouse
Teaching Artist Fellow Arthur Fredric
 DREAM Project
 Calia Marshall Dufftin Garcia
Development
 Equity Advocate Kay Gayner
Michele O'Mara
Chief Advancement Abbie Hixson
Officer Administration/ Bianca Johnson
 Operations
Brooke Berescik- Jaimie Kelton
 Johns Gail Cruse
 Mary Kennedy
Major Gifts Officer Senior Director
 of Finance & Calia Marshall
Armelle Kessler
Manager of Individual Administration Emily Meisner
Giving & Special Events Rachel Lee Fiona Mills
Hannah Bailenson Finance & Human Dana Panepinto
Manager of Resources Manager
Institutional Giving Michelle Phillips
 Susan Loeb
Pia Catton Finance Assistant
Development &
Marketing Manager
 12
CAST LIST
Featured Dancers Raphael Darvin Olivia Panton Shira Kredy
for Dancing in the Sofia DeBruyn Hazel Mae Peebles Zia Mellor
Streets Marlowe Dorian Anne Pospisil Damian Riley-Driver
Shaira Acosta Artem Dudnik Aniya Quashie Avery Roberts
Maria Calvario Alena Egan Gianna Ramirez
Madeleine Ford Cruz English Oneil Ramirez NDI DREAM Project
Jayla Galan Lexi Farver Kristen Ramsaran Dancers 2020-21
Vienna Liang Mike Feliz Damian Riley-Driver Ian Aquino
Jayden Mason Gabriella Figeuroa Ronin Robles Greta Baier
Aubrey Mills Ysabel Fitzpatrick Ivan Rodriguez Amadeus Belafonte
Melissa Mosley Madeleine Ford Tatiana Ruiz Sarafina Belafonte
Kristen Ramsaran Azariah Francis Walter Russell III Ravi Ben-Hur
Desmond Siraisi Bella Frean Izzy Salaff Shani Ben-Hur
Sapphire Sparrow Lucy Fung Mason Samuels Amber Brennan
 Jayla Galan Phoebe Santa Aiden Buguia
Featured Dancers Adrian George Sophia Santa Maria Calvario
for Do You Love Me Jackie Harrington Sam Selvadurai Beatrice Carmody
Audrey Ang MIchael He Desmond Siraisi Tara Chan
Joshua Barba Jackson Jacobs Lea Smith Alyn Diaz
Alise Brown Lara-Belle Jairam- Liam Smith Alyssa Diaz
Tara Chan Narine Jessica Sonner Kemani Evans
Alena Egan Lilou-Rose Jairam- Conner Soukhaseum Daniel Ferro
Aniya Quashie Narine Sapphire Sparrow Sophia Ferro
Iván Rodriguez Noah Javed Nola Straub Nyla Genus
Izzy Salaff Ami Keller Una Takahara Yael Iain Gomez
Bishop Takyi Declan Kenneally Shota Takahashi Isaac Green
Theo Tien Joshua Kim Bishop Takyi Maya Guliani
Isaiah Trim Yoko Koffi Theodore Tien Thaddeus Henry
 Julianna Kong Mira Tiongson Talia Homer
Celebration Team Hana Kurian Ethan Torres Mikayla Isaac
Dancers 2020-21 Logan Lau Isaiah Trim Collette Julian
Shaira Acosta Vienna Liang Andrew Turner Joshua Kim
Audrey Ang Abigail Lin Abigail Valdez Shira Kredy
Sedona Arminio Aniya Lindo Ayden Valdez Kiley McDonnell
Teagan Arnold Navio Lopez Gil Vardi Meital Meimoun
Sophia Aviles Jaeda Marte Aliyah Ventura Zia Mellor
Joshua Barba Jayden Mason Kunga Wangchuk Quinn Milner
Parker Barnes Meital Meimoun Angel Wei Adryana Navarro
Shani Ben-Hur Zia Mellor Kira Widha Corinne O'Mara
Hana Berisha Chasey Mercado Lila Wojnicki Micah Oxley
Avin Booker Cheyli Mercado Sydney Wong Milagros Peña
Alise Brown Penelope Merchant Isabella Zeichner Damian Riley-Driver
Ciara Calderon Emma Michel Jerry Zhang Avery Roberts
Maria Calvario Aiden Milien Ronin Robles
Beatrice Carmody Aubrey Mills Featured NDI Veronica Ruiz
Eve Carter Chrissania Morris DREAM Dancers for Judah Scarbrough
Adrian Castillo Melissa Mosley Museum of DREAM Natalie Sing
German Castillo Moksha Mulchandani Ravi Ben-Hur Sean Sing
Julie Chalk Tyler Myers Shani Ben-Hur Ameer Smith
Tara Chan Anaiah Nelson Beatrice Carmody Lea Smith
Jane Chen Peter Nicholson Daniel Ferro Isaiah Trim
Ryan Chen Sophia Noailles Sophia Ferro Gil Vardi
Sawyer Cheng Micah Oxley Nyla Genus
Matthew Clemente Margot Pantoga Isaac Green
Emma Crivelli
Lucy Dahl
 13
GALA PRODUCTION TEAM
 45th Anniversary Gala Development Team
 Michele O'Mara
 Armelle Kessler
 Brooke Berescik-Johns
 Pia Catton
 Hannah Bailenson
 Special Events Consultants
 Ruth Schwartz & Co.
 Executive Producer
 Emily Reid
 Graphic Design
 Daniella Van Gennep
 Marketing
 Alissa Blate/Black Dog Strategies
 Virtual Gala Video by:
 ALL OF US FILMS
 Benjamin Ryan Nathan- Executive Producer
 Jacqueline Dow- Producer
 Yevgeniya Kats- Associate Producer
 Robert Gregson- Lead Director of Photography
 Diego Rotmistrovsky- Lead Editor & Motion Graphics Designer
 Samantha Morris- Assistant Editor, Audio Mixer
 Elana Eyal- Production Coordinator
 Zoe Wolmark- Associate Technical Producer

 Special Thanks
 To those whose generous participation helped to make this evening a success:
Jennifer Aks-Neuman Whoopi Goldberg Jim Neuberger
Alec Baldwin Bill Irwin Sara Nichols
The Belafonte Family Steve Jordan Mandy Patinkin and Kathryn
Harry Belafonte Tara Khattar Grody
Ellen and Richard Chassin Koio Sneakers Arnold Penner
Sharon Cheng Jerry Korman P.J. Clarke's
The Children of National Jana La Sorte Hugh and Marilyn Price
Dance Institute John Lithgow Jackie Robinson Park
Thom Collins and Matthew Shawn Ma Marcus Samuelsson/Red
Goodrich Rooster
 Yo-Yo Ma
Lauren Cramer Marc Solomon
 Gustave Maisonrouge/
Charlotte d'Amboise Maison Atia Brian Stokes Mitchell
Jacques d'Amboise Terrence Mann Street Activity Permit Office
Jennie and Richard DeScherer Calia Marshall Daniel Ulbricht
Patricia Dugan-Perlmuth Cherie Marshall USPS Macombs Place Branch
Renny Fong Kathy and Joe Mele Frank Wood
Dufftin Garcia Kerry Moelis Tony Yazbeck
The Gideon Putnam Hotel Morrissey's Lounge & Bistro Alex Yuan
 The Families of our DREAM and Celebration Team Dancers
 14
CAPITAL CAMPAIGN SUPPORTERS
 Our deepest thanks to the following donors who helped make NDI's home –
 the National Dance Institute Center for Learning & the Arts – a reality.

 Includes gifts as of April 1, 2021.

Angels' Circle Choreographers' Circle The Weininger Foundation
($5,000,000 and above) ($50,000 - $99,999) Ellen Weinstein and Eric John
The Foundation to Promote Jennie L. and Richard K.
 Open Society DeScherer Patrons' Circle
 ($1,000 - $4,999)
 Ketty and François
Leaders' Circle Maisonrouge Arlene C. Cooper
($1,000,000 and above) Cherilyn and Dufftin Garcia
Madaleine Berley and Arnold Dancers' Circle The Harkness Foundation for
 S. Penner ($25,000 - $49,999) Dance
Howard Gilman Foundation The Barker Welfare Foundation Alexandra and Jay Langner
Goldman Sachs Urban Jacques d'Amboise Eleanor W. Shakin
 Investment Group Edith and Jonathan Fassberg Shining Sung
L+M Development Partners Julie and Jon Landau Eva-Maria and Hans Tausig
McCormack Baron Salazar Anya Herz Shiva and
Judy and Josh Weston Dr. Andrew Shiva Friends' Circle
 The Winston Foundation, Inc. (up to $999)
Founders' Circle Peter Bartholomaus
($500,000 - $999,999) Musicians' Circle Susan Bokan
Valerie and Charles Diker ($10,000 - $24,999) Anita and Bohdan Bushell
The Kresge Foundation Glenn Close and David Shaw
 Rosemary Carey and Ed Hynes
 Deborah Colson and
Directors' Circle Mark Diker Trudy Chan
($100,000 - $499,999)
 Barbaralee Diamonstein- Barbara Cohen
Anonymous Spielvogel and Kelly and Christopher d'Amboise
The City of New York through Carl L. Spielvogel Barbara and Robert Freedman
 the Department of Cultural Carol H. and Robert D. Krinsky Karen Gutch
 Affairs, in partnership with Louise Kerz Hirschfeld and
 the New York City Council Mary Tyler Moore and
 Dr. S. Robert Levine Lewis B. Cullman
 and Manhattan Borough
 President Jenny Morgenthau Margot L. Levinson and
 Jamee and Michael Schleifer John Gantz
Meryl Rosofsky and
 Stuart H. Coleman Beth Kobliner Shaw and Jacynth Paterson Orridge
Daphna and Gerald Cramer David E. Shaw Lois and Richard Pace
Lauren B. Cramer Marc S. Solomon Michael Pitsikoulis
Nili and Nathaniel de Barbara and Donald Tober Miriam K. Reines
 Rothschild Anne Saidman
 Artists' Circle
Susan and John Fullerton ($5,000 - $9,999)
 Robert A. Schulman
Paula and Jeffrey Gural Muna and Basem Hishmeh Seran Trehan
The Heckscher Foundation for Louise Klebanoff
 Children Yvonne and Leslie Pollack
Kathy and Joe Mele Nancy Rosenfeld
Kerry and Ron Moelis Ruth Schwartz, Liz Hinden
Helen Stambler Neuberger and and the Jane Schwartz
 Jim Neuberger Foundation
Susan and Donald Newhouse Linda Singer and Louis Klein, Jr.
The Pinkerton Foundation Tracy J. Straus

 15
2020-2021 NDI ANNUAL SUPPORTERS
 We extend heartfelt thanks to all of our annual supporters who make our work possible.
 National Dance Institute is supported, in part, by public funds from the New York State Council
 on the Arts with the support of Governor Andrew Cuomo and the New York State Legislature, the
New York City Department of Cultural Affairs in partnership with the City Council, including Council
Members Adrienne Adams, Margaret Chin, Ben Kallos, Mark Levine, Carlos Menchaca, Francisco
 Moya, Keith Powers, and Helen Rosenthal.
 Special thanks to Valerie and Charles Diker for supporting after school classes for children at the
 NDI Center by creating the "Valerie Diker Come Dance With Us Scholarship."
 Performances by NDI's Celebration Team are made possible through the generous support of the
 Judy and Josh Weston Family Foundation.
 *Denotes donors who support NDI's StarChild Program.
 Includes gifts received as of April 1, 2021.

Angels The Harold and Mimi Steinberg The Pierre and Tana Matisse
(Over $100,000) Charitable Trust Foundation
ADP The JPB Foundation Yvonne Pollack
Arison Arts Foundation Sue Lonoff de Cuevas Babe Rizzuto
The New York Community Trust New York State Council on the Eileen and Carlos Rodriguez
Kathy and Joe Mele* Arts Joanna and Daniel Rose
Millstream Fund The Solomon Organization SLF Foundation
New York City Department of Marc S. Solomon Kerry and Ron Moelis*
 Cultural Affairs Frances and Paul Turner Stavros Niarchos Foundation
Donald Newhouse* William R. Kenan, Jr. Charitable Sugar Foods Corporation
Samuel I. Newhouse Trust Donald and Barbara Tober*
 Foundation Inc. US-China Cultural Foundation
 Patrons
Madaleine Berley and Arnold Shirley Young*
 ($25,000 - $49,000)
 S. Penner
 Anonymous
The Pinkerton Foundation Sponsors
 Billy Rose Foundation
Christopher Schlank and ($10,000 - $24,999)
 Amy Zhen* Bloomberg Philanthropies Amy Adler
The Shubert Foundation The Booth Ferris Foundation Carolyn and Andrew W.
Helen Stambler Neuberger and Meryl Rosofsky and Stuart H. Albstein
 Jim Neuberger* Coleman Anonymous
Josh and Judy Weston Family Deborah Colson and Mark The Barker Welfare Foundation
 Foundation/Josh Weston Diker
 The Bern Schwartz Family
 Con Edison Foundation
Benefactors Nili and Nathaniel de Patricia Dugan-Perlmuth
($50,000 - $99,999) Rothschild
The Barbara Epstein Foundation Cheryl C. Effron
 Jennie L. and Richard K.
Blanchette Hooker Rockefeller DeScherer Sari and Kevin Guthrie
 Fund GKV Foundation Edith Hoffmann
Lauren B. Cramer* Heinz Family Foundation* Lisa A. Huestis and David E.
The Gerald and Daphna Van Zandt
 Henry and Lucy Moses Fund,
 Cramer Family Foundation, Inc. The Hyde and Watson
 Inc.* Foundation
 Muna and Basem Hishmeh
Carmen and Raymond Mary A. Hynes
 Jenjo Foundation
 Debbane Jones Lang LaSalle
 Carol H. and Robert D.
Valerie and Charles Diker Krinsky* Joseph and Sophia Abeles
Elaine Dannheisser Foundation Foundation
 Ann M. Martin*
Paula and Jeffrey Gural* Robert A. Levinson
 16
Howard Lorber Tamara Hoover and Kristin and Patrick Carmody
Ketty and François Jeremy Dobrick CCS Fundraising
 Maisonrouge Jerome Robbins Foundation, Inc. Trudy Chan and
Laure and Maximilien Yasmin and Jermaine Jones Thomas Discepola
 Maisonrouge Joseph and Joan Cullman Gerald L. Cohen
Mark Wahlberg Youth Foundation for the Arts, Inc. Lisa Colby-Jones and Gerald
 Foundation The Joseph C. and Esther Foster Paul Jones
Michael Tuch Foundation Foundation, Inc. Margaret Conklin
Jenny Morgenthau Julie Rice DREAM Scholarship Joe Couturier
Newman's Own Foundation Fund Ria M. Coyne and
Catherine Oppenheimer Rebecca and Sacha Lainovic Roger Lehecka
Alicia Glen and Daniel Rayner Solange Landau Jean and James Crystal
Rea Charitable Trust Gulton Foundation, Inc./ Georgina Cullman and Chris
Rose M. Badgeley Residuary Marian Malcolm Berry
 Charitable Trust Myra Malkin Laura Goff Davis
Nora Kaye and Herbert Ross New York University Robert de Rothschild
Yaniv Schulman One World Fund Beth Rudin DeWoody
Seedtime Fund, Inc. Faith and David Pedowitz Maria Di Dia
The Segal Company Estate of Sheila Scheingold Melissa Bank and Todd Dimston
SHS Foundation Sidney and Judith Kranes Susan and James Dubin
Lee Shull* Charitable Trust Pam and Martin Edel
Linda Singer and Louis Klein, Jr.* Clea and Kurt Soderlund Liane Egle
Mr. and Mrs. Michael Steinberg Judy Tobey and Ken Johnson Carole and Richard Eisner
Shining Sung Lisa Travis Pamela A. Farr and
Eva-Maria Tausig Cynthia Whitehead Buford Alexander
Kate Weil and Stuart Bauchner* Friends Sabina Fila
The West Harlem Development ($1,000 - $4,999) Margaret and Howard Fluhr
 Corporation Fund Stephanie German and Alison Fox
Heather Weston Brett Alperowitz Sabrina and Paul Frean
Yadey Yawand-Wossen and Lisa and Joseph Amato Effie and Robert Fribourg
 Adam Richman Walter and Loretta Anderson Alice and Lawrence N.
Judy and Stanley Zabar* Naomi Antonakos Friedland
 Michele and Timothy Barakett LouAnn and Robert Frome
Supporters
($5,000 - $9,999) Phoebe Barnard Susan Frunzi and David
Barbara and Philip Altheim Robert Barnett Wachtel
Jody and John Arnhold Barbara Bartwink G.A.G. Charitable Corporation
Nina Beattie, Cynthia Young, Malena and David Belafonte Marilyn and Lance Garcy
 Michael & George Eberstadt Katherine Hatton and Garden Homes Fund
Natalia Bulgari Richard Bilotti Fund Jim Giddings
Richard and Ellen Chassin Hilaria and Alec Baldwin Denyse Ginzberg
Corcoran Group Real Estate Barbara and James Block Carol and Arthur Goldberg
Diana and Joseph DiMenna Tina and Jeffrey Bolton I. Michael Goodman &
Sam Ellis Ellen and Sam Newhouse Judith Uman
Jodie and Ronald Fischer Barbara and Andrew Brill Kim and Mason Granger
GFP Real Estate Kaitlyn Bristowe Kathryn Grody and
 Diogenes D. Brito Mandy Patinkin
Gilder Foundation, Inc.
 Lawrence Britvan Susan Gutfreund
Gayle Griffith
 Virginia Brody Ruth and David Hirsh
The Harkness Foundation for
 Dance Christopher Brody Carol and Richard Hochman
George A. Hirsch Lisa and Stu Cantor Judith M. Hoffman

 17
Rosemary Carey and Ed Hynes Sarah Reines and Our heartfelt thanks
Judith Insell* Richard Bornstein to the following
Donna and Carroll Janis Diana and Charles Revson organizations contributing
 Rocking Chair Foundation through matching gift
Judith Jedlicka and employee giving
Bryan Joel Victoria and Donald Rose programs:
Hilary and Alexander Joel Marie and Marshall Rosen
April Fey Nancy Rosenfeld Matching gifts
 Graham Rowbottom Alliance Bernstein/The
Heather and James Johnson Matching Gift Center
Joseph L. Fisher Foundation Inc. Paul and James Ryneski
 America's Charities
Betty P. Kenan Susan and Stephen Scherr
 Bank of New York Mellon
Judy Kinberg Jamee and Michael Schleifer
 Con Edison
Shahnaz Batmanghelidj and Bebe and Michael Schudroff
 Charity Meets its Match/
 Radford Klotz Manita and Eriberto Scocimara Regeneron Matching Gift
Robert Knolle II Neal Shapiro Program
Joan and Dan Kram* Robert Sherman* IBM/Employee Charitable
Sheryl and Charles Kushner Flo and Warren Sinsheimer Contribution Campaign
Mary and Richard Lanier Diana and Laurence Smith IBM Matching Grants Program
William and Megyn Lansing Carole Sobin The Benevity Community Impact
Betsy and Stewart Lawrence Richard, Ann, John & James Fund
Josh Leavitt Solomon Families Foundation The Boston Foundation
Laurence C. Leeds, Jr. Gillian Sorensen The Walt Disney Company
Catherine and Roger Ferne Goldberg Sperling and Foundation
Margot L. Levinson and Allan Sperling
 John Gantz Studio in a School National Dance Institute
Richard and Julie Lobel Paul-Anthony Surdi also wishes to thank its
Joyce Lowinson Elise Ingalls many supporters making
 United Capital Corporation/ gifts up to $999.
Nadja Marcoz
James Margolis Beverly and Attilio Petrocelli
Kenneth Marion Vincent Vennera
May and Samuel Rudin Family Sue and Edgar Wachenheim
 Foundation, Inc. Rosemary Suh and Shawn
Richard McNally Watts
Mertz Gilmore Foundation Joanne and Arthur Weinbach
Moses L. Parshelsky Foundation Sue Ann Weinberg
Rosemary Moukad Barbara and Eric Weston
One Thirteen Foundation Deborah and Ronald Weston
Richard L. Orridge Kathe and Edwin Williamson
Beverly and Attilio Petrocelli Wilmington Trust Company
Valerie and Atkin Preston Michelle and Claude Winfield/
 The Alphonso B. Deal Fund
Margaret and Christopher Price
 Amanda Yuan
Quality Building Services
 Alex and Ron Nicholson
Donna Matteo Rabinowitz and
 Steve Rabinowitz Patty and Salvatore Zizza
Lois Rakoff
Miriam K. Reines*

 18
SILVER STAR SOCIETY
We extend our deepest thanks to the following individuals whose love and dedication to the children
 of NDI has led them to include National Dance Institute in their will or estate planning.
 This list includes those who have given a gift, or informed NDI of their intention to do so,
 as of April 1, 2021.
 *in memoriam
Denny Beach* Catherine Kirsch Sheila Scheingold*
Valerie and Charles Diker Carol H. and Robert D. Krinsky Lois Schneider
Patricia Dugan-Perlmuth Charlotte Lee* Helen Stambler Neuberger and
Gayle Griffith Robert A. Levinson Jim Neuberger
Rosemary Carey and Ed Hynes Beatrix F. Padway* Marcia Thompson*
Judy Kinberg Donna Polisar* Judy Weston*
 Julie Rice*
A legacy gift to NDI is a gift that will live on forever. If you would like to explore leaving NDI in your will, or
giving options that provide tax and financial benefits to you now, or your dependents later, please contact
 Michele O'Mara, Chief Advancement Officer, at (212) 226-0083 or momara@nationaldance.org.

 2021 GALA SUPPORTERS
 Our deepest thanks to the following donors for their generous support of our 45th Anniversary Gala.
 Includes gifts received as of April 23, 2021.

Angels Marc Solomon/Solomon Robert Levinson
($50,000 and above) Organization Norman Livingston
Kathy and Joe Mele Kerry and Ron Moelis Lorber Charitable Fund
Donald Newhouse US-China Cultural Foundation Laure and Maximilien
Madaleine Berley and Arnold Patrons Maisonrouge
 S. Penner ($10,000 - $19,999) Ketty and François Maisonrouge
Helen Stambler Neuberger and Andrew Albstein Ann Martin
 Jim Neuberger Catherine Oppenheimer
 Stephen M. Breitstone
Benefactors Meryl Rosofsky and Stuart H. Christopher Schlank and Amy
($20,000 - $49,999) Coleman Zhen/Savanna Services
Bloomberg Philanthropies Deborah Colson and Mark Holdings LLC
The Gerald and Daphna Cramer Diker Leo Shull Charitable Fund for
 Family Foundation, Inc. Jennie L. and Richard K. the Arts
Lauren B. Cramer DeScherer Heather Weston
Carmen and Sam Ellis Sponsors
 Raymond Debbane Susan Foote and Stephen ($5,000 - $9,999)
Annabel Fan and Douglas Hsieh Feinberg Amy Adler
Lori and David Hsieh Lisa Huestis and David E. Van Alan Arbel/Studio Office
Amy and William Hsieh Zandt Solutions
Alicia Glen and Daniel Rayner Carol H. and Tina and Jeffrey Bolton
 Robert D. Krinsky/Segal
 19
John Carbone/Enobrac Bobbi and Barry Coller Mary and Richard Lanier
 Plumbing & Sprinkler Thomas Collins and Matthew Raymond and Maryann Leung
Richard Chapman Goodrich Cindy Levine
Brian Cooper/Kensington Helen and Earl Colson Trish McEvoy
 Vanguard Ria M. Coyne and Len and Jenie Moscatelli
Valerie and Charles Diker Roger Lehecka Abby and Jonathan Moses
Donnelly Mechanical James and Jean Crystal Denise Mullen
Paul Dougherty Marla and Andy Diamond Richard Nackenson
Patricia Dugan-Perlmuth Melissa Bank and Todd Dimston Richard L. Orridge
First Republic Bank Susan and James Dubin Beverly and Attilio Petrocelli/
Rebecca and Sacha Lainovic East Coast Energy Group United Capital Corp.
Jenny Morgenthau Linda Berley and Robert Lois Rakoff
Yvonne Pollack Fagenson Rally Restoration Corp.
Bebe and Michael Schudroff Pamela A. Farr and Miriam K. Reines
Yaniv Schulman Buford Alexander
 Vicki Reiss
Richard, Ann, John & Sabina Fila
 Marshall and Marie Rosen
 James Solomon Families Jodie and Ronald Fischer
 Stefanie Roth and David Dishy
 Foundation Ambient Flooring
 Paul and James Ryneski
Zach and Beth Solomon, Tipp Flooring Covering
 Adam Solomon and Adam John Sapanaro
 Ann Franke and Dan Alpert
 Smith, Scarlett, Brody, Jamee and Michael Schleifer
 Bob and LouAnn Frome
 Sylvie and Jordan Susan Dwyer and Carl Schwartz
 Laurel Garcia Colvin and
Rosemary Suh and Fred Garcia William Seidita
 Shawn Watts Gerard Shogrue/Aurora Paint
 Gladys George and
James Sutherland/ Stuart Orsher Corp.
 Hi-Lume Corporation Ron Simoncini
 Denyse Ginzberg
Barbara Tober Flo and Warren Sinsheimer
 Carol and Arthur Goldberg
Julia C. Tobey and Carole Sobin
 Kenneth Johnson Judith Uman and I. Michael
 Goodman Ferne Goldberg Sperling and
Judy and Stanley Zabar Allan Sperling
 Gayle Griffith
Supporters Kathryn Grody and Richard and Alex Stern
($1,000 - $4,999) Mandy Patinkin Shining Sung
Barbara and Philip Altheim Sari and Kevin Guthrie Eva-Maria Tausig
Loretta and Walter Anderson Blair Bennett and Josh Weston
Naomi Antonakos Robert Herrmann Rosita and Philippe Weissberg
Phoebe Barnard George A. Hirsch Wirth-Myers Family Fund
Robert Barnett Muna and Basem Hishmeh Yadey Yawand-Wossen and
Charles Bendit Carol and Richard Hochman Adam Richman
Steven Bernstein Tamara Hoover and Kathleen McLeod and
Donya and Scott Bommer Jeremy Dobrick Michael Zacharias
Sarah Reines and Richard Rosemary Carey and Ed Hynes Patty and Salvatore Zizza
 Bornstein Cathy and Gary Jacob Friends
Kristin and Patrick Carmody Galina Jaksic (up to $999)
Trudy Chan and James Kaufman Anonymous
 Thomas Discepola Steven Katz Steve Abbruscato
Ellen and Richard Chassin Judy Kinberg Ann Neuberger Aceves
Lisa Colby-Jones and Richard Lambert Sue Ellen and
 Gerald Paul Jones Solange Landau Warren Appleman

 20
Austin & Co., Inc. Liz and David Hinden Marilyn and Hugh Price
Florence Barkan Maureen Holohan Deborah Reed
Deborah Y. Bartley Carter and Regina Iulo/Financial Comfort, Kelly Reuba
 E. Lydell Carter Inc. John and Janet Rodgers
Doreen and Gil Bassin Wendy Jacobs Lilian Bennet and Neal Rubin
Marilyn Bell and Leslie Jones Nick Rudenstine
 Zachary Edelstein Frances Kershner Stephanie Rugoff
Helen Belluschi Louise Kerz Hirschfeld Carol Deegan and
Alice Berger Sheri Kessler Nolan Saltzman
Laura Blank Betsy and Bill King Bretleigh Sandorf
Alissa Blate and Andrew Jessup Trish Salvatore and James King John Sapanaro
Debra and Steven Buchsbaum Rachel and Mark Klein Ellen Schall
Noreen and Ken Buckfire Penny and David Klein Rith Schwartz
Heather and Tom Carroll Bonnie Klugman and Nancy Seid and Matt Whitten
Lise Bernier and Vincent Bob Romano Max Shulman
 Castellucci Ruth and Larry Kobrin Charles Simon
Barbara and Maxwell Cohen Renee Landau The Singer & Bassuk
Johanna and Marvin Cooper Marlene and Stephen Lazar Organization LLP
Justine Cooper and Joey Stein Joshua Leavitt Carole and Lawrence Sirovich
Linda D. Davey Lawrence Levien Lucille Slurzberg
Margaret Davidson and Margot L. Levinson and Amy Seid and Richard Solomon
 John Stein John Gantz Rhonda and Carl Steeg
Suzanne Delehanty Richard Levitt Roni and Robert Stein
Frances Ann Dellacava Jane and Ernest Linsay Christine Stelmack
Christine and Jerry DeSantis Judy Lipstein David and Esther Suh
Helaine Posner and Stephanie and Michael Locker Rex Y. Tien
 David Dorsky Mary and Joseph Loffredo Victoria Traube
Barbara and Paul Elliot Jennifer Louis Roy Tumpowsky
Stephie Evans Madison Capital Theresa Trzaskoma and
Damian Fernandez Ruth and Marvin Mass Nicholas Turner
April Fey Matthew Mazur Danielle Diniz and
Margaret and Howard Fluhr Virginia and Larry Meuers Daniel Ulbricht
Winnie and Koqui Fung Melanie Coronetz and Sara and Michelle Vance
Holly and Dennis Galgano Bruce Miller Waddell
Ilene Rosenthal and Louis Geser Vicki and Fred Modell Gary Villanueva
Jamie Beck Gordon and Karen Montanaro Lorraine Walker-Harrison
 Gary Gordon Meryl Natter and Rob Sandra and Marvin Wax
Bernard Greenwald Rosenberg Phyllis Weinstein and
Nancy Gropper and Robert P. Ruth Nerken Robert P. Kellenberger
 Aaronson Linda and Roy Neuberger Elizabeth Wells
Karen Gutch New Jersey Performing Arts Alicin Williamson
Barry Hamilton Center Phualin and Phua Young
Kathleen Heenan and Joseph O'Mara Ava and Paul Zukowsky
 Clary Olmstead Donne Paine
Debbie and David Heidecorn Adele Pollack
Christopher Hewat Allen Popowitz
Mary Hilliard Ronnie Potter

 21
Cheering on
 the NDI Team
for 45 amazing years!
 With much love,
 THE WESTON CLAN

 n
IN MEMORIAM

 Beloved friend, patron, and
 former NDI Board member
 DONALD TOBER

 A kind and gracious man, Donald was a natural leader who
 propelled forward NDI's mission to transform children's lives
through the arts. Along with his beloved wife, Barbara, Donald
graced NDI gatherings for over two decades, and the impact of
his advocacy and generosity will live on for generations to come.

 We will always remember and be grateful
 for the sweetness in Donald's heart.

 567
 23
IN MEMORIAM
 The Beloved and Extraordinary
 Shirley Young

 Shirley was a brilliant force of nature — a tireless advocate
 and passionate believer in NDI's mission to nurture the
 social development of children and build cultural bridges
 through the arts. A visionary leader and Board member,
 and the dearest of friends, Shirley helped NDI to dream
 bigger, reach further (including into China!), and achieve
 more. She was masterful at bringing people together, and
 her guiding hand will be felt for generations to come.

Shirley always believed in "thinking big" and we will
 continue to do so at NDI as she dances in our hearts.
 a
 24
Helen Stambler Neuberger and
 Jim Neuberger

 The Board of Directors, staff, and children of
 National Dance Institute celebrate you...
Thank you for making this world a more humane,
 exhilarating, and joyful place in which
 to dance our hearts out.
 You make dreams come true.

 We honor you today, and always.
THE
DONNELLY
DIFFERENCE

Providing Innovative HVAC Solutions and Peace of Min
Throughout Metro New 26
 York
www.donnellymech.com

nd FOR OVER 30 YEARS
AMBIENT FLOORING and
 TIPP FLOOR COVERING
 Congratulates
 Chris Schlank
 for continuing to support NDI
 for 45 Years.
 (201) 941-8477 info@ambientflooring.com

(201) 941-8477 info@ambientflooring.com
 28
Dear Madam Chairwoman,

 You're
 a rockstar!
 
THE MELE AND NEWHOUSE FAMILY

 29
HELEN AND JIM NEUBERGER

r
Thank you for everything – and we mean
 EVERYTHING – you've done for NDI.

 And to our dear Jacques
 for starting it all.

 With Love,
 LAUREN, EVA AND HELEN

 30
In Honor of

Helen Stambler Neuberger
 and Jim Neuberger

 C H A R I TA B L E T R U S T

 Summit, New Jersey

 31
A S TA N D I N G OVAT I O N
 for our beloved
 jacques & ellen

 THUNDEROUS APPLAUSE
 for our astute, hard-working, generous
 ndi board of directors

 BRING DOWN THE HOUSE
for our amazing dance teaching artists, musicians,
 staff, school partners, patrons and
 our extraordinary children

YOU MAKE OUR WORLD A BE T TER PLACE

WITH DEEP LOVE & RESPECT FOR OUR NDI FAMILY
 HELEN AND JIM
Dear Ellen,
 NDI is a gift to thousands of children and you have been a gift to NDI.
You are a brilliant teacher, a visionary leader and a dear friend who has poured
your soul into this program. What a magnificent organization you and Jacques
 created in your 35 year pas de deux.

 With deep gratitude

 THE NEW HOUSES A ND MELES
Committed to New York

 5 BRYANT PARK
 MAJOR LOBBY RENOVATION COMPLETE

 141 WILLOUGHBY
 MAJOR GROUND UP DEVELOPMENT

 360 LEXINGTON
 MAJOR LOBBY RENOVATION UNDERWAY

 ONE COURT SQUARE 521 FIFTH
FULL BUILDING REDEVELOPMENT UNDERWAY MAJOR LOBBY AND BUILDING RENOVATION UNDERWAY

 #AllInNYC
 www.savannafund.com

 34
Happy 45 th

Anniversary!
We Are Proud to Have a
Supporting Role with the
National Dance Institute

 35
CONGRATULATIONS
 to our stellar NDI gala honorees
 helen stambler neuberger &
 jim neuberger

 LOVING MEMORIES
 for our wise friends
 shirley young & donald tober

 THANK YOU
 to our inspirational and brilliant
 teachers, musicians, staff members
 jacques and ellen

WITH DEEP AFFEC TION & GRATITUDE
for all you make possible for our children

 THE NDI BOARD OF DIRECTORS
T H E M A I S O N R O U G E F A M I LY

 celebrates
National Dance Institute's 45th Year
 of bringing the
 Joy of Dance to the World.

 Congratulations to
 HELEN AND JIM!
 Thank you for your leadership.

 Our heartfelt thanks also to
 ELLEN AND JACQUES,
 who have made each of us better.
Neuberger Berman and Richard Nackenson are proud to support the

 National Dance Institute
 and congratulate

 Helen Stambler Neuberger & Jim Neuberger

 ©2021 Neuberger Berman. All rights reserved.

R0072_0421_National Dance Institute Ad.indd 1 4/21/2021 2:37:07 PM

 We're proud to
 support National
 Dance Institute.

 (855) 886-4824 Member FDIC
AURORA PAINT CORP.
 Congratulates
 National Dance Institute on
 45 inspiring years.

 "The arts open your heart and mind to possibilities that are limitless..."
 - Jacques d'Amboise

Proud supporter of

 Commercial carpentry since 1963
EisnerAmper LLP
 proudly supports the
 National Dance Institute's
 45th Anniversary Gala

Helen and Jim
have dedicated their
Talent, Energy, and SmARTS
To NDI for many productive years —
implementing Jacques' stunning vision

With LOVE
Yvonne
e
 Dearest Helen and Jim,
 You introduced us to NDI decades ago.
 We thank you for that gift and the joy it has given us.
 Congratulations on being honored today.
And congratulations and thanks to Jacques, Ellen and
 all the NDI teams for all the pleasure you have
 brought us over the years.

 Love,
 JUDY AND KEN

 In honor of our friend and colleague,

 Chris Schlank,
 we would like to congratulate the National Dance Institute on its
 45th Anniversary.
 We wish you continued success and
 thank you for all that NDI provides.

 Barry, Jon and everyone at Studio Office Solutions
Hugs to Helen and Jim
for all you do for NDI!

 Board

C A R O L E A N D H OWA R D

 Congratulations
 to
 NDI
 on its 45th year!

 Leaping with joy
 for NDI in its
 45th year!

 Jill, Emily, & Amy Adler
 JENNY MORGENTHAU
In honor of Helen Stambler Neuberger for her amazing dedication and
 devotion as our chair of NDI and her wonderful, supportive husband Jim.

 I dedicate this ad to them in loving memory of my husband Bill Perlmuth—a
 patron of NDI, Jacques and the extraordinary children and staff of NDI.

Your fine example of how you live your life inspires us every day in every way.
 —PATRICIA DUGAN PERLMUTH
 k

 In loving memory
 of
 Jacynth Paterson Orridge
 NDI Director Emerita
 DECEMBER 4, 1923 - DECEMBER 6, 2015

 Congratulations
 to
 NDI
 And love to Jacques, as always
 l

 Richard Orridge, Valerie Preston, Jeffrey Orridge
 43
applause!
 applause!
 New Jersey Performing Arts Center
 congratulates National Dance Institute
 on its 45 years of bringing
 the transformative power of dance
 to so many children.

 Here's to 45 more! Bravo!

 One Center Street • Newark, NJ

In honor of Ann Martin

FLORENCE AND MICHAEL BARKAN

 MOLLY GOLDBERG
NDI
 extends our heartfelt thanks to the
NYC Parks & Recreation Department,
 NYC Open Culture program,
 and
 Historic Harlem Parks
 for their outstanding stewardship and
 support during the pandemic, and
 especially for their collaborations with
 NDI and our Celebration Team.

 A professional development program for teaching artists, dance educators,
 musicians, and organizations worldwide.

 SUMMER 2021 TRAININGS
 Week 1: Learn the Fundamentals
 July 19-22, 2:30pm-5:30pm ET
 On Zoom
 Week 2: Choose Your Track
 Early Childhood OR Creating Choreography for Children
 July 26-29, 2:30pm-5:30pm ET
 On Zoom
MAKE A CONTRIBUTION
 Text the word
 DONATE
 to (646) 736-4571
 or visit nationaldance.org/give

 THANK YOU!
 nationaldance.org

 46