EDINBURGH'S HOGMANAY IS BACK FOR 2021
Page content transcription
If your browser does not render page correctly, please read the page content below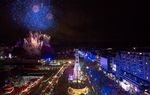 EMBARGOED UNTIL RELEASED BY UNDERBELLY

        EDINBURGH'S HOGMANAY IS BACK FOR 2021
                                29 December – 1 January
                                                                      WE ARE BACK
                                                                      TOGETHER!
                                                                      On behalf of the City of
                                                                      Edinburgh Council, Underbelly
                                                                      announces the programme for
                                                                      Edinburgh's Hogmanay 2021.
                                                                      Tickets will go on sale at
                                                                      10am on Tuesday 26 October.

                                                                      •     Edinburgh's Hogmanay is
                                                                      launched as a four day festival
                                                                      and a celebration of the changing
                                                                      of the year.
                                                                      •     Tickets will go on sale on
        Tuesday 26 October for the Torchlight Procession, Party at the Bells, and the Scottish music
        programme at Greyfriars Kirk.
    •   The iconic Hogmanay fireworks display returns for midnight on 31 December.
    •   7,500 tickets will be available at a discounted price for Party at the Bells for those with an EH
        postcode.

Edinburgh's Hogmanay is back to celebrate the end of 2021 and the new year with an unforgettable
experience for Edinburgh and beyond.

This year's Hogmanay programme has been revealed, including the new Party at the Bells on Princes
Street and the return of the iconic Edinburgh Castle fireworks display.

Tickets go on sale at 10am on Tuesday 26 October through the Edinburgh's Hogmanay website for
Party at the Bells, the Torchlight Procession and a fantastic Scottish music programme with Dougie
McLean, Eddie Reader and Breabach at Greyfriars Kirk. As part of Party at the Bells, there are 7,500
tickets available at a discounted price for EH postcode holders.

In 2021, Hogmanay celebrations have been reimagined and include:

    •   The Torchlight Procession will ignite Edinburgh's Hogmanay celebrations on Thursday, 30
        December. Participants will collect their torches from three locations around the city:
        Waverley Bridge, West Parliament Square or Bristo Square and will then start the Procession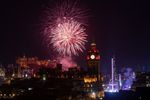 EMBARGOED UNTIL RELEASED BY UNDERBELLY

       on the Royal Mile between North Bridge and St Mary's Street. The family friendly event will
       be slightly different to previous years, with the procession spread out between 4pm and
       9pm, allowing locals and visitors alike to blaze through the Scottish capital in a fun and safe
       environment. Tickets with a torch are £15.
       Along the procession route, flames and light installations will illuminate the experience.
       Underbelly are working with local Celtic Fire Theatre company Pyroceltica, who led the
       procession in 2019 and Double Take Projections. At the end of the Procession on Holyrood
       Park, participants will be asked to light a slow burning candle and then leave. As more and
       more candles are lit, an image will emerge over the course of the event, which will be filmed
       and streamed on edinburghshogmanay.com.

   •   Scottish Music Programme – Wednesday, 29 – Friday, 31 December. Taking place at
       Greyfriars Kirk, tickets are from £25. Performances include one of Scotland's most skilled
       and imaginative contemporary folk acts, Breabach on 29 December, Scottish singer-
       songwriter, Dougie Maclean OBE on 30 December and three x BRIT Award winner, Eddi
       Reader OBE on 31 December.

   •   Party at the Bells – Friday, 31 December, 10pm-1am. A fresh take on the world-famous
       Edinburgh's Hogmanay Street Party. This year the event will be for a reduced audience of
       30,000 people to enjoy the countdown celebrations, starting at 10pm.

       Artists will be announced in coming weeks and will perform on the Ross Bandstand to 3,500
       people in the gardens under the Castle, and will be streamed on to a series of screens to the
       audience on Princes Street.

       The iconic midnight fireworks display will be back at Edinburgh Castle, cementing Scotland
       once again as the home of Hogmanay.

       One of the world's greatest street theatre companies, Netherlands-based Close-Act Theatre
       will collaborate with a variety of Scottish performers to animate the street in spectacular
       style. The Party at the Bells street theatre programme is supported by Scottish Government,
       City of Edinburgh Council, and Creative Scotland's PLACE fund.
EMBARGOED UNTIL RELEASED BY UNDERBELLY

        Garden Access and Street Access tickets will be on sale from 10am on Tuesday 26 October
        with 7,500 tickets available at a discounted price for those with an EH postcode. Street
        Access tickets are £25.50, with the EH discounted price being £17.50.

        50p from every Party at the Bells ticket sold will be donated to the Brain Tumour Charity, an
        organisation Underbelly rases money for year-round. Brain tumours are the biggest cancer
        killer for children and adults under 40 and increased funding for research is desperately
        needed. Around 500 children and young people in the UK are diagnosed each year but
        diagnosis times for childhood brain tumours are longer in the UK than in many other
        countries.

    •   Message from the Skies from 1 January 2022. Edinburgh's Hogmanay's emblematic project
        that fuses the work of Scottish writers, artists and musicians will return from 1 January 2022.
        Full details to be announced in due course.

Working closely with the City of Edinburgh Council and Scottish Government, Underbelly is
meticulously planning Edinburgh's Hogmanay in the context of Covid-19 and is dedicated to creating
a safe and fun environment for the 2021 celebrations. Ticketholders for the Torchlight Procession
and the Party at the Bells, who are aged 18 and over, will need to have a Covid-19 passport and to
show it to enter the events.

As part of Edinburgh's Hogmanay's ongoing commitment to environmental sustainability, and
alongside efforts to reduce the environmental impact of the festival itself, we are again inviting our
audiences to offset their journey to Edinburgh's Hogmanay in 2021. All donations to the
environmental fund, which are calculated in accordance with the method of transport and length of
journey, are made at the point of purchase when booking tickets via edinburghshogmanay.com and
will be used to create new woodlands in Scotland in partnership with Forest Carbon. All woodlands
are independently audited and certified under the UK Woodland Carbon Code.

Edinburgh is the world's festival city with internationally renowned festivals year-round and
Edinburgh's Hogmanay kicks them off at the beginning of every year.

Edinburgh's Hogmanay 2021 is supported by City of Edinburgh Council, Scottish Government and
City of Edinburgh Council's PLACE fund and Creative Scotland through the Scottish Government's
EMBARGOED UNTIL RELEASED BY UNDERBELLY

Edinburgh Festivals EXPO fund, all working together to create a bold and reimagined Edinburgh's
Hogmanay for Scotland.

Underbelly Co-Directors, Charlie Wood and Ed Bartlam, said: "The 2021 Edinburgh's Hogmanay
celebrations have been reimagined to offer a safe and a fantastic experience for Edinburgh and
beyond - telling the world that "We Are Back Together". Through the Torchlight Procession, Party at
the Bells and the iconic fireworks, this year's Hogmanay event has been designed to deliver a
celebration for the people of Edinburgh and our visitors, and to place Scotland at the forefront of the
world's new year events. We can't wait to help bring everyone back together again."

Cllr Cammy Day, Depute Leader of City of Edinburgh Council said: "Edinburgh is the home of
Hogmanay and it is fantastic that this year as we mark its 29th year, we see the return of in-person
events and that celebrations will return to the streets of the Capital. There is an unmissable
Hogmanay programme this year, which will support economic recovery across the wider city area,
safely bring people back together and welcome in the new year with a renewed sense of optimism for
great times ahead."

For more information and tickets, please visit https://www.edinburghshogmanay.com/
                                                 ENDS
 For more information, please contact tara.dagostino@stripecommunications.com or call 07966
                                                841 982

                                LISTING INFORMATION
EMBARGOED UNTIL RELEASED BY UNDERBELLY

Edinburgh's Hogmanay 2021
29 December – 1 January
Facebook: EdinburghsHogmanay
Instagram: EdHogmanay
Twitter: EdHogmanay
Website: https://www.edinburghshogmanay.com/

For Photography, please see HERE

Prices start from £15.

Torchlight Procession
30 December

Breabach, at Greyfriars Kirk
29 December

Dougie McLean, at Greyfriars Kirk
30 December

Eddi Reader, at Greyfriars Kirk
31 December

Party at the Bells
31 December – 1 January

Notes to Editors:

ABOUT UNDERBELLY

Underbelly is a UK based live entertainment company specialising in the creation, curation and
management of large-scale cultural events and festivals with a particular focus on city centres.
EMBARGOED UNTIL RELEASED BY UNDERBELLY

Established in 2000 at the world-renowned Edinburgh Fringe Festival, Underbelly has since produced
events in locations from theatres to roundabouts in London, Edinburgh and Hong Kong.

Our current Scottish events and festivals include Underbelly at the Edinburgh Fringe, Edinburgh's
Christmas and Edinburgh's Hogmanay Festival (both for City of Edinburgh Council). In 2020, in lieu
of live events, we produced FareWell for the online Edinburgh's Hogmanay celebration which was
watched by over 6.5 million people.

In London we produce Underbelly Festival, StreetEat, which was one of the first outdoor COVID safe
events, London Wonderground, Christmas In Leicester Square and Christmas in Trafalgar Square
(both for Westminster City Council). We are also the event production partner for WestEnd Live in
Trafalgar Square (on behalf of Westminster City Council and Society London Theatre) and Pride in
London, the second largest one day event in London.

We love creating fantastic and unique pop-up events. We love entertaining. We love creating
something for all ages and all tastes to enjoy. Most of all, we love live entertainment and events. In
2019, we sold over 1.4 million tickets to events and productions that we produced and welcomed
more than 9 million people to our event and festival sites