Actiforce Catalogue 2018/2019 Europe
Page content transcription
If your browser does not render page correctly, please read the page content below
We are
Actiforce
The evolution of mankind is a story of over-
coming boundaries, limitations and nature.
The endeavour to adapt to the environment,
learn new skills and challenge the unknown
is based solely on enlightenment by inspiration.
Inspiration is the fertile ground for art and
culture. It makes people move, invent all kinds
of solutions and guides them to places no
one has been before: further, deeper, faster.
We design, we produce, we deliver.
We are Actiforce.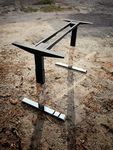 The
                                 Aluforce
                                 Line
                                 The Aluforce desk frames are our original
                                 family of height adjustable sit-sit and
                                 sit-stand solutions featuring the Vision
                                 Lift system. The Aluforce collection
                                 offers you aluminium-cased workspaces
                                 ranging from single step to fully
                                 digital two-motor high-stroke frames.

4 - Aluforce Collection 2018 -                                               - Aluforce Collection 2018 - 5
Aluforce Pro 100 HC                                                                                                              Aluforce Pro 110 HC

     Single step, sit-sit height mechanically adjustable             Surface colour                          Purchase code         Single step, sit-stand height mechanically adjustable              Surface colour                          Purchase code
     Height (mm)                             min. 585 / max. 960     Silver                                  S4130T3048307XXEU     Height (mm)                           min. 700 / max. 1160         Silver                                  PC30T3048307XXEU
     Stroke (mm)                             375                                                                                   Stroke (mm)                           460
     Speed (mm/s)                            6 / crank turn          Packing dimension single unit                                 Speed (mm/s)                          6 / crank turn               Packing dimension single unit
     Width (mm)                              min. 1100 / max. 1700   1120 x 280 x 180 (LxWxH - mm)                                 Width (mm)                            min. 1100 / max. 1700        1120 x 280 x 180 (LxWxH - mm)
     Length of feet (mm)                     740                                                                                   Length of feet (mm)                   740
     Dynamic capacity (kg)                   60                      Packing dimension pallet (24 frames)                          Dynamic capacity (kg)                 60                           Packing dimension pallet (24 frames)
     Noise dB(A)                             -                       1140 x 1120 x 1200 (LxWxH - mm)                               Noise dB(A)                           -                            1140 x 1120 x 1200 (LxWxH - mm)
     Gross Weight (kg)                       24                                                                                    Gross Weight (kg)                     24
                                                                     Accessories                                                                                                                      Accessories
     Legs and feet made of powder-coated aluminium.                  Please see the accessories section to                         Legs and feet made of powder-coated aluminium.                     Please see the accessories section to
     Top supports and crossbars made of powder-coated steel.         personalise your height adjustable frame.                     Top supports and crossbars made of powder-coated steel.            personalise your height adjustable frame.

       VISIONLIFT                                                                                                                   VISIONLIFT
         INSIDE                                                                                                                       INSIDE

                                                                                                                                                                                                                                              460 mm
                                                                        1100 ~ 1700 mm                                570 mm                     1100 ~ 1700 mm                              570 mm
                            375 mm

                                                                                                                                                                                                                                                                                  1160 mm
                                                        960 mm

                                                                                                                                                                                                                                              700 mm
                            585 mm

                                                                                                                      740 mm                                                                 740 mm

6 - Aluforce Collection 2018 -                                                                                                                                                                                                                         - Aluforce Collection 2018 - 7
Aluforce Pro 140 HC                                                                                                                Aluforce Pro 140 M

     Single step, sit-stand height mechanically adjustable          Surface colour                          Purchase code            Single step, sit-stand height electrically adjustable                     Surface colour                             Purchase code
     Height (mm)                           min. 700 / max. 1160     Silver                                  P1930000000218EU         Height (mm)                              min. 700 / max. 1160             Silver                                     P1930000000030EU
     Stroke (mm)                           460                      White                                   P1930000000229EU         Stroke (mm)                              460                              White                                      P1930000000029EU
     Speed (mm/s)                          6 / crank turn           Black                                   P1930000000211EU         Speed (mm/s)                             17                               Black                                      P1930000000011EU
     Width (mm)                            min. 1100 / max 1700                                                                      Width (mm)                               min. 1100 / max. 1700
     Length of feet (mm)                   750                      Packing dimension single unit                                    Length of feet (mm)                      750                              Packing dimension single unit
     Dynamic capacity (kg)                 60                       1110 x 260 x 156 (LxWxH - mm)                                    Dynamic capacity (kg)                    60                               1110 x 260 x 156 (LxWxH - mm)
     Noise dB(A)                           -                                                                                         Noise dB(A)
Aluforce Pro 150 M

      Single step, sit-stand height electrically adjustable                  Surface colour                          Purchase code
      Height (mm)                              min. 700 / max. 1160          Silver                                  PC30T304830204EU
      Stroke (mm)                              460
      Speed (mm/s)                             19                            Packing dimension single unit
      Width (mm)                               min. 1100 / max. 1700         1120 x 280 x 180 (LxWxH - mm)
      Length of feet (mm)                      740
      Dynamic capacity (kg)                    60                            Packing dimension pallet (24 frames)
      Noise dB(A)
Aluforce Pro 250 M                                                                                                                                        Aluforce Pro 251 M 90°

      Dual step, sit-stand height electrically adjustable                         Surface colour                          Purchase code                           Dual step, sit-stand height electrically adjustable                   Surface colour                          Purchase code
      Height (mm)                              min. 630 / max. 1280               Silver                                  P230T300830102EU-SG                     Height (mm)                              min. 630 / max. 1280         Silver                                  P430Y30A230102EU-SG
      Stroke (mm)                              650                                                                                                                Stroke (mm)                              650
      Speed (mm/s)                             31                                 Packing dimension single unit                                                   Speed (mm/s)                             28                           Packing dimension single unit
      Width (mm)                               min. 1100 / max. 1700              1120 x 280 x 180 (LxWxH - mm)                                                   Width main unit (mm)                     min. 1100 / max. 1700        1180 x 350 x 200 (LxWxH - mm)
      Length of feet (mm)                      740                                                                                                                Width ancillary unit (mm)                min. 1200 / max. 1400
      Dynamic capacity (kg)                    80                                 Packing dimension pallet (24 frames)                                            Length of feet (mm)                      740                          Packing dimension pallet (15 frames)
      Noise dB(A)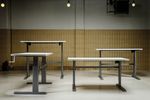 Aluforce Pro 270 GT

                                    Dual step, sit-stand height electrically adjustable                         Surface colour                          Purchase code
                                    Height (mm)                              min 630 / max. 1280                Silver                                  P230T300830M07EU-SG
                                    Stroke (mm)                              650
                                    Speed (mm/s)                             36                                 Packing dimension single unit
                                    Width (mm)                               min. 1100 / max. 1700              1120 x 280 x 180 (LxWxH - mm)
                                    Length of feet (mm)                      740
                                    Dynamic capacity (kg)                    80                                 Packing dimension pallet (24 frames)
                                    Noise dB(A)
The
                                    Steelforce
                                    Line
                                    We created the Steelforce Collection to
                                    complete our range of desk frames. Whether
                                    operated manually or silently driven by two
                                    motors, the Steelforce frames stand out
                                    through the variations of legs, the absence
                                    of a crossbar in most solutions and a simple
                                    and modern design.

16 - Steelforce Collection 2018 -                                                  - Steelforce Collection 2018 - 17
Steelforce Pro 100 HC                                                                                                                     Steelforce Pro 150 M

      Single step, sit-stand height mechanically adjustable                 Surface colour                          Purchase code           Single step, sit-stand height electrically adjustable                 Surface colour                          Purchase code
      Height (mm)                           min. 680 / max. 1090            Silver                                  H1130f30A130PXXEU-A     Height (mm)                              min. 695 / max. 1115         Silver                                  H130X300630204EU
      Stroke (mm)                           410                                                                                             Stroke (mm)                              420
      Speed (mm/s)                          13 / crank turn                 Packing dimension single unit                                   Speed (mm/s)                             18                           Packing dimension single unit
      Width (mm)                            min. 800 / max. 1200            670 x 560 x 140 (LxWxH - mm)                                    Width (mm)                               min. 1100 / max. 1700        1120 x 280 x 180 (LxWxH - mm)
      Length of feet (mm)                   620                                                                                             Length of feet (mm)                      750
      Dynamic capacity (kg)                 60                              Packing dimension pallet (32 frames)                            Dynamic capacity (kg)                    60                           Packing dimension pallet (24 frames)
      Noise dB(A)                           -                               1140 x 1130 x 1420 (LxWxH - mm)                                 Noise dB(A)
Steelforce Pro 170 SLS C-Foot

                                      Single step, sit-stand height electrically adjustable                     Surface colour                          Purchase code
                                      Height (mm)                              min. 690 / max. 1160             Silver                                  SLS12802000383EU
                                      Stroke (mm)                              470
                                      Speed (mm/s)                             39                               Packing dimension single unit
                                      Width (mm)                               min. 1100 / max. 1700            1120 x 295 x 185 (LxWxH - mm)
                                      Length of feet (mm)                      750
                                      Column size (mm)                         64 x 130                         Packing dimension pallet (20 frames)
                                      Dynamic capacity (kg)                    80                               1180 x 1130 x 1060 (LxWxH - mm)
                                      Noise dB(A)
Steelforce Pro 200 HC                                                                                                                               Steelforce Pro 210 HC

      Single step, sit-stand height mechanically adjustable                 Surface colour                             Purchase code                  Single step, sit-stand height mechanically adjustable                 Surface colour                               Purchase code
      Height (mm)                           min. 620 / max. 1050            Silver                                     ETH300001230EU-A               Height (mm)                           min. 700 / max. 1180            Silver                                       ETH400001230EU-A
      Stroke (mm)                           430                                                                                                       Stroke (mm)                           480
      Speed (mm/s)                          13 / crank turn                 Packing dimension single unit                                             Speed (mm/s)                          13 / crank turn                 Packing dimension single unit
      Width (mm)                            min. 1000 / max. 1400           790 x 550 x 150 (LxWxH - mm)                                              Width (mm)                            min. 1000 / max. 1400           790 x 550 x 150 (LxWxH - mm)
      Length of feet (mm)                   750                                                                                                       Length of feet (mm)                   750
      Dynamic capacity (kg)                 60                              Packing dimension pallet (14 frames)                                      Dynamic capacity (kg)                 60                              Packing dimension pallet (14 frames)
      Noise dB(A)                           -                               1110 x 800 x 1120 (LxWxH - mm)                                            Noise dB(A)                           -                               1110 x 800 x 1120 (LxWxH - mm)
      Gross Weight (kg)                     21                                                                                                        Gross Weight (kg)                     23
                                                                            Accessories                                                                                                                                     Accessories
      Legs, feet, top supports and crossbars made of powder-coated steel.   Please see the accessories section to                                     Legs, feet, top supports and crossbars made of powder-coated steel.   Please see the accessories section to
      Pre-assembled.                                                        personalise your height adjustable frame.                                 Pre-assembled.                                                        personalise your height adjustable frame.
                                                                                                              430 mm

                                                                                                                                                                                                                                                                480 mm
               1000 ~ 1400 mm                                590 mm                                                                                          1000 ~ 1400 mm                                590 mm

                                                                                                                                                                                                                                                                                                  1180 mm
                                                                                                                                          1050 mm

                                                                                                                                                                                                                                                                700 mm
                                                                                                              620 mm

                                                            750 mm

                                                                                                                                                                                                          750 mm

22 - Steelforce Collection 2018 -                                                                                                                                                                                                                                           - Steelforce Collection 2018 - 23
Steelforce Pro 270 SLS                                                             Steelforce Pro 270 SLS C-Foot                                            Steelforce Pro 470 SLS

      Dual step, sit-stand height electrically adjustable                          Surface colour                          Purchase code                      Dual step, sit-stand height electrically adjustable                       Surface colour                          Purchase code
      Height (mm)                              min. 615 / max. 1275                Silver                                  SLS40000000383EU                   Height (mm)                              min. 615 / max. 1275             Silver                                  SLS30000000383EU
      Stroke (mm)                              660                                                                                                            Stroke (mm)                              660                              White                                   SLS30000000329EU
      Speed (mm/s)                             39                                  Surface colour C-Foot                   Purchase code C-Foot               Speed (mm/s)                             39
      Width (mm)                               min. 1100 / max. 1700               Silver                                  SLS40A02000383EU                   Width (mm)                               min. 1100 / max. 1700            Packing dimension single unit
      Length of feet (mm)                      750                                                                                                            Length of feet (mm)                      750                              960 x 285 x 185 (LxWxH - mm)
      Column size (mm)                         64 x 130                            Packing dimension single unit                                              Column size (mm)                         70 x 70
      Dynamic capacity (kg)                    80                                  960 x 285 x 185 (LxWxH - mm)                                               Dynamic capacity (kg)                    80                               Packing dimension pallet (20 frames)
      Noise dB(A)
Steelforce Pro 470 SLS Bench

      Dual step, sit-stand height electrically adjustable                   Surface colour                          Purchase code
      Height (mm)                              min. 615 / max. 1275         Silver                                  SLS13400011383EU
      Stroke (mm)                              660                          White                                   SLS13400011329EU
      Speed (mm/s)                             39
      Width (mm)                               min. 1100 / max. 1700        Packing dimension single unit (2 boxes)
      Column size (mm)                         70 x 70                      Box 1. 970 x 280 x 330 (LxWxH - mm)
      Dynamic capacity (kg)                    80                           Box 2. 970 x 280 x 330 (LxWxH - mm)
      Noise dB(A)
Steelforce Pro 471 SLS 90°                                                                                                                                            Steelforce Pro 471 SLS 90° XL

      Dual step, sit-stand height electrically adjustable                        Surface colour                                       Purchase code                     Dual step, sit-stand height electrically adjustable                        Surface colour                                       Purchase code
      Height (mm)                              min. 615 / max. 1275              Silver                                               SLS16000004483EU                  Height (mm)                              min. 615 / max. 1275              Silver                                               SLS16000007483EU
      Stroke (mm)                              660                                                                                                                      Stroke (mm)                              660
      Speed (mm/s)                             39                                Packing dimension single unit                                                          Speed (mm/s)                             39                                Packing dimension single unit
      Width main unit (mm)                     min. 1100 / max. 1700             Box 1. 960 x 285 x 185 (LxWxH - mm)                                                    Width main unit (mm)                     min. 1100 / max. 1700             Box 1. 960 x 285 x 185 (LxWxH - mm)
      Width ancillary unit (mm)                min. 1050 / max. 1250             Box 2. 960 x 285 x 185 (LxWxH - mm)                                                    Width ancillary unit (mm)                min. 1450 / max. 1650             Box 2. 960 x 285 x 185 (LxWxH - mm)
      Length of feet (mm)                      750                                                                                                                      Length of feet (mm)                      750
      Column size (mm)                         70 x 70                           Packing dimension pallet (12 frames)                                                   Column size (mm)                         70 x 70                           Packing dimension pallet (12 frames)
      Dynamic capacity (kg)                    150                               1150 x 1130 x 1240 (LxWxH - mm)                                                        Dynamic capacity (kg)                    150                               1150 x 1130 x 1240 (LxWxH - mm)
      Noise dB(A)
Steelforce Pro 670 SLS

      Dual step, sit-stand height electrically adjustable                       Surface colour                          Purchase code
      Height (mm)                              min. 615 / max. 1275             Silver                                  SLS60300000383EU
      Stroke (mm)                              660                              White                                   SLS60300000329EU
      Speed (mm/s)                             39                               Black                                   SLS60300000390EU
      Width (mm)                               min. 1100 / max. 1700
      Length of feet (mm)                      750                              Packing dimension single unit
      Column size (mm)                         60 x 100                         960 x 285 x 185 (LxWxH - mm)
      Dynamic capacity (kg)                    80
      Noise dB(A)
Steelforce Pro 671 SLS 90°                                                                                                                                                Steelforce Pro 673 SLS 135°

      Dual step, sit-stand height electrically adjustable                            Surface colour                                      Purchase code                      Dual step, sit-stand height electrically adjustable                          Surface colour                          Purchase code
      Height (mm)                              min. 615 / max. 1275                  Silver                                              SLS18000004483EU                   Height (mm)                              min. 615 / max. 1275                Silver                                  SLS19000009483EU
      Stroke (mm)                              660                                   White                                               SLS18000004429EU                   Stroke (mm)                              660                                 White                                   SLS19000009429EU
      Speed (mm/s)                             39                                    Black                                               SLS18000004490EU                   Speed (mm/s)                             39                                  Black                                   SLS19000009490EU
      Width main unit (mm)                     min. 1100 / max. 1700                                                                                                        Width main unit (mm)                     min. 1310 / max. 1610
      Width ancillary unit (mm)                min. 1050 / max. 1250                 Packing dimension single unit                                                          Width ancillary unit (mm)                610                                 Packing dimension single unit
      Column size (mm)                         60 x 100                              Box 1. 960 x 285 x 185 (LxWxH - mm)                                                    Column size (mm)                         60 x 100                            Box 1. 960 x 285 x 185 (LxWxH - mm)
      Dynamic capacity (kg)                    150                                   Box 2. 960 x 285 x 185 (LxWxH - mm)                                                    Dynamic capacity (kg)                    150                                 Box 2. 960 x 285 x 185 (LxWxH - mm)
      Noise dB(A)
Accessories
                                     We offer a range of accessories for our desk
                                     frames that enable you to personalise and
                                     manage your workspace.

34 - Accessories Collection 2018 -                                                  - Accessories Collection 2018 - 35
Cable tray 1200 mm                                                                                                                                            Cable chain
                                                                                                                                                                                    Surface colour   Purchase code

                                                                                                    86.2(x4)
                                                                        Max. 1264                                                 92 to 128 (max.)
                                                                                                                 12(3x)                                                             Black            PA-AVL-CM007-11
                                                                                                                                                                                    Silver           PA-AVL-CM007-30

                                     152
                                                                                                                                                                                    White            PA-AVL-CM007-29
                                                                                                                            65
                                                                    Top View
                                                                                                                          Side View

                                                                                             78.9
                                                5(2x)                                                                25

                                                                                                                65
                                              87.1
                                                                         Front View

                                                                                                               Isometric View

                                      Surface colour                    Purchase code                Dimensions
                                      Black                             FA-AVL-FG0065-11             Height (mm) 152
                                      Silver                            FA-AVL-FG0065-30             Width (mm) 1264
                                      White                             FA-AVL-FG0065-29

Cable tray flex                                                                                                                                               Cable strain relief
                                                                                                                                                                                    Surface colour   Purchase code
                                      62.98
                                                                                      1470
                                                                                                                                                                                    Silver           AVL-CM002-00
                                        79.46

                                                30 30

                                      Surface colour                    Purchase code                Dimensions
                                      Black                             PA-CT0002-11                 Height (mm) 62,98
                                      Silver                            PA-CT0002-30                 Width (mm) 1470
                                      White                             PA-CT0002-29

Cable tray fix                                                                                                                                                Magnet cable chain
                                                                                                                                                                                    Surface colour   Purchase code
                                                                                    1150                                                                                            Black            PA-AVL-CM008-11
                                                                                                                                                                                    Silver           PA-AVL-CM008-30
                                                                                                                                 86

                                                                                                                                                                                    White            PA-AVL-CM008-29
                                                                                                                                          91.86 21 18
                                                                                                                                  37.97

                                                                                                                                                        151
                                                             91.
                                                              1

                                                                   24

                                                     11
                                                        4˚

                                      Surface colour                    Purchase code                Dimensions
                                      Black                             PA-CT0001-11                 Height (mm) 86
                                      Silver                            PA-CT0001-30                 Width (mm) 1150
                                      White                             PA-CT0001-29

36 - Accessories Collection 2018 -                                                                                                                                                                           - Accessories Collection 2018 - 37
CPU holder LP                                                                                                 Stationery drawer SL with lock

                                                                                                                                                                                            30
                                                                                                                                                           44
                                                                                                                                                                      125     121

                                                                                                                                                                                                  879

                                                                                                                                                                                                  800

                                                                                                                                                                244
                                                                                                                                                     259
                                     Surface colour         Purchase code               Dimensions                                             Surface colour               Purchase code                            Dimensions
                                     Black                  PA-CPH01-11                 Height (mm) 250-550                                    Black                        PA-SD003-11                              Height (mm) 259
                                     Silver                 PA-CPH01-30                 Width (mm) 70-230                                      Silver                       PA-SD003-30                              Width (mm) 879
                                     White                  PA-CPH01-29                                                                        White                        PA-SD003-29

Stationery drawer HM                                                                                          Stationery drawer system TRI

                                                                                                                                                                               43
                                                                            340

                                                                                                                                                                                    128.5
                                                                            287

                                                                                                                                                                300

                                                                                                   63
                                          200

                                                                                                                                                                                347
                                                                                                                                                                316
                                                                                             77
                                                               D:69

                                                                                                                                               Surface colour               Purchase code                            Dimensions
                                                                                                                                               Black                        PA-SB001-11                              Height (mm) 128,5
                                                                                                                                               Silver                       PA-SB001-30                              Width (mm) 300
                                     Surface colour         Purchase code                Dimensions                                            White                        PA-SB001-29
                                     Black                  PA-SD002-11                  Height (mm) 200                                                                                                             Drawers
                                     Silver                 PA-SD002-30                  Width (mm) 340                                                                                                              Height (mm) 347
                                                                                                                                                                                                                     Width (mm) 316

Stationery drawer SN                                                                                          Memory master fix
                                     44

                                                              30

                                                125   121

                                                                                                                                                                                                                                32,8 mm
                                                                                                                                                                                                                                          1,289"
                                                                                                                                                            132,5 mm
                                                                                                                                                                5,216"

                                                                                             434

                                                                                                                                                                                                  85,9 mm
                                                                                                                                                                                                            3,380"
                                                                                             353
                                                                                  244
                                                                      260

                                     Surface colour         Purchase code                Dimensions                                            Purchase code                Dimensions
                                     Black                  PA-SD004-11                  Height (mm) 260                                       SLS-000026-00                Length (mm) 132,5
                                     Silver                 PA-SD004-30                  Width (mm) 434                                                                     Height (mm) 32,8
                                     White                  PA-SD004-29                                                                                                     Width (mm) 85,9

38 - Accessories Collection 2018 -                                                                                                                                                               - Accessories Collection 2018 - 39
Memory master swing                                                                                                                                                      SLS capacity enhancement
                                                                                         183,6 mm
                                                                                           7.23"
                                                                                                                              16,6 mm
                                                                                                                                0.65"
                                                                                                                                                                                                    Surface colour     Purchase code
                                                                                                                                                                                                    Black              FA-SLS-PS0002-00

                                                                                                                   128,5 mm
                                                                                                                     5.06"
                                                                                         155,6 mm                             14,8 mm
                                                                                           6.13"                                0.58"

                                                                                         170,4 mm                       38,8 mm

                                                                          34 mm
                                                                                           6.71"                         1.53"

                                                                           1.34"

                                                                                                                              150,3 mm
                                                                     106 mm

                                                                                                                                5.92"
                                                                      4.17"
                                                                                                       25 mm
                                                                                        75 mm           0.98"
                                                                                         2.95"

                                      Purchase code                                     Dimensions
                                      SLS-000011-00                                     Length (mm) 150,3
                                                                                        Height (mm) 38,8
                                                                                        Width (mm) 183,6

Memory master flat                                                                                                                                                       Sensor kit
                                                                                                                                                                                                    Surface colour     Purchase code

                                                      20,3 mm

                                                                18,7 mm

                                                                                                                                  15,5 mm
                                                                  0,8"
                                                                                                                                                                                                    Black              FA-SLS-FG0046-00

                                                                  0,7"

                                                                                                                                    0,6"
                                     28,3 mm
                                               1,1"

                                                                                             90,0 mm
                                                                                               3,5"
                                                                                                        95,4 mm                             35,7 mm
                                                                                                          3,8"                                1,4"
                                                                                                                                            42,0 mm
                                                                                                                                              1,7"
                                                                22,7 mm
                                                                  0,9"

                                                                                                                                      85,0 mm
                                                                                                                                         3,3"
                                                                    14,2 mm
                                                                      0,6"

                                                                                                                                                        31,6 mm
                                                                                                                                                                  1,2"
                                      Purchase code                                              Dimensions
                                      SLS-MM-000031-00                                           Length (mm) 42
                                                                                                 Height (mm) 17,3
                                                                                                 Width (mm) 94,4

Countersunk hand switch                                                                                                                                                  Screen holder bracket
                                                                                                                                                                                                    Surface colour     Purchase code
                                                                                                                                                                                                    Silver             FA-SLS-FG0057-30
                                                                                   54,5 mm
                                                                                                                                                                                                    White              FA-SLS-FG0057-29

                                                                                                                                                                                                    suitable for panels with a maximum thickness of 50 mm
                                                                                                                                                      49 mm

                                                                                                                        26,5 mm

                                      Purchase code                                     Dimensions
                                      AVL-000139-EU                                     Diameter (mm)             54,5

40 - Accessories Collection 2018 -                                                                                                                                                                                              - Accessories Collection 2018 - 41
Adjustable cable tray
Made of aluminium

                                                                                                Surface colour      Purchase code
                                                                                                Silver              FA-SLS-FG0056-30
                                                                                                White               FA-SLS-FG0056-29

Tailor- made stroke settings
                                                                                                Purchase code
                                                                                                AVL-IP0002-EU

                                       Cable       Storage     Hardware      Hand controls   Sensor     Tailor-made      Enhancements    Bench accessories
                                     management   (Drawers)   management       (Memory         kit     stroke settings   (SLS capacity (Screen holder bracket,
                                                              (PC holders)      master)                                  enhancement) adjustable cable tray)
     Aluforce Pro 100 HC                 •           •             •               –           –              –                  –                 –
     Aluforce Pro 110 HC                 •           •             •               –           –              –                  –                 –
     Aluforce Pro 140 HC                 •           •             •               –           –              –                  –                 –
     Aluforce Pro 140 M                  •           •             •               –           –              –                  –                 –
     Aluforce Pro 150 M                  •           •             •               –           –              –                  –                 –
     Aluforce Pro 250 M                  •           •             •               –           –              –                  –                 –
     Aluforce Pro 251 M 90°              •           •             •               –           –              –                  –                 –
     Aluforce Pro 270 GT                 •           •             •               •           –              •                  –                 –

     Steelforce Pro 100 HC               •           •            •               –            –              –                  –                 –
     Steelforce Pro 150 M                •           •            •               –            –              –                  –                 –
     Steelforce Pro 170 SLS              •           •            •               •            •              •                  •                 –
     Steelforce Pro 200 HC               •           •            •               –            –              –                  –                 –
     Steelforce Pro 210 HC               •           •            •               –            –              –                  –                 –
     Steelforce Pro 270 SLS              •           •            •               •            •              •                  •                 –
     Steelforce Pro 470 SLS              •           •            •               •            •              •                  •                 –
     Steelforce Pro 470 SLS Bench        •           •            •               •            •              •                  •                 •
     Steelforce Pro 471 SLS 90°          •           •            •               •            –              •                  –                 –
     Steelforce Pro 471 SLS 90° XL       •           •            •               •            –              •                  –                 –
     Steelforce Pro 670 SLS              •           •            •               •            •              •                  •                 –
     Steelforce Pro 671 SLS 90°          •           •            •               •            –              •                  –                 –
     Steelforce Pro 673 SLS 135°         •           •            •               •            –              •                  –                 –

42 - Accessories Collection 2018 -                                                                                                                               - Accessories Collection 2018 - 43
44 - Actiforce Collection 2018 -   - Actiforce Collection 2018 - 45