2020 PRODUCT C ATA LOG - LIGHTING FOR EXTREMES
Page content transcription
If your browser does not render page correctly, please read the page content below
Based in Shenzhen, China, Fenix designs and manufactures
incredible lighting products in its company-owned facility.
Fenix is committed to create lights that not only feature the
best in lighting technology, but are also built to the highest
standards for durability and longevity. Unlike contract
manufacturers or subcontractors, Fenix takes ownership
of the quality and performance of each and every light
and subjects each to a battery of tests from their quality
assurance professionals—ensuring the light is built to last.

FENIX LIGHTING US is the United States distributor
for the Fenix line of lighting products and is committed to
providing you with the best customer service. With facilities
in Littleton, CO and Monticello, AR, Fenix Lighting US is
poised to fulfill your needs quickly and efficiently.
TABLE OF CONTENTS
HEADLAMPS
HL Series .  .  .  .  .  .  .  .  .  .  .  .  .  .  .  .  .  .  .  .  .  .  .  .  .  .  .  .  . 2
HM Series .  .  .  .  .  .  .  .  .  .  .  .  .  .  .  .  .  .  .  .  .  .  .  .  .  .  .  .  . 7
HP Series .  .  .  .  .  .  .  .  .  .  .  .  .  .  .  .  .  .  .  .  .  .  .  .  .  .  .  .  . 9

FLASHLIGHTS
E Series  .  .  .  .  .  .  .  .  .  .  .  .  .  .  .  .  .  .  .  .  .  .  .  .  .  .  .  .  . 11
HT Series .  .  .  .  .  .  .  .  .  .  .  .  .  .  .  .  .  .  .  .  .  .  .  .  .  .  .  . 14
LD Series .  .  .  .  .  .  .  .  .  .  .  .  .  .  .  .  .  .  .  .  .  .  .  .  .  .  .  . 15
LR Series  .  .  .  .  .  .  .  .  .  .  .  .  .  .  .  .  .  .  .  .  .  .  .  .  .  .  .  . 18
PD Series .  .  .  .  .  .  .  .  .  .  .  .  .  .  .  .  .  .  .  .  .  .  .  .  .  .  .  . 19
RC Series .  .  .  .  .  .  .  .  .  .  .  .  .  .  .  .  .  .  .  .  .  .  .  .  .  .  .  . 23
SD Series .  .  .  .  .  .  .  .  .  .  .  .  .  .  .  .  .  .  .  .  .  .  .  .  .  .  .  . 24
TK Series  .  .  .  .  .  .  .  .  .  .  .  .  .  .  .  .  .  .  .  .  .  .  .  .  .  .  .  . 25
UC Series .  .  .  .  .  .  .  .  .  .  .  .  .  .  .  .  .  .  .  .  .  .  .  .  .  .  .  . 32
WF Series .  .  .  .  .  .  .  .  .  .  .  .  .  .  .  .  .  .  .  .  .  .  .  .  .  .  .  . 33
WT Series .  .  .  .  .  .  .  .  .  .  .  .  .  .  .  .  .  .  .  .  .  .  .  .  .  .  .  . 34

LANTERNS  .  .  .  .  .  .  .  .  .  .  .  .  .  .  .  .  .  .  .  .  .  .  .  . 35

BIKE LIGHTS  .  .  .  .  .  .  .  .  .  .  .  .  .  .  .  .  .  .  .  .  .  .  . 38

ACCESSORIES .  .  .  .  .  .  .  .  .  .  .  .  .  .  .  .  .  .  .  .  .  . 41
HL12R
400 LUMENS

                                                                                                    OUTPUT                                            IMPACT                      WATER
                                                                                     MODE           LUMENS        RUNTIME        DISTANCE INTENSITY RESISTANCE                    PROOF
                                                                                      Eco              4            110h            23ft (7m)      12cd
                                                          OPTIONAL ACCESSORIES
                                                                                      Low             30            33h           56ft (17m)       72cd
                                                          ◆ APB-20 Gear Bag
                                                                                    Medium            70             13h          85ft (26m)      169cd                          IP66, rain/
                                                                                                                                                                     1m         splashproof/
                                                                                      High            130              8h        118ft (36m)      324cd                           dustproof
◆   Max 400 lumen output from built-in
    1000mAh Li-polymer battery                                                       Burst            400              1h*       210ft (64m)      1024cd

◆   Eight modes including five brightness                                             Red              1            66h             10ft (3m)       2cd
    levels, SOS, red light, and red flashing                                          SIZE                    Length: 2.2" (56mm) Width: 1.6" (40mm) Height: 1.3" (31.9mm)
◆   Micro-USB rechargeable with battery level                                       WEIGHT                               2.6 oz. (73.3g) including headband/battery
    indicator

HL18R
400 LUMENS

                                                                                                                              Spotlight Mode                        Floodlight Mode
                                                                                        ANSI/FSC
                                                                                                                 Low          Med         High     Turbo      Low         High       S.O.S.
                                                                                     OUTPUT LUMENS                30           70         130       400         4          30         30
                                                                                                                              17h         12h       8h
                                                                                                    Lithium       48h                                         145h        54h         72h
                                                                                    RUNTIME                                  30min       30min     30min
                                                                                                     AAA          48h          22h        14h        9h       150h        56h         80h
                                                                                                                  66ft         98ft      131ft     249ft      16ft         33ft      20ft
                                                                                        DISTANCE                 (20m)        (30m)      (40m)     (76m)      (5m)        (10m)      (6m)
                                                          OPTIONAL ACCESSORIES
◆   Max 400 lumen output from a Li-ion battery                                         INTENSITY                 92cd        225cd       420cd    1466cd       6cd        27cd       30cd
                                                          ◆ APB-20 Gear Bag
    pack or three AAA batteries                                                     IMPACT RESISTANCE                                               1m
◆   Seven modes including four brightness levels in spotlight mode, two levels in     WATERPROOF                                      IP66, rain/splash proof dustproof
    floodlight mode, and SOS
                                                                                             SIZE                Length: 2.3" (57.7mm) Width: 1.7" (42.3mm) Height: 1.5" (37mm)
◆   Two separate switches control the spotlight and floodlight modes
                                                                                         WEIGHT                              2.8 oz. (80g) including battery, headband & holder
◆   Reflective headband includes a silicone sweat guard

                                                                                                                                                                                               2
NEW                         HL18RW
                                500 LUMENS

                                                                                                                                Features a Cool White LED
                                                                                                                                       — perfect for running

                                                                                                                         Spotlight Mode                              Floodlight Mode
                                                                                         ANSI/FSC
                                                                                                                 Low            Med           Turbo        Low            High         S.O.S.
                                                                                      OUTPUT LUMENS               30             130           500           4             30           30
                                                                                                  Lithium         70h            18h           9h*         150h            60h         120h
    ◆   Max 500 lumen output from included 1300mAh                                   RUNTIME
                                                                                                   AAA            78h            17h           6h*         150h            48h          96h
    ◆   Li-polymer battery back or three AAA batteries
                                                                                                                  59ft          131ft         279ft        16ft           39ft          39ft
        Six modes including three spotlight levels, two floodlight levels, and SOS       DISTANCE
    ◆                                                                                                            (18m)          (40m)         (85m)        (5m)          (12m)         (12m)
    ◆   USB rechargeable with battery level indicator                                   INTENSITY                78cd           398cd        1783cd        8cd            39cd         39cd
    ◆   Extremely light weight; 2.8 oz                                               IMPACT RESISTANCE                                                1m
                                                                                       WATERPROOF                                      IP66, rain/splash proof dustproof

                                                              OPTIONAL ACCESSORIES         SIZE                  Length: 2.3" (57.7mm) Width: 1.7" (42.3mm) Height: 1.5" (37mm)
                                                              ◆ APB-20 Gear Bag           WEIGHT                          2.8 oz. (80g) including battery, headband & holder

    HL26R
    450 LUMENS

                                                                                                                        Spotlight Mode                                Floodlight Mode
                                                                                      ANSI/FSC
                                                                                                         Low            Med         High         Burst       Low           High        S.O.S.
                                                                                       OUTPUT               30           70            130        450            4          40          40
                                                                                       LUMENS
                                                                                                                                                  1h
                                                                                       RUNTIME           25h             12h           6h                    100h          13h          26h
                                                                                                                                                30min*
                                                                                                          98ft          138ft      187ft         328ft       13ft           33ft
                                                                                      DISTANCE                                                                                           –
                                                                                                         (30m)          (42m)      (57m)        (100m)       (4m)          (10m)
                                                                                      INTENSITY          225cd         450cd       810cd        2564cd        4cd          24cd          –
    ◆   Max 450 lumen output from a built-in 1600mAh Li-polymer battery
                                                                                       IMPACT
        Seven modes including four brightness levels in spotlight mode, two levels                                                                1m
    ◆                                                                                RESISTANCE
        in floodlight mode, and SOS
                                                                                     WATERPROOF                                  IP66, rain/splash proof dustproof
    ◆   Two separate switches control the spotlight and
        floodlight modes                                      OPTIONAL ACCESSORIES       SIZE                Length: 2.56" (65mm) Width: 1.73" (44mm) Height: 1.46" (37mm)
    ◆   Reflective headband includes a silicone sweat         ◆ APB-20 Gear Bag        WEIGHT                                     3.03 oz. (86g) including battery
        guard to keep sweat out of your eyes

3
HL30
300 LUMENS

                                                                                                                                                                 OPTIONAL ACCESSORIES
                                                                                                                                                                 ◆ APB-20 Gear Bag
                                                                                                                                                                 ◆ ARB-14 Battery

                                                                                                                                                                           Red          Red
                                                                                     ANSI/FSC               Eco            Low        Med         High       Turbo
                                                                                                                                                                          Light        Flash
                                                                                   OUTPUT LUMENS                4           30         70         130         300            1           1
                                                                                              Alkaline      200h           71h        41h          9h         4.5h        170h         340h
                                                                               RUNTIME
                                                                                              Ni-MH         200h           65h        35h         12h          7h         170h         340h
                                                                                                            20ft            52ft      75ft       115ft       164ft        13ft         13ft
                                                                                     DISTANCE
                                                                                                            (6m)           (16m)     (23m)       (35m)       (50m)        (4m)         (4m)
                                                                                     INTENSITY              10cd           64cd      137cd       306cd       610cd        4cd           4cd
                                                                               IMPACT RESISTANCE                                                  1m
◆   Max 300 lumen output from two AA batteries (included)                           WATERPROOF                                IP67, waterproof underwater to 1m, dustproof
◆   Eight modes including five brightness levels, SOS, red reading light,              SIZE                           Length: 2.5" (64mm) Width: 2.0" (50mm) Height: 1.5" (38mm)
    and red flashing
                                                                                      WEIGHT                                       2.6 oz. (73.5g) excluding batteries
◆   Wide-range floodlight illumination

HL32R
600 LUMENS

                                                                                                                                                                 OPTIONAL ACCESSORIES
                                                                                                                                                                 ◆ APB-20 Gear Bag

                                                                                                                                       ANSI/FSC
                                                                                                         OUTPUT                                         IMPACT
                                                                                         MODE                          RUNTIME     DISTANCE INTENSITY RESISTANCE WATERPROOF
                                                                                                         LUMENS
                                                                                             Eco            4            200h        23ft (7m)     13cd
                                                                                            Low            30             60h       52ft (16m)     65cd
                                                                                         Medium            70             24h       75ft (23m)    137cd                            IP66, rain/
                                                                                            High          130             14h      112ft (34m)     290cd             1m           splash proof
                                                                                          Turbo           300          4h 30min    161ft (49m)     593cd                            dustproof
                                                                                           Burst          600             1h*      240ft (73m)    1333cd
                                                                                             Red           1             100h       13ft (4m)       4cd
◆   Max 600 lumen output from built-in 2000mAh Li-polymer battery                         SIZE                      Length: 2.5" (64mm) Width: 1.8" (46mm) Height: 1.5" (37.5mm)
◆   Nine modes including six brightness levels, SOS, red light, and red flashing
                                                                                         WEIGHT                               3.8 oz. (108g) including headband/battery
◆   Micro-USB rechargeable with battery level indicator

                                                                                                                                                                                                 4
HL40R
    600 LUMENS

                                                                                                                                                                             FOCUS BEAM

                                                                                                                                  ◆   Max 600 lumen output from built-in
                                                                                                                                      2000mAh Li-polymer battery
                                                                                                                                  ◆   Seven modes including five brightness
                                                                                                                                      levels, SOS, and reading light
                                                                                                                                  ◆   Rotating ring focuses the beam from
                                                                                                  OPTIONAL ACCESSORIES                spotlight to floodlight
                                                                                                  ◆ APB-20 Gear Bag               ◆   Micro-USB rechargeable

                                                                                      ANSI/FSC            Reading      Eco            Low        Medium             High         Burst
                                                                                   OUTPUT LUMENS             4         30              70            130            300          600
                                                                                       RUNTIME             200h        50h            22h            11h        4h 30min    1h 20min*
                                                                                                            33ft       98ft           151ft          210ft        315ft       482ft
                                                                                                 SPOT
                                                                                                           (10m)      (30m)           (46m)          (64m)        (96m)      (147m)
                                                                                  DISTANCE
                                                                                                FLOOD
                                                                                                           13ft        30ft            46ft           62ft         95ft          141ft
                                                                                                           (4m)        (9m)           (14m)          (19m)        (29m)          (43m)
                                                                                                 SPOT      27cd       230cd           535cd      1021cd          2316cd      5426cd
                                                                                  INTENSITY
                                                                                                FLOOD       4cd       21cd            49cd           93cd         212cd          472cd
                                                                                  IMPACT RESISTANCE                                            1m
                                                                                     WATERPROOF                               IP66, rain/splash proof / dustproof
                  Twist the head                                                         SIZE                 Length: 2.7" (68mm) Width: 2.1" (54mm) Height: 1.7" (42mm)
               to focus between                        spotlight and floodlight
                                                                                       WEIGHT                                 4.6 oz. (130g) including headband

    HL55
    900 LUMENS

                                                                                                                              Neutral White LED
                                                                                                                         for better color rendering

                                                                                                                                                             OPTIONAL ACCESSORIES
                                                                                                                                                             ◆ ALG-03 Helmet Mount
                                                                                                                                                             ◆ ARB-L18 Battery
                                                                                                                                                             ◆ ARB-L18 USB Battery

                                                                                                                              ANSI/FSC
                                                                                                OUTPUT                   MAX       MAX      IMPACT
                                                                                                           RUNTIME
                                                                                    MODE        LUMENS                 DISTANCE INTENSITY RESISTANCE WATERPROOF
                                                                                        Eco       10         150h
                                                                                       Low        55         30h                                                             IPX-8,
                                                                                                                          381ft                                            waterproof
                                                                                    Medium       165          10h                           3380cd             1m
                                                                                                                         (116m)                                            underwater
    ◆   Max 900 lumen from one 18650 Li-ion battery or two CR123A batteries            High      420       3h 45min                                                          to 2m
    ◆   Five modes including four brightness levels and burst                         Burst      900           –
                                                                                     SIZE               Length: 3.3" (84mm) Diameter: 1.8" (46mm) Head: 1.9" (48mm)
    ◆   All-metal housing and waterproof to 2 meters
                                                                                    WEIGHT                            4.1 oz (115g) excluding batteries
    ◆   Optimum output-to-weight ratio

5
HL60R
950 LUMENS

Micro USB Rechargeable                                       ◆   950 lumen output from one rechargeable 18650
                                                                 Li-ion battery
included 18650 li-ion battery                                ◆   Five brightness levels plus red light alert mode
                                                             ◆   Micro-USB rechargeable
                                                             ◆   Neutral white light for better color rendering

                                                                                              ANSI/FSC
                                                                 OUTPUT                                                    IMPACT
                                                                            RUNTIME       DISTANCE       INTENSITY
                                                    MODE         LUMENS                                                  RESISTANCE WATERPROOF
                                                       Red          1        100h               –             –
                                                       Eco          5        100h           26ft (8m)        18cd
                                                                                                                                           IPX-8,
                                                       Low         50         29h          89ft (27m)       179cd                        waterproof
                                                                                                                              1m
                                                    Medium        150         10h         151ft (46m)       536cd                        underwater
                                                                                                                                           to 2m
                            OPTIONAL ACCESSORIES      High        400          3h         249ft (76m)      1430cd
                                                     Turbo        950        48min       381ft (116m)      3396cd
                            ◆ ALG-03 Helmet Mount
                            ◆ ARB-L18 Battery        SIZE                   Length: 3.4" (87mm) Width: 1.8" (46mm) Height: 2.0" (51mm)
                            ◆ ARB-L18 USB Battery   WEIGHT                               4.3 oz. (121g) excluding batteries

                                                                                                                                                      6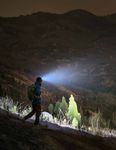 HM23                                                                                       HM50R
    240 LUMENS                                                                                 500 LUMENS

                                                                                               ◆   Max 500 lumen output from one rechargeable 16340
    ◆   Max 240 lumen output from the included AA battery                                          Li-ion battery (included) or one CR123A battery
    ◆   One switch controls three brightness levels                    OPTIONAL ACCESSORIES    ◆   White light LED with four brightness levels                            OPTIONAL ACCESSORIES

    ◆   Extremely light weight; 1.5 oz.                                ◆ APB-20 Gear Bag       ◆   Micro-USB rechargeable                                                 ◆ APB-20 Gear Bag
                                                                       ◆ ARB-L14 Battery                                                                                  ◆ ARB-L16 Battery
    ◆   Waterproof and dustproof                                                               ◆   Detachable silicone lamp holder

                                                                                                        ANSI/FSC                  Low              Medium                  High                Turbo
             ANSI/FSC              Low               Medium             Turbo
                                                                                                     OUTPUT LUMENS                  4                  30                  130                  500
          OUTPUT LUMENS             4                   70                  240
                                                                                                                 CR123A           128h                 48h                 14h                  2h
             RUNTIME               100h                16h                  8h*                    RUNTIME
                                                                                                                 16340             90h                 24h                 10h                2h 30min
             DISTANCE           32ft (9.5m)         98ft (30m)       174ft (53m)
                                                                                                        DISTANCE                20ft (6m)         66ft (20m)            138ft (42m)         262ft (80m)
            INTENSITY              22cd               280cd             830cd
                                                                                                       INTENSITY                  11cd                104cd               453cd                1813cd
        IMPACT RESISTANCE                              2m
                                                                                                   IMPACT RESISTANCE                                               1m
           WATERPROOF           IP68, waterproof underwater to 2m/dustproof
                                                                                                      WATERPROOF                          IP68, waterproof underwater to 2m/dustproof
                                 Length: 2.7" (69.5mm) Width: 1.3" (33mm)
               SIZE
                                            Height: 1.6" (40mm)                                           SIZE                 Length: 2.7" (67.5mm) Width: 1.3" (33mm) Height: 1.1" (28mm)
              WEIGHT                      1.5 oz. (43g) excluding battery                                WEIGHT                                  2.2 oz. (63g) excluding battery

    HM65R
    1400 LUMENS                                                                                                       Independently Controlled
                                                                                                                     SPOTLIGHT & FLOODLIGHT

                                                                                                                                  Spotlight Mode                                Floodlight Mode
                                                                                                     ANSI/FSC
                                                                                                                      Low          Med         High         Turbo         Low         Med         High
                                                                                                     OUTPUT              50        130         400           1000          8          130         400
                                                                                                     LUMENS

                                                                                                     RUNTIME             97h       48h         22h            2h         300h         50h         21h

                                                                                                                     121ft        187ft        331ft         535ft       20ft          98ft       180ft
                                                                                                     DISTANCE
    ◆   Max 1400 lumen output from one rechargeable                                                                  (37m)        (57m)       (101m)        (163m)       (6m)         (30m)       (55m)
        18650 Li-ion battery (included) or two CR123A                                               INTENSITY        350cd        833cd      2600cd         6677cd        9cd         220cd      762cd
        batteries
                                                                                                      IMPACT
        Seven modes including four spotlight                                                                                                                  2m
    ◆
                                                                       OPTIONAL ACCESSORIES         RESISTANCE
        brightness levels and three floodlight levels
                                                                       ◆ APB-20 Gear Bag           WATERPROOF/                      IP68, waterproof underwater to 2m/dustproof
    ◆   Type-C USB rechargeable with battery level                                                  DUSTPROOF
                                                                       ◆ ALG-03 Helmet Mount
        indicator
                                                                       ◆ ARB-L18 Battery               SIZE               Length: 3.2" (80.5mm) Width: 2.2" (55mm) Height: 1.6" (40mm)
    ◆   Dual switches for separate control of spotlight                ◆ ARB-L18 USB Battery         WEIGHT                                  3.4 oz. (97g) excluding battery
        and floodlight

7
HM61R
                                                                   ◆   Max 1200 lumen output from an included 18650

NEW
                                                                       rechargeable Li-ion battery or two CR123A batteries
                                                                       Eight modes including five white levels and three red
      1200 LUMENS                                                  ◆
                                                                       light levels
                                                                   ◆   Magnetic rechargeable with battery level indicator
                                                                   ◆   Large side switch operates all modes

                                                                           Red LED Light

                                                                                                          Magnetic Tail

           Multi-use
           Can be used as a
           headlamp or right-
           angle flashlight

                                                                  Spotlight Mode                                  Floodlight Mode
                                      ANSI/FSC
                                                   Eco      Low           Med        High        Turbo      Low        Med      High
                                       OUTPUT       5        50           150        400         1200        1          5           5
                                       LUMENS

                                       RUNTIME     300h     38h           12h         4h          2h*      400h        80h      160h

                                                   26ft     92ft          164ft     262ft         476ft
                                      DISTANCE                                                               –          –           –
                                                   (8m)    (28m)          (50m)     (80m)        (145m)
                                      INTENSITY    14cd    195cd         635cd     1609cd        5287cd      –          –           –
                                       IMPACT                                               2m
                                     RESISTANCE
             OPTIONAL ACCESSORIES    WATERPROOF/                       IP68, waterproof underwater to 2m/dustproof
                                      DUSTPROOF
             ◆ ALG-03 Helmet Mount
             ◆ ARB-L18 Battery          SIZE              Length: 4.0" (101mm) Width: 1.8" (46mm) Height: 1.4" (36mm)
             ◆ ARB-L18 USB Battery     WEIGHT                                3.5 oz. (99.5g) excluding battery

                                                                                                                                        8
HP25R                                                                   ANSI/FSC
                                                                                                               Floodlight Mode                                   Spotlight Mode

    1000 LUMENS
                                                                                                    Low          Med      High      Turbo       Low       Med        High        Turbo    Red
                                                                             OUTPUT                  4            30       130       350         30        130        350         1000    0.2
                                                                             LUMENS
    ◆   Max 1000 lumen output from one 18650 rechargeable Li-ion                                                                     2h                               4h          1h
                                                                            RUNTIME                 150h         40h       9h                   42h        12h                            96h
        battery (included) or two CR123A batteries                                                                                  30min                            30min       30min
    ◆   Nine modes including four brightness levels for both                DISTANCE                20ft          43ft     82ft     144ft      112ft      217ft      358ft        614ft    –
        floodlight and spotlight and a red light                                                    (6m)         (13m)    (25m)     (44m)      (34m)      (66m)     (109m)       (187m)

    ◆   Neutral white floodlight and long-range spotlight                   INTENSITY               11cd         46cd     158cd     484cd      296cd     1108cd     3001cd       8772cd    –

    ◆   Micro-USB rechargeable battery case                                  IMPACT                                                             1m
                                                                           RESISTANCE

                                                                          WATERPROOF                                                  IPX-6, rain/splash proof

                                                                                                             Light Size: Length: 2.4" (60mm) Width: 2.1" (54mm) Height: 1.3" (32.5mm)
                                                                              SIZE                          Battery Case: Length: 3.2" (82.5mm) Width: 2.0" (50mm) Height: 1.4" (35mm)
                                                                             WEIGHT                                           6.5 oz. (183.5g) weight excluding battery

                                                                                                                                                                      OPTIONAL ACCESSORIES
                                                                                                                                                                      ◆ ARB-L18 Battery
                                                                                                                                                                      ◆ ARB-L18 USB Battery

    HP30R
    1750 LUMENS

                                                                                                                                                                      OPTIONAL ACCESSORIES
                                                                                                                                                                      ◆ ARB-L18 Battery
                                                                                                                                                                      ◆ ARB-L18 USB Battery

                                                                                                                                            ANSI/FSC
                                                                                                                  OUTPUT                                              IMPACT WATERPROOF
                                                                                                                  LUMENS RUNTIME
                                                                                                    MODE                                    DISTANCE INTENSITY RESISTANCE
    ◆   Max 1750 lumen output from two 18650 Li-ion rechargeable batteries or                             Low         5         400h        23ft (7m)     12.5cd
        four CR123A batteries                                                                             Med       130          23h        89ft (27m)    180cd
                                                                                        FLOOD

    ◆   Nine modes including four spotlight brightness levels and four floodlight                         High      400           6h       151ft (46m)    519cd
                                                                                                                                                                                    IP66, rain/
        levels plus SOS                                                                                  Turbo      750           4h       200ft (61m)    916cd
                                                                                                                                                                        1m        splash proof /
                                                                                                          Low        30          83h       112ft (34m)    288cd
        Switch between spotlight and floodlight or use them both simultaneously                                                                                                      dustproof
                                                                                        SPOTLIGHT

    ◆
                                                                                                          Med       130          21h       236ft (72m)   1284cd
    ◆   Battery pack can be used as a power bank                                                          High      400      6h 30min 407ft (124m) 3820cd
                                                                                                         Turbo     1000          4h       663ft (202m) 10268cd
                                                                                                                     Light Size: Length: 3.0" (77mm) Width: 2.0" (52mm) Height: 1.4" (34mm)
                                                                                                     SIZE          Battery Case: Length: 4.5" (115mm) Width: 2.2" (56mm) Height: 1.2" (30mm)

                                                                                               WEIGHT                               10.0 oz. (285g) weight excluding batteries

9
E05                                                                                        E12
     85 LUMENS                                                                                  130 LUMENS

     ◆   Max 85 lumen output from one AAA battery                                               ◆    Max 130 lumen output from one AA battery                              OPTIONAL ACCESSORIES
                                                                       OPTIONAL ACCESSORIES                                                                                ◆ ALB-10 Bike Mount
     ◆   Three brightness levels                                                                ◆    Three brightness levels
                                                                       ◆ None                                                                                              ◆ ARB-L14 Battery
     ◆   Twist switch. Broad beam lens.                                                         ◆    Twist switch

                                              ANSI/FSC                                                                                          ANSI/FSC
                  OUTPUT                    MAX       MAX      IMPACT               WATER                           OUTPUT                  MAX       MAX      IMPACT                        WATER
         MODE               RUNTIME                                                                  MODE                    RUNTIME
                  LUMENS                  DISTANCE INTENSITY RESISTANCE              PROOF                          LUMENS                DISTANCE INTENSITY RESISTANCE                       PROOF
            Low      8        15h                                                    IPX-8,             Low           8        22h                                                            IPX-8,
                                             148ft                                 waterproof                                               289ft                                           waterproof
         Medium      25     4h 15min                       505cd              1m                     Medium           50     3h 30min                      1936cd              1m
                                             (45m)                                 underwater                                               (88m)                                           underwater
           High      85      45min                                                    to 2m             High         130        1h                                                             to 2m
          SIZE                     Length: 2.6" (66.5mm) Diameter: 0.6" (15mm)                        SIZE                         Length: 3.5" (90mm) Diameter: 0.75" (19mm)

         WEIGHT                          0.4 oz (12.5g) excluding batteries                          WEIGHT                              1 oz. (28.5g) excluding batteries

     NEW                       E06R
                               200 LUMENS

                                                                                                ◆   Max 200 lumen output from the built-in 200mAh Li-polymer battery
                                                                                                ◆   siz lighting modes including four brightness levels, red light, and red flashing
                                                                                                ◆   USB Type-C rechargeable
                                                                                                ◆   All-metal housing for better heat dissipation and wear resistance

                                                                                                                                                                                                Red
                                                                                                        ANSI/FSC             Low          Med           High         Turbo           Red       Flash
                                                                                                     OUTPUT LUMENS             5           30            80          200              5          5
                                                                                                                                          3h                                         5h
                                                                                                        RUNTIME               40h                        2h           1h                         –
                                                                                                                                         30min                                      30min
                                                                                                                             26ft          49ft          82ft        131ft
                                                                                                        DISTANCE                                                                      –          –
                                                                                                                             (8m)         (15m)         (25m)        (40m)
                                                                                                        INTENSITY              –            –              –           –              –          –
                                                                                                    IMPACT RESISTANCE                                           1m
                                                                                                      WATERPROOF                                 IP66, rain/splashproof/dustproof
                                                                       OPTIONAL ACCESSORIES                  SIZE              Length: 1.8" (46mm) Width: 0.9" (24mm) Height: 0.5" (12mm)
                                                                       ◆ None                            WEIGHT                                  0.8 oz. (22g) excluding batteries

11
E16
700 LUMENS
                                                                                                                                    Two-Position
                                                                                                                                         Body Clip
                                                                                                                                   Clip to a hat for
                                                                                                                                 hands-free lighting

                                                                                  MAGNETIC TAIL
                                                                                  Put light where
                                                                                  you need it

                                                                                          OUTPUT                                        IMPACT                WATER
                                                                                 MODE     LUMENS     RUNTIME       DISTANCE INTENSITY RESISTANCE              PROOF
                                                                                  Low       3           70h        43ft (13m)       40cd
                                                                                                                                                                IP68,
                                                                                 Medium     30       11h 55min 102ft (31m)         240cd                     waterproof
                                                                                                                                                      1m     underwater
◆   Max 700 lumen output from one 16340 Li-ion                                    High     150          2h         217ft (66m)     1100cd                      to 2m/
    battery or 300 lumens from one CR123A battery                                                                                                             dustproof
                                                                                 Turbo     700        1h 5min     466ft (142m)     5050cd
                                                          OPTIONAL ACCESSORIES
◆   Stainless-steel side switch operates four                                     SIZE           Length: 2.0" (51mm) Diameter: 0.7" (19mm) Head: 0.8" (21mm)
    brightness levels plus strobe                         ◆ ALB-10 Bike Mount
                                                          ◆ ARB-L16 Battery      WEIGHT                           0.7 oz. (21g) excluding battery
◆   Magnetic tail and two-way body clip

E18R
750 LUMENS

                                                                                                                                               OPTIONAL ACCESSORIES
                                                                                                                                               ◆ ALB-10 Bike Mount
                                                                                                                                               ◆ ARB-L16 Battery

                                                                                          OUTPUT                                        IMPACT                 WATER
                                                                                 MODE     LUMENS     RUNTIME       DISTANCE INTENSITY RESISTANCE               PROOF
                                                                                  Low       5           70h        46ft (14m)       45cd
                                                                                                                                                                IP68,
                                                                                 Medium     30       13h 50min     82ft (25m)      155cd                     waterproof
                                                                                                                                                      1m     underwater
◆   Max 750 lumen output from one included 16340 Li-ion battery                   High     150       2h 35min      190ft (58m)     850cd                       to 2m/
◆   Five lighting modes including four brightness levels and strobe                                                                                           dustproof
                                                                                 Turbo     750         45min      446ft (136m)     4660cd
◆   Stainless steel side switch with lock-out function and built-in               SIZE           Length: 2.4" (60mm) Diameter: 0.8" (20mm) Head: 0.8" (21mm)
    battery level indicator
                                                                                 WEIGHT                          1.17 oz. (33.3g) excluding battery
◆   Magnetic USB port and cable

                                                                                                                                                                          12
NEW                          E20       V2.0
                                  350 LUMENS

                                                                                                  ANSI/FSC                Low                  Med                     High               Turbo

                                                                                            OUTPUT LUMENS                   5                     30                   150                 350
                                                          OPTIONAL ACCESSORIES                    RUNTIME                 200h              93h 35min               11h 15min           3h 45min
                                                          ◆ ALB-10 Bike Mount                     DISTANCE              49ft (15m)         105ft (32m)            230ft (70m)          394ft (120m)
                                                          ◆ AB02 Belt Clip
                                                                                                 INTENSITY                  –                     –                     –                   –
                                                          ◆ ARB-L18 Battery
     ◆   Max 350 lumen output from two AA batteries                                       IMPACT RESISTANCE                                                  1m
                                                          ◆ ARB-L18 USB Battery
     ◆   Four brightness levels
                                                                                               WATERPROOF                         IP68, waterproof underwater to 2m/dustproof
     ◆   Tactical tail switch operates on/off and
                                                                                                    SIZE                Length: 5.0" (127mm) Body: 0.7" (16.8mm) Head: 0.8" (21mm)
         brightness levels
     ◆   Hand and compact for everyday carry                                                      WEIGHT                                  1.5 oz. (42g) excluding batteries

     E30R
     1600 LUMENS

                                                                                                                                                                       OPTIONAL ACCESSORIES
                                                                                                                                                                      ◆ AOFS+ Filter Adapter
                                                                                                                                                                      ◆ AOD-S Diffuser Tip
                                                                                                                                                                      ◆ AOT-S Traffic Wand
                                                                                                                                                                      ◆ ALB-10 Bike Mount
                                                                                                                                                                      ◆ AB02 Belt Clip
                                                                                                                                                                      ◆ ARB-L18 Battery
                                                                                                                                                                      ◆ ARB-L18 USB Battery

                                                                                      ANSI/FSC               Eco           Low           Medium              High             Turbo        Strobe

                                                                                   OUTPUT LUMENS              30           150              350               800             1600          1600

                                                                                      RUNTIME              70h 30min    17h 32min        5h 28min           1h 55min        1h 27min*           –
                                                                                                              89ft        203ft            305ft              492ft            666ft
                                                                                      DISTANCE                                                                                                  –
                                                                                                             (27m)        (62m)            (93m)             (150m)           (203m)

     ◆   Max 1600 lumen output from one 18650                                         INTENSITY              192cd        950cd           2151cd            5798cd           10302cd            –
         rechargeable Li-ion battery (included)                                   IMPACT RESISTANCE                                                    1m
     ◆   Six modes including five brightness levels                                 WATERPROOF                              IP68, waterproof underwater to 2m/dustproof
         and strobe
                                                                                        SIZE                       Length: 3.9" (99mm) Body: 0.8" (21.5mm) Head: 1.0" (25.4mm)
     ◆   Metal side switch for all functions
                                                                                       WEIGHT                                        1.8 oz. (51g) excluding batteries
     ◆   Magnetic charging with battery level indicator

13
NEW

HT18                    LONG DISTANCE
                        HUNTING FLASHLIGHT

Throws 1500 lumens
                                                                      ◆   Max 1500 lumen output from one 21700 (included)
                                                                          or one 18650 rechargeable li-ion battery
a distance of 3,035ft (925m)                                          ◆   Five lighting modes including four brightness
                                                                          levels and strobe
OVER HALF OF A MILE!                                                  ◆   Tactical tail switch and mode selecting side switch
                                                                      ◆   Extremely long beam distance
                                                                      ◆   Red and green filters included

                                                                                                         OPTIONAL ACCESSORIES
                                                                                                         ◆ ALB-10 Bike Mount
                                                                                                         ◆ ALF-18 Battery Holder
                                                                                                         ◆ ARB-L18 Battery
                                                                                                         ◆ ARB-L18 USB Battery
                                                                                                         ◆ ARB-L21 Battery
                                                                                                         ◆ ARB-L21 USB Battery

                                                 ANSI/FSC            Low             Medium             High               Turbo

                                              OUTPUT      21700       30               150               500               1500
                                              LUMENS      18650       30               150               500               1100
                                                          21700       61h           20h 15min          4h 15min       1h 40min*
                                             RUNTIME
                                                          18650       53h           14h 10min          2h 50min       1h 40min*
                                                          21700   525ft (160m)     984ft (300m)    1870ft (570m)     3035ft (925m)
                                             DISTANCE
                                                          18650   525ft (160m)     984ft (300m)    1870ft (570m)     2641ft (805m)
                                                          21700     6379cd           21567cd           80877cd         213187cd
                                             INTENSITY
                                                          18650     6379cd           21567cd           80877cd         162682cd
                                             IMPACT RESISTANCE                                    1m
                                               WATERPROOF                    IP68, waterproof underwater to 2m/dustproof
                                                   SIZE             Length: 7.2" (184mm) Body: 1.0" (26mm) Head: 2.7" (68mm)
                                                  WEIGHT                           7.8 oz (220g) excluding battery

                                                                                                                                     14
LD02 V2.0                                                                                  LD05 V2.0
     70 LUMENS                                                                                  100 LUMENS

     ◆   Max 70 lumen output from one AAA battery                                               ◆   Max 100 lumen output from two AAA batteries
     ◆   Four modes including three brightness levels                                           ◆   Four modes including three brightness levels
         plus a UV light                                                                            plus a UV light
     ◆   Tail switch for one-handed activation and output                                       ◆   Tail switch for one-handed activation and output
         selection                                                                                  selection
                                                                     OPTIONAL ACCESSORIES                                                                            OPTIONAL ACCESSORIES
     ◆   Made of durable high-strength and oxidation-                                           ◆   Made of durable high-strength and oxidation-
                                                                     ◆ None                                                                                          ◆ None
         resistant aluminum and stainless steel                                                     resistance aluminum and stainless steel

              ANSI/FSC            UV Light          Low            Medium              High              ANSI/FSC              UV Light            Low              Medium              High
           OUTPUT LUMENS          200mW              1                 25               70            OUTPUT LUMENS            200mW                5                   25               100
                       Alkaline     4h              75h            2h 40min         40min*                          Alkaline     9h                70h              7h 50min       1h 40min*
         RUNTIME                                                                                    RUNTIME
                       Ni-MH        3h              45h            2h 55min         45min*                          Ni-MH        7h                36h              6h 40min       2h 10min*
              DISTANCE               -            20ft (6m)        89ft (27m)     157ft (48m)           DISTANCE                  -             72ft (22m)        112ft (34m)      177ft (54m)
             INTENSITY               -              10cd             185cd             580cd            INTENSITY                 -               120cd              290cd              730cd
         IMPACT RESISTANCE                                    1m                                    IMPACT RESISTANCE                                        1m
            WATERPROOF                   IP68, waterproof underwater to 2m/dustproof                   WATERPROOF                       IP68, waterproof underwater to 2m/dustproof
                SIZE                     Length: 3.6" (92mm) Diameter: 0.5" (13.5mm)                         SIZE                      Length: 5.3" (135mm) Diameter: 0.5" (13.5mm)
              WEIGHT                            0.8 oz. (24g) excluding battery                          WEIGHT                              1.0 oz. (29.7g) excluding batteries

     LD12
     320 LUMENS

                                                                                                                                                                     OPTIONAL ACCESSORIES
                                                                                                                                                                     ◆ AOFS Filter Adapter
                                                                                                                                                                     ◆ AOD-S Diffuser Tip
                                                                                                                                                                     ◆ AOT-S Traffic Wand
                                                                                                                                                                     ◆ ALB-10 Bike Mount
                                                                                                                                                                     ◆ AB02 Belt Clip
                                                                                                                                                                     ◆ ALP-MT Holster
                                                                                                                                                                     ◆ ARB-L14 Battery
                                                                                                                                                                     ◆ ARB-L14 USB Battery

                                                                                                         ANSI/FSC               Low              Medium              High               Turbo

                                                                                                    OUTPUT          Alkaline      5                 30                  70              150
                                                                                                    LUMENS          Ni-MH         5                 30                  70              320
                                                                                                                    Alkaline     40h            9h 40min                3h              50min
                                                                                                    RUNTIME
                                                                                                                    Ni-MH        50h               11h              3h 30min             1h
                                                                                                      MAX DISTANCE                                       443ft (135m)
                                                                                                      MAX INTENSITY                                        4500cd
                                                                                                    IMPACT RESISTANCE                                        1m
     ◆   Max 320 lumen output from a 14500 rechargeable battery,                                       WATERPROOF                       IP68, waterproof underwater to 2m/dustproof
         150 lumens from an alkaline AA battery (included)
                                                                                                             SIZE                     Length: 4.0" (102.5mm) Diameter: 0.8" (20.5mm)
     ◆   Five modes including four brightness levels and strobe
                                                                                                         WEIGHT                               1.98 oz. (56g) excluding battery
     ◆   On-barrel switching and clip option for easy handling

15
LD15R                                                                                   MAGNETIC TAIL
500 LUMENS                                                                               Put light where
                                                                                              you need it

                                                                                    ANSI/FSC                     Low                Med             High            Turbo      Red Light
                                                                                 OUTPUT LUMENS                    3                  30              150                500           4
                                                                                    RUNTIME                     110h             13h 20min        2h 50min         1h 20min*      30h
◆   Max 500 lumen output from one 16340                                             DISTANCE                   20ft (6m)         75ft (23m)     151ft (46m)     279ft (85m)     16ft (5m)
    rechargeable Li-ion battery (included)
    or a CR123A lithium battery                                                     INTENSITY                    9cd               135cd            530cd           1800cd        6cd

◆   Seven modes including four brightness levels,                               IMPACT RESISTANCE                                                    1m
    SOS, red light, and red flashing                                              WATERPROOF                                    IP68, waterproof underwater 2m, dustproof
◆   Micro-USB rechargeable with battery level                                         SIZE                                  Length: 2.8" (70mm) Diameter: 0.75" (19mm)
                                                         OPTIONAL ACCESSORIES
    indicator
                                                         ◆ ARB-L16 Battery           WEIGHT                                        1.4 oz. (40g) weight excluding battery
◆   Two-way body clip and magnetic tail

LD22
300 LUMENS

                                                                                                                                                               OPTIONAL ACCESSORIES
                                                                                                                                                               ◆ AOFS Filter Adapter
                                                                                                                                                               ◆ AOD-S Diffuser Tip
                                                                                                                                                               ◆ AOT-S Traffic Wand
                                                                                                                                                               ◆ ALB-10 Bike Mount
                                                                                                                                                               ◆ ALP-MT Holster

                                                                                        ANSI/FSC                           Low              Medium              High            Turbo

                                                                                   OUTPUT           Outdoor                 5                  30                  100            300
                                                                                   LUMENS           Tactical                –                  30                   –             300
                                                                                                    Ni-MH              100h                 25h 5min          7h 10min         1h 25min
                                                                                  RUNTIME
                                                                                                    Alkaline               90h             22h 30min           5h 5min          40min
                                                                                     MAX DISTANCE                                                   394ft (120m)
                                                                                     MAX INTENSITY                                                    3600cd
◆   Max 300 lumen output from two AA batteries
                                                                                   IMPACT RESISTANCE                                                    1m
◆   Six modes including four brightness levels,
    strobe, and SOS                                                                   WATERPROOF                                      IPX-8, waterproof underwater to 2m
◆   A dedicated Tactical Mode activated by the rear-                                         SIZE                                Length: 6.1" (155mm) Diameter: 0.8" (21.5mm)
    switch only for fast, simplified mode selection of
                                                                                        WEIGHT                                             2.5 oz (72g) excluding battery
    turbo, low and strobe

                                                                                                                                                                                            16
NEW                           LD30
                                   1600 LUMENS

                                                                                                              IP68 Rated
                                                                                                              Waterproof & Dustproof

                                                    OPTIONAL ACCESSORIES
                                                    ◆ AOFS+ Filter Adapter       ANSI/FSC            Eco           Low             Med             High          Turbo
                                                    ◆ AOD-S Diffuser Tip
                                                                              OUTPUT LUMENS          30            150             350             800           1600
                                                    ◆ AOT-S Traffic Wand
     ◆   Max 1600 lumen output from one 18650       ◆ ALB-10 Bike Mount          RUNTIME          70h 30min     17h 30min       5h 30min        1h 55min       1h 30min*
         li-ion battery or two CR123A lithium
                                                    ◆ AB02 Belt Clip             DISTANCE         82ft (25m)    197ft (60m)    312ft (95m)     492ft (150m)   673ft (205m)
         batteries in an emergency
                                                    ◆ ALP-MT Holster
     ◆   Seven lighting modes including five                                     INTENSITY          192cd         950cd          2151cd          5798cd        10302cd
                                                    ◆ ARB-L18 Battery
         brightness levels, strobe and SOS                                   IMPACT RESISTANCE                                      1m
                                                    ◆ ARB-L18 USB Battery
     ◆   Tactical tail switch and mode selecting                               WATERPROOF                       IP68, waterproof underwater to 2m/dustproof
         side switch
                                                                                   SIZE               Length: 4.3" (109mm) Body: 0.9" (21.5mm) Head: 1.0" (25.4mm)
     ◆   Battery level indicator
                                                                                  WEIGHT                               2.1 oz. (59g) excluding battery
     ◆   Two-position body clip

     NEW                           LD42
                                   1000 LUMENS

                                                                                                  Rotary Switch
                                                                                                   twist to switch
                                                                                                 brightness levels

                                                                                   ANSI/FSC            Eco           Low             Med            High         Turbo
                                                                                OUTPUT LUMENS             5           50             150             350          1000
                                                                                   RUNTIME         130h 20min     36h 40min      13h 10min        2h 38min     1h 10min*
                                                                                                       75ft         236ft           410ft           623ft        1148ft
                                                                                  DISTANCE            (23m)         (72m)          (125m)          (190m)        (350m)
                                                                                  INTENSITY          132cd         1296cd          3906cd          9025cd       30625cd
     ◆   Max 1000 lumen output from four                                      IMPACT RESISTANCE                                      1m
         AA batteries (included)                     OPTIONAL ACCESSORIES
                                                                                 WATERPROOF                     IP68, waterproof underwater to 2m/dustproof
     ◆   Five brightness levels                      ◆ AOFM Filter Adapter
                                                     ◆ AOD-M Diffuser Tip            SIZE             Length: 6.3" (159.5mm) Body: 1.28" (32.5mm) Head: 1.34" (34mm)
     ◆   Patented mechanical rotary mode switch
                                                     ◆ AOT-M Traffic Wand          WEIGHT                             3.5 oz. (100g) excluding batteries
     ◆   Flat body design for a more natural grip

17
LR40R

12000 lumens
OUR BRIGHTEST
FLASHLIGHT

◆   Max 12000 lumen output from the included Li-ion battery pack; one to four 18650 batteries can be used in an emergency.
◆   Eleven modes including four spotlight levels, five floodlight modes, strobe, and SOS
◆   Fast USB Type-C charging and discharge                                                                      OPTIONAL ACCESSORIES

◆   Stainless steel side switches. Quickly choose spotlight/floodlight modes or both                            ◆ ARB-L18 Battery
                                                                                                                ◆ ARB-L18 USB Battery

                                                                                                                                ANSI/FSC

                                                                                                      OUTPUT                                                      IMPACT      WATER
                                                                                        MODE                      RUNTIME        DISTANCE        INTENSITY
                                                                                                      LUMENS                                                    RESISTANCE    PROOF

                                                                                               Low      50        92h 18min     535ft (163m)       6608cd
                                                                           SPOTLIGHT

                                                                                               Med     150        44h 31min     863ft (263m)      17239cd

                                                                                               High    350        22h 30min     1316ft (401m)     40105cd

                                                                                           Turbo       1000          7h         2100ft (640m)     101960cd

                                                                                               Low     350        22h 44min      213ft (65m)        915cd                       IP68,
                                                                                                                                                                             dustproof/
                                                                                               Med     1000       7h 15min      377ft (115m)       3142cd           1m       waterproof
                                                                                                                                                                             underwater
                                                                                           High I      3000       2h 50min      656ft (200m)       9830cd                      to 2m
                                                                           FLOODLIGHT

                                                                                           High II     6000          2h         968ft (295m)      21510cd

                                                                                           Turbo      11000         45min       1345ft (410m)     41867cd

                                   Independent
                                                                                           Strobe      3000           –               –               –

                                  Spotlight and                                                SOS     350            –               –               –

                           Floodlight Switches                                          SIZE                   Length: 6.1" (154mm) Width: 3.2" (80mm) Height: 2.0" (51mm)

                      with battery level indicator                                  WEIGHT                                    17.6 oz. (500g) excluding batteries

                                                                                                                                                                                          18
PD25                                                                                            PD32
     550 LUMENS                                                                                      900 LUMENS

                                                                                                                                                                             OPTIONAL ACCESSORIES
                                                                                                                                                                             ◆ AOFS+ Filter Adapter
     ◆   Max 550 lumen output from a 16340 rechargeable                                              ◆   Max 900 lumen output from                                           ◆ AOD-S Diffuser Tip
         battery or 400 lumens from a CR123A                                                             one 18650 Li-ion battery or two                                     ◆ AOT-S Traffic Wand
                                                                        OPTIONAL ACCESSORIES             CR123A batteries                                                    ◆ AER-02 Remote Switch
     ◆   Five modes including four brightness levels
         and strobe                                                     ◆ AOFS Filter Adapter        ◆   Seven modes including five                                          ◆ ALG-00 Rail Mount
                                                                        ◆ AOD-S Diffuser Tip             brightness levels, strobe, and SOS                                  ◆ ALG-01 Rail Mount
     ◆   Intelligent drive circuit for higher battery
         performance                                                    ◆ ALB-10 Bike Mount          ◆   Tactical tail switch operates on/off                                ◆ ALB-10 Bike Mount
                                                                        ◆ ARB-L16 Battery                and momentary on function                                           ◆ ALB02 Belt Clip
     ◆   Optimum output-to-weight ratios
                                                                                                     ◆   Side switch operates the modes                                      ◆ ALP-MT Holster
                                                                                                                                                                             ◆ ARB-L18 Battery
              ANSI/FSC              Low            Medium               High             Turbo
                                                                                                                                                                             ◆ ARB-L18 USB Battery
         OUTPUT          CR123A       5               50                  150             400
         LUMENS          16340        5               50                  150             550                ANSI/FSC               Low          Medium          Medium           High           Turbo
                         CR123A     100h           9h 5min             3h 15min        1h 10min           OUTPUT LUMENS              5               50            150            400             900
         RUNTIME
                         16340       53h           7h 10min            2h 25min         35min                RUNTIME                260h         37h 5min       10h 25min          4h        1h 55min
           MAX DISTANCE                                    427ft (130m)                                    MAX DISTANCE                                       787ft (240m)
           MAX INTENSITY                                      4225cd                                      MAX INTENSITY                                         14400cd
         IMPACT RESISTANCE                                     1m                                        IMPACT RESISTANCE                                         1m
            WATERPROOF                        IPX-8, waterproof underwater to 2m                           WATERPROOF                            IPX-8, waterproof underwater to 2m
                  SIZE                     Length: 3.7" (93mm) Width: 0.8" (21.5mm)                              SIZE                      Length: 5.1" (129.5mm) Diameter: 0.9" (22.6mm)
               WEIGHT                        1.7 oz. (47g) weight excluding battery                           WEIGHT                                  2.7 oz. (77g) excluding battery

     PD35 V2.0                                                                                                                                                               OPTIONAL ACCESSORIES
                                                                                                                                                                             ◆ AOFS+ Filter Adapter
     1000 LUMENS                                                                                                                                                             ◆ AOD-S Diffuser Tip
                                                                                                                                                                             ◆ AOT-S Traffic Wand
                                                                                                                                                                             ◆ AER-02 Remote Switch
                                                                                                                                                                             ◆ ALG-00 Rail Mount
                                                                                                                                                                             ◆ ALG-01 Rail Mount
                                                                                                                                                                             ◆ ALB-10 Bike Mount
                                                                                                                                                                             ◆ ALB02 Belt Clip
                                                                                                                                                                             ◆ ALP-MT Holster
                                                                                                                                                                             ◆ ARB-L18 Battery
                                                                                                                                                                             ◆ ARB-L18 USB Battery

                                                                                                      ANSI/FSC               Eco               Low            Medium            High             Turbo
                                                                                                   OUTPUT LUMENS              3                 50              150              350             1000
                                                                                                      RUNTIME                430h           29h 30min        12h 25min        5h 10min      2h 50min*
                                                                                                      DISTANCE            43ft (13m)        197ft (60m)     338ft (103m)     515ft (157m)   820ft (250m)
                                                                                                      INTENSITY              42cd             900cd           2650cd           6250cd         15600cd
     ◆   Max 1000 lumen output from one rechargeable 18650                                        IMPACT RESISTANCE                                             1m
         Li-ion battery or two CR123A batteries (not included)
                                                                                                    WATERPROOF                             IP68, waterproof underwater to 2m/dustproof
     ◆   Six modes including five brightness levels and strobe
                                                                                                          SIZE                Length: 5.4" (138mm) Body: 0.9" (23mm) Head: 1.0" (25.4mm)
     ◆   Boot-up battery level indicator and low-voltage warning
                                                                                                         WEIGHT                              3.1 oz. (88g) weight excluding batteries
     ◆   Metal side switch for output selection

19
PD35        TAC                                                                                                                                     OPTIONAL ACCESSORIES
                                                                                                                                                    ◆ AOFS+ Filter Adapter
1000 LUMENS                                                                                                                                         ◆ AOD-S Diffuser Tip
                                                                                                                                                    ◆ AOT-S Traffic Wand
                                                                                                                                                    ◆ AER-02 Remote Switch
                                                                                                                                                    ◆ ALG-00 Rail Mount
                                                                                                                                                    ◆ ALG-01 Rail Mount
                                                                                                                                                    ◆ ALB-10 Bike Mount
                                                                                                                                                    ◆ ALB02 Belt Clip
                                                                                                                                                    ◆ ALP-MT Holster
                                                                                                                                                    ◆ ARB-L18 Battery
                                                                                                                                                    ◆ ARB-L18 USB Battery

                                                                                ANSI/FSC               Eco              Low           Medium            High             Turbo
                                                                           OUTPUT LUMENS                 8               60               200           500              1000
                                                                                RUNTIME              140h          29h 15min          8h 30min        2h 55min         1h 10min
                                                                           MAX DISTANCE                                             656ft (200m)
                                                                           MAX INTENSITY                                              10000cd

◆   1000 lumen output from two CR123A batteries or one                   IMPACT RESISTANCE                                                 1m
    18650 Li-ion battery                                                    WATERPROOF                                  IPX-8, waterproof underwater to 2m
◆   Six modes including five brightness levels and strobe                          SIZE                          Length: 5.4" (137mm) Diameter: 1" (25.4mm)
◆   A specific Tactical Mode activated by the rear-switch only                   WEIGHT                                3.1 oz. (88g) weight excluding batteries
    for fast, simplified mode selection of turbo, low and strobe

NEW                       PD40R V2.0
                          3000 LUMENS
                                                                                                                                                    OPTIONAL ACCESSORIES
                                                                                                                                                    ◆ ALB-10 Bike Mount
                                                                                                                                                    ◆ ALG-00 Rail Mount
                                                                                                                                                    ◆ ALG-01 Rail Mount
                                                                                                                                                    ◆ AB02 Belt Clip
                                                                                                                                                    ◆ ALC-01 Belt Clip
                                                                                                                                                    ◆ ALP-MT Holster
                                                                                                                                                    ◆ ARB-L21 Battery
                                                                                                                                                    ◆ ARB-L21 USB Battery

                                                                       ANSI/FSC               Low              Medium               High             Turbo             Strobe
                                                                    OUTPUT LUMENS              30                350                1000             3000               3000
                                                                       RUNTIME             79h 30min          7h 10min               3h                2h                 –
                                                                       DISTANCE            141ft (43m)       482ft (147m)       814ft (248m)     1411ft (430m)            –

◆   Max 3000 lumen output from one high-capacity 21700                 INTENSITY               –                  –                  –                 –                  –
    rechargeable Li-ion battery (included)                         IMPACT RESISTANCE                                                 1m
◆   Five modes including four brightness levels and strobe           WATERPROOF                               IP68, waterproof underwater to 2m/dustproof
◆   Battery level indicator and low-voltage warning                      SIZE                       Length: 5.4" (138mm) Body: 1.0" (26mm) Head: 1.3" (33.2mm)
◆   Patented rotary switch allows you to quickly select a
                                                                        WEIGHT                                   4.1 oz. (117g) weight excluding battery
    brightness level with a simple twist

                                                                                                                                                                                  20
NEW

     PD36R
     RECHARGEABLE FLASHLIGHT

     ◆     Max 1600 lumen output from one high-capacity 21700
           rechargeable Li-ion battery (included) or one 18650 rechargeable
           li-ion battery with the ALF-18 battery holder (not included)
     ◆     Six modes including five brightness levels and strobe
     ◆     Fast USB Type-C rechargeable with battery level indicator
     ◆     Tactical tail switch and mode selecting side switch

                                                                                                                                      OPTIONAL ACCESSORIES
                                                                                                                                      ◆ ALB-10 Bike Mount
                                                                                                                                      ◆ ALG-00 Rail Mount
                                                                                                                                      ◆ ALG-01 Rail Mount
                             OUTPUT                                            IMPACT       WATER
                    MODE     LUMENS   RUNTIME      DISTANCE      INTENSITY   RESISTANCE     PROOF           SIZE         WEIGHT       ◆ AB02 Belt Clip
                                                                                                                                      ◆ ALP-MT Holster
                     Eco       30       115h      115ft (35m)       309cd
                                                                                                           Length:
         ANSI/FSC

                                                                                                                                      ◆ ALF-18 Battery Holder
                     Low      150        26h      269ft (82m)      1681cd                     IP68,     5.4" (136mm)
                                                                                                                      3.0 oz. (85g)   ◆ ARB-L18 Battery
                                                                                           waterproof       Body:
                    Medium    350     8h 24min    420ft (128m)     4101cd       1m                                     excluding      ◆ ARB-L18 USB Battery
                                                                                          underwater to 1.0" (25.4mm)
                                                                                                                         battery
                     High     800     5h 49min    646ft (197m)     9636cd                 2m/dustproof      Head:                     ◆ ARB-L21 Battery
                                                                                                        1.0" (26.4mm)
                    Turbo     1600    2h 50min*   928ft (283m)     19977cd                                                            ◆ ARB-L21 USB Battery

21
Maximum 1600 lumens
Powered by a 21700     LI-ION BATTERY offering longer runtimes

  USB Type-C Rechargeable             Less than
                                      6" long

                                                                 22
RC05SE
     300 LUMENS

                                                                                                                                                                   OPTIONAL ACCESSORIES
                                                                                                                                                                   ◆ AB02 Belt Clip
                                                                                                                                                                   ◆ ARB-L14 Battery

                                                                                                                                           ANSI/FSC
                                                                                                               OUTPUT                                       IMPACT
                                                                                                  MODE                   RUNTIME       DISTANCE INTENSITY RESISTANCE WATERPROOF
                                                                                                               LUMENS
                                                                                                     Low          5         40h         36ft (11m)      30cd
                                                                                                                                                                                      IP68,
                                                                                                  Medium         50          6h        121ft (37m)     340cd                       waterproof
                                                                                                                                                                      1m
     ◆   Max 300 lumen output from one 14500 rechargeable                                           High        150          2h        207ft (63m)     990cd                      underwater to
         Li-ion battery                                                                                                                                                           2m/dustproof
                                                                                                   Turbo        300      1h 45min      295ft (90m)    2000cd
     ◆   Four brightness levels                                                                       SIZE                    Length: 4.0" (102mm) Diameter: 0.7" (19mm)
     ◆   Magnetic Micro-USB rechargeable
                                                                                                  WEIGHT                   1.3 oz. (36.8g) excluding battery and charging cable
     ◆   Two position body clip and magnetic bottom

     RC20                                                                                         RC40
     1000 LUMENS                                                                                  6000 LUMENS

                                                                                                  ◆   Max 6000 lumen output from built-in
                                                                      OPTIONAL ACCESSORIES            rechargeable pack
     ◆   Max 1000 lumen output from built-in Li-ion
         battery                                                      ◆ AOFL Filter Adapter
                                                                                                  ◆   Seven modes including five brightness
     ◆   Five modes including four brightness levels                  ◆ AOD-M Diffuser Tip            levels, strobe, and SOS
         and strobe                                                   ◆ AOT-L Traffic Wand
                                                                                                  ◆   AC adapter and DC car charger supportable
                                                                      ◆ ALG-00 Rail Mount                                                                          OPTIONAL ACCESSORIES
     ◆   Included USB charging cradle and battery level                                           ◆   Intelligent memory circuit and lock-out
         indicator                                                    ◆ ALG-01 Rail Mount                                                                          ◆ ARB-L3 Battery Pack
                                                                                                      function
                                                                      ◆ ALB-10 Bike Mount
     ◆   One-handed operation by dual tail switch
                                                                                                                                            ANSI/FSC
                                             ANSI/FSC                                                           OUTPUT                     MAX       MAX      IMPACT                  WATER
                                                                                                      MODE                 RUNTIME
                                                                                                                LUMENS                   DISTANCE INTENSITY RESISTANCE                PROOF
                  OUTPUT                   MAX       MAX      IMPACT                   WATER
         MODE                RUNTIME
                  LUMENS                 DISTANCE INTENSITY RESISTANCE                 PROOF             Eco       45         125h
            Low       10       120h                                                                      Low      500      18h 15min                                                  IPX-8,
                                                                                       IPX-8,                                              2395ft                                   waterproof
         Medium      150     9h 50min       951ft                                    waterproof       Medium     2000       4h 15min                   133200cd         1m
                                                        21100cd              1m                                                            (730m)                                   underwater
           High      425     2h 55min      (290m)                                    underwater         High     4000      1h 50min                                                   to 2m
                                                                                       to 2m
          Turbo     1000     1h 10min                                                                  Turbo     6000          1h*

          SIZE             Length: 6.3" (161mm) Width: 1" (25.4mm) Head: 1.6" (40mm)                   SIZE           Length: 10.7" (272mm) Head: 4.6" (108mm) Diameter: 2.1" (52mm)

         WEIGHT                         7.2 oz. (205g) including batteries                            WEIGHT                      43.5 oz. (1234g) weight including battery

23
SD11
1000 LUMENS

                                                                                                                                 OPTIONAL ACCESSORIES
                                                                                                                                 ◆ AOFM Filter Adapter
                                                                                                                                 ◆ AOD-M Diffuser Tip
                                                                                                                                 ◆ AOT-M Traffic Wand
                                                                                                                                 ◆ ALG-00 Rail Mount
                                                                                                                                 ◆ ARB-L18 Battery
                                                                                                                                 ◆ ARB-L18 USB Battery

                                                                      ANSI/FSC               Low                      High                       Red
                                                                   OUTPUT LUMENS             500                      1000                       250
                                                                      RUNTIME             3h 40min                     2h                         3h
                                                                      DISTANCE            98ft (30m)              148ft (45m)                 75ft (23m)
                                                                      INTENSITY             225cd                    505cd                      132cd
◆   Max 1000 lumen output from one 18650 rechargeable Li-ion      IMPACT RESISTANCE                                    1m
    batteries or two CR123A Lithium batteries
                                                                    WATERPROOF                      IPX-8, waterproof underwater to 100m
◆   Three modes including two brightness levels and a red light
                                                                        SIZE          Length: 5.4" (138mm) Diameter: 1.0" (26mm) Head: 1.3" (34mm)
◆   Rotating magnetic ring for one-hand control
                                                                       WEIGHT                          4.7 oz. (132.5g) excluding batteries
◆   Double-layer body tube guards against corrosion

SD20
1000 LUMENS

                                                                                                                                 OPTIONAL ACCESSORIES
                                                                                                                                 ◆ AOFL Filter Adapter
                                                                                                                                 ◆ AOD-M Diffuser Tip
                                                                                                                                 ◆ AOT-L Traffic Wand
                                                                                                                                 ◆ AOT-02 Traffic Wand
                                                                                                                                 ◆ ALG-00 Rail Mount
                                                                                                                                 ◆ ARB-L18 Battery
                                                                                                                                 ◆ ARB-L18 USB Battery

                                                                      ANSI/FSC               Low                      High                       Red
                                                                   OUTPUT LUMENS             400                      1000                       105
                                                                      RUNTIME             7h 30min                     3h                         8h
                                                                      DISTANCE           354ft (108m)             564ft (172m)                240ft (73m)

◆   Max 1000 lumen output from one 18650 rechargeable                 INTENSITY            2900cd                   7400cd                     1300cd
    Li-ion batteries or two CR123A Lithium batteries              IMPACT RESISTANCE                                    1m
◆   Three modes including two brightness levels and a               WATERPROOF                      IPX-8, waterproof underwater to 100m
    red light
                                                                        SIZE          Length: 8.2" (208mm) Diameter: 1.0" (26mm) Head: 1.6" (40mm)
◆   Rotating magnetic ring for one-hand control
                                                                       WEIGHT                           8.6 oz. (245g) excluding batteries
◆   Double-layer body tube guards against corrosion

                                                                                                                                                            24
TK15UE                                                                                                  TK16
     1000 LUMENS                                                                                             1000 LUMENS

                                                                                                             ◆   1000 lumen output from one
                                                                                                                 18650 Li-ion battery or two
     ◆   Max 1000 lumen output from                       OPTIONAL ACCESSORIES                                   CR123A Lithium batteries                               OPTIONAL ACCESSORIES
         one 18650 rechargeable                                                                                  (batteries not included)
                                              ◆ AOFM Filter Adapter           ◆ ALG-01 Rail Mount                                                           ◆ AOFM Filter Adapter           ◆ ALB-10 Bike Mount
         Li-ion battery or two CR123A
         Lithium batteries                    ◆ AOD-M Diffuser Tip            ◆ ALB-10 Bike Mount            ◆   Five modes including four                  ◆ AOD-M Diffuser Tip            ◆ ALC-01 Belt Clip
                                              ◆ AOT-M Traffic Wand            ◆ ALC-01 Belt Clip                 brightness levels and strobe               ◆ AOT-M Traffic Wand            ◆ ALP-MT Holster
     ◆   Five modes including four
                                              ◆ AER-01 Remote Switch          ◆ ALP-MT Holster                   Dual tactical tail switch                  ◆ AER-03 Remote Switch          ◆ ARB-L18 Battery
         brightness levels and strobe                                                                        ◆
                                              ◆ AER-02 Remote Switch          ◆ ARB-L18 Battery                                                             ◆ ALG-00 Rail Mount             ◆ ARB-L18 USB Battery
     ◆   Tactical tail switch for                                                                            ◆   High intensity and long-
                                              ◆ ALG-00 Rail Mount             ◆ ARB-L18 USB Battery              range distance                             ◆ ALG-01 Rail Mount
         momentary-on function

                                              ANSI/FSC                                                                                                      ANSI/FSC
                   OUTPUT                                       IMPACT                     WATER                               OUTPUT                      MAX       MAX      IMPACT                     WATER
         MODE                  RUNTIME     DISTANCE INTENSITY RESISTANCE                                         MODE                      RUNTIME
                   LUMENS                                                                  PROOF                               LUMENS                    DISTANCE INTENSITY RESISTANCE                   PROOF
            Low      10          135h     102ft (31m)      240cd                                                     Low         10           150h
                                                                                           IPX-8,                                                                                                        IPX-8,
         Medium     150       11h 30min 410ft (125m)      3900cd                         waterproof              Medium         150            10h          787ft                                      waterproof
                                                                              1m                                                                                       14480cd              1m
            High    350        4h 20min 636ft (194m)      9400cd                         underwater                 High        400        3h 25min        (240m)                                      underwater
                                                                                           to 2m                                                                                                         to 2m
           Turbo    1000          2h     1066ft (325m) 26400cd                                                     Turbo        1000       1h 10min
          SIZE            Length: 5.6" (142.5mm) Body: 1.0" (25.4mm) Head: 1.3" (34mm)                            SIZE                 Length: 5.5" (140mm) Body: 0.98" (25mm) Head: 1.3" (34mm)
         WEIGHT                          5.0 oz. (141g) excluding batteries                                      WEIGHT                                4.3 oz. (122g) excluding batteries

     TK20R
     1000 LUMENS

                                                                                                                                                                                      OPTIONAL ACCESSORIES
                                                                                                                                                                                      ◆ AOFM Filter Adapter
                                                                                                                                                                                      ◆ AOD-M Diffuser Tip
                                                                                                                                                                                      ◆ AOT-M Traffic Wand
                                                                                                                                                                                      ◆ AER-03 Remote Switch
                                                                                                                                                                                      ◆ ALG-00 Rail Mount
                                                                                                                                                                                      ◆ ALG-01 Rail Mount
                                                                                                                                                                                      ◆ ALC-01 Belt Clip
                                                                                                                                                                                      ◆ ALP-MT Holster
                                                                                                                                                                                      ◆ ARB-L18 Battery
                                                                                                                                                                                      ◆ ARB-L18 USB Battery

                                                                                                                                                      ANSI/FSC
                                                                                                                    OUTPUT                                                            IMPACT             WATER
                                                                                                    MODE                               RUNTIME        DISTANCE       INTENSITY
                                                                                                                    LUMENS                                                          RESISTANCE           PROOF
                                                                                                         Low             10             135h          102ft (31m)      240cd
                                                                                                                                                                                                          IP68,
                                                                                                      Medium             150          10h 30min      413ft (126m)      3970cd                          waterproof
                                                                                                                                                                                            1m         underwater
                                                                                                         High            350             4h          633ft (193m)      9310cd                            to 2m,
     ◆   Max 1000 lumen output from one 18650 rechargeable Li-ion battery                                                                                                                               dustproof
                                                                                                        Turbo         1000            1h 40min*      1017ft (310m)    24000cd
     ◆   Five modes including four brightness levels and strobe
                                                                                                      SIZE                       Length: 6.0" (151.5mm) Body: 1.0" (25mm) Head: 1.3" (34mm)
     ◆   Reliable dual-layer body design
                                                                                                    WEIGHT                                        5.0 oz (141g) excluding batteries
     ◆   Tactical tail switch and side mode switch

25
NEW                        TK22 V2.0
                           1600 LUMENS

                                                                                                         TK22UE                               NEW
                                                                                                            1600 LUMENS

◆   Max 1600 lumen output from one 21700 or 18650 rechargeable li-ion battery (not included)
◆   Five lighting modes including four brightness levels and strobe
◆   Tactical tail switch and mode selecting side switch
◆   Includes ALF-18 battery insert to allow for different battery types                                                  TK22 V2.0   TK22UE
                                                                                                                           ONLY       ONLY
◆   TK22UE has a stainless steel strike bezel with three tungsten steel glass breaking tips

                                                                                               OPTIONAL ACCESSORIES
         ANSI/FSC             Low             Medium               High            Turbo       ◆ AOFL Filter Adapter
                                                                                               ◆ AOD-M Diffuser Tip
      OUTPUT LUMENS            30               150                 500            1600
                                                                                               ◆ AOT-L Traffic Wand
                   21700      80h               17h              4h 40min       2h 10min*      ◆ AOT-02 Traffic Wand
    RUNTIME
                   18650      60h               15h                 3h          1h 30min*      ◆ ALG-00 Rail Mount
                                                                                               ◆ ALG-01 Rail Mount
         DISTANCE          167ft (51m)      400ft (122m)        758ft (231m)   1329ft (405m)
                                                                                               ◆ ALC-01 Belt Clip
        INTENSITY            739cd            3721cd             13356cd         41133cd       ◆ ALP-MT Holster
    IMPACT RESISTANCE                                      1m                                  ◆ ALF-18 Battery Holder
                                                                                               ◆ ARB-L18 Battery
       WATERPROOF                    IP68, waterproof underwater to 2m/dustproof
                                                                                               ◆ ARB-L18 USB Battery
           SIZE            Length: 5.9" (150mm) Body: 1.0" (25.4mm) Head: 1.6" (40mm)          ◆ ARB-L21 Battery
          WEIGHT                           5.3 oz. (150g) excluding battery                    ◆ ARB-L21 USB Battery

                                                                                                                                                    26
TK25 RED
     1000 LUMENS

                                                                                                                                         TK25      UV
                                                                                                                                           1000 LUMENS

     ◆   Max 1000 lumen output from one 18650
         rechargeable Li-ion battery or two CR123A
         Lithium batteries
     ◆   Including four brightness levels plus color modes
         (depending on version)
     ◆   Patent pending light source switching structure
         Dual tail switch controls the tactical activation
                                                                                                                                         TK25 R&B
                                                                                                                                         1000 LUMENS
     ◆
         and output selection

                                          TK25 R&B Version                                                                           TK25 RED Version
                      OUTPUT                 MAX       MAX      IMPACT                     WATER                 OUTPUT                 MAX       MAX      IMPACT                 WATER
          MODE                 RUNTIME                                                               MODE                 RUNTIME
                      LUMENS               DISTANCE INTENSITY RESISTANCE                   PROOF                 LUMENS               DISTANCE INTENSITY RESISTANCE               PROOF
              Low       15       110h      82ft (25m)       160cd                                        Low       15       110h      82ft (25m)       160cd
         Medium        100     22h 20min 247ft (75m)       1400cd                                   Medium        100     22h 20min 247ft (75m)       1400cd
             High      300     5h 20min 407ft (124m)       3840cd                         IP68,         High      300     5h 20min 407ft (124m)       3840cd                        IP68,
                                                                                       dustproof/                                                                                dustproof/
            Turbo      1000       2h      738ft (225m) 12650cd               1m        waterproof      Turbo      1000       2h      738ft (225m) 12650cd               1m       waterproof
                                                                                       underwater                                                                                underwater
         Red (Low)      25        40h      161ft (49m)      600cd                        to 2m      Red (Low)      10       100h      105ft (32m)      250cd                       to 2m
         Red (High)    150     7h 30min 433ft (132m)       4350cd                                   Red (Med)     100     9h 20min 344ft (105m)       2790cd
              Blue      60     6h 40min    135ft (41m)      420cd                                   Red (High)    310     2h 35min 656ft (200m)      10000cd
           SIZE          Length: 5.6" (142.6mm) Diameter: 1.0" (25.4mm) Head: 1.6" (40mm)             SIZE          Length: 5.6" (142.6mm) Diameter: 1.0" (25.4mm) Head: 1.6" (40mm)
         WEIGHT                    5.5 oz. (156.5g) excluding battery and belt clip                 WEIGHT                    5.5 oz. (156.5g) excluding battery and belt clip

                                                                        OPTIONAL ACCESSORIES                                          TK25 UV Version
                                                                        ◆ AOFL Filter Adapter                    OUTPUT                 MAX       MAX      IMPACT                 WATER
                                                                                                     MODE                 RUNTIME
                                                           UV LIGHT     ◆ AOD-M Diffuser Tip                     LUMENS               DISTANCE INTENSITY RESISTANCE               PROOF
                               BOTH TK25 TK25 R&B         TK25 UV       ◆ AOT-L Traffic Wand             Low       15       110h      82ft (25m)       160cd
                                R&B AND    ONLY            ONLY
                                                                        ◆ AOT-02 Traffic Wand                                                                                       IP68,
                               TK25 RED                                                             Medium        100     22h 20min 247ft (75m)       1400cd
                                                                        ◆ AER-03 Remote Switch                                                                                   dustproof/
                                                                        ◆ ALG-00 Rail Mount             High      300     5h 20min 407ft (124m)       3840cd            1m       waterproof
                                                                                                                                                                                 underwater
                                                                        ◆ ALG-01 Rail Mount            Turbo      1000        2h     738ft (225m) 12650cd                          to 2m
                                                                        ◆ ALC-01 Belt Clip
                                                                                                           UV 3000mW      6h 25min         –             –
                                                                        ◆ ALP-MT Holster
                                                                        ◆ ARB-L18 Battery
                                                                                                      SIZE          Length: 5.6" (142.6mm) Diameter: 1.0" (25.4mm) Head: 1.6" (40mm)
                                                                        ◆ ARB-L18 USB Battery       WEIGHT                    5.5 oz. (156.5g) excluding battery and belt clip

27
NEW                       TK26R
                          1500 LUMENS

◆   Max 1500 lumen output from an included 18650 rechargeable Li-ion battery
    or two CR123A batteries
◆   Seven modes including four white levels, strobe, red light, and green light
◆   USB Type-C rechargeable with battery level indicator
◆   Tactical tail switch, color switch, and side mode switch
◆   Limited Lifetime Guarantee from Fenix Lighting USA

                                                                                                         RED and GREEN LEDs

                                                                                                                         OPTIONAL ACCESSORIES
        ANSI/FSC            Low           Med              High                Turbo           Red           Green
                                                                                                                         ◆ AOFL Filter Adapter
     OUTPUT LUMENS           10            150              350                 1500           150            200        ◆ AOD-M Diffuser Tip
        RUNTIME             100h        10h 50min        4h 40min            1h 25min*      4h 20min        5h 10min     ◆ AOT-L Traffic Wand
                                                                                                                         ◆ AOT-02 Traffic Wand
        DISTANCE         98ft (30m)    361ft (110m)     558ft (170m)        1148ft (350m)   98ft (30m)     131ft (40m)
                                                                                                                         ◆ AER-03 Remote Switch
        INTENSITY          213cd         3102cd           7112cd              30150cd          218cd         452cd       ◆ ALG-00 Rail Mount
    IMPACT RESISTANCE                                                  1m                                                ◆ ALG-01 Rail Mount
                                                                                                                         ◆ ALC-01 Belt Clip
      WATERPROOF                                 IP68, dustproof/waterproof underwater to 2m
                                                                                                                         ◆ ALP-MT Holster
          SIZE                        Length: 5.9" (150mm) Width: 1.6" (40mm) Height: 1.0" (25.4mm)                      ◆ ARB-L18 Battery
         WEIGHT                                        5.5 oz. (157g) excluding battery                                  ◆ ARB-L18 USB Battery

                                                                                                                                                  28
NEW                        TK30
                                WHITE LASER FLASHLIGHT

                                                                                                                                                     OPTIONAL ACCESSORIES
                                                                                                                                                     ◆ ALG-00 Rail Mount
                                                                                                                                                     ◆ ALG-01 Rail Mount
                                                                                                                                                     ◆ ALB-10 Bike Mount
                                                                                                                                                     ◆ ALP-MT Holster
                                                                                                                                                     ◆ ALF-18 Battery Holder
                                                                                                                                                     ◆ ARB-L18 Battery
                                                                                                                                                     ◆ ARB-L18 USB Battery
                                                                                                                                                     ◆ ARB-L21 Battery
                                                                                                                                                     ◆ ARB-L21 USB Battery

                                                                                       ANSI/FSC                      Low                     High                 Strobe
                                                                                    OUTPUT LUMENS                    100                     500                     500
                                                                                          RUNTIME                     6h                     3h                       –
                                                                                       DISTANCE                  1969ft (600m)        3937ft (1200m)                  –

     ◆   Max 500 lumen output from one rechargeable 21700 li-                          INTENSITY                       –                      –                       –
         ion battery (included) or one 18650 li-ion battery                        IMPACT RESISTANCE                                         1m
     ◆   Three modes including two brightness levels and strobe                      WATERPROOF                        IP68, waterproof underwater to 2m/dust proof
     ◆   Diffused white laser light creates a beam that can reach
                                                                                            SIZE                Length: 6.2" (158mm) Head: 1.3" (32mm) Body: 1.0" (26mm)
         up to 1312 yards—almost 3/4 of a mile
     ◆   Tactical tail switch and side mode switch                                         WEIGHT                          5.2 oz. (146g) weight excluding battery

     TK32
     1000 LUMENS

                                                                                                                                                     OPTIONAL ACCESSORIES
                                                                                                                                                     ◆ AER-03 Remote Switch
                                                                                                                                                     ◆ ALG-00 Rail Mount
                                                                                                                                                     ◆ ALG-01 Rail Mount
                                                                                                                                                     ◆ ALB-10 Bike Mount
                                                                                                                                                     ◆ ARB-L18 Battery
                                                                                                                                                     ◆ ARB-L18 USB Battery

                                                                                                                    ANSI/FSC
                                                                                   OUTPUT                                                     IMPACT                  WATER
                                                                      MODE                          RUNTIME        DISTANCE       INTENSITY RESISTANCE
                                                                                   LUMENS                                                                             PROOF
                                                                           Low        8               170h         131ft (40m)       400cd
                                                                      Medium         100            15h 25min     453ft (138m)      4760cd
                                                                          High       350            4h 45min      804ft (245m)     15000cd
                                                                                                                                                                       IPX-8,
                                                                         Turbo       1000           1h 50min*     1385ft (422m)    44500cd                           waterproof
         Max 1000 lumen output from one 18650 rechargeable                                                                                              1m
     ◆                                                              Red (Low)         15               65h         75ft (23m)        135cd                           underwater
         Li-ion battery or two CR123A Lithium batteries                                                                                                                to 2m
                                                                    Red (High)       105            4h 15min       213ft (65m)      1050cd
     ◆   Eight modes including four brightness levels, two red
         modes, and two green modes                                 Green (Low)       30               40h         148ft (45m)       505cd
                                                                    Green (High)     165            5h 30min      344ft (105m)      2760cd
     ◆   Dual tail switch controls the tactical activation and
         output selection                                              SIZE                        Length: 6.3" (159mm) Body: 1" (25.4mm) Head: 2" (52mm)

     ◆   Compatible with AER-03 remote pressure switch               WEIGHT                                     6.2 oz. (175g) excluding batteries

29
TK35
1300 LUMENS

                                                                                                                            OPTIONAL ACCESSORIES
                                                                                                                            ◆ AOT-01 Traffic Wand
                                                                                                                            ◆ ARB-L18 Battery
                                                                                                                            ◆ ARB-L18 USB Battery

                                                                                                    ANSI/FSC
                                                                      OUTPUT                                               IMPACT            WATER
                                                           MODE                  RUNTIME        DISTANCE       INTENSITY RESISTANCE
                                                                      LUMENS                                                                 PROOF
                                                               Eco      10         235h         128ft (39m)      380cd
                                                                                                                                              IP68,
                                                              Low       50      68h 15min       318ft (97m)      2360cd
                                                                                                                                           waterproof
◆   Max 1300 lumen output from four CR123A or              Medium      150      21h 30min 528ft (161m)           6480cd           1m       underwater
    two 18650 batteries                                                                                                                      to 2m,
                                                              High     500       5h 45min      965ft (294m)     21600cd
                                                                                                                                            dustproof
◆   Seven modes including five brightness levels,
                                                             Turbo     1300      3h 10min 1575ft (480m)         57600cd
    strobe, and SOS
                                                            SIZE              Length: 6.3" (159.5mm) Body: 1.7" (43mm) Head: 1.9" (48mm)
◆   Micro USB rechargeable battery holder with
    battery level indicator                                WEIGHT                         9.6 oz. (271g) weight excluding batteries

TK35UE
3200 LUMENS

                                                                                                                            OPTIONAL ACCESSORIES
                                                                                                                            ◆ AOT-01 Traffic Wand
                                                                                                                            ◆ ARB-L18 Battery
                                                                                                                            ◆ ARB-L18 USB Battery

                                                                                                    ANSI/FSC
                                                                      OUTPUT                                               IMPACT            WATER
                                                           MODE                   RUNTIME       DISTANCE       INTENSITY RESISTANCE
                                                                      LUMENS                                                                 PROOF
                                                               Eco      20          152h         66ft (20m)      100cd
                                                              Low       100      38h 40min 180ft (55m)           760cd                        IP68,
◆   Max 3200 lumen output from two 18650 rechargeable      Medium      350       10h 50min 328ft (100m)         2500cd                     waterproof
    Li-ion batteries (not included)                                                                                               1m       underwater
                                                              High     1000       3h 40min 554ft (169m)         7140cd                       to 2m,
◆   Eight modes including six brightness levels, strobe,   Turbo I     2000          2h        764ft (233m)     13600cd                     dustproof
    and SOS
                                                           Turbo II    3200       1h 30min 984ft (300m)         22500cd
◆   Dual tail switches with patented rotary mode switch
                                                            SIZE              Length: 6.5" (164.5mm) Body: 1.7" (43mm) Head: 1.9" (48mm)
◆   Micro USB rechargeable battery holder with battery
                                                           WEIGHT                         10.1 oz. (286g) weight excluding batteries
    level indicator

                                                                                                                                                        30
TK72R
     9000 LUMENS

                                                                                                                                                                   OPTIONAL ACCESSORIES
                                                                                                                                                                   ◆ None

                                                                                                      ANSI/FSC                 Lowest                    Highest               Strobe
                                                                                                    OUTPUT LUMENS                 100                     9000                  4000
                                                                                                      RUNTIME                     50h                     50min                   –
                                                                                                      DISTANCE               102ft (31m)               938ft (286m)               –
                                                                                                      INTENSITY                 240cd                   20500cd                   –
     ◆   Max 9000 lumen output from included 7.2V/7000mAh
         Li-ion battery pack                                                                    IMPACT RESISTANCE                                          1m

     ◆   Three modes including any brightness level between                                          WATERPROOF                   IP68, waterproof underwater to 2m/dust proof
         100-9000 lumens and strobe
                                                                                                         SIZE              Length: 6.1" (156mm) Head: 2.3" (59mm) Body: 2.0" (50mm)
     ◆   OLED display shows brightness level, available runtime
         and remaining battery life                                                                    WEIGHT                        14.5 oz. (412g) weight excluding batteries

     TK75
     5100 LUMENS

                                                                                                                                                                   OPTIONAL ACCESSORIES
                                                                                                                                                                   ◆ ARB-L18 Battery
                                                                                                                                                                   ◆ ARB-L18 USB Battery

                                                                      ANSI/FSC           Eco              Low             Medium              High I               High II        Turbo
                                                                   OUTPUT LUMENS          50               150              450               1000                 2000            5100
                                                                      RUNTIME            95h               46h           17h 45min             6h                    3h          2h 15min
                                                                      DISTANCE        279ft (85m)      482ft (147m)     843ft (257m)     1204ft (367m)       1696ft (517m)    2789ft (850m)

     ◆   Max 5100 lumen output from four 18650                        INTENSITY        1800cd            5400cd           16500cd            33600cd             66800cd        180600cd
         rechargeable Li-ion batteries (not included)             IMPACT RESISTANCE                                                     1m
     ◆   Eight modes including six brightness levels, strobe,       WATERPROOF                                   IP68, waterproof underwater to 2m, dustproof
         and SOS
                                                                        SIZE                            Length: 7.4" (188mm) Body: 2.1" (53mm) Head: 3.4" (86mm)
     ◆   Dual stainless steel mode switches
                                                                       WEIGHT                                         22.2 oz. (630g) excluding batteries
     ◆   Battery level indicator, quick lock-out function

31
UC30
1000 LUMENS

                                                                                                                                 OPTIONAL ACCESSORIES
                                                                                                                                 ◆ AOFS+ Filter Adapter
                                                                                                                                 ◆ AOD-S Diffuser Tip
                                                                                                                                 ◆ AOT-S Traffic Wand
                                                                                                                                 ◆ ALG-00 Rail Mount
                                                                                                                                 ◆ ALG-01 Rail Mount
                                                                                                                                 ◆ ALB-10 Bike Mount
                                                                                                                                 ◆ AB02 Belt Clip
                                                                                                                                 ◆ ALP-MT Holster
                                                                                                                                 ◆ ARB-L18 Battery
                                                                                                                                 ◆ ARB-L18 USB Battery

                                                                                                        ANSI/FSC
                                                                           OUTPUT                                        IMPACT                     WATER
                                                               MODE                     RUNTIME     DISTANCE INTENSITY RESISTANCE
                                                                           LUMENS                                                                   PROOF
                                                                   Eco       5            150h       69ft (21m)      110cd
                                                                  Low        50        28h 25min 190ft (58m)         840cd                         IP68,
                                                                                                                                                waterproof
                                                               Medium       150         8h 45min 331ft (101m)       2550cd            1m
                                                                                                                                               underwater to
◆   Max 1000 lumen output from 18650 rechargeable                 High      350         3h 20min 512ft (156m)       6080cd                     2m/dustproof
    Li-ion battery or two CR123A Lithium batteries
                                                                 Turbo      1000        1h 25min* 830ft (253m) 16000cd
◆   Six modes including five brightness levels and strobe
                                                                SIZE                         Length: 5.1" (130mm) Width: 1" (25.4mm)
◆   Micro-USB rechargeable
                                                               WEIGHT                               2.7 oz. (77g) excluding battery
◆   Stainless steel side switch with battery level indicator

UC35 V2.0
1000 LUMENS
                                                                                                                                 OPTIONAL ACCESSORIES
                                                                                                                                 ◆ AOFS+ Filter Adapter
                                                                                                                                 ◆ AOD-S Diffuser Tip
                                                                                                                                 ◆ AOT-S Traffic Wand
                                                                                                                                 ◆ AER-03 Remote Switch
                                                                                                                                 ◆ ALG-00 Rail Mount
                                                                                                                                 ◆ ALG-01 Rail Mount
                                                                                                                                 ◆ ALB-10 Bike Mount
                                                                                                                                 ◆ AB02 Belt Clip
                                                                                                                                 ◆ ALP-MT Holster
                                                                                                                                 ◆ ARB-L18 Battery
                                                                                                                                 ◆ ARB-L18 USB Battery

                                                                                                        ANSI/FSC
                                                                           OUTPUT                                              IMPACT               WATER
                                                                           LUMENS RUNTIME
                                                                MODE                                 DISTANCE      INTENSITY RESISTANCE             PROOF
                                                               Moonlight         1        800h       33ft (10m)       25cd
                                                                    Low       50        28h 10min 210ft (64m)        1000cd                        IP68,
                                                                                                                                                waterproof
◆   Max 1000 lumen output from one rechargeable 18650           Medium       150        10h 40min 322ft (98m)        2400cd           1m
                                                                                                                                               underwater to
    Li-ion battery (included) or two CR123A batteries              High      350        4h 10min 525ft (160m)        6400cd                    2m/dustproof
◆   Six modes including five brightness levels and strobe         Turbo      1000       2h 15min 873ft (266m)       17700cd
◆   Cree XP-L HI V3 LED provides greater brightness,             SIZE                Length: 5.5" (140mm) Body: 0.9" (23.5mm) Head: 1.0" (25.4mm)
    efficiency and throw
                                                               WEIGHT                            3.1 oz. (89g) weight excluding batteries
◆   Micro-USB rechargeable with battery level indicator

                                                                                                                                                               32
WF05E
     85 LUMENS

                                                                                      ANSI/FSC              Low                    Medium                     High
                                                                                   OUTPUT LUMENS            10                        30                       85
                                                                                      RUNTIME               80h                      35h                    11h 30min
                                                                                      DISTANCE           59ft (18m)               95ft (29m)               177ft (54m)

                                                           OPTIONAL ACCESSORIES       INTENSITY            77cd                     210cd                     724cd

                                                           ◆ None                 IMPACT RESISTANCE                                  1m
     ◆   Max 85 lumen output from two AAA batteries
                                                                                    WATERPROOF                   IP68, waterproof underwater to 2m/dustproof
     ◆   Three brightness levels
                                                                                        SIZE          Length: 5.3" (134.5mm) Body: 0.6" (14.9mm) Head: 0.7" (19mm)
     ◆   Intrinsically safe for use in hazardous areas
     ◆   Mode of durable high-strength and oxidation-resistant aluminum                WEIGHT                          1.3 oz. (38g) excluding batteries

     INTRINSICALLY SAFE FLASHLIGHTS
     certified by IECEx, ATEX and CSA

                                                                                                                               MAGNETIC TAIL
                                                                                                                                  & HANDLE
     NEW                     WF1       1E
                             200 LUMENS

                                                                                      ANSI/FSC              Low                    Medium                     High
                                                                                   OUTPUT LUMENS            30                       100                       200
                                                                                      RUNTIME               70h                  29h 30min                     10h
                                                                                      DISTANCE          266ft (81m)             463ft (141m)               607ft (185m)

                                                           OPTIONAL ACCESSORIES       INTENSITY           1652cd                   4972cd                    8512cd
                                                           ◆ None                 IMPACT RESISTANCE                                  1m
     ◆   Max 200 lumen output from three AA batteries
                                                                                    WATERPROOF                   IP67, dustproof/waterproof underwater to 1m
     ◆   Three brightness levels
                                                                                        SIZE          Length: 6.6" (167.5mm) Body: 0.9" (24mm) Head: 1.9" (49mm)
     ◆   Intrinsically safe for use in hazardous areas
                                                                                       WEIGHT                         5.6 oz. (160g) excluding batteries
     ◆   Magnetic tail and body clip

33
WT20R
400 LUMENS

◆   Max 400 lumen output from the included 2000 mAh rechargeable battery pack or
    two AA batteries (no high brightness level)
◆   Six modes including three spotlight levels and three floodlight levels
◆   Dual light sources; spotlight and floodlight
◆   105° adjustable head and magnetic tail

            MAGNETIC
            TAIL

                                                                                                                                                 OPTIONAL ACCESSORIES
                                                                                                                                                 ◆ None

                                                                                                               Spotlight Mode                         Floodlight Mode
                                                                                       ANSI/FSC
                               ADJUSTABLE HEAD                                                          Low        Med          High          Low            Med        High
                               Put light where you need it                          OUTPUT LUMENS        50         150          400           50            150        400

                                                                                       RUNTIME          21h         10h
                                                                                                                                 3h
                                                                                                                                              21h            10h
                                                                                                                                                                     3h
                                                                                                                                30min                               30min

                                                                                       DISTANCE
                                                                                                       138ft       236ft         384ft         66ft       115ft         184ft
                                                                                                       (42m)       (72m)        (117m)        (20m)       (35m)         (56m)
                                                                                       INTENSITY       456cd      1326cd        3434cd        104cd       316cd     784cd

                                                                                   IMPACT RESISTANCE                                     1m

                                                                                     WATERPROOF                        IP66, rain/splash proof / dustproof

                                                                                         SIZE          Length: 4.6" (117.5mm) Head: 1.7" (43.2mm) Body: 1.1" (28.3mm)

                                                                                        WEIGHT                            5.4 oz. (154g) including battery

                                                                                                                                                                                34
CL09                                                                                            CL20R
200 LUMENS                                                                                      300 LUMENS

                                                                                                ◆   Max 300 lumen output
                                                                                                    from the built-in 1600mAh
◆   Max 200 lumen output from one ARB-L16-700U                                                      Li-polymer battery
    rechargeable Li-ion battery or one CR123A battery
                                                                 OPTIONAL ACCESSORIES
                                                                                                ◆   Six lighting modes including
◆   Twist tail to choose from seven different modes                                                 four white light levels, red
◆   Tri-color lighting source: white, red and green             ◆ ARB-L16 Battery                   light, and red flashing               OPTIONAL ACCESSORIES
                                                                                                ◆   Micro-USB rechargeable                ◆ None

                                        ANSI/FSC
                OUTPUT                          MAX             IMPACT             WATER                                                     ANSI/FSC
    MODE                      RUNTIME
                LUMENS                        DISTANCE        RESISTANCE           PROOF
                                                                                                                OUTPUT                               MAX             IMPACT      WATER
        Low                                                                                         MODE                         RUNTIME
                   1             90h                                                                            LUMENS                             DISTANCE        RESISTANCE    PROOF
     Medium        30         19h 20min                                                                 Low        1               200h
        High       80          5h 40min                                      IP68, waterproof        Medium        40               20h
                                                  33ft                                                                                                                           IP66, rain
                                                                   1m          underwater to                                                           49ft
       Turbo      200          2h 40min          (10m)                                                  High      130               12h                                 1.5m     resistant/
                                                                               2m/dustproof                                                           (15m)
         Red       5             30h                                                                   Turbo      300                6h                                          dustproof
       Green       5             48h                                                                     Red       1.5             100h
      SIZE                 Length: 3.09" (78.5mm) Diameter: 0.86" (22mm)                              SIZE              Length: 2.8" (72mm) Width: 1.6" (41.5mm) Height: 2.0" (50mm)
    WEIGHT               1.11 oz (31.5g) excluding battery and other accessories                    WEIGHT                                3.2 oz. (91g) including battery

CL23
300 LUMENS

                                                                                                ◆   Max 300 lumen output from up to three AA batteries
                                                                                                ◆   Eight modes including 3 brightness levels, front light, 2 brightness levels of
                                                                                                    down light, red/red flashing mode
                                                                                                ◆   One switch control for easy and fast operation
                                                                                                ◆   IP66 rated rain resistant and dustproof

                                                                                                                          OPTIONAL ACCESSORIES
                                                                                                                          ◆ ARB-14 Battery

                                                                                                                                             ANSI/FSC
                                                                                                                OUTPUT                               MAX             IMPACT      WATER
                                                                                                     MODE                        RUNTIME
                                                                                                                LUMENS                             DISTANCE        RESISTANCE    PROOF
                                                                                                        Low        40               45h
                                                                                                     Medium       150               13h
                                                                                                        High      300            7h 30min                                        IP66, rain
                                                                                                                                                       66ft
                                                                                                       Front       25               80h                                     1m   resistant/
                                                                                                                                                      (20m)
                                                                                                     Down 1         2              350h                                          dustproof
                                                                                                     Down 2        25               80h
                                                                                                         Red        1               150h
                                                                                                      SIZE                       Diameter: 2.2" (55mm) Height: 3.4" (85mm)
                                                                                                    WEIGHT                            4.9 oz. (140g) excluding batteries

                                                                                                                                                                                              36
CL26R
     400 LUMENS

                  ◆   Max 400 lumen output from one 18650 Li-ion
                      battery or two CR123As
                  ◆   Eight modes including 3 brightness levels, front
                      light, 2 brightness levels of down light, red/red
                      flashing mode
                                                                                       OPTIONAL ACCESSORIES
                  ◆   Extremely durable case can withstand 1.2 tons
                      of pressure                                                      ◆ ARB-L18 Battery
                                                                                       ◆ ARB-L18 USB Battery
                  ◆   IP66 rated rain resistant and dustproof

                                                              ANSI/FSC
                                       OUTPUT                          MAX            IMPACT          WATER
                       MODE                       RUNTIME
                                       LUMENS                        DISTANCE       RESISTANCE        PROOF
                           Low            40           30h
                       Medium            150           15h
                          High           400            5h                                           IP66, rain
                                                                       82ft
                          Front           25           58h                               1m          resistant/
                                                                      (25m)
                        Down 1            3            240h                                          dustproof
                        Down 2            25           58h
                           Red            1            200h
                        SIZE                      Diameter: 1.9" (49mm) Height: 3.8" (97mm)
                       WEIGHT                            4.1 oz. (116g) excluding batteries

     CL30R
     650 LUMENS

                  ◆   Max 650 lumen output from up to three 18650
                      rechargeable Li-ion batteries
                  ◆   Six modes including 5 brightness levels and
                      flashing mode
                                                                                       OPTIONAL ACCESSORIES
                  ◆   USB rechargeable with low battery indicator
                                                                                       ◆ ARB-L18 Battery
                  ◆   Serves as a portable power bank to charge
                                                                                       ◆ ARB-L18 USB Battery
                      other devices

                          ANSI/FSC              Eco            Low            Med             High     Turbo
                       OUTPUT LUMENS            10              50            100             350          650
                                      2600mAh   300h           70h            38h             9h      4h 30min
                      RUNTIME
                                      3500mAh   400h           93h            51h             12h          6h
                        MAX DISTANCE                                     115ft (35m)
                      IMPACT RESISTANCE                                       1m
                        WATERPROOF                            IPX-7, waterproof underwater to 1m
                               SIZE                     Height: 5.4" (136mm) Diameter: 3.7" (93mm)
                           WEIGHT                              14.5 oz. (412g) excluding battery

37
BC05R                                                                                               BC25R
     10 LUMENS                                                                                           600 LUMENS

     ◆   Max 10 lumen output from built-in
         240mAh Li-polymer battery
     ◆   Four modes including two
         brightness levels and two flashing                                                              ◆   Max 600 lumen output from
         modes                                                                                               the built-in 2600mAh Li-ion battery
     ◆   Micro-USB rechargeable with                                                                     ◆   Five modes including four brightness
         battery level indicator                                                                             levels and flashing mode
     ◆   Also use as a headlamp or                                                                       ◆   Cut-off facula line for safer commuting in traffic
         backpack light

                                                                                                                                                                                 OPTIONAL ACCESSORIES
                                                                       OPTIONAL ACCESSORIES
                                                                                                                                                                                  ◆ ALD-08 Helmet Clip
                                                                        ◆ None

                                                                                                                 ANSI/FSC                  Low                Medium            High            Turbo
                                                ANSI/FSC
                                                                                                              OUTPUT LUMENS                 50                 150               350               600
                    OUTPUT                             MAX           IMPACT        WATER
         MODE                        RUNTIME                                                                     RUNTIME                   36h                 15h               7h                2h*
                    LUMENS                           DISTANCE      RESISTANCE      PROOF
             Low       2                10h                                                                      DISTANCE               105ft (32m)       174ft (53m)        259ft (79m)     348ft (106m)
             High      10            1h 48min                                     IP66, rain/
                                                       20ft                                                  IMPACT RESISTANCE                                          1m
                                                                         1m      splash proof/
          Flash 1      2               40h             (6m)
                                                                                   dustproof                   WATERPROOF                                 IP66 - rain resistant/dust proof
          Flash 2      2               72h
          SIZE              Length: 2" (51mm) Width: 0.87" (22mm) Height: 0.83" (21mm)                              SIZE                Length: 4.4" (113mm) Width: 1.25" (32mm) Height: 1.2" (31mm)

         WEIGHT                           0.67 oz. (19g) including battery                                        WEIGHT                         5.5 oz. (155 grams) including mount and battery

     NEW                        BC21R V2.0
                                1000 LUMENS

                                                                                                         ◆   Max 1000 lumen output from one
                                                                                                             18650 rechargeable Li-ion battery
                                                                                                             or two CR123A batteries
                                                                                                         ◆   Five modes including four
                                                                                                             brightness levels and flashing mode                 OPTIONAL ACCESSORIES
                                                                                                         ◆   Type-C USB rechargeable with                        ◆ ALD-08 Helmet Clip
                                                                                                             battery level indicator                             ◆ ARB-L18 Battery
                                                                                                                                                                 ◆ ARB-L18 USB Battery

                                                                                                                                                  ANSI/FSC
                                                                                                                OUTPUT                                                           IMPACT         WATER
                                                                                                 MODE                          RUNTIME           DISTANCE       INTENSITY
                                                                                                                LUMENS                                                         RESISTANCE       PROOF
                                                                                                    Low            50             30h            98ft (30m)          240cd
                                                                                                 Medium           150             13h            164ft (50m)         700cd                     IP66, rain/
                                                                                                                                                                                      1m      splash proof/
                                                                                                    High          400             6h             295ft (90m)      2050cd                        dustproof
                                                                                                   Turbo          1000            2h*         476ft (145m)        5300cd
                                                                                                  SIZE                      Length: 4.6" (116mm) Width: 1.2" (31mm) Height: 1.2" (30mm)
                                                                                                 WEIGHT                                      3.5oz. (100g) excluding battery

39