Milwaukee Power Tools Catalogue 2013/14
If your browser does not support JavaScript, please read the page content below: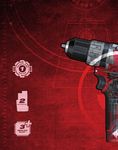 INTRODUCTION These tools need to last day in and day out. For this reason, serviceability is incorporated into every tool produced. All powertools leave the factory with a complete documentation package including instructions for use, listing of customer service centres and safety instructions. Milwaukee® has a worldwide service network. Should a problem arise requiring assistance or support at short notice, you can rely on our service centres/agents worldwide. The global network ensures that our customers' needs and requirements are shared to influence future product development.
Expertise and competence gained over many years ensures a fast and efficient professional repair ­ service.
To develop and produce "Nothing but HEAVY DUTY™ " powertools is only one part of the Milwaukee® ­ promise. INTRODUCTION Milwaukee tools strive to meet and surpass all international and European standards and directives for both design and safety. Constant research and development programs aim to anticipate and fulfill future market trends in all regulatory and efficiency requirements. Milwaukee is, amongst others, an active member of EPTA (European power tool association) and so is proudly aligned to all industry measurement standards agreed by the organization. 1-5.indd 2 11.03.13 15:26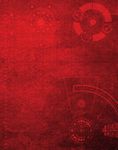 3 JAHRE GARANTIE ANNÉES GARANTIE INTRODUCTION From 1 year to 3 years: Milwaukee® Offers a 3 Year warranty.
Now with 2 year warranty on all Redlithium-Ion™ batteries. Every Milwaukee® tool is tested according to a comprehensive certified process before ­ leaving the factory and is warranted to be "Nothing but HEAVY DUTY™ " qualified. At Milwaukee® we take great pride in the products and services we offer to our ­ professional customers. With this in mind we are pleased to offer additional ­ protection by extending our ­ warranty conditions to 3 years. This service is available to you at no cost if you ­ register your new Milwaukee® power tool within 30 days of the purchase date. All you need to do in order to receive this Milwaukee® service: register your tool online!
Follow the link on www.milwaukeetool.co.uk Our Milwaukee® service is only available in those countries listed on our warranty ­ registration website. The extended warranty offer excludes products used in the hire industry, rechargeable battery packs, battery chargers and accessories supplied. Please ring +44 (0)1628 894400 for questions regarding our warranty policy in ­ relation to hire products. Heavy Duty Warranty: www.milwaukeetool.co.uk All you have to do to take advantage of our extra ­ warranty offer is to register online. Nothing but HEAVY DUTY™ Tools built to do the job better. At Milwaukee® , Heavy Duty is more than just a slogan.
It is a promise to offer the best to professional users. Milwaukee® engineers don't just design tools. They design tools to get the job done better, faster, reliably and safely.
Experience the Heavy Duty difference 1-5.indd 3 11.03.13 15:26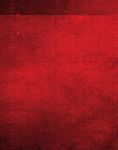 POWERSTATE™ brushless motor POWERSTATE™ brushless motor REDLITHIUM-ION™ BATTERY PACKS REDLITHIUM-ION™ BATTERY PACKS REDLINK PLUS™ intelligence REDLINK PLUS™ intelligence
Milwaukee® designed and built brushless motor
Out-performs all leading competitors
Up to 10x longer motor life
Milwaukee® designed and built brushless motor
Out-performs all leading competitors
Up to 10x longer motor life
Most durable pack on the market
Up to 2x more run time*
Fuel gauge displays remaining charge
Operates down to -18°C
Individual cell monitoring to optimise tool run time and ensure long term pack durability
Most durable pack on the market
Up to 2x more run time*
Fuel gauge displays remaining charge
Operates down to -18°C
Individual cell monitoring to optimise tool run time and ensure long term pack durability
Most advanced electronic system on the market for maximum performance
Total system communication with overload protection increases tool life
Built-in fuel gauge displays remaining charge
Most advanced electronic system on the market for maximum performance
Total system communication with overload protection increases tool life
Built-in fuel gauge displays remaining charge 1-5.indd 4 11.03.13 15:26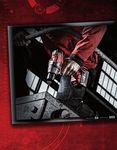 ALSO AVAILABLE: M12 CD FUEL™ compact 2-speed driver M12 CDD FUEL™ 2- speed compact drill driver M12 CPD FUEL™ 2- speed compact percussion drill M12 CID FUEL™ 1/4" Hex compact impact driver M12 CIW14 FUEL™ compact 1/4" impact wrench M12 CIW38 M12 FUEL™ compact 3/8" impact wrench * Compared with competitive Li-Ion technology and/or previous Milwaukee® battery technology. Results dependent on voltage, tool and application. 1-5.indd 5 11.03.13 15:26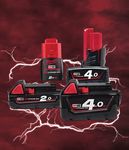 6 M12 CPD M12 FUEL™ 2-speed compact percussion drill
Milwaukee® designed and built brushless POWERSTATE™ motor for up to 10x motor life and up to 25% more power
REDLINK PLUS™ intelligence system delivers the most advanced digital overload protection for tool and battery and uniquely enhances the tool performance under load
REDLITHIUM-ION™ battery pack delivers up to 2x more run-time, up to 20% more power, up to 2x more battery life and operates better down to -18C° than other lithium-ion technologies
Fuel gauge displays remaining charge
Individual battery cell monitoring optimises tool run time and ensures long term pack durability
Brightest LED workspace illumination M12 CDD M12 FUEL™ 2-speed compact drill driver
Milwaukee® designed and built brushless POWERSTATE™ motor for up to 10x motor life and up to 25% more power
REDLINK PLUS™ intelligence system delivers the most advanced digital overload protection for tool and battery and uniquely enhances the tool performance under load
REDLITHIUM-ION™ battery pack delivers up to 2x more run-time, up to 20% more power, up to 2x more battery life and operates better down to -18C° than other lithium-ion technologies
Fuel gauge displays remaining charge
Individual battery cell monitoring optimises tool run time and ensures long term pack durability
Brightest LED workspace illumination M12 CD M12 FUEL™ compact 2-speed driver
Milwaukee® designed and built brushless POWERSTATE™ motor for up to 10x motor life and up to 25% more power
REDLINK PLUS™ intelligence system delivers the most advanced digital overload protection for tool and battery and uniquely enhances the tool performance under load
REDLITHIUM-ION™ battery pack delivers up to 2x more run-time, up to 20% more power, up to 2x more battery life and operates better down to -18C° than other lithium-ion technologies
Fuel gauge displays remaining charge
Individual battery cell monitoring optimises tool run time and ensures long term pack durability
Brightest LED workspace illumination M12 CID M12 FUEL™ ¼˝ Hex compact impact driver
Milwaukee® designed and built brushless POWERSTATE™ motor for up to 3x motor life and up to 20% more power
REDLINK PLUS™ intelligence system delivers the most advanced digital overload protection for tool and battery and uniquely enhances the tool performance under load
The Milwaukee® DRIVE CONTROL™ allows the user to shift into different speed and torque settings to maximize application versatility
Mode 1 for precision work (0 – 1200 rpm, 19 Nm of torque, 0 - 2700 ipm)
Mode 2 delivers maximum performance for the toughest applications (0 – 2650 rpm, 135 Nm of torque, 0 - 3550 ipm)
REDLITHIUM-ION™ battery pack delivers up to 2x more run-time, up to 20% more power, up to 2x more battery life and operates better down to -18C° than other lithium-ion technologies
¼˝ Hex drive with click lock for single hand loading of bit
Fuel gauge displays remaining charge
Brightest LED workspace illumination M12 CD-202C Battery pack capacity (Ah) 2.0 No. of batteries supplied 2 Charger supplied 80 min No load speed gear 1 (rpm) 0 - 450 No load speed gear 2 (rpm) 0 - 1700 Tool reception 1 ⁄4˝ Hex Max. drilling wood (mm) 25 Max. drilling steel (mm) 10 Max. torque (Nm) 37 Weight with battery pack (kg) 1.2 Supplied in Kitbox Article Number 4933440568 M12 CID-202C Battery pack capacity (Ah) 2.0 No. of batteries supplied 2 Charger supplied 40 min No load speed (rpm) 1200/2650 Tool reception 1 ⁄4˝ Hex Impact rate (ipm) 2700/3550 Max. torque (Nm) 19/135 Weight with battery pack (kg) 1.0 Supplied in Kitbox Article Number 4933440574 M12 CPD-202C M12 CPD-402C Battery pack capacity (Ah) 2.0 4.0 No. of batteries supplied 2 2 Charger supplied 40 min 80 min No load speed gear 1 (rpm) 0 - 450 0 - 450 No load speed gear 2 (rpm) 0 - 1700 0 - 1700 Chuck capacity (mm) 13 13 Max. drilling wood (mm) 25 25 Max. drilling steel (mm) 13 13 Max. drilling masonry (mm) 13 13 Max. percussion rate (bpm) 25,550 25,550 Max. torque (Nm) 37 44 Weight with battery pack (kg) 1.3 1.5 Supplied in Kitbox Kitbox Article Number 4933440498 4933441117 M12 CDD-202C M12 CDD-402C Battery pack capacity (Ah) 2.0 4.0 No. of batteries supplied 2 2 Charger supplied 40 min 80 min No load speed gear 1 (rpm) 0 - 450 0 - 450 No load speed gear 2 (rpm) 0 - 1700 0 - 1700 Chuck capacity (mm) 13 13 Max. drilling wood (mm) 25 25 Max. drilling steel (mm) 13 13 Max. torque (Nm) 37 44 Weight with battery pack (kg) 1.3 1.5 Supplied in Kitbox Kitbox Article Number 4933440572 4933441115 6-9.indd 6 11.03.13 15:28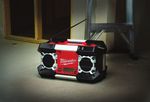 7 M12 CIW14 M12 FUEL™ compact 1 ⁄4˝ impact wrench
Milwaukee® designed and built brushless POWERSTATE™ motor for longer motor life and up to 20% more power
REDLINK PLUS™ intelligence system delivers the most advanced digital overload protection for tool and battery and uniquely enhances the tool performance under load
The Milwaukee® DRIVE CONTROL™ allows the user to shift into different speed and torque settings to maximize application versatility
Mode 1 for precision work (0 – 1200 rpm, 13 Nm of torque, 0 - 3000 ipm)
Mode 2 delivers maximum performance for the toughest applications (0 – 2650 rpm, 56 Nm of torque, 0 - 4000 ipm)
REDLITHIUM-ION™ battery pack delivers up to 2x more run-time, up to 20% more power, up to 2x more battery life and operates better down to -18C° than other lithium-ion technologies
Brightest LED workspace illumination M12 CIW38 M12 FUEL™ compact 3 ⁄8˝ impact wrench
Milwaukee® designed and built brushless POWERSTATE™ motor for longer motor life and up to 20% more power
REDLINK PLUS™ intelligence system delivers the most advanced digital overload protection for tool and battery and uniquely enhances the tool performance under load
The Milwaukee® DRIVE CONTROL™ allows the user to shift into different speed and torque settings to maximize application versatility
Mode 1 for precision work (0 – 1200 rpm, 23 Nm of torque, 0 - 2650 ipm)
Mode 2 delivers maximum performance for the toughest applications (0 – 2650 rpm, 158 Nm of torque, 0 - 3500 ipm)
REDLITHIUM-ION™ battery pack delivers up to 2x more run-time, up to 20% more power, up to 2x more battery life and operates better down to -18C° than other lithium-ion technologies
Brightest LED workspace illumination M12 CIW14-202C Battery pack capacity (Ah) 2.0 No. of batteries supplied 2 Charger supplied 40 min No load speed (rpm) 1200/2650 Tool reception 1 ⁄4˝ square Impact rate (ipm) 3000/4000 Max. torque (Nm) 13/56 Weight with battery pack (kg) 1.0 Supplied in Kitbox Article Number 4933440576 M12 CIW38-202C Battery pack capacity (Ah) 2.0 No. of batteries supplied 2 Charger supplied 40 min No load speed (rpm) 1200/2650 Tool reception 3 ⁄8˝ square Impact rate (ipm) 2650/3500 Max. torque (Nm) 23/158 Weight with battery pack (kg) 1.0 Supplied in Kitbox Article Number 4933440578 6-9.indd 7 11.03.13 15:28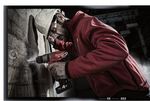 8 C12 D-202C Battery pack capacity (Ah) 2.0 No. of batteries supplied 2 Charger supplied 40 min No load speed (rpm) 0 - 500 Tool reception 1 ⁄4˝ Hex Max. drilling wood (mm) 16 Max. drilling steel (mm) 10 Wood screws to (mm) 6 Max. torque (Nm) 20 Weight with battery pack (kg) 1.0 Supplied in Tool bag Article Number 4931441874 C12 ID-0 C12 ID-202C Battery pack capacity (Ah) − 2.0 No. of batteries supplied 0 2 Charger supplied − 40 min No load speed (rpm) 0 - 2000 0 - 2000 Impact rate (ipm) 0 - 3000 0 - 3000 Tool reception 1 ⁄4˝ Hex 1 ⁄4˝ Hex Max. torque (Nm) 96 96 Weight with battery pack (kg) − 1.1 Supplied in − Kitbox Article Number 4933411930 4933441802 C12 PD-202C Battery pack capacity (Ah) 2.0 No. of batteries supplied 2 Charger supplied 40 min No load speed gear 1 (rpm) 0 - 400 No load speed gear 2 (rpm) 0 - 1500 Chuck capacity (mm) 10 Max. drilling wood (mm) 22 Max. drilling steel (mm) 10 Max. drilling masonry (mm) 7 Max. percussion rate (bpm) 22,500 Max. torque (Nm) 32 Weight with battery pack (kg) 1.3 Supplied in Kitbox Article Number 4933441188 C12 DD-202C Battery pack capacity (Ah) 2.0 No. of batteries supplied 2 Charger supplied 40 min No load speed gear 1 (rpm) 0 - 400 No load speed gear 2 (rpm) 0 - 1500 Chuck capacity (mm) 10 Max. drilling wood (mm) 22 Max. drilling steel (mm) 10 Max. torque (Nm) 30 Weight with battery pack (kg) 1.2 Supplied in Kitbox Article Number 4933441183 C12 PD M12™ 2-speed percussion drill
10 mm single sleeve chuck for quick change of a complete range of accessories
18 stage torque adjustment plus additional drilling for maximum flexibility
REDLINK™ overload protection electronics in tool and battery pack deliver best in class system durability
Slimline soft grip handle
Built in LED light illuminates the work surfaces
Fuel gauge displays remaining battery charge state C12 DD M12™ 2-speed drill driver
10 mm single sleeve chuck for quick and easy change of a full range of accessories
21 stage torque adjustment plus additional drilling for maximum flexibility
REDLINK™ overload protection electronics in tool and battery pack deliver best in class system durability
Slimline soft grip handle
Built in LED light illuminates the work surface
Fuel gauge displays remaining battery charge state C12 D M12™ single speed driver
Milwaukee® high performance compact screw driver measures 160 mm in length making it ideal for working within confined spaces
Heavy duty full metal gearbox and gears for superior durability and maximum torque
¼˝ Hex chuck for quick easy one handed bit change
REDLINK™ overload protection electronics in tool and battery pack deliver best in class system durability
15 stage torque adjustment plus additional drilling for maximum flexibility
Slimline soft grip handle
Built in LED light illuminates the work surface C12 ID M12™ impact driver
Milwaukee® high performance compact impact driver measuring 165 mm in length making it ideal for working within confined spaces
Heavy duty full metal gearbox and gears for superior durability and maximum torque
REDLINK™ overload protection electronics in tool and battery pack deliver best in class system durability
Impact mechanism increases driving speed to a category leading 2000 rpm
Delivers 3000 ipm for increases productivity
¼˝ Hex chuck for quick easy one handed bit change
Slimline soft grip handle
Built in LED light illuminates the work surface 6-9.indd 8 11.03.13 15:28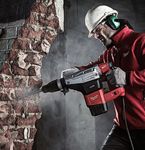 9 C12 IW-0 C12 IW-202C Battery pack capacity (Ah) − 2.0 No. of batteries supplied 0 2 Charger supplied − 40 min No load speed (rpm) 0 - 2000 0 - 2000 Tool reception 1 ⁄2˝ square 1 ⁄2˝ square Impact rate (ipm) 0 - 3000 0 - 3000 Max. torque (Nm) 136 136 Weight with battery pack (kg) − 1.0 Supplied in − Kitbox Article Number 4933411990 4933441248 M12 IR (1/4") M12 IR (3/8") Battery pack capacity (Ah) 1.5 1.5 No. of batteries supplied 1 1 Charger supplied 30 min 30 min Tool reception 1 ⁄4˝ square 3 ⁄8˝ square Max. torque (Nm) 40 47 No load speed (rpm) 0 - 250 0 - 250 Length (mm) 274 274 Weight with battery pack (kg) 0.9 0.9 Supplied in Tool bag Tool bag Article Number 4933431270 4933431280 C12 RAD-0 C12 RAD-202C Battery pack capacity (Ah) − 2.0 No. of batteries supplied 0 2 Charger supplied − 40 min No load speed (rpm) 0 - 800 0 - 800 Chuck capacity (mm) 10 10 Max. drilling wood (mm) 22 22 Max. drilling steel (mm) 10 10 Max. torque (Nm) 12 12 Weight with battery pack (kg) − 1.1 Supplied in − Tool bag Article Number 4933416900 4933441218 C12 IW M12™ impact wrench
Milwaukee® high performance compact impact wrench measuring 165 mm in length makes it ideal for working within confined spaces
Heavy duty full metal gearbox and gears for superior durability and maximum torque
REDLINK™ overload protection electronics in tool and battery pack deliver best in class system durability
Impact mechanism increases driving speed to a category leading 2000 rpm with 136 Nm of torque
Delivers 3000 ipm for increases productivity
1 ⁄2˝ square drive for use with universal sockets
Slimline soft grip handle
Built in LED light illuminates the work surface M12 IR M12™ impact ratchet
Best in class power and speed
47 Nm of torque and a no load speed of 250 rpm
Variable speed metal paddle switch trigger - provides greater user control during application
Compact ID - ideal for tight spaces and small engine bays
Reinforced housing - provides high durability similar to steel ratchets
On board fuel gauge and LED light - added user convenience and illumination in low lit working conditions
REDLINK™ overload protection electronics in tool and battery pack deliver best in class system durability C12 RAD M12™ right angle drill
Long soft grip trigger for comfortable working in any situation
10 mm single sleeve chuck for quick and easy change of a full range of accessories
REDLINK™ overload protection electronics in tool and battery pack deliver best in class system durability
Forward and Reverse function
Heavy-Duty full metal gearbox and gears for superior durability and maximum torque
Slimline soft grip handle 6-9.indd 9 11.03.13 15:28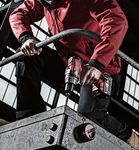 10 M12 DE-0C M12 DE-201C Battery pack capacity (Ah) − 2.0 No. of batteries supplied 0 1 Charger supplied − 40 min Max. drill bit diameter [mm] 4 - 16 4 - 16 Max. drilling depth [mm] 120 120 Weight with battery pack (kg) − 1.7 Supplied in Kitbox Kitbox Article Number 4933440510 4933440500 C12 RT-0 Battery pack capacity (Ah) − No. of batteries supplied 0 Charger supplied − No load speed (rpm) 5000 - 32,000 Collet capacity (mm) 0.8 / 1.6 / 2.4 / 3.2 Supplied in − Article Number 4933427183 C12 MT-0 C12 MT-402C Battery pack capacity (Ah) − 4.0 No. of batteries supplied 0 2 Charger supplied − 80 min Oscillation angle left/ right (°) 1.5 1.5 No load speed (rpm) 5000 - 20,000 5000 - 20,000 Weight with battery pack (kg) − 1.2 Supplied in − Kitbox Article Number 4933427180 4933441708 M12 H M12™ compact SDS hammer drill
Ergonomically designed, compact and light weight allows for work in tight spaces and reduces fatigue during all day use
L-shape, 2 mode hammer drill for hammer & rotary drilling for maximum versatility
REDLINK™ overload protection electronics in tool and battery pack deliver best in class system durability
Low vibration at 6.7 m/s²
Optimised hammer drilling up to 4 - 8 mm (max 13 mm)
LED Light illuminates work space in dark areas C12 RT M12™ rotary tool
Variable speed (5000 - 32,000 rpm)
Versatile application range
0.8 mm – 3.2 mm collet fits all current accessories in the market
Spindle lock mechanism for easy accessory changes
Superior ergonomics and lightweight
Tool belt portable at only 240 mm long and less than 0.6 kg
REDLINK™ overload protection electronics in tool and battery pack deliver best in class system durability
Fuel gauge displays remaining battery charge state C12 MT M12™ multi-tool
Variable speed (5000 - 20,000 rpm) and 1.5º left/right oscillation movement allows quick completion of professional applications into materials such as metal, wood and plastic
Versatile cordless solution for cutting and removal applications
REDLINK™ overload protection electronics in tool and battery pack deliver best in class system durability
Will accept competitor accessories
Supplied with an adapter, plunge cut blade OSC 112, sanding backing pad, 5 x sanding sheets
Fuel gauge displays remaining battery charge state M12 DE M12™ universal hammer vac
Fits all Milwaukee® SDS-plus and the majority of competitor's drills between 43-59 mm neck size
Multi functionality - can be used as a dedicated dust extraction as well as a hand held vac
HEPA filter: 99.7 % efficient
Automatic 5 sec switch off time delay to ensure dust from drilled hole is completely cleaned
Right or left mounting
Fuel gauge displays remaining battery charge state
REDLINK™ overload protection electronics in tool and battery pack deliver best in class system durability
Supplied with 3 x side handles M12 H-0 M12 H-402C Battery pack capacity (Ah) − 4.0 No. of batteries supplied 0 2 Charger supplied − 80 min Tool reception SDS-Plus SDS-Plus Blow energy [EPTA][J] 0.9 0.9 Max. drilling wood (mm) 10 10 Max. drilling steel (mm) 8 8 Max. drilling concrete (mm) 13 13 Vibration drilling (m/s²) 6.7 6.7 Weight with battery pack (kg) − 1.8 Supplied in − Kitbox Article Number 4933431355 4933443161 10-13.indd 10 12.03.13 11:53
11 M12 BS-0 M12 BS-402C Battery pack capacity (Ah) − 4.0 No. of batteries supplied 0 2 Charger supplied − 80 min No load speed (rpm) 0 - 85 0 - 85 Max. cutting capacity (mm) 41 x 41 41 x 41 Blade length (mm) 687 687 Weight with battery pack (kg) − 3.2 Supplied in − Kitbox Article Number 4933431310 4933441805 M12 JS-0 M12 JS-402C Battery pack capacity (Ah) − 4.0 No. of batteries supplied 0 2 Charger supplied − 80 min No load stroke rate (spm) 0 - 2800 0- 2800 Stroke length (mm) 19 19 Weight with battery pack (kg) − 2.1 Supplied in − Tool bag Article Number 4933431305 4933441703 C12 HZ-0 C12 HZ-202C Battery pack capacity (Ah) − 2.0 No. of batteries supplied 0 2 Charger supplied − 40 min No load stroke rate (spm) 0 - 3000 0 - 3000 Stroke length (mm) 13 13 Weight with battery pack (kg) - 1.2 Supplied in − Kitbox Article Number 4933411925 4933441198 M12 BS M12™ cordless bandsaw
One handed tool operation - only 3.2 kg. Compact light weight design for cutting with one hand, overhead in existing installations and in tight spaces
Versatility - cuts a multitude of materials: steel, stainless steel, copper, plastic, aluminium
Fully enclosed guard system - new blade cover system protects the end-user from blade contact whilst still ensuring quick and easy blade changes
Cold cutting - spark and burr free
Clean cut - balanced handle design combined with 8-large ball bearing blade supports provide best in class cut quality
REDLINK™ overload protection electronics in tool and battery pack deliver best in class system durability
Supplied with a 18 Tpi blade
Fuel gauge displays remaining battery charge state
Built in LED light illuminates the work surface M12 JS M12™ jigsaw
New-to-world hybrid grip design - combines the best features from both top handle and barrel grip jigsaw design to provide superior cut control and balance
Smooth cut - minimal vibration during cutting provides ultra smooth performance
Non marking shoe - a non marking shoe comes as standard to protect work surfaces from scratching
Precision roller guide - the durable roller guide is positioned close to the work piece to provide end user control and reduce blade deviation
Line of sight - the compact tool ID improves cut line visibility
REDLINK™ overload protection electronics in tool and battery pack deliver best in class system durability
LED light - provides user visibility both sides of the cut line, ideal for working in low lit areas
Tool free bevel facility - quick and easy bevel adjustment up to 45 degrees without the use of tools
Variable speed - electronic trigger speed control provides end user flexibility and control
Over mould grip areas - for prolonged end user comfort
QUIK-LOK T-Shank blade clamp - secure tool free blade and accessory swap out C12 HZ M12™ hackzall
Milwaukee® high performance compact one handed use hack saw, measuring only 280 mm in length, making it ideal for working within confined spaces
Milwaukee® patented FIXTEC clamp for fast and easy keyless blade change
Built in LED light illuminates the work surface
Fuel gauge displays remaining battery charge state
REDLINK™ overload protection electronics in tool and battery pack deliver best in class system durability C12 PC M12™ copper pipe cutter
Milwaukee® high performance 500 rpm motor cuts 12 mm copper pipe in less than 3 seconds
Auto locking cut mechanism cuts installed copper tubing with as little as 37 mm clearance
Auto adjusting jaws – automatically adjust to pipe size
All metals sealed front end – rust and corrosion resistant cut heat
Slimline soft grip handle
Built in LED light illuminates the work surface
Fuel gauge displays remaining battery charge state
REDLINK™ overload protection electronics in tool and battery pack deliver best in class system durability C12 PC-0 Battery pack capacity (Ah) − No. of batteries supplied 0 Charger supplied − copper tubes (mm) 12, 15, 18, 22, 25, 28 Minimum space for tube cutting (mm) 80 Length (mm) 360 Weight with battery pack (kg) 1.5 Supplied in − Article Number 4933411920 10-13.indd 11 11.03.13 15:30
12 C12 PN-0 Battery pack capacity (Ah) − No. of batteries supplied 0 Charger supplied − Max. percussion rate (bpm) 2700 Max. nail size (mm) 100 Weight with battery pack (kg) 1.6 Supplied in − Article Number 4933427182 C12 BL2-0 Battery pack capacity (Ah) − No. of batteries supplied 0 Charger supplied − Laser clasification Class 2 Accuracy (mm/m - 0.2 mm over 1 m Range (m) 30 Weight with battery pack (kg) 0.6 Supplied in − Article Number 4933416240 C12 PP-0 Battery pack capacity (Ah) − No. of batteries supplied 0 Charger supplied − Dimensions (mm) 125 x 53 x 58 Weight with battery pack (kg) 0.3 Supplied in − Article Number 4933416560 M12 GG-0 Battery pack capacity (Ah) − No. of batteries supplied 0 Charger supplied − Pressure (bar) 562 Weight with battery pack (kg) − Supplied in − Article Number 4933440435 C12 PN M12™ palm nailer
Professional power effectively drives 100 mm framing nails in less than 3 seconds
Superior ergonomics – user-preferred palm style grip provides outstanding comfort and control
Fits into locations where a hammer cannot be swung
Increased run-time: drives up to 100 90mm nails on a single charge
REDLINK™ overload protection electronics in tool and battery pack deliver best in class system durability C12 BL2 M12™ plumb bob laser
The first box laser on the market to integrate a power tool battery increasing the versatility and usage in conjunction with other tools in the range
Increased accuracy over manual methods with levels of 0.2 mm per meter
Automatic levelling to +/- 0.2 mm per meter increases speed and accuracy
High strength magnets located on the rear of the unit for use with metal stud work and tracking
Out of level indicator: laser dot will blink to demonstrate that it is out of level by +/- 4 degrees
Easy use one button operation
Supplied with a carrying pouch C12 PP M12™ powerport
Convenient charger for mobile equipment
12V DC & USB ports for a variety of charging cables
Charge status LED displays current charge status of equipment
Electronic overload protection - protects the powerport & battery from excessive draw
REDLINK™ overload protection electronics in tool and battery pack deliver best in class system durability M12 GG M12™ grease gun
Powerful 12 V motor delivers over 562 bar max operating pressure
Best in class run-time - dispenses up to 7 cartridges per charge
Superior handle balance and ergonomics - only 355 mm long and 3.2 kg
Integrated hose storage, shoulder strap loop and LED Fuel™ gauge - added user convenience and less down time
REDLINK™ overload protection electronics in tool and battery pack deliver best in class system durability
Air bleeder valve - priming mechanism for quick flow
Bulk filler valve
Three way loading - bulk, cartridge and suction capable
Supplied with 914 mm x 14.4mm high pressure flex hose with spring guard and grease coupler
Grease capacity 400 ml cartridge, 473 ml bulk
Fuel gauge displays remaining battery charge state 10-13.indd 12 11.03.13 15:30
13 C12 JSR-0 Voltage (DC) (V) 12 Voltage (AC) (V) 220-240 Battery type Li-ion Battery pack capacity (Ah) − No. of batteries supplied 0 Charger supplied − Dimensions (mm) 267 x 102 x 178 Weight (kg) 1.8 Supplied in − Article Number 4933416365 C12-28 DCR-0 Voltage (DC) (V) 12 - 28 Voltage (AC) (V) 220 - 240 Battery type Li-ion & PBS 3000 Battery pack capacity (Ah) − No. of batteries supplied 0 Charger supplied − Dimensions (mm) 495 x 241 x 279 Weight (kg) 7.3 Supplied in − Article Number 4933410665 C12 JSR M12™ radio with MP3 player connection
Advanced technology tuner for high reception and clarity
Weather proof MP3 player compartment
Powers from either M12™ battery or 230 V mains supply
8 hour run time on standard M12™ battery
Weather proof aluminium speakers for rich, full sound
Digital display tuner for accurate signal selection
Mute button for instant volume kill
220 - 240 V power adapter, 3.5 mm jack plug for auxiliary connection i.e iPods C12-28 DCR M12™ - M28™ radio with MP3 player connection
Exclusive AM/ FM tuner with digital processor delivers highest reception accuracy and signal clarity
Premium speakers and 40 W amplifier produce rich, full sound
Weather sealed auxiliary compartment protects MP3 players and other audio devices
Shock absorbing ABS polymer and steel construction protects against abusive jobsite conditions
Customisable equaliser and 10-station preset
Powered by M12™ , M14™ , M18™ , M28™ , V18, V28 & PBS 3000 batteries or a mains AC outlet
Supplied with 220 - 240 V power adapter, 3.5 mm jack plug for auxiliary connection i.e iPods 10-13.indd 13 11.03.13 15:31
M12 PCG/310C-151B Battery pack capacity (Ah) 1.5 No. of batteries supplied 1 Charger supplied 30 min Max. pushing force (N) 1780 Speed settings 6 Standard equipment 310 ml cartridge Weight with battery pack (kg) 1.9 Supplied in − Article Number 4933431325 M12 PCG/400A-151B Battery pack capacity (Ah) 1.5 No. of batteries supplied 1 Charger supplied 30 min Max. pushing force (N) 1780 Speed settings 6 Standard equipment 400 ml aluminium Weight with battery pack (kg) 1.9 Supplied in − Article Number 4933440360 M12 PCG/600A-151B Battery pack capacity (Ah) 1.5 No. of batteries supplied 1 Charger supplied 30 min Max. pushing force (N) 1780 Speed settings 6 Standard equipment 600 ml aluminium Weight with battery pack (kg) 1.9 Supplied in − Article Number 4933440365 M12 PCG/310 M12™ caulk gun with 310 ml cartridge holder
Up to 1780 N of force
Optimised performance with all construction adhesives and cool temperatures
Anti-drip feature prevents unwanted dripping when trigger is released
Dial control with 6 speed settings allows for maximum bead control
Large robust plunger design ensures constant flow, reduces blow back and expels all sealant from cartridge
REDLINK™ overload protection electronics in tool and battery pack deliver best in class system durability
Supplied with 310ml cartridge holder M12 PCG/400 M12™ caulk gun with 400 ml tube
Up to 1780 N of force
Optimised performance with all construction adhesives and cool temperatures
Anti-drip feature prevents unwanted dripping when trigger is released
Dial control with 6 speed settings allows for maximum bead control
Large robust plunger design ensures constant flow, reduces blow back and expels all sealant from cartridge
REDLINK™ overload protection electronics in tool and battery pack deliver best in class system durability M12 PCG/600 M12™ caulk gun with 600 ml tube
Up to 1780 N of force
Optimised performance with all construction adhesives and cool temperatures
Anti-drip feature prevents unwanted dripping when trigger is released
Dial control with 6 speed settings allows for maximum bead control
Large robust plunger design ensures constant flow, reduces blow back and expels all sealant from cartridge
REDLINK™ overload protection electronics in tool and battery pack deliver best in class system durability 14-17.indd 14 11.03.13 15:32
15 Upgrade. outwork. outlast. 14-17.indd 15 11.03.13 15:32
16 M12 HJ-0 (S) M12 HJ-0 (M) M12 HJ-0 (L) M12 HJ-0 (XL) M12 HJ-0 (XXL) M12 HJ-0 (XXXL) M12 HJ-21 (S) M12 HJ-21 (M) M12 HJ-21 (L) M12 HJ-21 (XL) M12 HJ-21 (XXL) M12 HJ-21 (XXXL) Battery pack capacity (Ah − 1.5 1.5 1.5 1.5 1.5 1.5 No. of batteries supplied Charger supplied − 30 min 30 min 30 min 30 min 30 min 30 min Size S M L XL XXL XXXL S M L XL XXL XXXL Material 100% Polyester 100% Polyester 100% Polyester 100% Polyester 100% Polyester 100% Polyester 100% Polyester 100% Polyester 100% Polyester 100% Polyester 100% Polyester 100% Polyester Weight with battery pack (kg − 1.3 1.3 1.3 1.4 1.5 1.6 Supplied in − Article Number 4933427395 4933427403 4933427410 4933427417 4933427424 4933427431 4933427401 4933427408 4933427415 4933427422 4933427429 4933427436 M12 HJ BLACK-21 (M) M12 HJ BLACK-21 (L) M12 HJ BLACK-21 (XL) M12 HJ BLACK-21 (XXL) Battery pack capacity (Ah) 1.5 1.5 1.5 1.5 No. of batteries supplied 1 1 1 1 Charger supplied 30 min 30 min 30 min 30 min Size M L XL XXL Material 100% Polyester 100% Polyester 100% Polyester 100% Polyester Weight with battery pack (kg) 1.3 1.3 1.4 1.5 Supplied in − Article Number 4933433711 4933433716 4933433721 4933433726 M12 HJ M12™ heated jacket
Superior run time: up to 6 hours of continuous heat per battery charge
Water and wind resistant provides a comfortable barrier to harsh jobsite elements
3 carbon fibre heat zones, right chest, left chest and central back distribute heat to core body areas
Easy touch heat controller with 3 heat settings plus warm-up feature
Expandable battery pouch for use with M12™ REDLITHIUM-ION™ 1.5 Ah, 2.0 Ah, 3.0 Ah, 4.0 Ah battery pack M12 HJ BLACK M12™ premium heated jacket
Cold water technology - multi layered fabric actively warms the body & stimulates blood circulation
5 sewn in carbon fibre heating zones - distributes heat to core body areas and to the pockets
Superior runtime - up to 6 hours of heat on single battery charge
Easy touch heat controller - 3 heat settings: High, Medium, Low
M12™ battery holder - sleek pocket design for minimal user interference
USB power port to charge electrical devices - charge phones/MP3 players whilst on the move
Hand pockets + added chest pocket - ideal for cell phone, iPOD, MP3 player, etc storage
Water and wind resistant - provides comfort and durability in harsh environment
Expandable battery pouch for use with M12™ REDLITHIUM-ION™ 1.5 Ah, 2.0 Ah, 3.0 Ah, 4.0 Ah battery pack 14-17.indd 16 11.03.13 15:32
17 M12 HJ CAMO-21 (L) M12 HJ CAMO-21 (XL) M12 HJ CAMO-21 (XXL) M12 HJ CAMO-21 (XXXL) Battery pack capacity (Ah) 1.5 1.5 1.5 1.5 No. of batteries supplied 1 1 1 1 Charger supplied 30 min 30 min 30 min 30 min Size L XL XXL XXXL Material 100% Polyester 100% Polyester 100% Polyester 100% Polyester Weight with battery pack (kg) 1.5 1.5 1.6 1.7 Supplied in − Article Number 4933427442 4933427447 4933427452 4933427457 M12 HJ HI-VIS-21 (L) M12 HJ HI-VIS-21 (XL) M12 HJ HI-VIS-21 (XXL) M12 HJ HI-VIS-21 (XXXL) Battery pack capacity (Ah) 1.5 1.5 1.5 1.5 No. of batteries supplied 1 1 1 1 Charger supplied 30 min 30 min 30 min 30 min Size L XL XXL XXXL Material 100% Polyester 100% Polyester 100% Polyester 100% Polyester Weight with battery pack (kg) 1.3 1.4 1.5 1.6 Supplied in − Article Number 4933433737 4933433742 4933433747 4933433752 M12 HJ CAMO M12™ heated jacket - camo
Realtree AP™ pattern and specific fabric blend to reduce noise during movement
Superior run time: up to 6 hours of continuous heat per battery charge
Water and wind resistant for a variety of weather conditions, ideal for cold weather activities
Concealed easy touch heat controller (located inside the lapel) 3 heat settings plus warm-up feature
3 carbon fibre heat zones, right chest, left chest and central back distribute heat to core body areas
Expandable battery pouch for use with M12™ REDLITHIUM-ION™ 1.5 Ah or M12™ REDLITHIUM-ION™ 3.0 Ah battery pack M12 HJ HI-VIS M12™ heated jacket
Superior run time: up to 6 hours of continuous heat per battery charge
Water and wind resistant for a variety of weather conditions, ideal for cold weather activities
Concealed easy touch heat controller (located inside the lapel) 3 heat settings plus warm-up feature
3 carbon fibre heat zones, right chest, left chest and central back distribute heat to core body areas
Expandable battery pouch for use with M12™ REDLITHIUM-ION™ 1.5 Ah, 2.0 Ah, 3.0 Ah, 4.0 Ah battery pack 14-17.indd 17 11.03.13 15:32
18 C12 WS M12™ wall scanner
Measures depth and location of rebar up to 15 cm through concrete
Detects location of wood, PEX, PVC and metal
Intuitive user interface displays stud centres and edges
High contrast white on black display and backlight for easy reading
Rugged over-moulding improves durability and user grip
Auto calibration for all surfaces
Scans plasterboard, tile, marble, concrete
Displays stud position M12 TI-21C Battery pack capacity (Ah) 1.5 No. of batteries supplied 1 Charger supplied 30 min Temperature range -10 to 350°C Basic accuracy (%) 2 Display Color LCD Display size (mm) 640 x 480 Display resolution (pixels) 160 x 120 IP protection class 54 Weight with battery pack (kg) 1.0 Supplied in Kitbox Article Number 4933433105 C12 WS-0 Battery pack capacity (Ah) − No. of batteries supplied 0 Charger supplied − Weight with battery pack (kg) 0.7 Supplied in − Article Number 4933416415 M12 TI M12™ thermal image camera
Capture thermal and visual images on every trigger pull for enhanced reporting
Complete report software to easily analyse images
Crisp, high resolution 160 x 120 pixel thermal images for better definition and clarity
Broader temperature range (-10 to 350°C) to cover more applications
Built-in visual camera and flashlight for improved analysis
No blur, no wait display updates the screen image 60 times a second
Rugged overmolding for increased durability and grip
5x faster battery change over closest competitor
M12™ REDLITHIUM-ION™ batteries allows for rapid field replacement
Supplied with thermal imager report software, 2 GB SD card, USB cable and SD card reader M12 IC M12™ cordless M-SPECTOR 360™ camera
Rotating screen: screen rotates providing the user fluid image control
Optimised 68.6 mm LCD: digital image and larger screen delivers crisp, clear picture
9 mm 640 x 480 digital image sensor: superior image quality in nearly half the size
4 surround LED lights: best in class brightness without shadow or glare
Enhanced cable: aluminium head and improved flexibility deliver unmatched durability and pipe manoeuvrability
Accessories: hook, magnet, and mirror attachements help to inspect and solve M12 IC-21C (S) M12 IC-21C (L) Battery pack capacity (Ah) 1.5 1.5 No. of batteries supplied 1 1 Charger supplied 30 min 30 min Display size (mm) 68 68 Display resolution (pixels) 320 x 240 320 x 240 Camera head diameter (mm) 9 9 Camera cable length (mm) 914 2742 Weight with battery pack (kg) 0.6 0.6 Supplied in Kitbox Kitbox Article Number 4933431250 4933431260 C12 IC M12™ inspection camera
Milwaukee® high performance delivers high resolution picture quality where the access would not normally be possible
60 mm/2.4" high resolution colour LCD display
Small camera head design (
19 2205-40 Fork opening (mm) 16 Current AC (amps) 200 Voltage (AC) (V) 1000 Voltage (DC) (V) 1000 Lo-Z measurement Yes Resistance (Ω) 40 MOhm Continuity Audible Battery type 2 x AA Weight with battery pack (kg) 0.3 Supplied in Tool bag Article Number 4933416972 2206-40 Fork opening (mm) 16 Current AC (amps) 200 Voltage (AC) (V) 1000 Voltage (DC) (V) 1000 Resistance (Ω) 40 MOhm Continuity Audible Capacitance [μF] 1000 Contact temperature (°C) -40°C - 400°C (-40°F - 752°F) Battery type 2 x AA Weight with battery pack (kg) 0.3 Supplied in Tool bag Article Number 4933416973 2216-40 Current AC/ DC (amps) 10 Voltage (AC) (V) 6.00 mV - 600 Voltage (DC) (V) 600 Lo-Z measurement No Resistance (Ω) 600.0 Ohm - 40.00 MOhm Continuity Yes Frequency (Hz) 10 Hz to 50 kHz Battery type 2 x AA Weight with battery pack (kg) 0.4 Supplied in − Article Number 4933427309 2217-40 Current AC/ DC (amps) 10.00 Voltage AC/DC (V) 600 Lo-Z measurement Yes Resistance (Ω) 40 MOhm Continuity Audible Capacitance [μF] 1000 Contact temperature (°C) -40º C - 538º C (-40º F - 1000.4º F) Frequency (Hz) 2.00 HZ - 50.00 kHz Battery type 2 x AA Weight with battery pack (kg) 0.4 Supplied in Tool bag Article Number 4933416976 2205-40 Fork meter for electricians
TRMS always guarantees accurate readings
High contrast, easy to read display provides clearer readings
Built-in non-contact voltage detector
CAT III 1000 V/CAT IV 600 V for increased safety
Rugged over-moulding for increased durability and grip
Built-in LED work light – lights the work area
Side mounted dial for one-handed use
Simplified user interface and feature set specifically tailored to the electrician
Supplied with electrical test lead set and 2 x AA batteries 2206-40 Fork meter for HVAC/R
TRMS always guarantees accurate readings
High contrast, easy to read display provides clearer readings
Built-in non-contact voltage detector
CAT III 1000 V/CAT IV 600 V for increased safety
Rugged over-moulding for increased durability and grip
Built-in LED work light – lights the work area
Side mounted dial for one-handed use
Simplified user interface and feature set specifically tailored to the HVAC technician
Supplied with electrical test lead set, thermocouple (dual banana) and 2 x AA batteries
Includes temperature function via thermocouple 2216-40 Light commercial multimeter
TRMS always guarantees accurate readings
CAT III 600 V for increased safety
Rugged over-moulding increases durability and user grip
Side mounted dial for one-handed use
Auto range to mV
Supplied with electrical test lead set and 2 x AA batteries 2217-40 Digital multimeter
TRMS always guarantees accurate readings
High contrast, easy to read display provides clearer readings
Cat III 600 V for increased safety
Side mounted dial for one-handed use
Feature set tailored to electrician – for intuitive use
Lo-Z. – always guaranteed accurate readings
Versatile contact temperature measurement
Slide rail for accessory mount
Supplied with electrical test lead set, thermocouple (dual banana) and 2 x AA batteries 18-21.indd 19 11.03.13 15:34
20 2236-40 Jaw size (mm) 32 Current AC/ DC (amps) 600 Voltage AC/DC (V) 600 Lo-Z measurement No Resistance (Ω) 6 kOhms Continuity Audible Capacitance [μF] 4000 Contact temperature (°C) -40º C - 400º C (-40º F - 752º F) Battery type 2 x AA Weight with battery pack (kg) 0.4 Supplied in Tool bag Article Number 4933416975 2210-20 Battery type 4 x AA Max. antenna output in LAMP test mode (V) 3000 Min. antenna sensitivity in BALLAST test mode (mm) 25 Max. PIN test capacity (V) 30 Weight with battery pack (kg) 0.4 Supplied in − Article Number 4933433775 2266-20 Temperature range -30 °C - 500 °C (-22 °F - 932 °F) Basic accuracy (%) 1.5 Contact temperature (°C) -40 °C - 450 °C (-40 °F - 852 °F) Repeatability [%] 0.50 Accuracy (mm/m) 0.1 °C (0.1 °F) Response time (mS)
21 C12 PP4B M12™ powerpack
C12 DD - M12™ 2-speed drill driver
C12 ID - M12™ impact driver
C12 HZ - M12™ HACKZALL
C12 T - M12™ lamp M12 PP2A M12 FUEL™ power pack
M12 CPD - M12 FUEL™ percussion drill
M12 CID - M12 FUEL™ impact driver C12 PP4B-202C Battery pack capacity (Ah) 2.0 No. of batteries supplied 2 Charger supplied 40 min Supplied in Tool bag Article Number 4933441243 M12 PP2A-402C Battery pack capacity (Ah) 4.0 No. of batteries supplied 2 Charger supplied 80 min Supplied in Kitbox Article Number 4933441485 M12 MDEAL M12™ MDEAL pack
C12 PD - M12™ 2-speed percussion drill
C12 ID - M12™ impact driver M12SET2E-202B Battery pack capacity (Ah) 1.5 No. of batteries supplied 2 Charger supplied 30 min Supplied in Tool bag Article Number 4933441759 18-21.indd 21 12.03.13 11:52
22 22-25.indd 22 11.03.13 15:39
23 22-25.indd 23 11.03.13 15:39
POWERSTATE™ brushless motor POWERSTATE™ brushless motor REDLITHIUM-ION™ BATTERY PACKS REDLITHIUM-ION™ BATTERY PACKS REDLINK PLUS™ intelligence REDLINK PLUS™ intelligence
Milwaukee® designed and built brushless motor
Out-performs all leading competitors
Up to 10x longer motor life
Milwaukee® designed and built brushless motor
Out-performs all leading competitors
Up to 10x longer motor life
Most durable pack on the market
Up to 2x more run time*
Fuel gauge displays remaining charge
Operates down to -18°C
Individual cell monitoring to optimise tool run time and ensure long term pack durability
Most durable pack on the market
Up to 2x more run time*
Fuel gauge displays remaining charge
Operates down to -18°C
Individual cell monitoring to optimise tool run time and ensure long term pack durability
Most advanced electronic system on the market for maximum performance
Total system communication with overload protection increases tool life
Built-in fuel gauge displays remaining charge
Most advanced electronic system on the market for maximum performance
Total system communication with overload protection increases tool life
Built-in fuel gauge displays remaining charge 22-25.indd 24 11.03.13 15:39
Compared with competitive Li-Ion technology and/or previous Milwaukee® battery technology. Results dependent on voltage, tool and application. ALSO AVAILABLE: M18 CIW12 FUEL™ compact 1/2" impact wrench M18 CIW38 FUEL™ compact 3/8" impact wrench * Compared with competitive Li-Ion technology and/or previous Milwaukee® battery technology. Results dependent on voltage, tool and application. M18 CPD FUEL™ compact percussion drill M18 CID FUEL™ 1/4" Hex compact impact driver 22-25.indd 25 11.03.13 15:39
26 M18 CPD-202C M18 CPD-402C Battery pack capacity (Ah) 2.0 4.0 No. of batteries supplied 2 2 Charger supplied 40 min 80 min No load speed gear 1 (rpm) 0 - 550 0 - 550 No load speed gear 2 (rpm) 0 - 1850 0 - 1850 Chuck capacity (mm) 13 13 Max. drilling wood (mm) 45 50 Max. drilling steel (mm) 13 13 Max. drilling masonry (mm) 15 15 Max. percussion rate (bpm) 31,450 31,450 Max. torque (Nm) 70 80 Weight with battery pack (kg) 2.0 2.3 Supplied in Kitbox Kitbox Article Number 4933440562 4933440540 M18 CIW12-402C Battery pack capacity (Ah) 4.0 No. of batteries supplied 2 Charger supplied 60 min No load speed (rpm) 1700/2000/2400 Impact rate (ipm) 2500/3000/3100 Tool reception 1 ⁄2˝ square Max. torque (Nm) 105/160/280 Weight with battery pack (kg) 1.8 Supplied in Kitbox Article Number 4933440583 M18 CID-202C M18 CID-402C Battery pack capacity (Ah) 2.0 4.0 No. of batteries supplied 2 2 Charger supplied 40 min 80 min No load speed (rpm) 850/2100/2900 850/2100/2900 Impact rate (ipm) 1750/2850/3600 1750/2850/3600 Max. torque (Nm) 23/79/180 23/79/180 Tool reception 1 ⁄4˝ Hex 1 ⁄4˝ Hex Weight with battery pack (kg) 1.3 1.5 Supplied in Kitbox Kitbox Article Number 4933441500 4933440528 M18 CIW38 M18 FUEL™ compact 3 ⁄8˝ impact wrench
At less than 151 mm in length, the M18 FUEL™ impact wrench delivers maximum performance in a compact body
Milwaukee® designed and built brushless POWERSTATE™ motor for longer motor life and up to 20% more power
REDLINK PLUS™ intelligence system delivers the most advanced digital overload protection for tool and battery and uniquely enhances the tool performance under load
The Milwaukee® DRIVE CONTROL™ allows the user to shift into different speed and torque settings to maximize application versatility
Mode 1 for precision work (0 – 900 rpm, 40 Nm of torque, 0 - 1100 ipm)
Mode 2 helps prevent damage to fasteners and material (0 – 1600 rpm, 90 Nm of torque, 0 - 2400 ipm)
Mode 3 delivers maximum performance for the toughest applications (0 – 2400 rpm, 265 Nm of torque, 0 - 3100 ipm)
REDLITHIUM-ION™ battery pack delivers up to 2x more run-time, up to 20% more power, up to 2x more battery life and operates better down to -18C° than other lithium-ion technologies
Brightest LED workspace illumination
Friction ring socket fitment
All metal reversible belt clip – quickly and easily hang tool M18 CPD M18 FUEL™ compact percussion drill
Milwaukee® designed and built brushless POWERSTATE™ motor for up to 10x motor life and up to 25% more power
REDLINK PLUS™ intelligence system delivers the most advanced digital overload protection for tool and battery and uniquely enhances the tool performance under load
REDLITHIUM-ION™ battery pack delivers up to 2x more run-time, up to 20% more power, up to 2x more battery life and operates better down to -18C° than other lithium-ion technologies
Battery fuel gauge displays remaining charge
Individual battery cell monitoring optimises tool run time and ensures long term pack durability
Brightest LED workspace illumination
Comes complete with new multi-voltage charger which accepts M12™ , M14™ & M18™ batteries M18 CIW12 M18 FUEL™ compact 1 ⁄2˝ impact wrench
At less than 155 mm in length, the M18 FUEL™ impact wrench delivers maximum performance in a compact body
Milwaukee® designed and built brushless POWERSTATE™ motor for longer motor life and up to 20% more power
REDLINK PLUS™ intelligence system delivers the most advanced digital overload protection for tool and battery and uniquely enhances the tool performance under load
The Milwaukee® DRIVE CONTROL™ allows the user to shift into different speed and torque settings to maximize application versatility
Mode 1 for precision work (0 – 1700 rpm, 105 Nm of torque, 0 - 2500 ipm)
Mode 2 helps prevent damage to fasteners and material (0 – 2000 rpm, 160 Nm of torque, 0 - 3000 ipm)
Mode 3 delivers maximum performance for the toughest applications (0 – 2400 rpm, 280 Nm of torque, 0 - 3100 ipm)
REDLITHIUM-ION™ battery pack delivers up to 2x more run-time, up to 20% more power, up to 2x more battery life and operates better down to -18C° than other lithium-ion technologies
Brightest LED workspace illumination M18 CID M18 FUEL™ 1 ⁄4˝ Hex compact impact driver
At less than 140 mm in length, the M18 FUEL™ ¼˝ Hex impact driver delivers maximum performance in a compact body
Milwaukee® designed and built brushless POWERSTATE™ motor for up to 3x motor life and up to 20% more power
REDLINK PLUS™ intelligence system delivers the most advanced digital overload protection for tool and battery and uniquely enhances the tool performance under load
The Milwaukee® DRIVE CONTROL™ allows the user to shift into different speed and torque settings to maximize application versatility
Mode 1 for precision work (0 – 850 rpm, 23 Nm of torque, 0 - 1750 ipm)
Mode 2 helps prevent damage to fasteners and material (0 – 2100 rpm, 79 Nm of torque, 0 - 2850 ipm)
Mode 3 delivers maximum performance for the toughest applications (0 – 2900 rpm, 180 Nm of torque, 0 - 3600 ipm)
REDLITHIUM-ION™ battery pack delivers up to 2x more run-time, up to 20% more power, up to 2x more battery life and operates better down to -18C° than other lithium-ion technologies
¼˝ Hex drive with click lock for single hand loading of bit
Brightest LED workspace illumination M18 CIW38-402C Battery pack capacity (Ah) 4.0 No. of batteries supplied 2 Charger supplied 60 min No load speed (rpm) 900/1600/2400 Impact rate (ipm) 1100/2400/3100 Tool reception 3 ⁄8˝ square Max. torque (Nm) 40/90/265 Weight with battery pack (kg) 1.7 Supplied in Kitbox Article Number 4933440581 26-29.indd 26 11.03.13 15:41