INTELLIGENT COLLABORATION - CRMC
Page content transcription
If your browser does not render page correctly, please read the page content below
T H E S W E E T R E WA R D S O F

INTELLIG EN T COL LABORAT ION
                        DSW
                     EXPRESS
                    GLOSSIER
             H I LT O N WO R L DW I D E
                H U D S O N ' S B AY
             LOW E ' S CO M PA N I E S
                   LUXOTTICA
               NEIMAN MARCUS
                      PETCO
                    PETSMART

                S H O E C A R N I VA L
                SLEEP NUMBER
           SOUTHWEST AIRLINES
                   S TA R B U C K S
                      T I L LY S
                       U LTA
                  WA LG R E E N S
                     WAY FA I R
                         WE
          W O LV E R I N E W O R L D W I D E
DAY 1           WEDN ESDAY, J U N E 6                                      DAY 2           TH U R S DAY, J U N E 7

RE G I ST R AT IO N                                                        7:00am - 8:00am               Boulevard Room         Breakfast: Sponsored by Merkle
10:00am – 5:00pm
                                                                           GENERAL S E SS I ON - GRAND B AL L ROOM
                              8th Street North
WOR KS HO P S                                                              8:00am - 8:15am                   The Sweet Rewards of Intelligent Collaboration Brent Cooke and Pini Yakuel
11:30am - 1:00pm                Boulevard Room & Continental Ballroom      8:15am – 9:05am                   Anders Sorman-Nilsson Seamless: combining artificial intelligence & human
                                                                           intelligence to re-design retail CX for the future
                                                                           9:05am – 9:40am Starbucks Customers Get Loyal When You Get Personal - How Starbucks continues to
1 Optimove: Seasoning your CRM Marketing with DIY Data Hacks
2. Bond Brand Loyalty: The Game has Changed. Change your Game
                                                                           grow through its Digital Experiences
3.Olson 1to1: Humanizing Loyalty: A roadmap to establishing genuine
emotional loyalty at scale                                                 9:40am – 10:00am              Grand Foyer & Normandie Lounge         Refreshment Break: Sponsored by Epsilon
                                                                                                         Normandie Lounge Total Retail Podcast
4. VeraCentra: Personalization 2.0: Now Is the Time To Up Your Game
                                                                           10:00am – 3:30pm
1:00pm – 2:00pm               Waldorf Ballroom       Retailer Mentor
Luncheon                                                                   CONCURRE NT S E SS I ONS

1:00pm – 2:00pm              International Ballroom South Workshop         Grand Ballroom                                                  International Ballroom South
                                                                           10:00am – 10:35am              Express How to Evolve            10:00am – 10:35am                 Shoe Carnival If the
Luncheon *Please have your Badge Sticker ready to Access Luncheon
G E N ER A L S E SSIO N - GR A N D BALLROOM                                your Brand and Accelerate your Loyalty Program                  audience fits, so will the shoe
                                                                           10:35am – 11:10am Glossier How man and                          10:35am – 11:10am                 WE and Walgreens
2:00pm – 2:10pm               Welcome to CRMC 2018: Craig Wood, CRMC
Host                                                                       machine can work together to deliver on the primordial          Charity + Loyalty
2:10pm – 3:00pm               David Eagleman What Matters to the Mind of
                                                                           promise of CRM

                                                                                11:10am – 11:40am
the Retail Consumer                                                                                          Grand Foyer & Normandie Lounge         Refreshment Break: Sponsored by Epsilon
3:00pm – 3:20pm              Grand Foyer & Normandie Lounge
Refreshment Break: Sponsored by Epsilon                                    11:40am – 12:20pm               Sleep Number How                11:40am – 12:20pm               Hudson's Bay An
3:20pm – 3:55pm                Wayfair AI and Humans - Harness the power   Sleep Number Drives Customer Advocacy Through an                Innovative Approach to Customer Loyalty via Exclusive
                                                                           Engagement-Based Loyalty Program                                Privileges and Personal Assistance
                                                                           12:20pm – 12:55pm Hilton Why and How to                         12:20pm – 12:55pm Neiman Marcus
of two to understand and reach your customer better
3:55pm – 4:30pm Lowe's Companies What Does it all Mean?
                                                                           Future-Proof Your Loyalty Program                               Essentials for CX Excellence: Engagement at 7 Lifecycle
How to Design the Brand Experience for your Customer
4:30pm – 5:05pm Southwest Airlines Driving Customer Loyalty
                                                                                                                                           Points

                                                                           1:00pm – 2:00pm
5:05pm - 6:35pm
                                                                                                         Continental Ballroom       Luncheon: Sponsored by Synchrony
                            Grand Foyer & Normandie Lounge
   Welcome Reception: Sponsored by Yes Lifestyle Marketing                 2:00pm – 3:30pm               International Ballroom South      Speed Dating with Sponsors (exhibits open)
7:00pm – 10:00pm              CRMC Retailer Dinner                         GENERAL S E SS I ON - GRAND B AL L ROOM

                                                                           3:30pm – 4:10pm               Wolverine Worldwide How Data Can Create Impactful Customer Experiences
                                                                           4:10pm – 5:00pm               David Garibaldi Passion + Purpose
                                                                           5:00pm – 6:30pm               Grand Foyer & Normandie Lounge         Networking Reception: Sponsored by CrowdTwist

                                                                             DAY 3           F R I DAY, J U N E 8

                                                                           7:15am – 8:15am               Boulevard Room         Breakfast: Sponsored by Merkle
                                                                           GENERAL S E SS I ON - GRAND B AL L ROOM

                                                                           8:15am – 9:05am               Brian Beitler The Power & Importance of Purposeful Marketing
                                                                           9:05am – 9:40am               Luxottica The Journey from Traditional 1-to-1 to Digital 1-to-1
                                                                           9:40am – 9:55am               Grand Foyer & Normandie Lounge         Refreshment Break: Sponsored by Epsilon
                                                                           9:55am – 10:35am              Tillys Beyond the "Cool Factor" - How Tillys Uses Mobile and AR to Enhance the In-Store
 AG E N DA                                                                 Experience
                                                                           10:35am – 11:10am             DSW Data-driven Loyalty Marketing Builds a Shoe Habit
 AT A G L A N C E                                                          11:10am – 11:40am             Petco and Ulta Panel Customer Experience is the New Driver for Loyalty
                                                                           11:40am – 12:00pm             Prize Giveaway
                                                                                  12:00pm         Adjourn
                                                                           12:00pm – 1:30pm              Boulevard Room         Advisory Board Luncheon
Loyalty. Engaged.

stand
out
from the
crowd.
Build a loyalty program
that creates personalized
and meaningful
experiences for your
customers.

Visit us in the
Normandie Lounge.
crowdtwist.com
contactus@crowdtwist.com
WELCOME
                                                                                           customers. Flying back to the field of Brick and Mortar, we will hear an international
                                                                                           perspective from Hudson's Bay Netherlands covering how they overhauled their ap-
                                                                                           proach to customer experience with a comprehensive and integrated loyalty program.
                                                                                           Next, Sleep Number will show how their InnerCircle loyalty program creates customer
                                                                                           advocates and drives acquisition. To bring a busy morning to completion, we will learn
To all of our friends, colleagues, new and returning attendees…                            how Neiman Marcus utilizes seven critical points in the customer lifecycle to achieve
    WELCOME TO CHICAGO! And to CRMC 2018, where you will take part in the 'Hive'           CX Excellence. Hilton Worldwide will follow up by discussing the needs for brands to
and the #IntelligentCollaboration taking place during the event, to overcome the chal-     rethink the way they engage and interact with their customers. For our final case study
lenges our threatened industry faces today.                                                of Day Two, Wolverine Worldwide will take the stage to explain how the company, with
    As we gather over the next three days to discuss strategies, successes, and fail-      an established global footprint and ever-expanding portfolio, uses data in an efficient
ures, our shared goal is to maintain a competitive edge in an environment that is          and holistic way to achieve impactful customer experiences across all channels.
increasingly difficult for the existence of our species. With new technologies, online         Bee sure to stay with us for Day Three, as some of the sweetest nectar is saved
competition, and multichannel consumers converging on all of us in the retail eco-         for last. We will begin the day with industry powerhouse and thought-leader Brian
system, we at CRMC are pleased you have decided to join us so that together we can         Beitler, who will explain why retailers must have an emotional connection with their
survive and thrive.                                                                        customers, along with a strong brand position, to build enduring relationships. Lux-
    Here at CRMC, you will join a collective effort to define what new consumer mar-       ottica will then take us along on their journey to achieving true Digital 1:1. Tillys will
keting strategies we as Retail Marketers need to explore in the coming year, and meet      show how they use Mobile and AR to engage their young customers in-store. Next,
others who are looking to reap the #SweetRewards that can be realized by working           DSW will share key initiatives including the recent launch of their DSW VIP program.
together.                                                                                  To bring the CRMC season to an end, a panel including leading retailers Petco, Ulta,
    This year, we open with a Keynote from David Eagleman, the 'world's coolest neuro-     and Walgreens will share how data, CRM, and loyalty are key to uniting the online and
scientist,' New York Times bestselling author and host of PBS's The Brain to learn what    offline worlds of retail.
motivates people to care about a brand, and how investing in far-reaching technolo-            You will be tended to by our esteemed and humorous host, Craig Wood of The
gies can be the best approach in a garden of uncertainty.                                  Collaboratory. As Beekeeper, Craig will ensure the entire audience leaves the event
    Author, futurist, and innovation strategist Anders Sorman-Nilsson will open Day        with enough pollen to fertilize their CRM gardens for the upcoming year.
Two by showing us how to combine Artificial and Human Intelligence to design a Retail          In between presentations, we encourage you to take part in the numerous net-
Renaissance and rejuvenate the Retail Journey to our combined advantage.                   working events offered throughout the show. Breakfasts, Breaks, a Luncheon, and two
    After a productive two days, we will be joined by our entertainer, world-renowned      Receptions promise lots of opportunities to connect with other worker bees. For our
performance artist David Garibaldi. Watch his pop portraits explode on the stage to        Retail Attendees, we also invite you to take part in our pre-event Mentor Luncheon and
music, and don't forget to bid on a painting to take home.                                 our Retailer Dinner, both occurring on Day One so that you can make the most of the
    Our Hive would not be complete without the combined skills of our Retail Present-      rest of your time at the show.
ers, who take the stage to share with us both their successful journeys, as well as            Speed Dating at CRMC creates a dual opportunity. You will meet not only our Spon-
those that have lead them astray.                                                          sors, but also some of your Retail Peers during this fast-paced and valuable session.
    Starting off Day One, Wayfair will join us to share how they combine AI and human          If your wings grow tired, land in one of our Sponsor Lounges or Kiosks and check
intuition to deliver measurable results. Next, Lowe's Companies will show how they         out the Interest Topics listed on the screens for more focused conversations. Use your
incorporate Behavioral Science into their CX initiatives. Last up for the day, Southwest   badge's Interest stickers to show what solutions you are seeking. Collect sponsor logo
Airlines will explain how they leverage 'transfarency' to create a simple experience for   stickers from Sponsors to be entered into our Raffle.
their passengers. Day One culminates in our Retailer Dinner, where all Retail Attend-          Journey upstairs to The Hive to relax, charge your device or check email. Visit the
ees are welcome to join us for great food and conversation.                                Presenters Lounge to ask questions of our presenters, or our Collaboration Desk to
    On Day Two, ten curated and relevant case studies will fill this very informative      seek help connecting with the right person.
day. Following opening remarks from CRMC Advisory Board Chair, Brent Cooke from                And, on a final note, don't forget to raise your hand, ask questions, introduce your-
PetSmart and Pini Yakuel of Diamond Sponsor Optimove, get ready to discover count-         self to fellow attendees, collaborate on our mobile app, and chat with the speakers.
less takeaways and learnings as we hear how Starbucks creates simple and fun digi-         The elegant and intimate space offered here at the Hilton, combined with all of you
tal experiences for their customers. Express will then take the stage to share the key     that make up our Hive, create an environment where we can all work to the benefit
internal changes they undertook, to create an evolution that redefined how their brand     of the future.
does business. Next up, Shoe Carnival explains how they leverage 'always on' insight to
optimize their marketing efforts. Switch speeds for the next two sessions: ECommerce                          Devon Wylie
success story Glossier will explain how they interact and listen to their customers in                        CEO
real-time, at scale; and leading charity WE.org, along with Walgreens, will show the                          CRMC
audience how weaving social consciousness into your brand can add meaning for your

  4
My ambition is to create
unique, engaging
customer experiences.

Synchrony understands that unique
and engaging experiences help drive
customer loyalty. Our data, analytics and
insights can help you further enrich those
experiences and convert shoppers into
buyers, again and again. Whatever you're
working forward to, we're here to help.

Learn more at synchronyfinancial.com.
G E N E R A L I N F O R M AT I O N

BADGES Please wear your badge at all times. Badges are required for access to con-
ference events, and those not wearing badges will not be allowed access to event for
security reasons. We encourage you to utilize the provided Interest Stickers to maxi-
mize your networking time.
BREAKFAST Breakfasts will be served Thursday from 7:00am-8:00am, and Friday
from 7:15am-8:15am. Breakfasts are sponsored by Merkle.
BREAKS Breaks will be held at 3:00pm on Wednesday; 9:40am, and 11:10am on
Thursday; and 9:40am on Friday. Coffee and Refreshment Breaks are sponsored by               PRESENTATION SLIDES Conference presentations that are made available to us will be
Epsilon.                                                                                     posted on the CRMC website following the event.

EXHIBITS Diamond, Partner, and Platinum Sponsor Conversation Lounges are located             PRESENTERS LOUNGE Visit the Lounge to ask questions of our Presenters following
in the Normandie Lounge; and Gold and Silver Sponsor Kiosks are located in the Grand         their presentations, or at any other time during the event.
Foyer. Lounges and Kiosks are there for you to visit during Breaks and Receptions,           Q&A Don't forget to raise your hand, identify yourself, and ask questions to get in-
Speed Dating Session, or any other time during the event. A map of the exhibit area          volved. You may also tweet or use the CRMC 2018 Mobile app.
can be found on page 12.                                                                     RAFFLE Visit 20 of the 35 sponsor exhibits to receive a sticker, and collect them on
EVALUATIONS Your feedback is vital to us as we develop next year's program. An elec-         the back of your badge. Hand your badge to any CRMC Staff member to be entered to
tronic survey will be sent to you immediately following the event. For those of you who      win a iWatch, GoPro and many other great prizes at the end of the event. You must be
prefer to record your thoughts in real time, printed Evaluations are also available at the   present to claim your prize.
Registration and Information desks.                                                          RECEPTIONS The Welcome Reception will be held Wednesday from 5:05pm-6:35pm,
INFORMATION AND COLLABORATION DESK Please stop by if you have any questions                  and is sponsored by Yes Lifecycle Marketing. The Networking Reception will be held
or need assistance connecting to the right person.                                           Thursday from 5:00pm-6:30pm, and is sponsored by CrowdTwist.
INTERNET Complimentary in-room WIFI is provided to all CRMC attendees staying in             RETAILER DINNER The Fifth Annual Dinner, co-hosted by Adobe Experience Cloud, Alli-
the Hilton Hotel. Your in-room login will work throughout the lobby and lounge area of       ance Data, Optimove, RedPoint Global and Speedeon Data, will be held from 7:00pm-
the hotel. For Wifi in the meeting area, please visit The Hive on the exhbit area mezza-     10:00pm at Del Frisco's Steakhouse. All attending retailers are invited to network with
nine. The Network is Hilton Chicago Meeting and the Password is sweetrewards. The            retail peers and enjoy a delicious meal. If you are a Retailer and did not RSVP during reg-
Hive is sponsored by Allant Group.                                                           istration but would like to attend, please let a CRMC Staff Member know. Transportation
LUNCHEON Thursday's Luncheon will be held from 1:00pm-2:00pm. The Luncheon is                from the hotel will be available across from the CRMC Registration Desk from 6:45pm.
sponsored by Synchrony.                                                                      RETAILERS GUIDING STUDENTS (RGS) Stop by The Hive on Thursday to meet attend-
MENTOR LUNCHEON Wednesday from 1:00pm-2:00pm. Hosted by members of the                       ing Chicago-area college students, or say hello during the show.
CRMC Retail Advisory Board, the Luncheon is open to our newly attending Retailers to         SPEED DATING Thursday from 2:00pm-3:30pm. Speed Dating is available for Retail
become familiarized with the event.                                                          attendees. This is a great opportunity to connect with CRMC Sponsors as well as fellow
MOBILE APP Our Mobile App is available for download on the App Store and Play Store.         Retailers. If you have not completed or printed your Speed Dating Dance Card, please
Search for CrowdCompass AttendeeHub app and install. Once downloaded, open the               let a staff member know prior to the session so we may process one for you. Service
AttendeeHub app and enter CRMC 2018. Tap the event CRMC 2018 and enter the event             Provider attendees are invited to visit Sponsor Exhibits during this session.
password, sweetrewards2018. Please use the app to reach out to fellow attendees, ask         STAFF Staff members wear identifying badges and are here to help, so please feel free
questions during presentations, post comments, view the agenda, maps, sponsors,              to call on them for questions or assistance.
and more. Play our Mobile App Challenge POLLINATE and win a $250 AMEX Gift Card.             WORKSHOPS Wednesday from 11:30am-1:00pm. Our pre-conference Workshops are
MOBILE PHONES Please remember to keep your phones in silent mode during the                  conducted by Bond Brand Loyalty, Olson 1to1, Optimove and VeraCentra. A luncheon is
presentations.                                                                               provided for Workshop Participants.

                                                                                                                                                                                   7
The CRMC 2018 Showbook was designed by Thomas Richman and printed by Quad/Graphics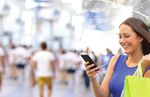 DIAMOND

       PA R T N E R

      P L AT I N U M

          GOLD

S I LV E R W I T H K I O S K

         S I LV E R

 M E D I A PA R T N E R S
C O L L A B O R AT E / Q & A

                                                                                                                 3
                                                                                                        Use our app.

                1
  Raise your hand, introduce                                 2                         Download: crowd.cc/s/1kdRi or scan QR code.
yourself, and ask a question of our                                                 Login, then tap the Schedule icon to find your session.
  speakers. They'll appreciate it!           Send a question via Twitter to         Scroll down to Live Q&A section to submit a question.
                                                     @CRMCRetail.                           Play our Mobile App Challenge, POLLINATE!

                                                             9:41 AM        100%                                9:41 AM           100%

                                              @CRMCRetail                                          T H E S W E E T R E WA R D S O F
                                              #QuestionsCRMC2018 What is your
                                              preferred service for transactional
                                              emails?                                              I NT E L L I G E NT
                                                                                                 C O L LA BO R AT I O N
                                                                                                        JUNE 6-8 · 2018

                    JOIN              THE

      E XP ED I T I ON
                      CRMC 2019
                       C H I CAG O J U N E 5 -7
It's easy to find complicated mar tech
solutions with promises attached.
We stand for something different.

  CROSS-DEVICE      DATA        DIRECT MAIL        IN-STORE         EMAIL        LOYALTY

       © 2018 Conversant LLC and Epsilon Data Management, LLC. All rights reserved.
SIMPLIFY YOUR   40
                                                                                              International Ballroom North

   MARKETING.      39                       29                         19

   We'll drive stronger performance
   and greater
            38  efficiency
                        28 for your 18                                                            9

   brand, across every channel.
                   37                       27                         17                         8

   Join Our Panel Discussion:
                   36                       26                         16                         7

   Customer Experience                                            Friday, June 8

                                                                                                          ENTRANCE
STAGE

   Is the New
           35
               Driver 25                                          11:10
                                                                    15
                                                                        –11:45am6

   for Loyalty                                                    Grand Ballroom
   Learn how top retail brands used smart
                   34                       24                         14                         5

   data and tech to strengthen their
   customer communications, driving
   more revenue with less waste.
               33              23                                      13                         4

                   32                       22                         12                         3

                   31                       21                         11                         2

                   30                       20                         10                         1

         AISLE 4                  AISLE 3                    AISLE 2                    AISLE 1
              © 2018 Conversant LLC and Epsilon Data Management, LLC. All rights reserved.
The game
is changing.
It's your
move.
—
THE RETAIL CUSTOMER JOURNEY IS EVOLVING
AND THE EXPERIENCE MATTERS THE MOST.
Change your game, challenge new players, and pivot
to your next move. We'll help you navigate a loyalty
landscape in flux, creating small moments that deliver
big experiences for your customers.

Visit our lounge to reimagine your customer engagement strategy, and
download The Loyalty Report 2018 to uncover your next move.
Visit bondbrandloyalty.com/loyaltyreport.

    bondbrandloyalty.com             @createabond
AG E N DA

DAY 1                                                      WEDNESDAY, JU N E 6

REGISTRATION                                               8TH STREET NORTH

10:0am – 5:00pm

WORKSHOPS                                                  BOULEVARD ROOM AND CONTINENTAL BALLROOM

11:30am – 1:00pm         See page 36 for descriptions. A luncheon will be served following the Workshops at 1:00pm in International Ballroom South

MENTOR LUNCHEON                                            WALDORF BALLROOM

1:00 – 2:00pm
                         For our newly attending Retailers. Luncheon attendees will be assigned a Mentor from our esteemed Retail Advisory Board. The Luncheon will
                         serve as an introduction to the CRMC event, and help you make the most of your time at the show.

WORKSHOP LUNCHEON                                          INTERNATIONAL BALLROOM SOUTH

1:00 – 2:00pm            Lunch is available for all of our Workshop Participants. An identifying sticker (provided by Workshop Hosts) is required to access the Luncheon.

GENERA L SESSION                                           GRAND BALLROOM

2:00pm – 2:10pm          Welcome to CRMC 2018 Craig Wood CRMC Host and Founder/CEO – The Collaboratory

2:10pm – 3:00pm

                         DAVID EAGLEMAN                WHAT MATTERS TO THE MIND OF THE RETAIL CONSUMER

                         What motivates people to care about a brand? Why do people show loyalty to certain retailers? What is the role of emotion in decision-making?
   Neuroscientist at     Neuroscientist David Eagleman marshals new data to show that people use the same brain circuitry to relate to brands as they do to one another.
   Stanford, host of
                         This suggests strong motivation for companies to work on reputation, loyalty and trust: subconscious issues which powerfully navigate customer
 PBS series The Brain,
  and New York Times
                         decisions, but are missed by traditional methods of market research. Traditional research fails for two reasons: first, it probes the conscious mind
   bestselling author    of the customer, which is not, in the end, what drives actual purchasing decisions, and secondly, it is geared to measure the immediate influence of
                         branding changes, while investments in social reputation pay off on a slower time scale. In this talk, David translates cutting-edge neuroscience into
                         everyday examples to illuminate customer motivations, emotions, and decision-making from new angles. Finally, he'll address creativity in market-
                         ing. What does it take to become a truly creative company? David helps leaders decide which ideas to pursue, which to abandon, and why investing
                         in even the most far-reaching possibilities might be the most practical thing you can do for your company.

                                                                                                                                                                         17
Brierley Means Loyalty
  In Every Language

          Global Loyalty + CRM Innovators
                We're driven by a singular goal:
         To make the relationship between our clients
            and their customers more pro table.

            As Forrester® said in The Forrester Wave™:
                Customer Loyalty Solutions, Q1 2016:

"It's clear that Brierley+Partners is operating on all cylinders
     and showing no signs of slowing down anytime soon."

      Read the Forrester Report, and Learn How We Get More
        Out of Every Customer Relationship at Brierley.com

           DALLAS . LOS ANGELES . LONDON . TOKYO
DAY
                                                                                                                                                                              1
REFRESHMENT BREAK                                                  GRAND FOYER & NORMANDIE LOUNGE

3:00pm – 3:20pm                 Sponsored by

GENERA L SESSION                                                   GRAND BALLROOM

3:20pm – 3:25pm                 Session Introduction Jim Sturm President - Yes Lifecycle Marketing

3:20pm – 3:55pm

WAYFAIR          AI AND HUMANS - HARNESS THE POWER OF TWO TO
                 UNDERSTAND AND REACH YOUR CUSTOMER BETTER
                                                                                                                                                 SUNANDA PARTHASARATHY, PH.D
As retailers and marketers, we care about sending the right message at the right time to our customers, while getting the optimum ROI              Associate Director Data Science,
on our marketing dollars. How do we use the power of AI combined with the rich domain knowledge of humans in marketing to achieve                   Algorithms, Machine Learning
                                                                                                                                                               Wayfair
this? I will walk the attendees through my experiences both from a "vendor" and "client" side to articulate the challenges in this rich field.
I will be digging into specific case studies where we have harnessed cutting edge technologies, like reinforcement learning, along with
human intuition to deliver measurable results in marketing campaigns and consumer experience on ecommerce.

3:55pm – 4:30pm

LOWE'S COMPANIES                   WHAT DOES IT ALL MEAN? HOW TO DESIGN THE BRAND
                                   EXPERIENCE FOR YOUR CUSTOMER
                                                                                                                                                               RUTH CROWLEY
Why does customer experience matter, and how do we, as Retail Marketers, design it? Hear from Ruth as she shares with the audience the           Vice President Customer
advantages of incorporating Behavioral Science into CX initiatives, and how 'Emotional Economics' is a key tenant for the future of the Retail      Experience Design
                                                                                                                                                    Lowe's Companies
industry. Ruth will help guide attendees through the many facets of CX, why it matters, and what it really means. Using Lowe's Companies as an
example, she will show how other retailers can bring together the many methods currently surrounding CX and combine them to their company's advantage.

4:30pm – 5:05pm

SOUTHWEST AIRLINES                    DRIVING CUSTOMER LOYALTY
                                                                                                                                                           JONATHAN CLARKSON
In an increasingly complex world, airline passengers crave a simplified travel experience. Hear how loyalty pioneer Southwest Airlines has lever-         Senior Director Loyalty and
aged "transfarency" to create a simple and hassle-free experience. Jonathan will show the audience why and how Rapid Rewards ® continues                         Partnerships
                                                                                                                                                              Southwest Airlines
to be a leader in the industry through best-in-class initiatives and how that resonates with their members.

WELCOME RECEPTION                                                  GRAND FOYER & NORMANDIE LOUNGE

5:05pm – 6:35pm                 Sponsored by

7:00pm – 10:00pm
                                Retailer Dinner            hosted by
                                To be held at Del Frisco's Double Eagle Steakhouse, occupying three floors of the historic Esquire Theatre in the heart of the Gold coast district. For
                                all Attending Retailers. The evening promises to provide an opportunity to network with fellow retailers and enjoy Chicago style cuisine and conver-
                                sation. Transportation is provided from the CRMC Registration Desk beginning at 6:45pm. If you are a Retailer and did not RSVP when registering,
                                please let a CRMC staff member know you would like to attend.

                                                                                                                                                                                  19
BUILT FOR WHAT'S
     YET TO COME
    Next Generation Loyalty + CRM

The future is coming fast, are you ready for it? The Clutch Platform was built to thrive
   in an increasingly complex ecosystem, powering loyalty, CRM and multichannel
     marketing strategies to keep you ahead of the curve―and the competition.

                           Identify | Understand | Motivate
                                    www.clutch.com
DAY 2                                                           TH URSDAY, JU N E 7

BREAKFAST                                                       BOULEVARD ROOM

7:00am – 8:00am               Sponsored by

GENERA L SESSION                                                GRAND BALLROOM

8:00am – 8:15am
                                                                                        Brent Cooke Vice President of Loyalty, CRM, and Marketing Insights - PetSmart
                                                                                        Pini Yakuel CEO – Optimove
                              The Sweet Rewards of Intelligent Collaboration

8:15am – 9:05am

                              ANDERS SORMAN-NILSSON                        SEAMLESS: COMBINING ARTIFICIAL INTELLIGENCE & HUMAN
                                                                           INTELLIGENCE TO RE-DESIGN RETAIL CX FOR THE FUTURE

                              How do we design a Retail Renaissance, and rejuvenate the retail customer journey in an era of digital retail therapy? How do we move from digital
    Author, Futurist, &       disruption to digital transformation, and how can legacy bricks and mortar retailers curate a seamless blend of digital and analogue touch points
  Innovation Strategist
                              that connect with digital minds and the analogue hearts of tomorrow's consumers? Does tradition have a role in a world dominated by artificial,
    Founder - Thinque
                              exponential technologies? How does human signal get amplified amongst the digital noise, and what lies beyond the near horizon disruption, on
                              the other side of disruptive complexity. Global futurist and humanist Anders Sorman-Nilsson will decode future trends, enable you to decipher signal
                              from noise, and help you re-shape the retail customer journey of tomorrow.

9:05am – 9:40am

STARBUCKS             CUSTOMERS GET LOYAL WHEN YOU GET PERSONAL - HOW STARBUCKS
                      CONTINUES TO GROW THROUGH ITS DIGITAL EXPERIENCES
                                                                                                                                                          SHAWN SWEENEY
Starbucks has created digital experiences that make it simple for customers to get what they want, while also making it fun. Keeping this core          Vice President of Digital
truth at the center of their strategy, Starbucks launched its personalization efforts three years ago. It has now become a growth engine for the              Experiences
                                                                                                                                                               Starbucks
company, making each digital relationship that much more valuable. Shawn will examine the three year journey, with deep dives into gamifica-
tion, rewards, and extending behaviors through app and email channels. Join this session to take a look at some of the disciplines that Starbucks has adopted to evolve its culture
to be more design-centered. Finally, Shawn will dive into future initiatives that will drive the next wave of growth.

REFRESHMENT BREAK                                               GRAND FOYER & NORMANDIE LOUNGE

9:40am – 10:00am              Sponsored by

TOTAL RETAIL PODCAST                                            NORMANDIE LOUNGE

10:00am – 3:30pm              Total Retail Talks is for Retail Executives who crave the knowledge and insights needed to stay successful in today's fast-paced industry.

                                                                                                                                                                              21
GOING FROM
                                                                                                                   Prepaid Mastercard®. While many loyalty programs
                                                                                                                   ask members to use points to enter sweeps,
                                                                                                                   Verizon Small Biz Rewards awarded points just for

CONNECTED TO                                                                                                       participating. This campaign was timely, relevant,
                                                                                                                   and created genuine interactive engagement.

ENGAGED: THE                                                                                                       Speaking of trends, surprise-and-delight offers are

EVOLUTION OF
                                                                                                                   a great way to reward your current and potential
                                                                                                                   customers. That's why we hid this paragraph here.
                                                                                                                   Now, go to Kobie.com/surprise and enter the

LOYALTY                                                                                                            secret word MYSURPRISE for a chance to win an
                                                                                                                   Apple Watch.*

                                                                                                                   Engaging through a community:
BY ADELINE HEYMANN & VINCENT RESCIGNO
                                                                                                                   Google Think reports that 90% of connected
                                                                                                                   customers create online content at least once
According to Google Think's "The Power of Gen                                                                      a month because they feel it's meaningful and
C: Connecting with Your Best Customers" the                                                                        necessary. We see big opportunity in fostering
connected customer, or Generation Connected,                                                                       brand-to-consumer and cross-consumer
is a new lens to look through while keeping up                                                                     communication through an engaged community.
with loyalty evolutions. While most generational                                                                   For example, Sephora encourages their Beauty
segments are defined by an age bracket,                                                                            Insider members to upload their favorite looks.
Gen C is not. They span across eras, based                                                                         While anyone can see and 'heart' posts, only
on psychographics around creation, curation,                                                                       members can create content – making them feel
connection and community.                                                                                          that the community is exclusive. There's also a
                                                                                                                   dedicated question-and-answer type forum for
We're seeing loyalty programs go beyond                                                                            inter-member dialogue.
transaction-based to engagement-based
rewards. As a result, a rising interest in earning                                                                 Similarly, My Starbucks Ideas reinforces community
points for non-transactional behaviors – such as                                                                   and engagement
liking a social media post or writing a review – is                                                                by letting members
becoming more apparent. The positive feelings                                                                      upload feedback and
associated with these interactions increase                                                                        suggestions. As a           Loyalty programs
customer lifetime value and likelihood that they'll                                                                result, this co-creation    that offer a sense of
spend more. By incentivizing engagement, brands                                                                    community helped            belonging create trust
not only show that they are listening, but also                                                                    Starbucks add Wi-Fi,
                                                                                                                                               for the company's
create opportunities for members to feel special.                                                                  private lounges and
                                                                                                                   bring Endless Cups          products and services.
Building an emotional connection:                                                                                  to their locations –
Loyalty programs that offer a sense of belonging                                                                   making members feel
create trust for the company's products and                                                                        as if their voice truly
services. User-generated content encourages                                                                        matters, which leads to greater loyalty.
this behavior. Verizon Small Biz Rewards started
a movement in the industry when they launched                                                                      Bottom Line: Engagement-based earning is the
their Ugly Sweater Sweepstakes. A fun break from                                                                   new loyalty marketing.
the business-to-business industry's stereotypical                                                                  Engagement-based rewards and a sense of co-
blandness, this campaign asked business owners                                                                     created community will make your most loyal
to upload photos in their ugliest holiday sweaters                                                                 customers feel good and come back. To request a
for a chance to win the grand prize of $15,000                                                                     complimentary consultation or for more thought
on a reloadable Verizon Small Biz Rewards                                                                          leadership like this, visit Kobie.com.

INTERESTED IN LEARNING MORE?
Visit us in the Normandie Lounge or email info@kobie.com

*For full sweepstakes rules, visit www.Kobie.com/surprise.

Prepaid cards are issued in connection with a loyalty, award or promotion program. Prepaid card is issued by MetaBank®, Member FDIC, pursuant to license by Mastercard Interna-
tional Incorporated. Mastercard is a registered trademark of Mastercard International Incorporated. No cash access or recurring payments. Card valid for up to 36 months, funds
do not expire and may be available after card expiration date, monthly card account management and post-expiration card re-issuance fees may apply. Card terms and conditions
apply. Card terms and conditions apply, see myprepaidcenter.com/site/mastercard-univ
DAY
                                                                                                                                                                           2

CONCURRENT SESSION                                               GRAND BALLROOM

10:00am – 10:35am

EXPRESS          HOW TO EVOLVE YOUR BRAND AND
                 ACCELERATE YOUR LOYALTY PROGRAM
                                                                                         KATE O'SHAUGHNESSY JUNG                TONY ZUBEK                 SHANNON ANDRICK
Sometimes, it takes an evolution—not a revolution—to reinvent how your brand does          Director, Loyalty, Mobile &    Manager, Credit, Loyalty &     Vice President, Marketing
business. Take inventory of what's worked, and what hasn't, then make smaller,               Strategic Partnerships                Mobile                      Advancement
                                                                                                     Express                      Express                      Alliance Data
strategic moves that can bring big changes. That's what fashion retailer Express did
to turn around six quarters of negative existing customer return rates. By leveraging data-driven insights about their best customers—including crucial demographics like millennials
and gen Z—and sharp analysis of their own data, they were better able to understand what drives both frequency and loyalty. Express focused on who these customers were and
how to inspire both metrics to drive total results. Kate, Tony, and Shannon will share how Express made key changes that helped the brand drive sales and accelerate their loyalty
and credit program. Join them to learn how key insights and small changes can drive big results.

10:35am – 11:10am

GLOSSIER          HOW MAN AND MACHINE CAN WORK TOGETHER TO
                  DELIVER ON THE PRIMORDIAL PROMISE OF CRM
                                                                                                                                 JESSICA WHITE                  PINI YAKUEL
Glossier is a brand obsessed with putting the R in CRM. Glossier's commitment to building true relationships with Executive Director of Customer                     CEO
their customers stems all the way from the very genesis of the brand, that began more than anything else, by word                    Glossier                      Optimove
of mouth, engaging content, and truly listening to their customers and reacting in real time. But how do you do so
at scale? Glossier wants to make sure that they are able to listen and interact with their customers at scale. Identifying key behaviors and indicators in mountains of customer data
requires brands to use best in class AI and analytics capabilities. The aim is to deal head on with the question of whether marketing can ever be completely automated and totally
autonomous. Could a brand essentially configure a set of possible campaigns and let a machine determine the best engagement for every customer? This session will discuss
why a machine can and should take care of the data science, but the marketer should be doing what humans will always do better, and that is focusing on the art of marketing.

REFRESHMENT BREAK                                                GRAND FOYER & NORMANDIE LOUNGE

11:10am – 11:40am              Sponsored by

11:40am – 11:45am              Session Introduction Emily Rudin CrowdTwist

11:45am – 12:20pm

SLEEP NUMBER              HOW SLEEP NUMBER DRIVES CUSTOMER ADVOCACY
                          THROUGH ENGAGEMENT-BASED LOYALTY
                                                                                                                        LISA ERICKSON                EMILY RUDIN
Sleep Number sought to find new ways to deepen relationships with its strong base of loyal advocates and super- Senior Director, CRM & Loyalty Chief Customer Officer
charge customer referrals. They launched the InnerCircle online loyalty program to reward customers for social            Sleep Number                 CrowdTwist
and digital engagement and for making referrals – a significant driver of customer acquisition. In this session,
Lisa and Emily and will share how Sleep Number developed an omnichannel loyalty program that builds relationships with members across all customer touchpoints, drives data
acquisition, and personalizes customer experiences.

                                                                                                                                                                               23
THE FUTURE
                          R E L E VA N T D A T A

    O F R E T A I L
                    TA R G E T E D M E S S A G I N G

    MARKETING
         B R E A K T H R O U G H C O M M U N I C AT I O N S

     IS ALREADY HERE.

L E T ' S D I S C U S S H O W YO U R B R A N D C A N C R A F T A N D D E P L OY
D I R E C T M A I L T H AT R E V O LV E S A R O U N D YO U R C U S T O M E R S .
   V I S I T U S I N T H E N O R M A N D I E C O N V E R S AT I O N L O U N G E

                                P L AT I N U M S P O N S O R

                                                                                    @SPC_Print
                                                               specialtyprintcommunications.com

                     Moon image courtesy NASA/JPL-Caltech
DAY
                                                                                                                                                                          2

12:20pm – 12:55pm

HILTON WORLDWIDE                 WHY AND HOW TO FUTURE-PROOF YOUR
                                 LOYALTY PROGRAM
                                                                                                                         JONATHON WARDMAN                DANELLE WILLIAMS
Jonathon and Danelle will discuss the need for brands – hotel, travel, retail or specialty – to rethink the way       Vice President CRM & Customer Senior Director, Global Loyalty
they engage and interact with their consumers in the fast-evolving loyalty landscape. They will touch on Hilton's                 Platforms                     Platform
                                                                                                                              Hilton Worldwide             Hilton Worldwide
program evolution, where it was, where it's going, and why it is crucial for the future of Hilton's business, the Hilton
Honors member experience, and how loyalty is changing in hospitality and at large. Jonathon and Danelle will also
discuss the operational, cultural and technological alignment needed to achieve the vision of organizational transformation, both internally and externally, along with common
pitfalls to avoid.

CONCURRENT SESSION                                              INTERNATIONAL BALLROOM SOUTH

10:00am – 10:35am

SHOE CARNIVAL              IF THE AUDIENCE FITS, SO WILL THE SHOE
                                                                                                                              KENT ZIMMERMAN                   TRICIA KING
Once upon a time it was widely believed that the more ad reach you had, the more likely your message was to                   Vice President, Digital     Senior Director, Retail
reach the maximum number of potential customers. But reality tells a different story. If you can offer a personal-                Shoe Carnival                Partnerships
                                                                                                                                                             Oracle Data Cloud
ized experience that connects the right people, with the right message, through their preferred digital channels
and devices, your brand, and your customers, will achieve its happily ever after. Shoe Carnival, Inc., one of the
nation's largest family foot retailers in the U.S., is on a never-ending quest to deliver this personalized shopping experience to customers and drive better outcomes from online
targeted audiences. Tune into this session to hear how Shoe Carnival, leverages customer solutions and "always-on" insight to optimize their marketing and advertising efforts, tap
into their most relevant buyers and drive better results.

10:35am – 11:10am

WE AND WALGREENS                   CHARITY + LOYALTY
                                                                                             MARC KIELBURGER                  LINN JORDAN                  SEAN CLAESSEN
This is a story of philanthropy in flux, alongside the changing loyalty game. It's the             Co-Founder                Director of Marketing    EVP Solutions and Innovation
modernization of giving back, gaining loyalty, and weaving a social consciousness                    WE.org                       Walgreens                Bond Brand Loyalty
into your brand to establish trust, lend credence and credibility with your brand among your customers. Conscience is a new currency of Loyalty - a currency for good. WE.org is
a leading global charity that empowers young people to be active locally and globally—as citizens who are also consumers. These things are not mutually exclusive. To date, WE
Day participants have raised $45 million, and that energy is growing with the participation of brands. In partnership with brands such as Walgreens, Pacsun and Unilever, WE.org's
'Track Your Impact' program allows consumers who purchase a product bearing the promise to help build a well in Kenya, send a child to school in Ecuador, or provide leadership
training to empower a student here at home in the US. And, this program is evolving. It's innovative, transparent, and increasingly loyalty-like; arming consumers with choice,
meaning, a sense of social responsibility, and impact—each a new currency of Loyalty. Using insights from The Loyalty Report 2018 and findings from the case study as it unfolds,
Marc, Linn, and Sean will share insights and observations on how retailers are making a real impact at the shelf, while making real impact locally and in communities around the
world. Attendees will learn about developing a social corporate responsibility strategy that drives meaningful engagement, along with meaningful retail results, how to structure
and operate a modern social giving engagement program, advances in tracking mechanisms and loyalty technology. And how to weave impact into consumer brands through
loyalty mechanics. We look forward to seeing you there!

                                                                                                                                                                              25
DAY
                                                                                                                                                                       2
REFRESHMENT BREAK                                                GRAND FOYER & NORMANDIE LOUNGE

11:10am – 11:40pm              Sponsored by

11:45pm – 12:20pm

HUDSON'S BAY COMPANY                      AN INNOVATIVE APPROACH TO CUSTOMER LOYALTY VIA
                                          EXCLUSIVE PRIVILEGES AND PERSONAL ASSISTANCE
                                                                                                                                                       GEERT CROOIJMANS
With an innovative plan for its first retail presence in the Netherlands, learn how the retail giant and oldest company in North America completely        Head of CRM
overhauled its approach to customer experience. Featuring, a comprehensive loyalty program fully integrated with the likes of beacons, loca-          Hudson's Bay Netherlands
tion-based services, a customer-facing mobile app and a unique retailer-facing in-store app, discover just how Hudson's Bay Company leverages
the latest technology to create the ultimate destinations for its customers in a challenging market.

12:20pm – 12:55pm

NEIMAN MARCUS                 ESSENTIALS FOR CX EXCELLENCE:
                              ENGAGEMENT AT 7 LIFECYCLE POINTS
                                                                                                                              SCOTT EMMONS               ERNAN ROMAN
Learn how Neiman-Marcus is achieving excellence in CX by leveraging the power of technology and personalization       Head of Innovation Lab            Author & President
throughout the customer relationship via Memory Makeover, personalized videos and communications. Attend this             Neiman Marcus                    ERDM Corp.
session to learn the 7 critical points in the customer lifecycle, and how Neiman Marcus applied them. You will also
hear research-based VoC insights regarding expectations for improved CX and personalization. See when personalized experiences driven by explicit preferences are expected, and
how your data strategies can evolve from implicit information to explicit preference-driven data.

LUNCHEON                                                         CONTINENTAL BALLROOM

1:00pm – 2:00pm            Sponsored by

                                                                                                                                                                            27
SPEED DATING                                                     INTERNATIONAL BALLROOM SOUTH

                           Join this popular session to meet Sponsors as well as fellow Retailers. Choose up to eight companies and be sure to bring your Dance Card. If you
2:00pm – 3:30pm            are a Retailer and did not yet sign up for this session, stop by the Information and Collaboration desk so that we may assist you. Be sure to join us to
                           make the most out of collaboration and learning at the event.

GENERA L SESSION                                                 GRAND BALLROOM

3:30pm – 3:35am                Session Introduction Zack Woith Vice President, Loyalty Strategy - Merkle

3:35pm – 4:10pm

WOLVERINE WORLDWIDE                      HOW DATA CAN CREATE IMPACTFUL
                                         CUSTOMER EXPERIENCES
                                                                                                                               DANIELLE LEVEILLE           RACHEL WALDSTEIN
Wolverine Worldwide is a company that has the world at their feet, both literally and figuratively. As a global market-          Director of CRM       Senior Manager, CRM Strategy
er of branded footwear, as well as apparel and accessories, this apt saying not only speaks to their focus, but also           Wolverine Worldwide          Wolverine Worldwide
to the bright future before them. With an established global footprint that spans approximately 200 countries and
territories, as well as a rock-solid infrastructure, Wolverine Worldwide is dedicated to advancing the (currently) 10 brands that compromise their ever-expanding portfolio. To better
understand, acquire, and retain customers WWW is driven to use data in the most efficient, holistic way by leveraging insights across every decision and marketing touchpoint,
enabling teams to optimize campaigns around lifetime value. Learn from Danielle and Rachel how WWW is using insights and actionable data to encourage her partners to think
outside the box allowing them to test and implement powerful personalized campaigns that create impactful customer experiences across channels.

4:10Pm – 5:00pm

                               DAVID GARIBALDI               PASSION + PURPOSE

                               Welcome to the world of Garibaldi. Join us to watch David transform an empty canvas into a work of art before your eyes. His pop portraits will
    Artist, Performer,         explode on stage set to music and will be auctioned for charity at the event.
     Philanthropist

NETWORKING RECEPT ION                                            GRAND FOYER & NORMANDIE LOUNGE

5:00pm – 6:30pm            Sponsored by

 28
Data and the Next Generation
of Customer Experience
Even with complex and unique digital journeys, customers
expect brands to really know them and give them seamless
experiences at every step. Data is the key to creating
meaningful interactions at scale between consumers and
the brands they love. As the data foundation for the world's
best marketers, we are dedicated to helping marketers
reach audiences with relevant messages driven by insight
and connectivity to deliver personalized experiences that
foster loyalty, drive revenue, and set your brand above
your competition.

Be in all the right places with Acxiom and LiveRamp
at CRMC 2018:
Stop by our kiosk in the Grand Ballroom Foyer.
Visit acxiom.com/retail.

   #NextGenAcxiom

  With Aimia as your loyalty partner, you gain
  a complete perspective of your customer throughout
  her journey. Using the right tools to engage her at every
  touchpoint, you inspire her to grow as your customer.
      Data-driven personalization
              Campaigns in minutes
                     Analytics in real time

 Start Your Journey of Customer Growth
 763-445-3500
 loyalty@aimia.com
DAY 3                                                              FRIDAY, JU N E 8

BREAKFAST                                                          BOULEVARD ROOM

7:15am-8:15am                   Sponsored by

GENERA L SESSION                                                   GRAND BALLROOM - SECOND FLOOR

8:15am – 8:20am                 Session Introduction Mary Staples Vice President, Retail & Travel Data Solutions – Epsilon

8:20am – 9:05am

                                BRIAN BEITLER             THE POWER & IMPORTANCE OF PURPOSEFUL MARKETING

                                In this media fragmented, over-assorted, and attention starved world, it has never been more important for brands and marketers to find ways to
Chairman of the Executive       more deeply connect with their customers and prospective customers. World-class CRM & personalization is helpful, but they will never be enough
   Board, GRMA C-Suite
                                on their own to create strong, lasting brand desire. You must have a deep emotional understanding of your customers' needs and align that under-
 Forum / Chief Marketing
   Officer / eCommerce
                                standing with a strong brand position to build enduring relationships. Brian will share his specific approach for identifying purposeful connections
           Leader               between customers & brands. The same method he has used over 20 year and across several leading brands, including Hot Wheels, Toys R Us, Bath
                                & Body Works, Kohls, David's Bridal, and Lane Bryant.

9:05am - 9:40am

LUXOTTICA            THE JOURNEY FROM TRADITIONAL 1-TO-1 TO DIGITAL 1-TO-1
                                                                                                                                                           TIZIANO CEMBALI
After internalizing their customer database, analytics practice, and creating the 360-view of the customer, two years ago Luxottica began the            Vice President Targeting
journey toward digital 1-to1. Join this session to share the journey so far, including internalization of the DMP, integration with media, and placing          and Media
                                                                                                                                                             Luxottica Group
customer at the center of process marketing planning. You will also hear the challenges encountered from organizational setup, to change
management, and cross training; as well as where we are headed in the future to deepen our targeting methods, activating at-scale third party
data, and lastly plans for global expansion.

REFRESHMENT BREAK                                                  GRAND FOYER & NORMANDIE LOUNGE

9:40am – 9:55am                 Sponsored by

  30
Know what
your customers
want before
they do
Alliance Data offers the industry's most powerful
marketing toolset that will deliver the insights
your brand needs to drive growth and build
lasting loyalty.

KnowMoreSellMore.com

                                            @Alliance Data card services       @Know_SellMore

CUSTOMER EXPECTATIONS                                              Your customers expect more
                                                                   than a traditional loyalty
HAVE CHANGED.                                                      program. At best, these
                                                                   programs are ignored. At
WHY HAVEN'T                                                        worst, they're margin killers.

LOYALTY PROGRAMS?                                                  Maybe there's a reason
                                                                   over half of all loyalty
                                                                   memberships are inactive.

                                                                   THAT'S WHERE
www.claruscommerce.com                                             PREMIUM LOYALTY
                                                                   PROGRAMS CAN HELP.
DAY
      3

GENERA L SESSION                                                 GRAND BALLROOM – SECOND FLOOR

9:55am – 10:00am               Session Introduction Whit Goodrich SVP & Chief Marketing Officer, Retail Cards - Synchrony

10:00am - 10:35am

TILLYS       BEYOND THE "COOL FACTOR" - HOW TILLYS USES MOBILE
             AND AR TO ENHANCE THE IN-STORE EXPERIENCE
                                                                                                                                 JON KUBO                MAYA MIKHAILOV
Last summer, Tillys relaunched its mobile app with an in-store scavenger hunt hosted by YouTube influencer                 Chief Digital Officer         CMO and Co-Founder
Shonduras. Utilizing augmented reality (AR), social media, gamification and influencer marketing, the campaign                    Tillys                     GPShopper
boosted in-store traffic and brand engagement - particularly amongst young customers. Learn how Tillys uses
smartphone technology to motivate offline behavior and draw customers into its stores, bridging the digital and physical shopping experience.

10:35am – 11:10am

DSW        DATA-DRIVEN LOYALTY MARKETING BUILDS
           A SHOE HABIT
                                                           ÷

                                                                                                                                 JULIE ROY             CLAY WALTON HOUSE
In 2017 DSW announced a new brand mission: We inspire self-expression. Building on the new mission, the brand                 Vice President,            Head of Consumer
is in the midst of a customer-driven transformation that is having impact across the company. In this session, Julie           CRM, Digital,              Strategy Services
                                                                                                                           & Marketing Analytics                Lenati
will share the insights and strategy behind key initiatives including the recent relaunch of DSW VIP loyalty program,              DSW
advanced personalization, and new services and in-store experiences that deepen the customer relationship and
give the customer reasons to come to DSW that go beyond shopping. Julie will also discuss DSW's work with Google Cloud on an agile approach to building a customer data lake
that will serve as the foundation for advanced analytics and core personalization. She'll share how this work is changing both the customer experience and the day-to-day work of
the marketers on her team.

11:10am - 11:40am

PANEL        CUSTOMER EXPERIENCE IS THE NEW
             DRIVER FOR LOYALTY
                                                                                         KELLI BERKOWITZ DEBRA COOMER                     BEN EASON           MARY STAPLES
Join marketing, analytics and loyalty leaders from top traditional, beauty and phar-           Director,           Senior Director, SVP Client Development Vice President Retail
macy-led retailers as they discuss how data, CRM, and loyalty are the key to uniting People Based Marketing Marketing Analytics            Conversant              Epsilon
                                                                                                Petco           and Customer Insights
online and offline shopping experiences that build customer loyalty. This discussion                                     Ulta
will be led by global marketing leaders and will explore how fusing data, ad tech-
nology and content together helps leading retailers gain a full view of the customer and deliver a fully integrated, personalized multichannel brand experience to create lifetime
customer connections and drive business growth.

11:40am – 12:00pm              Prize Giveaway

12:00pm                        Adjourn

12:00pm – 1:30pm               Advisory Board Luncheon: Boulevard Room

 32
COMARCH
LOYALTY MANAGEMENT
AWARD-WINNING LOYALTY PLATFORM
CUSTOMIZABLE FOR COMPREHENSIVE
RETAIL-SPECIFIC SCENARIOS

  MULTI-PROGRAM CAPABILITIES
  CO-BRANDED CREDIT CARDS
  IN-STORE APPLICATIONS
  LOCATION BASED SERVICES
  GAMIFICATION

                                             www.crm-marketing.comarch.com

     To transform
customer experiences,
    build demand,
    foster loyalty,
  and deliver results,
 Lenati is your partner.

insights@Lenati.com | Lenati.com | @Lenati
Shop the world's
largest audience
marketplace and
they'll shop you.
Elevate your acquisition and retention
strategy with rich customer insights
so you can deliver relevant experiences
that drive engagement & loyalty.

Contact The Data Hotline at: www.oracle.com/thedatahotline

Copyright ©2018, Oracle Corporation and/or its affiliates. All rights reserved. Oracle is a registered trademark
of Oracle Corporation and/or its affiliates. Other names may be trademarks of their respective owners.

                   An integrated marketing platform

     Data                                                   Creative                                               Integrated
  Strategies                                               Operations                                               Execution

qg.com
ADVISORY BOARD

CRMC Advisory Board Chair
Brent Cooke
                                                     Danielle Leveille
Vice President CRM, Loyalty & Marketing Insights
PetSmart
                                                     Director of CRM
CRMC Host                                            Wolverine Worldwide

Craig Wood                                           Carol McIntyre                                                   Ian Richards
Founder & CEO                                        Vice President, CRM & Loyalty                                    Vice President Digital Marketing and CRM
The Collaboratory                                    L'Oreal                                                          Laura Canada

Sean Breckenridge                                    Jenn McMillen                                                    Ernan Roman
Senior Director of Marketing                         Chief Accelerant & CEO                                           President
Bass Pro Shops                                       Incendio                                                         ERDM, Corp

Kimberley Brennan                                    Eric Messerschmidt                                               Robin Ross
Director, Enterprise Customer Loyalty                SVP Marketing Strategy, Loyalty and CRM                          Senior Director, Corporate Marketing
Petco                                                Ulta Beauty                                                      Costco Wholesale

Chuck Chapek                                         Toni Miller                                                      Dave Sims
Vice President, CRM & Loyalty                        Senior Executive Vice President - Chief Administrative Officer   Vice President Retention and Loyalty
The Vitamin Shoppe                                   and Chief Financial Officer                                      Nordstrom

Paulo Claussen                                                                                                        Yoshi Tanaka
                                                     Boscov's

Senior Director of Loyalty                           Rachel Minerva                                                   Director
PetSmart                                             Vice President, Soma                                             American Airlines

Ian Dewar                                                                                                             Emily Teele
                                                     Chico's FAS, Inc.

Director of Customer Lifecycle and Analytics         Paul Murray                                                      Senior Director, Global Loyalty
The North Face                                       Director of Digital Experience                                   Nike

Joy Garcia                                                                                                            Erica Thompson
                                                     Dunkin' Brands

Group Vice President, Customer and Brand Marketing   Amy Nelson                                                       Vice President Marketing
Stage Stores                                         Senior Director of Customer Marketing                            Guitar Center

Wade Lee Jones                                                                                                        Tom Tracy
                                                     Abercrombie & Fitch

Vice President, Marketing and Merchandising          Charles Pascalar                                                 Former SVP Marketing
CafePress                                            Consultant                                                       Monro Muffler Brake

                                                                                                                                                                 35
WORKSHOPS

1        OPTIMOVE          SEASONING YOUR CRM MARKETING WITH
                           DIY DATA HACKS

                                                                                                                      YONI BARZILAY                   HADAS TAMIR
How reliant are you on your data scientist to send out a personalized CRM campaign? How long does it take from
ideating a campaign until it's executed? Many times marketing teams are over-reliant on different departments
                                                                                                                  Executive Data Scientist Director of Customer Success
to execute their vision, making it difficult to move at the speed of their customers. In this workshop, Yoni and
                                                                                                                         Optimove                       Optimove
Hadas will share DIY hacks that will help any marketing team adjust and perfect their CRM marketing effort
and resources. Learn Excel-based DIY methods to define which customers are at risk of churn, who are your VIPs and potential VIPs, how to utilize customers' lifetime values
to create personalized journeys for maximum long-term revenue, and many more. Please have your laptop with you, as we will be practicing with Excel during this workshop.
BOULEVARD AB, SECOND FLOOR

2        BOND BRAND LOYALTY                 SEASONING YOUR CRM MARKETING
                                            WITH DIY DATA HACKS

                                                                                                                       SCOTT ROBINSON                   SEAN CLAESSEN
Loyalty is changing faster than ever before. Disrupted by escalating customer expectations, new players, evolving
tech, different÷ rules and goals, and more. Retailers need to move beyond traditional Loyalty to ensure that they
better engage in new, and more personalized ways. Where to start and what to focus on when operating at speed        Vice President Design &       EVP Solutions & Innovation
                                                                                                                             Strategy                  Bond Brand Loyalty
of retail? Join Scott and Sean as they reveal what matters most, and how to get there. In this highly interactive      Bond Brand Loyalty
session they will share invaluable sneak peek insights from The Loyalty Report 2018 and identify what you need
to know about paid programs, the new currencies of loyalty, unmet member needs, loyaltech Innovations, and hospitality as a competency not a category. This workshop will
share Bond's Forrester-validated customer engagement design best practices and frameworks, and will include exercises that will help you strategize your next move. The game
is afoot. CONTINENTAL A, LOBBY LEVEL

3        OLSON 1TO1         HUMANIZING LOYALTY: A ROADMAP TO ESTABLISHING
                            GENUINE EMOTIONAL LOYALTY AT SCALE

                                                                                                                                  DENISE HOLT                      SUZY COX
In this workshop, Olson 1to1 will define what humanizing the brand and loyalty experience means, and why it's
more critical than ever to creating an unbreakable bond with your customers. Join Olson 1to1 as it shares its latest
                                                                                                                                  Vice President,             EVP, Client Success &
loyalty research findings and provides strategies that you can start using right away to address the one thing your             Strategy & Insights                   Growth
customers want more than anything from you—something more real, more genuine, a more human experience                               Olson 1to1                     Olson 1to1
with your brand. With an intentional shift from head to heart, join us as we reimagine the future of customer
loyalty. CONTINENTAL B, LOBBY LEVEL

4        VERACENTRA            PERSONALIZATION 2.0: NOW IS THE TIME
                               TO UP YOUR GAME!

                                                                                                                                   ANDREA SHAIKIN                  CONNIE HILL
Research continues to point to the value of personalization as a huge opportunity to gain a competitive edge in
customer acquisition and loyalty. Yet many brands still struggle to get personalization right. The fact is customers,
                                                                                                                              Former Director of Marketing            President
not companies, determine if an experience is personalized. And the gap between customer expectations and brand                   Loyalty and Innovation              VeraCentra
ability to deliver across channel continues to get wider. Studies reveal that customers believe brand efforts to per-               Staples Canada
sonalize their experiences are superficial. It's now imperative for brands to take their personalization efforts to the
next level or risk alienating customers with superficial, "old-school" personalization strategies. During this interactive workshop you will learn how to design personalized experience
strategies sure to attract new customers and ensure the retention of your valuable existing customers. You'll also discover how top brands are succeeding with more advanced
personalization. Join us and discover how to develop a coordinated holistic personalization strategy by putting the customer first; how to leverage advanced analytics and models
to support your strategies; how to design customer journeys than span multiple channels; and how to test your ideas in real time and rapidly iterate for optimum results. You'll walk
away with a step by step process for personalized experience design optimization and be able to lead the way in next-generation personalization. CONTINENTAL C, LOBBY LEVEL

    36