Royal Anglian News
If your browser does not support JavaScript, please read the page content below: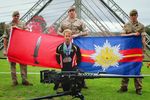 www.royalanglianregiment.com facebook.com/theroyalanglianregiment SEPTEMBER 2019 !1 Royal Anglian News September2019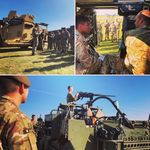 www.royalanglianregiment.com facebook.com/theroyalanglianregiment Regimental Matters Front cover: Photograph of out 3rd Bn Colours at our Drumhead service at our memorial on Regimental Day London Gazette Extracts August 2019 Promotions Majors
Capt C M Winterman to be Maj wef Jul 19
J R P Heugh to be Maj wef Jul 19
W R Hoy to be Maj wef Jul 19 Captain
Lt K A Forsyth to be Capt wef Apr 2019
Lt T P Lister to be Capt wef Apr 2019 SSC Lt
2Lt M J N Andrews to be Lt wef Apr 2019
2Lt G R Liddington to be Lt wef Apr 2019
2Lt C Thompson to be Lt wef Apr 2019
2Lt J B Wright to be Lt wef Apr 2019 LSGCM
Maj D N Broomfield
Maj J M Lanham
Sgt R Patel 1st Clasp to VRSM Lt Col D GVincent MBE SEPTEMBER 2019 !2 Diary Dates 2019 September 29 Regimental Chapel Service Royal Hospital Chelsea October 2 October - Gen Lord Dannatt 'Boots on The Ground' talk - Cambridge Union for Benevolence 6 Freedom of Haverhill by The 1st Bn 6 Chapel Sunday - Warley 12 4th/5th Bn Leicestershire Regt Officer's dinner, Devonshire House, Leicester 19 Venraj 75th NL.A (Norfolk) Coy. 19 Centenary rededication of the East Kirkby war memorial, near Horncastle November 1 Regt Council Meetings 1 Regt Officers' Dinner Club 2 Cambs Utd FC Game - Regt Benevolence 3 Chapel Sunday - Warley 7 Field of Remembrance - Westminster Abbey 10 Regt Remembrance Service - IWM Duxford 11 Norfolk Regt Cottages Remembrance Service 21 Henry Blofeld talk. Cambridge for Benevolence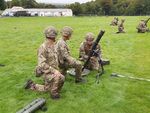 www.royalanglianregiment.com facebook.com/theroyalanglianregiment 2nd Clasp to VRSM
Sgt P F Cain
CSgt M G Hardy
Maj A J Horner
CSgt W Sheils VRSM
Musn J Barnett Retirements
Capt C E Leese wef May 2019 SEPTEMBER 2019 !3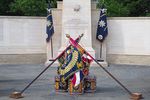 www.royalanglianregiment.com facebook.com/theroyalanglianregiment Regimental Day The Regimental Day at the Imperial War Museum in Duxford was attended by over 2000 veterans and serving Royal Anglians, Cadets and their families. It was also fittingly, a gloriously warm and sunny day.The day started with a very moving and poignant Drumhead Service taken by our honorary chaplain Paul Whitehead, supported by Padre Jonathon Wiley.The Service was in front of our Regimental Memorial during which wreaths were laid by Brig Olly Brown for the Regt, Gen Simon Porter for the Assoc and Lisa Rout for the fallen.
Following the service the march past was expertly marshalled by WO1 (RSM) S Hume of The 3rd Bn, which reflected the 4 battalions of the formation of the Regiment in 1964, with detachments of the Army Reserve and Cadets.The afternoon was a fully fledged family affair with bouncy castles, bars and food outlets.The day ended with a Flag Lowering ceremony by our Cadets. Musical support was provided by Capt Peter Hudson and our Regimental band, and the Corps of Drums of our ACF.
SEPTEMBER 2019 !4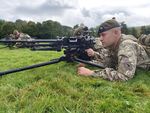 www.royalanglianregiment.com facebook.com/theroyalanglianregiment New Regimental Shop Have you had eyes-on The Royal Anglian Regiment's new shop? Royal Anglian Direct is live now! www.RoyalAnglianDirect.co.uk. A proportion of the funds from Royal Anglian Direct will be fed back into The Regiment to support our benevolence and welfare activities. SEPTEMBER 2019 !5 shop@royalangliandirect.co.uk 0333 335 0524 www.royalangliandirect.co.uk OFFICIAL ONLINE STORE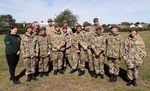 www.royalanglianregiment.com facebook.com/theroyalanglianregiment 1st Battalion (The Vikings) Resetting after summer leave After Minden Day celebrations and a good summer leave the Battalion paraded together in September for the first time since Summer 2018 when the deployment of most of the Battalion to Afghanistan began, followed by the deployment of A (Norfolk) Company to South Sudan.This is a period of individual training and cadres as we work towards our programme for 2019 and 2020, which looks as full as ever! Elements of support weapons are in Sennybridge with the 3rd Battalion with other support weapons cadres running soon.
Highlights ahead of us include Inter-Company boxing in October, support to Exercise WESSEX STORM with the 2nd and 3rd Battalions in Feb 2020. And all are looking forward to Exercise ASKARI STORM in Kenya in early 2020.
Spartan Race Congratulations to Sergeant Roberts of The 1st Battalion (TheVikings) for an impressive result at the Spartan Obstacle Course Race. He secured first place in the 5km sprint, second place in his 22km race and third in the UK series in his age group. SEPTEMBER 2019 !6
www.royalanglianregiment.com facebook.com/theroyalanglianregiment 2nd Battalion (The Poachers) Foxhound September has seen the Battalion return to work in Kendrew Barracks following the unit move from Cyprus. It has been a busy month getting ourselves set in camp, with the focus now firmly on our conversion to a Light Mechanised Infantry Battalion and Ex WESSEX STORM 20/1 in early Spring 2020.
As part of the conversion many of our soldiers are gaining CAT C driving license qualifications and subsequently attending Foxhound driving courses.This process really has highlighted that the Army continues to offer continued professional development throughout a soldier's career. Over the next month the Battalion will learn to "fight" from the vehicles in a number of exercises throughout the country. It is a busy time in the Poachers, but an exciting one!
SEPTEMBER 2019 !7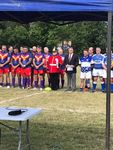 www.royalanglianregiment.com facebook.com/theroyalanglianregiment 3rd Battalion (The Steelbacks) Steelbacks in Brecon This week The 3rd Battalion (The Steelbacks) deployed to Brecon,Wales on their Annual Deployment Exercise. Whilst deployed their support weapons platoons have been training alongside their 1st Battalion (The Vikings) counterparts in the build up to their live firing. SEPTEMBER 2019 !8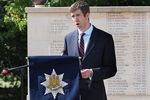 www.royalanglianregiment.com facebook.com/theroyalanglianregiment Museum News Starting off the month with Regimental Day is a great way to start September.
It's great to meet new people and see some of the Royal Anglians who are in contact with the museum more regularly. I think the museum tent with scrapbooks and photographs was well received and people had a good time reminiscing. In mid-November we had a cadet group from Evington ACF in Leicestershire.They were great and even donated £50 to the museum! I also met the 2nd Battalion Engagement team for the first time who were great with them.
We had a great Air show at Duxford, and our stall made it into the Daily news, a link can be found here: https://www.dailymail.co.uk/news/article-7489163/Crowds-enjoy-displays-Spit fires-Hurricanes-Lancasterbombers-Duxford-Air-Show.html Also, one of the littlest Poachers was born this month! Little Miss Phoebe Rose Davidson, to Lee and Linzi Davidson. Regimental family is always very important and Lee had been into the Museum, so we sent along a card for the new addition! SEPTEMBER 2019 !9 Type to enter text
www.royalanglianregiment.com facebook.com/theroyalanglianregiment Armed Services Mountaineering Team CSgt Phil Coleby of the 1st Battalion has been selected for the Armed Services Mountaineering Team's 2020 expedition in the Himalaya's.
It's a significant achievement, has involved a lot of hard work and the Regiment congratulates him on his achievement.The Regiment and the 1st Battalion have also made grants to contribute towards the cost of the Expedition. The expedition will be executed in 2 phases: a 23-day high-altitude trekking team which include the Gondogoro La at 5600m; and a 60-day extreme highaltitude mountaineering team, which will include an ascent of Broad Peak at 8051m.We look forward to publishing CSgt Phil Coleby's account. The Freedom of Haverhill The Regiment is honoured to have been offered the freedom of Haverhill.The 1st Battalion with a supporting band will receive and exercise the freedom of Haverhill on Sunday the 6th of October.
Col Guy Foden, formerly Commanding Officer of the 1st Battalion will take the salute with the Mayor of Haverhill. All members of the Regimental family are warmly invited to attend to support the 1st Battalion who have recently returned from their Operational Tour in Afghanistan.Those wishing to attend should gather in The Market Square for 2:30.
SEPTEMBER 2019 !10
www.royalanglianregiment.com facebook.com/theroyalanglianregiment Regimental Rugby At the home of Camelot RUFC in Hemel Hempstead the Regimental team played their 19th annual memorial match.A crowd of over 200 saw a mixture of veterans and serving members take on a Camelot XV in a hard-fought match.A tight first half saw the Regiment take a 5-0 lead and that lead was never surrendered as the Regiment score 3 tries to run out comfortable 15-0 winners on the day. The match was preceded as ever by the roll of honour read by Lt Colonel Danny Mackness before the last post and reveille were sounded.
Post-match, stand-in President Lt Col (Retd) Nick Brehaut presented caps to Danny Mackness (Pompadours) in recognition of all his work and support for the club, Club 10 caps marking 10 appearances for the Regiment to Andy Cullen (5 R Anglian), Jim Cunningham (Pompadours),Tim Tawse (Vikings),Tim Heale (Poachers) and Peter 'Dutch'VB (Pompadours). They joined previous club 10 recipients, Jock Appleton, Nick Kelly (RIP), Julian Pollard (RIP) all (Vikings) and Jim Green, Chris Seeley, Peter Gadsden, Greg Lawrence, Dan Lawrence, Jim Clancy all (Pompadours) and the first club award 20 Adrian 'Animal'' Anema (Vikings) Posthumous caps were awarded to Mark Hylands (5 R Anglian) and Darren George (Vikings).
It was the biggest round of applause of the day when Darren's son Connor collected the cap. The post-match activities cannot be written about here as what goes on tour stays on tour, but the great supermen drank another rugby club dry causing the bar manager to deploy to the local supermarket at around 2100hrs for a replen.The event superbly organised by Nick Fitt (Pompadours) raising £2200 for the benevolent fund.
Next year the event takes place in Witham RFC in Essex on 05 Sep 20 and all are welcome.A passing interest in rugby is not even a necessity just the willingness to gather together as a family and reminisce. Details can be found on FB on The Royal Anglian Regimental Rugby Witham 2020 page. SEPTEMBER 2019 !11
www.royalanglianregiment.com facebook.com/theroyalanglianregiment Regimental Bulletins This month RHQ has sent the Regimental family 14 Regimental bulletins, which will also be available on the Regimental Website:
Bulletin 82/19 - Death of Shirley Trollope
Bulletin 83/19 - Regt Museum Curator ITV
Bulletin 84/19 - Death of Capt Peter Keal
Bulletin 85/19 - Field of Remembrance
Bulletin 87/19 - Death of Gareth Harris
Bulletin 88/19 - CenotaphVeterans Parade
Bulletin 89/19 - Museum Op Tour Book Request
Bulletin 90/19 - Castle Calling Notice
Bulletin 91/19 - Royal Anglian Book
Bulletin 92/19 - Death of Maj Tony Amos
Bulletin 93/19 - Re-Dedication - East Kirby
Bulletin 94/19 - Officers Dinner Calling Notice
Bulletin 95/19 - Death of Capt L J Barrons
Bulletin /19 - SEPTEMBER 2019 !12
www.royalanglianregiment.com facebook.com/theroyalanglianregiment A Royal Anglian A Royal Anglian: The memoirs of a squaddie, 1975-86 Mark Eagle served with the 3rd Battalion for 11 years and saw service in Cyprus, Belize, Kenya, Northern Ireland, the USA and Germany before making the decision to swap the khaki and boots for a job in civvy street – a decision he has regretted ever since. He still relives the excitement, the laughs and the occasional horrors of his time with the finest fighting force in the world, and he still misses the comradeship, the laughs and the lifelong friendships he made.
Available from Amazon UK. ISBN-13; 978-169143194 SEPTEMBER 2019 !13