UCD REGISTRATION SEASON - 2017/18 Start of academic year planning information for staff and faculty Session 1 14 June 2017 - University College Dublin
Page content transcription
If your browser does not render page correctly, please read the page content below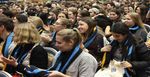 UCD REGISTRATION
              SEASON
              2017/18

Start of academic year planning information for staff and faculty
                           Session 1
                          14 June 2017
Our agenda for today

UCD               Welcome – Andy Myler

                  Curriculum Management, Programme Verification
Registration      and Timetabling – Hayley Burke

Season            Undergraduate Orientation – Jason Masterson

2017/18
                  Key registration dates – Caroline Barrett

                  UCD Residences – June O'Connor

                  Library orientation – Christine Cullen

                  UCD International – Colin Tannam
Information Sessions
                Inclusion-Information-Involvement

                18 July session
                • Student Desk Supports
                • UCARD
                • UCD IT Services
                • PDARF project update
                • UCD Gender Identity Policy update
Start of Year   • UCD Registry communications

  Updates        Start of Year Planning web page will
                 be updated throughout the summer:
                 www.ucd.ie/registry/adminservices/records/reg_plan.html

                 The next Community of Practice event 18 July,
                 following the next Registry information session.
                 Details will be available in the first WST newsletter
                 which will be circulated on 28 June.
Focus areas

               1. Module registration – focus on Stage 1
               2. Fees information during registration

               •   Electives Implementation & elective provision

 Review of     •   Curriculum Browser amendments to allow an
                   easier search for students

Registration   •
               •
                   Current review of registration process
                   Communications to Stage 1 students re

   2016        •
                   module registration
                   Fees calculator being tested at present for
                   September
Updates 2017

               •   20,000 visits to the Student Desk in last 12
                   months

               •   Registration Made Easy Lab in the Newman
                   Building again this year
Registration
                   Info session for Stage 1
   2017
               •

               •   Students on the Student Desk!
Module Descriptor open from 13 June to 13 July

              •   Dependencies cannot be added at this time

              •   All other sections, including Assessment, can be
                  edited

              •   Useful reports in InfoHub for Schools & Module
                  Coordinators to show where information is missing:
                   • Majors missing data
                   • Modules missing data

 Curriculum   Module List Management open until end of July

Management    •   This   enables Schools to:
                    •    Manage capacity
                    •    Amend Module Coordinators
                    •    Change Semesters

                  **Please consider Timetabling consequences when amending
                                   capacity and semesters**
•   The deadline for submitting timetables was 31
                  May

              •   Peak processing period for timetables is right now

              •   The timetables have been switched to 2017 in
                  InfoHub. However, if your timetable has not been
                  processed, it will show 2016 information

              •   Timetables are subject to change

Timetabling   •   Room Allocations are following up with queries
                  and advising where timetable has been processed
                  and is ready for review

              •   Please get in touch with Room Allocations
                  (room.allocations@ucd.ie) should you require
                  further timetabling assistance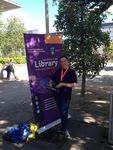 •   Programme Verification Requires
                    • Stable programme structures
                    • Completed timetable – with rooms allocated
                    • Modules with correct capacity set
                    • Appropriate module dependencies
                    • Adequate elective/in-programme elective
                       modules
                    • Staff available to run the process!

Programme      •   Mid-June is earliest likely start

Verification   •   We will liaise with Programme Offices

                   Contact your College Liaison or email curriculum@ucd.ie
                   with any queries
Undergraduate
 Orientation
 Jason Masterson
 Project Manager
 orientation@ucd.ie
120+                     650+
Orientation
                        Peer Mentors
  Guides

         5000        Students

              90% Attend
              Orientation

  1200                   1000+
                         Estimated total
Free Hotdogs               number of
                        volunteers onsite
Quotes from Incoming Students
                                   What was your favourite part of Orientation?

                                                                                                      "Outdoor
     "President's Welcome                                                                             Cinema"
      made me indeed feel
    welcome, and I couldn't                      "The two days we spent with
    wait to start and officially                 our peer mentor touring the         "Scarf
      become a student of                                                          Ceremony"
                                                 campus. We picked up some
              UCD!"                            invaluable tips and the friends I
                                               made in my group are the ones
                                                  I'm closest with so far this
                                                             year!"

                                                                                        "The cup of tea and a chat
                   "The Giant Trampolines                                                   in the Arts building
                     in the Sport Centre"                                                 basement was the best
                                                                                        part as it really helped me
  "Free                                                                                   to get to know my peer
                                                                       "Open Mic
Breakfast"                                                                              mentor group, and others
                                                                         Night"
                                                                                               on my course"

                                                "The
                                              Debates"
President's Welcomes

 83% of students reported the President's
  Welcome was Excellent or Good

 That is up 15% on last year

 #HelloUCD video worked well

 Will run on the 5/6/7/8 September at 9.00am in
  O'Reilly Hall Students will be asked to arrive at
  8.40am

 International Students welcome will take place
  on Wednesday, 6 September at 7.30pm

 Invitations to invite Academic staff to be sent
  closer to date
Timetables

 Programme timetables currently being completed
  by Programme Offices

 Any comments/recommendation to be issued to
  PODs

 Live on New Students website by mid August
UCARD Collection

 Centralised UCARD collection location

 UCARD Central Hub to be located in building 71
  – formally known as the Student Club
Communications
  #helloucd

 Centralised approach to communications

     Registry take academic and registration lead
     Student Centre take social lead
     Hashtag #helloucd

 Material being produced

     Instructional items from Registry
     Social items from Student Centre, SU and
      Clubs and Societies

 Keep an eye on Instagram
Packed Social Events – 77% approval

www.ucd.ie/students
Social Events

 Submit an event:
https://docs.google.com/forms/d/e/1FAIpQLSd54qus
KLwxp5qbIb2f__eBKhcmGemihU-
PZEGIOdaSU3FnhQ/viewform?usp=sf_link

 Full calendar of events to be issued in July
  including:

     A flavour of International Cultures- food and
      entertainment
     Outdoor Cinema Screening (weather
      permitting), Student Centre Quad
     Wednesday - The Big Orientation BBQ, food
      and entertainment.
     Workshop - Getting Involved in UCD Life (SU,
      Clubs and Societies) on Wednesday, 6
      September at 1pm
     Sport's tours
Signage

 Orientation banners to be installed at N11
  and Clonskeagh entrance

 4 Orientation information stands to be placed
  in key locations

 Temporary directional signage
Orientation videos

Orientation Video 2016
https://www.youtube.com/watch?v=cP0aflnhmZE

Other videos:
http://www.ucd.ie/studentcentre/studentexperience/videos/
Registration 2017/18
     Key Dates

    Caroline Barrett
General information

               •   Dates approved at Registration Implementation
                   Oversight Group (RIOG) on 24 May 2017

               •   Published on Key Dates page:
                   www.ucd.ie/students/keydates.htm

    Key        •   Broadly, dates for all students are following the
                   same pattern as last year
Registration
                   Start Time dates are 'starting from' dates rather than
   Dates
               •
                   'everyone will register on'

               •   Graduate Taught (GT) students will not be 'booking' a
                   start time, one will be allocated to them
 2017/18
Date       Programme                                    Earliest Start
                                                                        Time

                2 August   Higher years      •   BA                     15 August
                           of:               •   Business
                                             •   Law (Stage 2/3/4)
                                             •   Law With (Stage 3/4)
                                             •   Social Science
                9 August   Stages 2 – 4      •   Agriculture            22 August
                           of:               •   Archaeology &

  Start Time
                                                 Geology
                                             •   BAFS
                                                 BSc Comp Sci
Booking Dates
                                             •
                                             •   Food Science
                                             •   Human Nutrition
                                             •   Science
                10         Lower years of:   •   BA                     22 August
  2017/18       August                       •
                                             •
                                                 BComm Int'l
                                                 Law With (Stage 2)
                                             •   Social Science

                14         Stage 2-6         •   Architecture           22 August
                August     (where            •   Engineering
                           applicable) of:   •   Medicine, Nursing,
                                                 Health, Vet & allied
                                                 programmes
Booking a Start Time

                •   Continuing Undergraduate (UG) students will be
                    divided into four groups for selection of start times
                    (same groups as 2016)

                •   First year UG students (new and repeat) will book a
                    start time on 30 August
  Start Time        All GT students will be allocated a start time
Booking Dates
                •

                •   Full details of start time selection and registration
                    dates are available at:
                    www.ucd.ie/students/keydates.htm
  2017/18
Start Times for Undergraduates

                •   Students will access start time selection directly
                    from the SISWeb homepage

                •   Start times will be first come first served

                    Details of their start time will be sent to students
  Start Time
                •
                    via email within 1 hour of selection for those that
                    choose
Booking Dates
                •   Students will be competing for start times with
                    their peers

  2017/18       •   Students who don't select a start time will be
                    allocated one but this will mean they will start
                    later

                •   Students will be given the next available start time
Exceptions to Start Times
                selection
                •   Students that are late to progress to 2017/18 will be
                    allocated start times

                •   College Diploma, Occasional students and Graduate

  Start Time        Taught students will be automatically allocated

Booking Dates   •   Other exceptions can be catered for e.g. particular
                    groups of students that must register on a given day for
                    operational reasons
                      • Contact your College Liaison in Administrative

  2017/18                Services if you wish to make use of this facility
Date      Activity                  Who does it affect

               From      Begin Online          Higher years
               Tuesday   Module Registration   •  BA
               15                              •  Business
               August                          •  Law
                                               •  Social Science

                                               GTs in Colleges of:

    Key                                             •
                                                    •
                                                       Arts and Humanities
                                                       Business
Registration                                        •  Social Sciences and Law

   Dates       From     Begin Online
               Thursday Registration
                                               •
                                               •
                                                     Graduate Research students
                                                     UG Cert & Diploma
               17
               August
 2017/18       From      Begin Online          •     All other UGs
               Tuesday   Module Registration         (except stage 1)
               22                              •     GTs in all other colleges
               August
Key Registration Dates 2017/18
 Date                            Activity                                                Who does it affect
From Thursday, 24 August Begin Step 1                                                    Incoming stage 1 UG
                         e.g. Personal Information

Wednesday 30 August             Book a Registration Start Time                           Stage 1 UG incl. Repeats
                                Between 8am and 1pm

From Thursday 31 August         Begin Step 2                                             Stage 1 UG incl. Repeats
                                Module Registration
Tuesday 5 September to          Main orientation for incoming CAO Stage 1                Incoming stage 1 UG
Friday 8 September              students

Friday 8 September              Online Registration will close for elective allocation   All students
                                at 2.00pm

Saturday 9 September            Online Registration reopens on a phased basis            All students
                                between 12.00pm and 4.00pm

Friday 22 September             Online Registration closes                               All Undergraduates
                                5.00pm
Friday 29 September             Online Registration closes                               Graduate Taught – some exceptions
                                5.00pm

See www.ucd.ie/students/keydates.htm for details
UCD Residences
  June O'Connor
UCD Residences for 2017/18

             •   Belfield
                  • Belgrove
                  • Merville
                  • Glenomena
                  • Roebuck Hall
                  • Roebuck Castle
                  • Ashfield

   UCD       •   Blackrock
                   • Blackrock Halls
Residences         • Proby

             •   Off Campus - Donnybrook
                  • Muckross
Allocations for 2017/18
             UCD Residences have an allocation of 3186 rooms
             for 2017/2018

             •   1035 for incoming CAO students
             •   1397 for International (Non-EU)
                  • Non-EU Int'l Undergraduates (504 places)
                  • Non-EU Int'l Graduates (233 places)
                  • Non-EU Int'l Single Semester students (555

   UCD
                      places)
             •   138 for Residential scholarship schemes
                 60 for UCD Access Centre
Residences
             •
             •   15 Discretionary rooms
Booking information

             Accommodation booked online through SISWeb

             •   SISWeb login is student number/CAO number and
                 date of birth (ddmmyy)

             •   Most categories will have already put their name
                 on a waitlist (unless they are guaranteed a place
                 i.e. some Int'l or scholarship students)

   UCD       •   €400 deposit required to confirm booking

Residences   •   Student chooses their own room and they can see
                 details on those already booked into apartment e.g.
                 Male/Female Undergraduate/Postgraduate, whether
                 the room is accessible, the floor the apartment is on
                 in the building and the facilities available in the
                 apartment when they are booking i.e. ensuite or
                 shared bathroom

             •   How to guides and virtual tours of the accommodation
                 are available on www.ucd.ie/residences
Booking CAO

             •   1035 places allocated to CAO students

             •   Priority Waitlist opened on the 10 May 2017

             •   No longer first come first serve

             •   Currently 2811 have placed their name on the
                 waiting list

   UCD       •   On the 11 July everyone who has put their name on
                 the wait list will be randomly allocated a ranking
Residences       number

             •   In August, students should accept their CAO offer on
                 the first day and dependant on their ranking on the
                 priority waiting list they will be offered the
                 opportunity to book accommodation from 23 August

             •   24 hrs to complete booking as per previous page

             •   How to guides available on www.ucd.ie/residences
Booking International

             •   International(Non-EU) 1397 places
                   • Non-EU Int'l Undergraduates (520 places)
                   • Non-EU Int'l Graduates (230 places)
                   • Non-EU Int'l Single Semester students (567
                      places)

             •   Application to UCD deemed as application for
                 accommodation if they are in an eligible group

   UCD       •   Booking opened on the 30 May 2017

Residences   •   72 hrs to complete booking

             •   Accommodation booked through SISWeb
                   • SISWeb login is student number/CAO number
                     and password which is the same as the online
                     application password or date of birth
                     (ddmmyy) if not applying online
Booking Continuing Students

             •   Continuing Students allocated 400 spaces for
                 2017/18

                  •   Students continuing their studies in UCD can
                      apply for campus accommodation for 2017/18

                  •   Not first come first serve (waitlist open for 4
                      weeks, over 1,300 students put their name on
                      wait list)
   UCD            •   On the 25 May everyone who put their name
Residences            on the wait list was randomly allocated a
                      ranking number which determines the order
                      offers are sent out

                  •   Booking opened on the 7 June 2017

                  •   24 hrs to complete booking
Arrivals and Check-in
             •   Check-in commences Thursday, 31 August 2017

             •   Central Check-in for Belfield in Merville reception
                 Blackrock residents check in at Proby reception
                 Muckross Residents in Muckross

             •   Requirements for Check-in
                  • Complete Online Induction and agree License
                     to Reside
   UCD            • Proof of Payment of 1st instalment
                  • Photo Upload/Student Card Collection(new
Residences           students)

             •   Reslife
                  • Welcome activities- Ice breaker events, BBQ,
                      Ceili, Eddie Rockets, Outdoor movie
                  • Luggage Tent
                  • Parents Area – Tea, Coffee, Newspapers
Off Campus Accommodation

             •   Dedicated office in Merville to assist students
                 finding off campus accommodation

             •   UCD Accommodation Pad:
                 www.ucdaccommodationpad.ie

             •   Accommodation providers register their details
                 and students register to use the service

   UCD       •   Alerts and message boards

Residences
Library Orientation

   Christine Cullen
Getting out and about: Library pop-ups
Activities in the Library
International Students

           Continued Support for International Students
                Library tours given by Global Guides
                Library presence at the Global Lounge (August)- including the
                 Prize Wheel
UCD International
        Orientation

           Colin Tannam
Student Support Administration Officer
International Orientation - 2017

                 International President's Welcome
              International President's Welcome
Overview

Key Dates:
- Thursday, 31 August to Saturday, 9 September

Dedicated programme for specific categories of
international students:
- Undergraduate
- Graduate
- Occasional
        - Erasmus
        - Non EU Exchange
        - Study Abroad
Key Events

•    Airport Welcome
      – Saturday, 2 September to Monday, 4
         September
      – Terminal 2 Arrivals Hall, Dublin Airport
      – Staffed by UCD Global Guides - 8am
         to 5pm
      – 10% Online Discount with Aircoach

•    UCD Welcome Hut
      – Thursday, 31 August to Friday, 8
        September
Key Events

•   International Flavour of Cultures

     –   Tuesday, 5 September @ 6pm
     –   Food, music and refreshments

•   International President's Welcome

     –   Wednesday, 6 September @ 7.30pm
     –   Official welcome and scarfing ceremony
Key Events

•   International Student Café & Fair

     –   Thursday, 7 September @ 12noon
     –   Staff Units and International Societies

•   International Welcome Reception

     –   Thursday, 21 September @ 5.30pm
     –   Networking for UCD students and staff
Key Events

•   More social & cultural activities:

     –   Discover Dublin day trips
     –   Walking tours of Dublin
     –   Trips to Ikea
     –   Movie nights

•   Further Information available at
    www.ucd.ie/international
How can we help?

•   Dedicated International Student Advisor
•   Guidance on Visa and Immigration
    Procedures
•   Module registration for incoming Occasional
    students
•   Provision of cultural and social events
    throughout the academic year
•   UCD Global Lounge – dedicated space for
    International and Irish students to meet and
    integrate
•   Liaise with Societies including Erasmus
    Student Network and International Students
    Society
•   Signposting