STUDY ENGLISH 2020 Journey To Success - Malvern International Plc
Page content transcription
If your browser does not render page correctly, please read the page content below
WELCOME
WELCOME TO MALVERN INTERNATIONAL
                                   It gives me great pleasure to be the first to welcome you to
                                   Malvern House, your gateway to English language learning in
                                   the modern world.

                                                                                                                                         Dr Sam Malafeh (CEO)

                                               Our Values

                                   Integrity                Customer Focus            Accountability                  Resilience                        Excellence
                                   A Reliable Partner       Customer Centric          Responsibility                  Determination                     Quality & Professionalism
                                   Trusted and Assuring     We Care & Support         We take Ownership               Failure is just another start     Exceed Expectations

                                                          4.6                                                             151,307+ likes

                                                          4.5                                                              4,748+ Followers
                                                                                   *Average rating across Malvern International PLC schools at the time of print May 2019

                                                                                                                                                                       +

                                   50,000+                                            120+                                                            30+
                                   Students Trained                             Nationalities Taught                                            Years' Experience
              2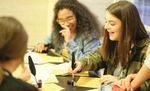 CONTENTS
04   WHY MALVERN INTERNATIONAL

05   LEARNING WITH MALVERN INTERNATIONAL

06   ROUTES TO SUCCESS

07   GENERAL ENGLISH                            Malvern House London

08   PROFESSIONAL ENGLISH

09   POPULAR COURSES

10   SOCIAL PROGRAMME

11   VIP ENGLISH

12   MALVERN HOUSE LONDON

14   MALVERN HOUSE MANCHESTER

16   MALVERN HOUSE BRIGHTON
                                              Malvern House Manchester

18   SAA GLOBAL EDUCATION - SG

20   ACCOMMODATION

21   AFTER YOU STUDY

22   INTERNATIONAL FOUNDATION PROGRAMME

23   INTERNATIONAL FOUNDATION YEAR

24   SUMMER CAMPS
                                                Malvern House Brighton

26   ENGLISH FOR MEDICINE

      University of East London            SAA Global Education
                                                Singapore

WHY MALVERN INTERNATIONAL
                            01 QUALITY TEACHING
                                                     *accreditations are for the UK                                                                                              *accreditations are for the London

                            02 CENTRAL LOCATION

                                                                             Italy 17%
                            03 EXCELLENT NATIONALITY MIX

                                                                                         Brazil 12%

                                                                                                                              Colombia 6%
                                                                                                                 Austria 7%

                                                                                                                                                        Morocco 5%

                                                                                                                                                                                  Germany 4%
                                                                                                                                            Turkey 6%
                                                                                                      Korea 7%

                                                                                                                                                                      Japan 5%

                                                                                                                                                                                               France 3%
                                                                                                                                                                                                           *Malvern House London

                            04 FULLY EQUIPED LEARNING ENVIRONMENT

                            05 WEEKLY PROGRESS REPORTS

                            06 LIVE ONLINE COURSES

                            07 EXCELLENT SUPPORT

                            08 EXCELLENT STUDENT SUPPORT SERVICES
                               STUDENT CLUBS
                            09 AND ACTIVITIES
                                                                  City Tour                                                                                          Outdoor Activity

                            10 FULL SOCIAL PROGRAMME
           4
KEY FACTS                                                                                       JOURNEY TO SUCCESS

                                                                                                                                                  LEARNING WITH MALVERN INTERNATIONAL
• Accredited schools                                                                            Malvern International plc has a team of
                                                                                                dedicated and professional teachers who
• Qualified teachers                                                                             are committed to helping you on your
                                                                                                journey. Our courses focus on improving
• Harmonised methodology                                                                        every area of the English language:
• 15, 20 or 25 hours per week
                                                                                                • Speaking
• Maximum 15 students per class
                                                                                                • Listening
• Flexible learning
                                                                                                • Reading

                                                                                                • Writing

                                                                                                • Grammar

                                                                                                • Vocabulary

                                                                                                LEARNING FACILITIES

                                                                                                Inside our schools you'll find a range of
                                                                                                facilities all designed to aid your learning
                                                                                                experience, including:

                                                                                                            • Modern Learning Technology
COURSE INTENSITY & PROGRESSION
Our courses all fit into our easy to                                                                         • Study Centre
understand timetable of either 15, 20 or 25
hours per week
                                                                                                            • Online Learning

     25
      hours
                   A1           A2        B1         B2     C1             C2
     per week
                                                                                                            • Free Internet and WiFi

     20             A1           A2             B1         B2          C1             C2
                                                                                                            • Relaxation Areas / Student Lounge
      hours
     per week

     15
                                                                                           C2

      hours
     per week
                     A1                 A2            B1              B2              C1
                                                                                                            • Disabled Access
                                     10 weeks

                                                10 weeks

                                                           10 weeks

                                                                           10 weeks
                     10 weeks

*Suggested duration to complete a level:
 • 25 Hours - 8 Weeks
 • 20 Hours - 10 Weeks
 • 15 Hours - 12 Weeks

*Singapore Campus, SAA Global Education only provides "20 hours per week" option

                                                                                                                                                                 5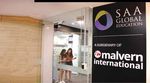 ROUTES TO SUCCESS     COURSES                                                                           L                              M   B            SG                                 MO
                      · GENERAL ENGLISH

                      · PROFESSIONAL ENGLISH

                      · VIP ENGLISH

                      · INTERNATIONAL FOUNDATION YEAR

                      · IELTS PREPARATION

                      · CAMBRIDGE EXAM PREPARATION

                      · JUNIOR SUMMER CAMPS

                      · BESPOKE GROUP PROGRAMMES

                    INTERNATIONAL CONNECTIONS:                                                                                                          LEGEND
                                                                                                                                                        L   LONDON
                    Study in more than one location during your trip by transferring                                                                    M MANCHESTER
                    between Malvern International schools.                                                                                              B   BRIGHTON

                    For more details on this option please visit www.malverninternational.com                                                           SG SINGAPORE
                                                                                                                                                        MO MALVERN ONLINE

                                                                                                                                                                 CITY TOUR WITH YOUR TEACHERS
                                                      DR ENGLISH LEARNING SUPPORT

                                                                                                            REGULAR PROGRESS REPORTS
                                                                                    CONVERSATION CLUB
                               ONLINE TESTING

                                                                                                                                           MOVIE CLUB

       6
ADMISSION REQUIREMENTS

                                                                                                                         GENERAL ENGLISH
General English programmes will help you to
develop all four skills of the English
language:
• Reading
• Writing
• Listening
• Speaking

Focus on improving your ability to communicate
clearly and effectively. With three intensities
to choose from, and a minimum of one week,
students can tailor their course to their needs
and also add extra individual lessons as required.

KEY FACTS

           Weekly start dates on Mondays

           All Levels

                                                                 ENGLISH PLUS
           Max 15 per class
                                                                 English Plus programmes allow you to
                                                                 combine Essential English with one or two
                                                                 hours per day of module options, which
   16+     16 and above                                          you can change throughout your studies
                                                                 to help you learn more about the
                                                                 language and some other areas of interest.
           Select 15 / 20 / 25 hours per week
           *Singapore Location: 20 hours length of study only.
                                                                 Modules run all year round (subject to
                                                                 minimum numbers).

                                                                 Options include:
INCLUDED IN YOUR PROGRAMME:
                                                                 • English for Conversation
• Placement test
                                                                 • English for Accent Reduction
• Monthly tutorials
                                                                 • English with British Culture
• Conversation club
                                                                 • English for Fashion
• Malvern International book club
                                                                 • English with IELTS module
• Dr English learning support
                                                                 • English with Business module
BENEFITS TO YOU:                                                 • English for Medicine
• Extend your vocabulary                                         • Skills Class - Reading, Writing, Listening,
                                                                   Speaking
• Increase your fluency
                                                                 • English for Law / Public Policy
• Become more accurate
                                                                 • English for Media / Art
• Communicate in English more easily
                                                                 • And many more!
• Understand more of the world around you
                                                                 * For more details please visit our schools' websites
                                                                                                                               7
ADMISSION REQUIREMENTS
PROFESSIONAL ENGLISH                                                                     ENGLISH FOR LAW
                                                                                         Be age 21 and above
                                                                                                                   21+
                       If you need English language training for
                       your career and wish to study with other
                                                                                         Suitable for lawyers, legal professionals
                       like-minded driven individuals, Malvern
                                                                                         and law students. The course includes
                       International Professional English programmes
                                                                                         discussions, debates, case studies and
                       are the right choice for you.
                                                                                         lots of language input.
                       These 20-hour per week programmes
                       are not combination or plus programmes,
                       but instead are intensive, dynamic,
                                                                                         ENGLISH FOR ACCOUNTS & FINANCE
                       hands-on programmes of study in your
                       desired area.
                                                                                         Aimed at those wishing to enhance their
                                                                                         vocabulary and focused on being able to
                       KEY FACTS                                                         inform, advise and discuss financial
                                                                                         matters at the highest level
                                      Set start dates

                                      Minimum level intermediate                         ENGLISH FOR MEDICINE
                                                                                         In partnership with UCL

                                      Max 15 per class                                   Our unique offering includes English for
                                                                                         Medicine tuition combined with hospital
                                                                                         visits and lectures from UCL academic
                           16+        16 years of age and above                          staff.

                            20H       20 Hours per week
                                                                                         ENGLISH FOR NURSING

                       INCLUDED IN YOUR                                                  This communicative and vocabulary-rich
                                                                                         programme is designed to make it easier
                       PROGRAMME:                                                        to communicate with your patients and
                       • Placement test                                                  colleagues.

                       • Monthly feedback tutorials

                       • Conversation Club
                                                                                         ENGLISH FOR TOURISM
                                                                                         CTH Level 1
                       • Malvern International Book Club

                       • Dr English Learning Support                                     This exciting programme allows students
                                                                                         to gain a CTH level 1 certificate in English for
                                                                                         Tourism and Hospitality from the Confederation
                       BENEFITS TO YOU:                                                  of Tourism and Hospitality.
                       • Gain a deeper understanding of how
                         English is used in a specific field.

                       • Meet fellow professionals from across                           ENGLISH FOR MEDIA
                         the globe.
                                                                                         Aimed     at   media    students   and
                       * Requires Group booking or can be booked with VIP English        professionals, the course develops the
                       * Not available in all schools, please see school's website for
                         available programmes
                                                                                         communication skills and specialist
                                                                                         English language knowledge required for
                                                                                         work in Media.
        8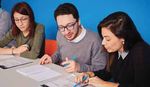 POPULAR COURSES
EXAM
PREPARATION     We offer IELTS preparation courses all                  Set start dates

                year round starting any Monday
                throughout the year. Students can                      Minimum level
                combine general English with modular                   intermediate

                lessons or take a fully intensive course
                to give themselves the best chance to                  Max 15 per class
                pass the exam. We also offer
                Cambridge exam preparation and
                training for the FCE and CAE exams in          16+ 16 years of age
                                                                       or over
                line with the set exam dates.
                                                                       Select 15 / 20 / 25
                                                                       hours per week

BUSINESS
ENGLISH         English is the language of international               Start any Monday

                business and Malvern International's
                courses equip students for the global                  Minimum level
                business arena, developing and practising              intermediate

                their Business English skills through
                our innovative project-based course.                   Max 15 per class

                                                               18+     18 years of age
                                                                       or over

                                                                       Select 15 / 20 / 25
                                                                       hours per week

BESPOKE GROUP   Our dedicated group service is                         Start any Monday

                perfect for university groups, overseas
                teachers, specialised groups, high-school
                groups accompanied by teachers, or                     All Levels

                groups of professionals wishing to travel
                to London to study. We have open group
                                                                       Max 15 per class
                lessons, taking full advantage of the
                excellent nationality mix we have in our               For Individual Students:

                year-round courses, or closed group
                                                                       16 years or above
                                                               12/16
                                                                       For Groups:
                tuition, for groups that have specific                  Minimum of 12 years of age if
                                                                       traveling with a group leader

                study goals in mind.                                   Select 15 / 20 / 25
                                                                       hours per week

JUNIOR
                Our junior summer camps combine                        Summer Only
SUMMER CAMPS
                high-quality teaching with activity
                                                                       All levels
                and excursion programmes to make
                the very best of their varied locations.
                With residential university campus                     Max 15 per class

                available, our excellent range of
                programmes are suitable for both               12-17   Age range between
                                                                       12 to 17
                individuals and groups of young
                learners from across the world.                 15H    15 hours per week

                                                                       Residential
                *please visit website for course start dates           Accommodation

                                                                                                             9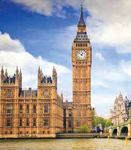 ENJOY YOUR TIME OUTSIDE CLASS
SOCIAL PROGRAMME
                                                                   THU
                   Our regular social activities are a great
                   chance to make new friends and practise
                   your English outside of the classroom
                   whilst getting to know more about the city
                   you are visiting.

                   Whether you are interested in museums,
                   art, theme parks, sports, eating out or
                   unique places, our weekly social
                   programme has activities for everyone.
                                                                   FOOTBALL FIVE-A-SIDE
                   SAMPLE ITINERARY

                   MON                                              FRI

                    THE SAATCHI GALLERY                            LOST IN LONDON PARTY AT PICCADILLY INSTITUTE
                                                                   MEET AT PICCADILLY CIRCUS · 9PM- 3AM
                    MEET AT SLOANE SQUARE · 10AM - 5:30PM · FREE   FREE BEFORE 11PM, £5 AFTER WITH VOUCHER, TICKET AT RECEPTION

                     TUE                                           SAT

                    GREAT VIEW AT SKY GARDEN                       DAY TRIP AT OXFORD
                    MEET AT MONUMENT STATION · 10AM - 6PM · FREE   MEET AT PADDINGTON · 8:25AM · £27

                    WED                                            SUN

                    CRAZY GOLF WITH STEVE                          GREENWICH MARKET
                    MEET IN SCHOOL · 2PM · FREE                    MEET AT CUTTY SARK (DLR) · 10AM - 5:30PM · FREE

     10
STUDY: VIP ENGLISH
The programme offers a mix of group and individual tuition allowing students to benefit
from mixed nationality classes, more interaction with teachers daily and the chance to
focus their learning on a specific subject matter including:

• English for Medicine
• English for Nursing
• English for Media
• English for Hospitality
• English for Accounting and Finance
• English for Oil & Gas

           Start any Monday

           25 hours General English or IELTS

           Max 15 per class

    16+    16 years of age and above

    5H     Daily one-to-one lesson (5 hours per week)

BENEFITS TO YOU
• Achieve weekly goals and progress more rapidly with an intensive programme
• Focus on your personal learning needs
• Experience London with your teacher(s)
• Supplement General English with lessons in an area you are interested in

WHY MALVERN HOUSE?
• Central London location
• Fully accredited with dedicated professional teachers
• State-of-the-art teaching facilities
• Excellent self-study resources & materials
• Students from around the World
                                                                                               11
MALVERN HOUSE LONDON

                       Malvern House London has welcomed over 40,000 students to London since 1999, providing
                       high-quality tuition in the heart of the UK's capital city. Our central London location is just 5
                       minutes' walk from King's Cross station, providing students with access to over 200 cafés
                       and eateries, easy access across the city and an oasis of learning in the heart of the capital.

                                                            VISIT THE FOLLOWING WHILST YOU LEARN
                                                                    TRANSPORT
                                                                    "The Tube" was the first underground railway
                                                                    system in the world – 6 of its lines stop at Kings
                                                                    Cross for Malvern House London.

                                                                    THE ROYAL FAMILY

                                                                    HISTORY & MODERN CULTURE
                                                                    London is like no other in the English-speaking
                                                                    world for its rich mix of history and modern culture.

                                                                    MARKETS
                                                                    Portobello, Spitalfields, Billingsgate, Camden &
                                                                    Brixton are a few of the world-famous
                                                                    markets you can visit.

                                                                    GALLERIES AND MUSEUMS
                                                                    There are over 300 galleries and museums all
                                                                    free to enter.
                                                                    • Westminster Abbey
                                                                    • London Eye
                                                                    • St James Park
      12
TIMETABLE
        Morning              Early Afternoon             Afternoon
       9:00 -11:30             12:00 -14:30              15:00 -17:30
       15 hours
       20 hours
       25 hours
                                                          20 hours
                                                          15 hours

                                 *Each    represents 1 day, 2.5 hour lesson.

INTERESTING PLACES AND ATTRACTIONS

STUDENT TESTIMONIAL
"I chose to come to study in London because it is
a big, cosmopolitan city with rich history and
culture. I am improving my English every day."

                                               Andrea, Colombia

STUDENT NATIONALITIES
18%                                                             Italy
14%                                                Brazil
 8%                            Turkey
 8%                            Korea (Republic)
 6%                        Colombia
 5%                      Japan
 5%                      Argentina
 4%                    Thailand
 4%                    Taiwan
 4%                    France
 3%                  Saudi Arabia
*Based on student numbers Sept 2017 to Sept 2018

NOTE FROM THE PRINCIPAL
"The best way to get around central London is by
foot. My favourite area to walk around is
Bloomsbury, with its picturesque garden squares
and rich history."
                                 Kris Hall, General Manager
MALVERN HOUSE MANCHESTER

                           Located in the heart of Manchester City Centre, Communicate
                           School is well known for helping students to significantly
                           improve their language skills. In dynamic, interactive
                           classes you will learn from enthusiastic teachers who
                           are focused on ensuring you have the student support
                           you need to succeed.

                           WHY STUDY IN MANCHESTER?
                                   STUDY IN A CITY WITH OVER 100,000
                                   OTHER STUDENTS

                                   EXPERIENCE MANCHESTER'S VIBRANT
                                   MUSIC SCENE

                                   WATCH WORLD-CLASS FOOTBALL

                                   EXCELLENT SHOPPING, RESTAURANTS
                                   AND THEATRES

        14
TIMETABLE
        Morning               Early Afternoon             Afternoon
       9:00 -11:30             12:00 -14:30              15:00 -17:30
       15 hours
        20 hours
       25 hours
                                                          20 hours
                                                          15 hours

                                  *Each   represents 1 day, 2.5 hour lesson.

INTERESTING PLACES AND ATTRACTIONS

STUDENT NATIONALITIES
17%                                                          Saudi Arabia
11%                                       Spain
10%                                    Italy
 8%                        Poland
 6%                     Kuwait
 4%                   Oman
 3%                  France
 2%           China
 2%           Korea (Republic)
*Based on student numbersSept 2017 to Sept 2018

STUDENT TESTIMONIAL
"The teachers are fantastic, they challenged me
and really cared about my progress"

                                                  Martyna, Poland

NOTE FROM THE PRINCIPAL
"Manchester has a phenomenal live music scene
with international superstars and new underground
bands playing each week. Try and catch a gig at
one of the great venues close to the school!"
                         Richard Mace, General Manager
MALVERN HOUSE BRIGHTON

                         Malvern House Brighton is ideally located close to the
                         city's main amenities and attractions in the heart of
                         Brighton. In a city famous for friendliness, beautiful
                         waterfronts and lovely parks, you will improve your
                         language and have a cultural experience you won't forget.

                         WHY STUDY IN BRIGHTON?
                                 THE BEACH
                                 Brighton's pebble beach attracts approximately
                                 9 million visitors a year and is famous for its
                                 large outdoor screen cinema.

                                 THE ROYAL PAVILLION
                                 Indian and Chinese style architecture and a
                                 former royal residence built by King George IV,
                                 the Royal Pavilion is now a museum you can visit.

                                 THE PIER
                                 Open year round and has fairground rides,
                                 attractions, shops, restaurants and arcades
                                 making it suitable for all ages.

                                 SHOPPING WITH A DIFFERENCE
                                 The Brighton Lanes are an historic shopping
                                 district full of unusual, wondrous shops and
                                 funky independent restaurants and cafés.

                                 FOOTBALL
                                 Brighton and Hove Albion Premier League
                                 Football Club and the beautiful Amex stadium
                                 where you can watch them play against some of
                                 the world's top football teams.

       16
FESTIVALS
Brighton hosts many international music and arts
festivals each year which include:
• Brighton Food & Drink Festival (April & September)
• Brighton Fringe - (Every weekend in May)
• Brighton Festival - (Three Weeks In May)
• Great Escape - (2nd or 3rd Weekend in May)
• Paddle Round the Pier (July)
• Brighton Kite Festival (July)
• Brighton Racing Festival (August)
• Brighton Pride (August)

TIMETABLE
      Morning          Early Afternoon              Afternoon
     9:00 -11:30         12:00 -14:30              15:00 -17:30
     15 hours
      20 hours
     25 hours
                                                    20 hours
                                                    15 hours

                           *Each    represents 1 day, 2.5 hour lesson.

INTERESTING PLACES AND ATTRACTIONS

NOTE FROM THE ASSISTANT PRINCIPAL
"There is always something to do in Brighton! If you are
someone who loves sunshine and surfing, you can spend
your free time at the beach and then visit one of the
many cafes, bars, music venues, comedy venues, art
exhibitions or museums. Brighton is a great place to
make new friends from different cultures. "
       Sacha Smallwood, Assistant Principal/Director of Studies
SAA GLOBAL EDUCATION - SINGAPORE

                                   With more than 30 years of academic experience, and a
                                   range of professional programmes available as well as
                                   English language, SAA Global Education is the premier
                                   choice for students wishing to experience studying in
                                   the heart of one of the world's most modern cities. Our
                                   central location allows students to access the school
                                   and Singapore's many attractions.

                                   WHY STUDY IN SINGAPORE?
                                          BUSINESS OPPORTUNITIES
                                          Singapore's economy has been one of the most
                                          rapidly emerging over the past 50 years. For the
                                          past 3 decades Singapore has topped the ASIAN
                                          market when it comes to GDP growth.

                                          CULTURE & ARTS
                                          Catch award-winning performances in world-class
                                          venues, and learn more about Singapore's
                                          multicultural heritage through traditional
                                          song and dance by Chinese, Malay and Indian
                                          communities.

                                          MARINA BAY
                                          One of the most iconic views in the world,
                                          especially beautiful at night.

                                          AMAZING STREET FOOD

                                          AMAZING WEATHER
                                          In Singapore it is always summer with temperatures
                                          between 28-34C all year round.
           18
TIMETABLE
      Morning              Early Afternoon             Afternoon
      9:00 -11:30           12:00 -14:30               15:00 -17:30
      20 hours
                                                        20 hours
                               *Each    represents 1 day, 2.5 hour lesson.

INTERESTING PLACES AND ATTRACTIONS

STUDENT NATIONALITIES
20%                                                         China
18%                                                    Sri Lanka
10%                             India
10%                             Vietnam
 8%                        Myanmar
 6%                 Korea
 5%                Malaysia
 3%            Thailand
 3%            Taiwan
 3%            Indonesia
 2%        Hong Kong
 2%        Colombia
 2%         Philippines
 2%         Mongolia
 2%         Russia
 2%      Cambodia
 1%     Morocco
 1%     Ukraine

STUDENT TESTIMONIAL
"The lessons were great and I can communicate in
English easily now. I really liked the teaching style at SAA."

                                                  Ma Yu Yuen, China

NOTE FROM THE PRINCIPAL
"Visiting the Gardens By The Bay at night is like being
transported to another world! It is a must-see when
visiting Singapore."

                                                         Wei Lin, COO
ACCOMMODATION

                           Chapter King's Cross, London    Chapter King's Cross, London            Homestay, London

                                 Garden Halls, London               Old Street, London             The Curve, London

                                Residence, Manchester                HDB, Singapore            Residence, Manchester

                HOMESTAY                                       RESIDENCE
                Homestay accommodation is a great              Residential accommodation is for those who
                opportunity to immerse yourself in             wish to live more independently and prefer to
                local life, practise speaking English          cook for themselves. These accommodation
                with your host family, share their             options tend to be closer to the school
                culture and build life-long friendships.       buildings and are generally well located for
                Students usually book single rooms on          local nightlife and attractions.
                either a Bed & Breakfast, Half-Board,
                Full-Board or Self-Catering basis.             WHAT IS INCLUDED
                WHAT IS INCLUDED                               • Single rooms with private or shared
                                                                 bathrooms
                •   Bed linen, towels                          • Linen pack
                •   Internet                                   • Wi-Fi
                •   Shared bathroom                            • Kitchen access
                •   Access to washing machine
                                                               WHAT IS NOT INCLUDED
                WHAT IS NOT INCLUDED
                                                               • Laundry service
                • Laundry service                              • Towels, Toiletries
                                                               • Hairdryer
                                                               • Kitchen packs
                NOTE:                                          • Toilet roll provided on arrival
                                                                 (after which student provides)
                • Short-term Homestay option is not            • Weekly cleaning
                  allowed in Singapore.

                STUDENTS UNDER 18 YEARS OF AGE
                Malvern International schools provide accommodation which is safe and suitable for students
                under the age of 18. Minors can stay in homestay or selected student residence with
                parental consent, but must be staying on a minimum of half-board basis.
    20
AFTER YOU STUDY
                                   +
                                A

CERTIFICATES AND EXAMS
At the end of your course, you will receive a
certificate stating your level according to
the CEFR that you can take home with you
as a memento of your time at Malvern
International.

You may also decide to take an official level
test such as IELTS, Cambridge or Trinity
exams - our academic team are always
happy to help recommend the best option
for you.

ONLINE LEARNING
Continue your learning through the Malvern
Online Academy - our unique online learning
platform that allows you to study anywhere
in the world at a time that suits you! With
classes available 7 days per week, you can
study in an international class with a live
teacher from your home, the office or
wherever you can find a quiet space!

                                                     21
INTERNATIONAL FOUNDATION PROGRAMME   BUILD A STRONG
                                     FOUNDATION FOR SUCCESS
                                     OFFERED IN SINGAPORE

                                                                              01         GATEWAY TO A REMARKABLE CAREER IN BUSINESS,
                                                                                         ACCOUNTING AND FINANCE

                                                                              02
                                                                                         SUCCESSFUL ENTRY TO UNIVERSITY OF LONDON DEGREES
                                                                                         OFFERED AT SAA GLOBAL EDUCATION ON COMPLETION OF
                                                                                         INTERNATIONAL FOUNDATION PROGRAMME

                                                                              03
                                                                                         WE OFFER A HOLISTIC APPROACH TO LEARNING BY
                                                                                         PROVIDING A CUSTOMISED LEARNING EXPERIENCE
                                                                                         AND PERSONAL TUTOR

                                                                              04
                                                                                         PREPARING YOU FOR SUCCESS THROUGH MONTHLY
                                                                                         PROGRESS REPORTS, REGULAR PASTORAL SUPPORT
                                                                                         AND A FOCUS ON HEALTHY STUDY HABITS

                                                                              05
                                                                                         ENJOY A FULL STUDENT EXPERIENCE WITH WEEKLY
                                                                                         SOCIAL ACTIVITIES AT A VIBRANT COLLEGE WITH
                                                                                         OTHER STUDENTS STUDYING AT SAA GLOBAL EDUCATION

                                     ENTRY REQUIREMENTS

                                             Start Date: August 2020

                                        1Y   1 Academic Year from August 2020 to May 2021 (inclusive of examination)

                                             16 years or above. All student must turn 17 by the 31 December of the year of
                                       16+
                                             registration.

                                             Minimum Entry Requirements:
                                             5 GCSE/GCE O Levels (in different subjects) with grades A-C to include Mathematics
                                             or equivalent.

                                             Minimum English Language Requirement:
                                             GCSE/GCE O Level English at grade C or above (or equivalent) OR Academic
                                             IELTS with overall grade of 5.5 and no subtest below 5.0.

                                             Max 15 per class

            22
EXPERIENCE SUCCESS AT UEL'S ON-CAMPUS

                                                                                                         INTERNATIONAL FOUNDATION YEAR
                                         INTERNATIONAL STUDY CENTRE
                               8 reasons to choose our International Pathway Programmes

1                 LIVE AND STUDY IN LONDON

                                                    5       LIVE IN ON-CAMPUS ACCOMMODATION

2           ENJOY SMALL SUPPORTIVE CLASS SIZES IN
              OUR INTERNATIONAL STUDY CENTRE
                                                    6      ENJOY AFFORDABLE STUDIES ON A CAMPUS
                                                              WITH 18,000+ STUDENTS FROM 134
                                                                  DIFFERENT NATIONALITIES

3                                                   7
           STUDY AT A UNIVERSITY VOTED THE TOP
                                                          STUDY IN A UNIVERSITY WHO HAVE A HISTORY
          MODERN UNIVERSITY IN LONDON FOR OUR
                                                         OF PRODUCING LEADERS IN HEALTH, COMPUTING,
                  STUDENT SATISFACTION
                             (NSS 2018)
                                                         CREATIVE INDUSTRIES, BUSINESS AND ENGINEERING

4               ENJOY WORLD CLASS FACILITIES
                                                    8
                                                         PATHWAY PROGRAMMES AVAILABLE IN INTERNATIONAL
                                                            FOUNDATION YEAR, INTERNATIONAL YEAR ONE,
                                                             PRE-MASTERS AND GRADUATE DIPLOMA.

INTERNATIONAL                                       PROGRAMMES AVAILABLE TO
FOUNDATION YEAR                                     STUDY AT THE INTERNATIONAL
In partnership with the University of East London   STUDY CENTRE
This course will develop your English               • International Foundation Year
language     skills  and    prepare     you
academically for university-level study. By         • International Year One
taking a pathway course you will be fully
enrolled as a UEL student, giving you the           • Pre-Master's Programme
benefit of having access to all the
university services and facilities. You will        • Graduate Diploma
then be able to progress seamlessly to
full degree-level study without having
to apply for a new visa.                            BENEFITS TO YOU:
                                                    • One visa for total duration of your pathway
KEY FACTS                                             programme and your degree course

                                                    • On-campus teaching & accommodation
             Start dates:
             January and September                  • Guaranteed entry to degree programme
                                                     upon successful completion of the course
             English Language Requirements:
             Academic IELTS with a minimum
             grade of 5.5

             Minimum Age Requirement:
             16 years of age (students must
   16+       turn 17 by 31 December of the
             year the year of registration)

                                                                                                                   23
SUMMER CAMPS                                                       KING'S CROSS ZONE 1, LONDON

                       OFFERED BY
                     PARTNER SCHOOL

                Minimum stay: 2 weeks
                Age: 14-17 years old
                1 free group leader per 15 students

               This London summer language centre is located in Zone 1, one of London's most newly
               regenerated areas, a dynamic and exciting place to be. It is just a short walk from King's
               Cross tube station and Harry Potter's Platform 9¾.

               As part of this programme you will be living in some great accommodation and as with
               all Language in Action residences, Dinwiddy House offers ensuite accommodation.
               Rooms are arranged in groups of five to seven around communal kitchens. There is also
               a common area and an enclosed outside area where students can enjoy the sunshine.

               Malvern House London is based right in front of Dinwiddy House, where all classrooms
               have smart boards and modern equipment.The California restaurant is just 5 minutes
               away and is very close to the main station where we start our excursions to discover
               London. The Language in Action activity programme is focused on London. Students will
               have the chance to explore everything this wonderful city has to offer.

               KING'S CROSS
                                                                                            DELUXE
                 EXCURSION INCLUDED                                     BASIC   EXPLORER
                 Welcome Night
                 1 HD British Museum
                 1 FD Saint Paul's / Tate Modern / Tower Bridge
                 1 FD London Centre Walking Tour and National Gallery
                 1 HD Brick Lane Street Art Tour
                 Last Night Party
                 1 FD Natural History Museum and Hyde Park
                 1 FD Regent's Park and Camden Town
                 1 London by Night
                 1 HD Harry Potter Studios *
                 1 HD Notting Hill
                 1 HD London Eye
                 1 HD Oxford Street

    24
THE LONDON EXPLORER (GARDEN HALL UOL)

                                   FACT BOX
                                   Minimum Age:                        14 -17

                                   Student Capacity                    60

                                   Accommodation Type                  Single-Ensuite at Garden Halls

                                   Catering                            Full Board

                                   Course Type                         20 lessons per week

                                   Standard Arrival / Departure Days   Saturday

                                   Included                            Tuition (onsite), Travel Card, 6 excursions
                                                                       in London per week, 1 full day excursion
                                                                       outside of London, Full-board meal plan.

The London Explorer is our traditional young learner with a twist. This offering is focused purely
on London and learning about the nation's capital city. Housed in university accommodation,
students will have the chance to improve their general level of English whilst learning about the
iconic city of London. Participants will learn more about London's role as a global leader in music,
fashion, arts, sport and modern culture.

Find out more about famous Londoners including Queen Victoria, Sherlock Holmes, David Beckham,
Winston Churchill to name a few. Visit some of London's well-known areas including Camden
Town, Oxford Street, Westminster and Chelsea to get a real experience of the city.

                                                      OLD STREET CENTRE ZONE 1 LONDON

 Age: 14-17 years old

Our most centrally located London summer language centre is located in Zone 1 and
is just a short walk from Old Street tube station and fashionable Shoreditch. It doesn't
get much more central than this.

The Zone 1 location makes it ideal for exploring London by Tube or on foot. Old
Street underground station is just a short walk from the accommodation. The area
itself is considered one of the trendiest in London. Shoreditch is home to IT start-ups,
artists, coffee shops, and the infamous Cereal Killer Café. Students are bound to
appreciate the young, fashionable atmosphere of the area.
STUDY: ENGLISH FOR MEDICINE                                                         ACCREDITED PROGRAMME
                                                                                    DELIVERED BY UNIVERSITY
                                                                                       COLLEGE LONDON

                              Malvern House London has been providing English language tuition in the heart of UK's
                              capital for almost 20 years. An exciting new course is now offered in collaboration with the
                              University College London (UCL) and the Institute Of Ophthalmology. It is an high quality
                              language course combined with university style lectures – delivered by UCL
                              academic staff – and visits to working hospital sites.

                              This renowned Ophthalmology institute was founded in 1948 and together with Moorfields
                              Eye Hospital attracts international researchers to conduct cutting-edge science. The
                              institute was the first of its kind for teaching and researching in the UK and since then
                              it has pioneered some of the major advancements in the field of ophthalmology including
                              imaging of the retina, gene discovery for inherited eye diseases and ocular gene therapy
                              applied to patients.

                              This well-rounded programme is designed to increase confidence and fluency in English
                              for medicine combining it with the chance to experience how the work of research is
                              done at the institute of Ophthalmology. It will help the students to develop a biological
                              understanding beyond the horizon of a textbook, to learn key technical terms, the basic
                              biology of the eye and novel therapies to restore vision. This will include demonstrations of
                              cutting-edge imaging techniques.

                              The students will receive 15 hours of English for medicine tuition in the morning at Malvern
                              House, with 10 hours of contact with UCL academic staff at the institute of Ophthalmology
                              in the afternoon.

                              THE LECTURES WILL BE FOCUSED ON THREE KEY AREAS:

                              • The first section of the course is an introduction to the eye. It will provide the
                                students the skills to match and associate eye diseases to parts and functions of the
                                eye that are affected in those diseases. They will also learn hot to recognise and
                                analyse retinal images taken from the back of the eye that are commonly used in
                                clinical diagnosis

                              • The second is focused on the retina. They will learn about phototransduction, the
                                specialist process by which photoreceptor cells in the eye transmit light signals into
                                electrical signals to the brain. They will also understand how genetic disorders can
                                lead to disruptions in this process and how can be treated.

                              • The third part will go through the Stem Cells and gene therapy to treat inherited
                                eye diseases. First of all facing the principles of regenerative medicine applied to the
                                eye and how specially designed virus can be injected into the eye to deliver gene
                                therapies to treat blindness. The course will include visits to both the work
                                research laboratories and the Moorfields Eye Hospital and finally the study of
                                microscopic imaging.

                              We look forward to welcome you to Malvern House and London University College London.

         26
KEY FACTS                                            ENGLISH FOR MEDICINE 2020 PRICE LIST
                                                     (FOR TWO WEEKS)
         Minimum English Level: B1                   TURN STARTING DATES:

                                                     • 1st turn 27th June
  16+    16 years of age and above
                                                     • 2nd turn 11st July
         Malvern House London (Centrally located     • 3rd turn 25th July
         3 minutes from King Cross Train Station
                                                     WINTER TURNS STARTING DATES:

   15H
         15 Hours of English with                    • 1st turn 26th January
         Malvern House London
                                                     • 2nd turn 9th February
         10 hours of university style
   10H
         teaching by UCL Academic Staff               FULL PACKAGE PRICE

                                                     £2500
         Visit to working hospital sites in London   (includes residence in Kings Cross –
                                                     accommodation, 3 meals food per day,
                                                     activities & travel card)
BENEFITS TO YOU
                                                     TUITION FEES ONLY
• Attend lectures delivered by UCL academic staff
• Understand the principles of regenerative          £1600
  medicine applied to the eye
• Understand how genetic mutations can
  cause retinal disease
• Analyse and interpret microscopy images
• Gain confidence in technical English words
• Use technical words to describe the eye
  and describe vision research, in English
YOUR JOURNEY
TO SUCCESS in:
   E : malvern@malvernhouse.com
   T : +44 02075200470
   W : www.malvernhouse.com

   E : office@communicateschool.co.uk
   T : +44 (0) 161 235 8480
   W:   www.communicateschool.co.uk

   E : brighton@malvernplc.com
   T : +44 1273 661575
   W : www.malvernhousebrighton.com

   E : enquiry.sg@malvernplc. com
   T : +65 6733 5731
   W : www.saage.edu.sg

   E : emiliano.sallustri@malvernplc.com
   T : + 44 7471830607
   W : www.languageinactionltd.co.uk

   E : info@malverninternational.com
   T : + 65 6412 0736
   W : www.online.malverninternational.com

                                             www.malverninternational.com
                                              All information is accurate as of February 2020