Together - School year - FOR A SCHOOL - Eunec
Page content transcription
If your browser does not render page correctly, please read the page content below
together
together
together
together
 FOR A SCHOOL
 OF TRUST

together
together
 MINISTÈRE
 DE L'ÉDUCATION
 NATIONALE
 School year
 2018-2019
Key figures

STUDENTS
 12,402,900 ➜ 6,747,100 primary-school students
 primary and secondary- ➜ 5,655,800 secondary-school students:
 school students 3,376,300 lower secondary-school students
 in metropolitan France and 2,279,500 upper secondary-school students
 the overseas departments, (including 646,100 vocational
 public and private(1) secondary-school students)
TEACHERS
 881,400
 National Education officers
 who teach in primary and secondary schools

EDUCATIONAL INSTITUTIONS
 62,250 ➜ 50,900 primary schools
 public and private ➜ 7,150 lower secondary schools
 secondary schools(2) ➜ 4,200 upper secondary schools
 including 53,200 public schools and regional adapted teaching institutions
 including 1,450 vocational
 secondary schools
DIPLOMAS(3)
 87.1% Success rate for lower secondary school (DNB)
 88.3% Success rate for the baccalauréat
 79.9% Graduation rate in a generation
 (outside Mayotte)

EDUCATIONAL ENVIRONMENT*
 Primary school
 Nursery school Elementary school
 24.3 September 2017 23.3 September 2017
*Averagenumber of 24.5 September 2016 23.7 September 2016
students per class
 Secondary school
 Lower secondary Vocational General and technological
 school education education
 24.7September 2017 18.5 September 2017 29.3 September 2017
 24.6 September 2016 18.9 September 2016 29.3 September 2016

AVERAGE ANNUAL SPENDING(4)
 6,300 euros per primary- 10,870 euros per upper secondary-
 school student school student (general and
 8,580 euros per lower technological)
 secondary-school
 student
 12,380 euros per vocational
 secondary-school student
(1) (2) (3) (4)
 Forecast for September 2017 Session 2018, Calendar year 2016,
September 2018 provisional data provisional data
Editorial
 At the start of this new school year, from nursery
 school through secondary school, we are enhancing
 the perspectives opened last fall and rolling out the
 measures presented over the past months. At heart,
 it is a question of helping all students better master
 fundamental skills (reading, writing, counting and
 respecting others) and receive more effective guidance
 towards their future. For this, it is essential to gather the
 French society around their School.

The School is the backbone of the Republic. It is the matrix of collective destiny
and of the success of all. As such, it is the porter of social progress, giving more
to those in need of more. This was the inspiration for reducing the class size by
half of 4,700 additional classes in Priority Education Networks. The goal is to give
the possibility to everyone to the highest achievements of their talent and merit.
This was the thinking behind the enhanced course offerings in lower secondary
school, the development of artistic, cultural education, and the reform of general,
technological and vocational secondary schools.

These transformations are carried by a state of mind, that of trust. For secondary-
school students, for example, it means more freedom and time to construct their
educational plans, as well as new courses that place an emphasis on digital
technology. For teachers, this translates into new tools, including assessments
in first, second and sixth grades that will allow them to adapt their instruction
to the needs of their students. The strengthening of their training and above all
the constant support of the school will help them to overcome difficulties they
encounter. For parents, who are our most important partners, we aim to improve
communications through the Parents' Briefcase program, because mutual trust
between parents and schools is the key to student success.

Through the knowledge and values it conveys, School is the foundation of a
fraternal and serene society. That is why the Ministry makes the care of children
with disabilities a priority. That is also why it is essential to fight against all forms
of harassment, including the risks posed by digital media. The newly instituted ban
on the use of mobile telephones in primary school and lower secondary school will
contribute to the smooth running of classes and to the richness of collective life.
In the same vein, the principle of secularism at school and that of equality between
girls and boys are crucial values that must be respected without fail.

National cohesion depends on our ability to gather around the essential: the
future of students and, beyond that, our country. All of the French territories:
urban, peri-urban, rural and overseas, are the subject of careful attention. In this
season, I would like to salute the action of all those who make our School come
alive every day. Their commitment is essential to meeting the challenges of the
21st century in France and throughout the world.

Jean-Michel Blanquer,
Minister of National Education

School year 2018-2019 1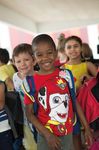 TABLE OF CONTENTS

 TEACHING BASIC SKILLS
 P. 7 SHEET 01Making nursery school a means to achieving equality and success
 P. 11 SHEET 02Fighting inequalities at their source
 P. 15 
 SHEET 03100% success in primary school: strengthening French
 and mathematics instruction
 P. 21 SHEET 04National assessments of first, second and sixth-grade students
 P. 24 SHEET 05Encouraging student success: Homework Done
 P. 27 SHEET 06Culture and the arts, keys to student empowerment

PREPARING STUDENTS FOR THEIR FUTURE
P. 33 SHEET 07 Towards a new general and technological baccalauréat in 2021
P. 37 
 SHEET 08 Better preparing students for the job market
P. 42 
 SHEET 09 Helping students to plan their studies or enter the workforce
P. 45 SHEET 10 Boarding schools, springboards to social and regional equality
P. 48 SHEET 11 Digital tools in the service of the School of Trust
P. 52 SHEET 12 Opening French schools to Europe and the world
P. 55 SHEET 13 Mobilization for the Paris 2024 Olympic Games

TOGETHER FOR A BETTER SCHOOL
P. 61 SHEET 14 Enforcing secularism in schools
P. 65 
 SHEET 15 Banning the use of cellphones in primary and lower secondary
 schools
P. 69 SHEET 16 The Wednesday Plan: an educational ambition for all children
P. 72 SHEET 17 Better school conditions for students with disabilities
P. 75 SHEET 18 Improved training and support for teachers
P. 80 SHEET 19 Strengthening support and dialogue with families
P. 83 SHEET 20 Staying healthy and safe at school
P. 87 
 SHEET 21 A culture of equality and respect between girls and boys

 School year 2018-2019 3
Making nursery school
 a means to achieving
 equality and success

THE ESSENTIALS
 To ensure that all students master basic skills (reading,
writing, counting and respecting others), nursery school must
be a place for student fulfillment and language learning.
 The expertise of French teachers and teaching
assistants helps make French nursery schools a source
of national pride and an international model. To enable
teachers to meet the challenges of the 21st century,
a conference was held March 27 and 28, 2018, overseen
by neuropsychiatrist Boris Cyrulnik.
 With the President of the Republic in attendance
at the conference, educational specialists outlined
new educational and organizational ideas to improve
compulsory education.
 In the fall of 2019, the requirement that children start
compulsory education at age 3 will provide a common
framework, offering all students the same opportunity
to succeed in school.

Lowering the age of obligatory education to 3 years
The nursery school conference marked the beginning of a process to further unify
nursery school education.

Though today 97% of students are enrolled at 3 years old, there are different levels
of schooling, depending on location and social background. Irregular attendance is
also common, especially in the first year.

This is all the more decisive because before the age of 6, a good command of lan-
guage is crucial for student success.

School year 2018-2019 7
Teaching basic skills

 Current research
 Studies by US researchers (Burger 2010, Cascio and Schanzenbach 2013) have
 highlighted the positive effects of schooling that begins at age 3 on the cognitive
 development and academic performance of students from disadvantaged
 social backgrounds.
 Thus, the positive effects of nursery school education, particularly in terms of reducing
 language and reading difficulties, have been observed for migrant students (Dustmann et al.,
 2013, Biedinger et al., 2008).

 In addition, the PISA 2012 study found that in most OECD countries, there is
 a strong correlation between nursery school attendance and student performance:
 on average, 15-year-olds who attended a nursery school for one year or more
 showed a 35-point advantage (73 points for France) compared to others, even after
 controlling for socio-economic background.
 Source: Ann West, L'école maternelle à la source de la réduction des inégalités sociales : une comparaison
 internationale, Cnesco, 2016. http://www.cnesco.fr/wp-content/uploads/2016/09/west_solo_fr1.pdf

That is why the President of the Republic decided to lower the age of the beginning
of compulsory education to 3 years. This decision forms the core of a bill that will be
debated in French Parliament during the 2018-2019 school year.

Strengthening language learning in nursery school
The conference showed the need to promote effective teaching practices in nursery
school.

Similarly, learning precise vocabulary and language structure helps fight an early
source of inequality: language. In fact, at age 4, a child from a disadvantaged social
background has heard 30 million fewer words than a child from a privileged back-
ground1.

National recommendations will strengthen vocabulary acquisition in nursery school.
A booklet called "The Words of Nursery School" will be available to teachers in
­November 2018 to help them work on this basic skill with their students.

The results of first-grade evaluations will enable National Education inspectors to
­provide guidance to nursery school teachers on student needs.

During the year 2018-2019, the Conseil supérieur des programmes will be asked to clar-
ify the nursery school programs (Cycle 1) to emphasize the importance of language
learning. Similarly, annual benchmarks for progress will provide teachers with clear
standards to most effectively organize their teaching for nursery school.

The challenge is also to strengthen social skills, which are fundamental to nursery
school. They give students the confidence they need to deal with the rest of their
schooling. Indeed, during the three years of nursery school, many important emotional
attachments are created and socialization skills are built.

To accomplish these goals, the content of the certificate of professional aptitude
(CAP) for early childhood education will be adapted.

1 Excerpt from the Terra Nova report Investissons dans la petite enfance, May 2017.
Figures from Betty Hart and Todd Risley's "The Early Catastrophe", conducted in the homes of a representative
sample of families (2004, Education Review, 77 (1), 100-118).

8 Together for a School of Trust
Teaching basic skills

Developing nursery school teacher training
The nursery school conference emphasized the need to strengthen professional
training, because working in nursery schools is a specific mission that requires par-
ticular qualifications.

— September 2018: three days of training for the 1,400 National Education inspectors
to help them implement the planned changes in primary school. One of the three com-
ponents of this training was specifically devoted to nursery school.

— 2nd semester 2018: a specific seminar for nursery school teachers will offer special-
ized modules leading to advanced qualifications.

— 1st semester 2019: a common training plan for teachers and teaching assistants
(ATSEMs) will be launched in close collaboration with local authorities. ATSEMs are
essential to nursery schools; their role will become more educational. The training
will help to implement these changes to the ATSEMs' role, complementing the role
of teachers.

 Two decrees to promote and strengthen
 the role of teaching assistants
 Local authorities today employ about 55,000 teaching assistants, 85% of whom are civil
 servants. Two decrees, regarding their status and their recruitment exam, were published
 on March 1, 2018. In particular, their membership in the educational community
 is affirmed.

Key nursery school figures

 Total number of students

 2,522,282 students
 including 466,903
 in REP and REP+

 Age distribution

 92,885 788,070
 less students total students total
 than 3 years
 3 years including 30,427 including 142,125
 in REP and REP+ in REP and REP+
 i.e., 41,38%* i.e., 20,63%*

 809,062 832,265
 students total students total
 5 years
 4 years including 146,155 and over including 148,196
 in REP and REP+ in REP and REP+
 i.e., 20,67%* i.e., 20,41%*

 * Percentage calculated from the number of students enrolled in public education.

Source: L'Éducation nationale en chiffres, Depp, 2017.

School year 2018-2019 9
The French school
 Teaching basic skills

 in Europe
 In comparison to European school systems,
 France has strengths and weaknesses.

 Key European target France EU 28 average

 BASICS INSUFFICIENTLY MASTERED
 23.5%
 21.5% 22.2% 22.1%
 20.6%
 19.7%
 15% 15% 15%
 max. max. max.

 15-year-olds with 15-year-olds with a 15-year-olds with a
 a low reading literacy level1 low mathematical literacy level1 low scientific literacy level1

1
 OECD/PISA

 A SCHOOL THAT SHOULD BETTER PREPARE
 STUDENTS FOR THE FUTURE
 10% 40%
 max. 10.6% 44.3%
 8.9% min. 39.9%

 Youths aged 18 to 24 Higher-education graduates
 without a diploma from 30 to 34 years old2
 and without training2
 82%
 min. 80.2%
 74.4% 18.7%
 15%
 min.
 10.9%

 15 % 18,8 %
 min.

 Employment rate Adults aged 25 to 64
 of young graduates who participate in educational
 from 20 to 34 years old2 and lifelong learning activities2
2
 2017 Employment Survey

 10 Together for a School of Trust
Fighting inequalities
 at their source

THE ESSENTIALS
 Twenty percent of students have not mastered basic skills
by the end of primary school. To address this difficulty at
the root, it is essential that the most vulnerable students benefit
from greater supervision in their formative years and qualitative
teaching methods.
 That is why class size has been reduced by 50% in first
and second grades in Priority Education Networks (REP)
and Enhanced Priority Education Networks (REP+), an initiative
begun in September 2017.
 At the beginning of this school year, we reduced twice
as many classes as last year (3,200 first-grade classes in REP;
1,500 second-grade classes in REP+) and three times more
students benefit from this privileged learning environment.
 In total, at the start of the 2018 school year, nearly
190,000 first and second-grade students in REP and REP+
were in classes of about 12 students.

A measure of social justice
Before educational difficulties become ingrained, it is essential to offer the most
­vulnerable students a reinforced framework to enable them to master basic skills.

That is why first and second-grade classes have been halved in Priority Education
­Networks (REPs):
 – in September 2017: 2,200 classes were halved in REP+;
 – in September 2018: 3,200 first-grade classes were halved in REP
 and 1,500 second-grade classes in REP+.

This investment is necessary for French schools to combat negative environmental
factors of all kinds, and to give all students the best chance of success. This effort is
part of a larger initiative to devote more resources to primary school.

School year 2018-2019 11
Teaching basic skills

 A measure that is already getting results
 Scientific studies show that substantially reducing class size allows the most
 ­vulnerable students to progress1. France is one of the first countries to launch such a
 large ­deployment (12 pupils per class during the first two years of compulsory school-
 ing) and on such a large scale2: in September 2019, 20% of first and second-grade
 students (300,000 students) will benefit from this measure.

 Teachers in charge of these reduced classes have remarked that students have clearly
 benefited.
 It is now necessary to support this observation by conducting a precise assessment
 of student progress:
 – planned evaluations in first, second and sixth grades will offer pertinent data;
 – researchers from several universities, overseen by the Direction of evaluation, Fore-
 casting and Performance (DEPP), will assess the impact of this measure. Initial results
 will be available at the end of 2018 for first-graders in REP+.

 The cutting edge of a primary-school teaching renewal
 "In the fall of 2018, To be fully effective, class-size reduction in first and second grade
 must be accompanied by a renewal of teaching practices. This
there are 190,000 first effort, which benefits all schoolchildren, includes:
 and second-grade – structured, progressive and specific teaching methods, particularly
 in French and mathematics (see fact sheet 3);
 students in Priority – more personalized teaching practices to better meet the needs
 Education Networks of all students.
 who are studying This new approach has been clarified:
 in reduced classes." – by teaching recommendations in reading, grammar, vocabulary
 and mathematics published on April 26, 2018 (education.gouv.
 fr/pid285/bulletin-officiel.html?pid_bo=37752);
 – by a research review of literacy education, established with the support of the
 Scientific Council for National Education (CSEN), which emphasizes the need for:
 • meticulous study of the connection between written and spoken sounds;
 • the acquisition of a fluent reading before the end of first grade;
 • careful daily work on writing in class;
 • reading comprehension exercises.
 – by a review of teaching practices (class layout, time management, differentiating
 teaching practices, choice of reading manuals3, etc.).

 1 Bressoux, P. and Lima, L., "La place de l'évaluation dans les politiques éducatives : le cas de la taille des classes
 à l'école primaire en France," Raisons éducatives (G. Felouzis and S. Hanhart, eds.), "Gouverner l'éducation
 par les nombres ? Usages, débats, controversies," 15, 99-123, 2011. Denis Meuret, "Les recherches sur la taille
 des classes," a report made at the request of the Haut Conseil de l'Évaluation de l'École (HCEE), January 2001.
 2 The US developed a similar project, STAR (Student/Teacher Achievement Ratio), in 1985, whose long-term
 results were encouraging. See Denis Meuret, "Les recherches sur la taille des classes", a report made at the request
 of the Haut Conseil de l'évaluation de l'École, January 2001.
 3 http://eduscol.education.fr/cid117919/100-de-reussite-en-cp.html

 12 Together for a School of Trust
Teaching basic skills

The effort to reinforce basic skills will continue throughout the 2018-2019 school
year with:
– national assessments at the beginning and middle of first grade, and at the beginning
of second grade (see fact sheet 4);
– clarified programs for primary and lower secondary schools;
– annual progress benchmarks;
– new grammatical terminology and a grammar textbook to unify grammar instruction.

To support this initiative, additional training has been put in place:
– for 1,400 National Education inspectors in September 2018;
– for schoolteachers: 18 hours of annual training devoted to French
and mathematics.

 Deployment of reduced class size in priority zones

 2017 2018 2019
 First-grade classes First-grade classes First-grade classes
 halved in REP+ halved in REP+ halved in REP+
 100% 100% 100%

 First-grade classes First-grade classes First-grade classes
 halved in REP halved in REP halved in REP
 - 100% 100%

 Second-grade classes Second-grade classes Second-grade classes
 halved in REP+ halved in REP+ halved in REP+
 - 75% 100%

 Second-grade classes Second-grade classes Second-grade classes
 halved in REP halved in REP halved in REP
 - 74 classes 100%

 60,000 190,000 300,000
 TOTAL
 NUMBER OF
 STUDENTS

School year 2018-2019 13
Priority given to basic skills
 Teaching basic skills

 In primary school, the focus is on acquiring basic skills:
 reading, writing, counting, respecting others.

REDUCE INEQUALITY BEGINNING IN NURSERY SCHOOL
➜ Compulsory education from age 3 in September 2019
➜ Language development to prepare students for reading and writing

HALVE FIRST AND SECOND-GRADE CLASS SIZE IN REP AND REP+
September 60,000 students September 190,000 students
 in reduced classes in reduced classes, i.e.,
2017 2018
 approx. 12 students per class

TESTING STUDENTS IN FIRST AND SECOND GRADES
 For all students at the beginning For teachers, help for adapting
 and middle of first grade, their teaching to the needs
 and the beginning of second grade, of students
 in French and mathematics

OFFER SUCCESS INTERNSHIPS IN FIFTH GRADE
For students experiencing difficulty in French and/or mathematics, on a voluntary basis:

 76,200
 15h 3h Spring
 or summer
 Summer students enrolled
 of internship per day 2018 (+6% compared
 vacation
 to 2017)

CLARIFY THE PROGRAMS
➜ More precise programs ➜ Annual progress benchmarks
in French, mathematics, moral and civic for primary and lower secondary schools
education, from first to ninth grades

 A sustained investment
 Creation of 3,881 positions in September 2018 to:
 ➜ continue to reduce class size in REP and REP+
 ➜ improve the ability to provide replacement
 ➜ improve educational offerings in rural areas
 ➜ better support students with disabilities

 14 Together for a School of Trust
100% success
 in primary school:
 strengthening French and
 mathematics instruction

THE ESSENTIALS
 An observation: international and French tests
show that French students have insufficient mastery of
basic skills. Children from disadvantaged backgrounds are
particularly concerned.
 An objective: universal mastery of fundamental
skills by the end of primary school, because a successful
education and the formation of a free and responsible
citizen depend upon it.
 A strategy: give priority to the mastery of French and
mathematics, the basis of all knowledge, through rigorous,
specific and progressive teaching;
 The means: invest in and clarify teaching programs,
develop annual benchmarks, strengthen teacher supports,
encourage reading.

Imperfect mastery of basic skills
Several surveys show that French schoolchildren have poor mastery of basic skills.

The PIRLS survey (2016), which assesses reading comprehension, shows that since
2001, the overall performance of French students in fourth grade has gradually de-
creased at each evaluation. Moreover, their performance is below the European aver-
age (511 points vs. 540)1.

The DEPP study (2016) of the reading ability of 760,000 young people aged 16 to
25 years who completed their obligatory Defense and Citizenship Day (JDC) shows
that 22.5% of them are not efficient readers2.

The TIMSS (2015), which measures results in mathematics and science among
fourth-grade students, shows that with 488 points in mathematics and 487 points
in science, France is below the European average. These results show a strong hetero­
geneity of results between students.

In the next four years, we must improve these results so France regains its place as
an international reference in educational matters.

1 "Évaluation des acquis des élèves", Note d'information, number 17.24, December 2017.
2 "Journée défense et citoyenneté 2016 : environ un jeune Français sur dix en difficulté de lecture",
Note d'information, number 17.17, June 2017.

School year 2018-2019 15
Teaching basic skills

Priority given to primary school
Fall 2018 saw the commitment of a greater budget for primary school.

There are 36,200 fewer students in primary school. At the same time, 3,881 teaching
positions were created.

Concretely, this translates into a better rate of primary-school supervision in every
region. The number of professors per 100 students was 5.55 at the start of the 2018
academic year while it was 5.46 at the beginning of the 2017 academic year.

Rigorous, specific and progressive instruction
The three years of nursery school and five years of elementary school must enable
all students to fully master basic knowledge, which is an essential springboard for
success. This requires instruction that is:
– rigorous: teachers should assign exercises on pertinent concepts until all students
master the skills expected by the end of the year;
– specific: teaching sequences specifically devoted to reading, writing, vocabulary,
grammar, calculus, problem solving, etc.;
– progressive: lessons take place according to progressions established by teachers
to meet the educational objectives set by the Ministry.

Actions carried out in 2017-2018
The publication of a reference book, First-Grade Reading and Writing Instruction, a state-of-
the-art guide, is intended to aid first-grade teachers. It shows that:
– the systematic instruction of the connection between written and spoken sounds is
the most efficient method;
– writing activities should be conducted in conjunction with reading activities;
– fluent reading, which must be acquired in first grade, is essential to a good under-
standing of a text;
– a reading manual drives advancement;
– once reading has become fluent, understanding words, constructions, sentences
and texts must continue to be the subject of specific exercises in grammar, vocabulary
and conjugation.

Four recommendations provide teachers with a general framework for teaching
fundamentals. They derive from the best teacher practices and national and
international research, and are part of a global strategy of mastery of basic knowledge
by all primary-school students:
– two recommendations concern the teaching of reading, and the teaching of grammar
and vocabulary;
– two recommendations concern arithmetic and problem solving.

16 Together for a School of Trust
Teaching basic skills

Clearer programs and annual progress benchmarks
for 2018‑2019
At the request of the Minister, the Conseil supérieur des programmes clarified the
French and mathematics programs, with the central objective of helping all stu-
dents master and consolidate basic knowledge. These amended programs went into
effect at the start of the 2018 school year in Cycle 2 (first, second and third grades),
Cycle 3 (fourth, fifth and sixth grades) and Cycle 4 (seventh, eighth and ninth grades).

In the fall of 2018, annual progress benchmarks will be provided to teachers to assist
them in their daily work. They will specify the skills and knowledge that each student
must acquire during the school year.

In French, priority given to vocabulary, reading and writing
Elementary school
– Nursery school curricula (Cycle 1) will be clarified by the Conseil supérieur des pro-
grammes to further emphasize vocabulary skills.
– Educational recommendations published in spring 2018 emphasized the impor-
tance of vocabulary. These recommendations are an extension of the guide First-Grade
Reading and Writing Instruction.

Primary school
– By the end of first grade, all students must be able to automatically decipher
the ­alphabet in a way that allows them to read fluently. To this end, teachers give
regular and repeated sessions of reading, writing, vocabulary, grammar, conjugation
and ­spelling.
– Resources are made available to teachers to help them choose their reading ­manual,
to create their lessons3, etc.
– A grammatical terminology text will be published at the beginning of the 2018
school year. This book offers teachers a simple and innovative terminological reperto-
ry to teach grammar rules to students.

In mathematics, priority given to arithmetic
and problem solving
 The new version of the curricula and teaching recommendations c ­ oncerning
 arithmetic and problem solving take into account the main conclusions of
 ­
 Cédric ­Villani and Charles Torossian's report, 21 Measures for Mathematics
­Instruction 4 :
 – exercise daily mental calculation throughout primary school;
 – work on addition, subtraction, multiplication and division beginning in first grade;
 – develop an intuitive approach to mathematics.

Project leaders in each academy will be in charge of mathematics instruction.

3 http://eduscol.education.fr/cid117919/100-de-reussite-en-cp.html
4 http://www.education.gouv.fr/cid126423/21-mesures-pour-l-enseignement-des-mathematiques.html

School year 2018-2019 17
Teaching basic skills

Developing a taste for reading
The curricula emphasize regular reading practice, both silent and aloud, as well as
student discussions about books.

The promotion of books and libraries is a high priority in arts and cultural education
(see fact sheet 6).

Improved teaching instruction:
better training for teachers and administrative officials

Developing professional skills
– September 2018: 1,400 National Education inspectors were trained to help teachers
implement this new educational plan in their region.
– The 18 hours annual training of schoolteachers will focus on French and mathe-
matics instruction.

Giving teachers tools to enable them to help students advance

– National tests in first, second and sixth grades will give teachers a clear view of
the skills and difficulties of each student, and will enable teachers to provide the best
response (see fact sheet 4).
– New resources, in particular the work of the Scientific Council for National Educa-
tion, will be provided to teachers.

Giving teachers extra time to help the most vulnerable
students
– Throughout the year, in primary school, teachers have one hour per week of comple-
mentary educational activities (APC) to help the most vulnerable students.
– During the spring and summer vacations, willing students can participate in Suc-
cess Internships (see fact sheet 5).

18 Together for a School of Trust
Improved mathematics
 Teaching basic skills

 instruction
The Villani-Torossian report's recommendations on mathematics form the basis
 of a plan for rigorous, specific and progressive instruction.

 ACTIONS ALREADY TAKEN
 Cultivate an understanding of addition, subtraction,
 multiplication and division since first grade
 Encourage the development of computational skills at all ages
 Employ manipulation, verbalization
 and abstraction as the basis for math instruction

 4 NEW MEASURES FOR SEPTEMBER 2018

 Project managers Better lifelong learning
 in each academy for teachers

 Math laboratories More science clubs
 in schools

 School year 2018-2019 19
Teaching basic skills

 Test in order to progress
 The evaluations planned for this year will make it easier
 to personalize students' education.

 NATIONAL ASSESSMENTS IN FIRST,
 SECOND AND SIXTH GRADES...
 Why? ➜ Allow teachers to adapt their teaching to help all
 students succeed
 In what
 ➜ In French and mathematics
 disciplines?
 When? ➜ Early and mid-year in the first grade
 ➜ At the beginning of second grade
 ➜ At the beginning of sixth grade

 Results are available a few days after the tests

 ...TO BETTER ADAPT TO STUDENTS'
 NEEDS AND GOALS

 Deliver an individual Implement any necessary
 report card to each review sessions developed
 student's family by teachers through:
 ➜ lessons
 ➜ complementary
 educational activities
 in elementary school
 Develop an educational plan ➜ or personalized help
 that answers students' needs, in lower secondary school
 designed by teachers,
 educational inspectors
 and administrators

20 Together for a School of Trust
National assessments of first,
 second and sixth-grade students

THE ESSENTIALS
 Mastery of basic knowledge by all primary-school students
is a top priority. As of September 2018, all children enrolled
in first, second and sixth grades receive assessments.
These tests provide teachers with effective benchmarks
for identifying students' difficulties early in the year,
thereby helping students overcome them and succeed.
 For each skill tested, teachers have educational resources
to respond to student difficulties.

Gathering information for students' benefit
The assessment of students' academic achievement aims to better understand their
needs to improve their learning process.
These tests are based on four principles:
– a rigorous and scientific construction of the assessment tools conducted by the
Direction of Evaluation, Forecasting and Performance (DEPP), in cooperation with
the Scientific Council for National Education (CSEN) and the General Direction of
School Education of the Ministry (DGESCO);
– secure procedures;
– results furnished to families;
– support for teachers so they may respond effectively to their students' difficulties.

 The Scientific Council for National Education
 On January 10, 2018, the Minister of National Education, Jean-Michel Blanquer,
 established a Scientific Council for National Education, chaired by Prof. Stanislas Dehaene
 and composed of recognized scientists from different fields.

 Founded as a place for the exchange of ideas, its multidisciplinary expertise informs
 political decision-making. Its work focuses on the acquisition of basic knowledge,
 teacher training, resource validation and student assessment.

School year 2018-2019 21
Teaching basic skills

Evaluations at key educational moments

First grade
In September, national assessments allow teachers to verify that students have the
necessary skills to begin to learn reading and math.
– In French, they evaluate the abilty of children to manipulate sounds. This ability is
­predictive of their ease in learning to read. They also assess students' ability to under-
 stand words, sentences or a short text read by the teacher.
 – In mathematics, students are asked about their knowledge of numbers up to 10
 and their ability to use them in a simple situation.

Between January and February, an assessment gives the teacher clear indications
of what students have learned, particularly in reading fluency.

Second grade
The second-grade assessment takes place in September and focuses on reading,
­writing and numbers.
 – In French, it focuses on the ability to quickly decode words, read aloud with fluidity,
 understand a simple text and spell common words.
 – In mathematics, it deals with the use of integers greater than 10 and first notions
 of geometry.

First and second grades
Each family receives individualized feedback from teachers at a collective or ­individual
meeting with the parents.

These results provide essential information to nursery and elementary-school ­teachers
to allow them to adapt their teaching to students.

The results of these evaluations are then collected by the National Education inspec-
tors, who can then adapt local programs to meet the needs of students.

Sixth grade
Launched in the fall of 2017, tests of sixth-graders are taken online and corrected
automatically. The nature and difficulty of the questions submitted to students
vary according to the accuracy of their answers.

This year, the assessments will take place in early October so support for s
 ­ tudents
in difficulty can be implemented rapidly.

Each student receives personalized feedback during a group or individual ­m eeting
with parents.

22 Together for a School of Trust
Teaching basic skills

These results provide essential information to the academy and the school or
school networks within.

Anonymously, all data are collected by the DEPP to inform the educational policy of
the Ministry.

Responding to educational difficulties
Evaluation is the first step in an educational process that aims to identify educational
difficulties and respond with appropriate resources.

Elementary school
– For each skill tested, teachers are provided with teaching resources to respond
to difficulties encountered and to help their students progress.
– Weekly complementary educational activities (APC) allow teachers to spend time
with the most vulnerable students or those who do not master a particular skill.

Lower secondary school
Test results are subject to rigorous analysis by the educational teams, to settle the
best help for students in difficulty:
– 2 hours of personalized support, according to the needs of each student;
– the program Homework Done (see fact sheet 5) can also help students overcome
difficulties.

School year 2018-2019 23
Encouraging
 student success:
 Homework Done

THE ESSENTIALS
 The Homework Done program allows lower secondary-
school students to do their homework at school and return
home with their homework done.
 This initiative, begun in November 2017, is free of charge
and allows students to find the support they need to do
their homework.
 It meets a commitment for social justice and help
for families.
 The program will expand in 2018-2019.

Encouraging student success
To progress, students need to review lessons and do exercises. But homework can be
a source of inequality if families do not have the resources or time needed.

Homework Done makes it possible to overcome this gap: it is a time at school
­dedicated to allowing students to do their homework under the supervision of an
 adult who offers help and advice.

If a student is having difficulty, the school's educational team may recommend that
the student enroll in the Homework Done program.

The program is overseen, on a voluntary basis, by teachers, guidance counselors,
­educational assistants, as well as civil-service or other volunteers. On average, this
 year, seven teachers participated in each school.

It is up to the administrative teams, with the participation of the teaching council,
to ­ensure coordination between the various actors of the Homework Done program.
Each institution has therefore appointed a program coordinator and is guided by
a ­reference text.

24 Together for a School of Trust
Teaching basic skills

 Montpellier's lower secondary schools
 Montpellier's lower secondary schools schedule Homework Done at different times
 of the day, to adapt to constraints, particularly those related to school bus hours:
 • 30% of schools put Homework Done at the beginning of the day;
 • 32% during the lunch break;
 • 69% during free periods;
 • 85% at the end of the day.

A quick development
In 2017-2018, all lower secondary schools offered Homework Done to their students.
About 20% of students benefited from this program.

The implementation of Homework Done took into account the characteristics and is-
sues specific to each establishment.

 OEMVEOWI O
 R R
 S KFADIOTNSE
 HD
 is

 For any student
 who wants Free All year long
 to participate

 In connection
 Supervised by teachers, with parents
 educational assistants,
 civil-service and other volunteers,
 under guidance of the
 Schedules set
 school's educational team
 by the school
 outside of
 class hours

 …we 
 Now… MO 
 to 
 ab 
 we 
 in 

School year 2018-2019 25
Teaching basic skills

Expansion in 2018-2019
For the 2018-2019 school year, the Ministry of National Education intends to expand
the Homework Done program and has set two goals:
– Homework Done four hours a week in each lower secondary school;
– more students to benefit from the program.

In October 2018, the National Center for Distance Education (CNED) will offer a new
digital service for all lower secondary-school students as part of the Homework
Done program. This innovative service will offer real-time help with school course-
work and skills, as well as methodological support enabling students to increase
their autonomy when completing their homework (see fact sheet 11).

To meet the specific needs of overseas territories and halve the gap with the main-
land in the mastery of basic skills, the government announced in June 2018, as part
of the Blue Book of the French Overseas Territories, the extension of the program
Homework Done to overseas territories from the start of the 2019 school year.

Success Internships, an effective complement
to Homework Done during vacation periods
Success Internships are free and offered on a voluntary basis to students who are
experiencing difficulties. These internships allow fifth to ninth-graders the opportunity
to consolidate their knowledge and face secondary school with confidence:
• during spring and summer vacations;
• supervised by teachers on school premises for 15 hours a week.

71,887 elementary-school students attended these courses during the summer of 2017,
whereas 76,200 students attended in the summer of 2018 (+6%).
7,906 ninth-graders in public school benefited from this new program in the summer
of 2018 (437 in private schools under contract with the Ministry of National Education).

26 Together for a School of Trust
Culture and the arts,
 keys to student
 empowerment

THE ESSENTIALS
 Practicing arts, visiting cultural institutions, and acquiring
cultural knowledge and references are essential to developing
students' creativity and self-confidence.
 It is also a social-justice requirement to democratize
access to culture and artistic practice.
 To offer all students access to an exemplary artistic
and cultural education, the Ministries of National Education
and Culture have established four priorities: developing collective
musical practices; elevating the place of books and reading
at school; expanding theater programs in lower secondary school;
and strengthening visual-arts education.

Developing musicianship

A musical start to the school year
September 3, 2018 marked the musical start of the school year in the French schools.
For the second time, students were welcomed with songs or concerts in order to start
the year with joy and serenity. This year, Priority Education Networks have the support
of an artist-mentor.

 Organized events
 Renowned artists were invited to various departments: Renaud Capuçon in Seine‑Saint‑Denis,
 Pierre Chêne in Val-de-Marne, Yves Duteil in Seine‑et‑Marne, etc.
 The students of Jean-Moulin school in Aubervilliers were welcomed by the bassists
 of the Radio France Philharmonic Orchestra and those of Octave Feuillet school in Paris
 were welcomed by the Diotima Quartet.
 The schools of Brive-la-Gaillarde in Corrèze hosted Abaji and those of Vernon
 in the Eure the singer-songwriter Adélys.
 A slam took place in Cenon in Gironde with Souleymane Diamanka
 and the Musiques de nuit association.
 Percussion workshops were offered by Simon Flippi and the Sons de toile company
 in Bordeaux in Gironde.
 The Tchalik string quartet was in Évreux in the Eure and Pablo Pico, composer of the music
 of the animated film Adama, le monde des souffles in Mainvilliers in Eure-et-Loir.
 Musical practice workshops was offered by Jean-François Zygel at Cosne-Cours sur Loire,
 sound painting with Audrey Vallarino at Nucéra school in Nice, flash mobs with the Volubilis
 company and Agnès Pelletier at Niort in Deux-Sèvres.

School year 2018-2019 27
Teaching basic skills

A choir in every school by 2019

Today, 10% of students participate in a choir in lower secondary school. The goal
is to increase the number of choirs in primary and secondary schools so they can
accommodate an increasing number of students.

This September, a new optional course was created: two hours of choral singing,
which will carry the same weight as any other non compulsory course.

The program was launched on July 21, 2018. It emphasizes the use of a varied reper-
toire: contemporary songs, French or foreign traditional songs, operatic airs, musicals,
hymns and lieds, as well as works reflecting the values and principles that form the
basis of French republican and European citizenship (for example, La Marseillaise, Ode
to Joy, Le Chant des partisans, etc.).

At the same time, the Choral Charters program was strengthened and developed.
On the initiative of the Ministries of National Education and Culture, it involves local
authorities, and public and private educational and music organizations to promote
the creation of choirs in schools, help them establish a repertoire and train teachers.

New resources have been devoted to choral singing:
– the creation of National Education choirs, open to teachers throughout France: the
most dedicated will join a national choir of excellence;
– a new edition of the École en chœur festival, launched in 2017-2018. Like last year, it
will culminate in a concert involving school choirs and the national choir of excellence;
– the launch, on September 20, 2018, of Vox, a free singing application developed with
Radio France1;
– a guide, Choir in primary and secondary school, available online in September.

Support for orchestras
As part of the interdepartmental plan All Orchestra Musicians, announced on
May 23, 2018, support has been given to initiatives such as DEMOS (Music and
Orchestra ­Education Plan with a Social Vocation) and Orchestras at school to allow
more students, primarily from rural and priority metropolitan areas, to join a school
orchestra.

Strengthening reading practice and the place of books
at school

A Book for the Holidays
In June 2018, all fifth-graders received a collection of fables by Jean de La Fontaine,
illustrated by Joann Sfar, which they were able to read at home during the summer.
This initiative gave them access to a major work in the French literary heritage, whose
­continuing relevance and modernity was emphasized by the work of a contemporary
 illustrator. Educational resources were made available to teachers to help prepare
 ­students to read the book and to study it with sixth-graders at the start of the follow-
 ing school year. The initiative will be repeated in the summer of 2019 with a new
 ­illustrator.

1 http://www.maisondelaradio.fr/article/vox-ma-chorale-interactive-0

28 Together for a School of Trust
Teaching basic skills

School libraries
The Ministry will strengthen the role of books at school in partnership with local
­authorities to create or revitalize libraries in primary schools.
 Starting in the fall of 2018, a 2.5-million-euro annual call for projects will help schools
 renovate their libraries, especially in rural areas.

Personal reading time at school
In order to develop students' taste for reading, schools will be encouraged to provide
a collective time during the school day for personal reading, from books chosen at
students' discretion.

Sharing reading and the pleasure of reading
The Ministry of National Education promotes the reading contest Little Reading
­Champions, which helps fifth-graders to learn to read a text of their choice aloud; the
 contest targets 100,000 students per year. Support for the French association Lire et
 Faire Lire has been increased to mobilize more volunteers over the age of 50 to share
 books with young children and thus ensure intergenerational communication.

Strengthening visual-arts education
Visual-arts education in secondary school took on a new dimension in October 2018
with the provision of a cinema curriculum. France Télévisions, in association with
the Ministry, offers teachers the possibility to screen 50 classic films, accompanied
by resources to enrich students' film knowledge.

In addition, a kit to create images and animated images, produced by the National
Center for Cinema and the Moving Image (CNC), will be distributed at the end of
primary school and in lower secondary school to raise student awareness about
the creation of images.

Theatrical practice
The National Education and Culture Ministries are working together to develop theater
education throughout schooling.

The increased role of the arts as part of school reform
As part of the 2021 baccalauréat reform, students will be able to link arts education
with other subjects (mathematics, physical sciences, etc.), comprising four hours
in eleventh grade and six in twelfth grade.

They will be able to add an optional course (three hours per week) from among
these seven fields: visual‑arts, cinema/audiovisual arts, art history, music, theater,
dance and circus arts. In addition, two specialized baccalauréat degrees, the science
and technology of design and applied arts, and music and dance techniques, have
been created.

School year 2018-2019 29
Preparing students for their future

Preparing
students for
their future
© Photo credit: Stéphanie Lacombe/MEN
 Preparing students for their future
Towards a new general and
 technological baccalauréat in 2021

THE ESSENTIALS
 The baccalauréat is an essential landmark in students'
education. However, its excessive complexity and lack of
coherence do not guarantee success in higher education.
Today, only 27% of students obtain their bachelor's degree
within the three expected years.
 Starting in 2021, the general and technological baccalauréat
will therefore be restructured to make it a springboard to
success. Students entering tenth grade this year will be the first
concerned.
 In preparation, upper secondary school is redesigned to help
students better plan their education and acquire the knowledge
and skills needed to pursue their studies.

A baccalauréat that takes students' work into account
Today, students are evaluated during one week of tests. In comparison, the 2021
baccalauréat will be based, in part, on continuing coursework evaluations in eleventh
and twelfth grades, as well as on the traditional final exams.

Final exam results reduced to 60% of the final grade

Like today, each upper secondary-school student will present a written and oral test
in French at the end of eleventh grade. In twelfth grade, students will take four final
exams:
– two written tests will focus on subjects chosen by the candidate;
– a written philosophy test: a French tradition, which aims to reinforce critical thinking
and analysis;
– an oral presentation prepared during the course of twelfth grade: knowing how to
express oneself correctly in French is essential for studies, as well as for personal and
professional life.

School year 2018-2019 33
Preparing students for their future

Coursework evaluations to count for 40% of the final grade
– 30% of the final grade will be composed of general tests organized in three
sequences in the second and third quarters of eleventh grade and during the
second quarter of twelfth grade, like the current baccalauréats blancs (practice tests).
 • The tests will focus on areas not covered by the final exams.
 • To ensure fairness, topics will be drawn from a national database. Tests will be
 anonymous and corrected by professors who are not the students' own.
 Standardization will be ensured at the academic level.

– 10% of the final grade will correspond to eleventh and twelfth-grade report-card
results for all courses in order to take into account students' daily work.

A general and technological upper-secondary school
to succeed

A new approach to instruction
After changes in tenth grade at the start of the 2018 school year, general and techno-
logical upper-secondary schools will continue to evolve in September 2019. The aim is
to give students a common culture and enable them to plan their education in a more
progressive way.

– In general upper-secondary school, in eleventh and twelfth grades, the specialized
streams (science, economics, literature) will be abolished in favor of common instruc-
tion, with a choice of three majors of four hours each in eleventh grade and two majors
of six hours each in twelfth, to which optional courses may be added.
– In technological upper-secondary school, instruction will reinforce the common
student culture, while students will continue to choose a specialized stream.

A new approach to the final cycle of general upper-secondary school i.e. the last two
years will allow students to focus more on areas that will help them succeed in higher
education:
– new instruction: all students will take a science and a computer course in eleventh
and twelfth grades, subjects that are indispensable to meeting the challenges of the
21st century;
– in general upper-secondary schools, a wide choice of majors will be able to be
combined, according to students' wishes and regional course offerings: digital and
computer sciences; humanities, literature and philosophy; history, geography, geopoli-
tics and political science; foreign languages, literature and cultures; literature, languages
and cultures of Antiquity; the arts; biology, ecology; mathematics; physics, chemis-
try; life and earth sciences ; engineering sciences ; economics and social sciences;
– optional courses to further focus students' choices, particularly in mathematics,
with complementary mathematics instruction or advanced mathematics.

34 Together for a School of Trust
Preparing students for their future

Enhanced support to help students choose their focus
To help students, upper secondary schools will offer (see fact sheet 9):
– a time, beginning in tenth grade, dedicated to three main objectives: discover and
navigate the professional world; become familiar with higher-education tracks and
their employment perspectives; develop an education plan;
– two teachers in twelfth grade to counsel students;
– better coordination of all stakeholders.

Beginning with the 2018 school year, changes in tenth grade

As part of the 2021 baccalauréat and vocational secondary school reform, tenth
grade (general, technological and vocational) will undergo changes beginning in
­September 2018, including reinforced support for students in formulating a personal
 education plan.

The new tenth grade in September 2019
After these initial changes, new tenth-grade schedules and curricula will come into
force in September 2019.

As in all upper secondary-school grades, these schedules provide for common instruction,
including in digital sciences and technology, and economics and social sciences. These
two subjects will be taught for the first time to all tenth-grade students.
Optional courses will also be offered to students in general and technological education.

The Minister of National Education asked the Conseil supérieur des programmes to pro-
pose new upper secondary-school curricula in November 2018, which will then be
reviewed by teachers and union repesentatives.

School year 2018-2019 35
Baccalauréat 2021
The baccalauréat will now better take into account eleventh and twelfth-grade
 coursework, while also better preparing them for higher education.

 CONTINUOUS 40% 60% FINAL
 ASSESSMENT of the final
 score
 of the final
 score
 EXAMS

 10% of the final score: 1 preliminary
 eleventh and twelfth-grade baccalauréat exam
 report cards in eleventh grade
 written and oral French
 30% of the final score: 4 final exams
 generalized exams in twelfth grade
 (épreuves communes) 2 specialty subjects
 2 series in eleventh grade Philosophy
 1 series in twelfth grade Final oral exam

 Generalized exams Oral test (20 min.)
➜ They are given in subjects ➜ They are conducted in eleventh
 not evaluated during the final exams. and twelfth grades.
➜ To ensure fairness, copies are ➜ They focus on a subject inspired
 anonymous and corrected by teachers by lessons in the majors chosen
 other than those of the student. by the student.
 The questions come from
 a national digital bank.
➜ Physical education courses
 are evaluated throughout the final year
 of schooling.
Better preparing students
 for the job market

THE ESSENTIALS
 Transforming vocational upper-secondary schools is
essential to giving young people easier access to the job
market. Youth unemployment today is at 20% in France
compared to 15% in Europe and 6% in Germany. At the same
time, the strengthening of vocational schools is essential to
assuring France's economic recovery.
 This transformation therefore has two objectives: first,
to promote the vocational school to students through better
support and more progressive and varied courses. Secondly,
vocational secondary-school courses must prepare students for
the professions of the future.
 Vocational schools must take full account of changes in
contemporary society, particularly the consequences of the
digital revolution and the transition to sustainable energy.

Starting the transformation in 2018

Better support: a placement test at the beginning
of tenth grade

Students will now take a placement test at the beginning of vocational secondary
school. It will allow them to take stock of both their acquired skills and the difficulties
they experience in French and mathematics. Depending on their results, students can
then benefit from help to consolidate their basic skills.

Preparing for further studies: "bridge classes" for the higher
vocational diploma (BTS)

Today, only 59% of vocational school graduates who enter a BTS program pass it1.

Two thousand spots have been created in "bridge classes" to help students succeed
in BTS programs.

1 CNESCO, De vraies solutions pour l'enseignement professionnel, June 2016, p. 5.

School year 2018-2019 37