Immaculate Conception Elementary School - Parent Handbook 2021-22 - 200 West Wayne Street Celina, Ohio 45822 419-586-2379
Page content transcription
If your browser does not render page correctly, please read the page content below
Immaculate Conception
  Elementary School
     200 West Wayne Street
       Celina, Ohio 45822
         419-586-2379

   Parent Handbook
      2021-22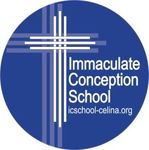 Immaculate Conception School
                                                200 West Wayne Street
                                                  Celina, Ohio 45822
                                                    419-586-2379

                                                                                                             August 2021

Dear Immaculate Conception Students and Parents,

        Another school year has begun! We are very blessed to be partners with God and the parents of our children in
the formation of their faith. Witnessing the spiritual, academic, emotional, physical, and social development that will
take place between now and the end of May will be exciting for us!

        The teachers and I will enjoy working with you and your students this year, and we look forward to getting
better acquainted. This handbook provides the guidelines regarding our school policies and procedures. Please take the
time to thoroughly read it, and keep it handy for reference. Also be sure to fill out the form that acknowledges you have
read the handbook and responsible use of technology policy and agree to abide by all of the policies in this handbook.
(The form will be on the school app)

         In order for our partnership to be effective, good communication will be critical. Please check our school app
regularly, but also keep an eye out for emails or any printed materials sent home and always feel free to contact us with
questions or concerns. May the upcoming year be filled with the excitement of learning and with the warmth of being
part of God's loving family.

                                                        Sincerely,

                                                        Polly Muhlenkamp, Principal
IMMACULATE CONCEPTION
                       SCHOOL MISSION STATEMENT
Immaculate Conception Catholic School prepares students to meet the
challenges of the future as faith-filled disciples of Jesus.

We foster an environment for the spiritual, intellectual, physical and social
growth of each student while respecting the uniqueness of each learner.

         IMMACULATE CONCEPTION SCHOOL VISION
Immaculate Conception School will challenge children of all abilities to
achieve academic excellence, become life-long learners, and aspire to be
responsible citizens devoted to Christ.

        IMMACULATE CONCEPTION SCHOOL BELIEFS
   We believe that we pass to new generations the traditions of our faith and loving relationship with God.

                 We believe that parents, teachers, parish and community are partners in education.

            We believe that students of all ages should be taught and encouraged to be good stewards.

    We believe that each student is a valued individual with unique physical, social, emotional, spiritual,
                                          and intellectual needs.

 We believe positive relationships and mutual respect among and between students and staff enhance the
                                           student's self-esteem.

         We believe that all students can learn, and we provide instruction for the different learning
                                              styles of children.

           We believe when given the appropriate opportunities, each child will develop his/her
                                        leadership potential.

               We believe that to serve others is to serve God. We challenge our students to help
                              those in need through charity, prayer, and service.
ADMINISTRATIVE STAFF
Father Ken Schnipke             Pastor
Mrs. Polly Muhlenkamp           Principal                      polly.muhlenkamp@icschool-celina.org
Mrs. Carey Luebke               Secretary                      office@icschool-celina.org

INSTRUCTIONAL STAFF
Mrs. Ashley Highley       Preschool 1           Room 104       ashley.highley@icschool-celina.org
Mrs. Tara Homan           Preschool 2           Room 103       tara.homan@icschool-celina.org
Mrs. Ashley Hess          Kindergarten          Room 101       ashley.hess@icschool-celina.org
Mrs. Kaitlin Williams     Kindergarten          Room 105       kaitlin.williams@icschool-celina.org
Mrs. Heather Buening      Grade 1               Room 102       heather.buening@icschool-celina.org
Mrs. Kelli Grieshop       Grade 2               Room 203       kelli.grieshop@icschool-celina.org
Mrs. Judy Hellwarth       Grade 3               Room 202       judy.hellwarth@icschool-celina.org
Mrs. Marcia Kaup          Grade 4               Room 201       marcia.kaup@icschool-celina.org
Mrs. Nancy Frazier        Grade 5               Room 301       nancy.frazier@icschool-celina.org
Mrs. Carla Romer          Grade 6               Room 302       carla.romer@icschool-celina.org
Mrs. Bridget Severt       Music/Drama/Band      Room 210       bridget.severt@icschool-celina.org
Mrs. Melissa Chaney       Intervention          Room 303       melissa.chaney@icschool-celina.org
Mrs. Tami Klenke          Phys. Ed./Art         Room 205       tami.klenke@icschool-celina.org
Mrs. Hannie Wolfe         Spanish               Room 204       hannie.wolfe@icschool-celinaorg
Mrs. Carey Luebke         Library               Room 310       carey.luebke@icschool-celina.org

AUXILIARY SERVICE STAFF
Mrs. Julie Hrycko    Title I Reading           Room 300        julie.hrycko@icschool-celina.org
Ms. Megan Schlater   Speech Therapist          Room 304        megan.schlater@icschool-celina.org
Mrs. Ashley Searight QMHS (Guidance)                           ashleys@foundationsbhs.org

CAFETERIA STAFF                                            Teacher email addresses
Mrs. Karen Brown                Manager
Mrs. Geri Homan                 Assistant                  These email addresses are provided to facilitate
Mrs. Tiffany Pierstorff         Cashier                    communication between home and school.
                                                           Most communication between parents and
                                                           teachers should occur through the school app,
MAINTENANCE/CUSTODIAL STAFF
                                                           but you may also use email to contact a
Mr. Greg (Merf) Ciesinski
Mr. Chuck Staugler                                         teacher.

                                                           HOWEVER, do not use them for
ADDITIONAL STAFF                                           communications that need immediate
Mrs. Ann Muhlenkamp             Kindergarten Aide          attention, such as reporting absences or
Mrs. Jennifer Bruns             Preschool 2 Aide           informing us that a child is to be picked up.
Mrs. Jaime Hawk            Preschool 1 Aide/Office Aide
                                                           Please, no bulk or chain-letter type emails!

                                                           5
CONTENTS
ADMISSION AND REGISTRATION (page 7)                   School Safety Plan
Admission and Registration Policy                     Parent Emergency Information
Tuition                                               Wellness Policy
Financial/Fee Refund Policy                           Snacks in Grades K-3
                                                      Student Accident Insurance
ATTENDANCE (page 9)                                   Guidance Counselor
Attendance, Illness and Absence
Student Attendance Accounting                         FUNDRAISING/VOLUNTEERING (page 29)
Homework for Absent Students                          Fundraising
Releasing Students During School Time                 Scrip Program
Vacations                                             School Store
                                                      Amazon Smiles
CURRICULUM (page 13)                                  Volunteers
Curriculum to Challenge Students                      Parent Teacher Organization (PTO)
Intervention for Students
Academic Expectations                                 EXTRACURRICULAR ACTIVITIES (page 29)
Academic Subjects
Homework                                              STUDENT TRANSPORTATION (page 31)
Homework Consequence Policy                           Bus Transportation
Progress Reports                                      Bus Safety
Report Cards                                          Arrival/Dismissal Times
Standardized Testing                                  Bicycle Safety
School Records                                        Change in "Going Home"
Textbook Care
School Mass                                           COMMUNICATION (page 33)
Recess                                                School Website
Computers/Technology                                  Option C
Library                                               One Call Now Message System
Beyond the Books                                      Email Correspondence
Lunch Clubs                                           Family Directory
Music Programs                                        Social Media
Musical                                               Delays or Closings for Emergencies
Band                                                  Policy on Makeup Days
Field Trips                                           Parent-Teacher Conferences
Retention Policy                                      Parties
Sixth Grade Awards                                    Special Occasion Gifts
                                                      Visits to School
STUDENT CONDUCT (page 20)
Discipline                                            SCHOOL LUNCH (page 37)
Conduct Code                                          Cafeteria
Dress Code                                            Free/Reduced Price Lunch Programs
Harassment, Intimidation, ad Bullying Policy
Cell Phones/Electronics
                                                      SCHOOL GOVERNANCE (p. 38)
Identification of Student Property
                                                      Governance Model
Student Property Inspection
                                                      Right to Amend Handbook

HEALTH/SAFETY (page 26)
                                                      APPENDIX A -Responsible Use of Technology (39)
Immunizations
Administration of Medication By School
                                                      APPENDIX B -Immunization Schedule (41)
School Building Security                              APPENDIX C - Acknowledgement of Covid-19 Risk (42)
Fire/Tornado/Lockdown Drills

                                                  6
ADMISSION AND REGISTRATION
ADMISSION AND REGISTRATION POLICY, GRADES K-6

   1. Immaculate Conception School provides a faith-based education with an emphasis on Catholic values and high
       academic standards. We are a partnership with parents, the I.C. Parish, and the community in educating
       children spiritually, intellectually, physically, and socially to reach their individual potential.
   2. All new families are encouraged to arrange a family conference and school tour to begin the admission process.
       Call the school at 419-586-2379 to arrange a meeting or e-mail the principal at polly.muhlenkamp@icschool-
       celina.org.
   3. No student is excluded from Immaculate Conception School solely because of race, sex, color, religion, national
       origin, or ancestry.
   4. Admission shall not be based solely on ability or achievement. However, since Immaculate Conception School
       does not have appropriate educational facilities to meet the instructional needs of students who are severely
       developmentally or physically handicapped or those with severe behavioral or learning disorders, they shall not
       be admitted unless special arrangements have been made between the parents and the school administration.
   5. The following forms must also be submitted when a student registers at Immaculate Conception School:
             Birth certificate (certified copy from the Health Department)
             Baptismal record if Catholic (and other sacramental records, if available)
             Most recent report card, if older than kindergarten age
             Any court documents related to custody (in cases of divorce, adoption, foster parenting, or other court
                ordered custody)
             Immunization Record
   6. Parents will provide a signed release of records form, which allows Immaculate Conception School to request a
       child's academic and behavioral records from their previous school. Records from the previous school must be
       received prior to admission. These records will help to determine if Immaculate Conception School is an
       appropriate educational setting for the child.
   7. If a child is on an Individualized Education Plan (IEP) for speech or learning disabilities, Immaculate Conception
       must review the IEP before admitting the child in order to assure we can meet the instructional needs of the
       child.
   8. Refusing to provide requested information to the school, or providing false, incomplete, or inaccurate
       information to the school, may result in the denial or revocation of admission and/or disciplinary action, up to
       and including suspension and expulsion.
   9. Kindergarten students must be 5 years of age by August 1 and complete kindergarten screening procedures at
       Immaculate Conception School in the spring of the year prior to entering kindergarten. (Kindergarten screening
       from another school may be accepted if parents apply for admission after the screening date. If screening
       records indicate a potential issue, additional screening may be required.)
   10. A new student entering Immaculate Conception School must present documented proof that he/she has
       received all immunizations prior to the first day of school.
   11. Any new student to Immaculate Conception School is admitted on a probationary period for the first quarter. At
       the end of this probationary period, an assessment will be made by the administration, in conference with
       teachers and parents, to determine if the grade placement is proper or whether a different placement is
       appropriate in order to help the child be a successful learner.
   12. Continued enrollment at Immaculate Conception School is dependent on the following factors:

                                                          7
   Tuition and all other charges paid to date. Failure to keep tuition payments up to date may result in a
                denial of enrollment.
             Maintenance of a satisfactory disciplinary record, as determined by the principal and faculty.
    13. Registrations for students in grades K-6 that meet all requirements will be accepted on a space-available basis
        according to the following priorities:
            1. Students currently enrolled at I.C.
            2. Children of registered I.C. Parish members who currently have siblings enrolled at I.C.
            3. Children of non-parishioners who currently have siblings enrolled at I.C.
            4. Children of registered I.C. Parish members enrolling a first child.
            5. Children of registered cluster (St. Teresa and Our Lady of Guadalupe) parish members.
            6. Children of non-cluster families enrolling a first child.

*Admission policy for Immaculate Conception Preschool is outlined in the preschool handbook.

The process for admission and enrollment at Immaculate Conception School is as follows:

    1. Set up a family tour and conference. Call the school office at 419-586-2379.
    2. Go to www.icschool-celina.org, and from the INFO menu, choose "REGISTRATION." This link will connect you
       with the OPTION C website and the FACTS website. (Option C is the company that manages our enrollment and
       tuition collection, while FACTS is the company that manages our financial aid applications for grades K-6).
    3. Set up an Option C account, using your e-mail and a password you choose.
    4. Enroll your child by logging into your Option C account and providing the requested information. You will be
       charged an annual $50.00 REGISTRATION FEE (per child).
    5. Apply for financial aid (optional) through FACTS. There is a $30.00 fee to apply for financial aid and
       documentation such as tax forms are required to be uploaded. (If you need help with this process, please
       contact Mrs. Muhlenkamp.) In order to be considered for aid from the Archdiocesan Catholic Education
       Foundation, applications should be completed prior to January 20.
    6. A finalized agreement will be sent out once grants and aid are determined. (These are typically sent out in
       May, once need-based grants are calculated.)

(Adopted by the Immaculate Conception School Advisory Board 06.18.13)

TUITION

Immaculate Conception School strives to make its education affordable for all those who want to choose it for their
children. The actual cost of educating a student at I.C. School is over $6000, and the parish helps to subsidize this
education. Families who cannot afford the tuition ($4235.00 for active parish members of Immaculate Conception, St.
Teresa, and Our Lady of Guadalupe parishes, and $4835.00 for non-parish members) can apply to FACTS financial aid.
This application is done online and is completely confidential and unbiased. There is a charge for the FACTS company
handling this paperwork. Families are strongly encouraged to do this application in January in order to be eligible for
tuition assistance from the Catholic Education Foundation of the Archdiocese of Cincinnati, which may provide grants of
between $250 -$1,000 per student, depending on student need.

Parish tuition grants of $200 - $3000.00 have been supplied for those who need them. (Need is determined by FACTS).
In addition, families have the option of asking for extra assistance from our Adopt-A-Student Fund. These funds are
privately donated by parish members who want to insure that every family can afford a Catholic education at I.C. School.

                                                            8
Once grants are offered, families will receive a finalized tuition agreement by email. Since the agreement is set up and
monitored by FACTS, families can choose a payment plan and payment method that best suits their needs. Families may
choose to make 1, 2, 10, or 12 payments. They may choose to have automatic withdrawals from a bank account or pay
by credit card, or they may pay by cash or check directly to the school (you will need to contact Mrs. Muhlenkamp to set
up payments this way). Late payments will be charged a $25.00 late fee. Returned payments will be charged a fee of
$30.00. If there are extenuating circumstances, please contact Mrs. Muhlenkamp at school to work out a possible
variance. Report cards may be held at the end of the year until all tuition is paid in full.

Since tuition grants are made from parish funds, all parents are urged to support Immaculate Conception, St. Teresa,
and Our Lady of Guadalupe parishes in every way possible with your time, your talents, and your treasure. Sunday
collections, and summer festival profits all go toward the cost of maintaining our Catholic school, as well as interest from
our Endowment Fund.

Immaculate Conception School is an approved educational provider for the Ed. Choice Expansion Program which
provides full-tuition scholarships for families of students below a specific income. The program is open to students in
kindergarten through sixth grade and who are entering those grades for the first time. Contact the school or look at the
Ohio Department of Education (http://education.ohio.gov/) website for more information and for forms. Applications
and documentation for this program should be submitted by mid-April.

Immaculate Conception School is also an approved educational provider for the Jon Peterson Special Needs Scholarship
program for children with learning disabilities. More information can be obtained from the school office or at the Ohio
Department of Education website (http://education.ohio.gov/).

FINANCIAL/FEE REFUND POLICY

The $50.00 registration fee per child is non-refundable, even if a family should move after enrolling. However, any
tuition paid beyond the $50.00 deposit, which is part of the registration fee, can be reimbursed if a family moves or
unenrolls, and is based on a per day basis. Families who have paid ahead will be reimbursed and families who have an
outstanding balance will be expected to pay the remainder of it.

Tuition and all other obligations are expected to be paid on time. If a variance is needed due to some hardship, the
family should contact the principal to work out a suitable plan. If any obligations are not met by the end of the school
year, the principal may hold students' report cards until things are worked out.

ATTENDANCE
ATTENDANCE, ILLNESS, AND ABSENCE

Regular attendance and punctuality are important to our students' growth and success in school. Each child has
valuable contributions to make, and time spent in the classroom with the teacher and with fellow students cannot be
replaced. School begins at 8:20 am each morning for K-6 students. (See "Student Attendance Accounting" on page 11 in
regard to notifying the school of absence.)

The following absences are allowed as EXCUSED absences from school:

       Illness or Injury
       Illness in the family necessitating the presence of the child
       Quarantine of the home
       Death of a relative
       Medical or Dental appointment

                                                              9
   Family Emergencies
       Family travel (if only 1 day or with prior approval)

When absences are extended (more than 3 days) or repeated, appropriate documentation will need to be provided.
Bringing documentation from a doctor, dentist, or other health professional is always recommended, but is required
upon request or in the case of an extended absence or repeated absences. Prior approval by the principal is required if a
student will miss more than 1 day of school for family travel. Please request a form in the school office.

Students on the Ed Choice scholarship program must follow the attendance guidelines provided by the Ohio Department
of Education which will be provided to each family receiving the scholarship.

The following may be considered UNEXCUSED absences:

       Family travel that is not given prior approval
       Student absence due to suspension
       No excuse given
       Any reason not stated in the list of excused absences (A child who is not cooperative or a parent who wants to
        sleep in are not adequate excuses for missing school.)

Being on time for school is important. When students arrive late, it creates additional disruption to the classroom, and
learning is missed. Students who arrive after 8:20 but before 9:50 am will be counted as tardy. The tardy will be
unexcused unless there has been an appointment or other necessary reason (emergency, bus arriving late, etc.)

Students who arrive later than 9:50 am, leave before 1:45 pm, or miss more than one and a half hours of instructional
time during the school day will be considered absent for a half day. A student who is not in attendance for at least 1 1/2
instructional hours will be considered absent the whole day.

If a child is tardy (unexcused)more than 5 times in one quarter, a conference will be requested with the parents and
student by the principal to help set up an intervention plan. Students may be required to make up for class time missed
at recess time or after school. At 10 or more unexcused tardies in a quarter or 20 or more within the year, the principal
may call upon law enforcement to assist in intervention and help insure the child gets to school on time.

If a student is absent 5 or more days in one quarter (even if excused), the principal may contact the parents for a
conference to set up an intervention plan. Students may be required to make up class time missed at recess time or
after school. Failure to cooperate with an intervention plan may initiate the assistance of law enforcement to reduce
the number of student absences. Any student missing more than twenty (20) school days (excused and unexcused) may
be required to attend summer school or may be recommended for retention in his/her grade level. If an illness or injury
will require an extended absence for a student, parents are asked to provide documentation from a medical professional
as to the amount of time and reasons for any lengthy absence. Parents are asked to work closely with school personnel
to insure the student is able to make up for missed instructional time.

If a child contracts a communicable disease, he/she should not return until a physician gives permission to do so. If a
child displays symptoms of illness at home, these symptoms must be checked before sending the child to school. A child
should be free of fever (without medication) for 24 hours before returning to school (if the illness is determined not to be
COVID).

Any student or staff member who exhibits one of the following possible COVID-19 symptoms should be kept (and will be
sent) home: Fever of more than 100 degrees, shortness of breath, serious cough, or trouble breathing. Or if they have 2
of the following symptoms: body aches and stiffness, headache, sore throat, new loss of taste or smell, and GI issues
(nausea, vomiting, diarrhea). If a student or staff member is determined to have COVID, he she may not return until they

                                                               10
are fever free for 24 hours (without medication), 10 days have passed since the onset of symptoms, and there is
improvement in other symptoms.

When a student becomes ill at school, he or she may not leave school without the permission of both the principal and a
parent or designate. When notified, the parents must make arrangements for transporting the child home.

In the event that head lice are discovered, the school takes action to prevent the spread but in a low-key manner so as
not to create a stigma for any children involved. If a child is known to have head lice, the parent is contacted. The
school staff checks the classmates of the affected child, as well as any of his/her siblings in the school. If this check finds
other cases, those parents are also contacted, and the children are sent home for treatment to clear up the situation.
The children are checked upon their return to school and must be free of any evidence of live lice to return to the
classroom.

ATTENDANCE POLICY ADDITIONS DURING COVID-19 PANDEMIC IF REMOTE LEARNING BECOMES NECESSARY

       If there should be an outbreak of COVID-19, it may become necessary for one or more students to become
        remote learners for short periods of time (during quarantine periods, for example). It is the full intention of I.C.
        School to remain open for school and only provide remote learning in cases of needed quarantine, illness, or
        other serious health concerns.
       If a student is in a period of remote learning, he/she will be counted as present for school as long as he/she logs
        into Google Classroom on that day and completes all work assigned for the day. He/she must also be present in
        any planned Google Meet or Zoom sessions with the teacher (will be counted as 1/2 day absent if missed.)
        Parents should make every effort to reschedule the meeting, if necessary, due to appointments or other
        obligations that may arise. Policies for reporting illnesses and other necessary absences must still be followed.
       If students are doing remote learning, they may have an excused absence for technical difficulties or interruption
        of internet service beyond the family's control. Parents should reach out to let the teacher or office know what
        happened and students still must do the prescribed work at their first opportunity. If students are ill, parents are
        still expected to contact the school office, so we mark the absence as excused.
       If at any point a quarantine or absence due to COVID-19 is necessary, the school requests documentation from
        an appropriate medical professional or the Mercer County Health Department. We also expect parents to keep
        in touch as changes should occur. As long as documented, all such absences will be excused, and if, in
        quarantine, students are able to log into Google classroom and do the assigned work each day, they will receive
        credit for attendance on that day.
       If any student is diagnosed with COVID-19, he/she may not return to school until: student is fever free for 24
        hours (without fever-reducing medication), there is improvement in other symptoms, AND it has been 10 days
        since the onset of symptoms.

At the discretion of the principal, the Absentee Policy can be altered according to the individual student's needs,
because the philosophy of Immaculate Conception Catholic School deals with the uniqueness of the individual student.

STUDENT ATTENDANCE ACCOUNTING

Immaculate Conception School acts in accordance with the Ohio Revised Code in our effort to prevent missing children.
We attempt to know the whereabouts of each child; this requires cooperation and good communication between school
and parent when a child is absent. Therefore, we use the following procedures:

    1. The parent will notify the school office before 8:20 am on the day the student is absent stating the reason the
       child will not be in school. The school office opens at 7:55 am. If you call before that time, a message may be
       left on the answering machine. Parents also have the option of filling out a student absence form in the school
       app. In order that we can assist the health department in noting the types of illnesses students are experiencing,

                                                              11
please include the symptoms your child is experiencing when reporting their absence. Please also note what to
       do about homework (send it with a student, parent pick up, etc).
    2. A written note can be sent to the office with a brother or sister of the absent child stating the reason for the
       absence. This note will serve the same purpose as a telephone call. A verbal notification by a sibling will not be
       acceptable. Notification must come from a parent.
    3. Notice may be given in advance for absences such as funerals, appointments, etc.
    4. If the school has not heard from the parent on the morning the child is absent, the school will attempt to
       contact the absent child's parents or guardian by phone.

These procedures are to ensure the safety of your children. If parents do not contact the school by 8:20 when a child is
absent, it will be necessary for us to call them in order to account for every child. If a parent cannot be reached, we will
attempt to call the listed emergency contacts, and if none can be reached, the school may call the truant officer or law
enforcement. With these procedures, there will be more immediate follow-up for any missing child.

HOMEWORK FOR ABSENT STUDENTS

Parents should call the office to make arrangements for homework assignments. This work can be sent home with a
brother or sister, or with another student who lives in the vicinity of the absent student, if you have checked with the
other student and/or family first.

When the absence is due to illness, the student is not expected to have the work done the next day if he/she does not
feel well enough. Allowances are made, when necessary, and homework can be submitted when the child has
recovered.

We try to get assigned work ready so that the student can keep up with the assignments if he/she feels well enough to
study in the evening. If work is to be sent with another student, we will send only what can be comfortably carried,
which, in many cases, will be all of it. When there are more books than we can send, the student, upon returning, will
have to make arrangements with the teacher to catch up the other work in a reasonable time.

If you want to be sure that your child gets all missed work on the day he/she is out, please make arrangements to pick it
up at the school office. Request this when calling in the morning to report the absence. If so requested, the work can
be picked up between 3:00 pm and 3:30 pm on the day of the absence. Please be sure to specify if you need to pick up
the work at an earlier time. Pick-up can be arranged after hours or to be without contact in the case of health concerns,
using the cabinet outside the main office.

RELEASING STUDENTS DURING SCHOOL TIME

A student will be released from school ONLY to a parent or legal guardian, or to a person designated in writing by the
parent or legal guardian. The office staff reserves the right to ask for identification if a person is unfamiliar to them.
Students may not leave the school grounds by themselves during the school day.

If it is necessary for a child to leave school during the school day (e.g., dental, eye, doctor appointments), a phone call to
the office, or a written note must be sent with the child and given to his/her teacher, who will send the note to the
office. A dismissal slip for the child will be issued from the office. Please do not inform us via email, since this may not
reach us in a timely manner. If you do send an email or app message and do not receive a confirmation that it has been
received, please be sure to CALL us.

WHEN PICKING UP A CHILD, PARENTS OR GUARDIANS MUST REPORT TO THE SCHOOL OFFICE, where the child will meet
them. If the child returns to the school after the appointment, he/she should also report to the office.

                                                              12
VACATIONS

While we recognize the value of family vacations, such vacations are strongly discouraged during the school year.
Instructional time lost in the classroom is difficult, if not impossible, to make up with assignments done independently
outside the class. If circumstances make it necessary for a family to take a student out of school for an extended
vacation (longer than one school day), the parents must obtain a form from the school office to complete and return, at
least one week before the absence.

Parents should also recognize that it is difficult, if not impossible, to determine exactly what work might be missed
during an extended absence. Teachers may not be able to give exact assignments ahead of time (sometimes plans
change due to student needs and scheduling issues), so students should always plan to check in with teachers upon
return to be sure they have all assignments they need to do. Work that is given prior to vacation should be completed
upon the student's return.

Teachers will not be required to do remote learning in order for a family to have access while on vacation.

CURRICULUM
CURRICULUM TO CHALLENGE STUDENTS

The curriculum at Immaculate Conception School is designed to provide needed assistance for students who have
difficulties with their work, while at the same time challenging those students who are able to go beyond the normal
curriculum. The achievement of our students shows that we succeed with both parts of that goal. Often, students with
lower abilities achieve standardized test scores well above what their ability tests predict for them, and the challenges
within IC's curriculum prepare the students very well for their experiences at the middle school and high school.

INTERVENTION FOR STUDENTS

Title I reading is an intervention available to students struggling with reading at grade level or sometimes for
enrichment. Mrs. Julie Hrycko is the teacher who will test students to determine if this is a need and will work in a small
group setting with these students. She also sets up students who need a Reading Improvement Monitoring Plan (RIMP)
and monitors their success and works with third graders who will need to pass the Third Grade Reading Guarantee for
test practice.

Speech services are available to our students. Ms. Megan Schlater will deliver speech and language services to students
who have difficulty in these areas. Ms. Schlater will place students in need of these services on an ISP (Individual Service
Plan) which will be reviewed annually by parents.

Our intervention specialist, Mrs. Melissa Chaney, works with students who have an identified learning disability and are
currently on an IEP (Individualized Education Plan). Students who may qualify for these services are identified by
teachers and then tested by Celina City Schools. The IEP is reviewed annually with parents, I.C. Staff, and Celina City
Schools' Staff.

IC provides tutoring services to any students who need some extra support in academic areas. This is scheduled with
individual teachers for individuals or small groups of students. It will be our school policy that any student may receive
tutoring services during the school day, if their teacher feels it will be helpful to them. Any parent who does not want
their child to receive tutoring during the school day needs to make that request to Mrs. Muhlenkamp, in writing.

                                                            13
Students who have an identified need may also qualify for physical therapy or occupational therapy provided through
Celina City Schools. Typically, these services are related services on an IEP or an ISP.

ACADEMIC EXPECTATIONS

Academics are a high priority at Immaculate Conception School. Students are expected to make good effort to complete
all work in a timely manner, both in class and out of class. Students should always do the best they can on all work.

ACADEMIC SUBJECTS

Students in all grades receive instruction in the following subjects according to the graded courses of study of the
Archdiocese of Cincinnati:
     Religion - Students will learn about Jesus and how to live according to the Gospel. We use the We Believe series
       in grades K-6. Students will learn specific prayers of the church and attend weekly Mass and other prayer
       services. Each year, our school has a faith theme -- in 2021-22, our theme will be Virtues along with learning the
       7 Habits. Students in 2nd grade who are Catholic prepare for and receive the sacraments of reconciliation and
       Eucharist. Special care is taken to communicate with parents of non-Catholic students in this year and to let
       them participate as they desire and are able. We are also incorporating the Theology of the Body curriculum
       produced by Ruah Woods to help students build an understanding of people as gifts from God, which greatly
       affects how we treat one another.
     Language Arts - Students will learn reading and writing skills with a strong emphasis on phonics in grades K-2.
       We use the Journeys series from Houghton Mifflin in grades 1-4 as a basal reader and are using Simple Solutions
       in grades 3-6 this year. In addition, grades 4-6 use Vocabulary Workshop and grades 3-6 use Grammar
       Workshop. Grades 5 and 6 base reading instruction upon novels.
     Math – We use the Sadlier Math program and it has work texts in grades K-2 and textbooks and workbooks in
       grades 3-6.
     Science and Health - Students will study science using many materials. Grades 3-6 are using the Science Fusion
       program, while K-2 typically use Scholastic magazine and other written materials to learn about concepts.
       Health is typically taught for one quarter of science but topics may also be covered at various times in ways that
       are not graded.
     Social Studies - Students learn about history, geography, and economics in social studies. They use various
       materials and textbooks to cover the standards.
     Physical Education - Students participate in 2 gym classes each week. They learn skills, good sportsmanship, and
       teamwork. P. E. classes are held on Monday and Thursday and students need to have tennis shoes for this class.
     Art - Students have 1 art class each week. They will learn about and apply different art techniques and
       elements, as well as have an opportunity for free expression. They are exposed to art history along the way.
     Music - Students have 2 music classes each week. They will sing, play instruments, and move. They will also
       learn about different kinds of music, how to read music, and some famous composers. Students have an
       opportunity to perform at least twice a year at programs. 4th graders learn to play recorders.
     Band - Band is offered as an optional class for 5th and 6th graders. Students will learn about reading music and
       to play an instrument. The band performs at two programs a year.
     Spanish - Students have 1 class per week of Spanish. They will learn basic vocabulary and participate in simple
       conversations. Only grades 3-6 receive a grade for Spanish, and the grade is based on participation as well as
       some quizzes and classwork.
     Technology - Students will have 1 technology class per week to learn some basic keyboarding skills and to learn
       how to use Google to create documents, slides and other tools. Students will learn about digital citizenship (safe
       internet use) and other needed skills to use technology. This is not a graded class.

                                                           14
HOMEWORK

Assigned homework, whether it is a short-range or a long-range assignment, is expected to be completed as directed by
the teacher. Parents should assist in the homework process by providing proper study space and conditions and by
encouraging good use of time by their child. They should allow the child to do the work. It is important that parents
express interest in their children's work and that they encourage them to do their best.

Homework should not place a huge burden on students and their parents. However, it should be treated with
importance and purpose. If parents have questions or concerns about a student's homework and the time they are
spending on it, they are encouraged to discuss these concerns with the teacher.

Teachers will make their best effort to return graded homework in a timely and meaningful manner, so that the
feedback is helpful to students as they continue to learn.

HOMEWORK CONSEQUENCE POLICY (Applies to Grades 3-6)

Doing homework in a timely manner is a very important skill in building responsibility and providing appropriate practice
for skills learned at school. Due to this importance, a specific progression of consequences will be applied to students
who miss homework assignments.

1. The first missed assignment in a quarter may be completed and turned in the next day with no other consequence.
2. A second missed assignment in a quarter will require the student to serve a lunch recess detention to complete the
assignment. The parents and principal will be notified via email or app message.
3. A third missed assignment in the quarter will require an after-school detention (30 minutes), served on that day or
the next day, as arranged with parents.
4. A fourth missed assignment will require another after-school detention and also a conference with the principal,
teacher, parent, and student to set up an intervention plan for the student.
5. All students begin with a clean slate at a new quarter.
6. We will have a "homework honor roll" listing all students who have missed 0 or 1 assignment for the quarter, and
those students will receive a special privilege after the quarter, such as an extra recess time. Students who are on the
homework honor roll all year will receive special recognition at the end of the year.

For any student who may be learning remotely, all assignments are expected to be completed in a timely manner as well.
These assignments will count toward the positive or negative consequences in the homework policy.

PROGRESS REPORTS (K-6)

Progress reports of improvement, outstanding work or unsatisfactory progress will be sent home to parents midway
through each of the report periods. Progress reports are to be signed by the parents and returned to school.

REPORT CARDS (K-6)

Report cards will be issued within a week following the end of each quarter of the school year. Parents are asked to
discuss with their child the progress or lack of progress signified by the marks on their child's report card.

In 2021-22, grades K-2 will be using the new Archdiocesan Student Progress Update for the report card. These progress
reports focus on areas of standards in each subject. Teachers will provide specific information concerning what is
covered under each of the standards. Not every standard area will be assessed each quarter. Students may receive the
following marks:
      1 - demonstrates limited progress toward proficiency
      2 - progressing toward proficiency
                                                            15
   3 - frequently demonstrates proficiency
       4 - consistently demonstrates or exceeds proficiency

Grades 3-6 will continue to use the Archdiocesan report card at this time. Students may receive the following marks:
    A+ = 99-100% A = 95 - 98%          A- = 93 - 94% (Excellent)
    B+ = 91 - 92% B = 87 - 90%         B- = 85 - 86% (Good)
    C+ = 83 - 84% C = 79 - 82%         C- = 77 - 78% (Average)
    D+ = 75 - 76% D = 72 - 74%         D- = 70 - 71% (Below Average)
    F = 0 - 69%                                        (Failing)

If parents have any questions about the child's mark, they should make an appointment to see the child's teacher.

STANDARDIZED TESTING

Immaculate Conception School follows the guidelines of the Archdiocesan Schools in administering standardized tests,
and we use the Iowa Tests of Basic Skills and the Iowa Cognitive Ability Test. These tests will be given in the spring to
grades 3, 4, 5, and 6. The Iowa tests contain enhanced multiple choice questions and indicate the level at which the
student is presently achieving. Cognitive Ability Tests measure the student's general abilities. Taken together, these
two tests allow us to see how each student is achieving in relation to his/her ability.

Immaculate Conception School and the other schools in the Archdiocese of Cincinnati use standardized tests as an
outside measure of our programs and to diagnose strengths and weaknesses of individual students. The Iowa tests were
chosen because it is felt these tests will give clear and well-detailed information about our students.

Immaculate Conception School will administer any necessary state tests to all ODE Scholarship students in grades 3 - 6.
As of 2020-21, the state has recognized our Iowa tests as an acceptable alternative to the state math and Language Arts
tests, but at this time 5th grade students will still need to take the state science test. Third grade students on the Ed
Choice Scholarship may still be required to gain a promotion score on the language arts test in the future -- at this time,
ODE has backed down on this requirement due to the COVID-19 closures. More information will be sent to parents prior
to scheduled testing.

Immaculate Conception will be using STAR tests for all students in reading and math about 3 times during the school
year. The results of these tests will help teachers determine more specifically when intervention is necessary and what
skills may need more practice. These results will only be for use within our school.

Immaculate Conception School and all other schools and parish religious education programs with the Archdiocese of
Cincinnati participate in the ACRE test which measures students' knowledge of the Catholic faith and also provides
information about their attitudes and beliefs. This test is given annually to the 5th grade at I.C. School.

SCHOOL RECORDS

Cumulative records are kept on each student in K-6 in the school office. The records include student grades, attendance,
standardized test results, and copies of other important documents such as birth certificates and custody information. If
a parent wishes to view his/her child's records at any time, the request must be made to the principal of the school, and
the principal must have time to double check that student's file to be sure nothing has been placed in it that should not
be in it. If a student transfers to another school (or after completing 6th grade), the records and a copy of the
cumulative records are transferred directly to that school.

If and when there may be changes in legal documents relating to a child, such as a change of last name due to adoption,
or changes in custody arrangements, it is the parent's responsibility to inform the school of this as soon as possible

                                                            16
and to bring any legal documents to the school in a timely manner. The school will make copies and return the
originals to the parent.

If it is necessary to create two copies of documents such as report cards and communications, it is the parent's
responsibility to make sure the school is made aware of this need each school year.

TEXTBOOK CARE

Textbooks are on loan to the students, and these books constitute a major expense for the school. It is important that
students use proper care when handling their books and that they return them at the end of the year in good, usable
condition. Textbooks should be covered at all times, with covers that will provide protection. Covers should not be the
sticky type that adheres to the book.

SCHOOL MASS

All students in grades K through six celebrate Mass together each Friday at 9:00 a.m. We welcome our parents and all
parishioners to join us for these liturgies. Occasionally, due to holy days or to conflicts in the school calendar, the school
Mass may be changed to a different day of the week. These changes will be noted in the Sunday parish bulletin, and in
parent communications.

RECESS

Opportunities for fresh air and exercise during the school day are important, and short recess periods are built into the
school schedule. Students are expected to go outside during recesses, unless some health reason prevents it. In such
cases, a note must be written to the teacher. Parents should see that students come to school adequately dressed for
the weather, with coats, hats, gloves, etc., as the conditions warrant. When it is raining or very cold (below 20 degrees
wind chill,) students may have recess indoors.

COMPUTERS / TECHNOLOGY

I.C. School's computer lab allows the students to gain experience with technology through the use of a variety of
educationally appropriate software and the internet. Students have regular availability in the lab as a class. In addition,
students in K-6 will have Chromebooks for each student available.

Before students are given access to websites on the internet, each must agree to follow the "Responsible Use of
Technology Policy" agreeing to follow the school's policy for using technology (This policy is found in Appendix A to this
handbook). Students who are caught using technology in an inappropriate way may lose internet privileges for a period
of time, up to the remainder of the school year, and may also receive other disciplinary consequences, as deemed
appropriate by teacher(s) and principal.

LIBRARY

The I.C. School library provides the students with books for general reading, informative reading, and assistance with
research for school projects. These books are loaned for one week for grades K through 3 and two weeks for grades 4
through 6. (Kindergarten students may borrow only 1 book.) A book can be renewed if no one else has requested it. At
the end of the school year, all books must be returned or lost books paid for. If books are not returned or paid for,
report cards will not be released.

During library class time, students will review parts of a book and types of books, learn about authors, illustrators, and
reference materials, and put into practice library skills.

                                                             17
BEYOND THE BOOKS

I.C. School has instituted a program called Beyond the Books which is open to students in grades 3-4 who wish to
participate and pursue an independent project of their choosing. Students will plan a project, and when it is finished,
they will create a display and share it with their class. These projects do not receive a grade. It is a way for students to
enrich or extend their learning to areas which are interesting to them. In order to participate, a student must be
completing all class work and getting all passing grades.

LUNCH CLUBS

Students in grades 5 and 6 may participate in lunch clubs as an opportunity for enrichment. The clubs are varied each
quarter and have included such options as science, art, book club, walking club, physical fitness, cooking, sign language,
stock market, mock trial, and others, depending on the availability of volunteers and staff to conduct the clubs. The
clubs are intended to introduce students to potential career choices and build their life skills. No grades are given, but
participation is a privilege, and students may be denied participation if there are serious academic or behavioral
concerns.

The clubs meet for 1 quarter during the first 1/2 hour of the lunch period. Typically 4 clubs are offered per quarter and a
student may choose to participate in up to two. Some clubs have limited numbers due to the nature of the club. Every
effort will be made to give students an ample opportunity to participate in clubs of their choice when possible.

Parents or other volunteers who may have an appropriate expertise are invited to reach out to the school to offer to
lead a lunch club.

MUSIC PROGRAMS

All students have the opportunity for performance at the Christmas Program and the Spring Program. Fifth and Sixth
grade band students perform at both. It is part of the students' music curriculum to prepare for these performances,
and it is expected they will attend and participate. Any variance needs to be cleared by the music teacher and the
principal, or the student may receive consequences such as an extra assignment in place of the performance or a missed
recess, etc... The fifth and sixth grade students also have an opportunity to participate in a musical in the spring.

MUSICAL
Each year, the 5th and 6th graders have an opportunity to participate in a musical production. Mrs. Bridget Severt is in
charge of this musical which will take place this year on December 9 and 10 at 1:00 pm and 7:00 pm. Students will be
selected for parts in September and rehearsals will take place after school on assigned days from September through
December. All students who have parental permission may participate.

BAND

Fifth and sixth grade students at Immaculate Conception have the opportunity to learn to play a musical instrument and
perform as part of our band. The band classes generally meet twice each week, and the fee for the year is $100.00
($50.00 per semester.) The band performs at the Christmas program and the spring program. Students may use their
own instruments or make arrangements through the band instructor to rent them.

FIELD TRIPS

A number of field trips are planned by the teachers each year to supplement what students are learning in the
classroom. Parents are required to sign a permission slip for each field trip that requires transportation. The permission
slip will be a form in the school app. Walking field trip (of less than 1 mile from school) permission is provided in a

                                                             18
general form at the beginning of the year. Students who do not have a signed permission slip will not be permitted to go
on the trip and will stay behind with another class for the day.

Parents may be asked to volunteer as chaperones, depending upon the nature of the trip. Class trips are meant to be an
experience for the students as a class, and for that reason, younger brothers and sisters may not accompany parents
who chaperone. Parents who wish to be chaperones on school field trips must complete a child protection training
program and remain current on the training in order to be in compliance with the Decree on Child Protection of the
Archdiocese of Cincinnati. Chaperones need to give their undivided attention to ensuring the safety and well-being of
their assigned group to the best of their ability.

While buses are the preferred transportation for field trips, if any parent agrees to drive on a field trip, the following
conditions MUST be met:
        1. The parent must fill out the field trip driver form and bring a copy of his/her driver's license and proof of
            insurance to the school office PRIOR TO the field trip. Copies of this documentation will be kept in the
            school office until after the field trip (and will then be shredded). This must be done prior to EACH field trip.
        2. The drivers must travel directly to the field trip site in a caravan and return directly to school. If a vehicle
            emergency occurs, the parent should notify another car in the caravan to stop as well.

Field trips are privileges for students. Students may be denied participation if they fail to meet academic or behavioral
requirements. If a student is denied participation in a field trip for these reasons, he or she must attend school and do
required school work or the absence will be unexcused.

RETENTION POLICY (K-6)

Retention is deemed appropriate if, after relevant factors relating to the child's academic performance, his/her
emotional and attitudinal characteristics, and his/her future cognitive, personal, and social development have been fully
weighed and considered, the benefits to be expected from repeating a grade outweigh the negative aspects of
retention, and the difficulties expected as a result of moving to the succeeding grade level outweigh the positive aspects
which could be expected as a result of that move. Each retention consideration shall be approached on an individual
basis.

It shall be the teacher's responsibility to inform the student's parents, on an ongoing basis, of the student's difficulties as
the school year progresses. The retention itself shall be proposed before the end of the third quarter of the school year.

If the parents disapprove of the proposal, the principal of the school, in consultation with the teacher(s), will make the
determination as to whether retention is to be carried out. This determination will follow the considering of information
pertinent to the issue. The decision will be indicated by the principal in writing. This decision will occur within twenty
(20) days of the initial proposal to retain. This decision is final.

Students who receive an Ed Choice Expansion Scholarship are required to achieve a promotion score on the 3rd grade
state Reading and Language Arts test or a permissible alternative test in order to be promoted to 4th grade. Students
are required to take the state ELA test in the fall and in the spring and may take an alternative test in the fall and again in
the spring. Parents will receive ongoing communication whether their student is on track to get this score and what
interventions are being offered to their child, if needed. (This requirement was removed for the 2020-21 school year,
and likely the 2021-22 school year.)

SIXTH GRADE AWARDS

At the end of each school year, an awards ceremony is held, recognizing and honoring the sixth grade students. Awards
given that day include:
         Certificates for completion of sixth grade
                                                              19
    Recognition for high academic achievement
            Service Awards for sixth grade safety patrol members and altar servers
            President's Award for Academic Excellence – to sixth grade students whose grades qualify them for this
             national award
            Mitch Richards Memorial Award – to one sixth grade student who best displays the qualities of honesty and
             trustworthiness, hard work and leadership, and respect for fellow students and for teachers. These criteria
             were established by Mrs. Patty Richards in 1994 when she began giving this award as a memorial for her late
             husband Mitch, and the award includes a prize of $400 in savings bonds.

STUDENT CONDUCT
DISCIPLINE

We strive to help our students develop the self-discipline and responsibility that are important for them as they grow
into mature Christian people. All of our rules and consequences are made and enforced to help students develop the
following attitudes:

    1. Students will demonstrate respect for all people, especially the authority of staff members, as well as materials
       and the school building.
    2. Students will demonstrate reverence during Mass and other prayer experiences.
    3. Each student is to show ownership for his or her own choices and the effects of their behavior on others.
    4. Each student is expected to take ownership of their school work and their learning by paying attention, asking
       necessary questions, using their time wisely, and completing any needed work outside of class.
    5. Students will treat others with kindness and compassion.
    6. Good attendance and timely arrival are important to success in school and in life.

CONDUCT CODE

The Conduct Code is a set of rules designed to maintain a Christian atmosphere in Immaculate Conception School and to
assist students in developing the attitudes and behaviors to help them live as a disciple of Jesus. This code is in effect at
those times when a student is scheduled to be in attendance during regular school sessions, traveling to and from
school, in attendance at extra-curricular activities at school or other places, and whenever a student may be engaged in
serious misconduct related to the school or its staff, which may include activities involving social media and other
communications.

Parents are expected to help students understand the Conduct Code and to assist teachers in reinforcing appropriate
behaviors. Teachers and staff members will be responsible to maintain order throughout the school by enforcing the
conduct code in a fair and consistent manner, and they will keep parents informed on behavioral issues that arise as
needed. The principal will support teachers and parents in their efforts and will take an active role in dealing with
chronic or severe behaviors.

    1. Students will attend school and be on time for classes unless they are ill, have a doctor's appointment, or have a
       request for absence that has been approved. (Please see "Attendance" on p. 9 for directions on reporting
       absences, etc.)
    2. Students will be in their assigned rooms and under the direction of the assigned teacher at any time during the
       school day. They may only leave the designated area with the permission of the teacher. They are expected to
       follow appropriate rules and routines for the area they are in (playground, cafeteria, etc.).
    3. Students will participate in the classroom and do the assigned work according to the direction of the teacher.
       Students are expected to work cooperatively with the teacher and with other students.

                                                             20
4. Students will show respect for a teacher by being attentive in class and by following directions the first time they
        are given.
    5. Students will treat others with respect (teachers, staff, students, etc.)
    6. Students will respect the property of the school and of others and treat it with care.
    7. Students will walk, not run, in the school hallways.
    8. Students will remain quiet in the school hallways at all times including going to or coming from recess.
    9. Students will adhere to the school dress code. (Please see "Dress Code" on p.23.)
    10. Students will help to keep the school neat and clean by cleaning up after themselves.
    11. Students may not bring any items to school that are unsafe to themselves or others (including but not limited to:
        weapons, look-alike weapons, drugs, alcohol, tobacco, etc.).

Teachers will follow a classroom plan for behaviors within the classroom and throughout the school. Consequences may
include any of the following and may vary depending on the grade level and situation:

    1.    Oral warning or reminder.
    2.    A name on board or moving of a clip as a warning.
    3.    A verbal apology.
    4.    Missing recess or walking the fence during recess time.
    5.    Withdrawal from classroom privileges.
    6.    Written assignment such as a note of apology or reflection on behavior.
    7.    Note or phone call to parents.
    8.    Conference with the teacher, parents, and/or principal.
    9.    Detention after school hours.

Parents will not necessarily be notified in each case of a minor offense. They will, however, be notified when an offense
is considered more concerning or becomes more habitual. They will always be notified when a student is to serve a
detention after school.

Certain serious offenses cannot be tolerated at school and will be directly referred to the principal. These include:

    1.    Deliberate disrespect or disobedience to a teacher or staff member.
    2.    Fighting.
    3.    Any activity that harms the safety of another or threatens to do so.
    4.    Bullying or harassment, including sexual harassment. (See Harassment, Intimidation, and Bullying Policy, p. 24)
    5.    Theft.
    6.    Damage to school property or the property of others.
    7.    Cheating.
    8.    Lying.
    9.    Possession or use of alcohol, drugs, tobacco or any substance that is harmful or appears as a harmful substance.
    10.   The possession of any weapons or look-alike weapons.
    11.   Repeated or chronic misconduct or conduct that severely disrupts school activity.

The principal (in conjunction with the teachers, as needed) may use one or more of the following consequences when
these offenses occur:

    1.    Conference with student, teacher, principal, and/or parents.
    2.    Detention after school hours (Any grade).
    3.    Missed recess time.
    4.    Isolation during lunch period.
    5.    Required assessments by a specialized mental health agency.
    6.    In school suspension of ½ - 3 days.
                                                            21