Www.yorkdale.com - Yorkdale Shopping Centre
Page content transcription ( If your browser does not render page correctly, please read the page content below )
4       RETAIL • Yorkdale Shopping Centre



                                                    Success through freedom,
                                                    trust and innovation.

                                                    We don't want to break the rules, we want to ignore
                                                    them. We think creatively, and then act on the courage
                                                    required to transform our industry.

                                                    Clearly, EllisDon is not like most companies, and we
                                                    wouldn't have it any other way.

                                                    We are proud to be working with Oxford Properties
                                                    Group and the city of Toronto on the Yorkdale Shopping
                                                    Centre South West expansion.




    www.ellisdon.com




It's the most wonderful time of the                      shoppers visit a week, but you'd hardly know if in
year—and for shoppers at North                           the spacious (40 feet wide) and naturally lit halls.
Toronto's Yorkdale Shopping Centre, the
most exciting, for the affluent shopping                 Location
centre is undergoing a massive, $220                     Yorkdale enjoys a strategic location for both cus-
million expansion project scheduled for                  tomers and retailers. With a TTC stop adjacent to
completion in 2012.                                      its east wing, and built directly south of the 401
                                                         highway, the commute to Yorkdale is simple, as is
This time of year is extremely busy for Yorkdale,        importing goods.
as thousands of shoppers visit the centre on a
daily basis to pick up gifts for loved ones (and         Previous expansion
maybe a treat for themselves), take in a movie           Built in 1964, the mall underwent a huge
or meet for dinner. As the fifth-largest shopping        renovation in 1999, adding a Rainforest Café
centre in Canada, approximately 400,000                  restaurant, a movie theatre (originally owned

DECEMBER 2011 • The Canadian Business Journal        5



     Ampere specializes in new electrical installations and service as well as retrofitting
     existing infrastructure and in-place tenant fit up services. Our strengths and experience
     in electrical design and construction allow us to provide our customers with
     cost-efficient and time-saving installations. We have provided support and installation
     services to the engineering teams of Fortune 500 companies in diverse industries - from
     telecommunications to health care, from finance to public transit - helping these
     companies achieve demanding goals under the tightest time constraints.



     Proud to be partnered with Oxford and Ellis Don in the expansion
     of Yorkdale Shopping Mall.

     We have grown steadily and proudly because of our commitment to
     quality workmanship.




     Tel: 416-661-3330 | www.ampere.ca




by Famous Players Silver City, and now owned                        most exclusive department store Holt Renfrew
by Cineplex Entertainment), and Indigo Books                        has a 65,000 square foot space in the mall,
and Music store.                                                    and a Tiffany & Co. store recently opened be-
    In 2005, a $110 million expansion to the                        side it. Armani Exchange, Micheal Kors, BOSS
mall added another 50 stores, increasing the                        and Crate & Barrel have all opened stores in
mall to over 1.4 million square feet of shopping                    the mall as well, contributing to the mall's
heaven. This expansion included a 60-foot-high                      record for highest sales per square foot in the
glass atrium that runs 300 feet along the east                      country. This summer, Yorkdale courted the
wing, providing some of the centre's best real                      downtown fashionista crowd to visit the Cana-
estate, with natural light and an airy feel. The                    dian J. Crew flagship store, another noteworthy
investment paid off, making 2005 a banner year                      addition to the centre.
in customer traffic and sales volume.                                    Having the world's top brands available to
    With these expansions, Yorkdale attracts                        Canadians only has one drawback, and it has
the world's best in luxury brands. Canada's                         to be mentioned that Yorkdale's parking lots fill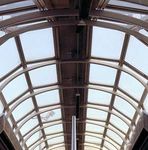 DECEMBER 2011 • The Canadian Business Journal   7




About Yorkdale Shopping Centre

With more than 225 shops and services
including Tiffany & Co., Burberry, Crate &
Barrel, Apple, Holt Renfrew, Hugo Boss and
Zara, Yorkdale Shopping Centre, which is
managed by Oxford Properties, isCanada's
premier fashion destination. Yorkdale is
owned by Alberta Investment Management
Corporation (AIMCo), on behalf of its clients,
and Oxford Properties Group. Dedicated
to sustainability, Yorkdale's 1.45 million
square feet has received more than a dozen
prestigious awards and recognition for
creating a balance between sustainable
environmental programs and a unique
shopping experience since 2001. In 2007,
Yorkdale was awarded the BOMA Go Green
Plus Certification with it dedication to
sustainable design. Yorkdale is located at 3401
Dufferin Street, off Allen Road, near the 401.
Yorkdale is also accessible via TTC, located on
the Spadina subway line. For more information
visit www.yorkdale.com.
DECEMBER 2011 • The Canadian Business Journal        9




up and stay filled. Yorkdale's management has         800 new parking spaces will be added in
recognized this demand, which is a big part of    the expansion.
the 2012 expansion.                                   In a video on Yorkdale's website, Rob Brown,
                                                  General Superintendent, Yorkdale South-West
2012 Expansion                                    Expansion, tells us to mark Nov. 15, 2012, on our
"Canadian wanted it and now they have it…         calendars as the expansion's completion date.
thanks to an exciting new $220 million expan-     Brown assures us that the expansion will not hinder
sion that will add more than 145,000 square       retailers in the mall (good news for us Christmas
feet and 40 new stores to Yorkdale," announced    shoppers), saying, "We do our best to control any
management, earlier this year. EllisDon will be   dust. We used negative air machines once we have
the main contractor for the expansion.            the building enclosed to ensure that the air pres-
    "We are expanding thanks to the strength      sure is negative in the construction area."
and success of the existing shopping centre and       As for who is moving into the new stores,
strong tenant demand for space," says Anthony     expectations and speculation is running high,
Casalanguida, General Manager, Yorkdale Shop-     given the high profile stores that Yorkdale is known
ping Centre. "Not only as we bringing an amaz-    for. As for any hints, Jason Nazareth, Tenant And
ing array of new brands to Yorkdale, but this     Technical services coordinator says, "I wish I could,
expansion will also bring employment opportu-     we have to keep some secrets." CB
nities to the GTA, both during the construction
phase and once retailers open."                   www.yorkdale.com
AS SEEN IN THE DECEMBER 2011 ISSUE
OF THE CANADIAN BUSINESS JOURNAL