2019 handbook - Special Events
If your browser does not support JavaScript, please read the page content below:
2019 MS Bike Cyclist Handbook 1 Everything you need to make your MS Bike a memorable experience 2019 CYCLIST HANDBOOK
2 GEAR UP TO END MS Contact Us To ensure you receive the most up-to-date information, please make certain that we have your current email address. If you registered online, and would like to receive a hard copy of this handbook mailed to you, contact us at 1-800-268-7582. Avonlea Amy Bosche P: 306-522-5600 ext. 5005 E: amy.bosche@mssociety.ca Waskesiu Rebecca Snider P: 306-244-2114 ext. 5052 E: rebecca.snider@mssociety.ca Thank You and Welcome to MS Bike Canada has one of the highest rates of multiple sclerosis in the world.
MS Bike raises significant funds to search for a cure for MS. Again this year, thousands of cyclists across the country will ride in the MS Bike, united by a compelling common goal – a future free of MS. Your time and efforts to cycle and fundraise for MS Bike are true acts of greatness. Thank you in advance for all you do.
To help you achieve your acts of greatness, this handbook contains all the participant information you require, including tips to help you meet and beat your fundraising goal. Now all you need is a bike and the passion to end MS. Contents Introduction Research funding ___ 3
Your impact ___ 3
What you need to know ___ 4
Rookies Are you a first-time rider ___ 5
Support to new riders ___ 5
TeamMS Cycling with a team ___ 6
National company teams ___ 6
Fundraising Fundraising ___ 7
Rewards ___ 8
Mission First Club ___ 8
Top fundraising leaders ___ 9
Event day information Ride support ___ 10
Refreshments ___ 11
Safety on route ___ 12
Bike Tune-up ___ 13
Training tips ___ 13
Volunteers ___ 13
Submitting donations ___ 14
What to bring ___ 14
Accommodations ___ 15
Schedule of events & maps Avonlea ___ 16-17
Waskesiu ___ 18-19
Join us online ___ 20
Thank you to our sponsors .
2019 MS Bike Cyclist Handbook 3 In 2018, the MS Society of Canada released evidence-based recommendations for vitamin D supplementation and maintenance of vitamin D serum levels bringing us one step closer to answering a long-standing question – is there a connection between daily vitamin D intake and the risk of developing MS? "According to multiple studies, vitamin D deficiency is a risk factor for MS," says Dr. Ruth Ann Marrie, Director, MS Clinic, Winnipeg Health Sciences Centre and a member of the Vitamin D and MS Panel who worked on the recommendations. They provide optimal dosing ranges for people with or at risk for MS, and information about comorbid conditions, sun exposure, vitamin D supplements, and food sources.
Having these recommendations available to someone like myself, who may be at risk of the disease, gives me hope," says Marie-Ève Simard, whose mother lives with MS. Your impact By joining MS Bike you have become a part of a movement of 10,000+ cyclists across Canada who are determined to make a difference in the lives of their fellow Canadians.
Every dollar you fundraise supports ground-breaking research and impactful services, making life better for people affected by MS. Research funding The MS Society is on the cusp of important research breakthroughs that will change lives, and your fundraising makes it all possible. Here are the areas of focus of currently funded MS research. Research Funding 14% 8% 14% 22% 22% 18%
Cause & risk factors
Triggers of MS
Mechanisms of progression
Repair processes
Therapy & clinical tool development
Symptom management & quality of life Mechanisms of disease
4 GEAR UP TO END MS Wanda 2019 Bike Ambassador "After receiving my multiple sclerosis diagnosis, I was in shock. I was recently married, a new mother, and unable to work. I had a: 'What! Now what?' moment. My MS made me a fighter and I became passionate about not allowing this disease to control my life. I wanted to do my part to raise funds to support MS research, so I joined the MS Bike." In 2018 Wanda celebrated her 25th year participating in the MS Bike tour. Over that quarter century her team, Zena's Warriors, has raised approximately $400,000 for research, programs and services. Zena's Warriors were asked to participate in the first Waskesiu bike in 2005 when there were around 35 cyclists.
Today the Waskesiu ride has grown to over 400 participants. Wanda thanks all returning and first-time cyclists she rode with last year and encourages those who have never participated to give it a try. After more than 25 years she knows how much fun and incredibly fulfilling it is to participate in MS Bike events.
What you need to know
MS Bike is a fundraising event, not a race, therefore each rider must raise a minimum of $350. We encourage riders to strive to earn a jersey by raising $1,000+.
The registration fee is non-refundable and non-transferrable and is not included in the minimum fundraising requirement.
We ask that cash donations are brought to the event, or to an MS Society office. Please don't send cash in the mail.
All riders must wear a helmet. Please see the "Safety on route" section on page 12 of this handbook for more information about safety requirements and guidelines.
JOIN ME. Get involved — volunteer or raise funds for this years' MS Bike."
2019 MS Bike Cyclist Handbook 5 Are you a first-time rider? You're in for an amazing experience! We offer support to new riders to help with your fundraising as well as preparation for the big day. We will provide you with resources to help you reach your fundraising goal, match you with a team if desired and guide you throughout the process.
Learn the perks of riding with a team on page 6.
Check out fundraising tips and rewards on pages 7 and 8. Invite a friend, family member, or colleague to ride with you and their registration fee will be waived!* Call 1-800-268-7582 to register for free. *
Applies only to a new cyclist being referred by a past participant. One referral per past participant. All registered cyclists must raise the $350 fundraising minimum.
Bring your own rookie
6 GEAR UP TO END MS Cycling with a team is the best way to...
Have more fun – it's always more fun with family, friends and coworkers by your side.
Strengthen your impact – teams make a bigger impact by raising more funds and giving more visibility to the cause.
Show your spirit – order custom Primal team jerseys with your own logos and colours.
Increase your corporate visibility – gain exposure for your company and grow camaraderie amongst your colleagues.
Stay motivated – keep your motivation and fundraising on track.
Be a part of Rider Village on event day – earn or bring a tent for you and your team to gather at before and after the event (Waskesiu only). National company teams If your company has three or more teams registered for MS Bike nationally, you will receive the following additional benefits:
Dedicated online presence to promote and track all employee teams across Canada.
Onsite recognition of involvement.
Dedicated MS Society staff support to help promote and support your teams.
Dedicated team area on event site.
Tools and resources to host a kick-off event at your office. For more information on becoming a national company team, contact info.sask@mssociety.ca.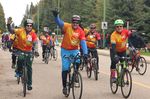 2019 MS Bike Cyclist Handbook 7
Start early Once you register, start fundraising. The sooner you start asking, the sooner you will reach, and even surpass, your goal. So start asking today!
Use the Participant Centre The Participant Centre's tools and resources make it easy to achieve your fundraising goal. You can edit your personal page, request secure donations, send customizable e-mails and track your progress at msbike.ca.
Set a goal of $1000 When you set a higher goal, many people will give larger donations to help you reach it. If you raise $1,000, you earn our commemorative Club 1000 jersey. Raise $2,000 and you earn the matching shorts.
Make it personal Donate towards your own fundraising goal to get the momentum going and show your commitment to the cause.
Ask your top donors first To set the standard of donations you receive, reach out first to those who've been generous in the past or who will support your efforts.
Then ask everyone This is the number one tip given by our top fundraisers—and when we say everyone, we mean everyone! Share why you ride and be prepared to tell donors about MS and how their donations are put to good use.
Ask your workplace Check with your workplace if it offers a charity matching gift program. Send in a request to match your donation to help increase your fundraising total.
Use social media Post a link to your personal fundraising page on Facebook, Twitter, Instagram and LinkedIn, and ask your friends, family and business network to donate. Take advantage of our social media tools and download our new and improved MS Bike app, details at msbike.ca.
Get creative Fundraising doesn't have to be restricted to asking for donations. Sell your baked goods in return for a donation. Throw a party and ask guests to donate in lieu of a hostess gift. Organize a sports pool and dedicate a portion of the money to your fundraising. Your donors will appreciate your effort and commitment.
Join or form a team Need to stay motivated? Many teams are looking to welcome new members. Call 1-800-268-7582 to find out how to join an existing team, or form your own team with coworkers, family and friends. There is power and fun in numbers.
Thank your donors Follow up and thank those who have helped you reach your fundraising goal! This is made easy through pre-populated and customizable templates in the Participant Centre. Get started The following fundraising tips will help you surpass your fundraising goal.
Fundraising
8 GEAR UP TO END MS
Raise $2000+ Receive the Club 2000 cycling shorts, Club 1000 jersey, an invitation to the Dinner of Champions, and an event t-shirt
Raise $1000+ Receive the Club 1000 jersey, an invitation to the Dinner of Champions and an event t-shirt
Raise $350+ Receive an event t-shirt Rewards To thank you for raising crucial funds for MS, we recognize your fundraising accomplishments with rewards* . The Mission First Club is a special group of people who put the mission of finding a cure for MS first. When you raise $3500+, you are eligible to receive a gift card reward, which you can donate back to help reduce our costs and allow us to dedicate additional funds towards people living with MS. You will receive a tax receipt for your thoughtful contribution. Join the club by contacting us at 1-800-268-7582, or by selecting the Mission First Club option on your participant information form. *The MS Society of Canada reserves the right to substitute prizes of equal or greater value. Gift cards are not cumulative. Rewards are based on funds submitted approximately 2 weeks after the event. †
Choose to receive a gift card from one of the following: Dutch Cycle, Bike Doctor, Canadian Tire and Walmart
Raise $12,500+ Ride in the Tour of Champions or receive a $900 gift card,† as well as the Club 2000 cycling shorts, Club 1000 jersey, event t-shirt, and an invitation to the Dinner of Champions where you will be honoured for this amazing fundraising achievement
Raise $5000+ Receive a $400 gift card, Club 2000 cycling shorts, Club 1000 jersey, event t-shirt, and an invitation to the Dinner of Champions
Raise $3500+ Receive a $250 gift card, as well as the Club 2000 cycling shorts, Club 1000 jersey, an invitation to the Dinner of Champions, and an event t-shirt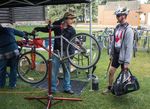 2019 MS Bike Cyclist Handbook 9 Top fundraising leaders Want to know how to join the Top 25 Club? Our Top 25 Club consists of the top fundraisers from each event the previous year, who can be identified at each of the events by an iconic yellow rider bib. Challenge yourself with original fundraising ideas, or contact us for fundraising tips, so that you can be a part of this club. Experiences for top fundraisers $1000+ Club perks
Club 1000 jersey and/or Club 2000 shorts
Invitation to the 2019 Dinner of Champions
Recognition of achievement in the Gearing Down Newsletter Dinner of Champions Each fall, participants who raise $1000+ are invited to attend the Dinner of Champions in Regina and Saskatoon. Make 2019 the year you join this exceptional group of top fundraisers for an evening of fun, friends, and awards.
Tour of Champions The MS Bike Tour of Champions is an opportunity to experience firsthand the international movement to end MS while cycling through the United States with fellow MS Bike participants. If you raise $12,500+, you will be offered a spot on Team Canada in the 2020 tour, along with a Team Canada jersey provided by Primal. For more information, please contact info.sask@mssociety.ca.
10 GEAR UP TO END MS Ride support MS Bike is a fully supported cycling tour. The following services are provided to registered cyclists wearing the appropriate rider bibs.
Rest stops Optional rest stops are located every 10 to 15 kilometres along the route. Each rest stop is stocked with refreshments like water, sports drinks, and snacks. It is also equipped with portable toilets and first aid supplies. SAG vehicles Support and gear (SAG) vehicles travel along the route between rest stops. They can help cyclists with flats and basic first aid and will also transport cyclists to the next rest stop if a bicycle mechanic or first aid is needed. If a cyclist is unable to complete the ride, a SAG vehicle can transport the cyclist to the finish line.
To signal a SAG vehicle driver, follow these steps:
Move safely off the road and out of the path of other cyclists
Dismount and stand near your bike
Remove your helmet and wave it at the SAG vehicle First aid Trained first aiders are available throughout the route to help all participants. If you need assistance, do not hesitate to ask. In the case of an emergency, please call 911. Bike mechanics Most rest stops will have a bicycle mechanic, courtesy of Bike Doctor and Dutch Cycle who can provide basic repairs (i.e. tools and tubes). We encourage you to take your bike to a Bike Shop for an inspection prior to the ride or attend a Tune-Up Party to ensure that your bike is in top condition.
2019 MS Bike Cyclist Handbook 11 Start line Fruit |
Breakfast snack items | Coffee | Water | Sports drinks Rest stops Fruit | Snacks | Water | Sports drinks Lunch Fruit | Water | Sports drinks | Sandwiches | Soup | Snacks Finish line Fruit | Water | Sports drinks | Pop | Juice | Chips Waskesiu Celebration Dinner
Celebration Barbecue Avonlea Celebration Dinner Celebration Banquet Refreshments MS Bike, along with generous sponsors, will provide food and beverages during the ride. (Items will vary by location and may not meet all dietary needs. If you have special dietary requirements, please pack additional food that you may need.) Bring your own water bottle and have it refilled at the filling stations.
12 GEAR UP TO END MS Safety on route
This is not a competitive race. Please respect fellow cyclists and different levels of cycling experience. Many participants are recreational cyclists.
Wear a helmet correctly. This is mandatory.
Give hand signals when stopping or turning.
Obey traffic signs and signals at all times.
Headphones/earbuds are not permitted while riding.
Ride on the right side of the road or in marked bike lanes to allow faster cyclists and vehicles to safely pass on the left.
Pass on the left. Announce yourself to other cyclists by saying, "On your left."
Ride single file to let vehicles and faster cyclists pass on the left.
When another cyclist is passing you on the left, do not turn around. Hold handlebars steady and keep your bike straight while maintaining your speed.
Always yield to pedestrians.
Only use your cell phone when stopped and pulled to the right out of bike and vehicle traffic.
Watch out for road hazards such as patches of loose gravel on the road.
The communities we ride through are supporting our mission to end MS – let's thank them by being respectful to their residents.
2019 MS Bike Cyclist Handbook 13 Training tips While MS Bike is a recreational event and a fit for cyclists of all levels, we encourage riders to get geared up to end MS before the event in the following ways: Volunteers Volunteers are crucial to MS Bike's success. From assisting in the planning of the MS Bike event, to helping on event day, there is a volunteer position for everyone. Meet new people and make an impact in lives of people with MS – right in your community.
For more information on getting involved in a MS Bike event in your community, please contact us at info.sask@mssociety.ca.
Make sure your bike is in good working condition.
Go ride. Start your training ride with shorter distances like 15 to 20 kilometres and gradually increase to the full distance.
Join a cycling club. Ask the staff at your local bike store or search online to find one near you. Alternatively, you can speak with MS Staff about joining or creating a MS Bike team for motivation. Bike Tune-up Regina Tune-up Party – Thursday August 8th from 5:30 – 7:30 pm MS Society Office (150 Albert Street) Come enjoy a burger, hand in donations and receive a free bike inspection.
Saskatoon Bike inspections will be available from Sept 2nd – 14th to currently registered cyclists at Bike Doctor (623 Main Street) during regular business hours. Just let them know you are riding in an MS Bike event in Saskatchewan.
14 GEAR UP TO END MS Riding gear ¡ ¡ Helmet (required) ¡ ¡ Water bottles ¡ ¡ Rain gear (we ride rain or shine) ¡ ¡ Comfortable cycling clothes ¡ ¡ Sunglasses Personal items ¡ ¡ ID (including your Health Card) ¡ ¡ Pocket money ¡ ¡ Any needed medications ¡ ¡ Sunscreen and lip protection ¡ ¡
Change of clothes for evening banquet (if applicable) We recommend that you leave your valuables at home and only bring the necessary items that you need for the event. The MS Society cannot be responsible for lost or stolen articles.
Submitting Donations If you have only collected online pledges this process will not apply to you; however, if you have received any offline donations (cash or cheque), the following process will need to be followed. All money can be handed in: 1. To either MS Society of Canada – Saskatchewan Division office (Saskatoon: 2 – 706 Duchess Street or Regina: 150 Albert Street). 2. At Cyclist Check-in onsite at the MS Bike. All participants handing in cash/cheques must do the following: 1. Ensure all donation tracking forms are filled out correctly and correspond to cash/cheques being handed in (Note: Do not include any online gifts).
We require each donor's complete and valid postal address to issue a tax receipt (even if an email address had been provided).
2. Complete a pledge submission sheet with your contact information and complete donation breakdown of what is currently being handed in. 3. Put your donation tracking form, pledge submission sheet and donations into a large re-sealable plastic bag with the pledge submission sheet information facing out so it can be seen. 4. Submit package to staff or volunteers. Please note that all forms are available for download online from your participant center or can be picked up from an MS Society Office. These forms will also be available at Cyclist Check-in.
Ready to ride? Here's what to bring:
2019 MS Bike Cyclist Handbook 15 Avonlea The following businesses in Waskesiu have agreed to give our participants a discount. Be sure to mention that you are riding in the MS Bike when booking your stay. Armstrong Hillcrest Cabins 15% discount 306-663-5841 www.elchuk.com/armstrong Kapasiwin Bungalows 15% discount 1-877-963-5225 www.kapasiwin.com Waskesiu Resorts 20% discount 306-663-5377 www.waskesiuresorts.ca The Suites at Waskesiu 15% discount 306-663-4620 www.thesuitesatwaskesiu.com For a complete listing of Waskesiu accommodations, visit www.waskesiu.org Camping Accommodations To reserve a camping spot in Beaver Glen or Red Deer Campground contact: 1-877-737-3783 or visit: www.reservation.parkscanada.gc.ca Dunnet Regional Park Campground To book a camp site, and look at nightly camping rates at Dunnet Regional Park Campground, please visit www.dunnetpark.ca/stay.
Cyclists are responsible for arranging their own accommodations for the MS Bike. It is recommended that cyclists book accommodations sooner rather than later as these can book up quickly! The following options are listed as suggestions only. Waskesiu Accommodations
16 GEAR UP TO END MS SCHEDULE OF EVENTS Saturday, August 17 7 am MS Bike Kickoff Check-In Breakfast Team Photos (7:45-8:45 am) Club 1000 Photo (8:45 am) 9 am Opening Ceremony and Kickoff at Avonlea Community Hall — MS Bike Begins! 10 am – 1 pm Lunch available — be sure to plan your stops and pace accordingly! 12 pm – 5 pm Rider Village Open Finish Line Celebrations Beer Gardens Music, Games and Snacks 4:00 pm Route Closes 5:00 pm Doors Open for Banquet 5:30 pm – 8 pm Banquet Avonlea Banquet Tickets: * All cyclists and volunteers will receive a banquet ticket.
If you would like to purchase additional tickets for guests they are $20 per person. Extra Banquet Tickets All cyclists and volunteers receive a complimentary ticket for the banquet at 5:30 pm on event day.
If you wish to purchase an extra banquet ticket for a guest, the deadline to do so is August 9th . Tickets are $20 per person and can be purchased in the Regina office or over the phone (306-522-5600). Tickets will NOT be sold at the event on August 17th . Dietary Restrictions If you or your guests have any dietary restrictions please let us know. * Please note: Cyclists will be responsible for their own storage and security of their bikes.
2019 MS Bike Cyclist Handbook 17 Avonlea Route August 17, 2019 63 or 102km
18 GEAR UP TO END MS Friday, September 13 Saturday, September 14 7 pm – 9 pm Early Check-in at the Waskesiu Community Hall Beverages available for purchase 8:30 am MS Bike Kickoff Check-in Light Continental Breakfast Team Photos (8:45 am) Club 1000 Photo (9:45 am) 10 am Opening Ceremony and Kickoff MS Bike Begins! 11 am – 1:30 pm Lunch available Be sure to plan your stops and pace accordingly! 2:30 pm Challenge option closes.
All cyclists wanting to do the Challenge Route must have started. 1:30 pm – 4:30 pm Rider Village Activities Finish Line Celebrations Beer Gardens Team Tents Music, Games and Snacks 4:15 pm Route Closes 4:30 pm Barbecue Supper Begins 5 pm Closing Awards & Ceremonies 5:30 pm Last call for alcohol 6 pm Bar and Hall close Waskesiu Extra Barbecue Tickets All cyclists and volunteers receive a complimentary ticket for the barbecue being served in Rider Village at 4:30 pm on event day.
If you wish to purchase an extra barbecue ticket for your family, the deadline to do so is September 6th. Tickets are being sold at $20 for adults, $15 for children 6-12, and all children 5 and under are free when accompanied by an adult with a ticket. Tickets can be purchased in the Saskatoon office, or over the phone (306-244-2114). Tickets will NOT be sold at the event on September 14th . Dietary Restrictions If you or your guests have any dietary restrictions please let us know. SCHEDULE OF EVENTS
2019 MS Bike Cyclist Handbook 19 Waskesiu Route September 14, 2019 50 or 76km
20 GEAR UP TO END MS
Access your Participant Centre to track your fundraising progress
Learn more about fundraising tips, rewards and tools
Visit your event page for up-to-date event information Do you receive our emails? News about the events are sent out regularly to keep you informed. If you haven't received information, contact us at info.sask@mssociety.ca @MSSocietySK @MSSocietySK @MSSocietySK flickr.com/mssocietysask Join us online msbike.ca
NATIONAL SPONSORS OFFICIAL APPAREL PARTNER PROVINCIAL SPONSORS LOCAL SPONSORS Thank you to our sponsors Join us online msbike.ca