Design House Catalog 2017
If your browser does not support JavaScript, please read the page content below:
Design House Catalog 2017
Dear Design House Customers, Design House celebrates our 145th anniversary in 2017 and we cannot thank you enough for your support. Our internal teams have been working tirelessly to bring you new products and make it easier than ever to work with Design House. This catalog is just one tool to help support you, along with new marketing materials, digital content, and a world-class team at our home office and warehouse in Mequon, Wisconsin. We are pleased to introduce our 2017 catalog with more new products than ever before! With expanded offerings across our five main categories - lighting, hardware, plumbing, bath furniture and outdoor living - we can help provide you the Simple Choice for the Whole House® .
We are also excited to introduce kitchen cabinets, many new LED lights, and three new Whole House® Collections: Perth, Eastport, and Karsen. We are committed to keeping this catalog up-to-date online, and you can always find the updated online version at www.todaysdesignhouse.com.
Thank you for your continued support, Todd Witte, President & CEO Design House® Mission Statement We seek to benefit our customers by sourcing quality products at the best value, while providing leadership in multi-category product development, consolidation, and logistical support.
2 www.todaysdesignhouse.com 800.558.8700 OFFICE HOURS 7:30AM – 5:00PM M-F, Central Standard Time General Office Phone: 262.242.5205 5205 West Donges Bay Road Mequon, WI 53092 Customer Service 800.558.8700 262.242.5205 cs@todaysdesignhouse.com Contact Us Whole House® Eastport .
8 Karsen . 9 Perth . 10 Aubrey . 11 Torino . 12-13 Retro/Period . 14-15 Bristol . 16-17 Millbridge . 18-19 Drake . 20 Indoor Lighting Wall/bath . 24-36 Wall sconces . 37 Ceiling . 38-43 Recessed . 44-45 Chandeliers . 46-47 Pendants . 48-51 Art glass . 52 Product knowledge . 53 Outdoor Lighting Outdoor lighting . 56-63 Lamp posts and accessories . 63 Product knowledge . 64 Ceiling Fans Ceiling fans . 68-73 Ceiling fan accessories . 74 Product knowledge . 75 Plumbing Kitchen faucets . 78-81 Bathroom faucets . 82-84, 89 Bath and shower trim . 85-87 Hand held shower kits . 88 Laundry faucets .
89 Builder program . 90-91 Product knowledge . 92-93 Table of Contents ICON LEGEND ENERGY SAVING PRODUCT Items marked with the "p" symbol are discontinued. They will still be available to order through December 31, 2017 unless a direct replacement is introduced.
Visit our online catalog at www.todaysdesignhouse.com catalog for the most up-to-date selection. Hardware Emblem . 98-100 Pro . 101-109 Gateway . 110-113 Commercial grade locks . 114 Accessories and keying . 115-116 Cabinet hardware . 117-119 Door hardware . 120-121 Closet hardware . 121 Product knowledge . 122 Bath Accessories Bath accessories . 126-133, 135 Safety grab bars . 134 Shower rods . 134 Bath Furniture Vanity cabinets . 140-152 Laundry tubs . 153 Vanity tops . 154-161 Product knowledge . 162-163 Kitchen Cabinets Kitchen cabinets . 166-174 Product knowledge . 175 Additional Information Displays and merchandising .
178-181 Outdoor Living products . 182-183 Special order products . 184-185 Terms of sale . 186-187 Index . 188-192
3 800.558.8700 www.todaysdesignhouse.com Wish List Specification Tool This online tool allows you to quickly create project specifications to display Design House product and spec sheet information. Product Displays Design House offers a variety of displays at discounted prices to enable you to showcase products in-aisle and in your showroom. Product Literature We deliver a full line of literature to educate you on the features and benefits of our products. Todaysdesignhouse.com Our website serves as a central location for product information, corporate information, marketing resources, industry trends and much more.
Visit us at www.todaysdesignhouse.com.
Social Media Follow us on Facebook, Pinterest, LinkedIn, YouTube, and Houzz. Email Newsletter Stay in the know with our latest product launches and company updates by signing up for our email newsletter. Visit www.todaysdesignhouse.com to join today. Marketing Assets INDOOR LIGHTING OUTDOOR LIGHTING CEILING FANS PLUMBING HARDWARE BATH ACCESSORIES BATH FURNITURE KITCHEN CABINETS INDEX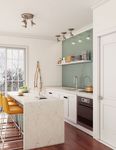 4 www.todaysdesignhouse.com 800.558.8700 Emblem Locksets Shorewood Vanities Eastport & Karsen Faucets This series of locksets combine sleek profiles and timeless finishes with heavy duty construction and a limited lifetime warranty.
These ready-to-assemble vanities are constructed of solid wood and feature concealed soft-close hinges, satin nickel finish hardware, and a furniture-style leg design for added style. Designed with clean lines and sleek finishes, the Eastport and Karsen collections offer contemporary styling for any modern bathroom or kitchen.
Beginning on page 98 Beginning on page 140 Beginning on page 78 Discover our Newest Products
5 800.558.8700 www.todaysdesignhouse.com Perth Whole House® Collection LED Lights Brookings Kitchen Cabinets This collection features rounded square edges for a soft contemporary feel. From lighting to faucets to locksets, each product is designed with coordinating cubed hubs and subtle facets to effortlessly add elegance. Our versatile selection of LED lights offer efficiency and long life, while maintaining a stylistic design. Available in both espresso and white, our new kitchen cabinet collection provide ease of selection at a competitive price point.
Page 10 Beginning on page 26 Beginning on page 164 Discover our Newest Products INDOOR LIGHTING OUTDOOR LIGHTING CEILING FANS PLUMBING HARDWARE BATH ACCESSORIES BATH FURNITURE KITCHEN CABINETS INDEX
7 800.558.8700 www.todaysdesignhouse.com Whole House® Eastport Karsen Perth Aubrey Torino Retro/Period Bristol Millbridge Drake INDOOR LIGHTING OUTDOOR LIGHTING CEILING FANS PLUMBING HARDWARE BATH ACCESSORIES BATH FURNITURE KITCHEN CABINETS INDEX
8 WHOLE HOUSE® | COLLECTIONS www.todaysdesignhouse.com 800.558.8700 Eastport Whole House® Collection SATIN NICKEL A 2 Light bath bar 570929 List price: $53.95 B 1 Light wall light 573154 List price: $40.95 C 2 Light wall light 577528 List price: $55.95 D 3 Light vanity light 573147 List price: $89.95 E 4 Light vanity light 577536 List price: $113.95 F 2 Light ceiling light 570937 List price: $78.95 G 52" Ceiling fan 154336 List price: $189.95 H 3 Light pendant 573139 List price: $152.95 I Mini pendant 577510 List price: $48.95 J Single handle pull-down kitchen faucet 547851 List price: $259.95 K Kitchen faucet 547737 List price: $239.95 L Bar faucet 547570 List price: $209.95 M Bathroom faucet 547554 List price: $169.95 N Widespread bathroom faucet 548289 List price: $229.95 O Centerset bathroom faucet 548263 List price: $159.95 P Shower trim with valve 547703 List price: $194.95 Q Bath & shower trim with valve 547679 List price: $224.95 R Towel ring 581603 List price: $25.95 S Robe hook 581629 List price: $16.95 T Toilet paper holder 581611 List price: $26.95 U 24" Towel bar 581595 List price: $41.95 V Handleset 581926 List price: $221.95 W Single cylinder deadbolt 581868 List price: $44.95 X Eastport leverset 580944 Dummy List price: $19.95 580951 Passage List price: $39.95 580969 Privacy List price: $41.95 580977 Entry List price: $74.95 E
9 WHOLE HOUSE® | COLLECTIONS 800.558.8700 www.todaysdesignhouse.com Karsen Collection POLISHED CHROME AND SATIN NICKEL A Flush ceiling light 578500 List price: $69.95 B Semi-flush ceiling light 579110 List price: $86.95 C 4 Light pendant light 578468 List price: $255.95 D Mini pendant 578476 List price: $68.95 E 1 Light wall light 578484 List price: $44.95 F 3 Light vanity light 578492 List price: $119.95 G Kitchen faucet 547638 List price: $309.95 H Centerset bathroom faucet 547596 List price: $169.95 I Widespread bathroom faucet 547653 List price: $229.95 J Shower trim with valve 547729 List price: $209.95 K Bath & shower trim with valve 547612 List price: $239.95 L Towel ring 581447 List price: $25.95 M Robe hook 581462 List price: $15.95 N Toilet paper holder 581454 List price: $26.95 O 24" Towel bar 581439 List price: $41.95 P Handleset 581959 List price: $221.95 Q Karsen leverset 581090 Dummy List price: $19.95 581108 Passage List price: $40.95 581116 Privacy List price: $42.95 581124 Entry List price: $73.95 R Single cylinder deadbolt 581835 List price: $44.95 INDOOR LIGHTING OUTDOOR LIGHTING CEILING FANS PLUMBING HARDWARE BATH ACCESSORIES BATH FURNITURE KITCHEN CABINETS INDEX
10 WHOLE HOUSE® | COLLECTIONS www.todaysdesignhouse.com 800.558.8700 Perth Whole House® Collection A 3 Light ceiling light 578377 List price: $80.95 B 3 Light semi-flush ceiling light 578369 List price: $93.95 C 3 Light semi-flush ceiling light 578351 List price: $140.95 D 4 Light pendant 578344 List price: $164.95 E Mini pendant 578310 List price: $54.95 F 3 Light vanity light 578336 List price: $99.95 G 1 Light wall light 578328 List price: $36.95 H Single handle pull-down kitchen faucet 546986 List price: $269.95 I 4" Centerset bathroom faucet 546929 List price: $179.95 J Widespread bathroom faucet 546937 List price: $239.95 K Bath & shower trim with valve 546960 List price: $239.95 L Shower trim with valve 546978 List price: $199.95 M Towel ring 580829 List price: $26.95 N Double robe hook 580845 List price: $17.95 O Toilet paper holder 580837 List price: $27.95 P 24" Towel bar 580811 List price: $44.95 Q Handleset 702068 List price: $112.95 R Single cylinder deadbolt 783589 List price: $19.95 S Double cylinder deadbolt 783829 List price: $20.95 T Delavan leverset 702100 Dummy List price: $11.95 702092 Passage List price: $22.95 702084 Privacy List price: $22.95 702373 Entry List price: $30.95 SATIN NICKEL E
11 WHOLE HOUSE® | COLLECTIONS 800.558.8700 www.todaysdesignhouse.com Aubrey Whole House® Collection A 1 Light wall light 556183 List price: $37.95 B 2 Light wall light 556191 List price: $66.95 C 3 Light vanity light 556209 List price: $102.95 D 4 Light vanity light 556217 List price: $134.95 E 5 Light vanity light 556225 List price: $163.95 F 3 Light chandelier 556647 List price: $169.95 G 5 Light chandelier 556639 List price: $207.95 H 52" Ceiling fan 556621 List price: $238.95 I 2 Light ceiling light 556654 List price: $70.95 J Outdoor downlight 507863 List price: $34.95 K Single handle pull-down kitchen faucet 525717 List price: $239.95 L Centerset bathroom faucet 525758 List price: $226.95 M Bath & shower trim with valve 525691 List price: $268.95 N Towel ring 560367 List price: $17.95 O Double robe hook 560342 List price: $13.95 P Toilet paper holder 560383 List price: $22.95 Q 24" Towel bar 560300 List price: $68.95 R Handleset 753533 List price: $110.95 S Single cylinder deadbolt 783589 List price: $19.95 T Double cylinder deadbolt 783829 List price: $20.95 U Cambridge knobset 753293 Dummy List price: $9.95 753301 Passage List price: $18.95 753319 Privacy List price: $19.95 753327 Entry List price: $22.95 SATIN NICKEL INDOOR LIGHTING OUTDOOR LIGHTING CEILING FANS PLUMBING HARDWARE BATH ACCESSORIES BATH FURNITURE KITCHEN CABINETS INDEX
12 WHOLE HOUSE® | COLLECTIONS www.todaysdesignhouse.com 800.558.8700 Torino Whole House® Collection A 1 Light wall light 514786 List price: $44.95 B 1 Light wall light 514745 List price: $37.95 C 2 Light wall light 514752 List price: $67.95 D 3 Light vanity light 514760 List price: $103.95 E 4 Light vanity light 514778 List price: $136.95 F Outdoor downlight 514877 List price: $47.95 G 2 Light ceiling light 514794 List price: $46.95 H Semi-flush ceiling light 514802 List price: $74.95 I 3 Light chandelier 514828 List price: $176.95 J 5 Light chandelier 514836 List price: $221.95 K 2 Light pendant 514810 List price: $132.95 L Mini pendant 514851 List price: $59.95 M 52" Ceiling fan 154138 List price: $198.95 N Centerset bathroom faucet 521997 List price: $212.95 O Kitchen faucet with sidespray 522110 List price: $309.95 P Widespread bathroom faucet 522052 List price: $286.95 Q Bath & shower trim with valve 522029 List price: $290.95 R Towel ring 560466 List price: $26.95 S Double robe hook 560433 List price: $15.49 T Toilet paper holder 560490 List price: $23.95 U 24" Towel bar 560409 List price: $52.95 V Handleset 702068 List price: $112.95 W Single cylinder deadbolt 783589 List price: $19.95 X Double cylinder deadbolt 783829 List price: $20.95 Y Delavan leverset 702100 Dummy List price: $11.95 702092 Passage List price: $22.95 702084 Privacy List price: $22.95 702373 Entry List price: $30.95 SATIN NICKEL E
13 WHOLE HOUSE® | COLLECTIONS 800.558.8700 www.todaysdesignhouse.com Torino Whole House® Collection A 1 Light wall light 577411 List price: $46.95 B 1 Light wall light 577429 List price: $39.95 C 2 Light wall light 577437 List price: $71.95 D 3 Light vanity light 577445 List price: $108.95 E 4 light vanity light 577452 List price: $143.95 F Outdoor downlight 516781 List price: $107.95 G 2 Light ceiling light 577403 List price: $48.95 H Semi-flush ceiling light 577395 List price: $78.95 I 3 Light chandelier 577361 List price: $185.95 J 5 Light chandelier 577353 List price: $232.95 K 2 Light pendant 577379 List price: $139.95 L Mini pendant 577387 List price: $62.95 M 52" Ceiling fan 154245 List price: $222.95 N Centerset bathroom faucet 522003 List price: $229.95 O Widespread bathroom faucet 522060 List price: $325.95 P Bath & shower trim with valve 522037 List price: $321.95 Q Towel ring 560474 List price: $29.95 R Double robe hook 560441 List price: $17.49 S Toilet paper holder 560508 List price: $31.95 T 24" Towel bar 560417 List price: $60.95 U Handleset 702035 List price: $135.95 V Single cylinder deadbolt 702456 List price: $21.95 W Double cylinder deadbolt 702613 List price: $23.95 X Springdale leverset 702933 Dummy List price: $13.95 702985 Passage List price: $25.95 702498 Privacy List price: $25.95 702480 Entry List price: $37.95 BRUSHED BRONZE INDOOR LIGHTING OUTDOOR LIGHTING CEILING FANS PLUMBING HARDWARE BATH ACCESSORIES BATH FURNITURE KITCHEN CABINETS INDEX
14 WHOLE HOUSE® | COLLECTIONS www.todaysdesignhouse.com 800.558.8700 Retro/Period Whole House® Collection A Ceiling light 577494 List price: $41.95 B Semi-flush ceiling light 519876 List price: $36.95 C 1 Light wall light 519892 List price: $35.95 D Outdoor wall light 520965 List price: $48.95 E Semi-flush ceiling light 519686 List price: $34.95 F 1 Light wall light 519702 List price: $32.95 G 3 Light vanity light 520312 List price: $91.95 H 3 Light pendant 519801 List price: $171.95 I Mini pendant 519645 List price: $51.95 J 3 Light vanity light 519728 List price: $97.95 K 3 Light pendant 520379 List price: $157.95 L Mini pendant 519819 List price: $45.95 M Pendant 519843 List price: $94.95 N Pendant 519660 List price: $111.95 O 3 Light pendant 519744 List price: $148.95 P Kitchen faucet with sidespray 523241 List price: $224.95 Q Centerset bathroom faucet 523290 List price: $181.95 R Bath & shower trim with valve 523456 List price: $220.95 S Towel ring 580639 List price: $28.25 T Double robe hook 580647 List price: $22.95 U Toilet paper holder 580621 List price: $28.95 V 24" Towel bar 580613 List price: $53.95 W Handleset 753533 List price: $110.95 X Single cylinder deadbolt 783589 List price: $19.95 Y Double cylinder deadbolt 783829 List price: $20.95 Z Cambridge knobset 753293 Dummy List price: $9.95 753301 Passage List price: $18.95 753319 Privacy List price: $19.95 753327 Entry List price: $22.95 GALVANIZED AND SATIN NICKEL 
15 WHOLE HOUSE® | COLLECTIONS 800.558.8700 www.todaysdesignhouse.com Retro/Period Whole House® Collection A Ceiling light 577502 List price: $43.95 B Semi-flush ceiling light 519884 List price: $39.95 C 1 Light wall light 519900 List price: $37.95 D Outdoor wall light 519504 List price: $50.95 E Semi-flush ceiling light 519694 List price: $35.95 F 1 Light wall light 519710 List price: $34.95 G 3 Light vanity light 520320 List price: $96.95 H 3 Light pendant 519793 List price: $162.95 I Mini pendant 519652 List price: $49.95 J 3 Light vanity light 519736 List price: $102.95 K 3 Light pendant 520387 List price: $166.95 L Mini pendant 519827 List price: $47.95 M Pendant 519863 List price: $99.95 N Pendant 519678 List price: $117.95 O 3 Light pendant 519785 List price: $156.95 P Kitchen faucet with sidespray 523217 List price: $262.95 Q Centerset bathroom faucet 523282 List price: $195.95 R Bath & shower trim with valve 523464 List price: $242.95 S Towel ring 580670 List price: $31.95 T Double robe hook 580688 List price: $24.95 U Toilet paper holder 580662 List price: $31.95 V 24" Towel bar 580654 List price: $58.95 W Handleset 753566 List price: $121.95 X Single cylinder deadbolt 791665 List price: $20.95 Y Double cylinder deadbolt 791673 List price: $23.95 Z Cambridge knobset 753434 Dummy List price: $10.95 753442 Passage List price: $20.95 753459 Privacy List price: $21.95 753467 Entry List price: $24.95 OIL RUBBED ANDTEXTURED COFFEE BRONZE INDOOR LIGHTING OUTDOOR LIGHTING CEILING FANS PLUMBING HARDWARE BATH ACCESSORIES BATH FURNITURE KITCHEN CABINETS INDEX
16 WHOLE HOUSE® | COLLECTIONS www.todaysdesignhouse.com 800.558.8700 Bristol Whole House® Collection A 2 Light wall light 517086 List price: $64.95 B 3 Light vanity light 510263 List price: $101.95 C 4 Light vanity light 517128 List price: $129.95 D 2 Light ceiling light 510297 List price: $45.95 E 5 Light chandelier 510255 List price: $219.95 F 52" Ceiling fan 154013 List price: $203.95 G Mini pendant 517094 List price: $51.95 H Outdoor downlight 517698 List price: $83.95 I Centerset bathroom faucet 525840 List price: $155.95 J Kitchen faucet with sidespray 525808 List price: $238.95 K Widespread bathroom faucet 525824 List price: $223.95 L Bath & shower trim with valve 525782 List price: $228.95 M 24" Towel bar 538330 List price: $33.95 N Towel ring 538355 List price: $19.95 O Robe hook 538389 List price: $13.95 P Toilet paper holder 538363 List price: $23.95 Q Euro toilet paper holder 538371 List price: $20.95 R Handleset 783514 List price: $118.95 S Single cylinder deadbolt 783589 List price: $19.95 T Double cylinder deadbolt 783829 List price: $20.95 U Scroll leverset 781815 Dummy List price: $12.95 781831 Passage List price: $22.95 781823 Privacy List price: $22.95 784918 Entry List price: $34.95 SATIN NICKEL E
17 WHOLE HOUSE® | COLLECTIONS 800.558.8700 www.todaysdesignhouse.com A 1 Light wall light 504415 List price: $39.95 B 2 Light wall light 504407 List price: $64.95 C 3 Light vanity light 509042 List price: $101.95 D 4 Light vanity light 511758 List price: $129.95 E 2 Light ceiling light 504399 List price: $45.95 F 5 Light chandelier 504167 List price: $219.95 G 52" Ceiling fan 153791 List price: $204.95 H Mini pendant 509026 List price: $51.95 I Outdoor downlight 517599 List price: $83.95 J Centerset bathroom faucet 525832 List price: $167.95 K Kitchen faucet with sidespray 525790 List price: $257.95 L Widespread bathroom faucet 525816 List price: $241.95 M Bath & shower trim with valve 525774 List price: $246.95 N 24" Towel bar 538405 List price: $35.95 O Towel ring 538421 List price: $20.95 P Robe hook 538454 List price: $14.95 Q Toilet paper holder 538439 List price: $25.95 R Euro toilet paper holder 538447 List price: $22.95 S Handleset 791699 List price: $132.95 T Single cylinder deadbolt 791665 List price: $20.95 U Double cylinder deadbolt 791673 List price: $23.95 V Scroll leverset 791657 Dummy List price: $12.95 791624 Passage List price: $23.95 791632 Privacy List price: $24.95 791640 Entry List price: $37.95 Bristol Whole House® Collection OIL RUBBED BRONZE INDOOR LIGHTING OUTDOOR LIGHTING CEILING FANS PLUMBING HARDWARE BATH ACCESSORIES BATH FURNITURE KITCHEN CABINETS INDEX
WHOLE HOUSE® | COLLECTIONS www.todaysdesignhouse.com 800.558.8700 18 Millbridge Whole House® Collection A 1 Light ceiling light 511592 List price: $17.95 B 1 Light ceiling light 511576 List price: $19.95 C 2 Light ceiling light 511568 List price: $28.95 D 2 Light ceiling light 511550 List price: $35.95 E 1 Light wall sconce 511584 List price: $34.95 F Outdoor jelly jar 507806 List price: $9.95 G 1 Light wall light 511618 List price: $29.95 H 2 Light wall light 511600 List price: $36.95 I 3 Light vanity light 517383 List price: $81.95 J 4 Light vanity light 519215 List price: $106.95 K Outdoor downlight 519496 List price: $37.95 L Mini pendant 511634 List price: $45.95 M Pendant 511626 List price: $84.95 N Swag light 517565 List price: $91.95 O 3 Light chandelier 511543 List price: $87.95 P 5 Light chandelier 511535 List price: $92.95 Q Kitchen faucet with sidespray 545855 List price: $86.95 R Centerset bathroom faucet 545814 List price: $90.95 S Bath & shower trim with valve 545764 List price: $151.95 T 52" Ceiling fan 153957 List price: $143.95 U Towel ring 539163 List price: $7.95 V Double robe hook 539197 List price: $4.95 W Toilet paper holder 539171 List price: $9.95 X Handleset 753533 List price: $110.95 Y 24" Towel bar 539148 List price: $18.95 Z Single cylinder deadbolt 783589 List price: $19.95 AA Double cylinder deadbolt 783829 List price: $20.95 AB Cambridge knobset 753293 Dummy List price: $9.95 753301 Passage List price: $18.95 753319 Privacy List price: $19.95 753327 Entry List price: $22.95 SATIN NICKEL AA AB G D E 
WHOLE HOUSE® | COLLECTIONS 800.558.8700 www.todaysdesignhouse.com 19 Millbridge Whole House® Collection A 1 Light ceiling light 514521 List price: $18.95 B 1 Light ceiling light 514547 List price: $20.95 C 2 Light ceiling light 514539 List price: $29.95 D 2 Light ceiling light 514489 List price: $47.95 E 1 Light wall sconce 514554 List price: $30.95 F Outdoor jelly jar 505198 List price: $9.95 G 1 Light wall light 514497 List price: $30.95 H 2 Light wall light 514471 List price: $36.95 I 3 Light vanity light 517615 List price: $84.95 J 4 Light vanity light 517714 List price: $108.95 K Outdoor downlight 519488 List price: $36.95 L Mini pendant 514513 List price: $45.95 M Pendant 514505 List price: $88.95 N Swag light 517664 List price: $91.95 O 3 Light chandelier 514463 List price: $91.95 P 5 Light chandelier 514455 List price: $97.95 Q Kitchen faucet with sidespray 545848 List price: $100.95 R Centerset bathroom faucet 545822 List price: $102.95 S Bath & shower trim with valve 545756 List price: $175.95 T 52" Ceiling fan 153932 List price: $145.95 U Towel ring 539239 List price: $8.95 V Double robe hook 539262 List price: $5.95 W Toilet paper holder 539247 List price: $12.95 X Handleset 753566 List price: $121.95 Y 24" Towel bar 539213 List price: $20.95 Z Single cylinder deadbolt 791665 List price: $20.95 AA Double cylinder deadbolt 791673 List price: $23.95 AB Cambridge knobset 753434 Dummy List price: $10.95 753442 Passage List price: $20.95 753459 Privacy List price: $21.95 753467 Entry List price: $24.95 OIL RUBBED BRONZE AA AB G D E  INDOOR LIGHTING OUTDOOR LIGHTING CEILING FANS PLUMBING HARDWARE BATH ACCESSORIES BATH FURNITURE KITCHEN CABINETS INDEX
20 WHOLE HOUSE® | COLLECTIONS www.todaysdesignhouse.com 800.558.8700 Drake Whole House® Collection A 2 Light ceiling light 514976 List price: $52.95 B 1 Light wall light 514927 List price: $41.95 C 3 Light vanity light 514901 List price: $107.95 D 5 Light chandelier 514885 List price: $252.95 E Kitchen faucet with sidespray 524736 List price: $163.95 F 52" Ceiling fan 154005 List price: $260.95 G Centerset bathroom faucet 524538 List price: $158.95 H Bar faucet 524777 List price: $123.95 I Widespread bathroom faucet 524579 List price: $225.95 J Roman bath faucet 524611 List price: $322.95 K Bath & shower trim with valve 524652 List price: $232.95 L Towel ring 560110 List price: $19.95 M Euro toilet paper holder ring 560151 List price: $25.95 N Robe hook 560193 List price: $11.95 O Toilet paper holder 560078 List price: $28.95 P 24" Towel bar 560037 List price: $32.95 Q Handleset 702050 List price: $126.95 R Single cylinder deadbolt 791665 List price: $20.95 S Double cylinder deadbolt 791673 List price: $23.95 T Delavan leverset 702365 Dummy List price: $12.95 702357 Passage List price: $23.95 702340 Privacy List price: $24.95 702332 Entry List price: $32.95 OIL RUBBED BRONZE 
23 800.558.8700 www.todaysdesignhouse.com Indoor Lighting Wall and Bath Wall Sconces Ceiling Recessed Chandeliers Pendants Art Glass INDOOR LIGHTING OUTDOOR LIGHTING CEILING FANS PLUMBING HARDWARE BATH ACCESSORIES BATH FURNITURE KITCHEN CABINETS INDEX
24 LIGHTING | WALL AND BATH LIGHTING www.todaysdesignhouse.com 800.558.8700 product # description dimensions list price A 578484 One light wall light 7¼" h x 4½" w x 6½" d $44.95 B 578492 Three light vanity light 7½" h x 24" w x 6½" d 119.95 Karsen Collection POLISHED CHROME WITH FROSTED GLASS Wall and Bath Lighting product # description dimensions list price A 578328 One light wall light 9½" h x 6" w x 6½" d $36.95 B 578336 Three light vanity light 9½" h x 25" w x 6½" d 99.95 Perth Collection SATIN NICKEL WITH FROSTED GLASS product # description dimensions list price A 577981 One light wall light 6½" h x 53 /8" w x 6" d $36.95 B 578005 Three light vanity light 6½" h x 24" w x 6" d 93.95 C 578013 Four light vanity light 6½" h x 32" w x 6" d 128.95 Dove Creek Collection SATIN NICKEL WITH FROSTED GLASS All wall and vanity lights are suitable for up/down mounting and damp locations C
25 LIGHTING | WALL AND BATH LIGHTING 800.558.8700 www.todaysdesignhouse.com Wall and Bath Lighting product # description dimensions list price A 577858 One light wall light 10" h x 65 /8" w x 73 /8" d $54.95 B 577866 Two light wall light 10¼" h x 163 /8" w x 73 /8" d 109.95 C 577874 Three light vanity light 9¾" h x 27¼" w x 7½" d 158.95 D 578294 Four light vanity light 9¾" h x 37¼" w x 7½" d 209.95 Sawyer Collection OIL RUBBED BRONZE WITH CLEAR SEEDY GLASS product # description dimensions list price A 578153 One light wall light 97 /8" h x 5½" w x 8" d $36.95 B 578161 Three light vanity light 97 /8" h x 23" w x 8" d 94.95 Impala Collection RUSTIC BRONZE WITH FROSTED WHITE INNER GLASS AND CLEAR OUTER GLASS All wall and vanity lights are suitable for up/down mounting and damp locations INDOOR LIGHTING OUTDOOR LIGHTING CEILING FANS PLUMBING HARDWARE BATH ACCESSORIES BATH FURNITURE KITCHEN CABINETS INDEX
26 LIGHTING | WALL AND BATH LIGHTING www.todaysdesignhouse.com 800.558.8700 Wall and Bath Lighting product # description dimensions list price A 577767 LED one light wall light 8" h x 4¾" w x 37 /8" d $102.95 B 577783 LED three light vanity light 7" h x 24" w x 37 /8" d 215.95 C 577791 LED four light vanity light 7" h x 32½" w x 37 /8" d 254.95 Haswell Collection POLISHED CHROME WITH FROSTED ACRYLIC AND CLEAR EDGED LENS product # description dimensions list price A 577734 12" LED bath bar 12" h x 5" w x 4¼" d $104.95 B 577759 24" LED bath bar 5" h x 24" w x 43 /8" d 130.95 product # description dimensions list price A 578393 12¾" LED bath bar 5" h x 125 /8" w x 4¾" d $116.95 B 578385 24" LED bath bar 4½" h x 235 /8" w x 4¾" d 145.95 Fleming Collection Burke Collection SATIN NICKEL WITH FROSTED WHITE ACRYLIC LENS SATIN NICKEL WITH FROSTED WHITE ACRYLIC LENS All wall and vanity lights are suitable for up/down mounting and damp locations C
27 LIGHTING | WALL AND BATH LIGHTING 800.558.8700 www.todaysdesignhouse.com Wall and Bath Lighting product # description dimensions list price A 519702 One light wall light 133 /8" h x 63 /8" w x 8" d $32.95 B 519710 One light wall light 133 /8" h x 63 /8" w x 8" d 34.95 C 519728 Three light vanity light 133 /8" h x 25¾" w x 8" d 97.95 D 519736 Three light vanity light 133 /8" h x 25¾" w x 8" d 102.95 product # description dimensions list price A 519892 One light wall light 83 /8" h x 9" w x 11" d $35.95 B 519900 One light wall light 83 /8" h x 9" w x 11" d 37.95 C 520312 Three light vanity light 83 /8" h x 31" w x 11" d 91.95 D 520320 Three light vanity light 83 /8" h x 31" w x 11" d 96.95 Ajax Collection Kimball Collection GALVANIZED AND TEXTURED COFFEE BRONZE GALVANIZED AND TEXTURED COFFEE BRONZE All wall and vanity lights are suitable for up/down mounting and damp locations INDOOR LIGHTING OUTDOOR LIGHTING CEILING FANS PLUMBING HARDWARE BATH ACCESSORIES BATH FURNITURE KITCHEN CABINETS INDEX
28 LIGHTING | WALL AND BATH LIGHTING www.todaysdesignhouse.com 800.558.8700 Wall and Bath Lighting product # description dimensions list price A 556134 One light wall light 10¼" h x 5½" w x 7½" d $40.95 B 556142 Two light wall light 10¼" h x 16" w x 7½" d 74.95 C 556159 Three light vanity light 10¼" h x 25" w x 7½" d 104.95 D 556167 Four light vanity light 10¼" h x 345 /8" w x 7½" d 143.95 E 556175 Five light vanity light 10¼" h x 44" w x 7½" d 175.95 product # description dimensions list price A 570929 Two light bath bar 16" h x 4¾" w x 4" d $53.95 B 573154 One light wall light 10" h x 4¾" w x 5" d 40.95 C 577528 Two light wall light 10" h x 10¼" w x 5" d 55.95 D 573147 Three light vanity light 10" h x 16½" w x 5" d 89.95 E 577536 Four light vanity light 10" h x 227 /8" w x 5" d 113.95 Oslo Collection Eastport Collection SATIN NICKEL WITH FROSTED WHITE INNER GLASS AND CLEAR OUTER GLASS SATIN NICKEL WITH FROSTED WHITE GLASS All wall and vanity lights are suitable for up/down mounting and damp locations E
29 LIGHTING | WALL AND BATH LIGHTING 800.558.8700 www.todaysdesignhouse.com Wall and Bath Lighting product # description dimensions list price A 514786 One light wall light 15" h x 51 /8" w x 67 /8" d $44.95 B 514745 One light wall light 8" h x 51 /8" w x 67 /8" d 37.95 C 514752 Two light wall light 8" h x 14" w x 67 /8" d 67.95 D 514760 Three light vanity light 8" h x 22½" w x 67 /8" d 103.95 E 514778 Four light vanity light 8" h x 30¾" w x 67 /8" d 136.95 product # description dimensions list price A 577411 One light wall light 15" h x 51 /8" w x 67 /8" d $46.95 B 577429 One light wall light 8" h x 51 /8" w x 67 /8" d 39.95 C 577437 Two light wall light 8" h x 14" w x 67 /8" d 71.95 D 577445 Three light vanity light 8" h x 22½" w x 67 /8" d 108.95 E 577452 Four light vanity light 8" h x 30¾" w x 67 /8" d 143.95 Torino Collection Torino Collection SATIN NICKEL WITH SNOW GLASS BRUSHED BRONZE WITH SNOW GLASS All wall and vanity lights are suitable for up/down mounting and damp locations INDOOR LIGHTING OUTDOOR LIGHTING CEILING FANS PLUMBING HARDWARE BATH ACCESSORIES BATH FURNITURE KITCHEN CABINETS INDEX
30 LIGHTING | WALL AND BATH LIGHTING www.todaysdesignhouse.com 800.558.8700 Wall and Bath Lighting product # description dimensions list price 517656 Four light vanity light 8" h x 26¾" w 8½" d 114.95 product # description dimensions list price A 556183 One light wall light 10¾" h x 5" w x 6¾" d $37.95 B 556191 Two light wall light 10¾" h x 13¼" w x 6¾" d 66.95 C 556209 Three light vanity light 10¾" h x 215 /8" w x 6¾" d 102.95 D 556217 Four light vanity light 10¾" h x 301 /8" w x 6¾" d 134.95 E 556225 Five light vanity light 10¾" h x 38" w x 6¾" d 163.95 Ironwood Collection Aubrey Collection BRUSHED BRONZE WITH SNOW GLASS SATIN NICKEL WITH FROSTED WHITE GLASS All wall and vanity lights are suitable for up/down mounting and damp locations A B C D E
31 LIGHTING | WALL AND BATH LIGHTING 800.558.8700 www.todaysdesignhouse.com product # description dimensions list price A 504415 One light wall light 8½" h x 7½" w x 9½" d $39.95 B 504407 Two light wall light 9¾" h x 17¾" w x 9" d 64.95 C 509042 Three light vanity light 7¼" h x 24" w x 9½" d 101.95 D 511758 Four light vanity light 7¼" h x 32" w x 9½" d 129.95 product # description dimensions list price A 517086 Two light wall light 9¾" h x 17¾" w x 9" d $64.95 B 510263 Three light vanity light 7¼" h x 24" w x 9½" d 101.95 C 517128 Four light vanity light 7¼" h x 32" w x 9½" d 129.95 Bristol Collection Bristol Collection OIL RUBBED BRONZE WITH TEA SPECKLED GLASS SATIN NICKEL WITH ALABASTER GLASS Wall and Bath Lighting All wall and vanity lights are suitable for up/down mounting and damp locations INDOOR LIGHTING OUTDOOR LIGHTING CEILING FANS PLUMBING HARDWARE BATH ACCESSORIES BATH FURNITURE KITCHEN CABINETS INDEX
32 LIGHTING | WALL AND BATH LIGHTING www.todaysdesignhouse.com 800.558.8700 Wall and Bath Lighting product # description dimensions list price A 517441 One light wall light 8½" h x 7" w x 8¼" d $39.95 B 517458 Two light wall light 8" h x 16" w x 8¼" d 57.95 C 517466 Three light vanity light 7½" h x 23" w x 9½" d 98.95 product # description dimensions list price A 512517 One light wall light 8½" h x 7" w x 8¼" d $39.95 B 512509 Two light wall light 8" h x 16" w x 8¼" d 57.95 C 512541 Three light vanity light 7½" h x 23" w x 9½" d 98.95 Trevie Collection Trevie Collection OIL RUBBED BRONZE WITH ANTIQUE ALABASTER GLASS SATIN NICKEL WITH ALABASTER GLASS product # description dimensions list price A 503011 One light vanity wall light 8¼" h x 7½" w x 9¼" d $21.95 B 503029 Two light vanity wall light 8¼" h x 7½" w x 9¼" d 31.95 Millbridge Collection POLISHED BRASS WITH CLEAR RIBBED GLASS All wall and vanity lights are suitable for up/down mounting and damp locations 
33 LIGHTING | WALL AND BATH LIGHTING 800.558.8700 www.todaysdesignhouse.com Wall and Bath Lighting product # description dimensions list price A 514497 One light wall light 8¼" h x 7½" w x 9¼" d $30.95 B 514471 Two light wall light 9" h x 17¾" w x 8" d 36.95 C 517615 Three light vanity light 8½" h x 26½" w x 8½" d 84.95 D 517714 Four light vanity light 8½" h x 36" w x 8½" d 108.95 product # description dimensions list price A 511618 One light wall light 8¼" h x 7½" w x 9¼" d $29.95 B 511600 Two light wall light 9" h x 17¾" w x 8" d 36.95 C 517383 Three light vanity light 8½" h x 26½" w x 8½" d 81.95 D 519215 Four light vanity light 8½" h x 36" w x 8½" d 106.95 Millbridge Collection Millbridge Collection OIL RUBBED BRONZE WITH ALABASTER GLASS SATIN NICKEL WITH ALABASTER GLASS All wall and vanity lights are suitable for up/down mounting and damp locations INDOOR LIGHTING OUTDOOR LIGHTING CEILING FANS PLUMBING HARDWARE BATH ACCESSORIES BATH FURNITURE KITCHEN CABINETS INDEX
34 LIGHTING | WALL AND BATH LIGHTING www.todaysdesignhouse.com 800.558.8700 product # description dimensions list price A 506477 One light wall light 6½" h x 4½" w x 6" d $42.95 B 506493 Three light vanity light 6¾" h x 24" w x 6" d 102.95 Syrah Collection SATIN NICKEL WITH FROSTED FLOAT GLASS product # description dimensions list price A 512657 One light wall light 9" h x 6¾" w 8½"d $46.95 B 512665 Three light vanity light 9½" h x 24¼" w 8½"d 120.95 product # description dimensions list price A 514927 One light wall light 10" h x 7½" w x 9" d $41.95 B 514901 Three light vanity light 8¼" h x 26½" w x 9¼" d 107.95 Cameron Collection Drake Collection OIL RUBBED BRONZE WITH ANTIQUE GLASS OIL RUBBED BRONZE WITH ALABASTER GLASS Wall and Bath Lighting product # description dimensions list price 519462 Three light vanity light 9½" h x 23" w x 9" d $86.95 Ridgeway Collection SATIN NICKEL WITH ALABASTER GLASS All wall and vanity lights are suitable for up/down mounting and damp locations 
35 LIGHTING | WALL AND BATH LIGHTING 800.558.8700 www.todaysdesignhouse.com Wall and Bath Lighting product # description dimensions list price A 506618 Three light vanity light 7½" h x 24¼" w x 7½" d $104.95 B 506626 Four light vanity light 7½" h x 30" w x 7½" d 136.95 C 506584 Three light vanity light 7½" h x 24¼" w x 7½" d 100.95 D 506592 Four light vanity light 7½" h x 30" w x 7½" d 129.95 Allante Collection SATIN NICKEL AND OIL RUBBED BRONZE WITH FROSTED GLASS product # description dimensions list price A 504977 One light wall light 8¼" h x 5" w x 5¼" d $25.95 satin nickel with frosted flute glass B 505115 One light wall light 8¼" h x 5" w x 5¼" d 28.95 oil rubbed bronze with frosted flute glass C 500975 One light wall light 7½" h x 4½" w x 4¾" d 22.95 polished brass with frosted etched glass All wall and vanity lights are suitable for up/down mounting and damp locations INDOOR LIGHTING OUTDOOR LIGHTING CEILING FANS PLUMBING HARDWARE BATH ACCESSORIES BATH FURNITURE KITCHEN CABINETS INDEX
36 LIGHTING | WALL AND BATH LIGHTING www.todaysdesignhouse.com 800.558.8700 Bath Lighting product # description dimensions list price A 500827 Three light vanity light 4¼" h x 18" w x 2" d $22.95 B 500868 Four light vanity light 4¼" h x 24" w x 2" d 29.95 product # description dimensions list price A 519280 Three light vanity light 4¼" h x 18" w x 2" d $22.95 B 519298 Four light vanity light 4¼" h x 24" w x 2" d 29.95 C 519306 Five light vanity light 4¼" h x 30" w x 2" d 38.95 D 519314 Six light vanity light 4¼" h x 36" w x 2" d 45.95 product # description dimensions list price A 500199 Three light vanity light 4¼" h x 18" w x 2½" d $29.95 B 500207 Four light vanity light 4¼" h x 24" w x 2½" d 33.95 C 500215 Five light vanity light 4¼" h x 30" w x 2½" d 49.95 D 500223 Six light vanity light 4¼" h x 36" w x 2½" d 54.95 product # description dimensions list price A 500850 Three light vanity light 4¼" h x 18" w x 2" d $20.95 B 500892 Four light vanity light 4¼" h x 24" w x 2" d 27.95 C 509653 Five light vanity light 4¼" h x 30" w x 2" d 35.95 D 500942 Six light vanity light 4¼" h x 36" w x 2" d 42.95 POLISHED BRASS SATIN NICKEL HONEY OAK POLISHED CHROME All wall and vanity lights are suitable for up/down mounting and damp locations D
37 LIGHTING | WALL SCONCES 800.558.8700 www.todaysdesignhouse.com product # description dimensions list price A 517706 Easton two light wall sconce 12" h x 7¾" w x 3¾" d $74.95 satin nickel with tea stained glass B 512905 Weston two light wall sconce 10" h x 10" w x 4" d 50.95 satin nickel with acrylic lens C 514604 Monroe one light wall sconce 11" h x 5¾" w x 3½" d 56.95 oil rubbed bronze with frosted glass D 514596 Marlowe one light wall sconce 9¼" h x 8" w x 4" d 54.95 oil rubbed bronze with alabaster glass E 514588 Marlowe two light wall sconce 9¼" h x 8" w x 4" d 52.95 satin nickel with alabaster glass F 514471 Millbridge wall sconce 6" h x 10.5" w 36.95 satin nickel with alabaster glass G 514554 Millbridge wall sconce 6" h x 10.5" w 30.95 oil rubbed bronze with alabaster glass H 501452 One light wall light 7½" h x 4½" w x 4¾" d 24.95 white with white glass I 501130 Two light wall light 4½" h x 13" w x 5" d 21.95 white with white glass Wall Sconces All wall and vanity lights are suitable for up/down mounting and damp locations INDOOR LIGHTING OUTDOOR LIGHTING CEILING FANS PLUMBING HARDWARE BATH ACCESSORIES BATH FURNITURE KITCHEN CABINETS INDEX
38 LIGHTING | CEILING LIGHTS www.todaysdesignhouse.com 800.558.8700 Ceiling Lights product # description dimensions list price A 579110 Karsen two light in polished chrome with frosted glass 9¼" h x 13" w x 12" d $86.95 B 578500 Karsen two light in polished chrome with frosted glass 8" h x 13" w x 12" d 69.95 C 578351 Perth three light in satin nickel with frosted glass 11¾" h x 18½" dia 140.95 D 578369 Perth three light in satin nickel with frosted glass 11¾" h x 18½" dia 93.95 E 578377 Perth three light in satin nickel with frosted glass 7" h x 16" dia 80.95 F 578021 Pierce LED directional one light in satin chrome 87 /8" h x 61 /8" dia 70.95 G 578039 Pierce LED directional three light in satin chrome 9½" h x 157 /8" dia 178.95 H 578047 Sheridan LED directional one light in oil rubbed bronze 93 /8" h x 6" dia 61.95 I 578054 Sheridan LED directional three light in oil rubbed bronze 14¾" h x 12½" dia 123.95 J 519686 Ajax in textured coffee bronze 11¼" h x 63 /8" dia 34.95 K 519694 Ajax in galvanized paint 11¼" h x 63 /8" dia 35.95 L 577809 Otero LED one light track light in brushed nickel 47 /8" h x 4¾" w x 4¾" d 77.95 M 577817 Otero LED three light track light in brushed nickel 47 /8" h x 24" w x 4¾" d 209.95 N 519876 Kimball in galvanized paint 77 /8" h x 11" dia 36.95 O 519884 Kimball in textured coffee bronze 77 /8" h x 11" dia 39.95 O
39 LIGHTING | CEILING LIGHTS 800.558.8700 www.todaysdesignhouse.com Ceiling Lights product # description dimensions list price A 577494 Schoolhouse in satin nickel with opal glass 10" h x 9" dia $41.95 B 577502 Schoolhouse in oil rubbed bronze with opal glass 10" h x 9" dia 43.95 C 556654 Aubrey in satin nickel with frosted glass 6" h x 13" dia 70.95 D 570937 Eastport two light in satin nickel with frosted glass 5" h x 13" dia 78.95 E 514802 Torino in satin nickel with snow glass 12" h x 13" w 74.95 F 577395 Torino in brushed bronze with snow glass 12" h x 13" w 78.95 G 514794 Torino in satin nickel with snow glass 6¼" h x 13" w 46.95 H 577403 Torino in brushed bronze with snow glass 6¼" h x 13" w 48.95 I 515601 Ironwood in brushed bronze with snow glass 11½" h x 16¾" dia 127.95 J 517532 Ironwood in brushed bronze with snow glass 8" h x 16¾" dia 75.95 K 514976 Drake in oil rubbed bronze with alabaster glass 6¼" h x 12¾" w 52.95 INDOOR LIGHTING OUTDOOR LIGHTING CEILING FANS PLUMBING HARDWARE BATH ACCESSORIES BATH FURNITURE KITCHEN CABINETS INDEX
40 LIGHTING | CEILING LIGHTS www.todaysdesignhouse.com 800.558.8700 Ceiling Lights product # description dimensions list price A 510297 Bristol in satin nickel with alabaster glass 7¾" h x 133 /8" dia $45.95 B 504399 Bristol in oil rubbed bronze with speckled tea glass 7¾" h x 133 /8" dia 45.95 C 517953 Barcelona in satin nickel with frosted white glass 6½" h x 15" dia 52.95 D 512608 Cameron in oil rubbed bronze with antique glass 12¼" h x 14" dia 99.95 E 512475 Trevie in satin nickel with antique alabaster glass 5¾" h x 13" dia 44.95 F 517375 Trevie in oil rubbed bronze with antique alabaster glass 5¾" h x 13" dia 44.95 G 503201 Satin nickel with alabaster glass 5" h x 14" dia 42.95 H 503250 White with opal glass 4¾" h x 14" dia 50.95 I 503284 Satin nickel with alabaster glass 4½" h x 137 /8" dia 72.95 J 521054 Polished brass with frosted white glass 5" h x 9½" dia 22.95 501841 Polished brass with frosted etched glass 47 /8" h x 7½" dia 18.95 K 501866 Antique brass with frosted glass 47 /8" h x 7½" dia 18.95 L 501965 Chrome with white opal glass 4¼" h x 8¾" dia 26.95 
41 LIGHTING | CEILING LIGHTS 800.558.8700 www.todaysdesignhouse.com product # description dimensions list price A 511568 Millbridge satin nickel with alabaster glass 5¼" h x 9¼" dia $28.95 511576 Millbridge satin nickel with alabaster glass 5" h x 75 /8" dia 19.95 B 514539 Millbridge oil rubbed bronze with alabaster glass 5¼" h x 9¼" dia 29.95 514547 Millbridge oil rubbed bronze with alabaster glass 5" h x 75 /8" dia 20.95 C 507343 Millbridge polished brass with clear ribbed glass 5¾" h x 9½" dia 24.95 507368 Millbridge polished brass with clear ribbed glass 4¾" h x 75 /8" dia 21.95 D 507350 Millbridge white with white ribbed glass 5¾" h x 9½" dia 25.95 507376 Millbridge white with white ribbed glass 4¾" h x 75 /8" dia 22.95 E 511550 Millbridge satin nickel with alabaster glass 57 /8" h x 13¼" dia 35.95 F 514489 Millbridge oil rubbed bronze with alabaster glass 57 /8" h x 13¼" dia 47.95 G 503045 Millbridge polished brass with clear ribbed glass 67 /8" h x 131 /8" dia 35.95 503037 Millbridge polished brass with clear ribbed glass 57 /8" h x 11¼" dia 27.95 H 577627 Millbridge textured white with frosted swirl glass 7" h x 13¼" dia 35.95 577619 Millbridge textured white with frosted swirl glass 6" h x 11" dia 31.95 I 511592 Millbridge satin nickel with alabaster glass 6¾" h x 6" dia 17.95 J 514521 Millbridge oil rubbed bronze with alabaster glass 6¾" h x 6" dia 18.95 K 500629 Millbridge polished brass with clear ribbed glasss 7" h x 6" dia 15.95 Ceiling Lights INDOOR LIGHTING OUTDOOR LIGHTING CEILING FANS PLUMBING HARDWARE BATH ACCESSORIES BATH FURNITURE KITCHEN CABINETS INDEX
42 LIGHTING | CEILING LIGHTS www.todaysdesignhouse.com 800.558.8700 Ceiling Lights product # description dimensions list price A 507327 White with white opal glass 4½" h x 8¾" dia $23.95 B 501999 Chrome with prismatic white glass 47 /8" h x 87 /8" dia 20.95 C 507210 Polished brass with clear textured glass 6¾" h x 15¼" dia 11.95 D 507236 Polished brass with clear ribbed glass 5¾" h x 11¼" dia 45.95 E 502153 Polished brass with frosted ribbed glass 5¾" h x 13¼" dia 29.95 502096 Polished brass with frosted ribbed glass 5¾" h x 11¼" dia 25.95 F 519272 Satin nickel with opal glass and pull chain 7" h x 6" dia 15.95 G 519264 Oil rubbed bronze with opal glass and pull chain 7" h x 6" dia 15.95 H 510040 White with opal glass and pull chain 7" h x 6" dia 15.95 I 510032 White with opal glass 7" h x 6" dia 13.95 J 517805 White with white glass and pull chain 5¾" h x 12" w 21.95 K 501338 White with white glass 5¾" h x 11¼" w 16.95 501353 White with white glass 5¾" h x 11¼" w 20.95 L 501619 White with textured floral white glass 57 /8" h x 113 /8" dia 12.95 L