Kitchen Appliance Collection 2017 - Caple
If your browser does not support JavaScript, please read the page content below:
Kitchen Appliance Collection 2017 - Caple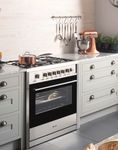 CONTENTS 004 Introducing Caple 008 Caple Care 010 Sense Premium Range 014 Sense Range 018 Classic Range COOLING 190 Professional Refrigeration 200 Freestanding Refrigeration 206 Integrated Refrigeration 216 Wine Cabinets WASHING 246 Dishwashers 256 Washing Machines 258 Washer Dryer 260 Tumble Dryers 262 Plinth Heaters 264 Food Waste Disposal 266 Installation Diagrams 298 Caple Care COOKING 026 Ovens 052 Steam Ovens 058 Microwaves 066 Coffee Machines 072 Warming and Storage Drawers 078 Range Cookers 084 Hobs 116 Extraction 176 Venting 178 Splashbacks 3 2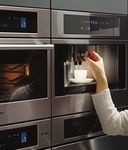 MAKING FUNCTIONALITY FASHIONABLE Beautiful, functional and technically advanced, Caple appliances are central to the concept of a contemporary kitchen. From super sleek induction hobs to discretely effective cooker hoods, whisper quiet dishwashers and smart [in every sense] wine cabinets, they cater for every lifestyle. Chef, entertainer, home maker? Whatever your passion Caple provides the inspiration to carry it off with exceptional style. Our range offers the depth and versatility to seamlessly slot into your kitchen, whatever its design or layout. Discover exciting new ways to cook, cool or wash, but above all, bring out the beating heart of your home.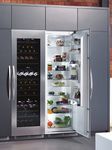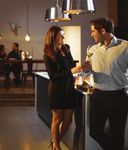 STAND OUT OR BLEND IN. IT'S YOUR CHOICE 1. French Door Fridge Freezer, CAFF41 [p.194] 2. Dual Fuel Double Cavity Range Cooker, CR9209 [p.81] 3. Triple Zone Wine Cabinet, WC179 [p.232] Freestanding appliances for focal points or integrated ones for that seamless, minimalist look? Whichever meets your design brief Caple can offer you an array of options. FREESTANDING For a more spontaneous look, our freestanding ranges can be used to stunning effect. Mix and match appliances like our spacious 'A+' rated French door fridge freezers or elegant range cookers. Our freestanding dishwasher is also high on performance and striking in looks.
FULLY-INTEGRATED Our integrated appliances blend in beautifully and are immensely practical. From concealed refrigerators and dishwashers to washing machines and dryers, they can be hidden away when you don't need them, but are instantly on-hand when you do.
1 2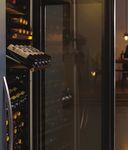 PERFORMANCE GUARANTEED. Here at Caple, performance and reliability are the most important features considered when designing and manufacturing our products. With that in mind, we have developed Caple Care, an after-care solution comprising of three tiers to give you that extra peace of mind. See page 298 for more extended guarantee information. CAPLE CARE FREE 2 YEAR GUARANTEE Across all Caple appliances we offer a free 2 year guarantee on parts and labour.
When selecting the components to design your perfect kitchen it is important you have the right assurance without spending an extra penny. All you need to do is visit our website or call us on 0330 123 0998 to register your free 2 year guarantee.
5 YEAR EXTENDED GUARANTEE Why not extend your guarantee up to 5 years? Caple Care 5 years parts and labour cover means for a one off payment or a monthly fee you can cover your appliance for a total of 5 years [including your free 2 year guarantee] on all parts and labour for any of your Caple appliances. Please visit our website for further details or see page 298. OUT OF GUARANTEE If you choose not to opt for a 5 year extended guarantee, don't worry. Here at Caple we offer out of guarantee cover. So, if you are not covered under our extended guarantee, for a fixed fee, we can still arrange a service call or a replacement product up to 6 years after the purchase date.
Terms and conditions apply.
For more details visit our website www.caple.co.uk 9 8


As its name suggests, our Sense Premium range is for those who demand the finest cooking experience – both in terms of performance and style. Every Sense Premium product has been manufactured to the finest tolerances, using cutting-edge technology and ingenious ideas. The result is a range of appliances that are effortless to use and simply sensational to look at. SENSE PREMIUM RANGE SENSE PREMIUM RANGE SP 11 10
With two stunning finishes – classic stainless steel and ultra contemporary white glass – Sense Premium has a look that will match your kitchen beautifully.
All our finishes add high style to the unparalleled performance of our collection. For discerning cooks our ovens offer professional standard functionality, while our built-in coffee machines, wine cabinets and television are the ultimate expression of a must-have lifestyle. Even though Caple have designed and produced three extensive ranges of appliances they all carry the same Caple "Design ethos". This means that you don't have to adhere to just one of the ranges when planning your kitchen. You can readily match across the product ranges bringing together Classic with Sense and Sense Premium to create a unique kitchen that perfectly reflects your taste.
A STYLISH FINISHING TOUCH. 1
SENSE PREMIUM RANGE PRACTICALLY PERFECT, PERFECTLY PRACTICAL. The Sense Premium range is pushing the boundaries of kitchen appliance design to create beautiful, highly functional products. Skilled engineering, ingenious touches, breath- taking looks, cutting-edge technology… you can enjoy them all with this class-leading range. 1. Electric Single Oven, C2160 [p.44] 2. Induction Downdraft Hood, DD931BK [p.124] 3. Coffee Machine, CM471WH [p.70] 2 3 13 12
Designed to work seamlessly together, the Sense range of appliances give you sleek design, the latest technology, as well as effortless performance and control.
With dramatic black glass, sharp lines and precision- crafted stainless steel, they turn heads in any kitchen. At the same time, smart thinking and intelligent solutions deliver the ultimate in easy functionality. SENSE RANGE SENSE RANGE 15 14
In our Sense range beauty runs more than skin deep. It's apparent in the smart touches and ideas that make using our appliances such a joy. You'll find fingertip touch controls for crisp styling and ease of use. An advanced cooling system in our wine cabinets helps you store any drink at the perfect temperature. Our steam ovens use steam injection to give you precise temperature consistency. While our warming drawers store your tableware so it's neither too hot nor too cold. Performance, functionality, control. It all makes perfect Sense. WORKING HARDER SO YOU DON'T HAVE TO. 1. Wine Cabinet, WF1549 [p.237] 2.
Built-in Microwave and Grill, CM2400 [p.63], Electric Pyrolytic Single Oven, C2472 [p.46] 3. Induction Hob, C900i [p.92] 4. Storage Drawer, SD1356 [p.74] Coffee Accessory Insert, SDCOFFEE [pg.77] 1 2
SENSE RANGE A SEAMLESS FIT Every aspect of the Sense range has been designed with precision. From the modular system that allows different appliances to fit neatly side by side, to steam ovens with electronic programming and coffee machines that remember exactly how you like your drink. It all comes together beautifully. 3 4 17 16
Whether cooking, washing or cooling, our Classic range marries hard working functionality with an understated style. This collection focuses on making your life easier, providing superb all-round performance, high build quality and a smart, minimal design.
Complementing any kitchen, it provides a no frills approach yet still puts seriously clever technology into the heart of your home. CLASSIC RANGE
Offering a host of appliances, our range meets your every need with products that are beautifully complementary. From range cookers built to feed the hungriest families, to the most versatile microwaves and heavy-duty dishwashers, we can provide you with high performance appliances that you can feel at home with. A PROVEN CLASSIC.
CLASSIC RANGE IT'S ALL IN THE DETAIL With Classic you'll appreciate the finer details as much as the overall picture. For instance, warming drawers and wine cabinets that regulate their own temperatures; double glazed oven doors for safety and energy efficiency; and extractor fans that disappear at the touch of a button.
Like any Classic you can keep on enjoying our range year after year. 1. Built-in Microwave and Grill, CM123 [p.65] Electric Pyrolytic Single Oven, C2238 [p.48] 2. Wall Chimney Hood, CGC910SS [p.168] 3. Gas Hob, C866G [p.109] 2 1 3 21 20
COOKING 026 Ovens 052 Steam Ovens 058 Microwaves 066 Coffee Machines 072 Warming and Storage Drawers 078 Range Cookers 084 Hobs 116 Extraction 176 Venting 178 Splashbacks