Agricultural & Pastoral
If your browser does not support JavaScript, please read the page content below:
Agricultural & Pastoral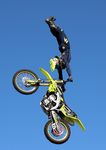 2 Auckland Agricultural & Pastoral Association Est. 1843 Auckland Agricultural & Pastoral Association Council Show Committees and Convenors Officers Patron Vice Patrons President Vice Presidents Immediate Past President Honarary Treasurer Secretary Alpacas Archives Art Cattle Donkeys Equestrian Farmworld Finance Goats Heritage Toni Charteris Carl Harding John Towers Anne, Andrea & David Scott, Maurice Carter Melissa Hore Anne Watts Faye Bayer & Anne Scott Maurice Carter Melissa Hore Carl Harding John Towers Helen Martin Mike Cundy Carl Harding Melissa Hore John Towers Maurice Carter & Anne Scott Neil Sidwell Phil O'Shaughnessy Melissa Hore Peter Maxwell Robb Kemp In-House Newsletter Olive Oil Pigs Poultry/Rabbits Rules Scholarships Shearing Sheep Sheepdogs Wine The Governor-General Her Excellency The Right Honourable Dame Patsy Reddy Mayor of Auckland, Mr Phil Goff Chairman of the Cornwall Park Trust, Mr John McConnell Mr John Towers Mrs Anne Scott, Mr Carl Harding Mr Neil Sidwell Mr Maurice Carter Mr Mark Frankham Congratulations to John Hanson Franklin Arts Exhibition Winner Supreme Award, Rainbow.
Thanks to Helen Martin, Auckland A&P Newsletter Committee & all the contributors. Enquiries and contributions contact Melissa Hore: aucklandap@asbshowgrounds.co.nz Cover photo: RES 2019, shearing Veteran Section winner Neil Sidwell and Novice Section winner Gus Berger. Christine Barton Faye Bayer Simon Cashin Vincent Carmine Nigel Cottle Michael Cundy Marilyn Duke Clive Ellis Jayden Good Karen Good Anthony Good John Hanson Hamish Kerr Robb Kemp Elaine Law Jenny Locke-Forbes Angela Maxwell Karen McKechnie Helen Martin Judy O'Brien Phil O'Shaughnessy Andrea Scott David Scott Anne Watts Karen Woolley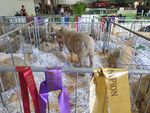 3 Once again, our flagship the Royal Easter Show was a tremendous success, a testament to the hard work put in by countless volunteers who donated hours of free time. Despite a terrible wet Monday and although the numbers through the gate were down (mainly due to school holidays) we still came out on top. As usual the show was opened on the Wednesday night during the RES art awards and we had the pleasure of having the Governor-General, Her Excellency, The Rt Hon Dame Patsy Reddy, in attendance. In keeping with our mission to include youth in our association, we are pleased the evening entertainment was provided by two young classical guitarists, aged 16 and 17, both of whom who studied at the Suzuki School of Music.
The Royal Easter Show is now comprised of agriculture, with its many different sections, the arts hall and concerts both in the art hall and on the main stage, and of course the other entertainment to suit the younger folk co-ordinated by the fourth faction, management. The equestrian side of the RES, although now relocated to Clevedon is fast regaining the heady status it had in days gone by (well done ladies). A big thanks to Melissa Hore, who once again proved to be the person to go to to solve all problems, and to the boys in the workshop, who deserve a big thanks for being so amazing with their skills keeping the Showgrounds running on an even keel .We must not forget the young ladies in the office, who proved to be once again a major cog in the wheel.
Many thanks also to our CEO Mark Frankham, who has had the utmost faith in the future of our Royal Easter Show and our A&P.
The Auckland A&P RES wine awards event, once again under the stewardship of the wine committee, was well attended and remains an icon in the New Zealand wine industry. A very enjoyable evening was enjoyed by all at the awards. The olive oil committee is going from strength to strength and is in capable hands. The impressive olive oil display in the art hall this year created a lot of interest. Finally, as an association we realise that we must embrace change, which includes the nurturing of our youth, or face stagnation.
Thank you John Towers From the President, John Towers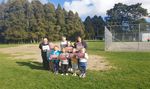 4 At this year's Royal Easter Show, President John Towers presented four long-serving AA&P members with Royal Agricultural Society medals for Services to Agriculture.
RAS medals for Services to Agriculture We are very thankful to all those who sponsor us. Their loyal support of the Royal Easter Show is a major factor in our success. Art Pavilion Auckland A&P Association, Carbatec NZ Ltd, Daler-Rowney, Glass Station, Joiners Magazine, La Ma's Ceramics Studio, Marion & John Towers, Morris & James Matakana Ltd, Mouth and Foot Painting Artists, South Auckland Woodturners Guild Livestock Pavilion Auckland A&P Association, Awaaroa Alpaca, Boehringer Ingelheim, Brenor Alpacas, Bromley Park, CopRice Ltd, Cornwall Park Trust, Cyclone Tools, Golden Horse Feeds, North Country Grains, Poland Motors, Shadow Wood Black Suri Alpacas, Stone & Water World, Takanini Feeds, WatersEdge Alpacas.
Equestrian Auckland A&P Association, C Yearbury, Goldlen Horse Feeds Ltd, HR Fisken and Sons Ltd, Horselands. Royal Easter Show Sponsors 2019 (From L-R) Medal recipients Carl Harding, David Scott, Maurice Carter, Rob Kemp, with President John Towers (centre).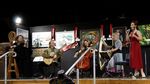 5 Opening Night & Art Awards Governor-General, Her Excellency, The Rt Hon Dame Patsy Reddy, presenting awards. We were pleased to welcome our patron, Governor-General, Her Excellency, The Rt Hon Dame Patsy Reddy to open the Royal Easter Show 2019 and to present the winning artists with their awards.
Opening Night Admiring the artwork on display.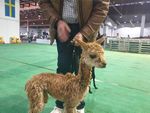 6 Tony, Karen and Jayden Good, caterers extraordinaire. Tony, Karen and Jayden Good have been catering for A&P Show participants (judges, stewards, Council members etc) for four years. It's a big job, starting with family friend and caterer Lizzie letting them know the current best-buys, organising some of the salads and loaning them some of her equipment. Tony buys the meat and processes it as ham, salami, sausages, pastrami, corned beef and chicken, all the while holding down his fulltime job as an Auckland Airport MPI officer. At show time it's long days and plenty of stress as the family are constantly preparing meals for hundreds ("The kitchen's great but there's no oven" says Tony).
While the budget provides so much per head, the Goods generously give the profits back to the A&P. Karen says they do it because they love food, they love catering and they enjoy the social side of the job. Tony, who loses holiday pay through missing out on his Easter work at the airport, reckons he does it because he's irreplaceable.
Catering Shearing judges enjoying a lovely lunch.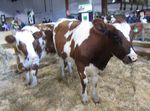 7 Farmworld team being pulled along by Paul Stroobant and his Clydesdale Farm World Braedyn Faire, Faye Bayer with Biscuit, Tom Faire Farm World is a wonderful show about children and families, many of whom live in the city, enjoying the opportunity to get close to animals they may not normally come in contact with. With Council members Faye Bayer and Tom Faire as their guides, everyone works hard to create a close team environment. The Farm World team has many volunteers, including Mount Albert Grammar School students and A&P Scholarship students from Massey University, who are happy to do whatever is required, from the unglamorous work of picking up and removing heavy bins full of manure and sawdust to spending long hours looking after the animals and answering the questions of the hundreds of people who come through the door.
The team are encouraged to be always aware of treating animals and people ethically, to take responsibility for their actions and to use their initiative.
They receive a lot of feedback from people telling them how much their children have enjoyed it. One father this year, who had come with his family to New Zealand from Africa, summed it up when he told Faye "I come from a very poor country, where we walk from the village to the hills to tend crops and the animals that are a part of our lives. Here in New Zealand it's difficult to give this to my children. I come to Farm World so my children can be grounded with animals." Farm World organisers are grateful for the support they get from A&P Council, administrator Melissa, and Showgrounds management and workshop staff.
They're already planning for next year, thinking about what they can do to make the event even better.
The excitement is too much!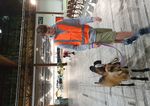 8 A huge thank-you to Melissa, everyone at the Royal Easter Show and the Auckland A&P association. I thoroughly enjoyed my time at Farmworld and worked with a wonderful bunch of people. It was a great experience and I loved being able to show and educate the public about the farm animals. I also thoroughly enjoyed the day I spent out at the Equestrian events in Clevedon. Thank you very much for organising this for me! I am really appreciative of the Auckland A&P Association Bursary. The financial assistance provided will help with my Veterinary school fees and expenses incurred whilst completing practical placements.
Thank you again to everyone involved for their generosity and support. Elise van Dijck A.R.A.N (Animal Rescue Action Network) NZ is a non-profit organisation working to bring attention to the plight of dogs in council pounds in NZ, and to save as many as possible. At the Royal Easter Show we took the opportunity to showcase rescue dogs and show the public just what sort of beautiful dogs can be found at their local shelter or pound. All dogs were welcome to take part, not just rescues. It was great to see so many dogs of all sizes and shapes. Awards were given in several categories, including Best Rescue Dog (adopted from a rescue, shelter, pound or SPCA), Most Handsome Male Dog, Prettiest Female Dog, Waggiest Tail, Best Biscuit Catcher and Owner / Dog Lookalike.
Manako Sugiyama and her team performed for the crowds with amazing dogs and routines and Estelle Low and her team brought her skateboarding, frisbee catching dogs. ARAN Fun Dog Show Champion Dog: Mallow Reserve Champion Dog: Luca A&P Scholorship recipient Elise van Dijck Sheep Dog Awards Mick Draper Memorial Champion Heading Sheep Dog B Ireland Champion Handy Dog D Gilligan A&P Scholorship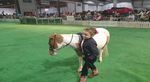 9 Princess Alia Saddle Perpetual Supreme Champion Purebred Arabian W Backhouse Genuine Gold Arabians Trophy WF Massey Cup Ladies Hunter A Goettler Cooke Silver Challenge Cup Small Hunter A Hjorth/P Hill Stuart Taylor Trophy Large Hunter L Hunt Maggie Briggs Cup Open Rider over Fences A Goettler Nicholson Cup Best Wire Jumper C Fox James Wylie Cup RES Champion A Parker HW Coyle Cup Girl/Boy Rider over Fences C Officer Millen Cup RES Champion C Officer Kauri Wold Cup Champion Hunter J Taylor Touch of Glass Trophy Unity Class (14-16 years) B Bennett Sue Yearbury Memorial Best Equestrienne S Reynolds Captain Charles Ross Cholmondeley-Smith Salver A Hjorth 1990 Perpetual Trophy for Mares Under Saddle Champion Hack Cup S Collie Nala Lynaire Perpetual Salver Unity Rider (11-13years) R Norton-Collins Horse of Show Supreme Award C Roach Pony of Show Supreme Award B Roach Judges approach with the beautiful Clevedon landscape as a backdrop.
Equestrian committee Chair Anne Watts with competitors awaiting their turn. Equestrian Equestrian Awards Kerikeri competitor Vicki Traas with her off-the-track thoroughbred Hope's Desire, who placed second in the Novice Show Hack. "What can I say? It has been the best showing appointment I have ever had. The committee and competitors were amazing and so friendly. The quality of horses was outstanding. Our host was a gentleman and a super fantastic host, so friendly and made us all feel at home. My fellow judges – what an amazing bunch of ladies. We all got along like a house on fire and I am sure we have made lifelong friends.
I can never thank you enough. Keep up the good work." (Email from a judge, April 2019).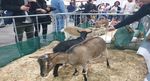 10 Pet Lambs & Pet Goats Well done to all the youngsters and their animals who come along to participate in the RES School Ag Day. It was a fun filled day. Congratulations to Kaukapakapa School for gaining the most points and Wainui School with the most entries. Presentation to Kaukapakapa School Certificates and an ipad were presented at a school assembly by David Scott, Royal Easter Show Chairman and Anne Scott Vice President to pupils, Hannah, Jack, Alex, Joanne, Addie, Melissa and Andrea Clarke, Principal.
11 Awards Auckland Dairy Goat Club Trophy Champion HR Doe Rita Braem A&P Association Cup Supreme Champion Doe Rita Braem State Konrad Memorial Trophy Most Points Rita Braem NV Dyett Rosebowl Senior Progeny Group Not Awarded Crescent Dairy Goat Trophy Type & Production Doe Not Awarded Huia Saanen Stud Trophy Champion AR Doe Not Awarded Dairy Goats Sheep Sheep Awards Auckland A&P Perpetual Cup Most Points CM Swann Alberta McLean Trophy Champion Wool Breed J E Charleston NL Tapp Cup Champion Romney Ram CM Swann The Stillwater Cup Outstanding Black & Coloured CM Swann The Valhalla Trophy Most Points Black & Coloured CM Swann BCSBA Cup Best Woollen Black & Coloured CM Swann Tapp Cup Most Points Romney Section CM Swann Tom Bassett Memorial Sash Supreme Champion Sheep of Show 2019 CM Swann Auckland Suffolk Club Trophy Supreme Champion Suffolk Not Awarded
12 Shearing Awards Harrison Cup
Open
D Balme NA & RA Sidwell & Family Trophy Fastest Shearer in Open Heats D Balme Robert Hudson Memorial Veteran Shearer N Sidwell Alexander Trophy Highest Quality Points M Smith Warkworth Farm Centre Cup Junior Champion M Smith Ivan & Lyn Rosandich Cup Intermediate Champion M Boyd Berger Challenge Trophy Senior Champion D Rhynd Cullen Family Trophy North Island v South Island South Island 1. Sonny Bill Williams with his daughter and Digger 2. Open class winners 3. Neil Sidwell 4. Phil O'Shaughnessy & Digger Balme 5. Police participation 6. Getting the kids involved 7. Judging 1.
2. 3. 4. 5. 6. 7.
13 Cavys The Auckland Cavy Club had a great couple of days and most people were very happy with the show. We had lots of questions from the public and a reasonable crowd watching the judging and enjoying the cavy village. We have some ideas for next year, such as a colouring competition for the children. Also, if we could get enough volunteers, we could have few hours of a cuddle-a-cavy corner. Debbie Lawrie Pigs Pig Awards Dr Smith Trophy Champion Kunekune D Bassett-Clarke Harding Perpetual Trophy Supreme Champion Pig D Bassett-Clarke P.C.L Cup Champion All Breeds Pig in Show Not Awarded
14 Heritage The Heritage team hard at work delighting the public with their butter making skills. No beef or dairy cattle competitions were held in 2019, but the Scott family provided Farm World with a few cattle from their farm. Cattle Miniature Horse Competition & Youth section Youth section Graham Gillard judged the miniature horse competition on Saturday.
15 Alpacas Australian judge Shane Carey with Supreme Winner, Brenda Gainsford, Brenor Alpacas. Vets on site for the alpacas and Farm World. Beautiful alpacas on display. It was a great show, with thousands of people coming through.
We're keen to have more entries and want to encourage South Island breeders to come up and support it in 2020. The highlight of any alpaca show is seeing who wins the top award, Supreme Alpaca. Note that a list of alpaca winners has not been provided, just the Supreme Alpaca. Baby alpaca's first show.
16 Valais Blacknose Sheep We were pleased to welcome for the first time at the Royal Easter Show Valais Blacknose Sheep 'The cutest sheep in the world'. They were hugely popular with the crowds and very cute. Hands-On Creatures People queued for the chance to get up close to Hands-on Creatures' popular reptiles, spiders and other creepy crawlies.
17 Our sincere thanks to the Associations and Breeders who come along to support our show. Rabbit Association Auckland Beekeepers APPA Association Dwarf Goats Pigs and piglets Auckland Cat Club photo by Helmi Flick English Angora red-eyed white roo visits retirement homes with her owner Karen Yorke when visitng her father.
Another successful rabbit cometition, thank you Pauline Goodwin and the team. A big thank you to Paula Levett Special thanks to Sally Officer. Special thanks to Lynne Low and Jae Smith
19 Art The fabulous RES art display and competition is the highlight of a busy year for the talented organising team, all of whom are artists. Entries are in adult, youth and mouth and foot sections, with work including ceramics, pottery, glass, painting, photography, sculpture and woodcraft. There are also children's short story and young photographer competitions and, on the Saturday night, Concert among the Arts, compered by artist William Robert Boyd. Painting Children's art was very strong in the painting section of the Royal Easter Show this year.
Sponsored by John and Marion Towers, the excellent response drew 44 paintings, with three clear winners. The standard overall was very good, and some work was exceptionally good.
The standard of work in the adult sections was very high, with a great variety of work from all over New Zealand. Photography Youth photography is growing. The adult section was fantastic, and the winning photo was amazing. The judges did a fantastic job with their selections and their comments on the winning photos were excellent. Woodcraft Supreme Exhibit The Woodcraft Exhibition entries from Raymond Scott, of Helensville, have always been perfect and almost every one has won him a prize since his first entry in 2016.
This year's entry was no exception, but he had upped the challenge by having six perfect parts to his entry.
Not just perfect joinery, but also a perfect match of the curves of the laminate in the teapot and each of the four cups. Then each piece was beautifully turned, with cups all exactly the same and saucers all exactly the same, and finished to just the right gloss.
20 Troy Grimwood: our best woodcrafter It is not that long ago that we first met Troy Grimwood behind a converted Nova 1500 lathe at Taupo Jamboree. He was a novice, but even then, doing some impressive work. Since then his work has progressed and we have seen him receive several awards at the Royal Easter Show and other exhibitions. He has moved on to a newer lathe and now has a Nova DVR, modified to meet his need to work from a wheelchair as the result of a rock-climbing accident. He still gets out trout fishing and chainsawing wood for his woodturning and furniture building activities. He has recently completed a new house for himself and wife, Debbie.
In July he will be demonstrating at the American Association of Woodturners annual symposium.
Dick Veitch's photos of 2019 RES woodcraft entries can be seen at https://naw.org.nz/project/ easter-show-2019. Dick Veitch Glass What a fantastic display of glass we had this year, with over 130 entries making it the most successful to date. The entries provided a great showcase for NZ glass, from blown, cast, kiln formed/fused and flame/lamp work to mosaic, leadlight, engraving and mirroring. The new lighting certainly added to the success of the Glass section and we had many positive comments from the public.
Woodcraft Karl Baxter took first place in the sculptural section with his amazing kiln formed 'Hauraki Sunset'.
So many layers and interest; a beautiful piece. Alistair Mead took 2nd place for his stunning 'Huias' and 3rd went to Frances Hanson for her quirky candlesticks. Wearable glass went to Frances Hanson, with her tree of delicate little bird earrings: tui, kereru, kingfishers and gulls. Emily Lake's perfectly formed 'Tapa Bead' necklace was 2nd and Nikki O'Brien took 3rd prize for her beautiful 'Bombay Blossums' pendant and earrings made from recycled Sapphire gin bottles. Richard Landers took Glass Station People's Choice Award for his 'Northern Gateway.
21 Highly Commended: Richard Landers, John Abramczyk, Lindsay Butler, Judith Le Harival, Frances Hanson, Luke Dunstan, Vicki Bryant, Judy Pullen. New Entrants Merit: Frith Jenkins, Miranda Baptist, Judith Le Harival Our grateful thanks to our volunteers who are a wonderful support; we can't do without you. Hope to see you, and many others next year. John and Frances Hanson, Glass Convenors, Royal Easter Show Art Committee Concert Among the Arts Held in the art hall during the Royal Easter Show, Concert Among the Arts was enjoyed by all who attended.
Following a prelude singing performance from Jesslyn Woo, eleven-year-old Amberley Ah Chee and Sasha opened the concert with four classical guitar numbers.
This was followed by performances from Robyn Sutherland (harpist and vocalist), Rebecca Nelson (vocalist), Marian Burns (violinist and fiddler) and Heart Strings (classical guitar and cello). Marian Burns Robyn Sutherland L to R Marian Burns, Heartstrings, Robyn Sutherland, Rebecca Nelson Amberly Ah Chee
22 Wine Wine Awards Auckland A&P Association Heritage Rosebowl Villa Maria Reserve Gimblett Gravels Hawkes Bay Syrah, 2006, 2010, 2016 Auckland A&P Medal Winemaker of the Year Nikolai St George (Giesen Wines) Olive Oil 2018 Olive Oil Awards Logan Campbell Trophy Supreme Champion Olive Oil Kapiti Olives: Koroneiki, Kapiti Coast Entries are now open for 2019 Royal Easter Show Olive Oil Awards. Contact res@asbshowgrounds.co.nz for further information.
24 Flying high at the Royal Easter Show 2019.