ALERT SPRING 2019 - VOL. 20 NO. 1 - NO HEALTH WITHOUT MENTAL HEALTH PROVIDING PSYCHOLOGICAL CARE IN EMERGENCIES AROUND THE WORLD - Doctors Without ...
Page content transcription
If your browser does not render page correctly, please read the page content below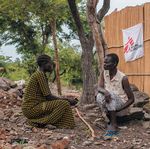 SPRING 2019 - VOL. 20 NO. 1

ALERT

NO HEALTH WITHOUT MENTAL HEALTH
      PROVIDING PSYCHOLOGICAL CARE
    IN EMERGENCIES AROUND THE WORLD
EXECUTIVE DIRECTOR                       BOARD OF ADVISORS                  ABOVE: MSF teams work at the Tamaulipas

(INTERIM)
                                                                            Institute for Migrants in Mexico to provide
                                         Victoria B. Bjorklund, Esq., PhD   primary health care, mental health care,
Sophie Delaunay                          Chair of the Board                 and social services for people recently
                                         Meena Ahamed                       deported from the United States.
BOARD OF DIRECTORS                       Véronique Brossier                 © Christina Simons

Dr. John Lawrence, President             Daniel Goldring                    COVER: "There was a period, before, when
                                                                            I trembled and shook a lot," says Bibiche,
Kassia Echavarri-Queen, Vice-President   Charles Hirschler
                                                                            one of many victims of sexual assault by
John Wetherington, Treasurer             Stephen B. Ippolito, PhD
                                                                            armed men in Kasai, Democratic Republic
Sheronda Rochelle, Esq., Secretary       Dr. Mitchell Karton                of Congo, during a spike in conflict. After
Patricia Carrick, FNP                    Sheila Leatherman                  receiving support from MSF, Bibiche says
                                                                            she is starting to heal. "Since I began
André Heller                             Susan Liautaud, JD, PhD
                                                                            receiving care, it's going really well.
Dr. Alison Ludwig                        Chantal F. Martell                 I feel at ease now," she says. © Ghislain
Aerlyn Pfeil, CPM                        John O'Farrell                     Massotte/MSF
Brigg Reilley                            Larry Pantirer
Philip Sacks                             Dr. Darin Portnoy
Dr. Africa Stewart
Dr. Mego Terzian
President, MSF France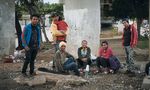 HUMANITARIAN SPACE

Dear Friends,
                         I will never forget the           In this issue, we share the stories of survivors from a
                         experience of helping to          surge of conflict in DRC's Kasai region. Over the course
                         respond to the devastating        of a year and a half—between May 2017 and September
                         earthquake in Haiti in 2010.      2018—our teams treated 2,600 victims of sexual violence
                         As a surgeon working with         at the Kananga provincial hospital. The vast majority of
                         Doctors Without Borders/          the victims were women. They describe horrific acts of
                         Médecins Sans Frontières          violence, and the difficulties of healing after the attacks.
                         (MSF), I was particularly
                                                           Mental health services are also often the central focus
                         impressed by the integration of
                                                           of the medical care our projects provide. For people
mental health care within our programs. As our surgical
                                                           traversing migration routes from Central America
team made the morning rounds in the hospital wards, we
                                                           through Mexico, medical clinics supported by MSF are
would be followed by colleagues with expertise in
                                                           resourced to provide supportive mental health services
delivering mental health services.
                                                           and psychological first aid to help people cope with both
In Haiti, I saw that the devastating physical wounds       the violence they fled in their home countries and that
patients were recovering from had clear psychological      which they face during their journeys.
counterparts—whether a person was coping with the
                                                           I hope you will appreciate the story about our innovative
prospect of life after amputation, the loss of family
                                                           program to support community-based mental health
members or friends, or reliving the horrors of the
                                                           care and outreach services in Liberia, a country whose
earthquake with each nerve-shattering aftershock.
                                                           health system is still recovering from the devastating
While the surgical care we provided was a critical
                                                           Ebola epidemic that struck West Africa in 2014. Our
aspect of the healing process for survivors, their long-
                                                           last Ebola-related projects in Liberia were survivor
term well-being was entirely dependent on therapy
                                                           clinics that offered care for people who continued to
directed to the emotional and psychological traumas
                                                           have physical and psychosocial issues after recovering
they had endured.
                                                           from the disease.
This issue of Alert focuses on MSF's varied responses
                                                           When the mental health team began looking for
to mental health needs. While mental health is gaining
                                                           services where they could refer patients, they learned
recognition as a unique medical field requiring greater
                                                           that there was only one practicing psychiatrist in
attention, it remains insufficiently resourced.
                                                           Liberia—a country with more than 4.7 million people.
As a medical humanitarian organization, MSF has had        This is what prompted MSF to conduct an assessment
a longstanding commitment to addressing mental health      of the mental health needs in Liberia and ultimately
needs, both as an independent service as well as part of   partner with the Ministry of Health to improve and
more comprehensive care.                                   grow their services.
The importance of providing mental health support          Finally, as explored in these pages, mental health care
was also apparent while I was working with MSF in          is not only critical for our patients, but also for our staff
North Kivu province in the eastern part of Democratic      members. The stress of providing humanitarian care is
Republic of Congo (DRC). This region—which is currently    well recognized. As an institution, MSF appreciates that
in the grips of an Ebola epidemic—has suffered from         we have an obligation not only to protect our employees'
chronic conflict for decades, including extreme violence    physical health and security as best we can, but to
directed against civilians by various armed groups.        ensure that their mental well-being is also prioritized.
A feature of this pervasive violence is a high incidence
                                                           Thank you for all that you do to support our work to
of rape and sexual assault.
                                                           provide comprehensive care for people in extreme
                                                                                                                          MSF ALERT | SPRING 2019

A separate unit in the hospital where I worked was         situations.
devoted to caring for pregnant women who had been
                                                           Sincerely,
raped. This unit closely integrated prenatal maternal
physical care with psychological supportive care.
MSF recognized the duality of health needs for both
the mind and body and provided a comprehensive
approach to caring for these women and preparing           John P. Lawrence, MD
them to return home.                                       President, MSF-USA Board of Directors

                                                                                                                                   1
NO HEALTH WITHOUT MENTAL HEALTH

     REWRITING
     HISTORY

      Miserable conditions for refugees trapped
      on the Greek island of Lesbos have had
      devastating consequences for people's
      health, especially their mental health.
2     Children are among the most vulnerable.
      © Robin Hammond/Witness Change
FFLEEING
                                     LEEING IINVISIBLE
                                              NVISIBLE WARS
                                                       WARS

CARING FOR CHILDREN
TRAPPED IN AN ISLAND
PRISON
Moria camp was built on the Greek island of
Lesbos to house the influx of asylum seekers
making the dangerous journey across the
Aegean Sea on flimsy rubber boats to seek safety
in Europe. Today, inhumane living conditions,
frequent violence, and prolonged uncertainty
about the future have created a mental health
emergency for the refugees stranded in this
island prison—with children among those
                                                          3
most at risk.
NO HEALTH WITHOUT MENTAL HEALTH

      In September, Doctors Without Borders/Médecins             Back in the summer of 2018, Moria
      Sans Frontières (MSF) called for the urgent evacuation
      of children and other vulnerable people from the camp.
                                                                 was housing more than 8,000 people
      At the time there were around 9,000 people living in       in a space designed to fit no more
      Moria, triple its capacity. Greek authorities began
                                                                 than 3,000. After fleeing violence,
      moving people to other facilities this winter, but the
      population still hovers around 5,000.                      war, persecution, or poverty, people
      MSF provides mental health care and other medical          crossed the seas only to be stranded
      services to camp residents, who have fled from countries   here, in overcrowded, unsafe, and
      including Syria, Afghanistan, Iraq, and Democratic
      Republic of Congo. Many of the children have already
                                                                 unhygienic conditions, waiting to
      experienced trauma and extreme violence in countries       go to the mainland.
      at war and are now subjected to ongoing stress and
                                                                 As an Arabic-speaking cultural mediator, my role
      further violence, including sexual violence, in a place
                                                                 was to help facilitate communication between the
      where they expected to find safe refuge.
                                                                 children and our health staff and speak to children
      Each week, MSF teams working in the camp see               about what they'd been through. Part of my job was
      multiple cases of minors who have harmed themselves        to work with a psychologist to do psychotherapeutic
      or attempted suicide. Other child patients suffer from     sessions with children between the ages of 8 and 17
      panic attacks, anxiety, mutism, aggressive outbursts,      who showed symptoms of trauma. We did some activi-
      and constant nightmares.                                   ties that helped them to recognize the emotions they
      Myriam Abdel Basit, an MSF cultural mediator, spent        were feeling, and others that helped with nightmares,
      seven months working in an MSF clinic that provides        bedwetting, and other signs of trauma and anxiety.
      mental health care for children and teenagers living in    A really interesting part of the therapy process used
      Moria. Here, she explains some of the techniques and       storytelling to help children deal with their trauma.
      activities her team used through group sessions to help    We split patients into groups that worked together to
      the children to understand and express their feelings,     create a book about one or two fictional characters
      and to learn how to ask a loved one for support.           that had gone on a similar journey to them.
REWRITING HISTORY

There were two groups for children between the ages        experiencing from not being able to say goodbye to
of 8 and 13 and another group for teenagers.               their friends, their families, and their classmates.
                                                           So, as a part of the story of Aryan, the characters
We divided the book into chapters: before, during,
                                                           wrote a goodbye letter to all the people they had left
and after the war, the decision to leave their country,
                                                           behind. It was incredibly moving.
and their journey to and life in Moria. We also cre-
ated sections on their experiences in MSF's psycho-        Once the stories were completed and printed, we held
therapy sessions. Each book had a "happy ending"           a book reading for the children's friends and families.
where the children wrote about their hopes for their       Many of the parents were shocked that their children
lives after they leave the camp.                           had remembered so much about the war and their
                                                           journey to Greece. Being able to tell these stories was
Although the characters were fictional, the children
                                                           very important for the children, as they were finally
projected their own experiences onto them. This
                                                           able to express their feelings about what they'd gone
proved to be really therapeutic and cathartic for them,
                                                           through. Often, they can be quite reluctant to share
as they could release all their pent-up feelings and
                                                           their feelings with their families because they don't
experiences that they would have otherwise found
                                                           want to upset them more or put any further stress on
hard to talk about.
                                                           them. They were still living in the refugee camp and
One of the boys created a character called Aryan,
                                                                                                                               MSF ALERT | SPRING 2019

                                                           many of them feel it's not really the right environ-
who, like himself, was a Kurdish boy from Iraq. He         ment to share those thoughts.
projected all of what he'd seen, heard, and experi-
enced onto Aryan in the story. It felt like we were        FACING PAGE: After a storm, this family sits amid the wreckage in
                                                           front of a flimsy tent pitched in the Olive Grove, an informal
rewriting history, as told from the child's perspective.
                                                           extension of Moria refugee camp in Greece. © Anna Pantelia/MSF
He described the arrival of the Islamic State group,
                                                           ABOVE: A group of young men from Syria find shelter from the
how they treated the Kurdish community, and the
                                                           afternoon sun in the Olive Grove, next to Moria refugee camp
atrocities they committed.                                 on Lesbos, Greece. "Mental health problems have become
One of the main feelings the children in the groups        normal," says Ali Mohammed Hassan, 25, who is haunted

continually described was the sadness they were
                                                           by memories of the war and worries about his brothers left                         5
                                                           behind in Syria. © Robin Hammond/Witness Change
NO HEALTH WITHOUT MENTAL HEALTH

      One 17-year-old told us that he felt a huge amount           We spoke at length with the children about their
      of sadness, but as the oldest of his siblings, he felt he    dreams, their aspirations, and what they're going to
      had to keep smiling and hide these feelings in front of      do after this experience is over. Many of the children
      his parents and the rest of his family. He said he was       already had hope for their futures, so that just
      grateful to have a safe space to talk where he didn't        needed to be supported. One teenager shared with us,
      have to fear upsetting anyone. By the end of the thera-     "Yes, I have lost six years, but I'm going to make it up.
      peutic process we saw visible changes in his mood            We all have a future ahead of us. We have dreams that
      and demeanor. He was really into rap music, and at           we will pursue."
      the book ceremony he performed a rap about some of          The parents gave the most incredible feedback. They
      the racial tensions and religious discrimination that       told us that their children were so much happier after
      existed in the camp. When we first met him, he was           our sessions. I also think the parents found listening
      quiet, quite introverted, and sad, so it was remarkable     to the [stories] therapeutic for themselves as well,
      to see how far he'd come.                                   particularly the last chapter about life after Moria.
      It was often tough hearing all the stories of the war       Many of the parents had lost hope but rediscovered
      and journeys to Europe, especially from children. We        it through their children. One mother told us that we
      had about five children, two groups of siblings, who         had given her a hope that there is life after the camp.
      had lost their fathers in the most terrible ways. They
                                                                  It was wonderful to see the children come alive and
      were all experiencing a lot of grief and would talk
                                                                  help each other with their stories. It was beautiful
      about their loss a lot. I was advised by the psychologist
                                                                  to see because it didn't matter where they were
      to always be careful in ensuring that one child's story
                                                                  from—in the end they told each other's stories as
      doesn't trigger trauma for the others.
                                                                  if they were one.
      During one session we were talking about happiness
      and one nine-year-old child who had lost her father
      said, "I don't think I'm ever going to feel happiness
                                                                  ABOVE LEFT: An MSF psychologist and cultural mediator use art
      again." It was heartbreaking to hear this coming
                                                                  therapy during a mental health consultation with a child from
      from someone so young and who had their entire life         Afghanistan stranded in a refugee camp on Lesbos, Greece.
      ahead of them. Thankfully, after a few more sessions,       © Anna Pantelia/MSF
      most of the children appeared happier. They still talk      ABOVE RIGHT: A child enjoys a playful moment during a mental
6     about family members they've lost, but they focus on        health session with MSF outside Moria refugee camp on
      happy memories.                                             Lesbos, Greece. © Craig Ruttle/Redux
REWRITING HISTORY

EXCERPT FROM THE STORY OF HIBA AND SAIF
Written and illustrated by Ali, Fouti, Asraa, Asma, and Batool, refugee children between the ages of eight and twelve,
during psychotherapeutic sessions with the MSF team in Moria camp in Greece.

Chapter Five: MSF tent                                            Chapter Six: Life after Moria
. . . In the MSF tent, which was a big tent with lots of          Fortunately, Saif and Hiba's time in Moria soon came
children's drawings and a colorful banner on the                  to an end. Once Saif left the island and traveled by
ceiling, there were two people, one called Pina and               ship to Athens, he moved on to Belgium, where he
the other Myriam. They would talk to Hiba and Saif                was reunited with his two aunts and his grandmother.
and helped cheer them up and forget about their                   He absolutely loved Belgium and always made sure
worries. The whole group became good friends, and                 to concentrate at school in order to get into university
they would play, draw, and do other activities that               and study astronomy. It had been a shared dream of
would calm their minds and relax them. One activity               Saif and his uncle, who died in the war, to become an
they would do was called the safe space activity, where           astronaut. As his uncle wasn't able to do it, Saif was
they would close their eyes and imagine a special                 even more determined to make it happen. And sure
place with their own helper that could give them advice           enough, he managed to travel all the way to the moon,
when they ever felt angry, sad, worried, or afraid.               come back, and teach people about his discoveries
                                                                  in space . . .
They also talked about nightmares in the group
and how to keep them away. Saif and Hiba learned                  Both Hiba and Saif were very happy and proud of what
that it helps to talk about their fears and worries with          they had done with their lives and realized that it was
someone close to them, as this is where nightmares                the tough experiences that they had been through that
come from. It can also help to think about happy things           made them the wise, resilient, and patient young adults
before sleeping at night. After this, Saif and Hiba's             they had become.
nightmares were fewer and fewer.

                                                                                                                                  MSF ALERT | SPRING 2019

At the MSF clinic just outside Moria refugee camp on Lesbos, Greece, children who have fled war zones take part in group therapy
sessions that use play, art, and storytelling to help them cope with traumatic experiences. © Robin Hammond/Witness Change
                                                                                                                                           7
NO HEALTH WITHOUT MENTAL HEALTH

     "I LOCKED MYSELF AWAY FROM THE WORLD"
      Mental health care on the move in Mexico

      When gang members threatened          In Mexico, they met a group of youths who said they
                                            were also traveling north to the US, but then suddenly
      to kill him, 18-year-old Mario        drew guns. "They robbed us of everything," says Mario.
      had no choice but to flee his          In Tenosique, southern Mexico, the two of them hoped
                                            to catch a train that would carry them north, but they
      home in Honduras. He and a cousin
                                            arrived too late and missed it. As they waited in the
      journeyed north through               dark, armed men appeared. One pressed a gun against
      Guatemala, hoping to reach safety     Mario's arm. "My cousin was taken away," he says. "I
                                            ran away until I escaped. I haven't been able to find her."
      in the United States. But on the
                                            Terrified but determined to find safety, Mario once again
      treacherous migration route, things   traveled north until he reached Reynosa, a city on the
8     quickly went from bad to worse.       southern bank of the Rio Grande just across the border
                                            from McAllen, Texas. During his journey he had learned
ON THE MOVE IN MEXICO

 THOUSANDS OF MIGRANTS AND
 REFUGEES WHO FLED VIOLENCE IN
 CENTRAL AMERICA ARE NOW STUCK
 IN LIMBO IN NORTHERN MEXICO,
 TRAPPED IN UNDER-RESOURCED
 AND OVERCROWDED SHELTERS.

of a shelter in the notoriously dangerous border city
where he would be safe while he planned his crossing
into the US. But even the short trip from Reynosa's bus
terminal to the shelter was fraught.
"The taxi driver asked me constantly if I was from
 another country," says Mario. The man threatened that
 if Mario was a migrant, he could sell him to criminals
 who kidnap people at the border for ransom. Thinking
 quickly, Mario showed the driver a notebook that he'd
 brought with him and explained that he was a reporter
 visiting the region for his job. The ploy worked.
 Now he's at the shelter in Reynosa, trying to figure out
 his next move. "I'm waiting for my uncle, who lives in
 the US, to tell me when I can go," Mario says.
"But it has been a while since I've heard from him."
The waiting has been difficult, and he is just
beginning to come to terms with what he experienced
on his journey north. "I still can't believe I got all the
way," Mario says. "The first days were hard. I was            plan called the Migrant Protection Protocols that would
sad and didn't know what to do. I locked myself away         require people seeking entry to the US—including
from the outside world." Though physically unharmed,         asylum seekers—to remain in Mexico for the duration
he struggled to recover from the emotional wounds            of their immigration proceedings. The new policy is
sustained on his journey.                                    facing legal challenges, as both US and international
                                                             laws protect the right to seek asylum and prohibit
He's not alone. "Due to the violence that these
                                                             returning people to dangerous situations.
people have experienced in the country of origin
and during their transit through Mexico, once they           Thousands of migrants and refugees like Mario who
reach these places [near the destination] where              fled violence in Central America are now stuck in limbo
conditions are still not suitable for them, we find           in northern Mexico, trapped in under-resourced and
                                                                                                                                MSF ALERT | SPRING 2019

symptoms such as anxiety, acute stress, and some             overcrowded shelters. MSF dispatched an emergency
cases of post-traumatic stress [disorder]," says
Alberto Macín, a psychologist working with Doctors
Without Borders/Médecins Sans Frontières (MSF).              ABOVE: After escaping violence and poverty in Honduras, Mayelli
                                                             is traveling through Mexico on her way to try to make a new life
MSF has been providing care along Mexico's
                                                             in the US. "I wished I had wings to fly," she says. © Christina
migration route for more than six years and has              Simons/MSF
recently scaled up medical activities along the northern
                                                             FACING PAGE: MSF sent an emergency team to Tijuana, Mexico,
border in response to a humanitarian crisis made             to provide medical and mental health care for migrants and
worse by official US policy. In January 2019 the US           refugees waiting to resolve their immigration status or cross               9
Department of Homeland Security announced a new              into the US. © Cristopher Rogel Blanquet/MSF
NO HEALTH WITHOUT MENTAL HEALTH

      team to Tijuana in December to provide medical                and refugees to provide medical, social, and mental
      and mental health care to the influx of migrants and           health care to people like Mario. "I talked with the MSF
      refugees who had arrived in caravans. (Increasing             psychologist because I arrived feeling very nervous,"
      numbers of people have recently chosen to travel in           he says. "They explained to me that the things I have
      large groups to better protect themselves against the         been through—even before leaving my country—have
      dangers of the migration route.) We also care for people      been harmful to my health. We talk about different
      on the move in Nuevo Laredo, Matamoros, and Reynosa.          topics during our sessions. The best thing about it is
      In February, a team traveled to Piedras Negras, just          that I can trust someone with all these things. I haven't
      across the border from Eagle Pass, Texas, to care for         been able to talk to anyone about it before. Now I can
      some 1,800 people who had arrived in a caravan and            sleep better, and I feel less sad."
      sought shelter in an abandoned factory. "The main             But even with proper care, the scars many migrants
      [health care] gap we identified is mental health care,"        carry with them may never fully heal. "I still feel the gun
      said MSF field coordinator María Hernández in an               [pressed against my arm]," Mario says. "Sometimes
      interview with the San Angelo Standard-Times. "Most of        I feel like I've been shot. That feeling stuck with me."
      the patients we have seen or talked to have experienced       Mario has taken to working in the kitchen at the shelter
      at least one event of violence in their country of origin."   in Reynosa, cooking daily meals for the people living
                                                                    there. Focusing on the work has also helped his mental
      Mexico currently does not have the capacity to provide
                                                                    health. Though the future remains uncertain, he hopes
      adequate levels of protection and humanitarian
                                                                    he can use his skills in the kitchen to become a chef
      assistance to this vulnerable population, let alone to
                                                                    when he reaches the US.
      cope with the mounting mental health needs. "There
      is a huge gap in access to mental health services at
      all levels for people on the move in Central America,"
      says Juan Carlos Arteaga, MSF regional mental health
      referent for Central America.                                 RIGHT: This family—ranging in age from 3 to 55—fled Honduras
                                                                    after being threatened by criminal groups, known as maras.
      In Reynosa, a mobile MSF team including a doctor,             They are traveling together to stay safe and hope to settle in
      nurse, and psychologist visits shelters for migrants          northern Mexico. © Christina Simons/MSF

                                                                    BUILDING A
                                                                    FOUNDATION FOR
                                                                    CONTINUING CARE
                                                                    To better meet the mental health needs of people
                                                                    on the move, MSF is working to build local capacity
                                                                    and integrate psychosocial services into all levels of
                                                                    care through projects in Honduras, El Salvador, and
                                                                    Mexico. "First, we intervene at the community level
                                                                    through training health promotion teams to recognize
                                                                    the mental health consequences of violence and
                                                                    displacement," says Juan Carlos Arteaga, MSF regional
                                                                    mental health referent for Mexico and Central America.
                                                                    We're working to integrate mental health services
                                                                    into primary health care as well. "Health centers are
                                                                    close to the community, but most of the time they offer
                                                                    no mental health services at all," says Arteaga. "The
10
ON THE MOVE IN MEXICO

plan is to place psychologists there, and we try to give
                                                             many psychology students don't learn how to care for
specialized attention and train medical staff on how to
                                                             people affected by violence or displacement.
care for patients exposed to violence. We will try to pass
along the skills they need to care for this population."     MSF hopes to work with Mexican and Central American
                                                             universities and ministries of health to provide
MSF medical teams that treat patients at migrant
                                                             that training. "Together with other partners, we
shelters and deportation points in Central America
                                                             are trying to create a specific model, a specific
and Mexico are also trained to recognize medically
                                                             curriculum for students," says Arteaga. "We'll provide
unexplained physical symptoms (MUPS). "Most of the
                                                             university students with on-the-job training with
time these kinds of symptoms are related to mental
                                                             MSF psychologists." The project is still in the early
health issues," says Arteaga. "Headaches, body pains,
                                                             planning stages, but Arteaga is hopeful that it could
stomach ache . . . these complaints, especially where
                                                             help to prepare a new generation of mental health
violence is common, are often related to underlying
                                                             professionals to address the growing needs among
                                                                                                                            MSF ALERT | SPRING 2019

mental health problems."
                                                             displaced people in Mexico and Central America.
MSF is also pursuing partnerships with universities
in Mexico and Honduras to integrate mental health care
training into medical school curriculums. "In many
Latin American countries there is a lack of health
services in general," says Arteaga. "So mental health
                                                             FACING PAGE: MSF provides medical and mental health care in
care is often not a priority for the health systems."        two established shelters run by the Tamaulipas Institute for
Since most health centers don't employ psychologists,        Migrants in Mexico. © Arlette Blanco/MSF
                                                                                                                            11
NO HEALTH WITHOUT MENTAL HEALTH

      A TRAUMATIC PAST AND AN
      UNCERTAIN FUTURE
      The mental health consequences of
      displacement in East Africa

12
DISPLACED IN EAST AFRICA

In the camp for internally displaced                       2018, MSF's Malakal mental health team supported
                                                           roughly 30 new patients per month. Half of these
people near the town of Malakal in                         patients struggle with serious mental health conditions,
South Sudan, Dhan Tap gazes sadly                          including attempted suicide.

at a picture on his mobile phone. The                      Nearly all of MSF's mental health programs in the East
                                                           and Horn of Africa–including projects in Ethiopia, South
photograph shows a tattered white
                                                           Sudan, Sudan, Tanzania, and Uganda—have seen a
rope hanging from the grass-thatched                       significant increase in numbers of patients in recent
roof of a South Sudanese home.                             years. That's partly due to conflict and displacement
                                                           across the region. There are now more than 2.2 million
"This rope was used by a 13-year old boy who hung          refugees who fled South Sudan, and another 2 million
 himself," he says. "Many of our patients—whether          displaced within the country.
 adults or teenagers—feel there is no future for them.
                                                           To meet the mounting needs, the number of MSF
 [This] boy felt his parents could no longer support him
                                                           mental health projects in the region has more than
 while in the displacement camp, and he felt trapped.
                                                           doubled in the past four years in Ethiopia, Sudan,
 Helpless."
                                                           and South Sudan. Activities—including individual
                                                           counseling, treatment with medication, and group

 GROWING MENTAL HEALTH NEEDS                               activities—increased by 35 percent in 2017 compared
                                                           to 2016.
Dhan, who himself fled conflict in the area, works with
Doctors Without Borders/Médecins Sans Frontières           FACING PAGE: Two women talk outside a makeshift outpatient
(MSF) as a mental health counselor in Malakal camp.        center run by MSF in Uganda's Bidi Bidi refugee settlement,
Over the years, he has seen an increasing caseload         which hosts large numbers of people who have fled violent
of patients suffering from mental health conditions,       conflict in South Sudan. © Geraint Hill/MSF
often linked to their experiences of past displacement     BELOW: A mental health counselor begins a session in Hitsats camp
and future uncertainty. From January to October            in Ethiopia, where MSF provides a wide range of services for
                                                           refugees from neighboring Eritrea. © Susanne Doettling/MSF

                                                                                                                               MSF ALERT | SPRING 2019

                                                                                                                               13
NO HEALTH WITHOUT MENTAL HEALTH

      FORCED FROM HOME                                           Tayebwa says. "So far this morning I have seen six
                                                                 patients and already four more are waiting." While a
      In Yumbe, northern Uganda, a town that hosts the largest   September 2018 peace agreement signed by the South
      refugee settlement in Africa, MSF community health         Sudanese government and several rebel factions
      educators like Emmanuel Rambo travel across a massive      has reduced the level of violence, conditions remain
      camp to encourage residents to take advantage of mental    volatile. Many refugees are not able to return home and
      health support services. Rambo is South Sudanese,          still struggle with their experiences during the young
      twice displaced from his hometown in Yei by conflict,       country's years of civil war.
      and he can easily relate with the predominantly South
                                                                 MSF's medical research arm, Epicentre, conducted
      Sudanese refugee population in the camp. "There is a
                                                                 a survey among nearly 10,000 South Sudanese
      stigma within the community—people do not understand
                                                                 refugees entering Uganda's Yumbe camp in 2017 and
      what mental health is. Some associate [mental illness]
                                                                 found that nearly all—99.9 percent—cited attacks on
      with witchcraft," he says. "And yet there is a huge need
                                                                 their village of origin or neighboring communities
      for mental health [care] among this population."
                                                                 as the reason for leaving their country. Mild or
      MSF teams in Yumbe conduct around 900 consultations        moderate mental health disorders can increase up
      per month. "But I suspect we are seeing only a fraction    to 20 percent during emergency situations such as
      of those who need our support," Rambo says. He and         conflict-related displacement, according to a 2012
      his colleague Vastine Tayebwa, a clinical psychologist,    World Health Organization (WHO) report.
      believe that the high numbers of patients can be
      attributed to one main factor: displacement.
                                                                 ABOVE: A grandmother waits with her granddaughter at the
     "It's the sense of loss, past traumatic experiences, and    MSF-run outpatient clinic at Bolomoni health center level
14    future uncertainty that these refugees are facing,"        3 in Bidi Bidi camp, Uganda. © Geraint Hill/MSF
DISPLACED IN EAST AFRICA

                                                            Petro Peter Jengela, an MSF mental
                                                            health supervisor, visits a patient in Nduta
                                                            refugee camp in Tanzania. This man was
                                                            admitted to an MSF hospital after twice
                                                            attempting suicide and now receives
                                                            treatment for depression as well as follow-
                                                            up support. © Ellie Kealey/MSF

"THERE IS ABSOLUTELY NO DOUBT IN MY MIND THAT THE CHRONIC CONFLICT, LACK
 OF SOCIAL SUPPORT, AND DISPLACEMENT MAKE A FERTILE GROUND FOR SEVERE
 MENTAL HEALTH PATIENTS."

  DISPLACEMENT & MENTAL HEALTH NEEDS

        2.2 MILLION                    2 MILLION                                900
                                                                                                           MSF ALERT | SPRING 2019

   REFUGEES FROM SOUTH SUDAN          PEOPLE DISPLACED         MENTAL HEALTH CONSULTATIONS
                                     INSIDE SOUTH SUDAN        PER MONTH IN YUMBE, UGANDA

                                     35 PERCENT
           INCREASE IN MSF MENTAL HEALTH ACTIVITIES IN THE EAST AND HORN OF AFRICA
                                  IN 2017 COMPARED TO 2016
                                                                                                           15
NO HEALTH WITHOUT MENTAL HEALTH

      A PERFECT STORM                                               TWO SIDES OF A COIN
      Back in South Sudan, Dhan sees similar trends as he           Addressing mental health disorders is an integral
      and his team care for internally displaced people from        part of MSF's response in eastern Africa and
      the once-bustling city of Malakal. "Before the latest         elsewhere. A 2007 report published in the medical
      conflict set off in Malakal in 2013, people considered         journal The Lancet found that mental disorders can
      this town a safe haven," he says. "But the war de-            increase the risk for both communicable and non-
      stroyed this image along with the sense of security for       communicable diseases. "Mental and physical health
      the people. That sense of loss and being uprooted from        are like two sides of a coin: when there is disease in
      your life . . . it definitely takes its toll on you."          your mind, it affects you physically," says Dhan.
      Dahn's colleague, MSF doctor Jairam Ramakrishnan,             Despite the enormous needs, mental health services
      considers the risk factors associated with people's ex-       across eastern Africa are either woefully inadequate
      periences in Malakal a "perfect storm" for the develop-       or completely non-existent. And even though
      ment of mental health problems. "There is absolutely no       mental health care is relatively cost-effective when
      doubt in my mind [that] the chronic conflict, lack of social   compared with other health services, the lack of
      support, [and] displacement makes a fertile ground for        qualified personnel remains an issue.
      severe mental health patients."
                                                                    While Dhan understands the challenges, he strives
      South Sudanese refugees who fled north into neighboring        to make the most of the resources available in the
      Sudan bear similar psychological scars. According to          Malakal area. He's found that simple tools such as
      MSF mental health supervisor Rania Abdel Kheir, refu-         games, books, and toys can help children struggling
      gees have a host of needs rooted in their exposure to         with mental health issues in the sprawling camp.
      traumatic events, along with subsequent lack of access
                                                                    "When you see children playing again, you can see
      to coping mechanisms and control over their lives once
                                                                     that not all is lost."
      they become displaced. Kheir is part of the MSF team
      that works in two refugee camps just across the border
      in Sudan—Khor Waral and Kashafa. Since work began
                                                                    BELOW: MSF provides mental health care services at the Malakal
      in August 2017, MSF has noted increasing numbers of
                                                                    Protection of Civilians site for internally displaced people in
      new cases. "The majority of them come from the con-
                                                                    South Sudan. Some of the older children are learning skills to
      flict. Some say they have lost relatives—some have even        reconnect to a more peaceful time and prepare for life outside
      seen relatives killed in front of them," says Kheir.          the camp. © MSF/Philippe Carr

16
DISPLACED IN EAST AFRICA

HELPING CHILDREN FORCED TO FIGHT
In South Sudan's Yambio county,
children and teenagers who were
forced to fight during the country's
long civil war are struggling to
regain their lives.
Child soldiers are prized by their adult commanders
for following orders without understanding the impact
of their actions. These young combatants are often
traumatized, having been separated from their families
and forced into a life of violence and hard labor.
To help these former child soldiers reintegrate into
society, MSF launched a mental health support
program to help them come to terms with their
                                                             SOME 19,000 CHILDREN ARE STILL
experiences. In the second half of 2018, a group of          BEING HELD BY ARMED GROUPS IN
                                                             SOUTH SUDAN AND NEED TO BE
governmental and nongovernmental organizations,
including MSF, began working to help these children
return to their communities. So far, 983 children have
been demobilized in Yambio.
                                                             DEMOBILIZED.
It's not just post-traumatic stress or flashbacks that
can lead to mental health problems—many demobilized
children are also fearful of an uncertain future. They are   atrocities. This was a period of their life when they
scared they will not be accepted by their communities        had no control, but now the future offers lots of
and worry about what they will do with their lives.          possibilities," she explains.

Former child soldiers do not always receive a warm           Trust is at the heart of the relationship between the
welcome, as their families and neighbors are often           counselors and their young clients. "Every detail is
afraid too. Some armed groups used child soldiers            taken into consideration to make the psychological
to loot supplies and collect protection money from           consultations for these sensitive cases as comfortable
communities, and to punish those who would not pay.          as possible," says Mwakio. "Our aim is to show them
                                                             that they have regained control over their own lives."
Part of the reintegration process involves helping
communities to better understand the circumstances           South Sudan's health care system, battered by years
of the children while in armed captivity. "Some of the       of conflict, is ill-equipped to care for demobilized child
children carry the burden of guilt," says Carol Mwakio       soldiers, and there are very few local mental health
Wawud, an MSF psychologist with the program. "This           professionals who can look after their needs. That's
is not just about something they might have done or          why MSF is training South Sudanese staff members to
seen while in uniform. Some still feel guilty about being    serve as counselors. Their assistance is sorely needed.
captured and being taken from their families. In their       UNICEF estimates that some 19,000 children are still
minds, it was their fault."                                  being held by armed groups in South Sudan and need
                                                             to be demobilized.
Mwakio and other MSF mental health staff try to help
these children understand that they were not entirely
responsible for their actions while in uniform. "We
remind them that their commanders were the ones              ABOVE: A former child soldier is now back at home in Yambio,
who were in charge and forced them to commit                 South Sudan. © Alex McBride/MSF

                                                                                                                            17
VICTIM TO SURVIVOR
     HEALING FROM SEXUAL VIOLENCE IN
     DEMOCRATIC REPUBLIC OF CONGO

18
SURVIVORS IN DRC

The Greater Kasai region, in southern Democratic Republic of Congo
(DRC), had long been untouched by the conflicts that have scarred much of
the country. But in 2016, escalating violence between armed groups turned
this peaceful region into one of the most serious humanitarian crises in
the world.
Doctors Without Borders/Médecins Sans Frontières           sexually transmitted diseases, vaccinations, and both group
(MSF) began assisting victims of violence in Kasai         and one-on-one mental health counseling offered by MSF.
in May 2017, in the midst of intense conflict. Teams        In Kananga, MSF provided psychosocial support and
rehabilitated the trauma wing of the Kananga Provincial    psychological care for more than 200 victims of sexual
Hospital, initially focusing on surgical care for trauma   violence on average each month through individual and
patients and later adapting to treat victims of sexual     group sessions. "I remember as if it was yesterday,"
violence.                                                  says Bibiche*, recalling the details of the attack against
From May 2017 to September 2018, MSF treated               her and her family. "A group of men came into the
2,600 victims of sexual violence at the hospital. Eighty   house, and they destroyed everything—our things, and
percent of these patients reported that they were          us. First, they raped my little sister, then my sister-in-
attacked by armed men. Most of MSF's patients
sought treatment more than a month after they were
attacked, making it difficult to know how many other        FACING PAGE: An MSF team member at Kananga provincial
victims there might be.                                    hospital in DRC counsels a woman who was raped by armed
                                                           men, and whose children went missing after fleeing the scene
Victims of rape require medical care within 72 hours       of the attack. © Quentin Bruno/Brassage Photographique
of the attack so that they can be protected against HIV
                                                           BELOW: These women are among the many victims of sexual
and receive emergency contraception, but the majority of   violence who were attacked by armed men during a spike in
patients in Kananga arrive after that window has closed.   conflict in the DRC's Kasai region. They have taken shelter
Nevertheless, they can still benefit from treatment for     in Kananga. © Quentin Bruno/Brassage Photographique

                                                                                                                         MSF ALERT | SPRING 2019

                                                                                                                         19
NO HEALTH WITHOUT MENTAL HEALTH

      law, and me last. At the time, we didn't speak out about           Often this is the first time a patient has spoken about
      it, or ask for help."                                              what has happened to them, so it is important to
                                                                         create a safe and confidential space for the patient
      One year passed before Bibiche heard about the
                                                                         to tell their story.
      care being provided by MSF for victims of sexual
      violence. "A female doctor had come to tell us about               Mental health treatment differs for each individual
      an organization of doctors here in Kananga that was                and is determined by evaluating the attack's physical,
      treating rape survivors, even if the rape went back as             psychological, and social consequences. Most patients
      far as last year," says Bibiche. "When I came [here],              attend three sessions, and more are provided as
      the doctors all greeted me with a warm smile and                   necessary. "We explain what trauma is, and what
      I felt really welcome."                                            anxiety, depression, or post-traumatic stress disorder
                                                                         look like," says Modarelli. Long-term psychological
      Sexual violence victims see a psychologist when they
                                                                         trauma can trigger psychosomatic pain in various
      first arrive at the hospital. "It helps to build trust
                                                                         parts of the body, so MSF psychologists look for these
      with the patient and to make them feel comfortable
                                                                         symptoms and explain to the patient how mental
      before they have a medical examination," says Angela
                                                                         health care can help. Psychoeducation groups are also
      Modarelli, MSF mental health manager in Kananga.
                                                                         incorporated into MSF's mental health guidelines and
                                                                         provided to families and communities. MSF has begun
      ABOVE: MSF medical teams from Kananga hospital in DRC              to incorporate physical therapy into the program due to
      meet to debrief each other during the week. In response to a       the violent nature of the attacks.
      surge of conflict in the Kasai region, teams initially focused
                                                                         While the majority of our patients in Kananga were
20    on providing surgical care and later adapted to treat victims of
      sexual violence. © Quentin Bruno/Brassage Photographique           women, 32 were men, some of whom reported having
SURVIVORS IN DRC

A group of women who have fled conflict in DRC's Kasai region,
including many victims of sexual violence, are being sheltered by a local
organization in Kananga. © Quentin Bruno/Brassage Photographique

"WHEN I SLEEP, I REMEMBER EVERYTHING THAT HAPPENED.... EVEN IF I'M NOT FULLY
 WELL YET, I FEEL THAT I'M ON THE WAY TO SOMETHING BETTER."

been forced under armed threat to rape members of                    notice some changes. "Even if I'm not fully well yet,
their own community. Male victims of sexual violence                 I feel that I'm on the way to something better."
are more likely to stay silent about their attacks, often
                                                                     In addition to individual counseling, MSF holds group
because of stigma or a fear of being rejected by the
                                                                     sessions in Kananga to allow people to share their
community. "Often men will come seeking mental
                                                                                                                                MSF ALERT | SPRING 2019

                                                                     stories with others who have experienced similar
health care, complaining of a lack of sleep, feeling
                                                                     trauma. "Our main goal for support group sessions is
sad and depressed, or having suicidal thoughts,"
                                                                     to offer comfort and connectedness to others," says
says Fagard-Sultan. "But after a few sessions with a
                                                                     Modarelli. "By facilitating exchanges between people
psychologist, they disclose that they were victims of
                                                                     who share similar experiences, these sessions help to
sexual violence."
                                                                     reduce stress and break down feelings of isolation. We
"When I sleep I remember everything that happened,"                  reinforce the strengths and share them within the group,
 says Pitchou*, who says he was captured by an armed                 so people do not feel alone in what they have lived."
 group, tortured, and forced to commit atrocities. After            *Patient names changed for privacy
 several sessions talking to a psychologist he started to                                                                       21
NO HEALTH WITHOUT MENTAL HEALTH

      IN LIBERIA, A FAMILY FINDS HOPE
      IN MENTAL HEALTH CARE

      Timothy T.T.* is a 32-year-old man who        After Timothy graduated from high school, he took a
      lives with his mother, brother, and sisters   job with a bottled water company. For several years
                                                    he was doing quite well, living on his own, seeing
      in a community of neat cinder block homes
                                                    his family frequently, and pursuing his interests in
      just outside the bustle of Monrovia,          travel and study—he had applied for a visa to attend
      Liberia's capital. When Timothy's mother,     university overseas. When his schizophrenia surfaced,
      Susana Foley, talks about him, it's with      it was shocking, like he'd become an entirely different
                                                    person overnight.
      profound affection and tenderness. They've
                                                    Susana vividly remembers the day in October 2014
      been through hell together. And because of
                                                    when everything changed. They were getting ready
      her devotion, along with help from Doctors
      Without Borders/Médecins Sans Frontières      ABOVE: Timothy T.T. and his mother, Susana Foley, stand on the
                                                    porch of their home in Monrovia, Liberia. Susana says her son
      (MSF) and the Liberian Ministry of Health,    is doing much better after receiving mental health care and
22    they've come out the other side.              medication from MSF. "Since you started the treatment, I've got
                                                    a belief that this man is well," she says. © Melissa Pracht/MSF
HOPE IN LIBERIA

 THERE WAS ONLY ONE PRACTICING PSYCHIATRIST AND ONE PSYCHIATRIC
 FACILITY IN THE ENTIRE COUNTRY. THIS IS WHAT PROMPTED MSF TO CONDUCT AN
 ASSESSMENT OF THE MENTAL HEALTH NEEDS IN LIBERIA AND ULTIMATELY PARTNER
 WITH THE MINISTRY OF HEALTH TO IMPROVE AND GROW THEIR SERVICES.

to go to church and Timothy seemed stressed and              In just the last 30 years, Liberia has experienced two
disoriented. Then he picked up his Bible and ran out of      civil wars and a catastrophic Ebola outbreak. Like
the house as though someone were chasing him. Later          every aspect of life in the country, the health system
that day, in church, he asked his mother if she knew         was tremendously impacted by these cataclysmic
God, and then he held a chair up over his head and           events. Many medical professionals left—or, during the
started speaking, she says, "like a monster."                Ebola outbreak, perished—institutions have had scant
                                                             resources, and many people's health knowledge and
It wasn't only in church that Timothy's behavior sowed
                                                             health-seeking behavior are limited.
fear and disruption. Out in the community he acted
aggressively, getting into fights and drinking too much.      MSF played a critical role in fighting the Ebola outbreak
At home he terrorized his siblings. This was not the         that hit Guinea, Sierra Leone, and then Liberia hard
responsible, intelligent young man his family had            from 2014 to 2016. We closed our last Ebola-related
known for nearly 30 years; he had become an irrational,      projects in Liberia—survivor clinics that offered care for
dangerous person. Susana brought him to every church         people who continued to have physical and psychosocial
in their area. From her perspective, he must have been       issues after they recovered from the disease—in 2016.
possessed by demons, but no preacher or healer was           But when the mental health team began looking
able to cure him.                                            for services where they could refer their remaining
Finally, she did the last thing she wanted to do, but the    patients, they learned that there was only one
only thing she knew would keep him safe.                     practicing psychiatrist and one psychiatric facility in the
                                                             entire country. This is what prompted MSF to conduct
"I put a chain on him," she says. It attached to his ankle
                                                             an assessment of the mental health needs in Liberia
 and ran up to and around a cinder block in the wall of
                                                             and ultimately partner with the Ministry of Health to
 his bedroom. He could move around the small room,
                                                             improve and grow their services.
 which was right next to the common area of the house,
 and he could make a lot of noise, but he couldn't attack    With only a barebones national mental health system,
 his brother, couldn't physically intimidate his mother,     it makes sense that many people in Liberia would not
 and he couldn't leave.                                      know about mental illness, or that it can be treated.
                                                             Although Timothy's case is an extreme example, he

 STRENGTHENING LIBERIA'S                                     is not the only mentally ill person to be restrained
                                                             by chains in Liberia. And the practice of chaining is
 MENTAL HEALTH SYSTEM                                        certainly not unique to that country. MSF mental health
                                                             experts say this happens nearly everywhere there is a
Weedor G. Forkpa is a young woman who radiates
                                                             lack of mental health resources. The practice was not
competence. A mental health clinician employed by
                                                             uncommon in US insane asylums before antipsychotic
                                                                                                                           MSF ALERT | SPRING 2019

the government at the primary care clinic in Bromley
                                                             drugs were developed in the mid-twentieth century.
community, close to where Timothy lives, she and a
colleague assessed his condition after a community           Though people in Susana's position often have no better
health worker relayed a complaint. "We told the family       options, chaining is not a humane solution to mental
that there is treatment available free of charge and         illness—it imposes a loss of dignity and freedom, not
Timothy needs to start it right away," she says.             to mention physical danger. So, when MSF teams learn
                                                             of someone being held in chains, they work with the
Before MSF started supporting Liberia's mental health
                                                             family or caregiver to provide treatment and get the
system in 2017, the appropriate medication, haloperidol,
                                                             patient safely out of those harsh restraints.
most likely would not have been available, and Weedor                                                                      23
may not have even heard about Timothy's case.
NO HEALTH WITHOUT MENTAL HEALTH

                                                                Mietta Cooper is the community outreach worker who
                                                                first discovered Timothy. When she visited his area,
                                                                community leaders told her that he displayed the
                                                                kinds of behavior she described to them as mental
                                                                illness, and that he was at home in chains. She asked
                                                                if she could meet him, so they led her to Susana's
                                                                house and introduced her to the family. "We could
                                                                not reach Timothy because he was violent at that
                                                                time," she says. "So we talked to his mother and we
                                                                told her about the treatment. She told us Timothy
                                                                cannot come to the hospital because he is violent. So
                                                                we came back to the health center and we told the
                                                                mental health clinician about him."
                                                                Weedor and another clinician came to Timothy's home
                                                                and assessed his condition. The symptoms of psychosis
                                                                were immediately clear, she says. Eventually, he would
                                                                be diagnosed with schizophrenia, but on that day,
                                                                Weedor initiated home treatment with Timothy and his
                                                                family. After two weeks on medication, Timothy seemed
                                                                stable. For the first time in years, he was no longer
                                                                hearing voices or seeing things that weren't there.
      MSF teams have seen that investing in community-
      based care like the model introduced in Liberia can       Six months after starting treatment, Timothy is
      make a huge difference in the lives of people suffering   responsible for his own medication and he comes to
      from illnesses such as bipolar disorder, severe           the clinic in Bromley every week for a check-up. He
      depression, post-traumatic stress disorder, and, as       has a calm, agreeable demeanor and moves slowly.
      in Timothy's case, schizophrenia.                         In addition to monitoring the clinical effects of the
                                                                medication, Weedor engages Timothy in conversation.
                                                                They discuss his actions and the harm versus benefit of
     "I'VE GOT A BELIEF THAT THIS MAN                           the choices he makes.

      IS WELL"                                                   Mietta continues to visit Timothy every week at home.
                                                                "The first time I saw Timothy," she says, "you couldn't
      MSF began working with the Ministry of Health in
                                                                 connect with him. But now you and Timothy can sit
      2016 on an ambitious five-year plan to integrate mental
                                                                 and talk. I've seen his condition change. He is getting
      health care into primary health facilities. We provide
                                                                 better. He is improving."
      three main pillars of support: access to medication,
      training for clinicians like Weedor; and development of   With the full spectrum of treatment and support,
      community outreach. MSF-trained psychosocial staff        Timothy has made striking progress. "I've managed
      work with government community health workers to          to change my behavior," he says, "what I say and do
      identify new patients and refer them to the nearest       around people. I'm able to be with people."
      clinic; follow up with patients; and raise awareness      Susana confirms the dramatic improvement in her son
      and combat stigma around mental illness in schools,       since he started receiving care. "I say God bless you
      churches, and other public spaces.                        people. Because since you started the treatment, I've
     "One of the reasons our program is working in Liberia      got a belief that this man is well," she says.
      is because of MSF's long history in the country, the      Timothy is also aware of the critical role his family has
      collaborative relationship we have with the Ministry      played in helping him through his illness. "My family
      of Health, and other training initiatives focused on      went through life with me," he says, "true life with me."
      mental health in Liberia," says MSF psychiatrist and
                                                                *Last name withheld for privacy
      mental health advisor Greg Keane. "Building on this,
      we are able to implement a best-practice model, which
      is community-based mental health care delivered by        ABOVE LEFT: Weedor G. Forkpa, a mental health clinician,
      Liberians who are trained and supervised, with
24                                                              sees patients as part of MSF's mental health program in
      a community outreach aspect as well."                     Montserrado county, Liberia. © MSF
CARING FOR THE CAREGIVERS
Athena Viscusi is a clinical social worker and                      Another important prevention measure is the training
part of MSF's Psychosocial Care Unit (PSCU), a                      of supervisors to recognize the signs of mental distress
group of mental health care workers who have                        and connect their staff with us, the psychosocial teams.
worked internationally with MSF and now focus on                    What about traumatic events that you can't prepare for?
psychosocial care for MSF staff.
                                                                    Infrequently, international staff can experience direct
What are the potential risks to humanitarian workers'               exposure to a traumatic event—this would be if you
mental health and how does MSF address them?                        were directly attacked or threatened, or directly
Before MSF staff members leave for their first                       witnessed violence or suffering. Traumatic memories
assignment, we work with them to prepare so they can                like these tend to stay with us unless we address them.
avoid falling prey to the most common risks to mental               Furthermore, secondary exposure to trauma can occur
health. Burnout, for example, can happen if you're                  when a staff member experiences trauma through
working in emergency situations, with many obstacles,               a patient, hearing some really horrible stories on a
for long periods of time, and with long hours. It can               daily basis. Sometimes, MSF sends psychologists to
happen when the amount of stress that you're exposed                our projects to counsel both local and international
to surpasses your coping mechanisms.                                staff in the event of a traumatic incident, or if teams
We talk about the stresses people are going to                      are dealing with particularly stressful stories day after
encounter, and I tell them that it's part of their job to           day. And counseling is always available by phone or
take care of themselves as they are caring for others.              videoconference. When international staff come home
We talk about having a plan when they're unable to rely             to the US, we can connect them to a therapist where
on their usual coping mechanisms—if they usually run                they live. For local staff, where it's possible, we can hire
                                                                                                                                   MSF ALERT | SPRING 2019

five miles a day to relieve stress, but they are going               local psychologists to provide ongoing support.
to be confined to a compound, what are they going to                 Most returning international staff members report their
do instead? Another big part of preventing burnout is               experience as positive, and many talk about how it has
keeping up strong social connections, with both friends             changed them. Some have had difficult experiences
and family at home and their MSF colleagues. This will              before working with MSF, and helping others restores
help people deal with stress during their assignment,               meaning and fulfillment for them. Turning adversity into
and, when they get home, it will help them readjust to              opportunity is what we call "post-traumatic growth."
a very different life.
ABOVE: MSF counselors provide psychosocial care for survivors of sexual violence in Acapulco, Mexico. © Christopher Rogel          25
Blanquet/MSF