Executive Chef, JORY Restaurant - Sunny Jin
Page content transcription
If your browser does not render page correctly, please read the page content below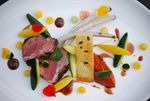 Executive Chef, JORY Restaurant - Sunny Jin
Graduating at top of his class from Portland's Western Culinary Institute where he received
the Grand Toque Award, Chef Sunny Jin went on to complete his externship at Napa Valley's
famed French Laundry, working for three years under renowned chefs Thomas Keller and
Corey Lee. In this capacity, Jin created and executed new menus every day at the highest
level of quality. Following this experience, Jin took the opportunity to work at the top
rated restaurant in the southern hemisphere, Sydney, Australia's Tetsuya's, working
alongside eponymous chef owner Tetsuya Wakuda. His experience was heightened by side
visits throughout Australia, New Zealand, Vietnam, and Thailand, where he was able to
experience explosive and diverse cuisines. His return to the U.S. was marked by the rare
assignment of preparing for a season at El Bulli, the world's top rated restaurant, located in
Catalonia (Spain). He worked at El Bulli for the 2009 season under Ferran Adria and Oriol
Castro and, thereafter, traveled throughout Europe to explore the culinary cultures of
France, Italy, Germany, and the Netherlands. Upon his return to the U.S., Jin remembered
with fondness his formative school experiences and recognized the emergence of Oregon as
one of the country's preeminent food and wine destinations. "Oregon's commitment to
seasonality and local produce most resembles European culinary communities," notes Jin.
His search for a position amongst this emerging scene led him to JORY at The Allison Inn &
Spa which has been among the state's best reviewed new restaurants since its opening. "I
wish to be a part of the continued growth of this extraordinary area and have always felt
proud to call Oregon home," notes Jin.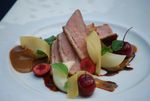 A dish designed as a perfect match for Utopia 2007 Estate Pinot
     Noir.

     Pan Seared Duck Breast, Tokyo Turnips, Pickled Cherries, Ginger
     Ribbons, Hazelnut Butter, Shiso, Duck Bordelaise

For the Duck Breast
1 duck breast
Brine:
•   1 qt water
•   4 tbs sugar
•   4 tbs salt
•   ½ tsp curing salt
•   ½ onion, roughly chopped
•   3 cloves garlic, smashed
•   1 tbs pickling spice

Bring the brine mixture to a boil then chill completely before submerging duck
breast over night. Remove duck and pat dry. Score the skin of the duck and place
skin side down in cold skillet over medium heat until the fat slowly starts to render.
Once the fat is rendered, turn the breast over and cook to desired doneness. When
finished, let the duck rest for five minutes before serving.

For the Ginger Ribbons
3 oz ginger, peeled and sliced very thin
2 cups water
1 cups rice wine vinegar
1 cup sugar
1/2 tsp salt

Shave ginger strips with a peeler. In large saucepan, mix sugar, vinegar, water and
salt. Bring to boil and add ginger. Remove from heat and let steep until cool.
Refrigerate for up to 1 week.

For the Pickled Cherries:
½ pound Bing Cherries
4 cups water
2 cups sugar
2 cups sherry vinegar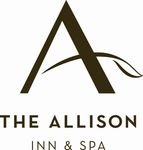 Pit all the cherries with a cherry pitter or cut disks around the seed. Bring the rest
of the ingredients to a boil in a sauce pan. Place the cherries in a bowl and pour
the hot pickling liquid over them and allow it to come to room temperature. Chill
immediately after. (The cherries only need to be brined for 2 hours. They will
start to discolor after that.)

For the Turnips:
4 turnips, peeled, quartered
¼ cup salt
2 qt water

In a large sauce pot, boil 2 quarts of water with the salt. When water is at a full
boil, add the turnips. Cook until tender and just barely done, about 3 minutes.
Remove the turnips and immediately place into ice water. Once completely chilled,
drain and reserve.

For the Hazelnut Butter:
2 cups (9 oz.) Oregon hazelnuts
1/2 teaspoon salt
3/4 teaspoon sugar

Roast hazelnuts, then pour into a food processor. Spin hazelnuts while gradually
adding sugar, salt or other ingredients through feed tube. Scrape down sides;
continue to process until desired texture is achieved, 4 to 7 minutes. Makes 1 cup
butter.

For the Duck Bordelaise
½ cup demi-glace
1 cup Utopia Pinot Noir
1 shallot, rough chopped
1 sprig thyme

Reduce wine over medium high heat until almost completely evaporated. Strain out
shallot and thyme. Stir in demi glace and bring to simmer. Remove from heat and
whisk in 3 Tbs of the rendered duck fat

To Assemble:
Slice the duck as thinly as possible while leaving the skin intact. Arrange the duck on
the plate in a fanned pattern. Garnish with cherries, turnips, and ginger. Finish with
the duck bordelaise and a generous dollop of the hazelnut butter. Sprinkle the shiso
over the top of the dish. Serve immediately.
A dish designed to perfectly complement Utopia 2009 Paradise
     Private Reserve Pinot Noir.
     Atherton Lamb Loin, Bloody Mary Marmalade, Summer Squash,
     Persillade Melba, Nasturtiums, Black Olive Oil

For the Lamb Rack:
Sprinkle the bone-in lamb rack with a good amount of salt and pepper. Bring a
large sauté pan to full heat. Add 1 ounce of canola oil to the pan. The oil is ready
when it just starts to give off a faint white smoke. Add the rack to the pan (flesh
side down), and turn down the heat to medium-medium high. Once the
presentation side is caramelized, flip the rack and add 2 tablespoons of butter
along with 2 sprigs of thyme and 1 clove of crushed garlic. When the butter
becomes foamy, carefully baste the rack until desired doneness. Medium rare takes
about 5 minutes. Let rest for 5 minutes when finished.

For the Bloody Mary Marmalad:
1 can of tomatoes, seeded and
drained
½ red onion, finely minced
2 tbsp Worcestershire
2 tbsp sugar
1 tsp prepared horseradish
2 tbsp sherry vinegar
1 bay leaf
½ oz vodka

Sauté the onions in a touch of olive oil over medium heat making sure not to brown.
Add tomatoes, bay leaf, and Worcestershire, sugar and sherry vinegar. Cook over
medium heat and reduce until thick. Adjust seasoning with salt, pepper,
horseradish, adding vodka at the end. It will keep in the refrigerator for up to 2
weeks.

For the Summer Squash:
12oz mixed summer squash, sliced on a long bias
2 tsp canola oil
1 small shallot, minced
½ oz champagne vinegar
1 Tbs parsley, finely chopped
Salt & Pepper to taste
Sauté squash in canola oil over medium high heat. When tender, remove from heat
and add shallots and champagne vinegar. Season with salt and pepper.

For the Persillade Melba:
4 thin slices brioche
1 Tbs parsley, finely chopped
½ tsp mustard seed, crushed
1 small clove garlic, minced
1 sprig thyme, chopped
1 Tbs parmesan cheese, grated
2 Tbs extra virgin olive oil

Mix parsley, mustard, garlic, thyme and parmesan in to the olive oil and season
with a pinch of salt. Brush a liberal amount of mixture on to brioche. Bake in the
oven at 325° for 6 minutes, or until crispy.

For the Black Olive Oil:
3 cups Beldi olives, pitted, and thoroughly rinsed

Place olives in a food dehydrator for 12-18 hours at 125 degrees. Olives should be
completely dry. Process in a blender until smooth. The natural oils in the olives
will liquefy the mixture. Strain through a fine mesh sieve.

To Assemble:
Slice the lamb loin leaving one bone attached to each slice. Place two loins on the
plate. Garnish with the Summer Squash and drizzle a little of the Black Olive Oil
over the blank spots on the plate. The Black Olive Oil is very strong so a little will
go a long way. Add a tablespoon or so of the Bloody Mary Marmalade on the plate.
Place a Melba on top of the dish and finish with some nasturtium petals and leaves.
Serve while warm.