Hase Bikes Catalog 2016
If your browser does not support JavaScript, please read the page content below:
Hase Bikes Catalog 2016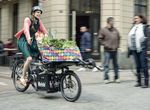 HASE BIKES 2016:The evolution continues The year 2015 has been exciting and rewarding, with eminent visitors and top awards for our designs. And 2016 will see the continuation of our product-development work: we have optimized our tandem and trike models and succeeded in integrating the Shimano STEPS motor into the PINO. Our selection of luggage bags is larger and more colorful. But don't take our word for it. Browse our new catalog and see for yourself … 2 EDITORIAL Hase Bikes is located in the northern Ruhr region of Germany on the historical grounds of the Zeche Hibernia in Waltrop, where coal was once pro- duced and miners clocked in and out.
The bike "manufactory" established here by Marec Hase in a beautiful old colliery building now employs more than 40 people – a model of successful structural transformation.
They say tradition comes with obligations, and we enjoy maintaining these old values: for example, we have metalworking down to a science and not only build our own prototypes but are also able to produce specially engineered components. This is the only way we can guarantee flexibility and inno- vation with our specialized products and continue developing and perfecting our designs. In 1989, Marec Hase won first prize in the youth science and technology competition "Jugend Forscht" for a tandem he had designed for himself and a blind friend so that they could share the experience of cycling tours.
Ensuring that no one is left out when it comes to mobility is still a guiding principle for Marec Hase and his team. This is why the customizability of Hase Bikes' vehicles is such an important criterion. The tandems and trikes can be adapted to suit practically any wish or require- ment and are therefore perfect for anyone – everyday heroes with and without disabilities, globetrotters, family managers, short and long-dis- tance commuters, and even off-road adventurers. This year, we are especially proud of our new Pino frame, which successfully integrates the Shimano Steps pedelec system.
After developing a Steps-equipped version of the Kettwiesel frame the previous year, we set to work on our Pino. And the work has paid off: with the new mid-drive system, the tandem runs very smoothly and offers a faster and more relaxed ride, even with heavy loads. As ever, we pride ourselves on the reliability and dura- bility of our products; all of our new models are tested by the EFBe institute before being placed on the market.
A good, reliable team is the basis for any success- ful company, and we are delighted that so many highly competent individuals have joined and stayed with us over the years, helping us implement ideas, launch projects, manage paperwork, develop, build, sell, package, and ship our products, organize trade- fair stands, prepare catalogs, maintain websites, manage finances, and so much more. A big thanks to all of you!
3 EDITORIAL at the after-show party at the Red Dot Design Museum in the Zollverein Colliery, a UNESCO World Heritage Site. Pictured with us in the top cen- ter photo are two representatives from the German Shimano importer Paul Lange&Co.: Karl Jakobs (2nd from left), key-account manager, and Marko Kienle (right), head of the new business unit E-Mobility.
In-depth stories about the experiences of real "Hase Bikers" are the best way to describe how our trikes and tandems perform in everyday life. For this catalog, we pulled out all the stops, even sending our photographer Holger Wens into lofty heights, to doc- ument what is possible with Hase Bikes vehicles. And for one of the stories, we joined a group of disabled cyclists on their journey across the Alps on Hase Bikes! The best way to keep up with the latest happen- ings is to follow us on Facebook or visit the Hase Bikes Blog on our website. We hope you'll enjoy the news and updates there … and the exciting informa- tion in this new catalog.
Your Hase Bikes team New products and features . 4 Pino . 10 Kettwiesel . 22 Lepus . 34 Trets . 44 Trix . 48 Handbike . 52 Special options and accessories . 58 Disclaimer: The contents of this catalog are subject to change without notice. Special guest at the Eurobike show: Mr.Yozo Shimano visits Hase Bikes When we presented the latest Kross model with optional Steps motor at the Eurobike 2015, it cre- ated quite a stir. And no wonder: the first Shimano mid-drive system, which had only been on the market for a few months, already had a growing fan community. It is one of the quietest e-motors avail- able, puts out an impressive 50 Newton meters of torque, and works in unparalleled harmony with the rider.
The manufacturer designed the system for use with 26 and 28-inch bikes; Marec Hase had suc- ceeded in making it compatible with his 20-inch trike wheels. This was a piece of news that spread like wildfire through the trade show.
Mr. Yozo Shimano, president of the world's leading manufacturer of cycling components, visited the Hase Bikes stand to take a closer look at the engi- neering. There, he spent half an hour talking shop with Marec Hase about the features of his drive sys- tem and how our chief developer had managed to marry motor and trike. Mr. Shimano was happy that his new drive system had already found its way into the field of specialized and adaptive bikes – and we were happy that he approved of the integration."Yozo Shimano is at our stand!" commented marketing director Kirsten Hase with excitement."That's what I call an honor!" The second reason why we were so pleased with the integration of the Steps into the trike frame: we earned a great deal of praise from all sides for the improved stylistic elements and successful design created by Marec Hase with his design team, in par- ticular designer Paulo Mesquita.
We are especially proud of the Red Dot Design Award: Best of the Best that we received for our Kross. Only 1.6% of the nearly 5,000 entries earned this top honor. Other award winners included well- known companies like Apple and Mercedes Benz. "This new type of trike is refreshingly different and ultimately convinces with its safety concept," was the explanation the jury gave for its decision. We had a wonderful time at the Red Dot Gala in the Aalto Theater, where we received our award, and of course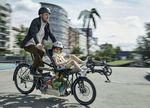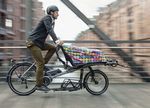 5 NEW PRODUCTS AND FEATURES: TRIKES Trail-worthy gear system and foldable frame are setting new standards More comfort – in all areas – and even more versatility: these were the main design goals for our 2016 trikes.To accomplish them, Marec Hase and his team once again showed off their creative engineering skills, this time even at the component-design level: HASE BIKES developed its own derailleur system.
For the 2016 model year, we are using the same chassis for all Kettwiesel and Lepus models. The independent wheel suspension gives the Lepus an even more comfortable ride. Now, the only major differences between our comfort trike and our cult cornering machine are the new seat mount, the adjustment of the rear swing arms, and the size of the front wheel. The foldability option is also new: the rear portion of the trike can be folded down and forward by simply folding the seat, opening a quick- release lever, and pulling a cord. In its folded state, the trike is approximately as high as the rear wheels and only about three feet (1m) long.
The Kross is equipped with the new Hase Bikes derailleur sys- tem: high-precision CNC-machined aluminum arms guarantee super-smooth shifting between the nine or eleven gears, which are distributed across a very wide range. Unlike conventional derailleurs, the Hase Bikes linear system offers the ground clearance needed for rough terrain. It is robust and forgiving of operator error. And to top it all off: our new Rain Cover keeps moisture off the seat.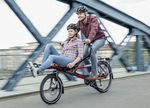 7 NEW PRODUCTS AND FEATURES: PINO Getting around town quickly and colorfully In 2016, a new version of our all-rounder for one to two riders will be hitting the streets with even more comfort and speed: the PINO STEPS gets its name from the innovative e-motor in the bottom bracket. And to make the speedy pedelec even more practical, the new, lovingly designed CITY BAG can be added for relaxed shopping trips in the city. The Shimano Steps offers everything you'd expect from a modern pedelec system. What convinced us was the fact that the motor runs smoother than any other system on the market and could be inte- grated seamlessly into the design of the Pino frame.
It kicks in when you start pedaling, cuts off at 15 mph (25 km/h), and adds just the right amount of power – everything feels responsive and intu- itive. The 50 Nm of torque pull you up any hill and take the sweat out of cargo transport. For the Pino Steps, we developed a special frame with a new, sophisticated design, which is why you have to choose between the Steps and the Allround when purchasing a Pino: the mid-drive system can- not be retrofitted to the Allround frame. However, the tried-and-tested front motor is still available as an option.
The new City Bag for anything from shopping to picnic trips is compatible with all Pinos. Made from highly durable materials, the colorful tote is incredibly easy to use thanks to its Fidlock magnetic closure system.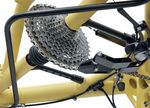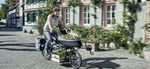 9 HASE BIKES CUSTOMIZED I do my own thing: HASE BIKES even easier to customize. Our bikes and trikes are fantastically versatile.This is primarily due to their highly sophisticated design concepts. However, every model can also be perfectly customized to your individual needs with our extensive selection of accessories.
And now you can easily plan your dream bike online. The best news first: customizing your new Hase Bike just got a whole lot easier. Take, for example, our tandems: start by choosing one of the two avail- able models, the Pino Steps (with mid-drive sys- tem) or the Pino Allround (no mid-drive system, retrofittable with front motor). Then you can cus- tomize your tandem for any use and any special need by adding compatible accessories: a Children's Crankset for the family taxi, a Porter Set for the cargo bike, a City Bag for the urban shopper … In the past, customers have chosen accessories with the help of Hase Bikes dealers on the basis of detailed price lists for the various models.
But we've now made the whole process much easier: under www.hasebikes.com, Hase Bikes now offers a con- figurator. With a few simple clicks, you can choose a model and add the desired accessories or features. Incompatible options are not shown. This means that you can find out right away whether your spe- cial wishes can be met.
A double dose of iron Nicholas Garwood is a 15-year-old South African who happens to have cerebral palsy with spasticity. And a dad whose favorite pastime is competing in triathlons – especially the Ironman – with his son on the PINO. We met with Team Garwood at Ironman South Africa 2014. 10 PINO Nikki sits on the front seat of the Pino, his Team- Garwood jersey flapping in the wind. He smiles and gestures with excitement, shouting,"Go, Dad, go!" Anyone who gets to know Nikki – as we did during our visit to South Africa – can't help noticing how boundless his energy is. And how much motivation someone like him can bring to a team.
Nikki has a way of expressing emotion without reservation. And a contagious love of life. In this respect, his handicap is secondary. His condition, which was caused by brain damage from a lack of oxygen in the womb, has affected his mental development and the muscle coordination of his arms and legs, but Nikki is able to speak and read … and is a whizz on his iPad.
His father, Kevin, who is now 51 and devilishly fit, quit his job when Nicholas was just 3 years old. He wanted to have more time for his son. And it wasn't long before the two of them were inseparable. But something was still missing."I always thought how nice it would be to do sports with Nikki," said Kevin. "But the question was how?" His pastor's wife sent him a video about an American father and son who compete in triathlons."That was a revelation! I asked Nikki if he wanted to do something like that with me, and he said,'You bet I do!'" That's when father and son became "Team Garwood".
Kevin began training.
Initially with little success. Then Nikki started riding along in a large jogger that converted into a bike trailer. This allowed them to train together – and the motivation that Nikki con- tributed was enormous. The bike trailer wasn't an ideal solution, but the team didn't give up. They competed in short-distance duathlons (running and cycling) and triathlons (running, swimming, and cycling)."It wasn't until we found the Pino that we became a real team on the bike," beamed Kevin. "The tandem works perfectly for us: it's built to sup- port Nikki's legs in the front, and we both have a panoramic view and can easily speak to each other.
I can even feed him when he gets hungry." Then came their first Ironman South Africa in 2012 – unfortunately with weather problems in the form of strong winds – and they weren't allowed
11 PINO to do the cycling leg. That did not deter them, however. They did Ironman South Africa again in 2013 and finished it to tremendous applause from the crowds. It's race day, April 6, 2014, and Team Garwood has a lot on their to-do list: 2.3 miles (3.7 km) of swimming in the Indian Ocean followed by 112 miles (180.25 km) of cycling, and a marathon run of 26.2 miles (42.195 km). 6:45 a.m.: shouts of joy from Nikki as his kayak is pushed into the water. 7:00 a.m.: the swimmers start. Kevin hooks the towline to his belt and sprints into the ocean. Soon, a red kayak can be seen meandering through the throngs of competitors.
They finish the swim in an impressive time of 1 hour and 15 minutes. Nikki's mother, Cheryl, helps him change clothes. Then he's strapped into the front seat of the Pino, snacks are packed, and off they go! In spite of its lightweight racing wheels, the tandem with two rid- ers has twice the weight of the individual competi- tors with their triathlon machines. And today, the headwind is extremely strong on some parts of the course. But Team Garwood pedals on."Go, Dad, go!" Nikki is still brimming with enthusiasm and keeps Kevin going strong. The two long uphill stretches on the 56-mile (90km) lap set them back.
"They have to make up time!" Cheryl calls out to us when we arrive at the cycling course. We cheer for Team Garwood as they race past. Nikki and Kevin give it their all once again on the second lap. But it's not enough: they finish the bike leg in 9 hours and 10 minutes, a mere 10 minutes over the cut off time, and are taken out of the competition. Kevin is unfazed, but not Nikki. He cries bitterly, and his parents have a hard time consoling him. Nevertheless:"They're both winners!" The encouraging words come from the commentator, who applauded Team Garwood even before the race began. The dynamic duo proved their status as true Ironmen long ago: in terms of team spirit and as an example of what can be accomplished by working together – with or without disabilities.
The family taxi In two minutes flat, the Children's Crankset (accessory) can be mounted to the PINO's front boom, transforming the tandem into a family taxi. Or into a touring tandem for big and small. Need a break from pedaling? No problem. The front rider has a freewheel, too. Two-part frame Whether you're all thumbs or a budding bike mechanic – a minute or two is all it takes to open the ultra-stiff frame joint. The two frame halves fit into practically any compact car. And once you've reached your destination, the tandem can be reassembled lickety-split. The cargo bike Load-carrying accessories turn the PINO into a cargo bike: the PORTER BAG up top holds 80 to 120 liters – plenty of space for the family's groceries! And when it's no longer needed, the bag can be folded and stowed behind the front seat.
The PORTER RACK under the seat can also handle heavy loads.And it's even available with a bag that keeps your cargo dry.Another important piece of the cargo set: the PORTER Kickstand pro- vides rock-solid stability when the PINO is parked.And the RACK's low center of gravity guarantees extremely stable han- dling, even when the bike is fully loaded. The tandem With the PINO, the sense of shared experience is intense: thanks to the positions of the recumbent seat and saddle, communication is direct and effortless. The comfort is unforgettable, and the panoramic view – from both seats – fascinating.With its short wheel- base, the tandem is almost as maneu- verable as a single-seater and is great fun for both riders.
And if that wasn't enough: the tandem also boasts a dizzy- ing capacity for luggage.
12 PINO | A L L R O U N D The for-everything-and-always bike The ALLROUND is the perfect bike for cycling duos – and for anything you need to carry from A to B.
Features · recumbent-upright combination makes communication easy · good visibility for both riders · freewheel: ideal for families and riders with disabilities · excellent maneuverability thanks to short wheelbase · suspension · two-part frame Technical data: Total length: 83"–93"(210–237 cm) Total width: 25"(64 cm) Total height: 41"–43"(104–110 cm) depending on seat adjustment Seat height,front: 25"(64 cm) Bottom bracket height,front: 24½"(62 cm) Wheelbase: 57"(145 cm) Two-part frame/front boom: 7005 alu- minum, with adjustable and replaceable dropouts in the rear (Patria patent) Max.load: 495 lb (225 kg) Features and equipment: Fork: suspension fork Spinner Grind 1, reinforced version with steel shaft Brakes: SRAM Guide hydraulic disc brakes Wheels: Rear: 26", Rim: double wall with double eyelets, Hub: Hase Bikes Tandem Hub, Spokes: Sapim; Front: 20", Rim: double wall with eyelets, Hub dynamo: Shutter Precision, Spokes: Sapim,Tires: Schwalbe Marathon 47×406 (front), 50×559 (rear) Gears: Shimano Deore 27-speed derailleur, Front derailleur: Microshift FD-R539 cold- forged, Microshift bar-end shifters and Herrmans Ergo grips Crankset/bottom bracket: Hase Bikes crankset for tandem with integrated free- wheel mechanism, Rear: 170 mm 28-38-48 tooth, left 36 tooth; Front:165 mm 38 tooth Lighting system: Hub dynamo: Shutter Precision,Taillight: B &MToplight Flat Plus, Headlight: AXA Pico 30-T Steady Auto, LED, standlight Fenders: SKS black matt Luggage rack: Racktime Addit, Max.
load: 66 lb (30 kg) Kickstand: Humpert double kickstand Weight: 55 lb (25 kg) Colors: RAL 3002 Carmine Red matt/ powder-coated, front boom black anodized with length-adjustment markings 13 PINO A L L R O U N D
Practical STEPS for more mobility Few people have known the PINO for as long as bike dealer Monika Schwarz. As a HASE BIKES partner for the past 20 years, she has followed the development of the tandem from the very beginning and has been riding her own for many years.We asked her to test-ride the new PINO STEPS for us. 14 PINO | S T E P S Who better to test our Pino Steps prototypes than experienced bike dealer Monika Schwarz? The 46-year-old has always had a passion for anything with wheels and pedals – including adaptive cycles for special needs riders. She even worked in our manufacturing facility for several years.
So when, in the spring of 2015, we walked into Fahrrad Claus – the bike shop she runs in Trebur with her compan- ion, Oliver Claus – it was actually a visit to old friends. "The Pino is now a bike that can be – and is – used for many different purposes," she explained soon after our arrival. She knows all Pino model years and is familiar with the many options available for adapting the tandem to individual needs and wishes. The Pino has always played a role in Monika's life – it was there when she needed to transport her ill sister, when she met Oliver, when she taxied her kids around, and when- ever she needed to transport large loads.
For Monika, the new Pino is the most versatile family-touring-cargo-everyday bike possible."In all my years, I've never seen a cargo bike with this much
15 PINO | S T E P S carrying capacity," said Monika. Be it produce, pet supplies, or paint cans – the Pino can handle cargo of all sizes. And the new Shimano Steps e-bike system has no problem with heavy loads."The ride is smooth, and the motor provides good support," observed Monika, approvingly. "Everyone I've shown the bike to has also been amazed at how seamlessly the e-motor is inte- grated into the Pino frame." And on shopping trips, the pedelec has practically as much cargo capacity as a car. "Even when fully loaded, I never have to huff and puff up hills." And it's not just the unfolded Porter Bag on the front seat that makes load-lugging a piece of cake: the Porter Rack under the seat handles heavy loads like a breeze.
From bottles to bulky boxes, the new Pino packs it in. Monika stows a tray of vegetable seedlings under the front seat.
"The fact is, I no longer need a car in the city," she said with a proud smile. "A few weeks ago, I even used the Pino for transporting an injured pas- senger!" Monika's son Darius had hurt his foot and wasn't allowed to walk or pedal. So she taxied him around in the front seat of the Pino. "Thanks to the extra power from the motor, I even enjoyed it." She also loves the new kickstand. "It folds away automatically when you start riding, and it's rela- tively effortless to engage, even when the tandem is fully loaded." And the best part: when parked on its stand, the Pino is as steady as a rock!
"The Pino with e-motor is my absolute favorite bike," confessed Monika. "It used to be my kid-taxi, but now it's my go-to bike for every errand and destination." The best part is: "Since we've had the e-Pino, even Darius is crazy about shopping. Which frees up more time for me …," she said, smiling. "Is that the new vegetarian bike?" joked a passerby, noticing the colorful assortment of vegeta- bles we had brought along for lunch. Catchy, but that would be a much too one-sided name for the multitalented Pino Steps.