JICA -FRIENDSHIP Project - Project on "Future Researchers at Indian Institute of Technology Hyderabad to Enhance Network Development with ...
Page content transcription
If your browser does not render page correctly, please read the page content below
BROCHURE

                                             (DRAFT ver. 1.1, as of Aug 4th 2014)

           JICA –FRIENDSHIP Project
           Project on "Future Researchers at Indian Institute of Technology
           Hyderabad to Enhance Network Development with Scholarship
           of Japan"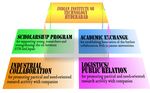 About Project
  Back Ground:
  India is realizing tremendous economic growth in recent years with more than 8% annu-
  ally. Human resources particularly in science and technology is key to sustain and acceler-
  ate Indian development. Establishment of first Indian Institute of Technology (lIT) at
  Kharagpur in 1951 made a historical beginning of high quality institution of technology, fol-
  lowed by six other IITs, at Bombay, Madras, Kanpur, Delhi, Guwahati and Roorkee.
  Encouraged by the success story of IITs, and in order to meet the pressing need of more
  high quality graduates, the Government of India (GOI) has established from 2008-09, eight
  new IITs, at Hyderabad, Indore, Gandhinagar, Patna, Bhubaneshwar, Jodhpur, Ropar and
  Mandi with aiming at further socioeconomic development and meeting expectation from
  industrial sectors.
  Based on the commitment in August 2007 between both Prime Ministers of India and Ja-
  pan, collaboration between lIT Hyderabad (IITH) and Japan has started. This collaboration
  will assist IITH for research and studies in identified areas, Construction of certain build-
  ings and purchase of identified equipment for high-end research. There shall be intensive
  exchange of human resource at various levels by receiving guest lecturers and scholar-
  ships for the students.
  Besides the ODA Loan, it is proposed that the Government of Japan (GOJ) will contribute
  substantial amount as grant for fac-
  ulties and students for pursuing joint
  research by receiving Scholarship
  for Japanese Universities. It is envis-
  aged that this grant is crucial to de-
  velop innovative technologies and
  do cutting edge research at the fron-
  tiers of science and technology.
  Moreover, personal interaction at
  various levels of faculties, industry
  experts and students, shall coopera-
  tively help develop tremendous intel-
  lectual capital.
  As a result of promise for grant assistance "The Project for Future Researchers at Indian
  Institute of Technology Hyderabad to Enhance Network Development with Scholarship of
  Japan" (FRIENDSHIP Project) was initiated from 2nd January 2011 for a period of 8 years
  till 31st of March 2020.

  Proposed Purpose & Main Activities:
  The overall goal of the Project is to contribute to the further development in the educational
and research activities of IITH through the world-class research network between IITH and
higher education institutions & industrial clusters of Japan, whereby both can establish edu-
cational and research excellence in the field of science, technology and engineering in the
future.
Academic experts from both countries
identified the following five areas
where India's needs match Japan's
strengths.
(1) Environment & Energy
(2) Digital Communication
(3) Design & Manufacturing
(4) Nano-technology & Nano-science
(5) Civil Engineering

The purpose of the Project is to enhance research network between IITH and first rate higher
education institutions & industrial clusters of Japan through the interaction of human re-
source in educational and research activities between IITH and Japan and also
(1) To offer the scholarship programme for IITH graduates to study for PhD degree (Including
Master's, if necessary) in Japanese universities, in the field of science, technology and engi-
neering.
(2) To promote the interaction in human resource of educational and research activities be-
tween IITH and Japanese first rate higher education institutions through the fellowship pro-
gramme.
(3) To promote the interaction in human resource of educational and research activities be-
tween IITH and Japanese industrial clusters through the fellowship programme.

The expected output from the above activities are that:
(1) IITH graduates with Japanese PhD degree, faculties and researchers would contribute to
educational and research activities
(2) Establishment of interactive relationship between the first rate higher education Institu-
tions of Japan and IITH
(3) Establishment of interactive relationship between industrial clusters of Japan and IITH

Activities carried out (as of June 2014):
As part of the proposed activities of the project, the following activities have been carried out
during the past 3 years from the commencement of the project.

Academic Exchange:

                           One of the most eminent personalities in the field of science &
                           Technology in Japan, Prof. Anzai, who is President of JSPS and
                           also President of Japanese Advisory Committee on IIT Hyderabad
                           has visited IITH and interacted with Director, faculties, deans, Re-
                           searchers and students to understand the requirement of IIT Hy-
                           derabad and has extended his full cooperation both as President
                           of Japanese advisory committee and also JSPS in furthering high
       grade research at IITH. Another eminent personality who visited IITH is Prof. Jun Mu-
       rai also known as "Father of Japanese Internet". He visited IITH in 2013 and has
       identified the area of "Digital Fabrication" as the research area where he would like to
       contribute to IITH.

       During the past 2 years several workshops/ lectures and
       few seminars were conducted coinciding with the visit of
       professors and researchers from various Universities of
       Japan.

       Also, during the past 2 years IITH side has signed MOU
       with 3 Japanese Universities which are The University of
       Tokyo, Ritsumeikan University and Osaka University.
       IITH side is looking forward to have MOU's with more
       Japanese high rated Universities for collaboration in re-
       search and education.

       In October 2013, a mission with 12 members headed by
       Director, IITH, Prof. U.B.Desai visited 7 Universities in
       Japan to further the collaboration in the field of research,
       academics and related activities. Apart from the mission
       which went along with Director, IITH individually about
       20 IITH faculty have visited during F.Y.2013-2014 their
       research counterparts or visited various universities des-
       ignated to find research counterparts to further their re-
       search activities. The result of this activity was a huge
       success leading to some active research collaborations
       especially in the fields of Energy, material science, civil
       engineering and nanotechnology. Also about 7 faculties
       from Japanese Universities visited IITH for discussions
       to identify/ further research areas and activities.
Industry Collaboration:

     Project has received about 23 missions during the past 2
     years spanning into various fields like Japanese Industry,
     Japanese Universities, Japanese University students, Japa-
     nese professors and also Japanese Media and Government
     officials.

     Project has also supported workshops seminars organised by
     Japanese Industry in IITH for improving relationship between
     Japanese industries and IITH.

     The Project side has also arranged meetings with several
     Japanese companies in India for interaction with IITH faculties
     to cooperate in the field of research and also to recruit IITH
     students in their organisations. The biggest achievement for
     the industry interaction is the meeting of several big Japanese
     companies operating in India with IITH facilities to facilitate
     introduction of IITH and various faculties available at IITH.

     Presently IITH is in the process of building collaborations or
     have active collaborations started with several big Japanese
     companies ( Names withheld for NDA).

JICA-FRIENDSHIP Scholarship Program :

     A total of 6 students were sent to various Japanese Universities during the year 2012
     followed by 9 students in the year 2013. For the year 2014, total number of students
     expected to go to various Japanese universities is about 15.
     The project side has organised Japanese Academic Fair in the month of October,
     2013 to promote Japanese Universities to IITH students and also to announce schol-
     arships to IITH students for the year 2014. This event was a huge success with about
     300 + students and faculty participating and sharing their views and enquiries with the
     university booths installed, interacting with the 3 students who are now studying in
     Japan on JICA scholarship and also learning from the poster session organised at the
     event.
Activities planned for near future:
After the completion of the initial 3 years of the project, IITH and Project side has been able
to identify key areas where the project activity needs to be concentrated and has devised a
plan of action for the next 3 years to achieve the final goal set for the project. Some of the
key activities planned include strengthening human resource network between IITh and
Japanese Universities by way of encouraging them to visit each other more frequently , or-
ganise joint workshops and seminars at both IITH or in Japan, and in the form of special
events, conferences, seminars for IITH to interact with Japanese companies and invite them
to IITH and encourage Japanese companies to have academic and research collaboration
with IITH and also recruit IITH graduates in Japanese companies. These kind of activities
will leverage the understanding between IITH and Japanese companies and pave way for
successful cooperation for mutual benefit.

Organising Japanese Academic and Industry fairs at IITH to provide a platform for Japa-
nese Universities to advertise their courses for IITH students and also Japanese companies
to interact with students and faculty to understand each other better and identify mutually
interested areas for cooperation.
Organising Human Resource Forum events in Japan and India to promote IITH to Japanese
companies and Media and create a platform for the JICA scholarship students presently
studying in Japan and IITH graduates in India to find employment in Japan / Japanese
companies.
Inviting eminent professors and researchers from Japan on the request of IITH to promote
research in new technologies which would make IITH a world class research organisation in
a shorter span of time.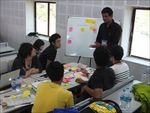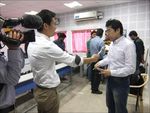 From the pen of JICA-FRIENDSHIP scholarship students
My life in Japan

                                    I find it interesting to share my experiences in Japan but ironically at the same time I also
                                    felt the difficulty to pen down the moments. After giving a deep thought I realized that after
                                    one and half year I got very used to my Japanese life. I became quite adaptable to every-
                                    thing here, which causes an inability to identify the differences. The credit goes to the peo-
                                    ple around me, who eased my transition from an Indian to Japanese. But when I retrieve the
                                    experiences of my life in India & compare them with my current life, I can visualize the
                                    contrast and similarities.

   Mohit Joshi
   Doctorate Student-2nd year       I graduated from IIT-Hyderabad, India before joining the doctoral course in Kyoto Univer-
                                    sity in Oct 2012. Since then it's a great experience to learn research work at Kyoto Univer-
   Deptt. of Materials Science      sity. The emphasis is always on the discovery of fundamental aspect of research, in an or-
   and Engineering                  ganized and systematic way. I choose to research on Mechanical properties of Magnesium
   Kyoto University                 and its alloys in Tsuji-Lab of Department of Materials Science and Engineering. I preferred
                                    to work on Magnesium alloys since they are the lightest structural materials, which can
                                    have

a high impact on improving fuel economy of various vehicles. The lab activity which I admire is brainstorming discussions
that stimulate critical and independent thinking toward research. I am impressed with the high amount of attention given to all
small details involved in experimentation to ensure the quality of research. Kyoto University provides a favorable atmosphere
to nurture one's research skills under the supervision of renowned professors. My doctoral supervisor Prof Tsuji is internation-
ally recognized for his research work. He is also an inventor of a deformation process Accumulative Roll Bonding that is
widely popular in respective research community. With world-class research facility and cooperative lab members, it's a good
opportunity to excel my research skills.

I am very fortunate to get the chance to live in Kyoto. It is one of the most clean and beautiful cities of the world, which feels
like the heart of Japanese culture, has many Shinto shrines, Buddhist temple, palaces and beautiful gardens. In fact, Kyoto is
the cultural capital of Japan. One of the famous temples of Kyoto is Kiyomizu-dera, it has Sanskrit inscriptions on a stone tab-
let that is a beautiful evidence of ancient links between Japan and India. The practice of removing shoes when going indoor
highlights a common characteristic of our Asian tradition. I discovered the old shrines and temples in the middle of modern
business centers, which sets the example of preserving culture with modernization. I felt that Japan is also the country with
many hidden surprises like such an advanced country but still there is absence of 24 hour ATM services or no acceptance of
credit card at many convenient stores. One can also find out that many jobs in Japan have their own specific dress codes and
uniforms. In Tokyo, during office hours the metro trains are so crowded that the railway staffs are employed to stuff the pas-
sengers inside the coaches. But at the same time metro trains are amazingly safe and highly efficient. In reality, Japan has ex-
cellent public transport systems. It is also a very safe country with very low crime index. Often people will leave their um-
brella anywhere outside since nobody takes it and even some times people forget to lock their cycle or apartment. Such habit is
quite common here, which is a disadvantage to foreigners living in japan, because when they return back to their home country
they can easily become careless. One can also feel that Japan is an extremely time conscious society, people and social sys-
tems are highly punctual. Consequently, everything works in proper time form public transport to pizza delivery.

The people of Japan in general are very polite, kind and warm-hearted. I remember the incident when one elderly person at a
railway station in Kyoto helped me. I was new to the city and I had to go to Osaka by train. I find it little difficult to locate the
ticket vending machine at a railway station. I was at one of the subways to the station and unaware of the station map and di-
rections. I asked about the ticket vending machine from a senior person who was coming out from the station. I thought that he
would just point out the directions where I can go and look. But instead he took me to the ticket vending machine, which was
quite far. Then he helped me in finding the correct fare and buying the ticket out from vending machine. At last he dropped
me near ticket entrance gate after confirming the correct platform number for train from the stationmaster. Another similar
incident happened during my first visit to Tokyo. I was again rescued by a Japanese lady who noticed me puzzling at Shinjuku
JR station. Such acts of kindness are very common in Japan. Indeed the basic fabric of Japanese society is composed of hon-
esty, hard work and respect for each other, which provides it high strength to endure all catastrophes and ability to recover
faster and stronger.
Kyoto, Japan
My experiences in Japan

                                   Unlike following the trend of students seeking higher degrees flooding to-
                                   wards western countries, meanwhile I choose to be coming to Japan. It
                                   might sound little strange but it isn't as we think about it. It's just we are not
                                   much aware of the R&D (research and development) in Japan because of
                                   the language barrier. The answer to question why Japan I would say Why
                                   not Japan the third largest developed economy in the world with world class
                                   facilities known for its sincerity and hard work. When I choose Japan I
  Saichandra Teja                  made up my mind to make the most of it as it's a best time to broaden the
  Doctorate Student-2nd year       horizons and reach out to learn about the world. Entering Japan I faced new
  Division of Electrical. Elec-    challenges, culture shocks which took a while to sink in. my lack of ability
  tronic and Information           to communicate and the complete strangeness of this new culture was very
  Engineering                      isolating where in the short Japanese family home-visit program of JICA,
  Osaka University                 anytime medical facilities were a great help. I started to learn more about
                                   Japanese culture and try to fit in with actual everyday life.
The astonishing fact of their discipline and politeness is beyond belief! Already more than a year in Japan
I can't imagine how fast the time is flying.
 As one of the very few foreigners in my lab of university with cutting edge research facilities was diffi-
cult to fit in the work environment because of language barrier, sempai-kohai (senior-junior) and was
amazed to me how relationship-oriented Japanese people are. Well in the global corporate world it's the
same professional way. Through an Apprenticeship program got an opportunity to work in a medium
scale Japanese company as Vice-President to understand the work culture. Through this I had a chance to
look at work environment of a Japanese company closely. I have grown respect towards the Japanese
people for their dedication, sincerity, hard work. Being a member of the international student association
at the university we get to meet fellow students from different countries understand their culture and so-
cialize.no matter what the journey in Japan I am loving it even with its difficult challenges on one side to
the dedicated astonishing culture on the other side will better me as a person, make me stronger, and
make a big impact in my future life. I would thank JICA どうもありがとうございます。 For giving
the opportunity and in future would like to be a person who is a bridge between India and Japan and con-
tribute in all the ways possible for its development.
Jai Hind.
A new start to life

                                       After spending more than eighteen months when it comes the time to put my experience
                                       down about life in this sunrise country, it really takes time for me to decide which experi-
                                       ences to share as by this time I have gathered a lot of memories about this country…. and
                                       to my pleasure all these are my happy day's memory!! Yes, that's where I believe the
                                       magic of this country plays role. The so called hard to penetrate introvert Japanese society
                                       know how to welcome a stranger with all its warmth, care and positivity, that often a
                                       stranger like me starts thinking this country as her second home.
                                       When I opted Japan as my higher study destiny, it is needless to say that the vast scientific
                                       research with cutting edge infrastructure made me attracted to this country. The abundance
     Tanima Biswas                     and easy access to scientific resources made the research life so easy. Beside those aca-
     Doctorate Student-2nd year        demic facilities the most important thing to learn here is the work culture and discipline.
     Department     of   organic       Research training under such work culture constructs a strong base for future work life, and
     chemistry                         there can be nothing better than assimilating this disciplined life style up to the highest ex-
     Waseda Universtiy                 tent. In today's international context Japan is a leading country, running at par with the post
                                       modern world, but still what I personally adore about this country is that there is clubbing
                                       of modern fashionable culture with intense, ethically enriched traditional Japanese culture.
                                       Being an Indian I often find many underlying similarities between both country's culture
At the end of the day I have received something more from Japan, than only education which comprise of some feelings of
happiness, satisfaction and really loving friends. It is worth for me to spend few golden years of my happy life in the land of
rising sun and fun during cherry blossoms days will enforce me to revisit this wonderful country. Love Japan.

Life starts anew, I heard it many times from the guys who studied in foreign countries, in
particular the ones (countries) which have their own kind of cultural blend. I got to get it
here when I landed in Japan. You certainly have to start afresh when you join Japan. The
cultural mores and societal standards are different and stand on the other end when you look
from your own fixed position. Above all language problems, my bad, I started feeling suffo-
cation in the days of my inception here.
The beginning of my story may give you a feel that I am about to knock myself out of Japan,
but you are mistaken because here the life presents you challenge and everybody here is
more than willing to help to counter this challenge. "I will show you around and escort you
through academic procedures", says my tutor Yoshida San. "You´ll have a friend in me!"                  Mritunjoy Kamila
insists Gao San. A crew of local students is looking forward to becoming your buddy, to                 Doctorate Student-1st year
helping you adjust smoothly to their community. Shida San, Hori San, Maisuma San, Wu                    Department of Chemistry
San and many, many others are willing to go the extra mile so that your stay at the Univer-
                                                                                                        Tohoku University
sity of the Japan remains a memorable experience.
I am relishing myself here along with my studies. With some ups and downs in my research;
I am able to observe and scrutinize life closely and letting myself to become a better human

being. One just keeps on setting up the reactions and you never know when you get a good result, but when you get it, you
just start loving your life more and more. I must confess that research life here is little boring in traditional Japanese labs but
ours lab here is an exception. A maximum amount of leeway is given to we people in devising research plans and then
working over them. This is aiding a lot in developing a personality which is in sync with the modern ethos of independent
research. At the end I want say one word to you all and Japan, dōmo arigatōgozaimashita for this delightful and pleasing
research life.
Life in the land of rising sun

                                      It is an immense pleasure to write for JICA's first FRIENDSHIP project brochure. I am a
                                      doctoral student in the department of Advanced Mechanical Engineering at Ritsumeikan
                                      University. Here, I am working on development of advanced structural and functional ma-
                                      terials with an objective to develop a low Elastic Modulus Titanium based Biomaterial
                                      through powder metallurgy route. My supervisor and other researchers are well experi-
                                      enced and highly supportive. They always help, support, and encourage me in my research.
                                      Also, my Japanese and International friends in my laboratory always extend their generous
                                      help to me in my experimental work which makes my life much easier.

                                      As most of us might be knowing that Japan is one of the most expensive country in the
     Bhupendra Sharma                 world, as I was lucky to have JICA and IIT Hyderabad collaborated scholarship
                                      (FRIENDSHIP project, which is supporting me to enjoy a comfortable life in Japan.
     Doctorate Student-1st year
     Dept. of Advance Mechani-        In Japan, life is full of fun with adventurous experiences. Many kinds of tasty and deco-
     cal Engg &Robotics               rated dishes always attract me. Japanese people are very kind, honest and very helpful. I
     Ritsumeikan University           always like to visit Japanese shrines and temples. Initially, I felt alone here because of non-
                                      English speaking people, but later on after learning survival Japanese language I am enjoy-
                                      ing real Japanese life and Japanese culture and adopting it. Therefore, it is always recom-
Japan is very secure and safe place for foreigners, but we have to remember one thing, that rules are rules here; either accused
is Japanese person or a foreigner. So I am learning and following all the rules and regulations. Here, people are much disci-
plined and dynamic in their professional life, and I have to learn a lot from them. I want to share a personal incident happened
with me, which became a reason to be feel safe and secure here. One day I lost my wallet in the campus. I was very much wor-
ried as it had cash and other very important stuff. Immediately I rushed toward my lab and explained my problem to my col-
leagues. They told me with confident smiles just go to the campus security office and you will find your wallet. As I reached
the security office, I was surprised to see my wallet with all the stuff and counted money. After ensuring that I am the real
owner of the wallet, they returned it back to me with a greeting "ありがとうございます(Aarigato gozaimasu).

I joined here as a PhD student at the department of chemistry in the Graduate School of Sci-
ence, Osaka University from 1st October. My research interest is in the area of co-ordination
chemistry.
Starting a new educational journey in a country with different cultural and social aspects,
plus a different education system was a little bit difficult job, but with Ms. Junko Yamanoi's
(JICA Co-ordinator) valuable advice and guidance, I started to look everything from a dif-
ferent standpoint and it proved fruitful. With this, I started to get accustomed and interested
in the culture, in the social communication. Furthermore when you have a group of people
always ready to help you & teach you the new aspects of research life, and always with you
when you face any research problem; you will start enjoying life here. Igashira sensai, my
Associate Prof. always encourages me to keep on going instead of many failures and her               Payel Laskar
inspiring remarks like "you will cherish these failures whenever you discover something
                                                                                                     Doctorate Student-1st year
new", will stimulate anyone and I was no exception. My junior, B4 student Ichikawa kun
said "lets learn English and Japanese together" & Yasukawa kun said "Whenever you have               Department of Chemistry
to set up a new reaction, I will be always available for you".                                       Osaka University
With lots of up and downs in my research now, I have started to enjoy the life here and am
hopeful of learning about new fields of research in this short span of three years which I can
 will have lots of experience in the different aspects of chemistry along with expertise in various equipments. As I want to pur-
 sue my career in academics where research and teaching coexist, this PhD period will enable me to get the confidence to start
 as independent researcher.
Furthermore the interaction between Indian student and Japanese student will definitely help to improve the bilateral co-
operation and we can generate a common platform and can invent new methodologies and new fields of research together.
Finally I am very grateful to JICA to give me such an opportunity to learn and enjoy my research life in Japan.
From An IITians to KEIO-jin
                                It all started from Mumbai's CHHATRAPATI SHIVAJI INTL. AIRPORT.
                                It was the night of 8th September 2013 and I was taking leave of my family
                                and friends to go to a whole new country called JAPAN. It was my first trip
                                abroad and, in fact, my first Airplane journey ever. I was very excited but at
                                the same time a bit anxious. I was going to a place very different from India,
                                culture-wise and of course language-wise. I was not sure whether I will be
                                able to adjust. And thus, my whole flight experience was spent contemplat-
                                ing about Japan and its culture.
   Chaitanya Kulkarni
                                I had, previously, read about Japan and the highly polite nature of Japanese
   Master Student-1nd year
                                people. But first thing, that really surprised me, was when I saw the ground
   Department of Mechanical
                                crew at Narita Airport doing the "Saikeirei" (最敬礼 – the Japanese tradi-
   Engineering
   Keio University
                                tional bow) at the time of arrival of the airplane. At that moment, I realized
                                that I was about to enter a very special place. But the anxiety was still there.
The JICA staff at the airport was surprised when I said "Konnichiwa. Hajime Mashite" (Japanese way of
greeting someone the first time). And from there, my journey in Japan began. Everything in Japan was
amazing. From the super-clean streets to the
sky-high buildings, from the cars who line up for signal even at 3 in the morning to the queues of people
waiting on the train station, from the extremely expensive malls to the reasonably priced 24-hour conven-
ient stores "Kombini"s ("reasonable" according to Japanese standards :P :D). I was feeling amazed at each
and every step. Ofcourse, communication was bit of a problem but any Japanese, I was approaching for
help, used to try his/her best using smart-phone apps or hand-actions or any other way to communicate. All
the anxiety, I had, was gone in first week itself.
Then came the big day. The "Welcome Ceremony" at Keio University. This is the day, I became part of the
prestigious Keio University of Japan, starting my Masters' studies in the department of Mechanical Engi-
neering. It all began with a mesmerizing performance of the "Keio Anthem" by students and an inspira-
tional speech from President and Vice-President of the University (though only some of it was in English
J ). I felt proud to be part of this great institute. News of starting the semester with the summer camp visit
to "Nippon Steel factory" was a pleasant surprise. With my extremely limited Japanese language skills and
some English, I managed to make a lot of friends. Not only Japanese but I also made many French, Bur-
mese and German friends.
Fall semester started and the work-load increased but, thanks to the research-oriented way of teaching and
my very kind and always ready-to-help supervisor, I was never under any kind of stress. Friendly discus-
sions with peers in meetings, during lunch and on coffee in cafeteria made me think more openly and in-
sightfully. As I am in an International graduate program, I got to interact with students from varied back-
grounds and exchange cultural stereotypes. Along with research, weekend trips to parts of Tokyo, Nikko
world-heritage sites and parties with lab-mates just added to all the fun. The experiences, of having "gohe-
mochi" (rice cakes) in Iida city (Nagano prefecture) and "hakata ramen" (Noodle soup dish) in Fukuoka
(Kyushu prefecture), were something to be cherished for a long time. Additionally, the local cultural ex-
change events organized by JICA Yoke desk provided much more insight into the Japanese-culture.
Currently, I am in my second semester at Keio and I am quite sure that my future stay in Japan will be just
as fruitful and filled with amazing experiences as it has been till now. But I can say, now, that I have trans-
formed from being a proud "IITian" to being a proud "Keio-jin".
Sumimasen (すみません )

                              Myself Swapnil Ghodke, PhD research scholar in Department of Crystal-
                              line Materials Science at Nagoya University. I have graduated from IIT
                              Hyderabad with major in materials science and engineering.
                                      In my masters, I have worked on development of ecofriendly pie-
                              zoelectric materials for vibration sensor applications topic under guidance
                              of Prof. Ranjith Ramadurai. This work was also part of "Information Net-
                              work for Natural Disaster Mitigation and Recovery Project" (DISANET)
                              project. My research interest is "Investigating and developing high per-
                              formance energy harvesting materials". My research topic is the prime mo-
 Swapnil Khodake              tivation to choose Japan. After M.Tech I joined Ikuta laboratory, Nagoya
                              University, through JICA- Friendship program. Here, I started my research
 Doctorate Student–1st year
                              work on thermoelectrics materials, under the guidance of Prof. T. Takeu-
 Department of Crystalline    chi. My PhD work is focused on finding high performance ecological ther-
 material science
                              moelectric materials and suitable ways to enhance figure of merit.
 Nagoya University                    My valorous journey began in Oct 2013, in a completely novel
                              world with new language, different culture, exotic food, inexperienced cli-
                              mate, and in short it was new birth of Swapnil San in the land of rising
        Sun. World recognize Japan for technology, research, unique culture, and especially for their
inherent love for peace, discipline, kindness, and honesty. One best thing is their love for the nature.
It's not exaggeration to say that I am unable to differentiate between "People live with the nature or
nature live with the people".

        The lab culture, it's an exciting and most important part of my life in Japan. Currently I am the
only international student in my lab. The interaction with lab meets is quite fun; we enjoy faltering
English or Japanese for communication. There is one major change in lab culture, all the seminars or
group meetings are being tried to be conducted in English. I really appreciate the hardwork everyone
does, as many a time it's round the clock work. Apart from our busy life, we have enjoyed parties to-
gether and particularly when faculties are around. Although there are some problems in communica-
tion, but everyone has supported me for getting adapted to this new culture, and new life.
        I have visited some of the finest industries in Nagoya like NKG insulators and Chubu Electric
Power through Factory visits, organized by Nagoya University for International students. These visits
cherished me glimpse of elite management, technology, and the quality of work for which Japan is
known for. JICA Chubu provided nice opportunities to meet and interact with JICA participants came
from different countries by inviting me in various cultural and formal events. I am exploring Nagoya
city by visiting Nagoya Castle, Toyota automobile museum, City science museum & planetarium, and
botanical garden specially in cherry blossom. Yet, there are still many places in my list to visit.
        I would not say it was very difficult, but it wasn't that easy to get adapted with the most chilled
nights, communicating with the people or learning cooking. All these things were made simple by
enormous support from JICA officials, my friends, my sensei, and my parents. I am sincerely grateful
to FRIENDSHIP program, Nagoya University, and my Dr. T. Takeuchi Sensei for giving me this op-
portunity to pursue my dream. I will do my best, for making a contribution to scientific community
and for betterment of our society.
Nippon: A place to learn from it

                                      Nippon, a place which teaches everyone in the world who has a
                              closer look on her is that "Learn from the past, look to future, but never
                              give up". Personally was so much fascinated to be at here from very long-
                              time not only for being developed country, but for their work culture and
                              ethics, and most important things being never missed to espousing their
                              traditions, customs and values though developed. I am gratefully to JICA
 Elango Chandiran             for providing the perfect opportunity to be here. At first to settle in Japan,
 Doctorate   Student–   1st   I never felt any problem because of the overwhelming support from the
 year                         JICA, my Laboratory members, University and Japanese people. It made
 Department of metallurgy     me to feeling like I have just travelled some distances in aircraft to start
 Tohoku University            my next day as usual I used to do in India.

. They had arranged everything right from my accommodation to furnishings, assisted to complete reg-
istration formalities at prefecture office, arranged for tutor to take care of my day-to-day activities and
now a Teaching Assistant to assist my experimental work. In the research front, the depth of work to
understand the fundamentals in order to develop new range of materials for application oriented is
something astonishing. The industries provides strong support for the research activities in the Institu-
tions and the mutual assistances between them are commendable. I believed that, as professors will be
very busy always and it is difficult to discuss about my research work. However, realized that is not in
most case. My supervisor always will be there to sort out my issues be it experiment or anything else. I
had been introduced to in undergraduate about Japanese management tools like 5s principles, Kaizen
etc., but here I observe that these are followed almost everywhere be in japan and it seems to be a way
of one's life in Japan and felt its importance to live a happy professional life or personal one. The sup-
port from my laboratory members are overpowering from teaching how to use to chopsticks to train
me to complete my first half marathon run (I never run more than 2kms in my entire life till then). In-
deed very much thankful to my supervisor and lab mates for engaging me in the week end activities
like baseball, fishing, trekking etc., .Another thing is learning the Japanese language offers relishes
and helps to realize myself about the childishness in me at this age. I can observe high similarity in
grammar pattern between Japanese and my mother tongue Tamil. One thing I like so much in Japan is
its sea of omiyage (souvenirs) as each one offers its own meaning to it. In short, Life in Japan offering
me a great feeling that I am living in my hometown which I missed while I am in India. Thanks to
kind-heartedness, politeness and ever smiling face of the Japanese people and wonderful surroundings
in around to me in Japan.
Cultural shocks in Japan
                                  Any journey starts with honeymoon period followed with many cultural shocks.
                                  These cultural shocks quantifies your passiveness towards your lovely country
                                  and its culture. Following the same track my journey started with multiple
                                  shocks, few of them are explained here.
                                   When I came to Japan, I was completely zero in Japanese. One day I was bicy-
                                  cling around the Mitaka. I was stopped by a police person and he asked some-
                                  thing to me. Since I was illiterate in Japanese so I was not able to understand even
                                  a single line of the Policeman. My first conversation was as below.

    Mahendra Kr. Pal                  警察      との 会話
    Doctorate Student– 2nd            警察:すみません、著と待てください。
    Year
    Department of Civil Engi-
                                      私:はい。。。。
    neering
    The University of Tokyo           警察:日本語は              いいですか?。

                                      私:日本語が食べません。。。。

                                      警察:ああh。。。。。。。:(

I was really embarrassed after this conversation, I couldn't understand what really had happened, but his expressions
were conveying the whole story.
The Shinjuku Station, The busiest station in the world spanned with 36 platforms. However Statistics are very
charming, but once you get down at this station, story reaches to the climax. Within 2-3 minutes you find yourself
into the mid of ocean of people dressed up as executives. Story doesn't conclude here. On the contrary, it gives you
another after-shock. If you start walking in corridor, you may end-up to some department shop, may to some other
railway line entrance. Most of the case, you may come back to same place after roaming around 10-15 minutes.
The crowd and pusher in JR lines is killing me. Though the frequency of trains in only 3 minutes, even it's very
tough to entrain yourself during these rush hours. Fortunately or unfortunately, every day I commute with brave heart
and amuse myself with enforced. All such wonderful experiences are enhancing my life in Japan.
In the spring vocation, I got an opportunity to visit the Kansai area i.e. Kyoto and Osaka and this opportunity has
bestowed me another cultural shock within the Japan itself. Once again I was illiterate in Japanese in front of Kansai
people. But the Kansai dialect really impressed me. I liked that more than Tokyo dialect.
The dressing sense of Kansai people is quite different as Tokyo people. In Tokyo most people wear only the execu-
tive colors but it is tough to count the number of colors in Kansai area attire. It is quite similar to apparel of incredi-
ble India.
I must say Kansai has craziest young kids ever I have met. I visited the Universal Studio. The car was full of kids in
which I was travelling. They were making unbearable sweet noise but we love these noise. As they got out of the
train, their parents started to take pictures. Suddenly they saw us and wanted to have pictures with us. They made me
to match my height with them, to do cheezzzuuu … and many other crazy stuff, which they were doing. I really
loved this. At least for that moment, I turned into a young kids with little maturity however the innocence was back
to me.
The unique aggregation of traditional and modern culture can be witnessed only in the land of rising sun. Please al-
low your beautiful eyes to snap such an awesome eye-pleasant blend of nature. Enrich yourself with all aspects of
experience with open mind. Never constraint yourself with Indians only, Please get connected with all international
communities.
JICA India Office : 2nd Floor, Dr.Gopal Das Bhawan 28, Barakhamba Rd. New Delhi 110001, India
Indian Institute of Technology Hyderabad : Ordnance Factory Estate, Yeddumailaram, Hyderabad
Japan-IITH Collaboration WEB site : http://friendship.iith.ac.in/