LONDONBEES - v LEICESTER CITY FC
Page content transcription
If your browser does not render page correctly, please read the page content below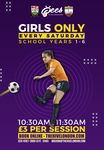 LONDONBEES
         O F F I C I A L   M A T C H D A Y   P R O G R A M M E   2 0 2 0 / 2 1

v LEICESTER CIT Y FC
      07 • 03 •2021
      K.O. 2:00PM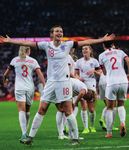 At the Heart of Our Community,
  with Community at Our Heart

    At Canons High School we are thrilled to be official supporters of
    the London Bees for the 2020/2021 Season of the FA Women's
    Championship.
    We believe in the importance of developing great partnerships
    that provide potentially life-changing opportunities for our
    students, confident that by engaging these young people
    partners will benefit too.

    If you are interested in seeing how over a thousand
    incredibly talented children and young adults can work
    with your organisation and, in doing so, develop new
    skills for lifelong learning then contact us on
    partnerships@canons.harrow.sch.uk today.

Shaldon Road, Edgware, HA8 6AN   Tel: 020 8951 5780   www.canons.harrow.sch.uk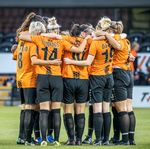 LONDONBEES
                                                                                                         AMBULANCE
 G3        G4                         G5         G5B                                                      ENTRANCE
           G4                          G5                                                                        G6                          G6

           LEGENGS W1-W6
           ENTRANCE
                                  W1
                                  W2
                                  W3               LEGENDS
                                                                         LEGENDS
                                                                           BAR
                                                                                                     W7 LEGENGS W1-W6
                                                                                                     W8 G6B ENTRANCE                         G6B
                                                                                                                                                        Respecting our
                                                                                                     W9
                                                    STAND                                                                                                 Neighbours
                                                                                                             STAND 66
              BT
           ENTRANCE
                                  W4 G5B                                                             W10               ENTRANCE
                                  W5                                                                 CONTROL                G7B        G7    G7
      G3
           S2 S1                  W6                                                                  ROOM
                                                                                                                                             G7B

                                                                                                                                      N4
                                                                                                                                      N3                Here at The Hive London,
                                                                                                                                      N2
                                                                                                                                                         we wish to minimise the

                                                                                                          STAND 66 (AWAY)
                                  BEES TERRACE

                                                                                                                                      N1
                                                                                                                                                          impact we have on our
            MAIN CAR PARK

                                                                                                                            TICKET OFFICE
                                                                                                                                                               neighbours.

                                                                                                                                AWAY
                                                                                                                                                         We respectfully ask that
                                                                                                                                                         when around our site or
                                                                                                                                                        in the immediate vicinity,
                                                                                                                                                          visitors dispose of their
                                                                                                                             BAR 66
 G2B                        G2B                                                                                                                          rubbish in the bins that
                                                                                                         G8B                                  G8B
                                                                                                                                                                are provided.
                                                                                                         G9C                                  G9C

                G1 E1 E2
                                                                                                   G9B
                                                                                                          E4 E5                                            Thank you, your co-
                G2   G2 G1
                                                 BUMBLE'S FAMILY ZONE        EAST STAND A & B               EAST STAND                                     operation is greatly
           B.F.Z ENTRANCE                                                               E3                     ENTRANCE
                                                                                                                                                              appreciated.
                                                                                       THE
                                                                                                         G9           G8
                HOME
                TICKET
                OFFICE                      FIRST AID                               HIVE BAR
                                                                                                 G9B G9              G8

LONDON BEES FC LTD                                                FIRST TEAM
                                                                                                                                              SAFETY NOTICE
Chairman: Anthony A Kleanthous                                    Manager: Lee Burch
General Manager: Natasha Kleanthous                               Assistant Coach: Sian Osmond
Property Advisor: Graham Slyper                                   Head Physio: Luigi Cerullo
                                                                                                                                            Spectators must not stand in seated
                                                                  Club Doctor: Dr Christian Kleanthous                                        areas. This is for your own safety
The Hive London, Camrose Avenue,                                                                                                            and that of others. You may also be
Edgware, HA8 6AG                                                                                                                                    obscuring their view.
                                                                  PROGRAMME TEAM                                                             Failure to comply with this Safety
Tel: 020 8381 3800                                                                                                                           Notice renders you liable to being
                                                                  Contributing Editor: Adam Rowe                                                 ejected from the stadium
Shop – Matchdays Only                                             Designed By: Rickesh Patel
Sponsorship:
                                                                                                                                            In the event of an emergency please
jmeir@thehivelondon.com                                           Regular Contributors: Adam Rowe &                                             leave the ground in an orderly
Ticket & Memberships – Option 5                                   Josh Palmer                                                                fashion by the exit gates indicated
Email: tellus@thehivelondon.com                                                                                                             on the diagram. You will be directed
                                                                  Image Contributor: Edward Payne.                                          to the gates by both the tannoy and
                                                                                                                                              the club stewards. Please do not
TRIAL REQUESTS:                                                                                                                             run, but leave as quickly as possible.
                                                                                                                                                          Thank you.
mdixon@thehivelondon.com
Website: www.londonbeesfc.com

From the Manager

  GOOD AFTERNOON
  EVERYONE AND I HOPE
  ALL OF OUR AMAZING
  SUPPORTERS ARE KEEPING
  WELL
  ahead of this afternoon's championship fixture with
  Leicester City Women.

  I'd like to wish all of our visitors players and   afternoon because Leicester are flying so
  staff a very warm welcome to The Hive              when we do get those chances we have to
  this afternoon. I'm sure it's going to be an       take them.
  entertaining match today!
                                                     Leicester are top of the league and rightfully
  I'm really excited for my first home match         so, they have an array of talent at their
  in charge, The Hive is a special place to me       disposal and are a team set up for the
  and it'll be an honour to lead the team from       FAWSL. However, I have complete faith
  the dugout at our home ground for the first        in the girls and know that we have the
  time. I have to give immense credit to the         quality to cause them problems. We need
  girls for their attitude in training over the      to continue our strong home form this
  last couple of weeks and I think everyone          afternoon, take the game to Leicester and
  saw that commitment out on the pitch last          do our utmost to take some vital points.
  Sunday against Liverpool. The scoreline didn't
  really reflect the match and we had them           We have four cup finals left and I know we
  pegged back in the second half for large           have our fans behind us every step of the
  periods. We didn't take our chances when           way.
  they came and ultimately were punished late
  on. That's something we have to rectify this       Keep safe and see you soon,

                                                                                      Sian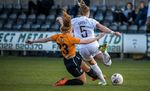 JOIN THE LIONESSES
         SUPPORTERS CLUB

      Get access to exclusive competitions,
   priority tickets and the latest England news.

TheFA.com/joinLSC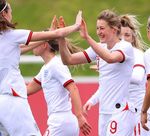 From the Captain

 HEY BEES FANS, I HOPE
 YOU'VE ALL BEEN WELL!
 AND WELCOME TO
 LEICESTER TO THE HIVE
 FOR TODAY'S GAME.
 I'm sure you've heard the news of Lee's departure as
 manager and we would like to take the opportunity to
 thank Lee for the amazing job he's done during his 2 years
 at the club, and we wish him every success in his next
 venture!

 Credit must also go to Sian and our back room staff for being extremely
 efficient in continuing on from Lee and keeping the squad on track for
 completing our goals this season. The girls have also reacted well as a squad as
 we look to finish the season on a high.

 We've had a mixture of results the last 2 games but our most recent
 performance is something we hope to build from. The girls performed
 considerably well against Liverpool and made it difficult for them to play
 through us, and we're hoping to do that again today against a strong Leicester
 side.

 Thank you for the continued support, we hope you're cheering us on at home
 today.

 See you soon,

                                                                          Mez
EVERY GOAL
EVERY CELEBRATION
EVERY MOMENT
EVERY TEAM
                             FREE
FOLLOW THE ACTION LIVE ON   faplayer.thefa.com
Palmer
     Josh                                  What's the
                                                Buzz?
                                                      It has been revealed that the FA Cup will restart from
                                                      31st March. Sunday 4th April will see one first round
                                                      tie, Kent Football United vs Enfield Town, postponed
                                                      from 13th December, as well as 17 second round ties
                                                      be played. The following weekend will see the third
                                                      round, whilst Sunday 18th will see the fourth round,
                                                      were all WSL and Championship sides, including
                                                      ourselves, enter the competition. The draw for round
                                                      four has thrown up some interesting fixtures – we
                                                      travel to Crystal Palace for a Championship London
                                                      derby, Leicester City will host Liverpool in another all
                                                      Championship tie, and Durham will travel to Everton.
                                                      Tottenham Hotspur, our tenants here are the Hive, will
                                                      travel to Reading, Birmingham City will host Coventry
                                                      United in a West Midlands derby, Manchester City start
                                                      their title defence at home to Aston Villa, Chelsea play
                                                      London City Lionesses, and Brighton and Hove Albion
                                                      entertain Bristol City. Manchester United will travel to
                                                      the winner of the second and third round ties between
                                                      Burnley, AFC Fylde, Sheffield FC and Sunderland,
                                                      whilst Arsenal will take on the winner of the second and
                                                      third round winners of Portsmouth, Cheltenham Town,
                                                      Crawley Wasps and Gillingham.

National Women's Soccer League (NWSL)
side North Carolina Courage have announced
the signing of Wales international and Reading
midfielder Angharad James. The player, who has
83 caps to her name, is currently in the final year
of her contract with the Royals, having joined
in 2019. She has previously played for Arsenal,
Bristol Academy, Notts County, Yeovil Town and
Everton.
Last week saw the announcement that
the Welsh Premier Women's League
(WPWL) will resume this weekend, after
having its' elite status reinstated. This
comes after all football in Wales ceased
at the end of December, both women's
and men's, as well as having its' elite
status rescinded in order to combat the
coronavirus. The competition restarts
this afternoon, with the Aberystwyth vs
Briton Ferry Llansawel tie kicking it off.
Next Sunday, and the following Sunday,
sees full rounds of fixtures to be played.

                                             The first legs of 7 out of 8 of the Champions League round of 16
                                             ties were played this week, with the second legs, and remaining
                                             first leg, to be played this coming week. In the fixtures this
                                             week, holders Olympique Lyonnaise Feminin overcame Danish
                                             outfit Brondby 2-0, with Chelsea defeating Atletico Madrid
                                             and VfL Wolfsburg beating LSK Kvinner of Norway by the same
                                             scoreline. Danes Fortuna Hjorring were brushed aside 4-0 by
                                             Barcelona, Manchester City beat Italians Fiorentina 3-0, and
                                             Bayern Munich claimed the biggest victory of the round so far,
                                             routing Kazakhstan's BIIK Kazygurt 6-1. The only draw, a 2-2,
                                             was played out between Sweden's Rosengard and Austria's St
                                             Polten. The only tie not played was Sparta Prague's visit to Paris
                                             Saint Germain, to be played on Tuesday.

The England national team played
their first match in 348 days on 23rd
February, overcoming Northern Ireland
6-0 at St George's Park. The behind
closed doors fixture was also the first
played at home by the Lionesses since
9th November 2019, when 78,000 fans
attended the 2-1 defeat by Germany
at Wembley. This comes after the side
featured in the SheBelieves Cup in
the USA last March, and an away trip
to Germany in October and visit of
Norway to Bramall Lane, Sheffield, in
December were both cancelled due to
the pandemic.
W: WWW.TICHEALTH.CO.UK || T: 0333 358 5111
OPEN 8AM TO 8PM, 7 DAYS A WEEK
Become A
Partner

      The best way to work with London Bees
      FC is to become a partner. Having an official
      partner status provides exclusivity for
      sponsorship rights in your chosen field for
      the minimum two year tenure. London Bees
      FC will help promote brand awareness and
      develop a long-standing partnership with
      your business aiding both parties to reach
      out to various stakeholder groups and
      ultimately grow the businesses.

      PARTNER BENEFITS INCLUDE:
      »»   Stadium perimeter advertising boards.
      »»   Matchday programme advertisement.
      »»   Match sponsorship.
      »»   Electronic scoreboard advertising at all
           London Bees FC league games at The
           Hive.
      »»   PR launch and web articles.
      »»   Use of Conferencing Rooms.
      »»   The Hive London corporate membership.

      TO SEE HOW YOU COULD BENEFIT
      FROM BECOMING A PARTNER, PLEASE
      CONTACT:
      JOHN MEIR

      E: jmeir@thehivelondon.com
      T: 02083 813800 ext.1030
One-Stop non-invasive cardiac investigation centre.
                                                                                         Our Private GP Service offers individuals and families a high quality service with
  For the management of all major cardiovascular conditions, including hyperten-
                                                                                        consultations at your convenience, expert medical advice, prompt test results, and
sion, ischaemic heart disease, arrhythmias, heart failure, valve disease and coronary
                                                                                                                         specialist referrals.
                                     risk factors.

    OUR HIGHLY QUALIFIED TEAM OF EXPERT PHYSIOTHERAPISTS HAVE LONG
 EXPERIENCE IN MEETING THE DEMANDS PLACED ON PROFESSIONAL ATHLETES                      DELIVERING STATE OF THE ART DIAGNOSTIC EQUIPMENT, TAILORED TO THE
 AND PERFORMERS. THEY CAN PROVIDE YOU WITH AN EXCEPTIONAL LEVEL OF                                   NEEDS OF ELITE ATHLETES; TO THE COMMUNITY.
                 CARE, WHATEVER YOUR RECOVERY NEEDS

                                                          W: WWW.TICHEALTH.CO.UK || T: 0333 358 5111
                                                          O P E N 8 A M TO 8 P M , 7 D AY S A W E E K
MATCH
                                   OFFICIALS

          LONDON                                          LEICESTER CITY
            BEES                                            WOMEN FC
                                     REFEREE:
                                   LOU SANDERS
           MANAGER.                                           MANAGER.
           LEE BURCH                                      JONATHAN MORGAN

  1   Sarah Quantrill                                 1   Demi Lambourne
  2   Sophie Quirk                                    2   Grace Riglar
  3   Megan Alexander (C)                             3   Sam Tierney
                                   ASSISTANT:
  4   Hayley West                                     4   Aimee Everett
                                 ADRIANA BUCUR
  5   Georgia Robert                                  5   Holly Morgan
  6   Billie Brooks                                   6   Lia Cataldo
  7   Lauren Pickett                                  7   Charlie Devlin
  8   Bonnie Horwood                                  8   Remi Allen
  9   Marianne Taho                                   9   Libby Smith
10    Brooke Nunn                                    11   Lachante Paul
                                    ASSISTANT:
 11   Melissa Filis               LEE MARKWICK      14    Esme De Graaf
 12   Courtnay Ward-Chambers                        15    Sophie Howard
 13   Sophie McLean                                 16    Freya Thomas
14    Georgie Giddings                               17   Paige Bailey-Gayle
15    Millie Constantine          NEXT MATCH        18    Sophie Barker
16    Nicola Gibson                AT HOME          19    Millie Farrow
 17   Charlie Estcourt                              20    Natasha Flint
18    Mathilda Finburgh                              21   Hannah Cain
19    Mollie Dench                                  22    Ashleigh Plumptre
20    Tricia Gould                                  23    Liv Fergusson
 21   Florence Gamby                                28    Kristie Levell
22    Amelia Hazard
23    Merrick Will
24    Faye Hazelton            V BLACKBURN ROVERS
25    Evie Gane                   25 • 04 • 2021
26    Emily Donovan               K.O. 2:00PM
28    Helen Ward
33    Mia Cruickshank