Mercedes-Benz Vans at a Glance Edition 2018 - Daimler
Page content transcription
If your browser does not render page correctly, please read the page content below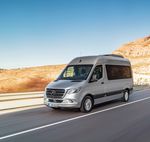 MERCEDES-BENZ VANS | CONTENT   2

Content

Profile                               3

Management Team Mercedes-Benz Vans    4

adVANce                               5

Facts and figures                     6

Production Locations                  7

Product Range
» Mercedes-Benz Citan                  8
» Mercedes-Benz Vito                   9
» Mercedes-Benz eVito                 10
» Mercedes-Benz Sprinter              11
» Mercedes-Benz V-Class               12
» Mercedes-Benz Marco Polo            13
» Mercedes-Benz Marco Polo HORIZON    14
» Mercedes-Benz Marco Polo ACTIVITY   15
» Mercedes-Benz X-Class               16

Media Contacts                        17

MERCEDES-BENZ VANS | PROFILE   3

Mercedes-Benz Vans Profile

Mercedes-Benz Vans continued on its successful course of recent
years, setting a new record for unit sales in 2017. Sales amounted to
401,000 units, surpassing the prior year's result by twelve percent.
At €13.2 billion, revenue was also higher than in the previous year
(2016: €12.8 billion). EBIT totaled €1.2 billion, thus remaining at the
high level of the prior year. Growth was primarily driven by the
mid-size segment with the Vito van and the V-Class full size MPV. We
are continuing to implement our "Mercedes-Benz Vans goes global"
growth strategy by expanding our product range to include the
X-Class — the first pickup from a premium manufacturer. Mercedes-Benz
Vans' future-oriented initiative "adVANce" has delivered its first
concrete results, and the division is systematically forging ahead
with its transformation from a vehicle manufacturer into a supplier of
holistic transportation and mobility solutions for cargo and passen-
gers. Among other things, Mercedes-Benz Vans plans to electrify its
commercial fleet, beginning with the Vito in the second half of 2018.
It will be followed by the all-electric eSprinter in 2019.

MERCEDES-BENZ VANS | MANAGEMENT TEAM      4

Management Team Mercedes-Benz Vans

         Volker Mornhinweg
         Head of Mercedes-Benz Vans

         Prof. Dr. Jörg Zürn                        Frank Klein
         Head of Development Mercedes-Benz Vans     Head of Production Mercedes-Benz Vans

         Klaus Maier                                Thomas Vogel
         Head of Sales and Marketing                Head of Finance and Controlling
         Mercedes-Benz Vans                         Mercedes-Benz Vans

         Simone Thees                               Klaus Gritsch
         Head of Human Resources                    Head of Procurement
         Mercedes-Benz Vans                         Mercedes-Benz Vans

MERCEDES-BENZ VANS | adVANce            5

adVANce

                                                                                                                In 2016 Mercedes-Benz Vans
                                                                                                                launched the strategic future-
                                                                                                                oriented initiative adVANce in
                                                                                                                order to transform itself from a
                                                                                                                division that only manufactures
             1                                                                                5                 globally successful vans to a
                                                                                                                provider of holistic transportation
                                                                                                                and mobility solutions. adVANce
                                                                                                                brings together activities from a
                                2                                          4                                    variety of areas and now consists
                                                                                                                of five innovation fields.
                                                       3

1   DIGITAL@VANS                                                               4   SHARING@VANS
At digital@vans, the focus is on connectivity and the digital networking   At sharing@vans, we are developing and promoting new concepts
of our vehicles. We are using state-of-the-art connectivity features to    for passenger transportation. We are working together with partners
turn our vehicles into active participants in the Internet of Things so    to offer solutions for inner-city mobility — simple, comfortable, and
that our customers can use digital and value-added services in order       always available, as well as being economically and environmentally
to improve the efficiency of their daily business.                         appropriate.

2   SOLUTIONS@VANS                                                             5   eDRIVE@VANS
At solutions@vans, we are developing hardware-based solutions that         At eDrive@vans, we are developing a holistic approach to electric
make our customers' daily business operations more efficient. For          mobility that goes way beyond the vehicle itself. In addition to offering
example, we are developing automated shelving and loading systems          an all-electric drive system, we are focusing on other topics such as
and integrating technologies that make our customers' work easier.         the infrastructure and customer service.

3   RENTAL@VANS
rental@vans consists of innovative rental models that use a pay-per-
use approach to provide mobility on demand. We offer our customers
solutions that are specifically adapted to their respective needs.

MERCEDES-BENZ VANS | FACTS AND FIGURES                        6

Facts & figures

                                                                   Sales of Mercedes-Benz Vans
                                                                                                                                   Total

                                               2017       2016                                                                     401,025
                                                                                                                                    3,308
                                                                                                                                              Pickup (VS40)
Revenue                                       13,164     12,835    (in units)                                                       26,141

EBIT                                           1,181      1,170
                                                                                                                         Total
                                                                                                                         359,096

Investment in property, plant and equipment      710        373
                                                                                                                                             Citan
                                                                                                                         24,915
                                                                                                                                    59,309

                                                 565
                                                                                                               Total
Research and development expenditure                        442                                                321,000
                                                                                                                                             Viano/V-Class

thereof capitalized development expenditure      310        238                                      Total
                                                                                                     294,600
                                                                                                               21,663    48,676

Amounts in millions of EUR                                                                 Total     22,100    30,717                        Vario*
                                                                       Total               270,100
                                                                       264,193
                                                                                 Total
                                                                        2,934
                                                                                 252,400   20,200    25,600
                                                                                                                                   111,802
                                                                                                                                             Vito

Employees (December 31)                        2017       2016
                                                                                  7,100     2,900
                                                                       30,468     2,700
                                                                                                                         92,139
                                                                                           22,300
                                                                                 23,300

Total                                         25,255     24,029
                                                                                                               74,411

                                                                                                     60,400

Germany                                       14,519     13,843
                                                                       67,492              58,600

United States                                    550        365                  60,400

Rest of world                                 10,186      9,821

Sales (units)                                   2017      2016                                                                     200,460   Sprinter

Total                                         401,025   359,096
                                                                                                                         193,363
                                                                                                               194,216
                                                                                                     186,300
                                                                                           166,200

EU301                                         273,297   249,860        163,299   159,000

thereof Germany                               105,781    96,130
NAFTA                                          44,815    43,354
thereof United States                          34,158    33,749
Latin America (excluding Mexico)               16,378    12,497
Asia                                           33,641    22,526
thereof China                                  23,801    13,636
Other markets                                  32,894    30,859
European Union, Switzerland, and Norway
1

Mercedes-Benz Vans employees (December 31)
                                                Vans'         by
                                                share   location
Stuttgart                                       2,659          –
Düsseldorf                                      6,596     6,638
Ludwigsfelde                                    1,957     1,957
Vitoria (Spain)                                 5,307     5,307
González Catán (Argentina)                      1,993     1,993
North Charleston (USA)                            397       397

The most important markets of Mercedes-Benz Vans (units)
                                           2017        2016
1. Germany                              105,800     96,100
2. United Kingdom                        41,000     36,700
3. United States                         34,200     33,700
4. China                                 23,800     13,600
5. France                                22,100     22,200
6. Spain                                 14,300     12,900
7. Netherlands                           13,500     13,000
8. Italy                                 11,300      10,100
9. Belgium/Luxembourg                    10,500       9,200
10. Turkey                                9,300       8,100

MERCEDES-BENZ VANS | PRODUCTION LOCATIONS                  7

Production Locations

Düsseldorf, Germany                                                        Ludwigsfelde, Germany
                               Number of employees:6,469                                              Number of employees:1,901
                               Body shop and assembly plant,                                           Body shop and assembly plant,
                               Mercedes-Benz Sprinter                                                  Mercedes-Benz Sprinter

Stuttgart, Germany                                                         Vitoria, Spain
                               Number of employees: 2,225                                             Number of employees:4,982
                               Central functions,                                                      Body shop and assembly plant,
                               including development                                                   Mercedes-Benz Vito, V-Class,
                                                                                                       Marco Polo

North Charleston, South Carolina, USA                                      González Catán, Argentina
                               Number of employees: 211                                               Number of employees: 1,757
                               Assembly plant,                                                         Body shop and assembly plant,
                               Mercedes-Benz Sprinter, Metris                                          Mercedes-Benz Sprinter, Vito

Fuzhou, China                                                              Maubeuge, France
                               Number of employees: 1,439                                             Strategic alliance with Renault-Nissan
                               Fujian Benz Automotive Corporation, joint                               Body shop and assembly plant,
                               venture between Mercedes-Benz Vans,                                     Mercedes-Benz Citan
                               Fujian Motor Group and BAIC Motor.
                               Body shop and assembly plant,
                               Mercedes-Benz Sprinter, Vito, V-Class

Barcelona, Spain                                                           Barcelona, Spain
                               Strategic alliance with Renault-Nissan                                  Montajes y Estampaciones Metalicas,
                                                                                                       joint venture between Mercedes-Benz
                               Body shop and assembly plant,                                           Vans and Grupo Estampaciones Sabadell
                               Mercedes-Benz X-Class
                                                                                                       Underbody assembly for the
                                                                                                       Mercedes-Benz Vito, V-Class,
                                                                                                       Marco Polo

Yaroslavl, Russia                                                          Nizhny Novgorod, Russia
                               Made-to-order production by YaMZ                                        Made-to-order production by GAZ
                               (Yaroslavl Motor Plant)                                                 (Gorky Automobile Plant)
                               Engine production, Mercedes-Benz                                        Body shop and assembly plant,
                               Sprinter Classic                                                        Mercedes-Benz Sprinter Classic

          Peter Smodej
          Business Communications Mercedes-Benz Vans
          Phone: +49 (0)711 17-41560
          Fax: +49 (0)711 17-52006
          peter.smodej@daimler.com
MERCEDES-BENZ VANS | PRODUCT RANGE               8

Product Range of Mercedes-Benz Vans

Mercedes-Benz Citan
                                                                                                Positioning

                                                                                                The Citan is an urban delivery van with compact
                                                                                                dimensions and a large load compartment,
                                                                                                which is a perfect fit for the diverse range of
                                                                                                challenges found in cities.

                                                                                                Highlights

                                                                                                » Fuel consumption from 4.3 l/100 km, thanks
                                                                                                   to state-of-the-art engines featuring innovative
Permissible gross mass                   1.81 to 2.2 t                                             BlueEFFICIENCY technology.
Wheelbases                               2,313 mm, 2,697 mm, 3,081 mm
                                                                                                » Low operating costs and maximum availability
Versions                                 Panel van, Mixto, Tourer                                  due to long maintenance intervals of up to
Engines/outputs                          Diesel: 55 kW (75 hp), 66 kW (90 hp), 81 kW (110 hp)      40,000 km.
                                         Gasoline: 84 kW (114 hp)
Fuel consumption combined1               6.5 – 4.3 l/100 km                                     » Attractive conditions and services such as
(Euro 6 emissions standard)                                                                        Mercedes-Benz MobiloVan.
CO₂ emissions combined                   147 – 112 g/km
(Euro 6 emissions standard)
                                                                                                » Exemplary safety, thanks to ADAPTIVE ESP®
Fuel consumption combined according to Regulation (EC) No 715/2007
1
                                                                                                  that includes valuable additional functions,
                                                                                                  disk brakes, and up to six airbags.

                                                                                                » Outstanding agility due to a finely coordinated
                                                                                                   suspension and independent wheel suspen-
                                                                                                   sion.

                                                                                                » Ergonomic operation and loading, comfortable
                                                                                                   seats, high seat positions, and low door and
                                                                                                   load compartment sills.

                Albrecht Eckl
                Citan, Vito und Sprinter
                Phone: +49 (0)711 17-52131
                Fax: +49 (0)711 17-52038
                albrecht.eckl@daimler.com

MERCEDES-BENZ VANS | PRODUCT RANGE                9

Product Range of Mercedes-Benz Vans

Mercedes-Benz Vito
                                                                                                   Positioning

                                                                                                   The Vito is as exemplary with respect to
                                                                                                   cost-effectiveness and quality as it is with
                                                                                                   regard to flexibility and safety. Innovative
                                                                                                   assistance and safety systems ensure the van
                                                                                                   always travels safely. Moreover, the vehicle's
                                                                                                   range of drive systems is unparalleled, consis-
                                                                                                   ting of front wheel, rear wheel, and all-wheel
                                                                                                   drive.

                                                                                                   Highlights
Permissible gross mass                   2.8 to 3.2 t
Wheelbases                               3,200 mm, 3,430 mm                                        » Sustained cost-effectiveness: Total cost of
Versions                                 Panel van, Mixto, Tourer                                     ownership (TCO) was reduced further com-
Engines/outputs                          Diesel: 65 kW (88 hp), 84 kW (114 hp), 100 kW (136 hp),      pared to the predecessor. The improvements
                                         120 kW (163 hp), 140 kW (190 hp)                             range from an attractive price-to-perfor-
                                         Gasoline: 135 kW (184 hp), 155 kW (211 hp)                   mance ratio during procurement to low fuel
Fuel consumption combined1               6.8 – 5.7 l/100 km                                           costs and favorable repair and maintenance
(Euro 6 emissions standard)                                                                           costs.
CO₂ emissions combined                   179 – 149 g/km
(Euro 6 emissions standard)                                                                        » E xemplary safety: The safety equipment is
Fuel consumption combined according to Regulation (EC) No 715/2007
1
                                                                                                      exemplary for the mid-size van segment.
                                                                                                      Crosswind Assist, ATTENTION ASSIST, and
                                                                                                      up to six airbags are installed as standard.
                                                                                                      Additional assistance systems are available
                                                                                                      as options.

                                                                                                   » Flexibility as needed: The Vito Tourer is as
                                                                                                      diverse as the customers' requirements.
                                                                                                      From its cargo space and drive configuration
                                                                                                      to its equipment, the van can be ideally
                                                                                                      matched to the most varied uses.

                                                                                                   » Reliable quality: The Vito Tourer is designed
                                                                                                      for a long, reliable partnership. The selection
                                                                                                      of high-quality materials and their painstaking
                                                                                                      workmanship as well as extensive testing
                                                                                                      and trials serve as the basis for the vehicle's
                                                                                                      great reliability and durability.

                Albrecht Eckl
                Citan, Vito und Sprinter
                Phone: +49 (0)711 17-52131
                Fax: +49 (0)711 17-52038
                albrecht.eckl@daimler.com

MERCEDES-BENZ VANS | PRODUCT RANGE             10

Product Range of Mercedes-Benz Vans

Mercedes-Benz eVito
                                                                            Positioning

                                                                            The eVito is the second all-electric production
                                                                            model from Mercedes-Benz Vans; the first
                                                                            was the Vito E-Cell from 2010. Customers
                                                                            have been able to order the vehicle since
                                                                            November 2017; deliveries will begin in the
                                                                            second half of 2018. With an installed battery
                                                                            capacity of 41.4 kWh, the new eVito will have
                                                                            a range of approximately 150 km. The mid-
                                                                            size van is thus perfect for inner-city deliveries
                                                                            and other commercial operations, as well as
                                                                            for passenger transport.
Permissible gross mass               3.2 t
Wheelbases                           5,140 mm, 5,370 mm
Payload                              1,048 – 1,073 kg                       Highlights
Version                              Panel van
Engine output                        Electric motor: 84 kW (114 hp) peak/   » Dynamic performance is ensured by an out-
                                     70 kW (95 hp) sustained                   put of 84 kW and torque of up to 300 Nm.
Torque (electric motor)              300 Nm
                                                                            » In terms of top speed, customers can choose
Battery                              Lithium-ion
                                                                               between two options. The first is a maximum
Battery capacity                     41.4 kWh (installed)                      speed of 80 km/h, which meets all require-
Range (WLTP)                         Up to 150 km                              ments in city traffic and metropolitan areas,
Top speed                            120 km/h                                  while also conserving energy and increasing
                                                                               the vehicle's range. If things need to move
                                                                               faster, the customer can choose a top speed
                                                                               of up to 120 km/h.

                                                                            » Customers can initially pre-order the new
                                                                               eVito with two different wheelbases. The
                                                                               long wheelbase version has a total length
                                                                               of 5,140 mm, while the extra long version
                                                                               measures 5,370 mm.

                                                                            » The electric model also demonstrates its
                                                                               suitability for daily use by its spacious load
                                                                               compartment. It can carry a maximum
                                                                               payload of up to 1,073 kg and has a cargo
                                                                               volume of up to 6.6 m³. The batteries are
                                                                               installed underneath the vehicle so that the
                                                                               entire load compartment is usable.

                                                                            » The vehicle has a maximum permissible
                                                                               gross mass of 3,200 kg.

             Florian Hofmann
             Technology Communications
             Phone: +49 (0)711 17-46643
             Fax: +49 (0)711 17-79017213
             florian.hofmann@daimler.com
MERCEDES-BENZ VANS | PRODUCT RANGE                 11

Product Range of Mercedes-Benz Vans

Mercedes-Benz Sprinter
                                                                                                 Positioning

                                                                                                 The vehicle boasts a fascinating design, very
                                                                                                 high-level safety features, maximum cost-
                                                                                                 effectiveness, customer- and sector-oriented
                                                                                                 detailed solutions, and a range of connectivity
                                                                                                 features that propels infotainment systems
                                                                                                 and telematics equipment into a new era.
                                                                                                 The third generation of the Sprinter defines
                                                                                                 top-of-the-range large vans in all categories.
                                                                                                 However, the full strength of the segment
                                                                                                 founder is first unfolded when its individual
                                                                                                 talents are combined into an integrated
Permissible gross mass                   3.0 to 5.5 t
                                                                                                 system solution.
Wheelbases                               3,250 mm, 3,665 mm, 4,325 mm
Versions                                 Panel van, Tourer, platform vehicle, chassis, crewcab
Engines/outputs                          Diesel: 84 kW (114 hp), 105 kW (143 hp),                Highlights
                                         120 kW (163 hp), 140 kW (190 hp)
Fuel consumption combined1               9.7 – 6.8 l/100 km                                      » A fascinating product concept with enhanced
(Euro 6 emissions standard)                                                                         strengths, ranging from an emotional design
CO₂ emissions combined                   253 – 178 g/km                                             and a comfortable driver cockpit to a widely
(Euro 6 emissions standard)                                                                         configurable passenger compartment
Fuel consumption combined according to Regulation (EC) No 715/2007
1

                                                                                                 » Intelligent networking with the professional
                                                                                                    connectivity and fleet solution Mercedes
                                                                                                    PRO as well as optional multimedia systems
                                                                                                    featuring high-resolution color displays and
                                                                                                    touchscreens

                                                                                                 » Sustained cost-effectiveness — from appro-
                                                                                                    priate services and high fuel economy to the
                                                                                                    high utility of its spacious interior and the
                                                                                                    vehicle's high value retention

                                                                                                 » E xemplary safety, e.g. as a result of state-
                                                                                                    of-the-art assistance systems as well as
                                                                                                    optional cutting-edge LED headlights and
                                                                                                    the innovative WET WIPER SYSTEM for
                                                                                                    windshields

                                                                                                 » Appropriate solutions such as those of the
                                                                                                    Tourer with its three vehicle lengths, two
                                                                                                    roof heights, and three rows of seats that
                                                                                                    can be fitted with bench seats for two or
                                                                                                    three occupants. Comfort suspension bench
                Albrecht Eckl                                                                       seats with adjustable backrests and luxury
                Citan, Vito und Sprinter
                                                                                                    head restraints are available for the first
                Phone: +49 (0)711 17-52131                                                          time for all rows of seats
                Fax: +49 (0)711 17-52038
                albrecht.eckl@daimler.com

                Peter Feneberg
                Sprinter
                Phone: +49 (0)711 17-47117
                Fax: +49 (0)711 17-79057555
                peter.feneberg@daimler.com
MERCEDES-BENZ VANS | PRODUCT RANGE             12

Product Range of Mercedes-Benz Vans

Mercedes-Benz V-Class
                                                                                                     Positioning

                                                                                                     As the biggest member of the Stuttgart-based
                                                                                                     car family, the V-Class is an ideal vehicle for
                                                                                                     everyone who likes to have lots of space, but
                                                                                                     doesn't want to sacrifice styling and comfort.
                                                                                                     The V-Class is characterized in its segment by
                                                                                                     a state-of-the-art design, high level of functio-
                                                                                                     nality, and exemplary safety.

                                                                                                     Highlights
Permissible gross mass                   2.8 to 3.2 t
                                                                                                     » Spacious interior for up to eight occupants
Wheelbases                               3,200 mm, 3,430 mm
Engines/outputs                          Diesel: 100 kW (136 hp), 120 kW (163 hp), 140 kW (190 hp)   » The V-Class EXCLUSIVE equipment line —
                                         Gasoline: 155 kW (211 hp)                                      the most luxurious variant of the full size MPV
Fuel consumption combined1               6.7 – 5.9 l/100 km
(Euro 6 emissions standard)                                                                          » AMG Line for the sporty customization of
CO₂ emissions combined                   177 – 154 g/km                                                 the V-Class
(Euro 6 emissions standard)
Fuel consumption combined according to Regulation (EC) No 715/2007
1
                                                                                                     » Largest panoramic sliding sunroof in the
                                                                                                        mid-size van segment

                                                                                                     » High level of convenience due to EASY-PACK
                                                                                                        tailgate, separately openable rear window,
                                                                                                        and power sliding doors

                                                                                                     » Numerous innovative driver assistance
                                                                                                        systems ensure exemplary safety

                                                                                                     » Equipped with Crosswind Assist and
                                                                                                        ATTENTION ASSIST as standard

                                                                                                     » Five stars in the Euro NCAP test

                Melanie Kouba
                V-Class, X-Class, Camper Vans
                Phone: +49 (0)711 17-53558
                Fax: +49 (0)711 17-79071936
                melanie.kouba@daimler.com

                Ingeborg Gärtner
                V-Class, X-Class, Camper Vans
                Phone: +49 (0)711 17-49784
                Fax: +49 (0)711 17-79049509
                ingeborg.gaertner@daimler.com

                Diana Boch
                V-Class, Camper Vans
                Phone: +49 (0)711 17-52406
                Fax: +49 (0)711 17-79073244
                diana.boch@daimler.com
MERCEDES-BENZ VANS | PRODUCT RANGE           13

Product Range of Mercedes-Benz Vans

Mercedes-Benz Marco Polo
                                                                                                     Positioning

                                                                                                     The Marco Polo camper van on the basis
                                                                                                     of the Mercedes-Benz V-Class is ideal for
                                                                                                     individualists and connoisseurs who want to
                                                                                                     use their vehicle on a daily basis as well as on
                                                                                                     long trips and who don't want to sacrifice
                                                                                                     comfort and styling. Compact exterior dimen-
                                                                                                     sions and the electromechanical power steering
                                                                                                     ensure the vehicle is easy to maneuver and
                                                                                                     very agile.

Permissible gross mass                   3.1 to 3.2 t
                                                                                                     Highlights
Wheelbase                                3,200 mm
Engines/outputs kW (hp)                  Diesel: 100 kW (136 hp), 120 kW (163 hp), 140 kW (190 hp)   » Standard equipment consists of a complete
Fuel consumption combined1               6.8 – 6.1 l/100 km                                             kitchen, a wardrobe closet, power pop-out
(Euro 6 emissions standard)                                                                             windows, and swiveling driver and front
CO2 emissions combined                   179 – 160 g/km                                                 passenger seats, as well as a two-person
(Euro 6 emissions standard)                                                                             seat bench that converts into a bed and a
Fuel consumption combined according to Regulation (EC) No 715/2007
1
                                                                                                        pop-up roof with a roof bed to enable up to
                                                                                                        four people to enjoy a good night's sleep

                                                                                                     » A big selection of optional equipment, such
                                                                                                        as the AMG Line, enable the vehicle to be
                                                                                                        stylishly individualized

                                                                                                     » Numerous innovative driver assistance
                                                                                                        systems ensure exemplary safety, as confir-
                                                                                                        med by the inspectors from TÜV Rheinland,
                                                                                                        who granted it their "Certified Occupant
                                                                                                        Protection" seal

                                                                                                     » Equipped with Crosswind Assist and
                                                                                                        ATTENTION ASSIST as standard

                Melanie Kouba
                V-Class, X-Class, Camper Vans
                Phone: +49 (0)711 17-53558
                Fax: +49 (0)711 17-79071936
                melanie.kouba@daimler.com

                Ingeborg Gärtner
                V-Class, X-Class, Camper Vans
                Phone: +49 (0)711 17-49784
                Fax: +49 (0)711 17-79049509
                ingeborg.gaertner@daimler.com

                Diana Boch
                V-Class, Camper Vans
                Phone: +49 (0)711 17-52406
                Fax: +49 (0)711 17-79073244
                diana.boch@daimler.com
MERCEDES-BENZ VANS | PRODUCT RANGE            14

Product Range of Mercedes-Benz Vans

Mercedes-Benz Marco Polo HORIZON
                                                                                                     Positioning

                                                                                                     The Marco Polo HORIZON on the basis of
                                                                                                     the Mercedes-Benz V-Class is targeted at trend-
                                                                                                     conscious adventurers who want to have a
                                                                                                     versatile yet stylish camper van for short
                                                                                                     vacations. Moreover, the vehicle's compact
                                                                                                     exterior dimensions make the Marco Polo
                                                                                                     HORIZON an ideal companion for daily use.

                                                                                                     Highlights

                                                                                                     » A roof bed for two people and a 3-seat/
Permissible gross mass                   3.1 to 3.2 t
                                                                                                        bunk combination in the rear passenger
Wheelbase                                3,200 mm                                                       compartment enable the occupants to get a
Engines/outputs kW (hp)                  Diesel: 100 kW (136 hp), 120 kW (163 hp), 140 kW (190 hp)      good night's sleep
Fuel consumption combined1               6.8 – 6.0 l/100 km
(Euro 6 emissions standard)                                                                          » Maximum interior variability thanks to a
CO2 emissions combined                   179 – 158 g/km                                                 wide variety of seat configurations – from
(Euro 6 emissions standard)                                                                             the standard five-seater with a 3-seat/bunk
Fuel consumption combined according to Regulation (EC) No 715/2007
1
                                                                                                        combination in the rear passenger compart-
                                                                                                        ment or four individual comfort suspension
                                                                                                        seats in the rear passenger compartment to
                                                                                                        the seven-seater with a 3-seat/bunk combi-
                                                                                                        nation in the second row and two additional
                                                                                                        individual seats in the first row of the rear
                                                                                                        passenger compartment

                                                                                                     » A big selection of optional equipment,
                                                                                                        such as the AMG Line, enable the vehicle to
                                                                                                        be stylishly individualized

                                                                                                     » Numerous innovative driver assistance
                                                                                                        systems ensure exemplary safety, including
                                                                                                        Crosswind Assist and ATTENTION ASSIST as
                                                                                                        standard

                                                                                                     » The vehicle's exemplary safety was confir-
                                                                                                        med by the inspectors from TÜV Rheinland,
                Melanie Kouba                                                                           who granted it their "Certified Occupant
                V-Class, X-Class, Camper Vans
                                                                                                        Protection" seal
                Phone: +49 (0)711 17-53558
                Fax: +49 (0)711 17-79071936
                melanie.kouba@daimler.com

                Ingeborg Gärtner
                V-Class, X-Class, Camper Vans
                Phone: +49 (0)711 17-49784
                Fax: +49 (0)711 17-79049509
                ingeborg.gaertner@daimler.com

                Diana Boch
                V-Class, Camper Vans
                Phone: +49 (0)711 17-52406
                Fax: +49 (0)711 17-79073244
                diana.boch@daimler.com
MERCEDES-BENZ VANS | PRODUCT RANGE             15

Product Range of Mercedes-Benz Vans

Mercedes-Benz Marco Polo ACTIVITY
                                                                                                   Positioning

                                                                                                   The Marco Polo ACTIVITY on the basis of the
                                                                                                   Mercedes-Benz Vito is a functional companion
                                                                                                   for young families and outdoor enthusiasts
                                                                                                   who seek to be independent on the spur of
                                                                                                   the moment, but who also need a compact
                                                                                                   vehicle for daily use.

                                                                                                   Highlights

                                                                                                   » A roof bed for two people and a 3-seat/
Permissible gross mass                   2.8 to 3.1 t
                                                                                                      bunk combination in the rear passenger
Wheelbase                                3,200 mm                                                     compartment enable the occupants to sleep
Engines/outputs kW (hp)                  Diesel: 65 kW (88 hp), 84 kW (114 hp), 100 kW (136 hp),      in the vehicle whenever they wish
                                         120 kW (163 hp), 140 kW (190 hp)
Fuel consumption combined1               6.6 – 5.8 l/100 km                                        » Removable seats in the rear passenger com-
(Euro 6 emissions standard)                                                                           partment create a spacious and versatile
CO2 emissions combined                   174 – 153 g/km                                               interior that can be used to transport bulky
(Euro 6 emissions standard)                                                                           sports equipment or the weekly groceries
Fuel consumption combined according to Regulation (EC) No 715/2007
1

                                                                                                   » The range of drive types is just as diverse
                                                                                                      as the vehicle's interior. Depending on the
                                                                                                      engine selected, the vehicle is available with
                                                                                                      front wheel, rear wheel, or all-wheel drive

                                                                                                   » Numerous innovative driver assistance
                                                                                                      systems ensure exemplary safety, including
                                                                                                      as standard

                                                                                                   » Crosswind Assist and ATTENTION ASSIST

                                                                                                   » The vehicle's exemplary safety was confir-
                                                                                                      med by the inspectors from TÜV Rheinland,
                                                                                                      who granted it their "Certified Occupant
                                                                                                      Protection" seal

                Melanie Kouba
                V-Class, X-Class, Camper Vans
                Phone: +49 (0)711 17-53558
                Fax: +49 (0)711 17-79071936
                melanie.kouba@daimler.com

                Ingeborg Gärtner
                V-Class, X-Class, Camper Vans
                Phone: +49 (0)711 17-49784
                Fax: +49 (0)711 17-79049509
                ingeborg.gaertner@daimler.com

                Diana Boch
                V-Class, Camper Vans
                Phone: +49 (0)711 17-52406
                Fax: +49 (0)711 17-79073244
                diana.boch@daimler.com
MERCEDES-BENZ VANS | PRODUCT RANGE              16

Product Range of Mercedes-Benz Vans

Mercedes-Benz X-Class
                                                                                    Positioning

                                                                                    The Mercedes-Benz X-Class unites all of the
                                                                                    hallmarks of a pickup (robustness, functiona-
                                                                                    lity, durability, and off-road capability) with
                                                                                    the traditional strengths of a real Mercedes
                                                                                    (design, comfort, handling, and safety).

                                                                                    Highlights

                                                                                    » An SUV design that is typical of the brand
Permissible gross mass                   3.2 to 3.25 t
                                                                                    » T he PURE base version for traditional robust
Wheelbase                                3,150 mm                                     uses, PROGRESSIVE for higher value and
Engines/outputs                          Diesel: 120 kW (163 hp), 140 kW (190 hp)     comfort, and POWER as a high-end variant
Fuel consumption combined1               8.0 – 7.3 l/100 km                           for urban lifestyles
(Euro 6 emissions standard)
CO₂ emissions combined                   209 – 192 g/km                             » It sets new standards for the segment in
(Euro 6 emissions standard)                                                            terms of the comfort and the high-class
Fuel consumption combined according to Regulation (EC) No 715/2007
1
                                                                                       appeal of the interior

                                                                                    » Thanks to its wide track, a comfortable
                                                                                       spring-shock absorber tuning that's typical
                                                                                       of Mercedes, and draw springs and venti-
                                                                                       lated disk brakes at the front and rear, the
                                                                                       X-Class not only boasts excellent off-road
                                                                                       capabilities but also a thrilling on-road
                                                                                       performance

                                                                                    » A diverse range of Mercedes-Benz accessories
                                                                                       for individualizing the vehicle —
                                                                                       developed and designed by Mercedes

                                                                                    » Spaciousness and comfort for up to five
                                                                                       occupants

                                                                                    » Five stars in the Euro NCAP test

                Sabrina Kreuzer
                X-Class
                Phone: +49 (0)711 17-46880
                Fax: +49 (0)711 17-79064747
                sabrina.kreuzer@daimler.com

                Ingeborg Gärtner
                V-Class, X-Class, Camper Vans
                Phone: +49 (0)711 17-49784
                Fax: +49 (0)711 17-79049509
                ingeborg.gaertner@daimler.com

                Diana Boch
                V-Class, Camper Vans
                Phone: +49 (0)711 17-52406
                Fax: +49 (0)711 17-79073244
                diana.boch@daimler.com
MERCEDES-BENZ VANS | MEDIA CONTACTS     17

Media Contacts of Mercedes-Benz Vans

Global Communications

         Jörg Howe
         Head of Global Communications Daimler AG
         Phone: +49 (0)711 17-41341
         Fax: +49 (0)711 17-41369
         joerg.howe@daimler.com
         twitter.com/Joerg_Howe

Global Communications Commercial Vehicles
         Florian Martens
         Head of Global Communications Commercial Vehicles
         Phone: +49 (0)711 17-41525
         Fax: +49 (0)711 17-79085761
         florian.martens@daimler.com
         twitter.com/florian_martens

Global Business Communications Commercial Vehicles

                                                                      Arnd Minne
         Susanne Lenz                                                 Business Communications Commercial Vehicles,
         Head of Global Business Communications Commercial Vehicles   Daimler Trucks & Buses
         Phone: +49 (0)711 17-41526                                   Phone: +49 (0)711 17-41549
         Fax: +49 (0)711 17-79064237                                  Fax: +49 (0)711 17-52006
         susanne.k.lenz@daimler.com                                   arnd.minne@daimler.com

         Peter Smodej
         Business Communications Mercedes-Benz Vans
         Phone: +49 (0)711 17-41560
         Fax: +49 (0)711 17-52006
         peter.smodej@daimler.com
MERCEDES-BENZ VANS | MEDIA CONTACTS   18

Product Communications Mercedes-Benz Vans

        Andrea Eberhardt
        Head of Product Communications      Diana Boch
        Mercedes-Benz Vans                  V-Class, Camper Vans
        Phone: +49 (0)711 17-84020          Phone: +49 (0)711 17-52406
        Fax: +49 (0)711 17-79097330         Fax: +49 (0)711 17-79073244
        andrea.eberhardt@daimler.com        diana.boch@daimler.com

        Albrecht Eckl                       Peter Feneberg
        Citan, Vito, and Sprinter           Sprinter
        Phone: +49 (0)711 17-52131          Phone: +49 (0)711 17-47117
        Fax: +49 (0)711 17-52038            Fax: +49 (0)711 17-79057555
        albrecht.eckl@daimler.com           peter.feneberg@daimler.com

        Ingeborg Gärtner                    Gabriele Hellmann
        V-Class, X-Class, Camper Vans       Market Relations
        Phone: +49 (0)711 17-49784          Phone: +49 (0)711 17-49786
        Fax: +49 (0)711 17-79049509         Fax: +49 (0)711 17-51607
        ingeborg.gaertner@daimler.com       gabriele.hellmann@daimler.com

        Florian Hofmann                     Lisa Kost
        Technology Communications           Test Vehicles Mercedes-Benz Vans
        Phone: +49 (0)711 17-46643          Phone: +49 (0)711 17-52161
        Fax: +49 (0)711 17-79017213         Fax: +49 (0)711 17-52030
        florian.hofmann@daimler.com         lieselotte.kost@daimler.com

        Melanie Kouba                       Sabrina Kreuzer
        V-Class, X-Class, Camper Vans       X-Class
        Phone: +49 (0)711 17-53558          Phone: +49 (0)711 17-46880
        Fax: +49 (0)711 17-79071936         Fax: +49 (0)711 17-79064747
        melanie.kouba@daimler.com           sabrina.kreuzer@daimler.com

        Andreas Leo                         Thomas C. Rosenthal
        Mercedes-Benz Vans, Sales Germany   adVANce & Future Transportation
        Phone: +49 (0)30 2694 3017          Phone: +49 (0)711 17-40286
        Fax: +49 (0)711 17-79050319         Fax: +49 (0)711 17-79029941
        andreas.leo@daimler.com             thomas_christian.rosenthal@daimler.com