Mulgrave School - East and West Additions - Amendment to Development Permit 16-001 & Proposed Re-zoning and Development Permit for the Mulgrave ...
Page content transcription
If your browser does not render page correctly, please read the page content below
Mulgrave School - East and West Additions
Amendment to Development Permit 16-001 & Proposed Re-zoning
   and Development Permit for the Mulgrave Campus Southlands
                                                 October 26th, 2018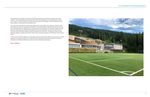 The new physical education wing will replace both the existing lower gym and the upper auxiliary
gym in order to provide enhanced programmed space. With direct access from the Upper Main
Floor level and from the main sports field, the new facility will serve as the core of the school's
athletics curriculum.

For the most part, this new addition is considered a stand-alone structure. The physical connection
is limited to a two-storey vestibule, which also provides exits at both levels. This vestibule has
been designed to maintain a circulation and visual connection between the north and south sides
of the site. On the north side, the upper vestibule ties into the existing walkway along the northeast
corner of the existing school. On the south side, the main vestibule level opens onto the existing
terrace/walkway looking over the fields.

The vestibule and its core vertical circulation also connects to the partial lower level that in turn,
opens directly onto the fields. The East Addition comprises a new main dividable double
Competition Gym as well as an Upper Gym; these are supported by adjacent storage and central
change room and team room facilities. Additional upper level facilities include a Gym Viewing
Lounge, a Dance Studio and a Fitness Studio that overlooks the fields. The lower level contains
storage and service space as well team and change rooms that facilitate the operation of the field.

The overall massing reflects the two main gym volumes. These are terraced into the rising
topography and covered with stepped mono-sloped roof forms. The south elevation, visible over
the field, has two components – the eastern part is the logical expression of the main gym volume,
capped by the roof overhang over a clerestory window and the lower solid wall plane. The smaller
western part reflects the interior functions – the Fitness Studio over the main Gym Entrance Lobby.
                                                                                             Lobb
The treatment here uses a significant percentage of glazing with a commonality to Mulgrave's
new main entry lobby. The solid wall areas are clad in an insulated metal panel system coloured to
match the buff tan of the West Addition as approved in the current development permit. These
measures are in keeping with the intent that both the West and East Additions form a cohesive
group of additions to the original red brick schoolhouse.
NEW FIELD STORAGE
 & CHANGE ROOMS
@ LOWER MAIN LEVEL
NEW UPPER
   GYM

            AUXILIARY GYM
            ( TO BE DEMOLISHED)
EAST ADDITION - LEVEL 2 - SOUTH   33
36
     EAST ADDITION - CROSS SECTION
                             WEST
EAST ADDITION - LONGITUDINAL SECTION   37
c Copyright reserved. This drawing and design is the
                                                                                                                                                                                                                                                                                                                                                                                                                           property of PMG Landscape Architects and may not be
                                                                                                                                                                                                                                                                                                                                                                                                                           reproduced or used for other projects without their
                                                                                                                                                                                                                                                                                                                                                                                                                           permission.

                                                                                                                                                               PROPOSED SERVICE
                                                                                                              ARTS/ CRAFTS/ MUSIC WALL
                                                                                                                                                               LANE ABOVE
                                                                                                                                                                                                                     STAINLESS STEEL WATER TABLE;
                                                                                                                AND ROOF AREA; WOODEN
                                                                                                                                                                                                                     KAISER AND KUHN; DRAIN TO WATER
                                                                                                              FRAMING TO BE AFFIXED TO
                                                                                                                                                                                                                     CHANNEL PIPE BENEATH TRIKE PATH
                                                                                                              CONCRETE WALL TO ALLOW
                                                                                                           FLEXIBILITY AND ADJUSTABILITY                                                                                             CONCRETE STEPS; 3 RISERS @ .15M                                                                                                                                                            LANDSCAPE
                                                                                                                                                                                    WATER SOURCE ;HOSE                                                                                                                                                                                                                          ARCHITECTS
                                                                                                                                                                                    BIB TO BE PROVIDED
                                                                                                                                                                                                                                                                                                                                                                                                                           Suite C100 - 4185 Still Creek Drive
                                                                                                                                                                                                      + 216.79m
                                                                                                                                                                                                                                                                                                                                                                                                                           Burnaby, British Columbia, V5C 6G9
                                                                                                                                                                                                                                                                                                                                                                                                                           p: 604 294-0011 ; f: 604 294-0022
                                                                                                                                                                           2% SLOPE WITHIN
                                                                                                                                                                          CHANNEL TO OUTLET
                                                                                                                                                                                              + 216.79m     + 216.66m
                                                                                                                                                                                                    + 216.79m
                                                                                                                                                                                                                     + 216.51m
                                                                                                                                                                                                             SL
                                                                                                                                                                                                                O
                                                                                                                                                                                                                  PE
                                                                                                                                                                                                                                                                    PK-3                                                                                                                                                   SEAL:
                                                                                                                                                                                                                     U
                                                                                                                                                                                                                       P
                                                                                                                                                                                    SAND/
                                                                                                                                                                                    WATER                                                     14" WIDTH SLOPING CIP CONCRETE WALL WITH INSET RILL AND STAINLESS STEEL                                ADVENTURE PLAY - NATURAL PLAY ELEMENTS - LOGS AND BOULDERS
                                                                                                                                                                                                                                              WEIRS (X5); EDGES TO BE 150MM ABOVE ADJACENT PAVER PATHWAY;

                                                                                                                                                    SLOPE UP
                                                                                                                                                                                    PLAY
                                                                                                                                                                                                                                              REINFORCEMENTS AS REQUIRED; PROVIDE SHOP DRAWINGS FOR REVIEW
                                                                                                                                                                                                                                 + 216.36m
                                                                                                                                                                                                                     + 216.33m
                                                                                                                                                                                                                                                   NORTH SPACE:
                                                                                                                                                                                                                                                   OUTDOOR SPACE REQUIRED: 16x2 = 32x6m² = 192m²
                                                                                                                                                                                                                                                   OUTDOOR SPACE PROVIDED: 201m²
                                                                                                                                                                                                                                                   BRIDGE; STEEL FRAME WITH IPE WOOD DECKING;
                                                                                                                                                                                                                                                   PROVIDE SHOP DRAWING
                                                                                                                                                                    216.43m + 216.43m +
                                                                                                                                                                                                              SLOPE UP
                                                                                                                                                                                                                    + 216.36m
                                                                                 PERIMETER PLANTING                                                                            UP
                                                                                                                                                                                                            + 216.43m
                                                                                                                                                                          PE
                                                                                                                                                                                                                                                   LINE OF OVERHANG ABOVE
                                                                                 AREA WITH VINES ON WALL
                                                                                                                                                                                                                                                                             PK-3
                                                                                                                                                                       O
                                                                                                                                                                     SL

                                                                   GENTLY SLOPING ADVENTURE PLAY                                                                                                                                                   TRIKE PATH;
                                                                   WITH BOULDERS AND LOGS IN FIBAR                                                 216.33m +                                                                                       COLOURED CONCRETE; MEDIUM BROOM FINISH;
                                                                   SAFETY SURFACE                                                                                                                                  216.33m +                       COLOUR TO MATCH BUILDING CLADDING

                                                                                                                 LK
                                                                                                                                                                                                                                                   (CONFIRM COLOUR WITH ARCHITECT

                                                                                                                 WA
                                                                                                                                                                                    SAND/ WATER                                                      LINE OF BEAM ABOVE

                                                                                                              IDE
                                                                                                                                                                                    PLAY

                                                                                                            GS
                                                                                                                                           216.33m +                                                                                                 CONCRETE STEPPING
                                                                                                                                                                                                                                                     TUBES AND BOULDERS AS

                                                                                                           TIN
                                                                                                                                                                                                                                                     PLAY AND INFORMAL

                                                                                                       EXIS
                                                                             1.2M HT. VERTICAL POLE                                                                                                                                                  SEATING; TYP.
                                                                             FENCE AS SEPARATION                                                                      DECK
                                                                             BETWEEN SPACES
                                                                                                                                       + 216.33m                                                                                                                    GATE           PK-4
                                                       1219MM HT. ALUMINUM RAIL FENCE AND
                                                    GATES AT PERIMETER; ENSURE MAX 100MM
                                                         SEPARATION BETWEEN RAILING ATOP                                                                                                                                                                        INFORMAL PLANTING AREA AS
                                                                                                                                                                                                          216.33m +                                             COMMUNITY GARDEN SPACE; HERBS, ETC.
                                                      ADJACENT WALL AND PERIMETER FENCE
                                                                                                                                                                                                                                                                PREP WITH GARDEN BLEND, NO MULCH
                                                         EMERGENCY EXIT GATE AND PATH TO
                                                          SIDEWALK ON CYPRESS BOWL LANE;                                                                                                                                                                         GATE; ENSURE ABILITY TO OPEN FULLY
                                                            MEDIUM BROOM FINISH CONCRETE                                                                                                                                                                         SO AS NOT TO IMPEDE TRICYCLE ACCESS                                                 MUSIC WALL
                                                         NE

                                                                                                                                                                                                                                                                            BROOM FINISHED
                                                                                                                                                                                                                                                                            CONCRETE APRON; 1.5M
                                                      L LA

                                                                                                                                                                                                                                                                            SAWCUTS PERPENDICULAR
                                                                                                                                       1.5m                                                                                                                                 TO BUILDING FACE
                                                                 PSEUDOSUGA MENZIESII                                                                                                             + 216.48m
                                                                                                                                                                                                + 216.63m                                                                      LINE OF OVERHANG ABOVE
                                                                                                                                                                                                              R2252.044
                                                             LANDSAFE POURED IN PLACE
                                                    OW

                                                                                                                                                                              + 216.78m
                                                             RUBBER SAFETY SURFACING;                                                                                      + 216.93m
                                                                      GREEN GRADIENT                                                                                                                                                                                                  SOUTH SPACE:
                                                                                                                                                                        GRASSY HILL -                                                                                                 OUTDOOR SPACE REQUIRED: 24x2 = 48x6m² = 288m²
                                                                                                                      ARTIFICIAL                                        ARTIFICIAL TURF;
                                                  SB

                                                        AMPHITHEATRE/                                                                                                                                                                                                                 OUTDOOR SPACE PROVIDED: 303 m²
                                                                                                                      TURF AREA                                    + 216.93m
                                                                                                                                                                        SYNLAWN PLAY
                                                        OUTDOOR CLASSROOM                                                                                               PREMIUM; TYP.                                                                                                TRIKE PATH;
                                                                                                                                                                 + 216.78m
                                                                                                                                                                                                                                                                                     COLOURED CONCRETE; MEDIUM BROOM    PK-4
                                               RES

                                                         MEDIUM BROOM                                                                                          + 216.63m                                                                                                    1.5m     FINISH; COLOUR TO MATCH BUILDING
                                                         FINISHED CONCRETE;                                                                                                                                                                                                          CLADDING (CONFIRM COLOUR WITH
                                                                                                                                                         + 216.48m
                                                         1.5M ANGLED SAWCUTS                                                                                                                                                                                                         ARCHITECT
                                                                                                                                                                                                                                                                                                        IPE WOOD DECKING; TYPICAL FOR ALL DECKS
                                            CYP

                                                                                                                                                                                                                                                                                                             KOMPAN ROBINIA PLAYHOUSE; NRO404;
                                                                                                                                                                                                                                                            R2630                                            TO BE INSTALLED ON FIBAR SAFETY
                                                                                                                                                                                                                                                 DECK                                                        SURFACE PER MANUFACTURER'S
                                                                                                                                                                                                                                                                                                             SPECIFICATIONS
                                                                                                                                                                                                                                                        R1334
                                                                                                                                                                                                                                                                SAND
                                                                                                                                                                                                                                                                                                                                                                                                                            7   18.JUL.22   ISSUED FOR DP AMENDMENT - EAST GYM      CW
                                                                                                                                                                                                                                                                PLAY                                              STORAGE IN HALLWAY
                                                                                                                                                                                                                                                                                                                                                                                                                            6   18.MAY.24              ISSUED FOR LSI04             CW

                                                                                                                                                                                                                                                                                                                VERTICAL POLE MAZE; AVAILABLE FROM
                                                                                                                                                                                                                                                                                                                                                     SLOPING TRIKE PATH                                                     5   18.MAY.10 ISSUED FOR LANDSCAPE SITE INSTRUCTION     CW
                                                                                                                                                                                                                                                                                                                LANDSCAPE STRUCTURE;8 BLUE POLES                                                                            4   17.JUN.20        ISSUED FOR CONSTRUCTION            CW
                                                                                                                                                                                                                                                                                                                AND 8 SILVER POLES                                                                                          3   17.MAR.31            ISSUED FOR TENDER              CW
                                                        LANDSCAPED
                                                        BOULDER RETAINING;                                                                                                                                                                                                                                                                                                                                                  2   17.JAN.20               ISSUED FOR BP               CW
                                                        RE-USE EXISTING                                                                                                                                                                                                                                                                                                                                                     1   16.DEC.20    REV. PER NEW SPACE REQUIREMENTS        CW
                                                        BOULDERS ON SITE
                                                                                                                                                                                                                                                                                                          1219MM HT. ALUMINUM RAIL FENCE                                                                                   NO. DATE           REVISION DESCRIPTION                  DR.
                                                                                                                                                                                                                                                                                                          AND GATES AT PERIMETER

                                                                                                                                                                                                                                                                                                           PLAZA PAVING TO MATCH                                                                                           CLIENT:
                                                                                                                                                                                                                                                                                                           EXISTING PAVING OF
                                                                                                                                                                                                                                                                                                           SENIOR SCHOOL
                                                                                                                                                                     EXISTING SIDEWALK
                                                                                                                                                                     TO REMAIN                                                                              SOD
                                                                                                                                                                                                                                                            LAWN

                                                                                                                                                                                                                                             BAREFOOT PATH; VARIED
                                                                                                                                                                                                                                             SURFACE MATERIALS;
                                                                                                                                                                                                                                             EDGING MATERIAL TO BE
                                                                                                                                                                                                                                             PERMALOC 'PERMASTRIP
                                                                                                                                                                                                                                             EDGING; PATH MATERIALS                                          SEAT WALL AND TREE/SHRUB
                                                                                                                                                                                                                                             TO BE SELECTED BY CLIENT                                        PLANTING TO MATCH EXISTING                                                                                    PROJECT:
                                                                                                                                                                                                                                                                                                             SENIOR SCHOOL

                                                                                                                                                       EXIT FROM                                                                                                                                                                                     BAREFOOT PATH                                                         MULGRAVE SCHOOL
                                                                                                                                                       UNDERGROUND
                                                                                                                                                       PARKADE
                                                                                                                                                                                                                                                                                                                                                                                                                           CYPRESS BOWL LANE
                                                                                                                                                                                                                                                                                                                                                                                                                           WEST VANCOUVER

TREE SCHEDULE                                                                                                                      PMG PROJECT NUMBER: 9x-xxx                                                                                                                                                                                                                                                              DRAWING TITLE:
  KEY   QTY     BOTANICAL NAME                              COMMON NAME                                                     PLANTED SIZE / REMARKS
         4      ACER CIRCINATUM                             VINE MAPLE                                                      2.5M HT; B&B; 3 STEM CLUMP                                                                                                                                                                                                                                                                     LANDSCAPE
         3
         3
                ACER RUBRUM 'KARPICK'
                PSEUDOTSUGA MENZIESII
                                                            COLUMNAR KARPICK MAPLE
                                                            DOUGLAS FIR
                                                                                                                            7CM CAL; 2M STD; B&B
                                                                                                                            3M HT; B&B
                                                                                                                                                                                                                                                                                                                                                                                                                           PLAN - ELC
NOTES: * PLANT SIZES IN THIS LIST ARE SPECIFIED ACCORDING TO THE CANADIAN LANDSCAPE STANDARD, LATEST EDITION. CONTAINER SIZES SPECIFIED
AS PER CNLA STANDARDS. BOTH PLANT SIZE AND CONTAINER SIZE ARE THE MINIMUM ACCEPTABLE SIZES. * REFER TO SPECIFICATIONS FOR DEFINED                                                                                                                                                                                                                                                                                          DATE:               15.NOV.18            DRAWING NUMBER:
CONTAINER MEASUREMENTS AND OTHER PLANT MATERIAL REQUIREMENTS. * SEARCH AND REVIEW: MAKE PLANT MATERIAL AVAILABLE FOR OPTIONAL
REVIEW BY LANDSCAPE ARCHITECT AT SOURCE OF SUPPLY. AREA OF SEARCH TO INCLUDE LOWER MAINLAND AND FRASER VALLEY. * SUBSTITUTIONS:                                                                                                                                                                                                                                                                                                                1:100

                                                                                                                                                                                                                                                                                                                                                                                                                                                                          L1
                                                                                                                                                                                                                                                                                                                                                                                                                           SCALE:
OBTAIN WRITTEN APPROVAL FROM THE LANDSCAPE ARCHITECT PRIOR TO MAKING ANY SUBSTITUTIONS TO THE SPECIFIED MATERIAL. UNAPPROVED
SUBSTITUTIONS WILL BE REJECTED. ALLOW A MINIMUM OF FIVE DAYS PRIOR TO DELIVERY FOR REQUEST TO SUBSTITUTE. SUBSTITUTIONS ARE SUBJECT TO                                                                                                                                                                                                                                                                                     DRAWN:              CW
CANADIAN LANDSCAPE STANDARD - DEFINITION OF CONDITIONS OF AVAILABILITY. ALL LANDSCAPE MATERIAL AND WORKMANSHIP MUST MEET OR EXCEED
CANADIAN LANDSCAPE STANDARD'S LATEST EDITION. ALL PLANT MATERIAL MUST BE PROVIDED FROM CERTIFIED DISEASE FREE NURSERY                                                                                                                                                                                                                                                                                                      DESIGN:             CW

                                                                                                                                                                                                                                                                                                                                                                                                                           CHK'D:              PCM                                  OF 5

                                                                                                                                                                                                                                                                                                                                                                                                      15148-7DPAMEND.ZIP   PMG PROJECT NUMBER:                                    15-148
c Copyright reserved. This drawing and design is the
                                                                                                                                                                                                                                                                                                                                                                                                                                                                                 property of PMG Landscape Architects and may not be
                                                                                                                                                                                                               COROCORD SPACENET ON ROOF COLUMN; CUSTOM DESIGN TO BE                                                                                                                                                                                                             reproduced or used for other projects without their
                                         ACER CIRCINATUM                                                                                                                                                       COORDINATED WITH RECTEC INDUSTRIES; SHOP DRAWINGS TO BE
                                                                                                  CONTINUATION OF                                                                                                                                                                                                                                                                                                                                                                permission.
                                                                                                  RAYWOOD ASH TREES                                   EXISTING SIDEWALK                                        PROVIDED; PLAY FALL RUBBER TILE SAFETY SURFACE -BLACK AND
                                                                                                                                                                                                               TERRACOTTA CHECKERBOARD PATTERN; SLOPE SAFETY SURFACING UP

                                                                                                                                                 3M
                                               CLUSTER OF DOUGLAS FIR                             ALONG SIDEWALK
             EXISTING SIDEWALK

                                                                                                                                               5.
                                                                                                                                                                                                               TO PROVIDE COVER AS REQUIRED BY COROCORD DESIGN

                                                                                                                                            22
                                                                                                                                           +
                                                                                                                                                                                                                                                        CONTINUATION OF
                                                                                                                                                                                                                                                        RAYWOOD ASH TREES
                                                                                                                                                                                                                                                        ALONG SIDEWALK

                                                                                                                                         FIBAR PLAY                                                                                                                                                                                                                                                                                                                                    LANDSCAPE
                                                                                                                                         SURFACE.                                                                                                                                                                                                                                                                                                                                      ARCHITECTS
                                                                                                                                                                                                                                                                                                                                                                                                                                                                                 Suite C100 - 4185 Still Creek Drive
                                                                                                                                                                                                                                                                                                                                                                                                                                                                                 Burnaby, British Columbia, V5C 6G9
                                                                                                                                                                                                                                                                                               MEDIUM BROOM                                                                                                                                                                      p: 604 294-0011 ; f: 604 294-0022
                                                                                                                                                                                                                                                                            EXISTING           FINISHED
                                                                                                 CLUSTER OF VINE MAPLES                                                                                                                                                     SIDEWALK           CONCRETE;
                                                                                                                                                                                                                                                          BOULDER                              1.5M SAWCUT

                                                                                                                                                                                                                                                                                      3M
                                                                                                                                                                                                                                                          RETAINING WALL                       PATTERN
                                                                                                                                                                                                                                                                                                                                                                                                                                                                                 SEAL:

                                                                                                                                                                                                                                                                                   6.
                                                                                                                                                                                                                                                                                 22
                                                                                    MEDIUM BROOM                                                                      BOULDER SEATING

                                                                                                                                                                                                                                                                                +
                                                                                                                                                                      CIRCLE
                                                                                    FINISHED CONCRETE TO
                                                                                    FACE OF BUILDING; 1.5M

                                                                                                                                                                                                                                                                                 8M
                                                                                                                                                                                                                                                                              5.
                                                                                                                                                                                                                                       BOULDER
                                                                                    SAWCUT PATTERN

                                                                                                                                                                                                                                                                            22
                                                                                                                                         CONCRETE UNIT PAVERS; STANDARD                                                                RETAINING WALL                                                 EXISTING

                                                                                                                                                                                                                                                                            +
                                                                                                                              M
                                                                                                                          5.3            HOLLAND; SUMMIT BLEND IN ALL                                                                                                                                 LANDSCAPE
                                                                                                                       22                AREAS OUTSIDE OF TRIKE PATH; TYP.
                                                                                                                   +
   PROPOSED                                                                                                                                           LINE OF ROOF                                                                          GORIC / KAISER + KUHN
                                                                                                                                                                                                                                            WATER TABLE 0-34010-500
   SERVICE LANE                                                                      EXIT                                                             ABOVE                                                                                                                          3M
                                                                                                                                                                                                                                            WATER TABLE; HOSE BIB AND             5.
                                                                                     STAIR                                                                                                                                                  DRAIN REQUIRED                      22
                                                                                                                                                                                                                                                                            +

ART DECK                                                                              + 0m
BELOW

       1.2M HT. RAILING;
       REFER TO ARCH
                                                                                                                                                                                                                                                STORAGE
       FOR DETAILS                                                                                                                                                                                              MINIMUM CSA
                                                                                                                                                                                                                SAFETY ZONE
                                                               1x6 IPE WOOD DECKING; 10 MM
                                                               CLEARANCE FROM CONCRETE WALL
                                                               AND BETWEEN BOARDS; MAX
                                                               OVERHANG AT END OF BOARDS OF
                                                               50MM; HIDDEN FASTENERS; REFER
                                                               TO ARCH FOR SUBSTRUCTURE
                                                               DETAILS.       ARTIFICIAL
                                                                              TURF LAWN

                                                            + 0m

                                                                                                                                                                                                                                                                 CONCRETE UNIT PAVER
                                                                   SL
                                                                     OP                                                                                                                                                                                          TRIKE PATH; MUTUAL
                                                                        EU
                                                                          P                                                                                                                                                                                      MATERIALS - STANDARD
                                                                                                                                                                                                                                                                 HOLLAND; CASCADE BLEND
 BOULDER RETAINING                                                                                                                                                                                                                                               RUNNING BOND PATTERN
   AT EDGE OF PATH

                                                                                      + 0.45m

                                                                                                                                  + 0m
                                                                                                                                                                                                                                                                   JUNIOR
                                                                                                                                                                                                                                                                   SCHOOL
                                                                                             + 0.45m
             AMPHITHEATRE/                                                                 + 0.36m
        OUTDOOR CLASSROOM                                                                + 0.27m                                                                                                                                                                   COLUMN AND VERTICAL
                                                                                       + 0.18m                                                                                                                                                                     MAZE FEATURE
                                                                                    + 0.09m
                                                                                                       + 0.45m
                                                                                                                                                                                                                                                                                                                  TREE SCHEDULE                                                                                                           PMG PROJECT NUMBER: 15-148
                                                                                                                                                                                                                                                                                                                    KEY   QTY     BOTANICAL NAME                              COMMON NAME                                          PLANTED SIZE / REMARKS
                                                                                                                                                                                                                                                                                                                   TREE
                                                                             + 0m                                                                                                                                                                                                                                           8     ACER CIRCINATUM                             VINE MAPLE                                           2.5M HT; B&B; 3 STEM CLUMP
                                                                                                                                                                                                                                                                   SEMICIRCULAR BOULDERS/                                   3     FRAXINUS OXYCARPA 'RAYWOOD'                 RAYWOOD ASH                                          6CM CAL; 1.8M STD; B&B
                                                                                                                                                                                                                                                                   COVERED OUTDOOR CLASSROOM
                                                                                                                                                                                                                                                                                                                            3     PSEUDOTSUGA MENZIESII                       DOUGLAS FIR                                          3M HT; B&B
                                                                                                                                                                                                                                                                   OPPORTUNITY
                                                                                                                                                                                            450/200
                                                                                                                                                                                                                                                                                                                  NOTES: * PLANT SIZES IN THIS LIST ARE SPECIFIED ACCORDING TO THE CANADIAN LANDSCAPE STANDARD, LATEST EDITION. CONTAINER SIZES SPECIFIED
                                                                                                                                                                                            300/150
                                                                                                                                                                                                                                                                   ACTIVITY WALL                                  AS PER CNLA STANDARDS. BOTH PLANT SIZE AND CONTAINER SIZE ARE THE MINIMUM ACCEPTABLE SIZES. * REFER TO SPECIFICATIONS FOR DEFINED                               7    18.JUL.22   ISSUED FOR DP AMENDMENT - EAST GYM      CW
                                                                                                                                                                                 450/300
                                                                                                                                                                                                                                                                                                                  CONTAINER MEASUREMENTS AND OTHER PLANT MATERIAL REQUIREMENTS. * SEARCH AND REVIEW: MAKE PLANT MATERIAL AVAILABLE FOR OPTIONAL                                   6    18.MAY.24              ISSUED FOR LSI04             CW
                                                                                                                                    ARTIFICIAL TURF LAWN;                                   300/200
                                                                                                                                                                                                                                                                                                                  REVIEW BY LANDSCAPE ARCHITECT AT SOURCE OF SUPPLY. AREA OF SEARCH TO INCLUDE LOWER MAINLAND AND FRASER VALLEY. * SUBSTITUTIONS:
                                                                                                                                    SYNLAWN PLAY PLATINUM                           300/150                                                                                                                                                                                                                                                                                       5    18.MAY.10 ISSUED FOR LANDSCAPE SITE INSTRUCTION     CW
                                                                                                                                                                                                                                                                                                                  OBTAIN WRITTEN APPROVAL FROM THE LANDSCAPE ARCHITECT PRIOR TO MAKING ANY SUBSTITUTIONS TO THE SPECIFIED MATERIAL. UNAPPROVED
                                                                                                       SLOPE UP

                                                                                                                                    OR APPROVED EQUAL; TO
                                                                                                                                                                                              300/200                                                              CONCRETE STEPPING TUBES - 150MM,
  ELC PLAY                                                                                                                                                                                                                                                                                                        SUBSTITUTIONS WILL BE REJECTED. ALLOW A MINIMUM OF FIVE DAYS PRIOR TO DELIVERY FOR REQUEST TO SUBSTITUTE. SUBSTITUTIONS ARE SUBJECT TO                          4    17.JUN.20        ISSUED FOR CONSTRUCTION            CW
                                                                                                                                    BE INSTALLED PER
                                                                                                                                                                                  450/300

                                                                                                                                                                                                                                                                   200MM AND 300MM DIAMETER;
                                                                                                                                                                                              300/150
                                                                                                                                                                                                                                                                                                                  CANADIAN LANDSCAPE STANDARD - DEFINITION OF CONDITIONS OF AVAILABILITY. ALL LANDSCAPE MATERIAL AND WORKMANSHIP MUST MEET OR EXCEED                              3    17.MAR.31            ISSUED FOR TENDER              CW
  AREA                                                                                                                              MANUFACTURER'S                                                                             COLOUR C -       COLOUR A -
                                                                                                                                                                                                                                                                   BOULDERS AND LOGS AS ADVENTURE                 CANADIAN LANDSCAPE STANDARD'S LATEST EDITION. ALL PLANT MATERIAL MUST BE PROVIDED FROM CERTIFIED DISEASE FREE NURSERY
                                                                                                                                                                                                                                                                   PLAY IN POURED IN PLACED RUBBER                                                                                                                                                                                2    17.JAN.20               ISSUED FOR BP               CW
  BELOW                   STANDARD HOLLAND UNIT                                                                                     SPECIFICATIONS                                                      COLOUR B-              GRAY             MID-BROWN          SAFETY SURFACE
                      PAVERS; SUMMIT BLEND IN ALL                                                                                                                                                       BEIGE                                                                                                                                                                                                                                                                     1-   16.DEC.20    REV. PER NEW SPACE REQUIREMENTS        CW
                     AREAS OUTSIDE OF TRIKE PATH;                                                                 + 0m                                                                                        POURED IN PLACE RUBBER                                                                                                                                                                                                                                             NO. DATE            REVISION DESCRIPTION                  DR.
                      RUNNING BOND PATTERN; TYP.                                                                                                                                                              SAFETY SURFACE

                                                                                                                                                                                                                                                                   1x6 IPE WOOD DECKING; 10 MM CLEARANCE                                                                                                                                                                         CLIENT:
                                                                                                                                                                                                                                                                   FROM CONCRETE WALL AND BETWEEN
                                                                                                                                                                                                                                                                   BOARDS; MAX OVERHANG AT END OF
                                                                                                                                                                                                                                                                   BOARDS OF 50MM; HIDDEN FASTENERS;
                                                                                                                                                                                                                                                                   REFER TO ARCH FOR SUBSTRUCTURE
                                                                                                                                                                     COLOUR A-                                                                                     DETAILS.
                                                                                                                                                                     MID-BROWN

                                                                                                                                                                                                                                                                   REFER TO ARCH FOR PARAPET
                                                                                                                                                                                                                                                                   AND GUARDRAIL DETAIL

                                                                                                                                                                                                                                                                                                                                                                                                                                                                                 PROJECT:

                                                                                                                                                                                                                          EXISTING GREEN ROOF
                                                                                                                                                                                                                          ON SENIOR SCHOOL                                                                                                                                                                                                                                       MULGRAVE SCHOOL
                                                                                                                                                                                                                                                                                                                                                                                                                                                                                 CYPRESS BOWL LANE
                                                                                                                                                                                                                                                                                                                                                                                                                                                                                 WEST VANCOUVER

                                                                                                                                                                                                                                                                                                                                                                                                                                                                                 DRAWING TITLE:

                                                                                                                                                                                                                                                                                                                                                                                                                                                                                 LANDSCAPE
                                                                                                                                                                                                                                                                                                                                                                                                                                                                                 PLAN - JUNIOR SCHOOL
                                                                                                                                                                                                                                                                                                                                                                                                                                                                                 DATE:                15.NOV.18            DRAWING NUMBER:

                                                                                                                                                                                                                                                                                                                                                                                                                                                                                                      1:100

                                                                                                                                                                                                                                                                                                                                                                                                                                                                                                                                 L2
                                                                                                                                                                                                                                                                                                                                                                                                                                                                                 SCALE:

                                                                                                                                                                                                                                                                                                                                                                                                                                                                                 DRAWN:               CW

                                                                                                                                                                                                                                                                                                                                                                                                                                                                                 DESIGN:              CW

                                                                                                                                                                                                                                                                                                                                                                                                                                                                                 CHK'D:               PCM                                  OF 5

                                                                                                                                                                                                                                                                                                                                                                                                                                                            15148-7DPAMEND.ZIP   PMG PROJECT NUMBER:                                     15-148
c Copyright reserved. This drawing and design is the
                                                                                                                                                                                                                                                                                                                                                                                                                                                                                                                               property of PMG Landscape Architects and may not be
                                                                                                                                                                                                                                                                                                                                                                                                                                                                                                                               reproduced or used for other projects without their
                                                                                                                                                                                                                                                                                                                                                                                                                                                                                                                               permission.

                                                                                                                                                                                                                             ALL DISTURBED AREAS ON NORTH SIDE OF ACCESS PATH
                                                                                                                                                                                                                             TO BE HYDROSEEDED USING NATIVE REVEGETATION MIX;
                                                                                                                                                                                          NATIVE DECIDUOUS TREES; VINE       DISTURBED GRADE TO BE NO GREATER THAN 1V:2H AND
                                                                                                                                                                                          MAPLE AND BIGLEAF MAPLE            FEATHERED INTO NATURAL GRADE; TYP.
                                                                                                                                                                                                                                                                                                                                                                                                                                                                                                                                     LANDSCAPE
                                                                                                                                      EXISTING RETAINING
                                                                                                                                      WALL TO BE RETAINED                                                                                                                                                                                                                                                                                                                                                                            ARCHITECTS
                                                                                                                                                                    NATIVE CONIFERS;
                                                                                                                                                                    DOUGLAS FIR AND
                                                                                                                                                                                                                                                                                                                                                                                                                                                                                                                               Suite C100 - 4185 Still Creek Drive
                                                                                                                                                                    GRAND FIR                        1.2M WIDTH CRUSHED GRAVEL                                                                                                                                                                                                                                                                                                 Burnaby, British Columbia, V5C 6G9
                                                                                                                                                                                                     PATH AT NORTH SIDE OF
                                                                                                                                                                                                     BUILDING FOR MAINTENANCE                                                                                   CONNECTION FROM                                                                                                                                                                                                p: 604 294-0011 ; f: 604 294-0022
                                                                                                                                                                                                     ACCESS                                                                                                     MAINTENANCE PATH TO EXISTING
                                                                                                                                                                                                                                                                                                                FOREST PATH

                                                                                    EXISTING RAMP TO BE                                                                                                                                                                                                                     PROPOSED SHOTCRETE
                                                                                                                                                                                                                                                                                                                                                                                                                                                                                                                               SEAL:
                                                                                               RETAINED                                                                                                                                                                                                                     RETAINING WALLL; REFER TO
                                                                                                                                                                                                                                                                                                                            GEOTECH FOR DETAILS

                                                                                                                                 EXISTING CONCRETE
                                                                                                                                 PAD TO BE RETAINED
                                                                                                                  + 230.25M
                                                                                                                                                                + 230.68M

                                                                                                                               ~2% SLOPE TO
                                                                                                                               EXISTING EDGE OF

                                                                                                                                                                                                                                                                                                                                                                                        EX OR
                                                                                                                                                                                                                                                                                                                                                                                          F
                                                                                                                                                                                                                                                                                                                                                                                          IS ES
                                                                                                                               BLACKTOP

                                                                                                                                                                                                                                                                                                                                                                                            TI TE
                                                                                                                                                                                                                                                                                                                                                                                              N D
                                                                                                                                                                                                                                                                                                                                                                                               G
                                                                                                                                                                                                                                                                                                                                                                                                 PA RIP
HSS127x127

                                                                                                                                      + 230.11M

                                                                                                                                                                                                                                                                                                                                                                                                   TH AR
                                                                                                                                                                                                                                                                                                                                                                                                     W IA
                                                                                                                                                                                                                                                                                                                                                                                                       AY N
                                                                                                                                                                                                                                                                                                                                                                                                         TH ARE
                                                                                                                                                                                                                                                                                                                                                                                                           R A
                                                                                                                                                                                                                                                                                                                                                                                                            O
                                                                                                                                                                                                                                                                                                                                                           + 229.40M

                                                                                                                                                                                                                                                                                                                                                                                                              U
                                                                                                                                                                                                                                                                                                                                                                                                               G
                                                                                                                                                                                                                                                                                                                                                                                                                 H
                                                                                                                                                                                                                                                    PROPOSED UPPER GYM
                                  HSS127x127

                                         HSS127x127

                                                                                                                                            + 229.13M
                                                                                                                                                + 229.10M
                                                                                                                                                                                                                                                                                                                                                                                                              ALL DISTURBED AREAS ON EAST SIDE TO
                                                                                                                                                                                                                                                                                                                                                                                                              BE HYDROSEEDED USING NATIVE
                                                                                 CONCRETE RAMP STEPS;                                                                                                                                                                                                                                                                                                         REVEGETATION MIX; DISTURBED GRADE
                                                                                                                                                                                                                                                                                                                                                                                                              TO BE NO GREATER THAN 1V:2H AND
                                                                                       6" RISE; 30" RUN                                                                                                                                                                                                                                                                                                       FEATHERED INTO NATURAL GRADE; TYP.
                                                                                                                                                                                                                                                                                                                                                                                                                                                    EXISTING
              HSS127x127

                     HSS127x127

                                                                                                                                                                                                                                                                                                                                                                                                                                                    TREES TO BE
                                                                                                                                                                                                                                                                                                                                                                                                                                                    RETAINED

                                                                                                       BROOM FINISHED
                                                                                                     CONCRETE LANDING
                                                                                                             AT DOOR

                                                                                                                                                                                                                                                                                                                                                                                                                                                                                                   COVE
                                                                                                                                                                        CONNECTOR

                                                                                                                                                                                                                                                                                                                                                                                                                                                                                                    NANT
                                                                                                                                                                                                                                                                                                                                                                                                                                                                                                                                7    18.JUL.22   ISSUED FOR DP AMENDMENT - EAST GYM      CW

                                                                                                                                                                                                                                                                                PROPOSED LOWER GYM                                                                                                                                                                                                                              6
                                                                                                                                                                                                                                                                                                                                                                                                                                                                                                                                5
                                                                                                                                                                                                                                                                                                                                                                                                                                                                                                                                     18.MAY.24              ISSUED FOR LSI04
                                                                                                                                                                                                                                                                                                                                                                                                                                                                                                                                     18.MAY.10 ISSUED FOR LANDSCAPE SITE INSTRUCTION
                                                                                                                                                                                                                                                                                                                                                                                                                                                                                                                                                                                         CW
                                                                                                                                                                                                                                                                                                                                                                                                                                                                                                                                                                                         CW
                                                                                                                                                                                                                                                                                                                                                                                                                                                                                                                                4    17.JUN.20        ISSUED FOR CONSTRUCTION            CW
                                                                                                                                                                                                                                                                                                                                                                                                                                                                                                                                3    17.MAR.31            ISSUED FOR TENDER              CW

                                                                                                                                                                                                                                                                                                                                                                                                                                                                                                      LINE/
                                                                                                                                                                                                                                                                                                                                                                                                                                                                                                                                2    17.JAN.20               ISSUED FOR BP               CW
                                                                                                                                                                                                                                                                                                                                                                                                                                                                                                                                1-   16.DEC.20    REV. PER NEW SPACE REQUIREMENTS        CW

                                                                                                                                                                                                                                                                                                                                                                                                                                                                                                                               NO. DATE            REVISION DESCRIPTION                  DR.

                                                                                                                                                                                                                                                                                                                                                                                                                                                                                                                               CLIENT:

                                                                                                                                                                                                                                                                                                                                                                                                                                                                                                           SETB
                                                                                                                                                                                                                                                                                                                                                                                                                                        ALL DISTURBED AREAS ON EAST
                                                                                                                                                                                                                                                                                                                                                                                                                                        SIDE TO BE HYDROSEEDED
                                                                                                                                                                                                                                                                                                                                                                                                                                        USING NATIVE REVEGETATION

                                                                                                                                                                                                                                                                                                                                                                                                                                                                                                             ACK
                                                                                                                                                                                                                                                                                                                                                                                                                                        MIX; DISTURBED GRADE TO BE
                                                                                                                                                                                                                                                                                                                                                                                                                                        NO GREATER THAN 1V:2H AND
                                                                                                                                                                                                                                                                                                                                                                                                                                        FEATHERED INTO NATURAL
                                                                                                                                                                                                                                                                                                                                                                                                                                        GRADE; TYP.

                                                                                                                                                                                                                                                                                                                                                                                                                                                                                                                               PROJECT:

                                                                                                                                                                                                                                                                                                                                                                                                                                                                                                                               MULGRAVE SCHOOL
             TREE SCHEDULE - EAST GYM                                                                                      PMG PROJECT NUMBER: 15-148
                                                                                                                                                                                                                                                                                                                                                                                                                                                                                                                               CYPRESS BOWL LANE
               KEY                                    QTY   BOTANICAL NAME                  COMMON NAME                    PLANTED SIZE / REMARKS                                                                                                                                                                                                                                                                                                                     CONNECTION TO TRAIL SYSTEM
              TREE                                                                                                                                                                                                                                                                                                                                                                                                                                                    FROM VIEWING TERRACE
                                                                                                                                                                                                                                                                                                                                                                                                                                                                      THROUGH EXISTING TREES IF
                                                                                                                                                                                                                                                                                                                                                                                                                                                                                                                               WEST VANCOUVER
                                                                                                                                                                                                                                                                                                                                                                                                                                                                      POSSIBLE; ALL WORK WITHIN
                                                       9    ABIES GRANDIS                   GRAND FIR                      1.5 M ht.                                                                                                                                                                                                                                                                                                                                  TREE PROTECTION ZONES TO
                                                                                                                                                                                                                                                                                                                                                                                                                                                                      BE UNDER SUPERVISION OF
                                                      14    ACER CIRCINATUM                 VINE MAPLE                     2.5M HT; B&B; 3 STEM CLUMP                                                                                                                                                                                                                                                                                                                 PROJECT ARBORIST; TYP.
                                                      10    ACER MACROPHYLLUM               BIGLEAF MAPLE                  6CM CAL; 2M STD; B&B                                                                                                                                      LANDSCAPE FORMS 'PARALLEL 42' BENCH;
                                                                                                                                                                                                                                                                                     M CONFIGURATION (4 BENCHES)
                                                       7    CORNUS 'EDDIE'S WHITE WONDER'   EDDIE'S WHITE WONDER DOGWOOD   6CM CAL; B&B                                                                                                                                                                                                                                             BENCHES

                                                      6     PSEUDOTSUGA MENZIESII           DOUGLAS FIR                    3M HT; B&B                                                                                                                                                                                                                                                                                                                                                                                          DRAWING TITLE:

             NOTES: * PLANT SIZES IN THIS LIST ARE SPECIFIED ACCORDING TO THE BC LANDSCAPE STANDARD AND CANADIAN LANDSCAPE
             STANDARD, LATEST EDITION. CONTAINER SIZES SPECIFIED AS PER CNLA STANDARD. BOTH PLANT SIZE AND CONTAINER SIZE
                                                                                                                                                                                                           EXISTING PAVING TO BE
                                                                                                                                                                                                           RETAINED; MAKE GOOD ANY
                                                                                                                                                                                                           DISTURBANCE TO MATCH                          BROOM
                                                                                                                                                                                                                                                                                                                                      BENCHES
                                                                                                                                                                                                                                                                                                                                                                                                                                                                                                                               LANDSCAPE PLAN -
             ARE THE MINIMUM ACCEPTABLE SIZES. * REFER TO SPECIFICATIONS FOR DEFINED CONTAINER MEASUREMENTS AND OTHER
             PLANT MATERIAL REQUIREMENTS. * SEARCHR AND REVIEW: MAKE PLANT MATERIAL AVAILABLE FOR OPTIONAL REVIEW BY
                                                                                                                                                                                                           EXISTIN PAVING                                FINISHED
                                                                                                                                                                                                                                                         CONCRETE
                                                                                                                                                                                                                                                                                        BENCHES
                                                                                                                                                                                                                                                                                                                                                                                                                                                                                                                               EAST END GYM
                                                        IM
             LANDSCAPE ARCHITECT AT SOURCE OF SUPPLY.      220 AREA OF SEARCH TO INCLUDE LOWER MAINLAND AND FRASER VALLEY. *
                                                              .86
                                                                  +
             SUBSTITUTIONS: OBTAIN WRITTEN APPROVAL FROM THE LANDSCAPE ARCHITECT PRIOR TO MAKING ANY SUBSTITUTIONS TO THE                                                                                                                                                                                                                               COVERED FIELD APRON BELOW

             SPECIFIED MATERIAL. UNAPPROVED SUBSTITUTIONS WILL BE REJECTED. ALLOW A MINIMUM OF FIVE DAYS PRIOR TO DELIVERY
                                                                                                                                                                                           1829                                                                                                                                                                                                                                                                                                                                DATE:                15.NOV.18            DRAWING NUMBER:
             FOR REQUEST TO SUBSTITUTE. SUBSTITUTIONS ARE SUBJECT TO BC LANDSCAPE STANDARD AND CANADIAN LANDSCAPE
             STANDARD - DEFINITION OF CONDITIONS  2000
                                                    OF AVAILABILITY. * ALL LANDSCAPE MATERIAL AND WORKMANSHIP MUST MEET OR   1500
                                                                                                                                                                                                                                                                                                                                                                                                                                                                                                                                                    1:100

                                                                                                                                                                                                                                                                                                                                                                                                                                                                                                                                                                               L3
                                                                                                                                                                                   1500                                                                                          BANDS OF 12X24 BROADWAY PAVERS; NATURAL                                                                                                                                                                                                       SCALE:
                                                                                                                                                                                                                                                                                 GRAY AND CHARCOAL
             EXCEED BC LANDSCAPE STANDARD AND CANADIAN LANDSCAPE STANDARD LATEST EDITION. * ALL PLANT MATERIAL MUST BE
             PROVIDED FROM CERTIFIED DISEASE FREE NURSERY. * BIO-SOLIDS NOT PERMITTED IN GROWING MEDIUM UNLESS AUTHORIZED                                                                                                                                                                                                                                                                                                                                                                                                      DRAWN:               CW

                                                                                                                                                                                                                                                                                                                                                                                                                                                                                                                               DESIGN:              CW
                                                                                                                                                        10443

                                                                                                                                                        11333                                                                                                                                                                                                                                                                                                                                                                  CHK'D:               PCM                                  OF 5
                                                                                                                                                            12184

                                                                                                                                                                                                  1500
                                                                                                                                                             13036                                  1829
                                                                                                                                                                                                                                                                                                                                                                                                                                                                                                          15148-7DPAMEND.ZIP   PMG PROJECT NUMBER:                                     15-148
                                                                                                                                                              13872
c Copyright reserved. This drawing and design is the
DN                                                                                                                                                                                                                                                                                                                 property of PMG Landscape Architects and may not be
                                                     DN                                                                                                                                                                                                                                                            reproduced or used for other projects without their
                                                                                                                                                                                                                                                                                                                   permission.

                    215

                                                                                                                                                                                                                                                                                                                         LANDSCAPE
                                                                                                                                                                                                                                                                                                                         ARCHITECTS
     21'-2" TYP.
                                                                                                                                                                                                                                                                                                                   Suite C100 - 4185 Still Creek Drive
                                                                                                                                                                                                                                                                                                                   Burnaby, British Columbia, V5C 6G9
                                                                                                                                                                                                                                                                                                                   p: 604 294-0011 ; f: 604 294-0022

                                                                                                                                                                                                                                                                                                                   SEAL:

                                                                                                                                                                                                       HYDROSEED USING NATIVE
                                                                                                                                                                                                       REVEGETATION MIX
                                                                                                                                                                                                                                                                                + 205.00

                                                                                                                                                                                                                                                                                           EXISTING
                                                                                                                                                                                                                                                                                           LANDSCAPE TO
                                                                                                                                                                                                                                                                                           BE RETAINED;
                   EXISTING ACCESS PATH TO                                                                                                                                                                                                                                                 MAKE GOOD ANY
                   LOWER PLAYING FIELD TO BE                                                                                                                                                                                                                                               DISTURBANCE
                   RETAINED
                                                                                                     EXISTING LANDSCAPE TO BE RETAINED;
                                                                                                     MAKE GOOD ANY DISTURBANCE                                                                                                  + 205.00

                                                                                                                                                  + 205.00

                                                                                                                                               + TS 204.97      CIP CONCRETE STAIRS; 0.3M
                                                                                               4V:1H RETAINING WALL; REFER                                      RUN AND 0.15M RISERS (X34)
                                                                                               TO GEOTECH FOR DETAILS

                                                                                                                                                 + BS 203.17

                                                                                                                                                + TS 203.14

                                                                                                                                                                                                                                PROPOSED SPORTS
                                                                                                                                                                                                                                FIELD; BY OTHERS
                                                                                                                                             + BS 201.49
                                               PROPOSED ASPHALT                                                                              + TS 201.46
                                               PARKING LOT; REFER
                                               TO CIVIL FOR DETAILS

                                                                                                                                          + BS 199.81

                                                                                                                                                                                                                                                                                                                    7    18.JUL.22   ISSUED FOR DP AMENDMENT - EAST GYM      CW
                                                                                                                                                                                                                                                                                                                    6    18.MAY.24              ISSUED FOR LSI04             CW
                                                                                                                                                                                                                                                                                                                    5    18.MAY.10 ISSUED FOR LANDSCAPE SITE INSTRUCTION     CW
                                                                                                                                                                                                                                                                                                                    4    17.JUN.20        ISSUED FOR CONSTRUCTION            CW
                                                                                                                                                                                                                                                                                                                    3    17.MAR.31            ISSUED FOR TENDER              CW
                                                                                                                                                                                                                                                                                                                    2    17.JAN.20               ISSUED FOR BP               CW
                                                                                                                                                                                                                                                                                                                    1-   16.DEC.20    REV. PER NEW SPACE REQUIREMENTS        CW

                                                                                                                                                                                                                                                                                                                   NO. DATE            REVISION DESCRIPTION                  DR.
                                                                                                                                                                                                                                                                                                  + 204.28
                                                                                                                                                                                                                                                                                                                   CLIENT:

                                                                                                                                                                                                                                                      + 204.28

                                                                                                                                                                                                                                                                                                                   PROJECT:
                                                                                                                                                                       + 204.28

                                                                                                                                                                                                                                                                                                                   MULGRAVE SCHOOL
                                                                                                                                                                                                                                           EXISTING LANDSCAPE TO BE RETAINED;                                      CYPRESS BOWL LANE
                                                                                                                                                                                                                                           MAKE GOOD ANY DISTURBANCE
                                                                                                                                                                                                                                                                                                                   WEST VANCOUVER

                                                                                                                                                NOTE:                                                                                                                                                              DRAWING TITLE:
                                                                                                                                                ALL DISTURBED AREAS TO BE HYDROSEEDED USING NATIVE REVEGETATION MIX;

                                                                      HYDROSEED USING NATIVE
                                                                                                                                                FEATHER INTO NATURAL GRADE; TYP.
                                                                                                                                                ALL RETAINING WALLS TO BE REVIEWED AND APPROVED BY GEOTECHNICAL                                                                                                    LANDSCAPE PLAN -
                                                                      REVEGETATION MIX                                                          ENGINEER; CONFIRM WITH GEOTECH FOR ALL SLOPED AREAS REQUIRED TO BE
                                                                                                                                                COVERED DIRECTLY AFTER FINISH GRADING WITH TURF REINFORCEMENT MAT                                                                                                  SOUTHLAND
                                                                                                                                                (TRM)

                                                                                                                                                                                                                                                                                                                   DATE:                15.NOV.18            DRAWING NUMBER:

                                                                                                                                                                                                                                                                                                                                        1:100

                                                                                                                                                                                                                                                                                                                                                                   L4
                                                                                                                                                                                                                                                                                                                   SCALE:

                                                                                                                                                                                                                                                                                                                   DRAWN:               CW

                                                                                                                                                                                                                                                                                                                   DESIGN:              CW

                                                                                                                                                                                                                                                                                                                   CHK'D:               PCM                                  OF 5

                                                                                                                                                                                                                                                                                              15148-7DPAMEND.ZIP   PMG PROJECT NUMBER:                                     15-148
c Copyright reserved. This drawing and design is the
                                                                                                                                                                                                                                                                                                                                                                                                                          property of PMG Landscape Architects and may not be
                                                                                                                                                                                                                                                                                                                                                                                                                          reproduced or used for other projects without their
                                                       5220MM                                                                                                                                                                                                                                                                                                                                                             permission.
                                                                                                                    1100MM

                                                                                                                                                                                                                                                                                     PROPOSED
                                                                                                                                                                                                                                                                                        TREES
                                                      300MM
                       50MM                                                                                                       200MM

                                                        600MM

                                                                                                                             450MM
                    PLAN
                                                         4500MM                                                                                                                                                                                                                                                                                                                                                                 LANDSCAPE
                                                                                                                                                                                                                                                                                                                                                                                                                                ARCHITECTS
                                                                                                                                                                                                                                                                                                                                                                                                                          Suite C100 - 4185 Still Creek Drive
                                                                                                      ACER RUBRUM
                                                                                                      'BOWHALL'
                                                                                                                                                                                                                                                                                                                                                                                                                          Burnaby, British Columbia, V5C 6G9
                                                                                                                                                                                                                                                                                                                                                                                                                          p: 604 294-0011 ; f: 604 294-0022

                                                                                                                                                                                                                                                                ACER RUBRUM
                                                                                                                                                                                                                                                                'BOWHALL'

                                                                                                                                                                                                                                                                                                                                                                                PSEUDOTSUGA MENZIESII                     SEAL:

                                                                                                             PROVIDE 2500MM X 2500MM X                                                                                 MOUND GROWING
                                                                                                             750MM GROWING MEDIUM FOR                                   356MM X 150MM X 1.2M FLAMED LIMESTONE    MEDIUM TO 750MM DEPTH
                                                                                                             EACH TREE; SLOPE TO LAWN AT                                 TREAD SEAT; PINNED TO CONCRETE WALL
         BIRKEN FLAMED LIMESTONE                                                                             1:3 MAX.
         TREAD; 6" X 14" X 48"                                                                                                                               CURVING CONCRETE PLANTER WALL; ARCHITECTURAL
                                                                                                                                                                FINISH ON FRONT FACE; COLOUR TO MATCH GFRC
        CIP CONCRETE                                                                                                                                                     (LIMESTONE FINISH) BUILDING CLADDING
        PLANTER WALL                                                                                                                                                    CONCRETE SIDEWALK EXTENSION TO
                                                                                                                                                                                                                                                                              LAWN
                                                                                                                                                                                       PLANTER/SEAT WALL
                                                                                                                                     FINISHED                              EDGE OF EXISTING SIDEWALK
                                                                                                                                       GRADE
CONCRETE SIDEWALK EXTENSION;                                                                                                                                                        EXISTING SIDEWALK
     FINISH TO MATCH EXISTING;
                                                                                                                                                                                                                                                    EXISTING
  SAWCUT PATTERN AS SHOWN IN
                         PLAN
                                                                                                                                                                                                                                                    SUBGRADE                                    ACER CIRCINATUM -                  ACERMACROPHYLLUM -                           ABIES GRANDIS
                                                                                                                                                                                                                            JDRAIN 720 ON PLANTER   25MM SAND                                   VINE MAPLE                         BIGLEAF MAPLE
                 ELEVATION                                                                                                                                           SECTION                                                WALL; OR APPROVED EQUAL LAYER

                                                                                                                                                                                                                                                                                     PROPOSED
                                                                                                                                                                                                                                                                                       SHRUBS
                             PAVERS AS
                           SPECIFIED ON
                        LANDSCAPE PLAN
                                                                                                                                                                                                                    PAVERS
                        MIRADRAIN 9000                                                                                  50 mm DEPTH BIRD'S                                                              25MM BEDDING SAND                                                                       VACCINIUM OVATUM                       VACCINIUM CORYMBOSUM                     MAHONIA AQUIFOLIUM
                        OR EQUIVALENT                                                                                   EYE PEA GRAVEL
                                                                                                                                                                                                         150MM COMPACTED
                       DRAINAGE LAYER.
                                                                                                                                                                                                             GRANULAR FILL

         SLAB; WATERPROOFING AND                                                                                        SLAB; WATERPROOFING AND                                                                 COMPACTED
            PROTECTION BY OTHERS;                                                                                       PROTECTION BY OTHERS                                                                     SUBGRADE
        CONFIRM ACCEPTANCE PRIOR
           TO START OF LANDSCAPE
                            WORK           NOTE:
                                           PAVERS TO BE INSTALLED TO MANUFACTURER'S SPECIFICATIONS                                                                                                      NOTE:

                                                                                                                                                                                                                                                                                                                                               PROPOSED
                                                                                                                                                                                                                                                                                                                                           GROUNDCOVERS
                                                                                                                                                                                                        PAVERS TO BE INSTALLED TO MANUFACTURERS SPECIFICATIONS

                                                                                                                                                                                                                                                                                     PROPOSED
                                                                                                                                                                                                                                                                                      GRASSES
                                                                                                                                                                                                                                                                                                                                                                                                                           7    18.JUL.22   ISSUED FOR DP AMENDMENT - EAST GYM      CW
                                                                                                                                                                                                                                                                                                                                                                                                                           6    18.MAY.24              ISSUED FOR LSI04             CW
                                                                                                                             TREE STAKES TO BE ALIGNED PARALLEL TO                                                                                                                                                                                        ARCTOSTAPHYLOS UVA-URSI                                          5    18.MAY.10 ISSUED FOR LANDSCAPE SITE INSTRUCTION     CW
                                                                                                                             SIDEWALK/ROAD.                                                                                                                                                                                                                                                                                4    17.JUN.20        ISSUED FOR CONSTRUCTION            CW
                  DO NOT CUT LEADER                                                                                          SET TREE PLUMB. USE 2 ROUND STAKES                                                                                                                                 CALAMAGROSTIS ACUTIFLORA 'KARL FOERSTER'                                                                                   3    17.MAR.31            ISSUED FOR TENDER              CW
                                                                                                                             ,(50-75mm DIA. PRESSURE TREATED WOOD)                                                                                                                                                                                                                                                         2    17.JAN.20               ISSUED FOR BP               CW
                                                                                                                             2.0M IN LENGTH EACH SET 1/3 HT. BELOW                                                                                                                                                                                                                                                         1-   16.DEC.20    REV. PER NEW SPACE REQUIREMENTS        CW
                                                                                                                             GRADE.
                                                                                                                                                                                                                                                                                                                                                                                                                          NO. DATE            REVISION DESCRIPTION                  DR.
                                                                                                                             TREE BARK SHOULD NOT BE DAMAGED DURING
                                                                                                                             PLANTING. TREE ROOTS NOT TO BE EXPOSED
                                                                                                                             TO SUN, FROST OR DESSICATION.                                                                                                                                                                                                                                                                CLIENT:

                                                                                                                                                                                                                                                                                                                                                          POLYSTICHUM MUNITUM

                                                                                                                                                                                                                                                                                                DESCHAMPSIA CESPITOSA
                                                                                                             ALL PLANTING PITS SHALL BE DUG BY HAND AS
                                                                                                             UNDERGROUND SERVICES MAY EXIST NEAR STREET TREE
                                                                                                             LOCATION.
                           50MM WIDE FABRIC BELT /                                                                                                                                                                                                                                                                                                                                                                        PROJECT:
                               BANDING IN FIGURE 8                                                           TOPSOIL DEPTH AS PER SPEC. ON SCARIFIED SUBGRADE.
                             PATTERN ATTACHED TO                                                             FILL WITH SOIL 2/3RDS FULL AND REMOVE STRAPPING, CUT
                          STAKE WITH SHINGLE NAILS                                                           ALL BINDING MATERIAL AND FOLD BURLAP INTO BOTTOM

          1800
                             OR 11 GAUGE GAL. WIRE
                            ENCASED IN 1/2" RUBBER
                                                                                                             OF HOLE. GRADE TO TOPS OF CURBS, WALKS, AND
                                                                                                             DRIVEWAYS ETC.
                                                                                                                                                                                                                                                                                                                                                                                                                          MULGRAVE SCHOOL
                           OR NATURAL FIBRE HOSE.
                   1200
                                                                                                            1.5M Ø x 50MM DEEP WELL FORMED IN TOPSOIL FOR
                           NOTE:
                           BELT PLACED AT A
                                                                                                            FIRST YEAR WATERING. BARK MULCH ON AT A MIN. DIST.                                                                                                                                                                                            FRAGARIA VIRGINIANA                                             CYPRESS BOWL LANE
                                                                                                            OF 150MM FROM TRUNK. PLANTED HT. OF ROOT COLLAR
                           HEIGHT NO GREATER THAN                                                           RELATIVE TO COVERING SOIL AT HEIGHT GROWN AT                                                                                                                                                                                                                                                                  WEST VANCOUVER
                            2/3 HEIGHT OF TREE.                                                             NURSERY; APROX. 50MM ABOVE EXISTING GRADE.

                                                                                                                                                                                                                                                                                                STIPA TENNUISIMA
                                                                                                              STAKES DO NOT PENETRATE
                                                                                                              OR DAMAGE ROOT BALL.
                                                                                                                                                                                                                                                                                                                                                                                                                          DRAWING TITLE:
                                                                                                               PLANTED HOLE EDGE W/ SHALLOW ANGLE

                    800                                                                                       300MM MIN. OF BACKFILL AROUND ROOT BALL.
                                                                                                              USE SOIL FROM PLANTING HOLE IF ACCEPTABLE                                                         LANDSCAPE FORMS 'PARALLEL 42' BENCH; ANGLED CONFIGURATION TO
                                                                                                                                                                                                                                                                                                                                                                                                                          LANDSCAPE
                                                                                                              BY SOIL TEST RESULTS, OTHERWISE, TOPSOIL TO
                                                                                                              BE USED. SOIL TO BE COMPACTED TO 85% STD.
                                                                                                                                                                                                                REFERENCE MULGRAVE 'M'; IPE SLATS                                                                                                                                                                         DETAILS
                                                                                                              PROCTOR DENSITY TO REMOVE AIR POCKETS.
                                                                                                              SCARIFY SIDES AND BOTTOM OF TREE PIT
                                                                                                              PRIOR TO PLANTING.
                                                 ROOT BALL WIDTH  .\15069 Whalley Condo\MAHONIA.jpg

                                                                                                                                                                                                                                                                                                                                                          CORNUS CANADENSIS                                               DATE:                15.NOV.18            DRAWING NUMBER:
                                                 PLUS 600MM (MIN)
                                                                                                                                                                                                                                                                                                                                                                                                                                               1:100

                                                                                                                                                                                                                                                                                                                                                                                                                                                                          L5
                                                                                                                                                                                                                                                                                                                                                                                                                          SCALE:

                                                                                                                                                                                                                                                                                                                                                                                                                          DRAWN:               CW

                                                                                                                                                                                                                                                                                                                                                                                                                          DESIGN:              CW

                                                                                                                                                                                                                                                                                                                                                                                                                          CHK'D:               PCM                                  OF 5

                                                                                                                                                                                                                                                                                                HELICTOTRICHON SEMPERVIRENS
                                                                                                                                                                                                                                                                                                                                                                                                     15148-7DPAMEND.ZIP   PMG PROJECT NUMBER:                                     15-148
APPENDIX A1 - TOPOGRAPHIC SURVEY OVERALL CAMPUS
APPENDIX A2 - TOPOGRAPHIC SURVEY SOUTHLANDS
APPENDIX C - ENVIRONMENTAL REVIEW
APPENDIX D - SLOPE STABILITY REVIEW
APPENDIX E - AERIAL PHOTO OF MULGRAVE CAMPUS
APPENDIX F - ARCHITECTURAL SITE PLANS
             AR1.1
             AR1.2
APPENDIX G - GEOTECHNICAL LETTER CERTIFYING STABILITY OF THE WORKS
APPENDIX H - CIVIL ENGINEER'S LETTER REGARDING IMPACT OF THE DEVELOPMENT ON SITE SERVICES
APPENDIX I - CIVIL ENGINEER'S DRAWINGS
CREUS
                        Engineering
                         Civil Engineers & Project Managers
                         S U I T E 2 0 0 - 9 0 1 1 6 T H S T W E S T , N O R T H V A N C O UV E R B C, V 7 P 1 R 2
                         PH: 604-987-9070                                           WEBSITE: www.creus.ca

                                                DRAWING LEGEND

                                                                                                      TO BE
                                                       EXISTING                  PROP.              REMOVED

                       LEGAL LINE
                       EASMENT
                       WATERMAIN
                       SANITARY
                       STORM
                       HYDRO
                       TEL
                       STREETLIGHT
                       GAS

                                                                                                     TO BE
                                                       EXISTING                  PROP.              REMOVED

                       FIRE HYDRANT
                       GATE VALVE
                       AIR VALVE
                       REDUCER
                       INSPECTION CHAMBER
                       CATCHBASIN (STD/SI)
                       CAP
                       MANHOLE
                       POWER POLE
                       STREETLIGHT

                       approved

                       client

                                          MULGRAVE SCHOOL

                       project

                                        MULGRAVE SCHOOL
                                          SOUTHLANDS
                                       WEST VANCOUVER, BC

                       title

                                                 ROADWORKS
                         PLAN & PROFILE (0+100 - 0+215)

                       no. (y/m/d)                                   revision                                 chk'd
                       COPYRIGHT RESERVED. THIS DRAWING AND DESIGN ARE, AND                          current
                       AT ALL TIMES REMAIN THE EXCLUSIVE PROPERTY OF CREUS                           rev. #
                       ENGINEERING LTD. AND CANNOT BE USED, REPRODUCED OR
                                DISTRIBUTED WITHOUT WRITTEN CONSENT.
                                    © 2016 CREUS ENGINEERING LTD.
                       engineer of record                              scales
                                                  FMC                            hor: 1:250          vert: 1:50
                       designed by                                    file no.
                                                  FMC
                       drawn by
                                                                                     16502
                                                  AFG                  drawing no.

NOT FOR CONSTRUCTION   date
                                             2016-09-28
                                                                                         R-1
CREUS
                        Engineering
                         Civil Engineers & Project Managers
                         S U I T E 2 0 0 - 9 0 1 1 6 T H S T W E S T , N O R T H V A N C O UV E R B C, V 7 P 1 R 2
                         PH: 604-987-9070                                           WEBSITE: www.creus.ca

                                                DRAWING LEGEND

                                                                                                      TO BE
                                                       EXISTING                  PROP.              REMOVED

                       LEGAL LINE
                       EASMENT
                       WATERMAIN
                       SANITARY
                       STORM
                       HYDRO
                       TEL
                       STREETLIGHT
                       GAS

                                                                                                     TO BE
                                                       EXISTING                  PROP.              REMOVED

                       FIRE HYDRANT
                       GATE VALVE
                       AIR VALVE
                       REDUCER
                       INSPECTION CHAMBER
                       CATCHBASIN (STD/SI)
                       CAP
                       MANHOLE
                       POWER POLE
                       STREETLIGHT

                       approved

                       client

                                          MULGRAVE SCHOOL

                       project

                                        MULGRAVE SCHOOL
                                          SOUTHLANDS
                                       WEST VANCOUVER, BC

                       title

                                                 ROADWOR S
                         PLAN & PROFILE (0+215 - 0+335)

                       no. (y/m/d)                                   revision                                 chk'd
                       COPYRIGHT RESERVED. THIS DRAWING AND DESIGN ARE, AND                          current
                       AT ALL TIMES REMAIN THE EXCLUSIVE PROPERTY OF CREUS                           rev. #
                       ENGINEERING LTD. AND CANNOT BE USED, REPRODUCED OR
                                DISTRIBUTED WITHOUT WRITTEN CONSENT.
                                    © 2016 CREUS ENGINEERING LTD.
                       engineer of record                              scales
                                                  FMC                            hor: 1:250          vert: 1:50
                       designed by                                    file no.
                                                  FMC
                       drawn by
                                                                                     16502
                                                  AFG                  drawing no.

NOT FOR CONSTRUCTION   date
                                             2016-09-28
                                                                                         R-2
CREUS
                        Engineering
                         Civil Engineers & Project Managers
                         S U I T E 2 0 0 - 9 0 1 1 6 T H S T W E S T , N O R T H V A N C O UV E R B C, V 7 P 1 R 2
                         PH: 604-987-9070                                           WEBSITE: www.creus.ca

                                                DRAWING LEGEND

                                                                                                      TO BE
                                                       EXISTING                  PROP.              REMOVED

                       LEGAL LINE
                       EASMENT
                       WATERMAIN
                       SANITARY
                       STORM
                       HYDRO
                       TEL
                       STREETLIGHT
                       GAS

                                                                                                     TO BE
                                                       EXISTING                  PROP.              REMOVED

                       FIRE HYDRANT
                       GATE VALVE
                       AIR VALVE
                       REDUCER
                       INSPECTION CHAMBER
                       CATCHBASIN (STD/SI)
                       CAP
                       MANHOLE
                       POWER POLE
                       STREETLIGHT

                       approved

                       client

                                          MULGRAVE SCHOOL

                       project

                                        MULGRAVE SCHOOL
                                          SOUTHLANDS
                                       WEST VANCOUVER, BC

                       title

                               STOCKPILE REMOVALS AND
                                TEMPORARY PARKING LOT

                       no. (y/m/d)                                   revision                                 chk'd
                       COPYRIGHT RESERVED. THIS DRAWING AND DESIGN ARE, AND                          current
                       AT ALL TIMES REMAIN THE EXCLUSIVE PROPERTY OF CREUS                           rev. #
                       ENGINEERING LTD. AND CANNOT BE USED, REPRODUCED OR
                                DISTRIBUTED WITHOUT WRITTEN CONSENT.
                                    © 2016 CREUS ENGINEERING LTD.
                       engineer of record                              scales
                                                  FMC                            hor: 1:250          vert:
                       designed by                                    file no.
                                                  AFG
                       drawn by
                                                                                     16502
                                                  AFG                  drawing no.

NOT FOR CONSTRUCTION   date
                                             2016-09-28
                                                                                         R-3
CREUS
                        Engineering
                       C iv il E ng in ee r s & Pr oj ec t M a na g er s
                       #610 EAST TOWER - 221 ESPLANADE WEST, NORTH VANCOUVER BC, V7M3J3
                       PH : 6 0 4 -9 8 7 -9 0 7 0                W EB SI T E: w ww . c r e u s. c a

                                            DRAWING LEGEND

                                                                                        TO BE
                                                 EXISTING               PROP.         REMOVED

                       LEGAL LINE
                       EASEMENT
                       WATERMAIN
                       SANITARY
                       STORM
                       HYDRO
                       TEL
                       STREETLIGHT
                       GAS

                                                                                       TO BE
                                                 EXISTING               PROP.         REMOVED

                       FIRE HYDRANT
                       GATE VALVE
                       AIR VALVE
                       REDUCER
                       INSPECTION CHAMBER
                       CATCHBASIN (STD/SI)
                       CAP
                       MANHOLE
                       POWER POLE
                       STREETLIGHT

                       approved

                       client

                                      MULGRAVE SCHOOL

                       project

                                      MULGRAVE SCHOOL
                                        SOUTHLANDS
                                     WEST VANCOUVER, BC

                       title

                                      CROSS SECTIONS
                                        STA. 0+110 - 0+140

                       no. (y/m/d)                           revision                          chk'd
                       COPYRIGHT RESERVED. THIS DRAWING AND DESIGN ARE, AND            current
                       AT ALL TIMES REMAIN THE EXCLUSIVE PROPERTY OF CREUS             rev. #
                       ENGINEERING LTD. AND CANNOT BE USED, REPRODUCED OR
                                DISTRIBUTED WITHOUT WRITTEN CONSENT.
                                    © 2016 CREUS ENGINEERING LTD.
                       engineer of record                     scales
                                             FMC                        hor: 1:100     vert:
                       designed by                           file no.
                                             AFG
                       drawn by
                                                                            16502
                                             AFG              drawing no.

NOT FOR CONSTRUCTION   date
                                         2016-09-28
                                                                             XS-1
CREUS
                        Engineering
                       C iv il E ng in ee r s & Pr oj ec t M a na g er s
                       #610 EAST TOWER - 221 ESPLANADE WEST, NORTH VANCOUVER BC, V7M3J3
                       PH : 6 0 4 -9 8 7 -9 0 7 0                W EB SI T E: w ww . c r e u s. c a

                                            DRAWING LEGEND

                                                                                        TO BE
                                                 EXISTING               PROP.         REMOVED

                       LEGAL LINE
                       EASEMENT
                       WATERMAIN
                       SANITARY
                       STORM
                       HYDRO
                       TEL
                       STREETLIGHT
                       GAS

                                                                                       TO BE
                                                 EXISTING               PROP.         REMOVED

                       FIRE HYDRANT
                       GATE VALVE
                       AIR VALVE
                       REDUCER
                       INSPECTION CHAMBER
                       CATCHBASIN (STD/SI)
                       CAP
                       MANHOLE
                       POWER POLE
                       STREETLIGHT

                       approved

                       client

                                      MULGRAVE SCHOOL

                       project

                                      MULGRAVE SCHOOL
                                        SOUTHLANDS
                                     WEST VANCOUVER, BC

                       title

                                      CROSS SECTIONS
                                        STA. 0+150 - 0+180

                       no. (y/m/d)                           revision                          chk'd
                       COPYRIGHT RESERVED. THIS DRAWING AND DESIGN ARE, AND            current
                       AT ALL TIMES REMAIN THE EXCLUSIVE PROPERTY OF CREUS             rev. #
                       ENGINEERING LTD. AND CANNOT BE USED, REPRODUCED OR
                                DISTRIBUTED WITHOUT WRITTEN CONSENT.
                                    © 2016 CREUS ENGINEERING LTD.
                       engineer of record                     scales
                                             FMC                        hor: 1:100     vert:
                       designed by                           file no.
                                             AFG
                       drawn by
                                                                            16502
                                             AFG              drawing no.

NOT FOR CONSTRUCTION   date
                                         2016-09-28
                                                                             XS-2
CREUS
                        Engineering
                       C iv il E ng in ee r s & Pr oj ec t M a na g er s
                       #610 EAST TOWER - 221 ESPLANADE WEST, NORTH VANCOUVER BC, V7M3J3
                       PH : 6 0 4 -9 8 7 -9 0 7 0                W EB SI T E: w ww . c r e u s. c a

                                            DRAWING LEGEND

                                                                                        TO BE
                                                 EXISTING               PROP.         REMOVED

                       LEGAL LINE
                       EASEMENT
                       WATERMAIN
                       SANITARY
                       STORM
                       HYDRO
                       TEL
                       STREETLIGHT
                       GAS

                                                                                       TO BE
                                                 EXISTING               PROP.         REMOVED

                       FIRE HYDRANT
                       GATE VALVE
                       AIR VALVE
                       REDUCER
                       INSPECTION CHAMBER
                       CATCHBASIN (STD/SI)
                       CAP
                       MANHOLE
                       POWER POLE
                       STREETLIGHT

                       approved

                       client

                                      MULGRAVE SCHOOL

                       project

                                      MULGRAVE SCHOOL
                                        SOUTHLANDS
                                     WEST VANCOUVER, BC

                       title

                                      CROSS SECTIONS
                                        STA. 0+190 - 0+220

                       no. (y/m/d)                           revision                          chk'd
                       COPYRIGHT RESERVED. THIS DRAWING AND DESIGN ARE, AND            current
                       AT ALL TIMES REMAIN THE EXCLUSIVE PROPERTY OF CREUS             rev. #
                       ENGINEERING LTD. AND CANNOT BE USED, REPRODUCED OR
                                DISTRIBUTED WITHOUT WRITTEN CONSENT.
                                    © 2016 CREUS ENGINEERING LTD.
                       engineer of record                     scales
                                             FMC                        hor: 1:100     vert:
                       designed by                           file no.
                                             AFG
                       drawn by
                                                                            16502
                                             AFG              drawing no.

NOT FOR CONSTRUCTION   date
                                         2016-09-28
                                                                             XS-3
CREUS
                        Engineering
                       C iv il E ng in ee r s & Pr oj ec t M a na g er s
                       #610 EAST TOWER - 221 ESPLANADE WEST, NORTH VANCOUVER BC, V7M3J3
                       PH : 6 0 4 -9 8 7 -9 0 7 0                W EB SI T E: w ww . c r e u s. c a

                                            DRAWING LEGEND

                                                                                        TO BE
                                                 EXISTING               PROP.         REMOVED

                       LEGAL LINE
                       EASEMENT
                       WATERMAIN
                       SANITARY
                       STORM
                       HYDRO
                       TEL
                       STREETLIGHT
                       GAS

                                                                                       TO BE
                                                 EXISTING               PROP.         REMOVED

                       FIRE HYDRANT
                       GATE VALVE
                       AIR VALVE
                       REDUCER
                       INSPECTION CHAMBER
                       CATCHBASIN (STD/SI)
                       CAP
                       MANHOLE
                       POWER POLE
                       STREETLIGHT

                       approved

                       client

                                      MULGRAVE SCHOOL

                       project

                                      MULGRAVE SCHOOL
                                        SOUTHLANDS
                                     WEST VANCOUVER, BC

                       title

                                      CROSS SECTIONS
                                        STA. 0+230 - 0+260

                       no. (y/m/d)                           revision                          chk'd
                       COPYRIGHT RESERVED. THIS DRAWING AND DESIGN ARE, AND            current
                       AT ALL TIMES REMAIN THE EXCLUSIVE PROPERTY OF CREUS             rev. #
                       ENGINEERING LTD. AND CANNOT BE USED, REPRODUCED OR
                                DISTRIBUTED WITHOUT WRITTEN CONSENT.
                                    © 2016 CREUS ENGINEERING LTD.
                       engineer of record                     scales
                                             FMC                        hor: 1:100     vert:
                       designed by                           file no.
                                             AFG
                       drawn by
                                                                            16502
                                             AFG              drawing no.

NOT FOR CONSTRUCTION   date
                                         2016-09-28
                                                                             XS-4
CREUS
                        Engineering
                       C iv il E ng in ee r s & Pr oj ec t M a na g er s
                       #610 EAST TOWER - 221 ESPLANADE WEST, NORTH VANCOUVER BC, V7M3J3
                       PH : 6 0 4 -9 8 7 -9 0 7 0                W EB SI T E: w ww . c r e u s. c a

                                            DRAWING LEGEND

                                                                                        TO BE
                                                 EXISTING               PROP.         REMOVED

                       LEGAL LINE
                       EASEMENT
                       WATERMAIN
                       SANITARY
                       STORM
                       HYDRO
                       TEL
                       STREETLIGHT
                       GAS

                                                                                       TO BE
                                                 EXISTING               PROP.         REMOVED

                       FIRE HYDRANT
                       GATE VALVE
                       AIR VALVE
                       REDUCER
                       INSPECTION CHAMBER
                       CATCHBASIN (STD/SI)
                       CAP
                       MANHOLE
                       POWER POLE
                       STREETLIGHT

                       approved

                       client

                                      MULGRAVE SCHOOL

                       project

                                      MULGRAVE SCHOOL
                                        SOUTHLANDS
                                     WEST VANCOUVER, BC

                       title

                                      CROSS SECTIONS
                                        STA. 0+270 - 0+280

                       no. (y/m/d)                           revision                          chk'd
                       COPYRIGHT RESERVED. THIS DRAWING AND DESIGN ARE, AND            current
                       AT ALL TIMES REMAIN THE EXCLUSIVE PROPERTY OF CREUS             rev. #
                       ENGINEERING LTD. AND CANNOT BE USED, REPRODUCED OR
                                DISTRIBUTED WITHOUT WRITTEN CONSENT.
                                    © 2016 CREUS ENGINEERING LTD.
                       engineer of record                     scales
                                             FMC                        hor: 1:100     vert:
                       designed by                           file no.
                                             AFG
                       drawn by
                                                                            16502
                                             AFG              drawing no.

NOT FOR CONSTRUCTION   date
                                         2016-09-28
                                                                             XS-5