Prospectus 2020 - Baines' Endowed Primary School and ...
Page content transcription
If your browser does not render page correctly, please read the page content below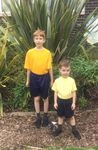 Penrose Avenue
                                                                                                          Blackpool
                                                                                                            FY4 4DJ

                                                                               www.baines-endowed.blackpool.sch.uk
School Tel: 01253 762532                                                                Email: beadmin@cidari.co.uk
Children's Centre Tel: 01253 699085                                                     Email: becentre@cidari.co.uk

Dear Parent,

Welcome to Baines' Endowed Church of England Primary Academy. I am so pleased that you have
decided to consider our school for your child. Here at Baines' we are passionate about supporting each
and every child in our care and nurturing their talents within a warm, friendly, Christian environment.

As a Church of England primary school, we have very close links with our local church, St. Paul's, Marton
and your child will have the opportunity throughout their life at Baines' to join in with celebrations and
services at church.

At Baines' we are so proud of the achievements of all of our children, whether they be academic, sporting
or creative. We offer quality first teaching for all of the pupils in our school and nursery and we pride
ourselves on supporting every pupil, regardless of ability, to achieve their true potential. We recognise
that each child is unique and has their own special talents, so as well as providing exciting learning
opportunities within our curriculum, we also offer our pupils a wonderful variety of extra-curricular
activities including football, netball, dance, choir and drama.

We have high expectations of behaviour and encourage all of our children to respect the Gospel values
that, as a school, we respect and promote. We strive to work closely with our parents, in order to provide
continuity and consistency for our pupils, so that they may move forward with confidence, in their learning
journey at Baines'.

If you are considering sending your child to Baines' Endowed, I hope our website/prospectus will help you
with your decision, however, there can be no substitute for a personal visit and you are warmly invited to
view the school and see us in action during the day. Please feel free to contact school directly with any
queries you may have, or to make an appointment to come on one of our tours.

We hope that you decide that Baines' is the best place for your child and we look forward to welcoming
you when you visit.
                                       'For with God, nothing is impossible'
Yours sincerely

Mrs. Debi Rusling
Headteacher

                                               Headteacher: Mrs D Rusling

                                      Cidari Education Ltd Company Number: 08822760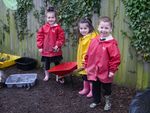 Our Mission Statement                              Our Values

   'For with God, nothing is                 Generosity: all feel supported in their
          impossible'                         journey through life and encouraged to
                                              make a positive contribution to the
                                              world
             Luke 1:37                       Compassion: children are supported
                                              with love and are taught to show
                                              kindness to others and the world they
                                              live in
                                             Courage: we encourage all children to
                                              be brave, to be courageous in their
                                              outlook on life, for themselves and
                                              others
                                             Forgiveness: children are encouraged
                                              to learn from their mistakes, not
                                              punished for making them
                                             Friendship: children are shown that
                                              everyone is precious and of infinite
  We also support the Cidari mission          worth to God and that friendships are
             statement:                       valued
                                             Respect: every person feels safe,
                                              respected and valued
 Faith in Learning … Belief in               Thankfulness: we appreciate each
         Achievement                          member of our school family and
                                              thank God for each other
                                             Trust: we work with all our children to
   Baines' Endowed Primary School is a        support them in the development of
happy and caring environment where the        trusting partnerships
  opportunity to do your best is always      Perseverance: everyone is encouraged
  possible. Here at Baines' Endowed we        to always try to give of their best, to
    believe that 'With God, nothing is        reach their full potential
 impossible' and we aim to achieve this      Justice: we teach our pupils that all
 mission through twelve shared values.        God's children are valued equally
                                             Service: we teach children about
                                              service to others and how this can
                                              develop them as good citizens in their
                                              community and the wider world
                                             Truthfulness: through honesty and
                                              truth, we support each other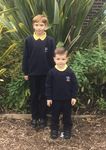 Our School
Baines' Endowed is a Church of England Academy and our parish church is St Paul's, Marton. Baines' is one of the
oldest schools in Blackpool, being founded in 1717- this year is out tercentenary! Our school was set up through a
bequest from James Baines. Since 1717 our school has been housed in several different buildings. The present
main building was opened in 1926 but has been extended and enhanced on an ongoing basis. Additional
classrooms were added in 1967, 1990, 2001 and 2010, a new hall, library, secure entrance foyer, an extensive and
well-resourced multi media suite and several study rooms have also been added over the years.
Our outdoor play facilities have been enhanced by provision of a "Zoneparc" and our outdoor activity trail around
the field, which opened in July 2016. Our reception children have well laid out classrooms, the benefit of a large
exterior canopy area where they can enjoy outdoor activities across the year and a beautiful garden to cultivate.

We also have the first Children's Centre to be built in a Blackpool school. This provides pre-school education and
care for children from 2 to 4 years of age, from 9 a.m. to 3 p.m., 39 weeks of the year. This is a tremendous asset
to our school and a much needed facility for our families.

                                                   The Governors
Every school has a group of volunteers who support the staff and children and make decisions about how our
school is managed – these are our Governors.

Chair: Mrs A. Langford                                        Vice Chair: Vacancy
Foundation Governor                                           Foundation Governor

Mrs. A Clark                                                  Mrs. D Emery
Miss J Cookson                                                Mrs. SA Watkins
Mrs. K Montgomery                                             Mrs. L Taylor
Mr. H Rose                                                    Mrs. C Devine
Mr J Greenhalgh                                               Vacancy (Foundation)
Vacancy (Vicar of St Paul's)                                  Mrs. D Rusling (Ex-Officio)

                                        Baines' Marton Charity Trustees
                                                  Chair: Mr Michael Morton
                               Ms J. Daniels, Mr P. Lovatt, Mrs K. Montgomery and Mrs G. Taylor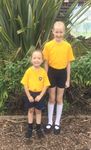 Our Staff
Leadership Team
Mrs. Debi Rusling                      Headteacher
Miss Nicola Sawyer                     Deputy Headteacher
Mr. Colin Walton                       Deputy Headteacher
Mrs. Annabelle Knowles                 Assistant Headteacher
Mrs. Helen Cooke                       School Business Manager
Mrs. Laura Smy                         Children's Centre Manager
Mr. Huw Rose                           Key Stage 2 Leader
Mrs. Kerry Littler                     Key Stage 1 Leader
Mrs. Megan Spedding                    EYFS Leader
Mrs. Amanda Collison                   SENCo

Teachers
Mrs. Ainsworth, Mrs. Anderson, Mrs. Brewster, Mrs. Butcher, Mrs. Cookney, Mrs. Cowell, Mrs. Davis,
Mrs. Dempsey, Miss Everson, Miss Fifer, Mr. Griffiths, Mrs. Hall, Mr. Henrys, Mr. Holt, Miss Lee, Mrs. Littler, Mr.
Parkinson, Miss Penney, Mr. Rose, Mrs. Rowland, Mrs. Spedding, Mr. Walker, Mrs. Wallbank and Miss Wynn.

Teaching Assistants
Early Years—Mrs. Benton, Miss Elliott, Miss Hennessey
Miss Ashworth, Mrs. Bracegirdle, Miss Conn, Mrs. Hamilton, Mrs. Helmn, Mrs. Heys, Miss Knight, Mrs. Mellor,
Mrs. Perkins, Mrs. Sood, Miss Strother, Miss Trainor and Mrs. Whyte.

Inclusion Team
Mrs. Watkins, Mrs. Edwards                                                    Behaviour Team
Mrs. Tew                                                                      Learning Mentor
Mrs. Bracegirdle and Miss. Lofthouse                                          SEN Support Assistants
Mrs. Atkinson, Mrs. Boniface, Mrs. Downing, Mrs. Edwards,                     Special Support Assistants
Mrs. Hutchinson, Mr. Masheter, Mrs. Nelson, Miss. Phillips, Mrs. Robb,
Mrs. Sissons and Mrs. Stephenson

Office
Mrs. Lake and Miss Forsch                                                     School Business Administrators
Mrs. Howorth and Miss Threlkeld                                               School Administration Assistants

Site Team
Mr. Reynolds                                                                  Site Supervisor
Mr. Craven                                                                    Assistant Site Supervisor
Mr. Bruce, Mrs. Sorton and Mr. Taylor                                         Cleaners

Welfare Assistants
Miss. Ashworth, Mrs. Bracegirdle, Mrs. Byrne, Miss Conn, Miss Hambleton, Mrs. Helmn, Miss Henley, Mrs. Her-
nen, Mrs. Heys, Miss Knight, Miss Machin, Mrs. Mellor, Miss Nowell, Miss Parkinson, Mrs. Robb, Mrs. Sood, Miss
Strother, Mrs. Tew, Miss Trainor and Mrs. Whyte.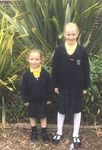 Admission Arrangements (for admission 2020)
Applications for admission to the academy for September 2020 should be made on-line at www.blackpool.gov.uk/
schooladmissions or on the Common Application Form between September 2019 and 15th January 2020. It is not
normally possible to change the order of your preferences for schools after the closing date.
Parents must complete the Local Authority form, stating three preferences. Parents who wish their application to
this Church academy to be considered against the faith criteria should also complete the supplementary form. If
the school is oversubscribed, a failure to complete the supplementary form may result in your application for a
place in this school being considered against lower priority criteria as the Governing Body will have no information
upon which to assess the worship attendance. The Supplementary Information Form is available from the school.
Email/letters informing parents of whether or not their child has been allocated a place will be sent out by the
Local Authority on or around 16th April 2020. Parents of children not admitted will be informed of the reason and
offered an alternative place by the Authority.
ADMISSION PROCEDURES
Arrangements for admission to our school have been agreed following consultation between the governing body,
Cidari: the Blackburn Diocese Multi Academy Trust, the Diocesan Board of Education, the Local Authority and
other admissions authorities in the area.
The number of places available for admission to Reception in the year 2020 will be a maximum of 70
The Governing Body will not place any restrictions on admissions to the reception class unless the number of
children for whom admission is sought exceeds their admission number. By law, no infant class may contain more
than thirty children; the governors have decided that any mixed age class should not exceed 27. The Governing
Body operates a system of equal preferences under which they consider all preferences equally and the Local
Authority notifies parents of the result. In the event that there are more applicants than places, after admitting all
children with a statement of educational need, educational, health and care plan naming the school, the
Governing Body will allocate places using the criteria below, which are listed in order of priority.
Criteria
1. (a) Children in public care and previously looked after children.
This includes any "looked after child", "previously looked after children" and any child who was previously looked
after but immediately after being looked after became subject to an adoption, residence or special guardianship
order. This also includes any other children who were previously in state care outside of England and have ceased
to be in state care, as they have been adopted. 'Looked after' means that the child was (a) in the care of a local
authority, or (b) being provided with accommodation by a local authority in the exercise of their social services
functions.
(b) Children with special medical or social circumstances affecting the child where these needs can only be met at
this school. Professional supporting evidence from a professional, e.g. a doctor, psychologist, social worker, is
essential if admission is to be made under the criterion for Headteacher: Mrs D Rusling www.baines-
endowed.blackpool.sch.uk Penrose Avenue, Blackpool, FY4 4DJ

special medical or social circumstances, and such evidence must set out the particular reasons why the school is
question is the most suitable school and the difficulties which would be caused if the child had to attend another
school.
2. Children whose parent/guardian is a member of the worshipping community (for a minimum period of 1 year)
in a church in full membership of Churches Together in England or the Evangelical Alliance. "Parental worshipping"
is normally taken to mean a minimum of monthly attendance at church at public worship for at least one year
leading up to 1st September 2018. The governors will request confirmation of this from the relevant member of
the clergy or church officer – the clergy reference form is included at the end of this policy. The list of churches in
membership with Churches Together in England can be found on the Churches Together in England website at
cte.org.uk, and for those within the Evangelical Alliance at eauk.org. Lists are taken as that on 1st September
2018. Churches in membership of the equivalent bodies in Northern Ireland, Scotland and Wales are equally
accepted. A maximum of 20 children will be taken under this criterion.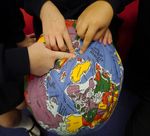 3. Children whose parent/guardian is a member of the worshipping community (for a minimum period of 1 year) of a
non-Christian faith in membership of the UK Interfaith Network. The major world faiths are those in membership of the
UK Interfaith Network; in addition to Christians, it includes Buddhists, Baha'is, Hindus, Jains, Jews, Muslims, Sikhs and
Zorastrians. The parent must meet the normal religious obligations of the faith. The governors will request confirmation
of this from the relevant member of the clergy or worship leader.

4. Children with a sibling attending our school or any school within Cidari, Blackburn Diocese Multi Academy Trust, on
the date of application and on the date of admission. Siblings include step, half, foster, adopted brothers and sisters
living at the same address.

5. Children whose parents live within the ecclesiastical parishes of St Paul's Marton or St. Wilfrid's Mereside. A map
showing parish boundaries for both St Paul's and St Wilfrid's are available in the school prospectus or from the school
office.

6. Other Children.

TIE BREAKER FOR ALL CRITERIA
Where there are more applicants for the available places within a category, then the distance between the Ordnance
Survey address points for the school and the home measured in a straight line will be used as the final determining
factor, nearer addresses having priority over more distant ones. This address point is within the body of the property
and usually located at its centre. Where two addresses have the same distance, or the cut off point is for addresses
within the same building, then the Local Authority's system of a random draw will determine which address(es) receive
the offer(s).

Admissions information: In 2018 there were 132 applications for 70 places: 73 of these were first preferences. Of the
70 places offered, under the criteria below, this year:

1a – children in care or formerly in care – 3 allocated
1b – children with medical, social or welfare needs – 4 allocated
2 – Member of worshipping community at any church in membership with Churches Together or the Evangelical
Alliance – 2 allocated
3 – Member of a worshipping community of a non-Christian faith in membership with the UK Interfaith network – 0
allocated
4 – Children who have a sibling in school – 26 allocated
5 – Children living within the Ecclesiastical parishes of St Paul's, Marton and St Wilfrid's, Mereside – 25 allocated
6 – Other children – 10 allocated
The final child offered a place lived within the parish and 0.5 miles from school.

In 2018 2 families chose to appeal for places; one of these appeals was successful.

Late applications for admission: Where there are extenuating circumstances for an application being received after
the last date for applications, and it is before the governors have established their list of pupils to be admitted, then it
will be considered alongside all the others.

Otherwise, applications which are received after the last date will be considered after all the others, and placed on the
waiting list in order according to the criteria.

Waiting list: Where we have more applications than places, the admissions criteria will be used. Children who are not
admitted will have their name placed on a waiting list. The names on this waiting list will be in the order resulting from
the application of the admissions criteria. Since the date of application cannot be a criterion for the order of names on
the waiting list, late applicants for the school will be slotted into the order according to the extent to which they meet
the criteria. Thus it is possible that a child who moves into the area later to have a higher priority than one who has
been on the waiting list for some time. If a place becomes available within the admission number, the child whose
name is at the top of the list will be offered a place. This is not dependent on whether an appeal has been submitted.
This waiting list will operate for the full autumn term.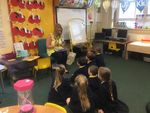 Inclusion

As a Christian community we believe each and every member of our school family is equally valued; so it is of no
surprise that we want everyone to feel welcome and special within our school. As a school we aim to provide all
children with experiences which enable them to feel valued and to value each other.

                                                       We select our books and resources carefully so that
                                                       children come into contact with positive images of both
                                                       gender; different cultures, religions and races; different
                                                       home circumstances and family situations; and people
                                                       with specific abilities and disabilities. This allows each
                                                       child, whatever their background, to see themselves
                                                       and their families as valued; it also helps children to
                                                       develop positive views of people in other circumstances
                                                       to themselves.

   We assess our children's abilities and
   monitor their progress carefully, so that we
   can provide children of all abilities with high
   quality learning experiences, which ensure
   they make maximum progress. Different
   children learn in different ways, so we
   ensure that their lessons incorporate a
   variety of learning styles so that all children
   can make progress. We are also keen to
   support our able and talented pupils
   (talented in all areas, not just academic). We
   provide opportunities to extend their
   learning, both in class and through extra
   curricular activities.

                                                          All of our classes are taught by well trained teachers,
                                                          supported by effective teaching assistants. At any
                                                          time in their school career, a child could have a
                                                          special educational or medical need. We provide
                                                          additional teachers, mentors and special support
                                                          assistants to give extra support to those children
                                                          who need it. We also employ mentors to support
                                                          children who have specific needs. This work is
                                                          managed by our Special Educational Needs Co-
                                                          ordinators.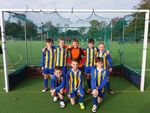 The School Day
8.45am                     School doors open
8.55am                     School day starts
11.45am-12.45pm            EYFS Lunchtime
12.15pm - 1.15pm           Lunchtime
3.15pm                     School day ends

It is very important that children arrive and are collected from school at the appropriate times. Children who are
late for school often miss vital information at the start of lessons which can affect their progress. By being keen to
ensure your child arrives at school on time, you are supporting your child by helping them develop a positive
attitude towards school and lifelong learning. It is also very important that children do not arrive at school too
early as they will be unsupervised on the yard before 8.45am.
From 8.45 class teachers are in their classrooms to supervise children and a small breakfast is available for every
child (comprising of fruit, juice or milk and a bread product such as malt loaf, cereal bar, bagel). Other members of
staff are on duty at the doors to ensure children enter safely and to take any messages from parents. This allows a
calm and ordered entry into school and so a calm start to the school day. There is no supervision of children
before 8.45am, therefore they should not be in the yard unaccompanied by parents.

                                                        Safety

In order to help us to ensure your child's safety and the safety of others we ask that you abide by the following:
     Please do not park on the zigzags or double yellow lines by school.
     Wait for your child in the school playground in the same place each day and well away from the doors so
      that all children have a clear view of their parents.
     If you need to cross the road with your child, please do so with the crossing patrol.
     If you need to speak to your child's teacher and you see them in the playground, please wait until they have
      supervised all the children out safely. If they are not in the playground, go to the school office; a member of
      staff will find them for you.
     If a different person is to collect your child, let
      his/her teacher know in advance.
     Stress to your child that if you are not there at
      3.15pm, he/she must stay with his/her teacher.
     Please do not smoke or bring dogs, bikes or
      scooters into the playground.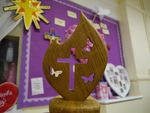 The Curriculum

 At Baines' we are very concerned with developing the whole child – so the "curriculum" is not just the subjects we
                             teach but the breadth of opportunity each child is given.

The Early Years Foundation Stage (Reception)
We know very young children learn best through activity and experience, play and so in their first year at school,
the children have a specially designed curriculum following the Early Learning Goals (copies of these are available
in school). We have a gradual introduction to school life, allowing the children to feel secure in each new
experience before moving on, therefore Reception children attend on a part-time basis for a couple of weeks.

Key Stages 1 and 2 (Infants and Juniors)
The rest of the school follow the National Curriculum and the RE syllabus agreed by Blackburn Diocese – again
(copies of these are available in school). We ensure our curriculum has a clear progression in skill development in
every subject, but we also have three key "golden threads" running through the curriculum – enquiry & problem
solving, spiritual development and social & emotional awareness. We also teach French to all children in Years 3 to
6. In Years 4 and 5 children attend swimming lessons as part of the PE curriculum. They are taught at Palatine Pool
by two swimming teachers employed by the Local Authority.

PSCHE - Personal, Social, Citizenship and Health Education are also high on our agenda, as is the children's
Spiritual, Moral, Social and Cultural Development. We teach and encourage these through our work across the
curriculum, as well as through extra-curricular provision and workshop weeks.

We have worked very hard to implement all Government
strategies successfully and our work in Literacy and Numeracy has
been recognised through the Basic Skills Quality Mark – which we
have held for more than 10 years. We also hold the Achievement
for All Quality Mark and are the only school in Blackpool to have
achieved this National accolade. We currently hold the FA Charter
Mark, Activemark Gold, Artsmark Silver and the Geography
Quality Mark . As a Church, school we are delighted to have been
awarded the Diocese of Blackburn Church School Distinctiveness
Award on two separate occasions. We want our children to
experience the best modern technology can offer and so we have                                                     a
multi media suite, which includes a small "green room" for film
making. Our classrooms have interactive whiteboards and there
are iPads and laptops available to all classes in school.

                                               School Council
Children's views are important to us, so we have a well-established School Council. The Council is elected by the
children themselves and meets every half term to discuss issues and concerns raised by the children through their
classes. It also decides which charities to support and helps plan activities to raise money – last year we supported
Save the Children, the Bishop's Harvest Appeal, Cyclone Pam appeal and the Church of England Children's Society.
Extra Curricular Activities
Many people consider extra curricular clubs as "important extras"; we feel offering children access to
such experiences is an essential not an extra, so we offer a wide range of clubs and activities.
Sporting
    Dance and fitness clubs (both for infants and juniors)
    Football, cricket, tennis, netball, golf are all available for the
     juniors at different points during the year.
    We take part in inter-school competitions in swimming,
     athletics, football, cricket and cross country. We currently hold
     awards for sportsmanship and are South Blackpool football
     champions, plate trophy holders in indoor athletics and have
     represented Blackpool FC in a North West football tournament.
The Arts
    We have a choir and a school orchestra
    Our choir have been recognised as Blackpool Choir of the Year, and have sung with Russell Watson.
     In the past our children took part in a national event called Children United and recorded a song
     which was played at every Blackpool FC home match for a season.
    Juniors all learn the violin and can access brass or wind instrumental tuition.
    We have an art club and children take part in the Young Seasiders' Exhibition.
    Every year we take part in festivals and performances giving the children the opportunity to
     perform for large audiences at venues like The Grand Theatre.
Academic
    We have maths and computer clubs.
    We have book clubs to harness and encourage that love of books.
    Spanish and French clubs operate for different year groups.
Social
    We have friendship groups and PALs (older children supporting younger at play)
    We run social groups where children learn to play together – to win and to lose gracefully!

                      We are an Eco-School and hold Fairtrade School status

             Caring for the many gifts God has given us is important to us here at
             Baines and so we appointed an Eco Council. We have now gained a
             silver level Eco-School award for our work on energy conservation and
             recycling (including composting!). We have also achieved Fairtrade
             Status—helping children to gain a "world view" of life.
How you can support your child

As we said at the beginning, education is a partnership in which school and home work together to support each
child. Your role is vital, so it is important you are well informed about the work your child is doing.

Finding out about the curriculum
Every year in school we provide opportunities for parents to find out more about what is going on in school.
     In the Autumn Term, we hold a special reading meeting for Reception parents, a phonics meeting for Year 1
      parents and a SATs meeting for Year 6 parents.
     In the Spring Term, we run courses for parents and offer a curriculum workshop during our parents'
      evening an opportunity to learn a little more about the curriculum as you wait to meet the teacher.
     In the Summer Term, we hold transition meetings, which give tips about how to prepare your child for the
      next stage in their journey through school.
     In Reception and Year 1 we have Parent Partnership, with parents joining their child in class one morning a
      week to share books/activities at the start of the school day.
     Parents are also invited to join us, on occasion, for worship – in both school and at Church.

Finding out how your child is doing
You are welcome to contact school at any time to talk about your child's progress, but there are three set
occasions we report to parents:
     In the Autumn term you can meet the new teacher to discuss how your child has settled in and learn about
      the routines (including homework required) of the class.
     In the Spring Term we issue mid year reports (January) and hold our main Parents' Consultation evenings
      (March).
     In the Summer Term you will receive a full report and you will have the opportunity to discuss this report
      with the teacher.

Homework
Homework is set throughout the school, but obviously becomes more demanding as the children get older.
Children are asked to read at home regularly, to learn spellings and times tables, to complete activities and
research topics being studied in class.

Home School Agreement
All schools now are required to have a Home-School Agreement. Ours is issued when a child becomes a pupil and
we ask you to please sign it and send it back as soon as you can.

How can you help us
Parents (and grandparents!) who have the time are more than welcome to help in the classroom: hearing
children read, helping with art or baking, walking with us to church etc. If you would like to help in school please
ring up to speak to Mr. Walton, our Assistant Headteacher. We do ask that you work in a different class from your
child. All volunteer helpers have to be fully cleared through the DBS process before they are allowed to support in
school.
School Policies
We have lots of policies which help staff, parents and visitors to understand how our school is run. All of our
policies are kept in the office. If you are interested in reading some of them in more detail, please ask the
Headteacher.
These are brief details of the policies we felt you would be most interested in.

                  A Church School

 We are a church school – but what does this
 mean? It means there is a Christian touch to all we
 do in school. We worship together daily, we work
 closely with St. Paul's Church, Marton and we seek
 to run our school on the principles of love and
 forgiveness.
 When your child is in Year 5 or 6 they, and you, will
 be able to make a decision together about whether                             Race Relations
 they should be confirmed. If together you choose
 for your child to make this commitment, they and            We are committed to helping our children live in a
 you will be able to attend sessions to help them            diverse society. We are a Church School and so
 prepare for this important step in their life.              actively live our Christian faith, however we also
                                                             teach children about other faiths and cultures. We
 Parents have the right to withdraw their child from
                                                             seek to develop their self-esteem and to foster
 Religious Education and Worship, however if you
                                                             respect for all religions, beliefs and ways of life.
 choose this school for your child we cannot exclude
                                                             We will not accept any racist language or abuse in
 them from the Christian care and teaching that is
                                                             our school.
 evident in all areas of school life.
 Please make an appointment to see the
 Headteacher if you wish to exercise the right to                           Equal Opportunities
 withdraw, as described above.
                                                             We regard each of the children in our care as
                                                             special and unique individuals. We aim to provide
         Sex and Relationships Education                     quality learning experiences within a happy,
 After consulting parents, we drew up a detailed             purposeful, stimulating environment, where each
 policy for Sex and Relationships Education. We help         child is encouraged and inspired to fulfil his or her
 children grow in their understanding of keeping             potential.
 their bodies safe and developing good
 relationships. Parents will be fully informed of what
 is being shared with their child before these lessons                             Charging

                                                             From time to time children are taken on
                     Road Safety                             educational visits, linked into the curriculum we
                                                             are studying in school. Parents are informed of the
 We teach children how to be safe on the roads,              visit details by letter and are invited to make a
 working with parents, the police and road safety            contribution to help meet the costs of the visit. No
 teams at different times. We also try to encourage          charge is made for cookery or DT items used as
 a healthy lifestyle through "Walk to School" weeks          part of the curriculum, or for extra curricular
 and other events.                                           activities.

                                                    Complaints

 If you are concerned about anything in school, please come to discuss the matter with the Headteacher. If
 we cannot resolve your concern you should write to the Chair of Governors, Mrs. Adele Langford, via the
 School.
Behaviour in School
At Baines' we all work together to develop a happy, caring atmosphere, in which everyone feels safe and valued.
We aim to provide a positive, high quality, learning environment, in which all children have the opportunity to
achieve the maximum success in all they do.
In order to achieve this, we have high expectations of the children's behaviour, so they need to know what is
expected of them. Thus we involve the children in the development of the school rules and classroom rules, in
order to improve their understanding of our expectations. In our school it is "good to be green" – this is our
behaviour system. Children are rewarded for staying "green"; poor behaviour can lead to moving to amber or
even red and being on red could result in them spending time out of their classroom.
Children need to know that bullying, racism and physical and verbal abuse are totally unacceptable in school as
well as in society. If there is evidence of such behaviour in school, it is dealt with promptly in an appropriate
manner. Children need a clear understanding that there are consequences for all misbehaviour
and various sanctions are used, which are explained further in our behaviour booklet which is given to all
families. Parents are always informed if the staff are concerned about a child's behaviour and are involved in any
actions taken to overcome the problem.

We work to encourage good attitudes in a positive way, by praising the children as much as possible for their
work, effort and behaviour. Children may earn certificates, stars, stickers and merits for their efforts. Some of
these are given in class and some presented in worship time and some just pop through your door - a lovely
surprise for everyone.
A full copy of our school discipline policy is available to all parents at any time.
Care and Control of Pupils: If a situation develops in which a child may be at risk of hurting themselves or
others, or if the behaviour of a child seriously disrupts good order in the school or causes damage to property,
staff may need to take steps to intervene physically. In such circumstances staff will follow the school's policy.
This requires that the member of staff uses the minimum amount of force necessary to prevent injury or damage.
Any parent wishing to view this policy may do so on request.

                                            Child Protection
Because of day-to-day contact with children, schools are particularly well placed to observe outward signs of
abuse, changes in behaviour or failure to develop. Parents should be aware, therefore, that where it appears to
a member of school staff that a child may have been abused, the school is required, as part of the local Child
Protection Procedures, to report its concern to the Social Services Department immediately. Miss Sawyer is our
Child Protection Officer in school & Mrs Smy in Children's Centre.

                                          Medicine & Illness
Staff can only administer medicine to children in specific circumstances. If your child needs to take medicine
occasionally you, or a person you authorise, can come to school during the school day to administer it. If
children need medicine on a long-term basis for a medical condition then we can make appropriate
arrangements; this involves drawing up a medical protocol. Parents of children who need to take asthma
preventatives or relievers, need to complete full details on the appropriate school form.

Children are allowed to bring in a labelled sun cream, which they can apply at lunchtimes.

If your child becomes ill during the school day, we will contact you as and when necessary. Please ensure you
keep us up to date with telephone numbers, so that we can contact you as quickly as possible. If your child is
unable to attend school because of illness, please telephone school on the first day of absence. Please be aware
that if your child has sickness & diarrhoea, they need to stay away from school for 48 hours following "Guidance
on infection control in schools and childcare settings" published by Public Health England.
Baines' Appearance Code
         Hairstyles                     Boys Uniform                        School Shoes
No extreme styles or hair dye    Navy sweatshirt with school logo              No trainers
 No shorter than a number 2      Yellow polo shirt with school logo          Black soles only
 No lines/patterns shaved in               Navy trousers              Black laces and stitching only
  Hair longer than shoulder              Black school shoes                No sports emblems
  length must be worn in a
           bobble
                                                                             Acceptable

   Tailored Trousers
No jeans or tracksuit bottoms

     Not acceptable

                                                                          Not acceptable

         Jewellery
 Only stud earrings may be
 worn and must be removed
           for PE

               Pupils are
               expected to
               wear their
               ALWAYS badge
                                                                      We expect our pupils to wear
               every day.
                                                                      full school uniform at all
                                                                      times, to promote positive
                                                                      attitudes towards learning
Further information on the
                                                                      and behaviour and to ensure a
ALWAYS badge can be found                                             sense of personal pride in our
on the in the school behaviour                                        school.
policy located on the school
website.
Baines' Appearance Code
         Hairstyles                       Girls Uniform                       School Shoes
                                    Navy skirt, pinafore or trousers              No trainers
  No extreme styles or hair dye
                                   Yellow polo shirt with school logo           No dolly shoes
      No unnatural colours
                                   Navy cardigan or sweatshirt, with            Black soles only
  No lines/patterns shaved in
                                             school logo                      No sports emblems
Hair longer than shoulder length
                                   White or navy socks or navy tights         No heels above 2cm
        must be worn in a
                                              (Not Black)
     bobble at least half up
         No large bows                                                         Acceptable

          Jewellery
 One pair of stud earrings may
 be worn in ear lobe and must
      be removed for PE

                                                                             Not acceptable

           Hosiery
     Plain navy tights only
      No patterned socks

                Pupils are
                expected to
                wear their
                ALWAYS badge
                every day.

                                                                        We expect our pupils to wear
Further information on the                                              full school uniform at all
ALWAYS badge can be found                                               times, to promote positive
                                                                        attitudes towards learning
on the in the school behaviour
                                                                        and behaviour and to ensure
policy located on the school                                            a sense of personal pride in
website.                                                                our school.
Food & Drink
During the school day, every child in school may have a carton of milk – this is managed by Cool Milk on behalf of
Blackpool Council. All children are also provided with a free breakfast daily – this includes three items :fruit, a
bread product such as toast, malt loaf or brioche, water or milk. Infant classes are also provided with a piece of
free fruit or vegetable every day (apples, pears, oranges, bananas, cherry tomatoes or carrots). If your child is
unable to eat any of these for whatever reason, please let the class teacher know immediately.
School meals consist of a choice of two main courses and dessert plus salad bar, fruit and bread. Payment for
meals should be made in advance via Parent Pay – you will be sent log in details when your child joins our school.
The current charge for school meals is £2 per day, which equates to £10 per week. All children in EYFS and KS1
are entitled to free school meals. Please enquire at the school office if you wish to apply for free school meals for
your KS2 child. If you are in receipt of benefits and would be entitled to free school meals, please contact the
school office, as it is vital our numbers of eligible families are accurate, as this impacts on how our school is
funded.

Packed lunches should be sent in a bag or box, clearly labelled with your child's name and class. For safety
reasons, please do not send cans, glass bottles or thermos flasks. We also encourage children to bring healthy
packed lunches and ask for sweets not to be brought to school. Please make sure your child's lunchbag is a
standard size, as storage of large bags causes problems.

Whichever lunch arrangements you choose for your child, please give one week's notice if you wish to change
at a later date.

At lunchtime the children are supervised by our Welfare staff. They look after the children when they are eating
lunch and in the playground. We expect all the children to be polite and respectful to all members of staff.

                                Annual Holidays & Absence
Changes in legislation mean holidays in term time can no longer be authorised. Any holiday will therefore be
recorded as an unauthorised absence and may be followed up by the Pupil Welfare Team, who screen our
registers regularly. School does reserve the right to fine parents, if pupils fail to attend school. Absences for
special circumstances, for example to attend a wedding, funeral or a parent's graduation can still be authorised
and a leave of absence form, available from the school office, should be completed to request this time.
Attendance is closely monitored in school and you will be informed if your child's absence falls below 95% - at
such times additional leave even for special circumstances cannot be authorised.
During the 2015-16 year, children's average attendance at school was 96.8%
During the 2016-17 year, children's average attendance at school was 96.3%.
During the 2017-18 year, children's average attendance at school was 97.2%.
During the 2018-19 year, children's average attendance at school was 95.7%.
Privacy Notice
                               How we use your information
                                   Data Protection Act 1998
Baines' Endowed Primary School and Children's Centre, a Church of England Academy is a Data Controller for
the purposes of the Data Protection Act. We collect information about our pupils and may receive information
about them from their previous school/childcare setting and the Learning Records Service. We hold this personal
data and use it to:

       Support the teaching and learning of our pupils;
       Monitor and report on their progress;
       Provide appropriate pastoral care, and
       Assess how well the school is doing.

This information includes your contact details, national curriculum assessment results, attendance information
and personal characteristics such as ethnic group, any special educational needs and relevant medical
information.
We will not give information about our pupils to anyone outside the school without your consent, unless the
law and our rules allow us to.
We are required by law to pass some pupil information to the Local Authority, Cidari (our multi academy trust)
and the Department for Education (DfE).
Pupils, as data subjects, have certain rights under the Data Protection Act, including a general right to be given
access to personal data held about them by any data controller. The presumption is that by the age of 12, a child
has sufficient maturity to understand their rights and to make an access request themselves if they wish. A
parent would normally be expected to make a request on a child's behalf if the child is younger. If you want to
see a copy of the information we hold and share about you/your child, then please contact Mrs Rusling, via the
school office on 762532.

If you require more information about how the Local Authority (LA) and/or DfE store and use pupil information,
then please go to the following websites:
https://www.gov.uk/data-protection-how-we-collect-and-share-research-data

http://www.blackpool.gov.uk/Your-Council/Transparency-and-open-data/Data-protection/Data-protection.aspx
If you are unable to access these websites, please contact the LA or DfE as follows:
    Blackpool Council,                 Public Communications Unit - Department for Education,
                                       Sanctuary Buildings
    Customer First Centre
                                       Great Smith Street
    Municipal Building                 London
    Corporation Street                 SW1P 3BT

    Blackpool                          Email: http://www.education.gov.uk/help/contactus

    FY1 1NF                            Telephone: 0370 000 2288
    Email:                             Website: https://www.gov.uk/government/organisations/department-for-
    customer.first@blackpool.gov.uk    education

    Telephone: 01253 477477