QUARTERLY SNAPSHOT MEMO - Winter 2022
Page content transcription
If your browser does not render page correctly, please read the page content below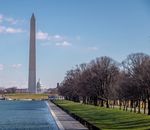 WASHINGTON
IN 100 WORDS
The 118TH Congress returns America to divided
government, after one of the more active
Congressional sessions in history.
WHERE DO WE GO FROM HERE?

   A small – and already
    combative – House
  GOP majority will keep
    whoever is Speaker
      on their toes. But
  Republican control of a
  chamber will move the
   party off the sidelines      Maybe it's the Capitol
     in 2023, ending an          complex re-opening.
    unusually successful      Maybe it's the settling in of
  run of major legislative    the Biden Administration.
  victories for Democrats        Maybe it's incoming
   and President Biden.       divided government... but
                                there is an undeniable
                             feeling of Washington back         Will they or won't they?
                              to business as usual from         Who will be at the top
                                      pre-Covid.               of the ticket for the 2024
                                                               Presidential Election will
                                                               ultimately be the story of
                                                              2023, coloring everything
                                                                 from media to policy
                                                               decisions. We are only in
                                                              the early days of what will
                                                               be a fierce debate about
                                                               the proverbial "souls" of
                                                                       each party.

Prism Group
                                                                               Quarterly Report

Goodbye to the 117TH…
There is no denying this Congress has been one of the most productive in decades. Unified
government (House, Senate, White House all under Democratic control) was the obvious driver,
but so was a Big Government response to historic public health and economic crises. In addition to
two major defense bills, ongoing Ukraine funding, two years of appropriations, the 117th Congress
enacted four pieces of landmark legislation, with funding, regulation and implementation playing
out over the next decade.

                                                        WHAT HAPPENED?
                                                          • American Rescue Plan Act or "ARPA"
                                                            (March 2021)
                                                          • Infrastructure Investment and Jobs Act
                                                            or "IIJA" (November 2021)
                                                          • Creating Helpful Incentives to Produce
                                                            Semiconductors and Science Act or
                                                            "CHIPS Plus" (August 2022)
                                                          • Inflation Reduction Act or "IRA"
                                                            (August 2022)

                                                        WHAT IS HAPPENING?
                                                          • FY23 Omnibus

                                                        WHAT ISN'T HAPPENING?
                                                          • Reauthorizations
                                                          • Tax Extenders
                                                          • Big Tech Regulation & Antitrust

Prism Group
                                                                 Quarterly Report

GOODBYE TO THE 117TH…
WHAT HAPPENED?

American Rescue Plan Act or "ARPA" (March 2021): $1.9 trillion coronavirus
response package designed to facilitate the recovery from the economic and
health effects of the COVID-19 pandemic. One of the most expensive legislative
packages in U.S. history, it was passed with only Democratic support at the outset
of the Biden Administration. Key elements and provisions of this package span
employment, tax provisions, state, local, and tribal government aid, education,
housing, COVID-19 and other healthcare-related funding, transportation, and
cybersecurity. Most importantly, tens of billions of dollars remain unspent at the
federal and state level. To learn more, click here.

Infrastructure Investment and Jobs Act or "IIJA" (November 2021): $1.2
trillion infrastructure package focused on roads, bridges, and transportation
safety programs, as well as funding toward innovation in climate technology as
well as broadband deployment. To learn more, click here.

Creating Helpful Incentives to Produce Semiconductors and Science Act or
"CHIPS Plus" (August 2022): $280 billion authorized to support the weakened
American semiconductor manufacturing industry. The legislation was in
response to a global shortage as well as rising dominance of China in advanced
manufacturing. Notably, the legislation authorized a number of new programs at
the Department of Commerce focused on increased innovation in the American
economy. To learn more, click here.

Inflation Reduction Act or "IRA" (August 2022): $700+ billion legislation --
passed only with Democratic support – that leverages tax credits and incentives
to increase onshoring and "green" industry. The legislation paid for some of the
cost by significantly reforming prescription drug policy. It increased spending
in domestic energy production and manufacturing and aims to drive spending
to programs for a reduction of carbon emissions by approximately 40 percent
by 2030. The legislation extended the expanded Affordable Care Act program
through 2025. For a factsheet on the legislation, click here. For a Prism Group
summary of the IRA click here.

Prism Group
                                                                                             Quarterly Report

     GOODBYE TO THE 117TH…
     WHAT'S HAPPENING?

FY23 Omnibus: The 4,155-page year-end spending bill was released this week
(The full bill text is available here, and a full summary is available here). The
Senate will make the first moves on the measure to speed up consideration of the
legislation. Even with the 100 Senator buy-in needed for an expedited process, that
still leaves a tight turnaround for the House to clear the bill before funding runs out
on Friday's deadline. Funding the government through September 30, 2023, the
$1.66 trillion legislation includes many provisions including:
*As of writing there is still debate on the omnibus,        EDUCATION
particularly Title 42 related to immigration policy.         • Increasing the maximum Pell Grant award for the
The outcome is unclear.                                        2023-2024 school year
                                                             • $18.387 billion for Title I-A grants to the local
                                                               educational agencies program
FUNDING FOR BIPARTISAN PRIORITIES
                                                             • $15.154 billion for Special Education State Grant
 • $58.7 billion for programs authorized by the
                                                               programs
   Infrastructure Investment and Jobs Act
                                                             • $1.2 billion for TRIO, which helps over 800,000 low-
 • $1.8 billion in new funding to implement the
                                                               income, first- generation students get into college.
   bipartisan CHIPS and Science Act of 2022
 • $5 billion for the Cost of War Toxic Exposures Fund to
                                                            NUTRITIONAL PROGRAMS
   implement the landmark PACT Act.
                                                             • $13.4 billion increase for the Supplemental
                                                               Nutrition Assistance Program
HEALTHCARE
                                                             • $28.5 billion for Child Nutrition Programs
 • $47.5 billion for the National Institutes of Health
                                                             • $6 billion for the Special Supplemental Nutrition
 • $9.2 billion for the Centers for Disease Control and
                                                               Program for Women, Infants and Children.
   Prevention
 • $4.9 billion to address opioid misuse
                                                            KEY LINKS WITHIN THE FY23 OMNIBUS INCLUDE:
 • $3.3 billion for the Assistant Secretary for
                                                             • Defense, 2023
   Preparedness and Response (ASPR)
                                                             • Agriculture, Rural Development, Food and Drug
 • $1.5 billion for ARPA-H
                                                               Administration, and Related Agencies, 2023
 • $1.01 billion for the Mental Health Block Grant to
                                                             • Commerce, Justice, Science, and Related Agencies,
   provide mental health treatment services and support
                                                               2023
   community mental health services.
                                                             • Energy and Water Development, 2023
 • $950 million for the Biomedical Advanced Research
                                                             • Financial Services and General Government, 2023
   and Development Authority
                                                             • Homeland Security, 2023
                                                             • Interior, Environment, and Related Agencies, 2023
HOUSING
                                                             • Labor, Health and Human Services, Education, and
 • $3.6 billion for Homeless Assistance Grants
                                                               Related Agencies, 2023
 • $2 billion for the Rural Housing Service
                                                             • Legislative Branch, 2023
 • $1.5 billion for the HOME Investment Partnerships
                                                             • Military Construction, Veterans Affairs, and Related
   Program
                                                               Agencies, 2023
 • $1.435 billion for the Housing for the Elderly and
                                                             • State, Foreign Operations, and Related Programs,
   Housing for Persons with Disabilities program
                                                               2023
                                                             • Transportation, Housing and Urban Development,
CHILDCARE
                                                               and Related Agencies, 2023
 • $8 billion for the Child Care and Development Block
                                                             • Ukraine Supplemental, 2023
   Grant
                                                             • Disaster Supplemental, 2023
 • Nearly $12 billion for Head Start
Prism Group
                                                                Quarterly Report

 GOODBYE TO THE 117TH…
 WHAT ISN'T HAPPENING?

LEFT ON THE CUTTING ROOM FLOOR
 Reauthorizations: A number of programs were up for re-
 authorization during the 117th Congress, but were not passed.
 This spanned agency reauthorizations (like the SBA) and renewal
 programs including the Workforce Innovation and Opportunity
 Act (WIOA), the African Growth and Opportunity Act (AGOA),
 the Higher Education Act (HEA) and others. A key focus remains
 on programs and legislation expiring next year, like the 2018
 Farm Bill that is set to expire in September 2023 and impacts all
 aspects of the agriculture sector.

 Tax Extenders: Many priority business tax provisions did not
 get done this year. Despite discussions around a possible end
 of year tax package and tax provisions being folded in as policy
 riders in the omnibus, the R&D credit was left out of the FY23
 omnibus due to gridlock over the child tax credit (CTC).

 Big Tech Regulation & Antitrust: Despite the significant
 amount of work in Congress on antitrust this year, and Senate
 Majority Leader Chuck Schumer's promise to tackle legislation
 on this issue, this was also left out of the last legislative vehicle
 of the year. Big tech continues to fall under a microscope of
 scrutiny across both sides of the aisle, but there is no one-size-
 fits-all approach that has gained the approval of both parties.
Prism Group
                                                                       Quarterly Report

   GOODBYE TO THE 117TH…
   LET'S NOT FORGET THE
   REGULATORY AGENDA

Big bank regulators proposed modernizations to the Community Reinvestment
Act (CRA) to bring greater accountability to investment and financial services. CRA
modernizations will be finalized in 2023 upon the release of a final rule, the rule will
impact various sectors of the economy and will impact the way capital flows to small
businesses, consumers, and private industries.

The American Rescue Plan Act (ARPA) reauthorized and extended the State Small
Business Credit Initiative (SSBCI) program to provide $10 billion as a response to
the economic effects of the COVID-19 pandemic and regulators at Treasury sought
advice from the private sector on how to best spend the remaining funding set-
aside for small business investments at the state level. To view the current rollout of
state SSBCI funds, refer to the Prism Group tracker here.

Various agencies (Small Business Administration, Department of Defense, etc.)
have proposed new regulations for government contractors impacting provisions
in the National Defense Authorization Act, the SBA's 8(a) business development
program, and others. The 117th Congress and the Biden Administration have made
contracting reforms a top priority and we expect to see more action along these
lines in the 118th Congress.

Over the last two years, labor laws and regulations have come under great scrutiny
at the federal and state levels. In particular regulators at the Department of Labor
(DOL) and the National Labor Relations Board (NLRB) proposed two mammoth
regulatory proposals that would impact the way employees are categorized. The
DOL released a proposed rule to reclassify joint employer standards under the
National Labor Relations Act, receiving a mass influx of public comment (12,945).
The NLRB put forth a proposal to implement a 6-factor non-exhaustive economic
reality test that would rescind and replace current standards for determining
whether an employee is considered a W2 or 1099 worker (this proposal received
55,220 comments).
Prism Group
                                                                            Quarterly Report

HELLO TO THE 118TH…
BALANCE OF POWER IN THE 118TH:
ELECTION RECAP AND LOOKING AHEAD

 Republicans will have a four-seat advantage in the House, 222-213. The Senate, after the
 Georgia run-off, will be 51-49 in favor of the Democrats (we lump the three independent
 Senators in with the Democrats). Prepare for some fresh faces and new Committee
 assignments in the 118th Congress. Although Prism Group offered our initial and
 immediate analysis of the 2022 midterm elections in November, a lot has happened
 behind the scenes with the transition of the incoming Congress January 2023.

                            PARTY LEADERSHIP
 Kevin McCarthy (R-CA), the presumed Speaker for the past two years, does not have
 the votes to become Speaker as of this writing. By our count, up to 13 Republicans are
 either holding their votes or will outright vote against him on January 3. This race will
 be fluid until the end, and if McCarthy does not win in the first round of balloting on the
 floor, long knives will be out for him. Our bet is that a weakened McCarthy prevails, but
 rest assured that others are moving now to potentially fill a vacuum if the voting moves
 past a second round on the floor. Already decided: Rep. Steve Scalise (R-LA) will be
 Majority Leader, Rep. Tom Emmer (R-MN) will be Whip, Rep. Elise Stefanik (R-NY) will be
 GOP conference chairwoman, and Rep Richard Hudson (R-NC) will helm the NRCC.
 Senator Mitch McConnell (R-KY) and his team will return in the Senate. From a sheer
 power perspective, he will continue to be one of the most consequential people in
 Washington. No one better knows the power of the minority in the Senate.

 Democratic House Leadership offices will look a lot different this year, marking end
 of an era under Speaker Nancy Pelosi and Leader Steny Hoyer. House Democrats,
 though in the minority, have unanimously voted in Rep. Hakeem Jeffries (D-NY) as the
 Democratic Leader, Rep. Katherine Clark (D-MA) as the Minority Whip, current Whip Jim
 Clyburn (D-SC) will be the Assistant Democratic Leader, and Rep. Pete Aguilar (D-CA)
 will be Caucus Chair. In contrast to the GOP, the Dems are a sea of tranquility.
  In the Senate, the Democrats will keep their Old Guard in place. Sen. Chuck Schumer
  (D-NY) will continue to sit as the Grand Master of the Senate.

  Power dynamics – Prism Group will have committee rosters in our Q1 report once they
  are organized.
  (As a reminder, sign up for our daily EIW newsletter to get immediate intel as committee
  assignments roll out. Sign up here.)
Prism Group
                                                                                                                   Quarterly Report

HELLO TO THE 118TH…
BALANCE OF POWER IN THE 118TH:
ELECTION RECAP AND LOOKING AHEAD

                                        MEET THE FRESHMAN
 The 118th Congress will consist of at least 71 freshmen. 1/6 of Congress is new.

 NEW SENATE MEMBERS

                           ALABAMA                                   MISSOURI                                         OHIO
                           Katie Britt                               Eric Schmitt                                     J.D. Vance
                           (R-AL)                                    (R-MO)                                           (R-OH)

                           OKLAHOMA
                                                                     PENNSYLVANIA                                     VERMONT
                           Markwayne
                                                                     John Fetterman                                   Peter Welch
                           Mullin
                                                                     (D-PA)                                           (D-VT)
                           (R-OK)

 NEW HOUSE MEMBERS
 ARIZONA                       ILLINOIS                    MONTANA                       OHIO                      TEXAS
 Eli Crane (R-AZ-2)            Jonathan Jackson (D-IL-1)   Ryan Zinke (R-MT-1)           Greg Landsman (D-OH-1)    Nathaniel Moran (R-TX-1)
 Juan Ciscomani (R-AZ-6)       Delia Ramirez (D-IL-3)                                    Emilia Sykes (D-OH-13)    Keith Seth (R-TX-3)
                               Nikki Budzinski (D-IL-13)   NEW JERSEY                                              Morgan Luttrell (R-TX-8)
 CALIFORNIA                    Eric Sorensen (D-IL-17)     Thomas Kean Jr. (R-NJ-7)      OKLAHOMA                  Monica De La Cruz (R-TX-15)
 Kevin Kiley (R-CA-3)                                      Robert Menendez Jr. (D-       Josh Brecheen (R-OK-2)    Jasmine Crockett (R-TX-30)
 John Duarte (R-CA-13)         INDIANA                     NJ-8)                                                   Greg Casar (D-TX-35)
 Kevin Mullin (D-CA-15)        Erin Houchin (R-IN-9)                                     OREGON
                                                           NEW MEXICO                    Val Hoyle (D-OR-4)        Wesley Hunt (R-TX-38)
 Sydney Kamlager (D-CA-37)
 Robert Garcia (D-CA-42)       IOWA                        Gabe Vasquez (D-NM-2)         Lori Chavez De-Remer      VIRGINIA
                               Zach Nunn (R-IA-3)                                        (R-OR-5)                  Jen Kiggans (R-VA-2)
 COLORADO                                                  NEW YORK                      Andrea Salinas (D-OR-6)
 Brittany Pettersen (D-CO-7)   KENTUCKY                    Nick LaLota (R-NY-1)                                    VERMONT
 Yadira Caraveo (D-CO-8)       Morgan McGarvey (D-KY-3)    George Santos (R-NY-3)        PENNSYLVANIA              Becca Balint (D-VT-AL)
                                                           Anthony D'Esposito (R-NY-4)   Summer Lee (D-PA-12)
 FLORIDA                       MARYLAND                    Daniel Goldman (D-NY-10)      Chris Deluzio (D-PA-17)   WASHINGTON
 Aaron Bean (R-FL-4)           Glenn Ivey (D-MD-4)         Mike Lawler (R-NY-17)                                   Marie Gluesenkamp Perez
 Cory Mills (R-FL-7)                                       Marc Molinaro (R-NY-19)       RHODE ISLAND              (D-WA-3)
                               MICHIGAN                                                  Seth Magaziner (D-RI-2)
 Maxwell Frost (D-FL-10)       Hillary Scholten (D-MI-3)   Brandon Williams (R-NY-22)
 Anna Paulina Luna (R-FL-13)                               Nick Langworthy (R-NY-23)                               WISCONSIN
                               John James (R-MI-10)                                      SOUTH CAROLINA            Derrick Van Orden (R-WI-3)
 Laurel Lee (R-FL-15)          Shri Thanedar (D-MI-13)                                   Russel Fry (R-SC-7)
 Jared Moskowitz (D-FL-23)                                 NORTH CAROLINA
                                                           Don Davis (D-NC-1)                                      WYOMING
                               MISSISSIPPI                                               TENNESSEE                 Harriet Hageman (R-WY-AL)
 GEORGIA                       Mike Ezell (R-MS-4)         Valerie Foushee (D-NC-4)      Andy Ogles (R-TN-5)
 Rich McCormick (R-GA-6)                                   Chuck Edwards (R-NC-11)
 Mike Collins (R-GA-10)        MISSOURI                    Wiley Nickel (D-NC-13)
                               Mark Alford (R-MO-4)        Jeff Jackson (D-NC-14)
 HAWAII                        Eric Burlison (R-MO-7)
 Jill Tokuda (D-HI-2)
CONGRESSIONAL
                                                                      CALENDAR
                                                                           Both chambers in session    Senate only in session       House only in session

 01             January             02            February             03                    March                     04                      April

Su Mo Tu We Th           Fr   Sa   Su Mo Tu We Th           Fr   Sa   Su Mo Tu We Th                  Fr   Sa        Su Mo Tu We Th                    Fr   Sa
1    2    3     4   5     6   7                   1     2   3    4                       1      2     3     4                                               1
8    9    10   11   12   13   14   5    6    7    8     9   10   11   5     6      7     8      9     10   11         2         3   4     5      6      7   8
15   16   17   18   19   20   21   12   13 14     15   16   17   18   12    13    14    15     16     17   18         9     10      11    12    13     14   15
22   23 24     25   26   27   28   19   20   21   22   23   24   25   19    20    21    22     23     24   25        16     17 18        19     20     21   22
29   30 31                         26   27 28                         26   27 28        29     30     31             23     24      25   26     27     28   29
                                                                                                                     30

 05                 May             06                 June            07                     July                     08                   August

Su Mo Tu We Th           Fr   Sa   Su Mo Tu We Th           Fr   Sa   Su Mo Tu We Th                  Fr   Sa        Su Mo Tu We Th                    Fr   Sa
     1    2     3   4     5   6                         1   2    3                                          1                       1     2      3      4   5
7    8    9    10   11   12   13   4    5    6    7     8   9    10   2     3      4     5      6     7     8         6         7   8     9     10     11   12
14   15 16     17   18   19   20   11   12 13     14   15   16   17   9    10 11        12     13     14   15        13     14      15    16    17     18   19
21   22 23     24   25   26   27   18   19   20   21   22   23   24   16   17 18        19     20     21   22        20     21      22    23    24     25   26
28   29   30   31                  25   26   27   28   29   30        23   24     25    26     27     28   29        27     28      29    30    31
                                                                      30   31

 09            September            10            October              11              November                        12                December

Su Mo Tu We Th           Fr   Sa   Su Mo Tu We Th           Fr   Sa   Su Mo Tu We Th                  Fr   Sa        Su Mo Tu We Th                    Fr   Sa
                          1   2    1    2    3    4     5   6    7                       1      2     3     4                                           1   2
3    4    5     6   7     8   9    8    9    10   11   12   13   14   5     6     7      8      9     10   11         3         4   5     6      7      8   9
10   11 12     13   14   15   16   15   16 17     18   19   20   21   12   13 14        15     16     17   18        10     11 12        13     14     15   16
17   18 19     20   21   22   23   22   23 24     25   26   27   28   19   20     21    22     23     24   25        17     18      19   20     21     22   23
24   25   26   27   28   29   30   29   30 31                         26   27 28        29     30                    24     25      26   27     28     29   30
                                                                                                                     31
Prism Group
                                                                     Quarterly Report

   HELLO TO THE 118TH…
   FIRST 100 DAYS

The 118th Congress could be one of the most gridlocked in history. The Biden-
Harris White House, a Democratic Senate (with a true majority 51-49), and a
Republican-controlled House (222-212, with one vacancy) will set the course for
drastically different policy agendas. The majorities in either chamber will need to be
nimble to achieve their policy goals.

The GOP is expected to move fast on their agenda, but internal factional turmoil
may kill the momentum on implementing the overall blueprint for the first 100 days
of legislating. GOP ranking Members and staff have been preparing legislative
text for the past few months for quick introduction in January. With Republicans
at the helm of the Speaker's office in the House, "oversight" will remain a huge
buzzword in 2023. Oversight on federal funding, federal agencies, COVID relief, and
the implementation of major laws passed in 2021-2022 will take center stage. As
Republicans gear up for the 2024 Presidential election cycle, every move made by
a Democrat in the 117th Congress will come under great scrutiny. Get ready for an
unbearable amount of 2024 prognosticating -- with an emphasis on Messrs Trump
and DeSantis—and maybe Biden himself.

In the Senate, with Democrats enjoying a true but slim 51-49 majority, Senators
will look to confirm remaining vacancies in the Biden-Harris administration and will
utilize the majority power of issuing subpoenas unabated.

Despite the divided balance of power, some issue areas will have overwhelming
bipartisan support in the 118th Congress (these issues don't lack buy-in, they lack
alignment across the aisle on how to get the job done), including how to regulate
the technology sector including big tech, antitrust, and cryptocurrency, and the
threat of rising powers (see China). On both sides of the aisle, a handful of laws
will undergo a rigorous review including the Inflation Reduction Act, Infrastructure
Investment and Jobs Act, and the American Rescue Plan Act on their effectiveness,
efficiency, and overall implementation progress.
Prism Group
                                              Quarterly Report

GIMME THE GAVEL:
2023 PRIORITIES FOR CONGRESS AND THE BIDEN ADMINISTRATION

REPUBLICANS         COMPROMISE/           DEMOCRATS
                   HAS TO GET DONE

                     Budget/FY24/
                     FY25 Funding
                     Debt Ceiling
                     NDAA 24/25
                     Tax Extenders/
                     Expiration of TCJA
                     Tax Cuts
                     Anything Expiring
                     in 2025

                   COULD GET DONE

                       Farm Bill
                       WIOA
                       SBA Reforms
                       Crypto
                       Tech Regulation
                       PREVENT
                       Pandemics Act
Prism Group
                                                                              Quarterly Report

  STATE UPDATES

STATES SET THE STAGE
Prism Group has a dedicated team of experienced state government affairs professionals
engaged in client issues across the US. Here is what to know at the end of 2022:
     2022 state elections were a reflection of national trends as Republicans slightly
     underperformed expectations and Democrats made a few significant gains. Most
     state governments continue to have healthy budget surpluses, which typically leads to
     expeditious work and less turmoil.
     An unusually large number of first year lawmakers may make leadership discipline
     important. Identifying and approaching these new officeholders should be a priority
     for your organization – being a reliable and familiar face will help to form key early
     relationships.
     All 50 state legislatures will convene in 2023, with session dates that vary from thirty
     days to year-round.

ELECTION OUTCOMES
As anticipated, Democrats gained two Gubernatorial offices in Maryland and
Massachusetts. Only one incumbent Governor, Steve Sisolak (D-NV) lost his reelection bid.
Next year there will be 28 Republican and 22 Democrat Governors.
Legislative majorities remained
roughly the same with a few notable
results. Minnesota Democrats gained
a majority in the Senate and will have
full control of the Legislature while
Michigan Republicans lost control of
both the House and Senate for the
first time in decades.
A state trifecta occurs where all
legislative chambers and the
Governor's office are controlled by
the same party. In 2023, Republicans
will have 23 state trifectas, Democrats
14 trifectas, and 13 states will have
divided government in some form.
Prism Group
                                                                            Quarterly Report

  STATE UPDATES:
  WHAT WE EXPECT

BUDGETS & TAXES
State revenues once again saw record levels of increases in 2022 with tax revenues higher
than pre-pandemic levels. Strong employment, federal funding, and taxes on consumer
were contributors even as inflation increased the prices of consumer goods.
Fiscal Year 2023 could see slower rates of growth and lawmakers may not be as willing to
entertain appropriations risks as they have in the recent past. Major slowdowns in state
revenues will likely not begin until 2025 as federal funds are depleted.
Because of healthy state budgets, we do not expect many income or sales tax increase
proposals, rather debates will likely be on finding ways to reduce some of these burdens.
However, indirect taxes on consumers and businesses may be used to fund major new
policy enactments.

GREEN POLICIES
Next year will see a focus on major new environmental programs around the country. Many
states will look for ways to lower carbon footprints with a significant focus on reducing or
eliminating gas powered vehicles. Mandates coupled with incentives for the use of electric
cars and trucks will be a big focus and Governors will compete to bring green industries to
their states.
We expect several states to create large new programs to restrict consumer packaging,
particularly single-use plastic items. While implementation will take years, much of the
burdens fall on manufacturers who will have to pass on increased costs to customers.
Prism Group
                                                                                                                                                             Quarterly Report

  STATE UPDATES:
  WHAT WE EXPECT

SOCIAL ISSUES
Recent federal court decisions coupled with an inability for Congress to find solutions for
emotional social issues means that many states will take up those debates. Lawmakers on
both sides will not hesitate to engage each other on matters relate to abortion, gender
identity or voter requirements. As a result, legislative activity in all other areas may be
affected as slowdowns and high feelings dominate.

LABOR AND WAGES
Beginning in January, twenty-five states will raise their wages with four states
establishing minimum wages above than $15 per hour. With state revenues remaining high
next year, calls to increase wages in more states will be strong as will related discussions
related to paid family leave.
Labor friendly states such as those with Democratic trifectas will make strong efforts to
increase regulations to reclassify independent contractors and workers in workers in fast
food and franchised industries.

                                                     2023 STATE MINIMUM WAGE RATES
                      $13.00
                                                                                                                                                       $7.25

                                                                                                                                                    $13.18        $13.80
                                             $9.95                  $7.25
                                                                                     $10.59
                 TBD

                                                                                                                                                                        $15.00
                                 $7.25                                                                 $7.25
                                                                    $10.80                                                                      $14.20

                                               $7.25                                                                 TBD
                                                                                                                                                                      $13.00

                                                                                        $7.25                                               $7.25                 $7.25
                                                                    $10.50
                        $13.00                                                                                                                                  $14.13
                                                                                                                           $10.10
                                     $7.25                                                              $13.00   $7.25                                         $11.75
                                                     $13.65                                                                         $8.75                    $13.25
             $15.50
                                                                        $7.25                                                               $12.00
                                                                                              $12.00
                                                                                                                     $7.25

                                                                                                                                            $7.25
                                                                                                                 $7.25
                                 $13.85                                      $7.25
                                                                                              $11.00                                  $7.25
                                               $12.00

                                                                                                                              $7.25
                                                                                                         $7.25    $7.25

                                                                      $7.25
                                                                                                 $7.25

                                                                                                                                       $11.00

                       $10.85

                                                                                               INCREASED MINIMUM WAGE IN 2023
                                                              TBD
                                                                                               MINIMUM WAGE IN 2023
                                                                                               IS STAYING THE SAME
Prism Group
                                                                Quarterly Report

STATE UPDATES:
WHAT WE ALWAYS KEEP IN MIND

Complete one-party control of state government does not everyone will
agree on the same priorities. Poor communication between new Governors
and veteran legislators often brings unforeseen problems that slow the
process down.

The legislative year following an election is typically busier than in even
numbered years. Less worry about voters combined with energized
freshmen normally means more sweeping policy initiatives, a greater
willingness to increase taxes and increase regulation.

State legislatures normally act much more quickly and at different
times than Congress and all legislatures have different rules regarding
amendments, committee hearings and lobbying rules. It is vital to always
remain engaged and aware regarding issues of importance in priority
states. Put plans in place early and prepare to adapt quickly.

With a divided federal government, eyes will be on states next year to effect
quick change, particularly on social issues.
OUR APPROACH
                                                Prism Group has achieved nearly
                                                unmatched growth among its government
                                     relations and public affairs peers. We attribute that
                                     success – across more than a dozen industries – to our top
Prism Group is a bipartisan
                                     priority: restoring customer service to government affairs.
integrated government affairs
                                     This approach manifests itself in several ways across our firm:
and strategic communications
                                          1. Understanding our client's business and mission. Government affairs functions
firm that specializes in helping
                                          best when our team is thinking like your team member, visualizing opportunity
corporations, sovereign                   and risk and responding accordingly. Through regular communication, research
governments, non-profits and              and experience we develop true and deep knowledge of our clients, so we can
trade associations navigate               anticipate the next move.

complex legislative and                   2. Team-wide availability. We don't limit who works on clients to ensure every
                                          opportunity to leverage networks, knowledge and relationships is maximized. Our
regulatory environments.                  team's diversity ensures clients receive fresh ideas and benefit from our broad
Headquartered in Washington,              contacts and modern engagement tools.
D.C., our firm engages                    3. Partner-level continuity and attention. Partners engage in daily conversations
policymakers and influencers,             and drive action. Our talented support team of government and communications
builds and manages coalitions,            professionals supplement, but do not replace, our proven partners.

gathers actionable intelligence
and offers a full set of tools                  A THREE-TIERED OUTLOOK
for media and grassroots
communication to impact
                                                ON INFLUENCING POLICY
                                              An impactful government affairs strategy does not
decisions critical to our clients.
                                     need to be complex. Accordingly, we view every engagement
Fortune 50 companies,                as generally achieving some combination of the following that
leading trade associations and       helps shape policy in alignment with objectives:
Washington's most influential             1. Raising visibility: Regardless of the policy agenda, Washington and state
                                          capitals require organizations to remain relevant. From communications to fly-ins
organizations rely on Prism Group         to novel alliances to outside-the-box ideas, Prism Group aims to keep its clients
to achieve their advocacy goals.          influential no matter what.
Our hallmarks are strong client           2. Short-term policy: What can be achieved this year? During this Congress?
communication, clear objectives           Regulatory changes on the horizon? These are the short-term efforts that need to
and measurable results.                   be addressed head on. Prism Group knows which legislative vehicles are moving,
                                          and more importantly, how to get your priority included or mitigated.
                                          3. Long-term policy: Major changes to the tax code. Regulatory overhauls.
                                          Trade deals. These do not happen overnight, but instead rarely and we are
                                          thinking today what challenges you will face in the next decade. Ensuring your
                                          critical victory doesn't miss its moment means keeping a regular drumbeat of
                                          engagement and positioning of champions. What's in the back of your minds is
                                          always on ours.