Student of the Month Assemblies - March 20th, 2015
Page content transcription
If your browser does not render page correctly, please read the page content below
March 20th, 2015
                    Student of the Month Assemblies

8th Grade Assembly: 11 AM-12 PM

Team 9: Inferno

Lindsey Walsh

Marie Curie said, "We must have perseverance and above all confidence in ourselves. We
must believe that we are gifted for something and that this thing must be attained."
When we think about this young lady, the word "perseverance" comes immediately to
mind. She takes learning very seriously, and has an insatiable sense of curiosity. We love
her enthusiasm and willingness to participate in class. She volunteers at her local library,
camps, and festivals. She participates in Irish Dance and she loves to write poetry and
stories. She is also a gifted artist and dancer, participating in aerial and contemporary
dance. One classmate wrote, "She always gives 110% in and out of class. She is a kind
person to everyone she meets, and understands that everyone is special and should be
celebrated. She is very inclusive, and not only tolerates differences, but cherishes them."
We could not agree more, and are so proud to celebrate Lindsey Walsh as March's Student
of the Month.
Nick Tosatti

Abraham Lincoln said, "Always bear in mind that your own resolution to succeed is more
important than any one thing." This young man brings to mind the word "conscientious."
His teammates say that he is "always in a good mood, he is nice to everyone no matter who
they are. He is a high achiever who works hard inside and out of school by playing many
sports, including lacrosse and soccer. He is also a member of Builder's Club." He is a loyal
friend and a dedicated student who continuously works to improve his own knowledge and
skills. He is an active class participant, and teachers know they can count on him to take
academic risks and be diligent in all of his efforts. We admire his great sense of humor and
good-natured approach to teamwork. Team Inferno is so lucky to have Nick Tosatti on our
team this year!

Team 10: Earthquake

Michaela Bullamore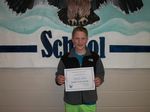 This young lady is a quiet, friendly leader who is always aware of the needs of others. She
helps in so many situations; more recently in FCS, she noticed that while the class was busy
engaging in a new project, some students needed help. She finished her first step and asked
Mrs. Mac if she could go over to a group and help them get started on the next step. In
volleyball, she is "very coachable." She is always tuned into the coach's direction and will
readily apply the skill, again encouraging her teammates to do the same. In the classroom,
her work ethic sets a positive example for others. She arrives prepared to work, and if she's
absent, she immediately follows through on her make up work. We are pleased to award
the Student of the Month to Michaela Bullamore.

Noah Stevens

This young man is sensitive to the needs of others. For example, in FCS, he frequently
notices when a classmate needs a helping hand and happily offers assistance. He does it in a
quiet way so that he doesn't draw attention to the student he's helping. In fact, he's readily
inclusive of others in all classroom settings. He also makes good choices in "high-energy"
settings to help others stay on task. He sets a good example in class by asking clarifying
questions that others may have also wanted to ask but were not willing to take the risk. We
thoroughly enjoy his great sense of humor and are pleased to award the Student of the
Month to Noah Stevens.

Team 11: Tsunami
Makenzie Casey

This student brings a high level of enthusiasm to the classroom. She leads through example
and sets a positive tone which is contagious to her peers. She finds the perfect balance
between being serious about her work and having a sense of humor and bringing lightness
to whole group discussions. She knows how to laugh at herself when most of us are too
insecure to do so, and in doing so, helps to break the ice and make us feel better about
ourselves.
Even though she surfs in freezing cold waters in the middle of winter, this young lady has a
very warm heart. She comes into school each morning with a smile on her face, ready to
start the day on a positive note. In any classroom, there is a student who can make or
break the atmosphere, and this student "makes it" for us each day.
Whether it's volleyball, lacrosse, basketball, or as a member of team Tsunami, every team
that she is a part of is lucky to have her. For these reasons, Makenzie Casey is our first
student of the month.

Carter McLaughlin

This young man is kind, inclusive and considerate. With his wry sense of humor he is the
kind of guy that people like to be around. He is very compassionate and cares about other
peoples feelings. As a very supportive friend, he has really developed the self-confidence to
be an influential leader.
This student leadership has been on display as a member of the Diversity Project since he
was in 6th grade. In his three years with this club he has been an active participant in the
creation of three films put together for the Student of the Month Assemblies. He is a great
role model to younger peers and in Diversity Project; he tries to support them when they
are struggling by utilizing his own experiences. This student has considerable wit,
compassion and an impressive sense of style. He is one of those rare people you just feel
good being around!
For these reasons team 11 has chosen Carter McLaughlin as our second student of the
month.

Team 12: Hurricane

Alexa Holmes

This Team 12 student of the month is a young lady who possesses extraordinary academic
abilities as well as the self-confidence and poise that allows her to be a force within her
academic courses. She is proactive in classroom discussions and her peers look to her as a
classroom leader. She was an active participant in both the pumpkin relay and team 12's
spirit day efforts providing artistic support for both banners. One of her passions is
literature, she's an avid reader, plays the flute, and even rides a skateboard in her free time.
Recently she's discovered that she has a knack for baking, and has been producing an array
of pastry with her friends. While there are a variety of reasons we selected Alexa Holmes as
this month's student of the month winner, when asked what she'd like to do with herself in
the future she responded by explaining that she'd like to help others because she has a
strong urge to help protect and keep others safe. Congratulations Alexa, well deserved.

Zach Holmes

This student is a hard worker and is a great student in class. He helps out anyone who
needs it with notes or assistance with classwork. He always gets his work done and tries
his best in everything he does. When his nominator asked his friends in his classes they
said that he is an active participant and he is first to raise his hand. "He is the best student
that I know, I strongly believe this and I have asked his friends what they think about him
and they all agree with me. He is a great person and he has a big heart. Zach has told me
that 8th grade is his favorite year because he has made so many friends and really grown to
like everyone."
When Zach is not in school, you can catch him outside playing some golf with his family and
he has a big interest in soccer. He is on the student advisory committee, had a part in this
year's play, a member of the chamber choir and volunteers in our community. He is a role
model for everyone in our class, not just our pod. He is a leader and a team player, willing
to be a part of everything or anything he is faced with. Time and time again, he has showed
he should be recognized as student of the month. We are happy to give this nomination to
Zach Holmes!

7th Grade Assembly: 12 PM-1 PM

Team 5: Wildfire
Brenda Sveen

Although Brenda does not draw attention to herself, she has captured our appreciation and
admiration. She shows her keen thinking skills in many ways - most notably in her careful
and detailed writing. In class discussion, she considers questions and topics thoroughly
before sharing her thoughts. It is wonderful to see a student who is so enthusiastic about
learning. Her impressive intellectual capabilities are balanced by a kind and helpful
nature. She is always willing to help others in class, and even contributed by bringing in a
lava lamp to supplement a science unit. We are so grateful to have Brenda on Team
Wildfire.

Ignacio Garcia

Iggy lights up the room with his respectful, helpful and engaging personality. Academically,
he is a solid presence and demonstrates exceptional responsibility. When he improves in a
skill or masters a concept, he shows a contagious enthusiasm.
It is always a happy moment when we get to talk to Iggy. Additionally, Iggy is always
willing to help in all the little ways that add up to make a big difference. He has a
wonderful sense of humor and has such positive comments to add. He makes any room he
walks into a better place. Team Wildfire is delighted to have Iggy as part of our
community.
Team 6: Tidal Wave

Tanner Casey

Every day, this student demonstrates that he is a positive member to the CMS community.
On our team, he stands out as a role model. It is hard at times to find a balance between
work and play, but he demonstrates this skill within the classroom. He models the
appropriate behavior by being respectful to his teacher and peers. Outside of the
classroom, he stays active participating in sports. He is a member of both the football and
baseball teams. Outside of school, he stays active playing Wiffle Ball with his friends. His
positive attitude that he brings to the community makes him standout on our team. For
these reasons and more, Team 6 proudly recognizes Tanner Casey for Student of the
Month.

Kole Robinson

If a person's character were like the game of hockey, this young man's character would be
the hat trick. He is intelligent, kind, and dedicated to being the best he can be. While his
favorite place on earth might be the ice rink, he gives his all to school, family and friends.
He is funny without being an attention-seeker. He is confident without being arrogant. He
is energetic without being a distraction. As teachers, we have watched him challenge
himself, reflect on his choices, and demonstrate his learning and growth. We look forward
to watching this young man succeed both on and off the ice. It is our privilege to honor
Kole Robinson as our student of the month.

Team 7: Tornado

Trinity Young

This student is a role model on Team 7. She has the natural ability to see the need in others
and will act upon it without being asked or expecting recognition. It is not uncommon to
see her helping out a fellow classmate when they are confused or helping a student to catch
up with work due to an absence. She has a calming voice and presence and displays a
genuine enthusiasm for learning. When taking into account her caring personality, hard
work ethic, zest learning, and her love of classic rock it is no surprise that team 7 would like
to recognize Trinity Young for March's Student of the Month.
Thomas Ho

While this student is a very quiet presence in class, his effort and kindness to others does
not go unnoticed. A focused and engaged student, he is willing to share thoughtful insights
and problem solving techniques with the entire class or other peers in a group discussion.
He is a very polite young man who goes out of his way to help in the classroom, from
picking up materials at the end of class, to ensuring that all students have what they need
during class...and he does this without ever being asked. His gentle manner and sense of
humor can often times have a calming effect on others within his class or group. For these
reasons, Team 7 is very pleased to recognize Thomas Ho as Student of the Month.

Team 8: Landslide

Hope Robb

This young lady is always willing to help. She is kind, empathetic, and always displays a
positive outlook in all situations. She is respectful, kind to her peers, and always friendly to
everyone. She also has a positive attitude towards class activities and participating with
others. She often offers extra help to teachers after school. We are proud to announce
Hope Robb as our female student of the month.
Matt Motuzas

       This young man cares about doing well and will spend extra time to do so. He is
kind and respectful to others. He tends to be on the quiet side, but has been known to
display an amazing inner strength when he feels the need to stand up to something that is
wrong. He is friendly, approachable, and has a concern for others. Our male student of the
month is Matt Motuzas.

6th Grade Assembly: 1 PM-2 PM

Team 1: Windstorm

Autumn Agri

This month's student of the month is someone who has shown her commitment to
community service in a variety of ways. She is a participant in the Builders Club, a club
devoted to doing service projects and fundraisers for the community. She has also
participated in several activities aimed at helping to support the troops such as making
cards, writing letters, packing goody bags, and making book marks.
Besides her commitment to community service, this student is also committed to making
her best effort in the classroom, which she consistently does. In her own quiet way, she
leads through example. She is very thorough and organized, and as a result she is able to
help others with most any issue put before her.
Additionally, this student is extremely helpful, both to her teachers and her peers. She's
become the official caretaker for the fish in my classroom. Every morning and afternoon, I
can rest assured that the classroom pets are fed and well cared for.
 In her free time, this student enjoys dance, playing piano, and she is very excited to start
track in the spring. Most impressively, our honoree understands the importance of having
goals. She's plans to become a junior councelor at the NHSPCA, and has a dream of one day
becoming a scientist who will discover the cure for all cancers. We have no doubt she'll be
up for the task.
For all these reasons, team 1 is proud to recognize Autumn Agri as March''s student of the
month.

Aidan Powley

This month's student of the month is someone who is very polite, helpful, and friendly. At
school he may come across as quiet and with a touch of shyness, though we know there's
much more to his personality demonstrated outside of CMS. He is truly a team player in all
respects. In class, he is a very attentive and focused student who puts forth good effort. He
is a willing participant in class discussions and gets along very well with his peers.
He has demonstrated his commitment to community service by logging several hours and it
has felt great for doing so. On more than one occasion he's helped with babysitting his
younger siblings and has also helped in their classrooms. Soccer must be his favorite sport
because he's played it for half his life. In addition to sports, he's a talented musician. He
can play both piano and trumpet. This student of the month's positive attitude helps to
create the type of team spirit you want in in your learning community, and we feel very
fortunate to have this student with us on Team 1.
For all these reasons, we are proud to recognize Aidan P. as this month's student of the
month.

Team 2: Sandstorm
Abby Tosatti

Our female student of the month is sweet, polite, and serious. Though shy, she is very
friendly, according to a classmate who nominated her. She is also described as being nice,
helpful, and supportive. She loves to play soccer with her friends, and enjoys a good book
with an interesting plot. Most importantly, one of her classmates said, "she respects the
Golden Rule: 'Treat others as you would want to be treated.' " She is very quiet, but we
have noticed how she is always ready for class, and participates willingly. A good student
and fine person, our student of the month for March is Abby Tosatti.

Sean McGonigle

Our male student of the month describes himself as "positive, organized, athletic and
quiet." He finds joy in playing sports, especially soccer. His teachers appreciate his calm
demeanor; it seems as though he has been able to navigate sixth grade with ease. A team 2
student nominated him, stating, "He's a respectful, good, hardworking kid, who never
misbehaves in class. He is also caring." As always, students nominate those they respect
as role models. Our male student of the month for March is Sean McGonigle.
Team 3: Spark

Hayley Rogers

       The girls who collect recycling from our pod once asked, "You want us to take that?"
while pointing to this girl's binder. She is quick to laugh at herself if she makes a mistake
and wears her heart on her sleeve. You can always tell what she is thinking. Active in the
school play and Girl Scouts, she is someone who cares about others and is genuinely happy
for other people when they do well. She enjoys school, is curious in the classroom,
participates in class discussions and even knows every word to every song in Language
Arts class. She is willing to take risks and to think about new ideas. At our last Student of
the Month assembly, when names were announced, this girl stood and cheered louder than
the rest of the auditorium. She is fully deserving of the March Student of the Month. She is
Haley Rogers.

James Stollar
Hera, the Greek Goddess, was known for her jealousy and temper. But our Student of the
Month has neither of those traits. Teachers love to look out at a class and see students
smiling, and this student is always smiling. He is a curious student, especially in science,
and has been an animal lover his entire life. He works very hard to achieve his grades and
can always be counted on to do his work. He is a dedicated student and is always prepared
for class. He is a quiet person, but he is quick to laugh at a joke and is a good friend to many
in the pod. Now, back to Hera. She was also known by her symbol, the peacock, and so is
this student. Just ask his neighbors! Team 3 is very lucky to have James Stollar as a
member.

Team 4: Rip Tide

Dan Kolifrath

This young man always shows a willingness to be friendly with all his peers. He always
displays a positive attitude, is extremely thoughtful and works well with others in the
classroom. He has a quiet demeanor that accentuates his mature and level-headedness as a
student. His confidence and work ethic is evident in the classroom where he puts forth
outstanding effort and is always eager to extend his help to others. He is a hard working
student and also a self-motivator. Outside of the school, he thrives as a 3 sport athlete
playing baseball, basketball and football. Undoubtedly, the overall Team 4 culture is
enhanced by his contributions. As you can see, we think very highly of this student and it is
our privilege to congratulate Dan Kolifrath.
Julia Harnum

The Team 4 choice for student of the month was a clear winner as she leads the pack in
community service. She has a great affinity for animals and volunteers her time at the local
SPCA. She plays lacrosse and rides horses in her free time. This student is committed to
understanding her work in class and asks important questions to clarify material. She is
kind to others and easy to be around. She smiles a lot and brightens up a classroom with
her good attitude. She takes her friendships seriously and her commitment to discipline is
evident in her early achievements in karate. A black belt through and through, Julia
Harnum is our team 4 student of the month.