Sunday, July 18th to Saturday, July 31st 2021 - Building Leaders... Empowering Social Innovators... Creating Resilient Entrepreneurs!
Page content transcription
If your browser does not render page correctly, please read the page content below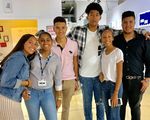 @

Sunday, July 18th to
Saturday, July 31st
2021

      Building Leaders... Empowering Social
  Innovators... Creating Resilient Entrepreneurs!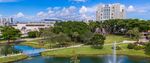 2021
          Harness your potential through
       TECHNOLOGY boost your future by
      learning to INNOVATE and disrupt the
              status-quo by pursuing
              ENTREPRENEURSHIP.

    All of this, and much more at FIU home
         to the #2 ranked Undergraduate
     International Business program in the
                  USA (U.S. News).

 Because FIU identi es with the purpose of BIZNOVATOR
CAMP, which includes leadership, social change,
entrepreneurship and innovation, it was logical to partner
with BIZNOVATOR CAMP, as one of our summer programs.
We are very excited about what lies ahead!

Dr. Rosenberg, President of Florida International University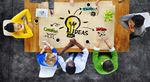 Our camp gives you a FUN, two-week experience like
no other! Gen Zers (teens) will be immersed in
everything a vibrant pre-college experience has to o er
while taking a proactive approach to edutainment!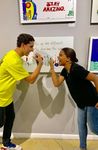 ACTIVE PARTICIPATION REQUIRED

At the BIZNOVATOR Camp we know that when you're
an active participant, your success increases. According
to the National Survey of Student Engagement (NSSE
Studies), being active helps you connect to your peers,
discover your passions and increase strengths. This all
leads to lifelong learning through relationships that will
enhance your growth.

JUMP INTO THE ACTION & EXPERIENCE WHAT
MAKES US MORE THAN A GREAT RESIDENTIAL
SUMMER CAMP

BIZNOVATOR Camp teaches you to reach beyond your
expectations. Our curriculum and daily agenda is
designed to prepare, equip and empower students
t h r o u g h T E C H N O L O G Y, I N N O VAT I O N a n d
ENTREPRENEURSHIP (TIE). Camp participants will
b u i l d k n ow l e d g e a n d u n d e r st a n d i n g t h ro u g h
BIZNOVATOR'S experiential learning methodology: we
empower, engage and connect students through our
learner-driven activities.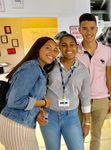 5
Y O U R U N F O R G E T TA B L E M U LT I N AT I O N A L
EXPERIENCE AWAITS YOU IN THE #3 START-UP CITY
   THE MAGIC CITY MIAMI

From the minute you arrive at Miami International
Airport, the FUN begins with welcoming video and
photo shoots. Throughout your two-week experience
you'll live our customized agenda that includes:

   Corporate Case Studies and Tours of: CISCO, SAP,
    Starbucks, Telemundo, Amazon
   History of Money at the Federal Reserve Bank
   Apple Store on Lincoln Road and Miami Beach Tour
   TRAC: Team Ropes Action Challenge + Beach
    activities at FIU's Biscayne Campus
   Movies and Shopping at Florida's Largest Store
    Outlet Dolphin Mall
   Ventana de los Cielos Farm + World
    Famous "Robert Is Here Country Store
   Wynwood Art and Photo Gallery Tour (prominent
    entertainment district and art mecca)

               BIZNOVATOR Ropes Challenge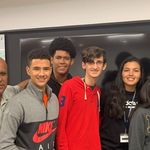 Whether it s you re in secondary school or college, this
experience will become one of the best career and life
choices you ll make! Our camp includes multinational
students who are lled with curiosities, are driven to
explore, and ready to grow. We expect you to not hold
back! Our coaches and faculty encourage you to
discover more, and to take advantage of the many
opportunities awaiting you at FIU.

Filled with cutting-edge professional facilities, the FIU
campus becomes the perfect setting for learning and
venturing into your own growth journey. Your camp
mates will range from ages 15 to 19, speak more than 2
languages, have traveled to multiple countries, and are
eager to DISCOVER their purpose, TRANSFORM their
mindset and CONNECT to their future.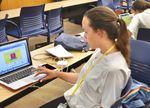 SHARPEN YOUR SKILLS TO BECOME AN
  INNOVATIVE, TECH-SAVVY ENTREPRENEUR

                            Do You...Be You! At the
                            BIZNOVATOR Camp you're
                            not expected to master
                            technology, innovation or
                            entrepreneurship, nor do
                            you have to launch you're
                            own venture, but you will be
challenged to nally follow your dreams and become
your best self. While discovering and improving skills
you never knew you had, you'll learn the foundations of
innovation and the essentials of entrepreneurship. In our
180+ hours of learning, you'll learn to become an
innovator, networker, entrepreneur, and the creator of
your own destiny. We've prepared a proven program
that provides you a plethora of resources that you can
tap into immediately.

At our camp, you'll participate in nightly roundtable
discussions with start-ups and experienced innovators
that have mastered technology to advance their
ventures and careers. We inspire problem solvers,
i n n ova to r s a n d e n t re p re n e u r s ! Th ro u g h p e e r
collaboration, campers will learn new tech skills,
including coding, robotics, web development and ours
tours of tech start-ups and co-working spaces.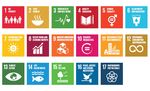 The Network:

The unparalleled BIZNOVATOR International Network
(BIN includes more than 100 universities, companies and
organizations) is one of the best resources you can tap
into for building your career whether in Technology,
Innovation, Entrepreneurship, or Life! Students will
have full access to meet and greet our speakers to build
mentorship relationship.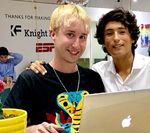 What other people are saying...
 BIZNOVATOR CAMP is one of the best experiences I have ever had!
Not only did I make great friends, but it also opened my eyes and
made me realize that incredible opportunities are just waiting for
you to take advantage of them. Thanks to this camp I got started
with my own business and acquired an entrepreneurial mindset.

Karla Moscoso, BIZNOVATOR Camp Alumni 2016, Dom. Rep.

As a community partner with BIZNOVATOR, we have a real
opportunity today, to embrace the future of our world. Having
students learn about growth mindset, to expand their potential, and
to become something different and courageous is exactly what we
at Starbucks love most about the BIZNOVATOR CAMP, experience.

Laura Hajduk-Ruiz, District Manager, Starbucks

The main takeaway for my son and daughter was that they both left
the BIZNOVATOR CAMP experience more encouraged to take on
social responsibility and with the need to help the world.

Nikita Mihansingh, BIZNOVATOR Parent

What BIZNOVATOR CAMP taught me was to believe in myself. To
have con dence in your abilities and to be willing to work hard to
achieve your goals. I am now ready to apply everything I learned to
leave my mark.

Mike Rodriguez, BIZNOVATOR Camp Alumni 2017, Brazil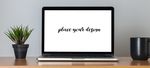 AGENDA

Week I (Sunday, July 18th to Friday, July 23rd)
 Personal Growth Development
 Study Market Trends / Big Time Marketing
 Business, Technology, Innovation and
  Entrepreneurship Essentials (TIE)
 BIZNOVATOR StartUp Lab
 Innovators of Change Panel
 Case Studies / Corporate Tours
 BIZNOVATOR Corporate Experiential
 Networking with Successful Entrepreneurs
 BIZNOVATOR CollegePrep Tour

Weekend (Saturday, July 24th - Sunday, July 25th)
*Optional for commuter students; additional fee required.
   Service Learning at Ventana de Los Cielos Farm
   Everglades Environmental Tour
   Tropical Lunch
   Dolphin Mall Tour and Dinner
   BIZNOVATOR TRAC Ropes Challenge
   Beach Activities at FIU North Campus
   City Place Evening

Week II (Monday, July 26th to Saturday, July 30th)
 From Passion to Ideation and Researching your Idea
 Social Media Frenzy
 1:1 Business Coaching
 StartUp Essentials
 Pitch Deck Designs and Development
 Prepare, Plan, Present / Pitch Competition
 Awards Ceremony

                                                            2021
CAMP OPTION I

      Residential Option: US$3,500
  Investment Includes:
   Housing Facilities at FIU
   Daily Meals & Snacks
   Morning Fitness, Yoga, Running Trail
   Complete Curriculum & All Supplies
    1 : 1 Coaching
   Daily Outdoor Team Dynamics
   Corporate and College Tours
   VC Fund and Pitch Competition
   Daily Live Stream, Photos & Videos
   Airport Transfers / Ground Transport

     Check-In: Sunday, July 18th, 2021 by 3:00 PM
     Check-Out: Saturday, July 31st, 2021 by 1:00 PM

  Daily Sessions for Residential Students

     Sunday, July 18th Orientation 5:00 PM - 6:30 PM
      Parents and Family encouraged to attend
     Monday, July 19th - Friday, July 30th from 8:30
      AM - 10:00 PM
     Saturday, July 31st all residential students must
      check out by 1:00 PM
*All activities have been altered for appropriate distancing

CAMP REQUIREMENTS
(A detailed list will be emailed to you before the July 1st, 2021 registration deadline).

Motivated and Curious Teens Ages 14-19
Photo ID Medical Release Form (including COVID-19 Pre-
Screening)     Parental Consent Form     Photo/Video
Consent Form Travel Insurance Recommended Laptop
or Tablet Required
CAMP OPTION I I

    Commuter Option: US$2,000
Daily Drop-Off: 8:30 AM. Pick-Up: 4:30 PM at the FIU
School of Business.

Tuition Includes:
 Daily Lunch & Snacks
 Curriculum
 Supplies (Including PPE Supplies)
 Group Activities
 Student Assessments
 Daily Live Streaming for Parents
 Follow-Up Support

            CAMP OPTION I I I
Virtual / Remote Option: US$600
   Sign-In Daily (Monday to Friday) Via the
    Designated Zoom Link:

   Week I (July 19th to 23rd)
    9:30 A.M. to 11:00 A.M. and 2:30 to 4;00 P.M.

   Week II (July 26th to 30th)
    9:30 A.M. to 11:00 A.M. and 2:30 P.M. to 4:00 P.M.

Tuition Includes:
 BIZNOVATOR Online Workbook Content
 30 Hours of Discovering, Start-Up Development,
   and Growing
 Core Value Assessment (CVI) for Entrepreneurs
 Live Streaming at Scheduled Corporate
   Roundtables (when authorized)
 Pitch Competition Online (with other remote
   learners)
 1 Year Membership to Youth EPIC Virtual
   Community
 Graduation and Certi cate
Team
         Juan Pablo Casimiro
              CEO / Lead Trainer

                 John Canaday
                 Chief Operating O cer (COO)

           Veronica Canaday
   Chief Financial O cer (CFO)

                 Frank Kennedy
                 Trainer / Coach

                    Ruth Baez
Logistics Administrator / Trainer

                 DuMarkus Davis
                 Trainer / Coach

                  Rosa Brenes
                 Trainer / Coach

                    Andre Hernández
                   IT Logistics/ Trainer
Youth Are Our #1 Priority
        Culture of Compliance

   BIZNOVATOR Programs Align with
the UN's Sustainable Development Goals

                                  2021
DISCOVER   TRANSFORM   CONNECT

BIZNOVATOR s youth empowerment movement
focuses on creating new entrepreneurial thinkers
and innovators to create methodologies to solve
some of their community's challenges. We
encourage and challenge our students to develop
ambitious ideas that can radically change
education, business, careers, and how we create
solutions to global issues like the recent COVID-19
pandemic.

We re a mission and purpose-driven team of
visionaries, entrepreneurs, and educators with a
keen interest in making the seemingly impossible-
possible!
BIZNOVATOR Exploratory Outings                    BIZNOVATOR COLLEGE PREP Tour

                  BIZNOVATOR Ropes Challenge

   BIZNOVATOR StartUp Labs @                   BIZNOVATOR Corporate Round Tables @

                       BIZNOVATOR Partners / Sponsors

@BIZNOVATORCORP

                                                                 786.385.5285
  @BIZNOVATOR
                  REGISTER NOW !                                 jcasimiro@biznovator.com

                                                                 info@biznovator.com
                  www.biznovator.com/events
 @BIZNOVATOR1