Welcome to Riverside Primary School 2018
Page content transcription
If your browser does not render page correctly, please read the page content below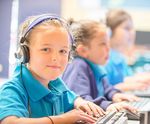 RIVERSIDE PRIMARY SCHOOL

Welcome to Riverside Primary School. We believe that learning is a life long
process, that every child has a right to an excellent learning environment and
that all children have the right to an education that allows them to develop to
their full potential.

Please ensure that information given on enrolment is kept up-to-date. The
school should be notified immediately of any change in address, contact
numbers, places of employment and emergency (contact) numbers. This
information is vital in cases of emergency (e.g. sickness or accident) and is the
responsibility of parents and/or legal guardians.

                            SCHOOL TERMS 2018
Semester 1     Term   1:       Wednesday 31 January - Friday 13 April
               Term   2:       Tuesday 1 May - Friday 29 June
Semester 2     Term   3:       Tuesday 17 July - Friday 21 September
               Term   4:       Tuesday 9 October - Thursday 13 December

                           PUBLIC HOLIDAYS 2018
Labour Day:                    Monday 5 March
Good Friday:                   Friday 30 March
Easter Monday:                 Monday 2 April
Easter Tuesday:                Tuesday 3 April
Western Australia Day:         Monday 4 June
Queen's Birthday:              Monday 24 September

                           SCHOOL HOURS 2018
                                                                      ANT
School Commences:              8:50am                          IMPORT
Morning Recess:                10:50am—11:10am
                                                               EARLY CLOSE
Lunch:                         1:10pm—1:40pm
                                                                 2:30PM
School Finishes:  K            2:45pm
                                                             EVERY THURSDAY
                  PP-Yr 6      3:00pm
                                                              KINDY—YEAR 6
School Finishes: K-Yr 6        2:30pm Every Thursday

Students should not arrive at school before 8:30am. A LATE NOTE must be
collected from the office if children do not arrive on time.
The school premises are strictly out of bounds after school hours, during school
holidays and over the weekends.

                 SCHOOL DEVELOPMENT DAYS 2018
                    TERM 2    -   Monday 30 April 2018
                    TERM 3    -   Monday 16 July 2018
                    TERM 4    -   Monday 8 October 2018

School Development days provide staff with opportunities to engage in whole
school planning and professional development. Students do not attend school
on these days.

    1 Minilya Parkway, Greenfields WA 6210 PO Box 1347 Mandurah WA 6210
                               Telephone: 9534 0300
                  email: contact.riverside.ps@education.wa.edu.au
                            http://riversideps.wa.edu.au
Riverside Primary School                       opened in 1995 and has established itself as a
school of choice for many families in the Mandurah area. The school is dedicated to providing a
safe and supportive environment which allows all students to strive for academic and personal
success. The school motto Truth, Pride and Friendship continues to underpin our ethos.

The school has five purpose built learning blocks which house the Pre-Primary - Year 6 classes. In
addition we have one demountable classroom for the Kindergarten. The school is very
aesthetically appealing and we have been able to retain pockets of natural bushland which is
utilised where possible into environmental projects. The grounds are well maintained and the
Parents and Citizens Association (P&C) continues to work extremely hard to provide play
equipment which enhances our school environment.

                                                                Student Values

                                                  The four values we encourage our
                                                  students to strive for are :
                                                  Respect To treat others as they
                                                  would like to be treated
                                                  Responsibility To be accountable
                                                  for their own actions
                                                  Resilience To gain strategies to
                                                  overcome life's challenges
                                                  Inclusivity To value each other
                                                  regardless of differences

                                       OUR VISION
  Riverside Primary School is committed to providing students with a holistic education
         that enables them to reach their full potential academically, physically,
                                   socially and emotionally.

A Message from the Principal                                   Riverside became an Independent
Public School in 2013, this has provided an opportunity for the school and community to reflect
on our short history and plan for the future. The staff of Riverside are experienced and
committed to providing educational programs that cater for students social, emotional,
physical and academic needs.

We look forward to forging stronger partnerships with the local community which will in turn
maximise opportunities for our students.
We recognise the roles that students, staff and the whole community have
in providing opportunities to empower students for the future.

Students are expected to:
     Care for each other
     Be respectful and resilient
     Be inclusive of others regardless of their differences
     To be accountable for their actions
     To do their best
     Maintain their 'Good Standing'
     Actively participate in their learning.

Staff are expected to:
     Have high expectations
     Encourage student responsibility
     Provide a safe environment
     Acknowledge and cater for individual differences
     Monitor progress and provide feedback
     Use a range of pedagogies
     Have mastery of teaching content
     Build positive relationships
     Engage in continuous professional learning.

Parents are expected to:
     Follow the Parent Code of Conduct
     Form a supportive partnership with their child's teacher
     Support the school's beliefs and programs
     Maintain open and respectful communication with teachers and the school
     Send their child fully prepared to school
     Ensure their child attends school regularly.
ABSENT STUDENTS
The School Education Act required that all school age (5 to 17 years) children
attend each day of the school year.

Parents of students are required to notify the school prior to the
commencement of the school day if their child is going to be absent from or late
to school. Notification may be made by the following means:

    By emailing absence.riverside.ps@education.wa.edu.au
    By going to the school website and click the ABSENCE TAB
    Direct contact to the front office either via phone 9534 0300 or personal
     contact
    Direct contact with teacher
    Written note via a sibling or via the student on the first day of return to the
     school after absence to the teacher or the front office.

If you are aware prior to the day of absence (for appointments etc.) please let
the teacher know the day before using one of the above options. If this is done
we will know the exact whereabouts of our students.

Whilst no system is fool proof, our intention is to minimise any concerns with
the home to school movement of students. If everyone follows the procedure
this can be a relatively smooth operation and we appreciate your assistance in
making the system work. We would appreciate you ensure that we have your
current contacts on file in the event that we need to contact you regarding
unexplained absences.

Frequent, unexplained absences will be referred to the District Attendance
Coordinator at District Office.

ASSEMBLIES
Assemblies are usually held each fortnight and dates are advertised in Term
Planners, website and newsletters. Assemblies usually involve student items
and the presentation of Honour Certificates. Parents and members of the
community are welcome and encouraged to attend.

BICYCLES
All children who ride bicycles and scooters to school must wear bicycle helmets.
Bicycles and scooters are to be locked in the bicycle racks located at the front
and rear of the school. The school takes no responsibility for theft or damage of
bicycles on site.

CANTEEN
The P&C Association funds the operation of a Canteen on the school site. The
canteen aims to provide students with wholesome meals at a reasonable price.
Any profits are used to purchase school resources and equipment.

The success of the canteen is dependent on the support of volunteers. If you
can help for an odd morning or on a regular basis, please contact the
Canteen Manager at the school between 8:30am and 12:45pm each day
on 0459 565 827. Menus are available from the front office or our website.
CHAPLAIN
Our School Chaplain Mr Rankin has worked with a number of students and has
had an extremely positive effect. Please contact the school if the situation ever
arises that your child would benefit from this service.

The School Chaplain also facilitates an in-class Year 4 BUZ Together program.
This program runs for eight weeks of one hour duration. The purpose of BUZ
(Build Up Zone) is to engage the children in collective learning focusing on the
benefits of social skills training, integrating those skills as part of their everyday
life.

ENROLMENT
Riverside Primary School is a local-intake area school. To view our local-intake
area please visit our website or a copy is available from the office. An initial
"Application for Enrolment Form" is to be filled out and the following information
is required to be supplied along with this form:

    Proof of address (see Requested Documentation on "Application Form")
    Childs Birth Certificate
    Immunisation Records - Australian Immunisation Register (AIR) history
     statement
    Court Orders (if applicable)
    Details of health or learning difficulties.

To allow for a smooth commencement we require 24 hours to approve an
application for enrolment.

EXCURSIONS/INCURSIONS
During the year teachers may organise excursions to places of educational
interest.  Parents will be informed about the number of excursions and
associated costs prior to the commencement of the school year so they can
budget ahead. Please refer to the Contributions and Charges sheet.

HEAD LICE MONITORING
Parents are advised to regularly check their child's hair for live lice (nits) or
eggs and to treat accordingly. Should a child be identified with live lice then
every attempt will be made to contact parents to advise of the need for
treatment. Prior to returning to school the child must be accompanied by a
parent/adult to the office where a school administrator will check hair and
provide a clearance to return to class. The whole class is notified when there is
an outbreak.

HOMEWORK
It is the policy of the Department of Education that regular formal homework
should not be set with the exception of Year 6 where set homework may apply
as a transition for secondary school.

Students in other years may however, be asked to learn tables or spelling or
practice home reading. This is for a short time each night and can be
negotiated with the classroom teacher. The school has home Reading Programs
'Lit Pro & RIBIT' that should be done at least 4 nights a week.
LEAVE PASS
If parents are collecting their child from school earlier than the close time they
are required to present themselves at Reception and receive an authorised
LEAVE PASS before their child will be released from class. This is a security
measure in the best interest of the child. Please keep these instances to a
minimum. If someone else is going to collect your child and is not a
nominated contact please notify the school. ID may be requested.

LIBRARY RESOURCE CENTRE
Our Library Resource Centre has many books/resources for staff, student, and
community use. All students are required to have a library bag to borrow
books. A laminating facility is available for use on request at a reduced cost.

MEDICATION
An administrator is available to supervise your child with administration of
medication. Parents must complete a 'Health Care Authorisation'. If medication
is as a result of a doctor's prescription and is ongoing, a form needs to be
completed by the prescribing doctor. Medication brought to the school should
be in the original container and must state the child's name, type of medication
and exact dosage and time medication is required. Students taking medication
should remember to go to the office at the designated time. Children/parents
must hand in all medication before going to class in the morning.             No
medication (except for asthma puffers) can be kept in the school bags.

Medication required for short-term use must also follow the above procedures
and be kept locked in the sick bay. Please contact reception staff or a Deputy
Principal for assistance.

MOBILE PHONES
There are an increasing number of parents/guardians who for safety, security
and/or emergency purposes wish to provide their children with mobile phones.
Students will only be permitted to bring a mobile onto the school premises for
safety, security or emergency purposes.

1.   Parents/Guardians who require their child to bring a mobile phone
     onto the school premises must complete an 'Application for
     Student use of a Mobile Phone Policy' form.
2.   Parents/Guardians agree to abide by the 'Conditions of Use' set down in
     the policy.

NEWSLETTER & COMMUNICATIONS
The school Newsletter 'Possum Post' informing parents of coming events and
other relevant information is posted to the school website http://
riversideps.wa.edu.au every Thursday. Please visit the Google calendar for up
to date school events http://riversideps.wa.edu.au/term-planner-and-calendar/.
We also use the Skoolbag App which you can access directly from your iPhone
or Smartphone. Parents can subscribe for notifications and alerts. Follow these
instructions at www.skoolbag.com.au to download the App.
PARENTS AND CITIZENS ASSOCIATION (P&C)
Riverside Primary Schools has an active and supportive P&C Association.
The P&C is a valuable group of people who:

    Foster community interest in educational matters
    Assist in the provision of resources, facilities and amenities for the school.

The P&C manage the operations of the Schools Canteen and the Uniform Shop.

They are a very active group of people who volunteer their time to support the
school by fundraising (Easter Raffle, Mother's and Father's Day Stalls and
various other events throughout the year).

Up to date information on school and education department happenings are
discussed at meetings. Meetings are held throughout the year and dates are
advertised in the School Newsletter and Term Planner (if available at the
beginning of the Term).

An Annual General Meeting (AGM) to elect new members is held during the first
Term of each year. Members of the school community are encouraged to be
involved in activities.

The Riverside Schools P&C have supported the school by providing funds for
projects such as air-conditioning in the original school buildings, playground
equipment and annual contributions towards education encouragement awards,
including the sports carnival.

We thank this dedicated group and urge you to join in the gift of volunteering.

PARENT PARTICIPATION & INVOLVEMENT
Parents are encouraged to become involved in all aspects of their children's
school lives and are heavily relied upon for voluntary help in running various
programs in the school.
Some of the ways in which you can help are; Book Covering, Canteen, Library,
Oral Reading, P&C Committee, Schools Board and Pre-Primary/Kindy helper.

Please leave your name and telephone number at the office if you can help in
any way.

PERSONAL ITEMS LIST
'Personal Items' list for each year level are available from reception staff. The
ordering process for the following year is coordinated in Term 4. The items on
this list are essential and assist students in their learning program.

REPORTING TO PARENTS
Regular oral and written reports are provided to parents on their child's
progress. These include Interim Reports, Progress Reports, Parent Interviews
and a Learning Journey.
SCHOOLS BOARD
Riverside Primary School and Riverside Education Support Centre have a
combined Schools Board which meets 6-8 times each year. The membership of
the Board consists of the Principals, parents and staff of both schools together
with community representatives.

The main functions of the Schools Board are to take part in:
   Establishing and reviewing, the schools objectives, priorities and general
    policy directions
   Planning of financial arrangements necessary to fund these objectives,
    priorities and directions
   Evaluating the schools performance in achieving them
   Promoting the school to the community.

SCHOOL DEVELOPMENT PLAN AND ANNUAL REPORT
The School Development Plan provides information to parents and the
community on the way in which identified education priorities are addressed. An
Annual Report is prepared at the beginning of each year. These documents are
available on the school website.

SCHOOL PARKING
The school encourages parents to walk with their children to school. The staff
car park is NOT to be used by parents.

For safety reasons, children are not permitted in any school car park area unless
supervised by an adult. Parents are asked to exercise strict control of children in
their care when crossing the car park areas.

The section on Minilya Parkway at the front of the staff car park is 'Kiss
and Drive' only. Shire Rangers regularly visit the school and issue parking
infringements for violations. Please do not park in the disabled car bays. Please
see the school map for detailed information on parking.

SCHOOL PSYCHOLOGIST
A school psychologist is available for students from the South Metropolitan
Regional Office. Referrals are made by contacting the school or your child's
classroom teacher.

SICK STUDENTS
Students who are sick should not be sent to school. The parent/carer of a child
who falls ill or is injured at school will be contacted and asked to take them
home. Please arrange an emergency contact willing to look after your child
when you are unavailable. In an emergency situation, a doctor or ambulance
may be called.

STUDENT DRESS CODE
This has been endorsed by the Schools Board. The Dress Code can be viewed
on our website or a copy can be obtained from the School Office.
SWIMMING
Swimming lessons are considered to be an important part of each child's
education. Lessons for students in Pre Primary to Year 6 are held at the
Mandurah Aquatic Centre. Parent support is essential in ensuring students
attend lessons as part of the Physical Education Curriculum.

TEACHER CONTACT
We encouraged parents to have regular contact with their child's teacher in the
first instance, or School Administrator (Principal and/or Deputies).
As staff have many duties to perform, it is preferable to telephone the school, in
advance, to arrange interviews. Please do not contact your child's teacher
between 8:30am and 8:50am and expect an interview at these times. This time
is utilised by teachers to organise lessons and supervise their students in
readiness for the school day.

TRASH FREE TUESDAY
As part of the school's commitment to environmental sustainability, all students
and staff are encouraged to participate in our weekly Trash Free Tuesday
lunch program.
A Waste Free Lunch contains no throwaway packaging and produces no food
waste. It also reduces the amount of litter, as there is less waste to become
litter. The typical homemade Waste Free Lunch is packed in a lunch box or bag.
The food is put in reusable containers rather than wrapped in disposable
packaging. A drink is in a refillable bottle. All containers are resealable, so that
leftover food and drink can be saved for later. Through bringing less waste into
our school we can minimise litter, create less waste, save money and develop
healthy eating habits.

UNIFORM SHOP
This is organised by P&C parent volunteers. Operating times are Monday
afternoons 2:45pm-3:15pm and Friday mornings 8:30am-9:30am.             These
times are subject to change. New and second hand sales are available to
parents. Copies of uniform order forms are available from the front office and
our website. EFTPOS is now available.

VOLUNTARY CONTRIBUTIONS
Voluntary contributions for Kindergarten to Year 6 are endorsed by the Schools
Board. Even though the amount is voluntary, by receiving the payment the
educational programs of the school can be enhanced by purchasing additional
resources and equipment. The voluntary contribution amount for 2018 is $40.00
per child or up to $100 for a family. Payment can be made at the front office via
EFTPOS or by direct credit to the school bank account (please call the office for
our bank details).

WEBSITE
You can view up-to-date information and events regarding the school via our
Riverside Primary School website.
Enter http://riversideps.wa.edu.au into the address line at the top of
Internet Explorer or Mozilla Firefox.