BUEHLER 2018 PRODUCT CATALOG Sectioning | Mounting | Grinding & Polishing | Imaging & Analysis | Hardness Testing
If your browser does not support JavaScript, please read the page content below:
BUEHLER 2018 PRODUCT CATALOG Sectioning | Mounting | Grinding & Polishing | Imaging & Analysis | Hardness Testing
Strong Partner, Reliable Solutions 2018 PRODUCT CATALOG Sectioning | Mounting | Grinding & Polishing | Imaging & Analysis | Hardness Testing
ABOUT BUEHLER Buehler is a division of Illinois Tool Works (ITW) and is based in Lake Bluff, Illinois. ITW is a global, Fortune 200 company and global industrial manufacturer of value added consumables and specialty equipment with related service businesses. Buehler is a premier manufacturer of scientific equipment and supplies for use in materials analysis with offices in nine countries, sales distribution in over 100 countries, and over 45 Expert Solutions Centers.
Buehler was founded in 1936 by Swiss immigrant, Adolph I. Buehler, who saw a need for metallographic sample preparation equipment and optical inspection instruments for the steel and automotive industries in the Midwest USA. Eighty years later Buehler is well established as the world's leading supplier of materials preparation and analysis instruments, equipment, consumable supplies and application solutions.
For more than 100 years Reicherter, Wolpert, and Wilson have designed and manufactured innovative and unique hardness testers. Today Buehler continues in their path with new designs and technologies to meet growing demands. In 2011, Wilson Hardness was combined with Buehler to provide a more robust product offering. Dear Valued Customer, I am pleased to introduce our 2018 Buehler Product Catalog, the most comprehensive product guide for materials character- ization and analysis. In 2016, Buehler celebrated 80 years in the industry and this catalog represents the knowledge and exper- tise that comes from working with our global customers across all industries and in both research and quality control laborato- ries to develop the best quality sample analysis solutions.
This catalog also represents our investment in new product develop ment and innovation, with new products across major segments. Buehler is proud to offer the full lab solution – from sectioning, mounting, grinding, polishing, and analysis to hardness testing – all designed and manufactured by Buehler to ensure the high- est quality and reliability. Although we hope you find what you are looking for in these pages, we strongly encourage you to reach out to our field and applications experts who can answer any questions you may have and assist with testing to be sure you get not only the right products but also the right methods that ensure quality and reliability of results.
Thank you for considering Buehler and please let us know how we can further support your materials analysis needs. Meredith Platt Vice President & General Manager Wilson Instruments Home of the hardness testing legacy brands: i
CONTENTS 2 20 30 56 70 88 SECTIONING A full range of abrasive and precision saws, blades, and vises for cutting any material. MOUNTING Automated compression mounting presses, vacuum systems and over 20 types of mounting media. GRINDING & POLISHING Automated and manual grinders and polishers with the broadest range of consumables for any lab. IMAGING & ANALYSIS OmniMet™ delivers powerful image analysis possibilities combined with flexible database functionality. HARDNESS TESTING Wilson® hardness testers cover all major hardness scales including dedicated Rockwell®, Knoop/Vickers, and Brinell as well as multi-scale Universal machines.
We provide ISO and ASTM certified test blocks for all scales.
ADDITIONAL INFORMATION Consumables shelf life and Index ii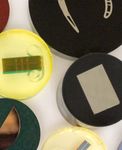 Our Team is Here for You! Buehler is committed to excellent customer care, and are available to support our customers with any questions, concerns or issues. Our team of customer support professionals, application experts, service engineers, product design & development, technical sales, and in-house design and manufacturing are at your disposal. • Materials Science PhDs can assist you with material preparation applications • Industry leading hardness testing experts can assist to train, install or troubleshoot any hardness testers • Dedicated software support expertize for any software questions • Support for product returns or questions • Repair, calibration, installations, and maintenance of equipment Customer Care Contact Information Committed to Quality Buehler employees and operations are committed to delivering quality and environmentally responsible products guided by ISO 9001 Quality Management Principles and ISO 14001 Environmental Managements Systems.
Buehler innovates solutions and offers expert service and support throughout the materials preparation and analysis market. Worldwide Headquarters 41 Waukegan Road, Lake Bluff, Illinois 60044-1699 USA European Headquarters Boschstraße 10, 73734 Esslingen am Neckar, Germany Asia Headquarters 13A, No.88, Xin Jun Ring Rd, Caohejng HI-TECH PARK, Pujiang Town Minhang District, Shanghai, 201114, China +1 847 295 6500 +49 0 711 4904690-0 +86 400 111 8683 info@buehler.com info.eu@buehler.com info.asia@buehler.com iii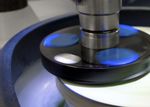 Full Lab Solutions Buehler Solutions Centers Buehler is Your Lab Partner Buehler Solutions Centers provide materials preparation and analysis techniques and training to our customers worldwide. Our mission is to deliver valuable application solutions by applying Buehler products and methodologies. We are committed to maintaining the highest standards in quality and service. Buehler experts provide technical assistance on metallographic and metallurgical topics • Labs dedicated to creating application solutions.
• Customer service laboratory for materials prep and analysis • Collaboration opportunity (research, papers, testing).
• Buehler owned and Power Distributors with current full labsolutions and independent demonstration/ applications skills. • Lake Bluff, IL • Düsseldorf, Germany • Kuala Lumpur, Malaysia • Lyon, France • Shanghai, China • Warwick, UK • Tokyo, Japan • Esslingen, Germany Buehler Solutions Centers: Buehler provides many resources to help with your lab solutions: • SumMet Guide • TechNotes and SumNotes • Safety Data Sheets • Seminars, Webinars and Classes Strong Partner, Reliable Solutions Introduction Many thousands of years ago ferrous materials were mainly found in naturally occurring forms, such as debris from meteorites.
The first known working of iron was in c.1500 BCE by the Hittites (centered in what is now Turkey). It took another 500 years before the process of early steel manufacture in simple furnaces was discovered, and that quenching could improve hardness. This sparked the growth of steel and the end of the Bronze Age.
As late as the 1800's, processing of steel was arduous. Bulk process- ing was possible, mainly using the "cementation" process - heat- ing bars of iron with charcoal for days on end, a process that was both inefficient and inconsistent. In 1856 Bessemer developed his converter, closely followed by the Siemens Open Hearth process, allowing the removal of carbon and other elements from the iron and the true control of the elements in steel began. Today, there are several hundred varieties of steel with as many ap- plications. To meet modern demands, the chemistry and properties of the steel need to be tightly controlled.
Metallographic processes and analysis techniques have needed to develop in line with these increasingly demanding applications.
This paper discusses sample preparation and analysis on a variety of today's often used ferrous materials using the latest equipment and consumables. Background Heat Treatment of Ferrous Materials Sample preparation and analysis was established for process con- trol, failure analysis and R&D. Highly stressed materials need to have the corresponding mechanical properties to ensure reliabil- ity, flexibility, elasticity or durability depending on the application. Heat treatment is generally defined as the controlled heating and cooling of solid metal or alloys to obtain specific properties by chang- ing the microstructure.
There are many different components to heat treatment, including normalizing, annealing, quenching, tempering and stress relieving. These treatments can affect many properties simultaneously, but improving one can be detrimental to others. In some cases components need to have varying properties in dif- ferent areas and in these cases localized techniques can be used. For example, gear wheels need to be hard and wear-resistant at the surface, but maintain the ductility and toughness to endure high loads without breaking. Surface treatments to create this hard layer involve using heat and exposure to chemical elements such as carbon or nitrogen to modify the surface properties.
These include processes such as carburizing, nitriding and induction hardening. Induction hardening uses a high frequency alternating current to rapidly heat the surface of the work piece. Quenching results in a martensitic structure being maintained in that area, which is sig- nificantly harder than the core material. The depth of the hardened layer depends on the operating frequency used.
Carburizing and nitriding involve heating the sample in an environ- ment rich in the desired element, changing the chemistry at the surface, and as a result modifying the microstructure. In these cases the hardening depth depends on time, temperature and the concentration of the required elements. Checking that surface treatments have been correctly performed is a vital quality control step. Both hardness testing and optical examination of the microstructure are used. Both of these require proper metallographic preparation to ensure accurate results. Sample Preparation Sectioning The first step in the preparation of most samples for metallographic examination is the removal of a representative sample from a larger component.
It is important to ensure that the sample is not exposed to excessive heat or mechanical damage during sectioning. Saws designed specifically for metallographic purposes should be used. The machine itself is usually selected on the basis of capacity and level of automation. Specialist abrasive wheels are normally used, as they provide excellent cutting speeds with minimal damage. The selection of the correct abrasive wheel is critical to ensuring an undamaged specimen, as well as optimizing speed. The abrasive type should be selected to suit the material being cut - alumina is most effective for ferrous materials.
In addition, the strength of the bond holding the abrasive in the wheel is very important. Hard mate- rials require a sharp abrasive in order to cut effectively. If the abrasive is held too strongly in the wheel, it will not wear and expose fresh particles. This can lead to glazing of the wheel, extended cutting times and excessive heat or deformation in the part. Conversely, too soft a bond can lead to excessive wheel wear. To simplify selection, Buehler provides a range of wheels from which the user can readily select. If cutting components with a variable properties, such as surface treated steels, a wheel suited to the hardest material pres- ent should be selected.
Table 1 shows recommended wheels for different ferrous materials and corresponding parameters for the AbrasiMatic™ 300 using 12in [305mm] abrasive wheels. Published by Buehler, a division of Illinois Tool Works Volume 6, Issue 1 By: Matthias Pascher Efficient Sample Preparation and Analysis of Ferrous Materials TECHNotes BUEHLER Worldwide Headquarters North America-South America Offices 41 Waukegan Road Lake Bluff, Illinois 60044-1699 USA P: 800 BUEHLER (800-283-4537) P: (847) 295-6500 www.buehler.com | info@buehler.com European Headquarters BUEHLER Germany info.eu@buehler.com BUEHLER France info.fr@buehler.com BUEHLER United Kingdom info.uk@buehler.com BUEHLER China info.cn@buehler.com BUEHLER Japan info.japan@buehler.com BUEHLER Asia-Pacific info.asia@buehler.com © 2015 BUEHLER, a division of Illinois Tool Works Inc.
Printed in U.S.A. SUMNotes PUBLISHED BY BUEHLER, A DIVISION OF ILLINOIS TOOL WORKS VOLUME 3, ISSUE 2 REPLICATING MEDIA by Dr. E. MOGIRE Replicating media is used for non-destructive investi- gation of engineering components and materials. The media is a two-part system that solidifies upon contact and reproduces the details of the surface on which it is applied with very high precision. The media finds application in metallurgical/materiolographic inspec- tions, failure and forensic investigations and metrology among others.
Buehler replicating media has unique features, it is suited to different areas of applications where; - High micron accuracy is a requirement such as in microstructural analysis of engineering components looking at damage assessments caused by creep deformation, micro- and macro-crack formation, fatigue failures in mating surfaces such as on gears and bolts - Good dimensional stability of the replica is necessary allowing easy inspection and measurement of inter- nal and external surfaces of complex objects, such as grooves, notches, fasteners and gear teeth. - No shrinkage during polymerization guarantees no volume loss during application ensuring good dimen- sional stability - Tribology and surface roughness assessment are carried out to determine the wear characteristics of mating surfaces as well as general visual inspection of tooling surfaces as shown below - Good resistance to chemical, mechanical and heat exposure to a maximum of 120°C with the ability to retain shape after exposure - Details of tool marks, imprint evidence and tyre marks are required to be replicated for further macro- scopical comparison with known tools used in criminal activities Figure 1.1 Two part silicone replication media and dispensing gun Figure 1.2 above illustrates how the media is applied on a polished and etched surface.
(A) Shows the actual microstructure and (B) the extracted replica,fine submicron details are easily discernible Figure 1.3 illustrates (a) stamping tool (b),the analysed replica surface and (c) inverse image of the depth profile of the observed surface features.
Buehler® SumMet™ The Sum Of Our Experience A Guide to Materials Preparation & Analysis Solutions for Materials Preparation, Testing and Analysis Second Edition iv
Our Global Service Teams are Committed to You Protect your investment and ensure consistent performance, minimize downtime and reduce the likelihood of costly repairs with Buehler Preventative Maintenance and Calibration Services. As a valued customer, we appreciate your partnership and are here to support you with repair services and spare parts under warranty and beyond. Service Reduce Unplanned Downtime Ensure Consistent Results Protect Your Investment On-Site Repair Services Professional Installation Genuine Spare Parts Loaners & Equipment Rental Compliance Preventative Maintenance Technical Support & Training Refurbished Machines Extended Warranty Certified technicians will inspect and repair machines on-site or at Buehler's factory Certified technician will unpack equipment, connect to utilities, set parameters and do basic training Buehler supplies parts for all equipment, including obsolete machines for a minimum of 5 years after discontinuation Loaner machines available for weekly rental Calibration services for hardness testers & microscopes according to ISO 17025.
Accredited for direct or indirect verification Customer site or in factory inspection, cleaning, and spare parts exchange Available by phone or email to answer questions Machines have been inspected, repaired and tested to ensure 100% performance Extend your complete warranty by 12 months including 100% coverage of parts and labor v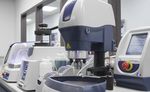 Preventative Maintenance & Extended Warranty Contracts Service Contact Information Protect your investment and ensure consistent performance, minimize downtime and reduce the likelihood of costly repairs with preventative maintenance programs and extended warranty contracts. Americas Europe Asia Lake Bluff, IL Esslingen, Germany Shanghai, China Tokyo, Japan +1 800 283 4537 +49 0 711 4904690 702 +86 400 686 9280 +81 3-5439 5077 service@buehler.com service.eu@buehler.com service.asia@buehler.com info.japan@buehler.com • Preventative Maintenance ensures consistent results Preventative Maintenance Extended Warranty Visits Per Year 1 2 Wear Parts Kit ✓ ✓ Unlimited Phone Support ✓ ✓ Replacement Part Discount 10% 25% Unlimited Labor Repairs ✓ Priority Response ✓ Identify the best Service Plan based on the lab's needs.
Service Plan Options • Visit includes Wear Parts Kit and 20 Point Maintenance Check list • Extended Warranty must be purchased prior to the expiration of active warranty Machine Preventative Maintenance Number Extended Warranty Number AbrasiMet™ 250 10101SRV AbrasiMatic™ B300 10219SRV R0355 AbrasiMatic™ 450 10100SRV R0585 EcoMet™ 250 49725SRV R0485 EcoMet™ 300 49726SRV R0485 IsoMet™ Low Speed 11128SRV IsoMet™ 1000 11218SRV R0315 IsoMet™ 4000/5000 11268SRV R0325 IsoMet™ High Speed 11260SRV R0335 SimpliMet™ 3000 20143SRV R0515 SimpliMet™ 4000 2010SVR R0495 Machine Preventative Maintenance Number Extended Warranty Numberr Delta Manual 102213SRV R0235 Delta Medium 102218SRV R0245 Delta Large 102318SRV R0255 PlanarMet™ 300 491000SRV R0575 PetroThin™ 38145SRV R0345 Vanguard™ 63200SRV MetaServ™ Manual 49100SRV MetaServ™ Twin Manual 49100SRV MetaServ™ Twin 49100SRV MetaServ™ 49100SRV vi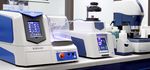 Buehler Leads the Way in Hardness Testing Over 80 Years of Industry Leadership From Research to Industrial Use, Buehler Provides Reliable Solutions Founded in 1936 in the United States, Buehler has become one of the world's leading companies in the area of hardness testing – both in industrial development and production-related quality assurance and in academic research. With Reicherter, Wilson and Wolpert, Buehler combines the names of great innovators in the area of hardness testing under one roof. With this knowledge and experience, the company has grown into one of the world's leading suppliers of hardness testing equipment.
In 2011, Wilson Hardness merged with Buehler to provide an even broader product offering.
Wilson Rockwell, Knoop/Vickers and Brinell hardness testers, along with the associated software, and a comprehensive range of accessories constitute the core of the company's current product portfolio. Buehler products and processes are used in quality assurance and in the development laboratories of major research facilities in numerous sectors, amongst them the aeronautical and aerospace, automotive, electrical, energy generation and medical equipment industries. Globally located Buehler Solution Centers provide customers with the opportunity to directly work with the company's specialists.
These Solution Centers are located throughout the United States, Asia, United Kingdom, France and Germany. They are equipped with the most up-to- date technology for the preparation of materialographic specimens and with latest-generation of hardness testers, including the DiaMet™ testing software that is perfectly adapted to hardness testing. Experienced specialists take a hands-on approach to solving our customers' testing challenges.
Buehler is a strong, trusted partner relied upon by organizations for reliable solutions and consistent results in material preparation, testing and analysis. Wilson Instruments vii
Social Responsibility It is not enough to achieve our mission to be the premier provider of solutionsforourmarket.Wefeelstronglythatpartof ourresponsibility is to our community and global environmental sustainability. It is for this reason that in 2010 we adopted a robust recycling program throughout our operations and front offices. Now in its fifth year, this program prevents nearly 110,000 pounds [50,000 kilograms] of waste from entering landfills annually, in turn conserving other resources such as electricity, oil and water.
Throughout the year, we support numerous other corporate citizenship programs, primarily in education and human welfare. Through presentations, joint activities and fundraisers, we support Junior Achievement and United Way Worldwide. For several years, our worldwide headquarters has participated in the Work Study program at Cristo Rey St. Martin College Prep School; through this program, Buehler is helping students achieve a high school education as well as making them college bound through their work study program.
35,331 gallons 133,742 liters Oil 405 cubic yards 309 cubic meters Landfill Space 109,761 pounds 49,787 kilograms Fiber, Metal and Plastic.
On average, the following resources are saved annually: 258,038 gallons 976,780 liters Water 627 Mature Trees 628,325 kW hours Electricity 1
Specimen preparation for microstructural examination starts with a quality cut. The proper equipment with firm and stable vising minimizes the depth of deformation on the sample surface. The abrasive and precision saws save time by limiting the number of steps needed to analyze samples after sectioning. A full range of abrasive and precision saws, blades, and vises for cutting any material Abrasive and Precision Blades IsoMet™ Precision Cutters