2019 MEDICINE & HEALTH SCIENCES - UNDERGRADUATE PROGRAMMES - Keele University
Page content transcription
If your browser does not render page correctly, please read the page content below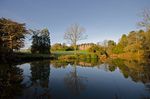 We're Keele University and we're different. Founded more
    than 60 years ago to meet the demands of a new kind of
   society, economy and world, our principles resonate now
  more than ever. Our approach to education is central to this
               and is, above all, what defines us.

keele.ac.uk                eele difference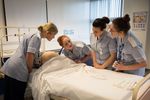 CONTENTS | 3

Contents

Faculty of Medicine & Health Sciences   | 5

State-of-the-art facilities             | 6

Our Faculty programmes                  | 11

School of Health & Rehabilitation       | 12

School of Medicine                      | 20

School of Nursing & Midwifery           | 26

School of Pharmacy                      | 42

Foundation year programmes              | 50

Keele campus - your home from home      | 52

How to find us                          | 56

Useful links                            | 58

Further information                     | 58

How to apply                            | 58

Tuition fees                            | 58

Important information                   | 58

Contact details                         | 59

Keele has been named as one of the Top 5
most beautiful universities in the country
(Times Higher Education, 2018).

                                                keele.ac.uk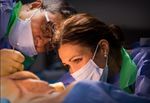 4 | FACULTY OF MEDICINE & HEALTH SCIENCES

Do you want to make a difference
to the world of healthcare?

Discover the Faculty of
Medicine & Health Sciences at Keele University…

…we offer a range of highly rated professional health
programmes in Medicine, Pharmacy, Physiotherapy,
Radiography, Nursing, and Midwifery that will enable you to
have a varied and interesting career, and make a real
difference to the world we live in, and people's lives.

keele.ac.uk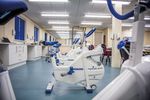 FACULTY OF MEDICINE & HEALTH SCIENCES | 5

Faculty of Medicine & Health Sciences

The Faculty has expanded considerably in recent years to become a
major driver of growth within the University in conjunction with our
acute and community-based NHS partners. Our four highly-rated
Schools are now graduating health professionals of the future.

The Schools of Health & Rehabilitation, Medicine, Nursing & Midwifery, and Pharmacy, offer a
wide range of undergraduate and postgraduate degree programmes normally only found in
much larger universities. Throughout this period of growth, we have remained firmly focused
on the quality of education, underpinned by research-led teaching and a first-rate experience
for all our students. This focus is reflected in feedback from the professional bodies
responsible for validating degree courses and top-ten rankings for all four Schools in
disciplinary league tables and the National Student Survey.

The Faculty of Medicine & Health Sciences is based on both Keele campus and the University
Hospitals of North Midlands NHS Trust, in addition to regional placement areas. The Schools
of Health & Rehabilitation, Medicine, and Pharmacy are based on Keele campus.

The School of Nursing & Midwifery is based at the Clinical Education Centre within the
University Hospitals of North Midlands NHS Trust (UHNM), approximately four miles from
Keele campus, on the A34. The Clinical Education Centre is a contemporary, state-of-the-art,
building which houses not only the School of Nursing & Midwifery, but also incorporates part of
the well-established Undergraduate and Postgraduate School of Medicine, and the Health
Library.

UNIVERSITY HOSPITALS OF NORTH MIDLANDS NHS TRUST
The University Hospitals of North Midlands NHS Trust provides a full range of general acute
hospital services for approximately 900,000 people locally in Staffordshire, South Cheshire,
and Shropshire. We employ over 10,000 staff members and with more than 1,450 inpatient
beds across our two hospitals, Royal Stoke University Hospital in Stoke-on-Trent and County
Hospital in Stafford, we also provide specialised services for three million people in a wider
area, including neighbouring counties and North Wales.

The Trust met the demands of one million patients last year, of which more than 175,000
people attended our A&E departments. Many emergency patients are brought to us from a
wide area by both helicopter and land ambulance because of our Major Trauma Centre status.
As such UHNM is the regional specialist hospital within the North Midlands. As a University
Hospital, we work with very closely with Keele University.

                                                                                     keele.ac.uk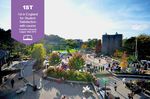 6 | STATE-OF-THE-ART FACILITIES

State-of-the-art facilities
WE HAVE ALL THE FACILITIES YOU'D EXPECT TO FIND AND MORE…

                                                      3D CINEMA
                                                      SCHOOL OF PHARMACY
                                                      We have developed a new 'Health Cinema' used on
                                                      Pharmacy programmes. This is a large screen,
                                                      visualisation facility located in our 133-seat lecture
                                                      theatre. The cinema-grade projection system can
                                                      use both 2D and 3D. The 3D cinema is an
                                                      immersive environment in which students and
                                                      researchers can explore healthcare simulations
                                                      including anatomy and molecular modelling.
                                         3D CINEMA

PHARMACY LABORATORIES
SCHOOL OF PHARMACY
The pharmaceutical chemistry and pharmaceutics
laboratories are open spaces in which students can
undertake experimental work. They contain
state-of-the-art equipment and students carry out
preparations and analyses to industry standards.
Students may also be based in research laboratories
should they elect to undertake an experimental
project.                                                                        PHARMACY LABORATORIES

                                                      SCHOOL OF PHARMACY'S AUGMENTED
                                                      REALITY APPS TO AID LEARNING AND
                                                      SIMULATION FOR OUR PHARMACY
                                                      PROGRAMME
                                                      Search for 'PharmaCard' on your app store to
                                                      download a free app and scan the 'Amoxicillin'
                                                      image (left) for a demonstration. This app allows
                                                      our students to examine molecules studied on the
                                                      Pharmacy programme in 3D using a standard iOS
                                                      or Android smartphone or tablet with integrated
                                                      camera.

keele.ac.uk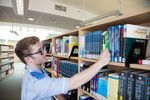 STATE-OF-THE-ART FACILITIES | 7

THE CLINICAL SKILLS SUITE AND
WELL PHARMACY SHOP ON CAMPUS
This new training facility has been designed to help
Keele University in revolutionising the way
Pharmacy is taught within the School and to produce
pharmacists who can take on an even more patient
focused role. The new suite includes a mock
dispensary and seven consultation rooms. In order                                             WELL PHARMACY
to help make the suite possible, the UK's largest
independent pharmacy chain, Well Pharmacy, has
invested £130,000 in Keele University School of
Pharmacy. This investment encompasses Well's
on-campus Pharmacy as well as the Clinical
Consulting Suite. The on-campus pharmacy and the
Well Network, provide work placement opportunities
for Keele University pharmacy students and also
collaborative practice research between the two
                                                                                          CLINICAL SKILLS SUITE
organisations.

                                              IT SUITE                              DAVID WEATHERALL BUILDING

EXTENSIVE IT SUITES                                      STATE-OF-THE-ART LECTURE THEATRES
The Health Library has an IT Suite with around 60        The lecture theatres and seminar and meeting
PCs on the Keele network in addition to an               rooms are equipped with an impressive networked
extensive IT suite in the David Weatherall Building,     system of teaching-related technology. Students can
Keele campus, and in the main Keele library on           gain access to the internet, online learning
campus.                                                  environment (KLE), audio/visual technology and in
                                                         some of the main seminar suites and skills
                                                         laboratories, the option is available to film and
                                                         record student activity.

                                                                                                    keele.ac.uk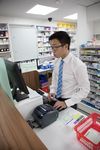 8 | STATE-OF-THE-ART FACILITIES

                                      ANATOMY SUITE                                       CLINICAL SKILLS LAB

DAVID WEATHERALL BUILDING                               CLINICAL SKILLS LABORATORIES,
The David Weatherall building at Keele Campus was       CLINICAL EDUCATION CENTRE

opened in September 2003. It contains everything        The Clinical Skills Laboratories form part of the

that one would expect in a modern purpose-built         Clinical Education Centre and are a facility shared

facility, including a large lecture theatre, seminar    between Nursing, Midwifery and Medical students.

rooms, IT laboratory, an anatomy suite, multi-user      The laboratories provide a safe, supportive

laboratories, resource room, student common room        environment for the teaching and practise of various

and refreshment area.                                   clinical skills throughout both pre- and
                                                        post-registration courses. The facilities are flexible

In 2013, the building was extended to provide           with full AV and computer support and/or a simulated

state-of-the-art anatomy facilities, an enhanced IT     ward environment, allowing students to be taught

suite and more seminar rooms. In addition to this,      and to practise clinical skills relevant to their stage of

the University provides library and information         training. The laboratories are extremely well

services in the nearby Information Services building.   equipped with a number of manikins and patient
                                                        simulators, in addition to general ward equipment.
                                                        The School has specialist clinical skills lecturers who
                                                        organise laboratory bookings, maintain stock and
                                                        equipment, and develop and deliver sessions
                                                        throughout the pre- and post-registration curriculum,
                                                        and for external courses.

                                                        THE SCHOOL OF HEALTH & REHABILITATION
                                                        MACKAY BUILDING
                                                        The School building was opened at Keele in 1994,
                                                        and contains everything that one would expect in a
                                                        modern purpose built facility, including a large
                                                        lecture theatre and specialist practical rooms.

                                                        A programme of investment in capital equipment
                                                        ensures that the most up to date physiotherapy
                                                        equipment is available for teaching and student
                                     MACKAY BUILDING
                                                        research projects.

keele.ac.uk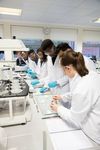 STATE-OF-THE-ART FACILITIES | 9

                                                                                           DIGITAL HEALTH HUB

DIGITAL HEALTH HUB
The Digital Health Hub (DHH) is a joint project between two Schools to support the use of technology in
teaching across the courses of Pharmacy and the new Radiography course in Health & Rehabilitation. The
innovative design uses augmented reality apps developed in Pharmacy. The space facilitates small
team-working on tables of up to six students, centred around 10 large high-quality displays. Twenty PCs offer
twin screen display, allowing Radiography students to immerse themselves into simulation software designed
to emulate the clinical environments of using CT and MRI imaging solutions. Forty laptops are provided in a
flexible learning space for students to use, or bring their own device. Using software designed by the School of
Pharmacy, each table can become a virtual hospital bed, each supporting a different virtual patient or virtual
molecule using augmented reality.

HEALTH LIBRARY
The Health Library is available to students and staff
of Keele University and everyone who works for or
with the NHS in North Staffordshire, and boasts one
of the finest collections of health-related literature in
Staffordshire. In addition to extensive loan facilities
within the library, the staff regularly offer training to a
multi-professional audience on an extensive subject
area. The library also provides access to a range of
clinical databases, allowing you to carry out fast,
powerful and thorough searches of published clinical
research. These databases can be accessed either
                                                                                               HEALTH LIBRARY
from home, work or the library.

                                                                                                    keele.ac.uk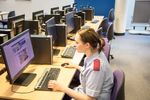 10 | OUR FACULTY PROGRAMMES                                             TOP 5
                                                                         in the TEF
                                                                       Times Higher ranking
                                                                          of the Teaching

The Faculty of Medicine
                                                                    Excellence
                                                                       Excellence
                                                                               Framework
                                                                                  Framework2017
                                                                     (broad-based universities)

& Health Sciences

Major University Hospital partner...

                 highly-rated programmes

                              ...graduating excellent clinicians.

• All our teaching is informed by evidence-based practice
  and internationally recognised research;
• We have well qualified professional academic staff,
  many of whom hold joint appointments with local NHS
  Trusts;
• A number of our staff have been awarded National
  Teaching Excellence Awards;
• Relatively small cohorts with excellent education and
  clinical facilities create an ideal learning environment;
• Our programmes offer small group teaching,
  case-based/problem-based learning;
• Excellent teaching and student support;
• Multiprofessional health library;
• Broad range of clinical experience with placements in
  local NHS Trusts, and private and independent sector
  healthcare providers;
• Opportunities for elective placements abroad;
• Multi and interprofessional learning opportunities with
  students from health disciplines across the Faculty.

keele.ac.uk
2019
                                                                                                                        ENTRY

                                                                                      OUR FACULTY PROGRAMMES | 11

Our Faculty programmes
PROGRAMME                                                            LENGTH      INDICATIVE ENTRY           UCAS CODE
                                                                                 CRITERIA 2019

SCHOOL OF HEALTH & REHABILITATION

Master's degree in Physiotherapy*                                    4 years     ABB/A*BC                   B162

Master's degree in Physiotherapy with Health Foundation Year*        5 years     **                         B163

BSc (Hons) Radiography                                               3 years     BBB/ABC                    B821

BSc (Hons) Radiography with Health Foundation Year                   4 years     **                         B822

BSc (Hons) Rehabilitation Science                                    3 years     BBC/ACC                    B900

BSc (Hons) Rehabilitation Science with Science Foundation Year       4 years     ***                        B902

SCHOOL OF MEDICINE

MBChB                                                                5 years     A*AA                       A100

MBChB with Health Foundation Year                                    6 Years     **                         A104

SCHOOL OF NURSING & MIDWIFERY

BSc (Hons) Midwifery                                                 3 years     ABB                        B720

BSc (Hons) Midwifery with Health Foundation Year                     4 years     **                         B721

BSc (Hons) Adult Nursing                                             3 years     BBC                        B740

BSc (Hons) Adult Nursing with Health Foundation Year                 4 years     **                         B742

BSc (Hons) Children's Nursing                                        3 years     BBC                        B730

BSc (Hons) Children's Nursing with Health Foundation Year            4 years     **                         B731

BSc (Hons) Learning Disability Nursing                               3 years     BBC                        B761

BSc (Hons) Learning Disability Nursing with Health Foundation Year   4 years     **                         B762

BSc (Hons) Mental Health Nursing                                     3 years     BBC                        B760

BSc (Hons) Mental Health Nursing with Health Foundation Year         4 years     **                         B763

BSc (Hons) Health and Wellbeing*                                     3 years     CCD                        B704

BSc (Hons) Health and Wellbeing with Health Foundation Year*         4 years     **                         B705
                                                                                 Honours degree at 2:2 or
MSc Nursing (Adult)                                                  2 years     above in any subject       B701

SCHOOL OF PHARMACY

MPharm                                                               4 years     AAB - ABB                  B230

MPharm with Health Foundation Year                                   5 years     **                         B231

MPharm with Integrated Training Year                                 5 years     AAB - ABB                  B233

BSc (Hons) Pharmaceutical Science, Technology and Business           3 years     BBB/ABC                    1B11

BSc (Hons) Pharmaceutical Science, Technology and Business           4 years     ***                        B232
with Science Foundation Year

For full list of entry requirements, please see: keele.ac.uk/ug-entry-requirements-uk
*Subject to approval
**For Health Foundation Year entry requirements, please see: keele.ac.uk/foundation/health
*** For Science Foundation Year entry requirements, please see: keele.ac.uk/foundation/sciences�
12 | SCHOOL OF HEALTH & REHABILITATION

School of Health &
Rehabilitation

Our highly regarded
programmes are innovative,
well supported and foster high
levels of student satisfaction.

keele.ac.uk
SCHOOL OF HEALTH & REHABILITATION | 13

THE SCHOOL OF HEALTH & REHABILITATION is a dynamic and forward thinking School
which offers both undergraduate and postgraduate programmes, short courses, and
stand-alone modules to students from across the globe. The School is consistently in the top
ten in all the major national league tables (The Times, The Guardian, and The Complete
University Guide). The School's undergraduate programmes also have some of the highest
student satisfaction rates in the country; with the School averaging 98% student satisfaction
for the previous six years.

Following on from our highly rated BSc (Hons) Physiotherapy programme, for 2019 the
School now offers the full-time MSc Physiotherapy* which leads to eligibility to apply for
registration with the Health and Care Professions Council (the UK regulator) and
membership of the Chartered Society of Physiotherapy. The undergraduate programme
equips students to deliver patient-centred and evidence-based care in a health and social
care environment that will continue to develop and change across their career span.
Students study in both university and clinical settings, with clinical experience being offered
across a wide geographical area in England and North Wales. There are also several
opportunities for credit and non-credit bearing international placements as students progress
on the programme.

              1st
          in the UK for
       Health Professions
     (The Guardian University
          League 2018)

The BSc (Hons) Radiography is a three-year single honours programme that supports full
integration of the science of radiography with clinical practice in a healthcare setting. The
programme aims to develop high levels of academic and professional competence and to
promote an awareness of present and future demands in health and social care.

The School also offers an innovative BSc (Hons) Rehabilitation Science Programme. This
unique UK full-time programme complements other programmes offered within the School.
The Rehabilitation Science Programme explores the science surrounding rehabilitation
concepts from the physical as well as psychological health perspective. Factors influencing
successful rehabilitation globally, the many forms of disability and how this can impact upon
physiological functioning are central features of the programme.

*subject to approval
                                                                                 keele.ac.uk
2019
ENTRY

        14 | SCHOOL OF HEALTH & REHABILITATION

        Physiotherapy
        Integrated Master's degree in Physiotherapy*

        WHY STUDY THIS COURSE?
        Learn how to promote, maintain and restore an individual's physical, psychological and social wellbeing through
        our popular course.

        Course type:         Single honours                    Study abroad:            Yes
        Course details:      Integrated Master's               International year:      Yes
        Course start:        September 2019                    Learn a language:        Yes
        Course duration:     Four years

        COURSE OVERVIEW:
        Physiotherapy plays a vital role in health and social care and provides a range of career paths from practice
        through to leadership and management roles. Keele will help you develop high levels of academic and
        professional competence, seeing you study current content and contemporary practise, learning alongside other
        professions to promote an awareness of present and future demands in health and social care. Our course
        embraces a vision of patient-centred care within health and social care settings and you'll gain invaluable
        experience using a range of quality local clinical bases. You'll study in a supportive environment, encouraging
        reflection and enriched by research awareness.

        WHAT WILL THIS MEAN FOR MY FUTURE?
        A physiotherapy degree from Keele will develop your attributes as a competent practitioner, flexible to the
        changing demands of health and social care. You will have the skills to practice as an autonomous professional
        across a range of practice environments that may include the NHS, private sector or performance sport.

            PROGRAMME           INDICATIVE         UCAS          LENGTH OF            FURTHER
                                ENTRY              COURSE        PROGRAMME            INFORMATION
                                CRITERIA           CODE

            Integrated           ABB/A*BC          B162          Four years           keele.ac.uk/ugcourses/physiotherapy
            Master's                                             full-time
            Physiotherapy*                                                            For full list of entry requirements please see:
                                                                                      keele.ac.uk/ug-entry-requirements-uk

            Integrated           **                B163          Five years           Please see Page 50 for more details on the
            Master's                                             full-time            Health Foundation Year and progression
            Physiotherapy                                                             requirements in order to progress to the
            with Health                                                               principal course.
            Foundation
            Year*

        *Subject to approval
        **For Health Foundation Year entry requirements, please see: keele.ac.uk/foundation/health

        keele.ac.uk
INDICATIVE MODULES:

First year
• Anatomy, Physiology and
   Movement Science
• Health and Wellbeing
• Fundamentals of Physiotherapy
   Practice
• Principles of Rehabilitation
• Professionalism and Effective
   Communication
• Principles of Measurement
• Practice Experience 1

Second year
• Musculoskeletal Practice
• Neurological Practice
• Cardiovascular and Respiratory
  Practice
• Evidence Based Health and
  Rehabilitation
• Interprofessional Education
• Practice in Specific Populations
• Practice Experience 2 & 3

Third year
                                     Student Profile:
• Learning and Teaching in           Helena Janovova
   Healthcare
                                     3rd YEAR BSc (HONS)
• Health Behaviour Change
• Physiotherapy Management of the    PHYSIOTHERAPY STUDENT

                                     "
   Complex Patient (1)
• Research Skills and Design (1)          I am a third year student on the BSc Physiotherapy
• Physiotherapy Management of the    programme. The most important contribution to my success on this
   Complex Patient (2)               course has been the friendly and supportive atmosphere in the
• Practice Experience 4 & 5          School of Health & Rehabilitation. Staff have an open door policy
                                     and no matter how big or small your issue, they will help you to deal
Fourth year                          with it there and then. The programme is very intense with many
• Research Skills and Design 2       contact hours, but the timetable is evenly spread between lectures
• Leadership and Management for      and hands-on practical sessions in a simulated clinical
  Healthcare Professionals           environment. The opportunity to visit the anatomy suite at the
• Research Project                   medical school has been an invaluable experience in terms of
• Option Modules 1 & 2               being able to visualise the structures of the human body. There is
• Practice Experience 6,7 & 8        also time allocated to directed study, online quizzes and work
                                     packages to enhance our knowledge. We are also able to sign up
                                     for tutorials prior to exams and to undertake mock exams to

                                                                                                 "
                                     prepare for the formal assessments. If you believe that working as
                                     a Physiotherapist is the career choice for you, then the School of
                                     Health & Rehabilitation offers a truly holistic education to ensure
                                     that you can offer your future patients a holistic treatment.

                                                                                         keele.ac.uk
2019
ENTRY

        16 | SCHOOL OF HEALTH & REHABILITATION

        BSc (Hons) Radiography (Diagnostic Imaging)

        WHY STUDY THIS COURSE?
        Learn how to produce high quality images whilst providing the highest standards of care for our patients through
        our BSc (Hons) Radiography (Diagnostic Imaging) programme.

        Course type:         Single honours                                             Course duration: Three years
        Course details:      BSc (Hons) Radiography (Diagnostic Imaging)                Study abroad:     No
        Course start:        September 2019                                             Learn a language: Yes

        COURSE OVERVIEW:
        The Radiography course is new to Keele and has been established to help meet the high demands for
        Radiographers locally and nationally. Our new radiography students will join the Keele family on campus and will
        undertake clinical placement in the local hospitals in Staffordshire, Shropshire and Crewe.

        To become a radiographer you will need to develop skills in patient care and communication as well as
        understanding the science and technology of image production to enable effective diagnosis for the patient. Core
        subjects will include anatomy and physiology, science and instrumentation of imaging, image interpretation and
        patient management. When qualified you will have opportunities to extend your scope of practice and advance
        your career in a profession that has embraced the four tiers of professional practice.

            PROGRAMME            INDICATIVE        UCAS          LENGTH OF            FURTHER
                                 ENTRY             COURSE        PROGRAMME            INFORMATION
                                 CRITERIA          CODE

            BSc (Hons)           BBB/ABC           B821          Three years          keele.ac.uk/ugcourses/radiography
            Radiography                                          full-time            For full list of entry requirements,
            (Diagnostic                                                               please see:
            Imaging)                                                                  keele.ac.uk/ug-entry-requirements-uk

            BSc (Hons)           *                 B822          Four years           Please see Page 50 for more details on
            Radiography                                          full-time            the Foundation Year and progression
            (Diagnostic                                                               requirements in order to progress to the
            Imaging) with                                                             principal course.
            Health
            Foundation
            Year

        *For Health Foundation Year entry requirements, please see: keele.ac.uk/foundation/health

        keele.ac.uk
SCHOOL OF HEALTH & REHABILITATION | 17

WHAT WILL THIS MEAN FOR
MY FUTURE?
As a radiography graduate from
Keele you will have the skills and
knowledge that you will need not
only to set out on your chosen
career, but also the foundations to
build on this through continuous
professional development to reach
your career aspirations in this
exciting and dynamic field of
practice.

INDICATIVE MODULES:

First year
• Introduction to the Human Body
• Foundations of Radiography
   Science
• Image Interpretation
• Introduction to Radiographic
   Practice
• Principle of Measurement and
   Research
• Professionalism and
   Communication

Second year
• The Human Body 2
• Exploring Radiation Protection
• Image Interpretation 2
• Radiographic Practice 2
• Evidence Based Diagnostic
  Imaging
• Interprofessional Learning

Third year
• Human Body 3
• Advancing Imaging modalities
• Initial Image Commenting
• Radiographic Practice
• Research Project
• Professionalism, Collaboration
   & Leadership

                                           CLINICAL PLACEMENT FACILITIES AT UHNM
2019
ENTRY

        18 | SCHOOL OF HEALTH & REHABILITATION

        BSc (Hons) Rehabilitation Science

        WHY STUDY THIS COURSE?
        Explore the science and factors surrounding rehabilitation within the national and global health and wellbeing
        agenda.

        Course type:         Single honours                                   Study abroad:             Yes
        Course details:      BSc (Hons) Rehabilitation Science                International year:       Yes
        Course start:        September 2019                                   Learn a language:         Yes
        Course duration:     Three years

        COURSE OVERVIEW:
        At Keele you'll investigate the many factors that influence rehabilitation management and its success as well as
        explore subjects including anatomy, physiology, human movement, exercise and interpersonal skills. You'll learn
        about the varied forms of disability and their impact upon physiological functioning, from the individual to national
        and global perspectives as well as the management of frequently encountered global conditions.

        WHAT WILL THIS MEAN FOR MY FUTURE?
        You will have the attributes to develop a career within health and wellbeing in the public or private sector, charity
        sector, leisure industry, education and business. You will also graduate with qualifications to undertake a variety
        of postgraduate courses and graduate training programmes.

            PROGRAMME           INDICATIVE        UCAS           LENGTH OF           FURTHER
                                ENTRY             COURSE         PROGRAMME           INFORMATION
                                CRITERIA          CODE

            BSc (Hons)          BBC/ACC            B900         Three years          keele.ac.uk/ugcourses/rehabilitationscience
            Rehabilitation                                      full-time            For full list of entry requirements,
            Science                                                                  please see:
                                                                                     keele.ac.uk/ug-entry-requirements-uk

            BSc (Hons)          *                  B902         Four years           Please see Page 51 for more details on
            Rehabilitation                                      full-time            the Science Foundation Year and
            Science with                                                             progression requirements in order to
            Science                                                                  progress to the principal course.
            Foundation
            Year

        * For Science Foundation Year entry requirements, please see: keele.ac.uk/foundation/sciences

        keele.ac.uk
INDICATIVE MODULES:

First year
• Anatomy, Physiology and
   Movement Science
• Principles of Rehabilitation
• Professional and Effective
   Communication
• Principles of Measurement
• Elective Modules 1 and 2

Second year
• Health and Wellbeing for
  Rehabilitation Science 2
• Behaviour Change Rehabilitation
  Science
• Evidence Based Health and
  Rehabilitation
• Research Skills
• Health and the Environment
• Exercise Science for Specialist
  Populations

Third year
• Research Project
• Health and Wellbeing for
   Rehabilitation Science 3
• Global Healthcare Matters
• Organisation and Management in a
   Rehabilitation Setting

                                     Professor Anand Pandyan
                                     PhD (Bioeng)
                                     Head of School

                                     "     The teaching team at the School of Health & Rehabilitation
                                     draws on a rich source of expertise from experienced clinicians,
                                     clinical and academic researchers, and clinical experts working
                                     both in the NHS and private sector. Many of our teaching staff are
                                     engaged within research and therefore our teaching is not just
                                     current but cutting edge. For the courses that have professional
                                     body regulation, i.e. Physiotherapy and Radiography, the teaching
                                     team primarily consists of staff with current professional body
                                     registration. In addition, the teaching team is complemented by staff
                                     with expertise in exercise physiology, biomedical engineering and
                                                                                  "
                                     business practice. This does mean that all our students,
                                     irrespective of programme of study, are able to benefit from the
                                     multidisciplinary expertise within the School.

                                                                                        keele.ac.uk
20 | SCHOOL OF MEDICINE

School of Medicine

Medicine is a highly rewarding and
challenging career that has a huge
impact on society and makes a real
difference to people's lives.

keele.ac.uk
SCHOOL OF MEDICINE | 21

THE SCHOOL OF MEDICINE offers you an outstanding combination of a distinctive
curriculum, excellent educational and clinical resources, and a friendly and safe
environment where staff and patients are keen to help you learn. Compared to many other
UK medical schools, we have a relatively small student intake, an attractive campus, and a
supportive community with enthusiastic and committed staff.

Study Medicine at Keele and you'll be thoroughly prepared for a very diverse profession
with an expanding range of career options. You'll have a strong grounding in contemporary
science alongside a high level of patient contact in both hospital and community settings.
You will also gain an insight into the health needs of our population, the needs of our
patients and their experiences of the NHS.

Why study medicine?
A career in medicine can be very rewarding. Medicine is a very diverse profession with an
expanding range of career options.
It may appeal to you because:
•   you can make a real difference to people's lives by helping to alleviate pain and suffering
•   it's a respected profession;
•   there's a wide choice of careers – in fact there are over 60 specialties and there are
    opportunities to get involved with teaching, research and management;
•   the day-to-day work can be very varied;
•   you will face all kinds of practical and intellectual challenges;
•   once you graduate, you'll earn a reasonable salary and this increases with experience;
•   doctors will always be in demand.

                                                                          DAVID WEATHERALL

The training pathway
After gaining your medical degree (usually a 5 year degree programme), you take a
two-year Foundation Programme. This is followed by training either as a GP (currently
lasting three years) or in a specialty (taking five to eight years).

At Keele University we aim to train excellent clinicians, well prepared for future practice and
the globalisation of health care. The School of Medicine is committed to 'Graduating
Excellent Clinicians'.
                                                                                    keele.ac.uk
2019
ENTRY

        22 | SCHOOL OF MEDICINE

        Medicine
        MBChB
        WHY STUDY THIS COURSE?
        We aim to graduate excellent clinicians who are equipped to practise in the 21st century, with a deep
        understanding of the scientific foundations of medicine and high levels of clinical expertise.

        Course type:       Single honours, full-time                      Course duration:       Yes
        Course details:    Medicine MBChB                                 Accreditation:         This subject/programme
        Course start:      September 2019                                                        is accredited by the
        Course duration:   Five years                                                            General Medical Council.

            PROGRAMME          INDICATIVE      UCAS          LENGTH OF          FURTHER
                               ENTRY           COURSE        PROGRAMME          INFORMATION
                               CRITERIA        CODE

            Bachelor of        A*AA             A100         Five years         keele.ac.uk/ugcourses/medicine
            Medicine and                                     full-time          Applicants must submit their UCAS
            Bachelor of                                                         application for course code A100 (MBChB)
            Surgery                                                             at K12 (Keele University) by the 15th
            (MBChB)                                                             October deadline.

                                                                                Grades of A*AA are required from three
                                                                                A-levels within a two year period, to
                                                                                include chemistry or biology and a second
                                                                                science. Further details of academic and
                                                                                non-academic entry criteria are available
                                                                                on keele.ac.uk/medicine/entrycriteria

            Bachelor of        *                A104         Six years          The Health Foundation Year is designed to
            Medicine and                                     full-time          provide an entry into Medicine for those
            Bachelor of                                                         without the conventional A-Level subjects
            Surgery                                                             normally required for direct entry, subject
            (MBChB) with                                                        to achieving specified grades in the
            Health                                                              Foundation Year assessments.
            Foundation                                                          Applicants must submit their UCAS
            Year                                                                application for course code A104
                                                                                (Medicine with Health Foundation Year) at
                                                                                K12 (Keele University) by the 15th
                                                                                October deadline.
                                                                                Please see Page 50 for more details on
                                                                                the Health Foundation Year and
                                                                                progression requirements in order to
                                                                                progress to the principal course.

                                                                                *For Health Foundation Year entry
                                                                                requirements, please see:
                                                                                keele.ac.uk/foundation/health

        keele.ac.uk
MBChB CURRICULUM
The modern, spiral, highly-integrated medical
curriculum combines a range of learning
strategies, including contemporary science, early
clinical experience, integrated communication
and clinical skills teaching, practical sessions,
including dissection, problem-based-learning
(PBL), lectures and seminars. You will have
experience of clinical placements in both primary
and secondary care settings and in the
community sector. Interprofessional learning and
student interests are fostered throughout the
programme.

The course is designed to ensure you meet the
necessary standards in terms of knowledge, skills
and attitudes that new doctors need, as identified
by the GMC in its publication, 'Outcomes for
Graduates'. Throughout the course there is an
emphasis on feedback to help you improve your
knowledge, understanding and performance of
medical practice.

MBChB 2019 ENTRY REQUIREMENTS:
It is your responsibility to check that you meet our
entry criteria for your chosen course, as
published on our web pages, prior to submitting

                                                       Professor Andrew Hassell
your UCAS application. Please see our web
pages for the most up-to-date details:
                                                       MBChB, MD, MMedED, FRCP
keele.ac.uk/ugcourses/medicine
                                                       Head of School
If you apply and are offered a place at the School

                                                       "
of Medicine, you will also be required to apply,
through the University, for an Enhanced                      In the School of Medicine, students learn from

Disclosure from the Disclosure and Barring             bio-scientists, social and behavioural scientists and a

Service (DBS). All students entering the course        fantastic range of local clinicians: general practitioners and

must undergo occupational health screening and         specialists covering the full gamut of Medicine, as well as

comply with vaccination requirements. As part of       nurses, therapists and pharmacists, all committed to

our non-academic conditions all successful             helping students develop into excellent clinicians.

applicants will be required to complete
satisfactory health and DBS checks.                    We are lucky to have state-of-the-art, bespoke learning
                                                       facilities in our School on campus and within our partner
                                                                                         "
                                                       teaching NHS trusts. Keele School of Medicine looks
                                                       forward to welcoming enthusiastic, bright students eager to
                                                       serve the community as doctors.

                                                                                               keele.ac.uk
2019
ENTRY

                      Additional entry requirements
                      All applicants for courses A100 and A104 should note that as
                      part of the entry requirements they must undertake the United
                      Kingdom Clinical Aptitude Test (UKCAT). These applicants
                      must also complete the Roles and Responsibilities form as
                      part of the application process.

                      All applicants with international fees status for 2019 entry will
                      be required to take the Biomedical Admissions Test (BMAT):
                      admissionstestingservice.org/for-test-takers/bmat
                      They will not be required to take UKCAT. BMAT will be used
                      instead of the Roles and Responsibilities form when ranking
                      for interview. In addition, international applicants will be asked
                      to undertake an English language qualification such as the
                      International English Language Testing Service (IELTS, with a
                      minimum score of 7.0 in each component taken at the same
                      sitting) or the Cambridge Certificate of Proficiency in English
                      (CPE). Test of English as a Foreign Language (TOEFL) and
                      Test of English for International Communication (TOEIC)
                      qualifications are not usually acceptable.

                      Additional Costs
                      In common with other Medical Schools our medical students
                      should be aware that there are additional costs involved,
                      such as the purchase of books, laboratory coats and travel to
                      placements. We do not usually recommend that students
                      purchase books or equipment before starting the course as
                      advice will be given at registration and during the degree as
                      to what is required. Students intending to bring a car to
                      campus should note that student car parking is limited and
                      there is a charge for student permits. An additional cost
                      applicable to medical students is the purchase of smart
                      clothing for clinical placements.

                      Currently the School of Medicine is able to help with the costs
                      for immunisations and the initial Disclosure and Barring
                      Service check (DBS). Students may need to pay for any
                      additional DBS checks required by elective placement
                      coordinators. Please see the School website for more details:
                      keele.ac.uk/medicine

                      For detailed course information please contact the
                      School of Medicine to request our MBChB brochure or visit:
        keele.ac.uk   keele.ac.uk/medicine
SCHOOL OF MEDICINE | 25

Work experience
It is essential that all applicants
gain experience in a caring role
and/or a role involving
significant interpersonal
interaction. Details of such
experience will be requested in
a 'Roles and Responsibilities'
form that all applicants must
complete. More advice and
guidance is available on the
School of Medicine website:
keele.ac.uk/medicine

Widening access                       Student Profile:
The Medical School is actively
involved in widening access to
                                      Liam Adams
                                      MBChB STUDENT
medicine. To this end, UCAS

                                      "
contextual data relating to
                                            The treatment of disease is a fascinating and inspiring field; the
educational and                       techniques used to aid recovery from major illnesses and injuries are
socio-economic disadvantage is        remarkable and ever-evolving. I have wanted to become a doctor
used to support eligible              since before I started high school (I have the proof, they made us
students. Students may also be        write letters to ourselves in year seven and gave them back when we
                                      left five years later!). I had always had an interest and natural affinity
supported through the
                                      for the sciences. I also wanted to help and care for people. I know this
Steps2Medicine programme.
                                      is a common answer, but it is honestly why most people who work in
                                      healthcare choose it as a career! I did well in my GCSEs and went on
Admissions statistics                 to study A-levels. I did lots of work experience, did my research and
For 2018 entry we received            made my UCAS application, with biomedical science as a backup.
                                      Unfortunately my A level results were not good enough to apply
1500 applications for A100 and
                                      directly to medicine. However, I had been accepted to study biomed
130 applications for A104.
                                      and I still had the same desire to study medicine and help people, so I
                                      decided to go the long way around and did a BSc, graduating with a
For detailed course information       2:1 before applying again and finally was accepted to study medicine.
please contact the
School of Medicine to request         Having recently finished my first year, I am glad that I chose to carry
                                      on despite my exam results and failed applications. I have enjoyed
our MBChB brochure or visit:
                                      learning more about the body and how it works, but a more fulfilling
keele.ac.uk/medicine
                                      part has been interacting with the healthcare system, speaking to
                                      patients and other healthcare professionals and seeing the potential
                                      difference I can make in the near future when I have finished studying.
                                      Medicine is hard, it is competitive, and it is a long time to study.
                                                               "
                                      However it is also one of the most rewarding, interesting and
                                      beneficial careers I can think of, and one that anyone with an interest
                                      in it should consider.

                                                                                                  keele.ac.uk
26 | SCHOOL OF NURSING & MIDWIFERY

School of Nursing &
Midwifery

Nursing and Midwifery as a career
choice enables you to make a
positive impact on people, their
lives, and their health - a career for
life with opportunities for
specialism and advancement.

keele.ac.uk
SCHOOL OF NURSING & MIDWIFERY | 27

THE SCHOOL OF NURSING & MIDWIFERY is based at the Clinical Education Centre within the Royal Stoke
University Hospital (part of the University Hospitals of North Midlands NHS Trust). The Clinical Education
Centre, which opened in September 2004, is a contemporary, state-of-the-art, building which houses not only
the School of Nursing & Midwifery, but also incorporates part of the well-established Undergraduate and
Postgraduate School of Medicine.

The spacious and light interior of the building consists of seminar rooms, extensive clinical skills laboratories,
interprofessional Health Library and IT laboratories, which not only provide high-tech learning and teaching
facilities, but also allow and encourage multidisciplinary learning and team working, an approach that we believe
is key to developing a professional healthcare workforce for the future. The School has increased investment in
simulation and clinical skills; students can undertake a range of exciting scenarios within a safe environment to
ensure they are well equipped prior to undertaking clinical placements. The School also utilises a range of
e-Learning software, which is now well established and used within both learning and assessment strategies;
these include medicines optimisation, anatomy and physiology, clinical skills and a wealth of e-textbooks and
e-journals. In addition, the teaching and learning strategy in the School is varied and dynamic, often centred
around small group learning, case study work, and Problem Based Learning (PBL).

The partnership with Service Provider Partners is strong at all levels, with robust systems in place which provide
for structured evaluations. Partners are involved in programme development and delivery across all curricula;
the School has several joint appointments, where clinicians hold honorary contracts and contribute to
programme delivery in a structured and deliberate way. The School is focused on ensuring contemporary
nursing and midwifery practice is at the heart of curriculum delivery. To further support this, academic staff work
within key Trust areas in a range of roles, acting as link support lecturers whilst students are out on practice,
fulfilling their own case load within a defined practice area. To ensure students are enabled to grow in their
confidence and competence at an appropriate level in practice, the School has a strong tradition of preparing
and supporting mentors. This serves to further the quality of education in the clinical environment; Clinical
Practice Facilitators liaise directly with the School placement office to ensure relevant, timely, and excellent
placement opportunities.
                                                                                                       keele.ac.uk
28 | SCHOOL OF NURSING & MIDWIFERY

keele.ac.uk
Dr Patricia Owen
                            RGN; RSCPHN (HV);
                            BSc; MPH; PhD. MIHPE
                            Head of School

                            "     The strength of our School is the people who
                            work in it - both staff and students who work together
                            for patient and client benefit.

                            We value our students and the experience they bring to
                            their learning and it is great to see how using this, their
                            studies and working with other students across the
                            Faculty they develop and become successful nurses
                            and midwives. Graduation is always a great celebration
                                                  "
                            and we look forward to you joining us, using our
                            state-of-the-art facilities to achieve your own successes
                            and qualifications.

                                                                        keele.ac.uk
CLINICAL EDUCATION CENTRE
2019
ENTRY

        30 | SCHOOL OF NURSING & MIDWIFERY

        BSc (Hons) Midwifery*

        WHY STUDY THIS COURSE?
        Women, newborn babies and their families are at the centre of the midwifery programme, which aims to provide
        student midwives with the knowledge and skills to deliver optimum care for women throughout the childbearing
        continuum.

        Course type:         Single honours                      Course duration:          Three years
        Course details:      BSc (Hons) Midwifery *              Study abroad:             No
        Course start:        September 2019

        COURSE OVERVIEW:
        Students develop into independent learners through a programme of study which combines classroom-based,
        directed and self-directed learning alongside supervised engagement in clinical care for women and babies,
        leading to the professional registration with the Nursing and Midwifery Council on completion. The programme
        aims to develop understanding of the physiological, psychological, social, and public health dimensions of
        normal pregnancy and childbirth. Progression through the course develops knowledge about conditions that may
        complicate pregnancy, the impact of these on women, babies, and other family members, and the skills required
        to manage them effectively within the multidisciplinary team setting. The final part of the programme focuses on
        leadership and management skills in order to prepare students for the role of qualified midwife.

        Clinical skills development is supported in skills laboratories by experienced lecturers and by qualified mentors in
        practice placements which have been developed to reflect women's experience of maternity care. Placements
        are undertaken in a range of contexts: women's own homes; clinics in the community; hospital; and midwifery
        birth centres. The importance of communication for effective caring and professional relationships is integral to
        the course along with exploration of research evidence as the basis for providing optimal care.

            PROGRAMME            INDICATIVE         UCAS           LENGTH OF            FURTHER
                                 ENTRY              COURSE         PROGRAMME            INFORMATION
                                 CRITERIA           CODE

            BSc (Hons)           ABB                B720           Three years           keele.ac.uk/ugcourses
            Midwifery *                                            full-time             For full list of entry requirements, please see:
                                                                                         keele.ac.uk/ug-entry-requirements-uk

            BSc (Hons)           **                 B721           Four years            This programme is designed for students
            Midwifery with                                         full-time             who wish to study midwifery but lack the
            Health                                                                       necessary background qualifications for
            Foundation                                                                   entry onto the main degree programme.
            Year *                                                                       Successful completion of the Health
                                                                                         Foundation Year leads onto the identified
                                                                                         three-year BSc (Hons) Midwifery
                                                                                         programme (four years study in total).

                                                                                         **Please see Page 50 for more details on
                                                                                         the Health Foundation Year, entry criteria,
                                                                                         and progression requirements in order to
                                                                                         progress to the principal course.

        *Subject to approval
        **For Health Foundation Year entry requirements, please see: keele.ac.uk/foundation/health

        For full list of entry requirements, please see: keele.ac.uk/ug-entry-requirements-uk
INDICATIVE MODULES:

First year
• Introduction to Midwifery

Second year
• Developing as a Midwife

Third year
• Becoming a Midwife

What will this mean for my future?
You will experience providing care to
pregnant women at all stages of
pregnancy and in a range of contexts:
women's own homes; clinics in the
community; hospital; and the
midwifery birth centre. This will
develop your experience and
understanding for a career within
Midwifery.

Please Note
Currently the professional body
(Nursing and Midwifery Council) is       Student Profile:
reviewing all the education standards
and programme specific standards for
                                         Amy Fradley
midwifery nationally. In light of the    3rd YEAR BSc (HONS) MIDWIFERY
review of standards by the NMC in        STUDENT

                                         "
2018 there will be changes following
this review which will affect students         Midwifery at Keele was always my first choice and I
studying on the programme beyond         can honestly say I have no regrets. The programme has
2019. These changes are not known        given me a holistic approach to midwifery care both in the
at the time of writing this programme    classroom and in the clinical setting. Having the University
specification but we will communicate    Hospitals of North Midlands (UHNM) as a placement setting
them to you as soon as they are          has given me a real depth of experience and with over 7000
confirmed. To ensure each student is     babies being born each year, the opportunities are endless!
fully informed and aware, all changes
will be discussed with the student       Midwifery training is challenging and demanding and not
community as the changes are             something you can do alone. Throughout my training the
planned and implemented.                 support I have received has been wonderful from both the
                                         midwifery lecturing team and the clinical staff on placement.
Timeframes are uncertain at this stage   Being part of a small cohort is also key in giving you this
although it is proposed that midwifery   support, I have made friendships that I hope continue into
specific standards will be operational
from September 2020. The
programme will be approved by the
                                                                                        "
                                         the future as we begin our careers as Midwives. I feel very
                                         proud and privileged to be part of Midwifery at Keele and feel
                                         confident if you choose Keele you would too.
NMC and the University to ensure it
meets the changes that the NMC have
published.
                                                                                          keele.ac.uk
2019
ENTRY

        32 | SCHOOL OF NURSING & MIDWIFERY

        BSc (Hons) Nursing Programmes*

        Course type:          Single honours combinations                        Course start:                September 2019
        Course details:       BSc (Hons) Adult Nursing *                         Study abroad:                No
                              BSc (Hons) Children's Nursing *                    International Elective
                              BSc (Hons) Learning Disability Nursing *           Placement:                   Yes
                              BSc (Hons) Mental Health Nursing *

            PROGRAMME            INDICATIVE         UCAS           LENGTH OF             FURTHER
                                 ENTRY              COURSE         PROGRAMME             INFORMATION
                                 CRITERIA           CODE

            BSc (Hons)            BBC                B740          Three years           keele.ac.uk/ugcourses
            Adult Nursing*                                         full-time

            BSc (Hons)            BBC                B730          Three years           keele.ac.uk/ugcourses
            Children's                                             full-time
            Nursing*

            BSc (Hons)            BBC                B761          Three years           keele.ac.uk/ugcourses
            Learning                                               full-time
            Disability
            Nursing*

            BSc (Hons)            BBC                B760          Three years           keele.ac.uk/ugcourses
            Mental Health                                          full-time
            Nursing*

            BSc (Hons)            **                 B742          Four years            In addition to the BSc (Hons) programmes,
            Adult Nursing                                          full-time             the School also offers Health Foundation
            with Health                                                                  Years with BSc (Hons) programmes leading
            Foundation                                                                   to professional registration (RN). These
            Year*                                                                        programmes are designed for students who
                                                                                         wish to study nursing but lack the necessary
            BSc (Hons)            **                 B731                                background qualifications for direct entry
            Children's                                                                   onto the main degree programme.
            Nursing with                                                                 Successful completion of the Health
            Health                                                                       Foundation Year leads onto an identified
            Foundation                                                                   three-year BSc (Hons) programme (four
            Year*                                                                        years study in total). Students should apply
                                                                                         for a specific course with a Health
            BSc (Hons)            **                 B762                                Foundation Year. You can discuss options
            Learning                                                                     with the Foundation Year Course Director
            Disability                                                                   before applying to Keele, but you will not be
            Nursing with                                                                 able to change your choice of progression
            Health                                                                       route within the Faculty of Medicine & Health
            Foundation                                                                   Sciences after accepting a place.
            Year*                                                                        Please see Page 50 for more details on the
                                                                                         Health Foundation Year and progression
            BSc (Hons)            **                 B763                                requirements in order to progress to the
            Mental Health                                                                principal course.
            Nursing with
            Health
            Foundation
            Year*

        *Subject to approval
        **For Health Foundation Year entry requirements, please see: keele.ac.uk/foundation/health

        For full list of entry requirements, please see: keele.ac.uk/ug-entry-requirements-uk
2019
                                                                                                                      ENTRY

                                                                                SCHOOL OF NURSING & MIDWIFERY | 33

BSc (Hons) Adult Nursing*

WHY STUDY THIS COURSE?
Our Adult Nursing degree programme adopts a contemporary person-centred approach to healthcare that
prepares students to meet evolving health needs. Keele develops Adult Nurses who deliver excellent
evidence-based practice in a range of care settings and who place the patient at the centre of decision-making by
promoting dignity, care, and compassion. Over their three years, students develop the ability to assess, plan,
implement, evaluate, and monitor care safely and effectively. By taking a person centred-approach to care delivery,
students initially focus on meeting people's essential care needs and, as they progress through their second and
third years, they develop the skills and capabilities to assess, provide, and manage the complex care needs of
individuals and groups of people.

Students' clinical and academic skills are developed within a strong and established system of support through
personal tutors in the School and clinical supervisors in placements. To this end, students experience a range of
hospital and community placements in which they develop the requisite skills, knowledge, and attitudes needed for
contemporary adult nursing practice. To develop their skills in academic writing, reflection, critical thinking, and
decision-making, a small group approach to learning is adopted whereby students are supported by their personal
tutor. This is complemented by lectures, online activities, individual tutorials, directed study, and skills-based
learning in the School's Clinical Skills Laboratories. Learning in the School of Nursing & Midwifery at Keele is
enhanced by superb classroom facilities, an excellent Health Library, computer suite, and established relationships
with local primary and secondary health care providers.

For details of the programme and indicative modules, please visit the School website:
keele.ac.uk/nursingandmidwifery

WHAT WILL THIS MEAN FOR MY FUTURE?
You will experience a range of hospital and community placements in which you'll develop the requisite skills,
knowledge, and attitudes needed for contemporary adult nursing practice.

*Subject to approval

Student Profile:
Rebecca Lorenz
2nd YEAR BSc (HONS) ADULT NURSING STUDENT

"     Since starting my journey to become a registered nurse, Keele has
always been supportive, both emotionally and academically. Everything I
have needed has been available. There are a wide range of journals,
books, and learning resources available within the Health Library, which
has extended opening hours; as a Mum, this is a great help. Lectures are
both academic and practical, and we learn a wide range of clinical skills
such as catheterisation and venepuncture (obtaining blood samples). The
degree has also helped me to develop and grow as a person. It has
opened my eyes to new ways of thinking, I am developing my prioritisation
and decision-making in placements and it has helped me be more "
resilient. I feel confident that with the continued support from Keele I will
qualify next year as a confident and competent adult nurse.                                             keele.ac.uk
2019
ENTRY

        34 | SCHOOL OF NURSING & MIDWIFERY

        BSc (Hons) Children's Nursing*

        WHY STUDY THIS COURSE?
        The Children's Nursing programme has at its centre the child or young person, and their family. The aim of the
        programme is to develop Children's Nurses who are inquisitive, clinically astute, intelligently adaptable, and able
        to respond to the current and future needs of children and young people.

        Our Children's Nursing degree adopts an innovative curriculum model integrating theory and practice elements,
        which upon successful completion, contribute to admission to the Nursing and Midwifery Council Professional
        Register. A variety of teaching and learning strategies are used throughout the programme including lead
        lectures, seminars, group discussions and tutorials. IT based exercises and presentations are also used to
        develop work relevant skills and self-directed study is encouraged to promote independent learning and the
        development of lifelong learning skills.

        The development of clinical skills is an integral part of the programme and is supported in practice placements
        and in the excellent clinical skills laboratories by experienced lecturers.

        The programme encompasses an innovative assessment strategy, utilising a range of assessment methods.
        Student support is taken seriously with each student being allocated a personal tutor and having access to a
        variety of academic and pastoral advice services. Alongside these services a peer mentoring system is employed
        in order to support students through the Children's Nursing degree.

        The wider benefits of enrolling onto our Children's Nursing degree are:
        • Working in partnership with children, young people, and their families;
        • An innovative curriculum model;
        • Established placement circuit offering a variety of quality experiences;
        • Excellent library, IT, and clinical skills laboratory facilities;
        • Experienced and quality student support services.

        For details of the programme and indicative modules, please visit the School website:
        keele.ac.uk/nursingandmidwifery

        WHAT WILL THIS MEAN FOR MY FUTURE?
        Placements for the Children's Nursing degree have been developed to reflect the reality of the journey children
        and young people experience when receiving healthcare. Placements will be undertaken within the acute hospital
        children's setting and in a variety of community areas, which will help you prepare for a career within Children's
        Nursing.

        *Subject to approval

        "   All of the lecturers are incredibly supportive and
        knowledgeable, willing to go above and beyond to help              "
        us with all aspects of our course.      Amy Jones, Children's Nursing Student

        keele.ac.uk
School Alumni:
Vicky Ramsden

"
CHILDRENS NURSE

       Hi. I'm Vicky! I
qualified with a BSc (Hons) in
Children's Nursing in 2013.
My experience of studying at
Keele University was fantastic.
The course was extremely well
structured, with experienced
and knowledgeable lecturers
who used a variety of teaching
styles and techniques. I always
felt well supported and
learning was fun!

The facilitation of clinical
placements was well
organised which ensured
exposure to all aspects of
Children's Nursing, from
acute hospital wards and
intensive care units to
community and hospice
settings. The skills I developed    Student Profile:
and the experience gained           Kelly Bloor
during my degree at Keele           3rd YEAR BSc (HONS)
held me in good stead for           CHILDREN'S NURSING STUDENT

                                    "
qualifying as a Children's
Nurse and subsequently                     I decided to study Children's Nursing at Keele because the
                                    degree course, campus and clinical skills facility stood out beyond
working within a Children's         all others. Keele offered a range of open days before securing my
Medical Ward and High               place, and after. Once starting the course the organisation was very
Dependency Unit.                    impressive, all staff greeted the students and offered help and
                                    support from day one. The Lectures are informative, using the
                                    latest evidence based practice, clinical examples and linking to
I have since progressed to a        anatomy and physiology. The subjects link in well with practical
Teaching Fellow in Children's       sessions that can be carried out in the clinical skills labs. Using the

Nursing, training current           labs has enabled me to practice in a safe environment before
                                    heading out into placement areas. Keele University has an
pre-registration nursing            excellent health library, which has a host of helpful, knowledgeable
students. It's nice to think that
I was once a student at Keele
                                                                  "
                                    librarians ready to support you. I have loved being a Keele student
                                    Children's Nurse and really feel that Keele has given me the best

University and now I am
                   "
teaching future nurses also
                                    start to my nursing career.

                                                                                         keele.ac.uk
training at Keele.