CHATTERBOX - Panania Public School
Page content transcription
If your browser does not render page correctly, please read the page content below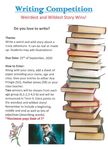 CHATTERBOX  Panania Public School 21A Lawler Street, Panania NSW 2213
                                                                                                      Term 3

                                                                                                      Week 9
                       Phone: 9773 9017                     Email: panania-p.school@det.nsw.edu.au
                                              www.panania-p.schools.nsw.gov.au                       16/9/2020

PRINCIPAL'S MESSAGE

Term Dates
End of Term 3:          Friday, 25 Sept

First day of Term 4:    Monday, 12 Oct
for all students.

Students should return in Term 4 in
summer uniform.

End of Term 4:         Wednesday, 16 Dec
for students.
School Planning 2021-2024

School planning for 2021-2024 is well
underway. An extensive and robust
process of analysis and authentic reflection have identified the following areas to inform school
improvement. They have been grouped accordingly into 3 proposed strategic directions.

1. Student Growth and Attainment
Deep investigation of the 'What Works Best' themes alongside the triangulation of survey data from
students, staff and parents has provided insight into areas of priority for improvement and innovation
as well as areas that require strengthening to become fully embedded into practice. Visible Learning
was a prominent feature of the 2018-2020 plan and has had varying degrees of success with
foundational elements incorporated in programs. A future direction would include using this as
leverage to enhance the consistent use of Learner Qualities, nurture growth mindsets and strengthen
the analogy of the Learning Pit when referring to challenge and obstacles to learning. A focus on
explicit teaching and enhancement of regular, immediate and targeted improvement-oriented
feedback would support students in meeting and aspiring to high expectations. Consistent and
sustainable structures and processes in alignment with 'What Works Best' and underpinned by
evidence-based practices such as the inclusion of student self-assessment are required to improve
student learning outcomes in Reading and Numeracy.
2. Wellbeing and Positive Partnerships
Examination of student wellbeing dimensions indicated high expectations for success, high levels of
student advocacy, high levels of student engagement and strong student/teacher/parent
relationships. However, there is also a small number of students that feel they do not belong at school
and feel like their opinions are not valued. This highlights the need for a whole school approach to
wellbeing, an emphasis on magnifying student voice and identifying vulnerable students and inclusive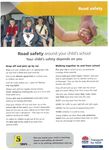 strategies that could support them. Increasing levels of both diagnosed and undiagnosed disability
stresses the need for a cohesive approach that promotes social and emotional learning as well as
tracks interventions employed to support their learning journey. Positive partnerships within the
school, across schools and with all educational stakeholders including external providers, parents and
carers would continue to enhance a nurturing culture of support that is empowered to improve
student outcomes and provide a safe environment meeting learning needs.
3. Learning Culture and Quality Practices
Extensive inquiry into the implementation of quality teaching practices have indicated that staff
require time and space to embed evidence based pedagogical practices in consistent, deep and
meaningful ways with a renewed focus on essential elements of quality teaching. A continued focus
and consistent approach in building teacher capacity, including Instructional Leadership, is
instrumental in facilitating student growth as quality teaching is the single largest in school
determinant that can positively impact on student progress and achievement. Targeted and tiered
professional learning informed by student needs will create a cycle of continuous improvement while
working within a reflective and collaborative framework underpinned by evidence- based research will
support all to grow professionally and enhance evaluative thinking and practices.

Kindergarten Orientation
Due to COVID-19 restrictions
Kindergarten Orientation will not take
place as previous years. However, we
are currently working on ZOOM
information sessions, take home
resources, published paper based social
story, digital social story, interviews
with current students and work
samples. Information will be shortly
distributed to new applicants.

COVID-19 UPDATE
As of 18 August, some changes in school requirements have occurred . These changes are in line with
NSW Health and Department of Education guidelines. They include:

      Students absent or sent home due to flu-like symptoms need to be tested for COVID-19.
      Students must not return to school until they return a negative COVID-19 result and are
       symptom free.
      School must sight the negative COVID-19 test result prior to allowing students to return to
       school.
      Students will stay within their relevant cohort, year group or stage for all learning
       activities.
All community user groups must have a COVID-19 Safety Plan in place.

As always, thank you for your ongoing support and understanding as we continue to work in
partnership in keeping our community safe and COVID-19 free.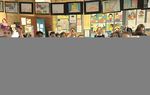 ONLINE ENROLMENT PROJECT
A new Online Enrolment System has been rolled out to Panania Public School commencing Monday, 14
September 2020.

The Online Enrolment System is designed to provide flexibility for our parents to submit an enrolment
application online and at the time that best suits you. The application can be accessed on all browsers and
mobile devices including iOS and Android.

The online application process is currently restricted to:

         Enrolments into local schools only.
         Children who are Australian citizens, New Zealand citizens or permanent residents.
         Children who live in NSW.

If your child lives within the local intake area of our school and is an Australian or New Zealand citizen, you can
make an application for enrolment through our school website under the 'Enrolment' tab. For further
information please call the school on 9773 9017.

We encourage you to complete your application to enrol online. However, a paper copy of the form is still
available for collection from the front office or can be downloaded from the school website.

GOLD AWARDS
Congratulations to our exemplary GOLD AWARD students from Stages 2 and 3.

3H:       Oliver Chiem, Lexi Senior
3N:       Marli Fullagar
4AW:      Evie Dredge, Curtis Marsh, Ruby McGraw, Dion Petrakis
4S:       Emily Dunstan, Alice Gourlay, Hayes Gow
4SM:      Chloe Reynolds
5D:       Harrison Phipps
6D:       Zoe Baltimas, Harry Gourlay, Megan Hallowes, Fatima Hinnawi, Cooper Tabet, Lara Tetley,
          Dylan Thompson
6S:       Christabel Farag, Brooke Petersen

UNIFORM SHOP NEWS
New uniforms can now only be purchased from MUE at Panania, 34 Anderson Avenue. The store is
open 6 days per week, or you can purchase online at
www.moorebankuniformsandembroidery.com.au

Please use the following code when ordering online:                PANPMUE2020

MUE's current delivery options are as follows:
   $10 delivery to your specified address;
   Click and Collect from the MUE shop at Panania; or
   Delivery once per week to Panania Public School to be sent home free with your child
      (Free is for a limited time only).

The P&C Uniform Shop will continue to sell discontinued items and second hand uniforms ONLINE
only. Orders for discontinued items and second hand uniforms can be emailed to:
pananiapublicuniformshop@gmail.com

We thank you for your continued support of the P&C Uniform Shop.

P&C Uniform Committee.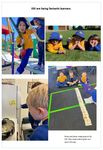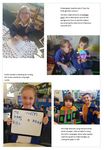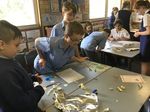 The students in 1MN listened to the story 'The Colour Monster' by Anna Llenas and discussed the
feelings which the monster in the story experienced. Students then discussed common emotions
which they can experience in life - happiness, sadness, anger, fear and being calm.

Using the text as a stimulus 'Feeling Monsters' were created using a variety of media.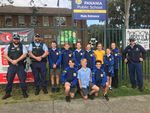 YEAR 6 ARTWORKS
This year, Year 6 have gathered together each Thursday to investigate and learn about various
artists, their unique styles and new techniques.
Students have discovered Spanish artist, Pablo Picasso through their creation of Cubist Portraits and
Still Life artworks. They focused on geometric blocks of colour to highlight the various angles of the
face and the composition of an artwork using objects in foreground, middle ground and background.

During online learning a small number of students created animated illustrations such as Pepe Le
Pew.
Additionally, Students have investigated Russian artist, Wassily Kandinsky and his love of warm and
cool colours. Students developed an understanding of colour contrast and the colour wheel. Students
recreated one of his famous artworks and also created a landscape highlighting the contrast of warm
and cool colours.

We celebrated Harmony Day by acknowledging multiculturalism through symbolising the cultures
which make up Australia.

Students enjoyed creating winter landscapes with chalk and focused on the elements and principles
in the landscape, such as colour, space, texture, balance and proportion.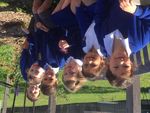 WALK SAFELY TO SCHOOL DAY

On Friday 11, September the local police dropped by to acknowledge 'Walk Safely to School' day. Students
were encouraged to walk and commute safely while keeping fit.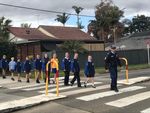 STAGE 2 STEM DAY

On Tuesday, 1 September, Stage 2 participated in a STEM (Science, Technology, Engineering, Mathematics) Day.
Students were able to participate in a variety of activities as they investigated and explored many concepts.
Students enjoyed finding out how things work through fun, hands-on projects. STEM activities set children up
for the future as they work out solutions to real-world problems through play and exploration. It was an
extremely successful day. Well done Stage 2!
SCHOOL RULES
          The rule we are focusing on for                            SCHOOL VALUES
     Term 3 , Weeks 9, 10 & Term 4 Week 1 is:
                                                                  Be Creative/Responsibility
                   Be Respectful

                                                         Please support us at home by having discussions
You can support us at home by having discussions with       with your child/children about what being
your child/children about what "Being respectful"       'Creative/Responsibility' means at home, at school
means and what this rule means in different settings.                and in the community.