CHEVROLET CORVETTE 2019
If your browser does not support JavaScript, please read the page content below:
CHEVROLET CORVETTE 2019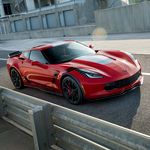 Corvette Grand Sport Coupe. Shown in Torch Red with available features. FOR THOSE WHO LIVE IN THE MOMENT, those elusive seconds in life where the commotion of the world fades and suddenly it's just you, the car and the next corner. You expect, even demand, total bliss. That's what Corvette has delivered for seven generations, from Stingray to Grand Sport to Z06. And now for 2019, the fastest, most powerful production Corvette ever brings it all to a crescendo — the 755-horsepower ZR1.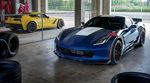 Corvette Stingray Coupe.
Shown in Torch Red with available features. STINGRAY COUPE. One of the most iconic car names ever. With its split-window-inspired fastback style draped over a perfectly balanced chassis and precision-crafted interior, Stingray Coupe is a modern interpretation of the Corvette legacy.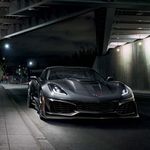 Corvette Stingray Convertible. Shown in Black with available features. STINGRAY CONVERTIBLE. Sacrifice nothing. Engineered from the ground up as a convertible, this Stingray is every bit as tight and responsive as the coupe. The power top on all Corvette Convertibles can be raised or lowered at speeds of up to 50 km/h.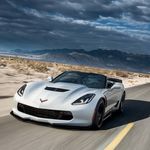 Corvette Grand Sport Coupe. Shown in Torch Red with available features. GRAND SPORT COUPE. The name is a nod to special lightweight Corvette race cars from the early 1960s. With a naturally aspirated 460-horsepower V8 engine, wide body stance and Magnetic Selective Ride Control suspension, Grand Sport is as at home on a racetrack as it is on a challenging road.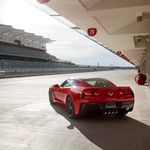 Corvette Grand Sport Convertible. Shown in Admiral Blue with available features. GRAND SPORT CONVERTIBLE. Two of the original 1963 Grand Sport racers were modified into roadsters to be even more competitive. The modern- day Grand Sport Convertible offers superb balance for high-speed grand touring, thanks to a performance-tuned suspension, 6-piston front brake calipers and Grand Sport-specific wheels paired with summer-only tires.1 1 Do not use summer-only tires in winter conditions, as it would adversely affect vehicle safety, performance and durability. Use only GM-approved tire and wheel combinations.
Unapproved combinations may change the vehicle's performance characteristics. For important tire and wheel information, see your dealer.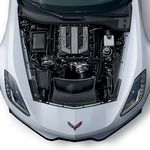 Corvette Z06 Coupe. Shown in Corvette Racing Yellow Tintcoat (extra-cost colour) with available features. Z06 COUPE. Developed in tandem with the Corvette C7.R race car and offering 650 horsepower and 650 lb.-ft. of torque, Z06 is a showcase of advanced racing technology and a formidable machine given its bloodlines.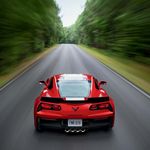 Corvette Z06 Convertible. Shown in Arctic White with available features. Z06 CONVERTIBLE. The Z06 Convertible offers the exhilaration of a fast superbike, with all the sophistication of a refined GT car. And with 650 horsepower at your disposal, you won't have any problem generating a breeze.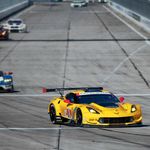 Corvette ZR1 Coupe. Shown in Watkins Glen Grey Metallic with available features. ZR1 COUPE. Corvette ZR1 is a milestone for the marque. This is the fastest, most powerful production Corvette ever built, thanks to a 755-horsepower LT5 supercharged V8 engine, extensive use of racing-derived ground effects and a robust cooling system.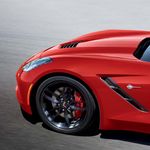 Corvette ZR1 Convertible. Shown in Sebring Orange Tintcoat (extra-cost colour) with available features including the ZR1 Sebring Orange Design Package. ZR1 CONVERTIBLE. No, this is not the first-ever Corvette ZR1 Convertible.
That distinction goes to a single ZR1 Convertible built during the 1971 model year. But the new 2019 ZR1 is by far the fastest production Corvette Convertible ever built.
C7.R race car. Garcia, Magnussen, Rockenfeller take a third straight Corvette Racing win at Sebring in the No. 3 Corvette C7.R, beating out Ford, Porsche, BMW and Ferrari. RACING CORVETTE RACING HAS WON BACK-TO-BACK MANUFACTURER AND DRIVER CHAMPIONSHIPS IN IMSA GTLM COMPETITION. IT'S JUST OUR WAY OF MAKING SURE YOUR NEXT CORVETTE IS THE BEST SPORTS CAR WE KNOW HOW TO BUILD. GREATNESS ENABLES GREATNESS. Celebrating 20 years in 2018, Corvette Racing still sets the gold standard for technology transfer between the track and street. Corvette engineers are continually taking what they learn in competition and applying it to help improve the production Corvette — which then makes for better race cars.
The latest example among many is the front underwing on the ZR1, an idea that came straight from the C7.R race car. It creates almost as much downforce as the rear wing without being visible. CORVETTE RACING (C5-R TO C7.R) SINCE 1999: _8 CLASS WINS AT THE 24 HOURS OF LE MANS _11 CLASS WINS AT THE 12 HOURS OF SEBRING _2 CLASS WINS AND ONE OVERALL WIN AT THE ROLEX 24 AT DAYTONA _12 AMERICAN LE MANS SERIES (ALMS)/IMSA WEATHERTECH® SPORTSCAR CHAMPIONSHIP MANUFACTURER TITLES _11 ALMS/IMSA DRIVING TITLES _12 ALMS/IMSA TEAM TITLES