Graduate Careers at Siemens
→
If your browser does not support JavaScript, please read the page content below:
Graduate Careers at Siemens
→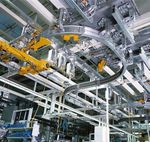 www.siemens.co.uk/careers www.siemens.co.uk/careers Graduate Careers at Siemens Graduate and internship opportunities in Engineering and Business We look for graduates who share our fascination with finding innovative answers to the world's most challenging questions. Siemens Sir William Siemens Square Frimley Camberley Surrey GU16 8QD Tel: +44 (0)1276 690204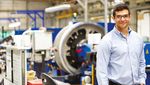 2 Your guide to your future Did you know? We produced the first ever electric street lighting in 1881 3 Siemens has been finding innovative answers to some of the world's most challenging questions for 170 years. As a leading global engineering company, Siemens is responsible for a range of diverse technologies and services we take for granted in our daily lives, across the sectors of Energy, Healthcare, Industry and Infrastructure & Cities. We design and manufacture products and systems ranging from traffic lights, wind turbines and rail systems, to superconducting magnets used in medical scanners.
To find answers to the most pressing challenges of our time, we need graduates who have the curiosity, dedication and enthusiasm needed to help us make a difference. Whatever area you're interested in, we'll offer variety, challenging work, development and first hand experience. To find out more, read on... Contents Your guide to your future 2 Start your career at Siemens 4-5 Engineering opportunities 6-9 Business opportunities 10-11 Our locations 12/17 A guide to our sectors 13-16 Internships at Siemens 18-19 Case studies 20-21 Training and development opportunities 22-23 Rewards and benefits 24-25 Making a successful application 26-27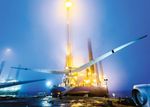 Whether you are looking to develop a career in Engineering or Business, we offer early responsibility, mentoring and professional development. You will be working for a company that is committed to innovation and facing challenges head on. Located in towns and cities all over the UK, Siemens offers a diverse range of graduate opportunities where successful applicants will be given the freedom to make their mark and use fresh ideas to keep the business at the forefront of innovative technology. The Engineering careers on offer are as diverse as the industry itself. There are roles in Renewable and Fossil Power Generation right through to Metals and Drive Technologies. There are some great training initiatives too, helping graduates reach Chartered Engineer status. Business graduates will play a crucial role in helping the business run smoothly and the careers on offer include Finance, IT, Project Management and Sales. To find out more visit: www.siemens.co.uk/careers Start your career at Siemens Where could your degree take you? Did you know? We employ over 13,000 people in the UK By joining Siemens you will become part of one of the world's largest and most successful companies – one that is passionate about innovation and has a diverse range of opportunities available to you. 4 5 Siemens Sectors Industry Infrastructure & Cities Energy Healthcare Corporate Functions Financial Services University Degree Subject (minimum requirement 2:2) Engineering-related Chemical Engineering ■ Computer Science ■ ■ Electrical Engineering ■ Electronics Engineering ■ Manufacturing Engineering ■ Materials Engineering ■ ■ Mechanical Engineering ■ Mechatronics ■ ■ Physics ■ Software Engineering ■ Business-related Business Studies/Management ■ Economics ■ Finance/Accounting ■ IT ■ ■ Mathematics ■ Project Management ■ Supply Chain & Procurement ■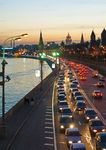 7 Engineering opportunities Around 75% of our graduate roles are in engineering Did you know? Mechanical Graduate Mechanical Engineer roles are available in all sectors – Energy, Healthcare, Industry and Infrastructure & Cities. Responsibilities in this role will include looking at productivity, technical design, resource control, product standardisation, health and safety, and compliance. Field Service If you have a mechanical or electrical engineering degree, you can join us as a Graduate Field Service Engineer. With many of these roles predominantly available in our wind power business, you could find yourself working on the commissioning and servicing of mechanical and electrical systems on our wind turbine fleet throughout the UK. A head for heights is a must for these roles!
Materials Many of our Graduate Material Engineers will find themselves working in Siemens Metals Technologies, which specialises in design and engineering solutions for plate and aluminum rolling, as well as metallurgical services. In this role, you will be involved in the investigation of metallurgical process issues in the proposal, design and commissioning phases of projects. Manufacturing Production With a degree in production engineering, ideally with knowledge of printed circuit boards and production process and practices, a Graduate Production Engineer with Siemens will focus on contributing to the process of introducing new products and techniques to manufacturing and process improvement.
"Don't hesitate to apply. There are a vast amount of opportunities around the world with the chance to excel in your chosen profession." 6 Engineering opportunities Our Engineering careers are as diverse as the industry itself. From Renewable and Fossil Energy, to Metals and Drive Technologies, we have a whole range of careers on offer. Liam Graduate Electrical Engineer Electrical Graduate Electrical Engineers are always in high demand at Siemens and roles are available across the business, from Low & Medium Voltage to Automation Drives. As a Graduate Electrical Engineer you will experience everything from project planning and delivery, software configuration and management, through to providing technical guidance and support, alongside receiving specific technical training.
Electronics Graduate Electronics Engineers will work in a challenging environment across various departments to become competent, rounded engineers. Responsibilities will include participation in product specification and project planning, designing electronic circuits for our products, providing product integration and associated product support activities, plus working with the design-to-cost process.
Siemens PLM provides the digital and software backbone for Redbull F1 racing team Did you know? Eleni Graduate Design Engineer Engineering opportunities "I have all the support to move ahead and do the things I want to do in order to broaden my knowledge, improve my skills and further my career." 8 9 Design With a background in electrical/ electronics engineering, you will work on major engineering projects and turnkey solutions under the supervision of senior/lead engineers. As a Graduate Design Engineer you will work to develop your knowledge and understanding of conceptual design, as well as getting involved with planning, prototyping and testing processes. Rail As a Graduate in Siemens Railway Signalling and Train Control, you will work on areas including safety assurance, signalling application design, project engineering, construction and test, bids and tendering, plus health, safety and sustainability. You can be assured that you will have the business exposure to succeed as an Application Engineer.
Software As a Graduate Software Engineer you could find yourself working in Siemens Mobility Traffic Solutions business. Your role will be varied, from working on the design and coding of software, the testing of software components and providing technical support, through to contributing to the planning and estimating of design and development tenders. Project Management With a background in electrical or mechanical engineering, a Graduate Project Manager will typically find themselves working in the renewable energy division and will work to gain a level of understanding within all support areas of the projects business including; customer management and support, risk management, project planning coordination, hse and quality planning, design, production and supply chain coordination and procurement subcontractor management.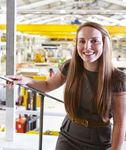 11 Business opportunities Rebecca Finance Graduate Did you know? We are committed to our values of Innovation, Excellence and Responsibility "I've already been on various development courses, such as presentation skills, finance and commercial skills, customer focus and project management." At Siemens, today's Business Graduates are tomorrow's decision-makers, who play a vitally important part in helping everything run smoothly across the organisation. 10 Business opportunities Business As a Business Graduate you could be employed in a number of different areas of Siemens, from Healthcare, to Financial Services, through to Metering Services. You could work across several key business areas including Sales, IT, Project Management and Marketing, working on real-life business projects and challenges and assisting with the continuous development and improvement of the business. Finance At Siemens we provide the best possible start to your career in Finance. As a Finance Graduate our programme will enable you to experience rotational placements in Finance departments in various business areas whilst studying towards your CIMA professional qualification.
Project Management A business or business related degree can take you on many paths, including Project Management. As a Graduate Project Manager you will assist Senior Project Managers and will be given the responsibility of managing smaller projects yourself. We will give you the mentoring and experience that you will need to complete your training and eventually manage larger projects. Supply Chain and Procurement For graduates with a supply chain, procurement or business related degree, these roles offer a diverse range of challenges – you could be involved in everything from implementing procurement strategies and conducting contract negotiations, through to undertaking supplier management and producing forecasts to support business planning.
Information Technology As an IT Business Graduate you will undertake rotational placements in the Account Management, Projects & Programmes, Strategy & Planning, Service Delivery Management, Customer Services and Commercial functions. Our IT operations are internationally focused and graduates will be exposed to a range of business and technology challenges, asked to work collaboratively with international teams and be expected to identify local improvements to the way we conduct our business.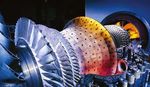 You'll find us in towns and cities all over the country, in dedicated offices, on huge manufacturing sites, in depots, or maybe even in our customers' offices. Our head office in Frimley, Surrey, is where lots of our support functions are based. On the map opposite, you'll see our key locations for graduate roles including Manchester, Newcastle, Lincoln and Poole. If you want to find out more about where and how we operate in the UK, www.siemens.co.uk.uk/careers has all the answers. Our locations Did you know? We employ 5,000 people in manufacturing across the UK "Siemens is synonymous with innovation, engineering excellence and customer satisfaction." Richard, Business Graduate 12 17 UK locations "Sharing experiences with other graduates who do similar jobs in different sectors has been invaluable." Claire, Graduate Engineer Head Office Manufacturing sites Other key sites Frimley Manchester Congleton Oxford Stoke Poges Worcester Poole Leeds Eynsham Lincoln Newcastle Northampton Ulverston Sheffield Caldicot Nottingham Ashby-de-la-Zouch Sevenoaks Keele Stockton Derby Key locations for graduate roles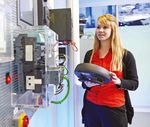 5 Healthcare At Siemens we play a unique role in supporting healthcare professionals with everything from protection and detection, to diagnosis and treatment. We provide medical technologies that help deliver a better quality of healthcare, and enable ever-improving degrees of individual care through advanced imaging and therapy systems, diagnostics, healthcare IT systems, plus hearing instruments. Did you know? We are the number one supplier of MRI scanners in the UK 4 Energy We are one of the world's leading suppliers of a wide range of products, solutions and services in the field of energy technology. We pride ourselves on providing innovative technology and best-in-class engineering solutions across the energy landscape, from on and off shore wind farm installation, through to fossil power generation, oil and gas production, and power transmission. Did you know? We generate around 50% of the UK's wind energy 13 14 Did you know? Our Metals Technologies business is a global leader in the metals industry Industry Our Industry sector is one of the world's leading suppliers of innovative, environmentally friendly products and solutions for industry customers. The sector comprises of industry automation, drive technologies and customer services, as well as metals and water technologies. 15 Did you know? Our hybrid technology is at the heart of London's Routemaster buses Infrastructure & Cities With a portfolio comprising integrated mobility solutions, rail systems, building and security systems, power distribution equipment, smart grid applications, plus low and medium voltage products, our Infrastructure & Cities sector offers sustainable technologies for metropolitan centres and urban infrastructures. 16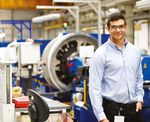 18 Did you know? The Crystal, a Siemens sustainable cities initiative, is one of the world's greenest buildings Are you keen to put your ideas to the test? You can take your first step towards a career at Siemens with one of our many internship opportunities. 19 "The management team has been excellent at making me feel proud of the work that I have accomplished." "I wanted the chance to test my abilities and work on my weaknesses." James Engineering Intern Internships Alice Talent Acquisition Intern If you are a 1st or 2nd year undergraduate studying an Engineering or Business related degree then our internships are for you.
We offer summer internships and year-long industrial placements across the business – from Magnet Technology and Rail Automation, to Finance and Corporate IT – which will integrate you firmly into Siemens. You will gain exposure to a number of different business areas and functions, whilst gaining practical industry experience in a global, world-class organisation. In addition, you will be paid £250 a week. We've designed our internship opportunities to complement your current learning, as well as develop those all-important 'real world' skills – but we don't just want to stop there. If you perform well whilst on your placement we will consider fast tracking you to the assessment centre for a graduate position.
You will go through the same application process as our graduate roles (see pages 26-27). Timings vary, but summer placements usually begin in July and year-long placements are most likely to start in August or September. Internships at Siemens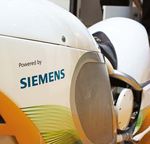 Case study: Cara Bertram More than a million people cross the road safely every day thanks to our technology Case study: Uchenna Obidike Case studies 21 20 Siemens has a strong graduate programme which allows you to experience various aspects of the business. My degree's in Electronic and Electrical Engineering with Maths. I joined Siemens in 2012 as a Graduate Electrical Engineer working in the Industry sector on a rotational programme. My initial placement was based in Regional Projects designing DCS systems using the Siemens software PCS7, and now I'm working with Business Excellence, which is focused on improving business processes. For me, this is what's great about the Siemens graduate programme: you get to see and work in a number of I wanted to work for a company which provides solutions to the developments of megatrends which affect societies and economies worldwide.
I saw Siemens as the only company that could provide me with a platform to explore my ideas and help me to expand my theoretical knowledge through practical applications. My future plan is to become a Chartered Engineer and Siemens is helping me to make this happen; they're even funding my IET membership. I work in the Low and Medium Voltage division within the Infrastructure and Cities sector. As part of my rotational graduate programme, I'm gaining experience in key areas within the Low Voltage business, including design, different business areas, both technical and commercial, so you understand how each area works and how together they make Siemens the success that it is. Not only are you developing a broader skill set, but you're able to meet colleagues from right across the business. It helps you to appreciate the breadth and depth of the expertise here – and the many different directions that you're able to take your career in. What's next for me? After the graduate scheme, my plans are to find a technical role within the business. I'm keen to stay with Siemens, keep learning and keep developing my career.
supply chain management, service and technical support, and product management. You're hands-on here and constantly challenged too. Recently I was tasked with improving the service level of a major retail customer. The action I took to improve the service level paid dividend by 30% in our Key Performance Indicator monitor. It was incredibly rewarding! My one piece of advice to a graduate? Take everything you learn in your different placements into your final job and make the most of the experience. Did you know?
22 23 David Business Graduate "I've had so much support, and the opportunities to develop and progress are pretty much endless." Did you know? We offer support for chartership to all our graduate engineers In an organisation as large and diverse as ours, we offer a wealth of opportunities and scope for graduates seeking a challenging career. We realise that there will be plenty of things to learn so we have a tiered approach to your development: 23 Training and development Training and development opportunites 1) Graduate Development Programme (GDP) All graduates at Siemens participate in the two-year GDP which focuses on the generic skills that all graduates require. This comprises of a number of modules held at various Siemens locations across the UK, covering personal and business skills such as communication, team working, and financial and commercial awareness. It is also an excellent opportunity to build your network with fellow graduates from around the business. 2) Continued Professional Development As well as developing in your current role, you'll also be looking at the longer term. For our Engineering graduates, this can include working towards chartered status with IMechE or IET. Other graduates could work towards chartership with bodies such as CIMA or CIPD.
3) Local Development Plan Your manager will work with you to create a personal development plan that details what you need to be able to do in your role and how you will achieve it. You will both regularly review your progress to ensure that you are getting the support you need. 4) Mentoring All graduates will be assigned a mentor and will undergo mentoring training, so you can successfully make the most of your mentoring partnership. In turn, we also encourage graduates to be mentors themselves, working with interns and apprentices.
5) Corporate Social Responsibility (CSR) We require all graduates to complete CSR work. This can comprise of a number of activities including university engagement, community volunteering and charity work. All graduates have to complete a reflective learning log over the two years to outline their CSR commitment. After two years on the graduate programme, you will have the opportunity to progress further within Siemens in your chosen field.
24 25 Rewards and benefits Rewards and opportunity are key parts of working at Siemens. Whichever part of the business you join, you will be well rewarded for your efforts with a competitive salary and an excellent package of benefits.* * Please remember your benefit package will vary depending on the role. Personal development is at the heart of Siemens. We offer comprehensive training and development, plus dedicated goal-setting and feedback, so that graduates can advance personally and professionally in their chosen career.
Siemens is totally committed to safeguarding the health, safety and wellbeing of all our employees, as well as our environment. Zero Harm Wellbeing Sustainable future Siemens is a brand synonomous with excellence and quality and we are committed to attracting and retaining the best people. With multi-national/ multi-discipline teams, there is a dynamic and diverse working environment. We strongly believe that Siemens is a great place to work! Values Our brand Leadership Diversity and inclusion Employee initiatives Community links We offer graduates a competitive reward package that is based on performance and is complemented by a contributory pensions scheme, flexible benefits programme and an employee discounts package.
Salary and bonus Holiday Pension Share plans Medical benefit Performance management Learning Career opportunities Did you know? Rewards and benefits Personal development Looking after you Great place to work Pay and benefits Over the past three years Siemens employees have spent nearly 7,000 days on volunteering projects
Making a successful application Application and selection "Why did I decide to join Siemens? Because of their unparalleled global presence and full commitment to addressing the energy gap issue via renewable energy." 26 27 Did you know? We typically look for a minimum 2:2 degree in a relevant subject Yoma Energy Rotational Graduate Apply online at www.siemens.co.uk/careers You are requested to apply via our online registration tool. If you are applying for the first time, please create a user profile before you apply. Your application should comprise of a completed online application form, a cover letter, CV and further meaningful documents: e.g. education certificates or employment references.
You need to check the specific job requirements and make sure you've clearly demonstrated on your application that you meet them. Online psychometric testing You will also be asked to complete an online psychometric test. We use an online system so that you can make sure that you are in the right environment and frame of mind before you sit down to take the test. We typically do numerical and verbal online testing. Pre-screening interview and assessment centre The next stage is to undertake a pre-screening interview and then, if successful, you will be invited to attend an assessment centre. A typical assessment centre includes: • Group exercises • Competency-based interviews • Technical presentation/interviews. Starting at Siemens If you are successful and offered a graduate role at Siemens, you will be invited to attend our Graduate Orientation Event – Aspire @ Siemens – in October. You will get to meet your fellow graduates and colleagues, learn about the business and the development programme ahead of you, and start an exciting and rewarding career with Siemens.
Keep up-to-date with the latest graduate and internship vacancies: www.siemens.co.uk/careers @SiemensUKJobs facebook.com/SiemensUKNews 1. We have year round recruitment for our graduate roles. Add www.siemens.co.uk/careers to your favourites list so you can check for new roles and stay ahead of the crowd. 2. Think about why you are applying for the role and thoroughly research the company and the area of the business you want to join. 3. Our system will only allow you 20 minutes to complete your application form, so it's best to complete your answers offline, before logging in and pasting them into the form.
At Siemens you'll typically go through the following application steps: