International Undergraduate Course Guide 2019 - UNIVERSITY OF TECHNOLOGY SYDNEY
If your browser does not support JavaScript, please read the page content below: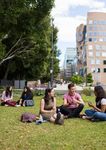 Welcome At UTS, we think differently. Innovation is at the core of what we do, from our state-of-the-art campus to our next-generation, transdisciplinary degree programs in Technology, Innovation and Creative Intelligence. Our signature approach to learning ranks amongst the best in the world, placing us in the world's top 10 young universities (QS Top 50 Under 50 2018 and Times Higher Education'sYoung University Rankings 2018). We're a university for the real world. Our industry partners help us shape our course content, which means everything you study reflects the real world of work.
Our campus lies in the heart of Sydney's creative and digital industries hub so you'll be part of a thriving entrepreneurial community. Our students network with industry experts both inside and outside the classroom. Internships are a common feature of many of our degrees, as are opportunities for international study and work experience. Education continues beyond the classroom at UTS. We also offer a range of programs to help our international students succeed. From academic support, to career and leadership development, UTS is the perfect place to shape your future.
Each year we welcome close to 5000 international students to UTS.
Our students come from 120 different countries, including Australia, which makes our campus a vibrant, dynamic place to study and socialise. As you read through this guide, you'll discover the benefits of studying at UTS and living in Sydney – where you can enjoy a world-class education in the heart of one of the world's most exciting cities. I look forward to seeing you on campus soon. Professor William R Purcell DeputyVice-Chancellor and Vice-President (International and Advancement) Within the Australian Technology Network (ATN) agreement, UTS has committed to a 30 per cent reduction in greenhouse gases (from 2007 levels) by 2020/21.
For more information, visit: sustainability.uts.edu.au UTS is a member of the Australian Technology Network (ATN), an influential alliance of five distinctive and prominent Australian universities located in each mainland state. ATN is committed to forging partnerships with industry and government to deliver practical results through focused research. The Network educates graduates who are ready to enter their chosen profession, dedicated to the pursuit of knowledge and eager to claim a stake in building sustainable societies of the future; and continues to champion the principles of access and equity that have ensured its members are the universities of first choice for more students.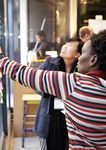 Experience UTS in virtual reality! Download the 'UTSVR' app or visit www.vr.uts.edu.au and get a taste of our campus, facilities, student life and student services. 02 About Sydney 06 About UTS 08 UTS rankings 12 UTS Campus 14 Support Services 21 Careers 22 Scholarships 24 Housing 26 Study areas at UTS 124 UTS Insearch 128 Admission requirements 132 How to apply 134 Fees and Finances, and Credit Recognition 136 Course Summary Tables 146 Glossary Contents Connect with us UTSInternationalstudents UTSint #UTSint UTSchannel UTSI UTSinternational UTS-Official Acknowledgement of Country UTS acknowledges the Gadigal People of the Eora Nation and the Boorooberongal People of the Dharug Nation upon whose ancestral lands our campuses stand.
We would also like to pay respect to the Elders both past and present, acknowledging them as the traditional custodians of knowledge for these Lands. International Undergraduate Course Guide 2019 1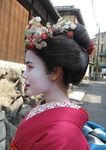 Sydney. There's no better place to be. About Sydney Stunning beaches, iconic buildings, endless festivals and a thriving sports culture? In Sydney, we've got it all. With a great climate, a true mix of cultures and world-class national parks right on our doorstep, there's something for everyone in this beautiful harbour city. Sydney is a great place to live – and an even better place to study! FACTS 24.4 million 5.0 million Population of Australia (ABS) Population of Greater Sydney (ABS) 2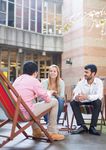 TOP 10 THINGS TO DO AROUND SYDNEY 1
Explore Sydney by ferry – head to Manly for a game of beach volleyball, Watson's Bay for fish and chips, or Cockatoo Island for a lesson in Sydney's convict history. 2
Don't miss the Sydney Opera House! Catch a performance, snap a photo, or just sit on the steps and enjoy the view. 3
Walk the coastal track from Bondi Beach to Coogee and cool off with a swim (in between the flags, of course!) Along the route in October each year, catch Sculpture by the Sea – the largest free sculpture exhibition in the world! 4
Get up close with some of Australia's weird and wonderful native animals at the world-famous Taronga Zoo, with a spectacular back-drop of Sydney Harbour in the background. 5
Cross the Sydney Harbour Bridge and explore Wendy Whiteley's Secret Garden at Lavender Bay, a hidden piece of Sydney's creative history. ENTERTAINMENT TO SUIT ALL TASTES See the best of Sydney throughout the year, thanks to the city's vibrant events calendar – think concerts, film festivals, art installations, theatre productions and sports competitions. The best part? Lots of these events are outdoors – and free! 6
Get cultured in the great outdoors – grab tickets for Symphony in the Domain, Opera on Sydney Harbour, or the open-air cinema at Mrs Macquarie's Chair. 7
See Sydney's history and its future side by side with a visit to The Rocks and Barangaroo – enjoy historic walks, annual art installations, and the striking Sydney foreshore.
Grab a meal, ride the old carousel or catch an incredible fireworks display at the Darling Harbour entertainment precinct. 9
Watch a game of cricket, tennis, rugby league, AFL or soccer at one of the city's iconic sports grounds. Feeling competitive? Get in the mood by wearing some team colours.
10Love nature? Head up to the Blue Mountains and hike some of the region's most beautiful trails. International Undergraduate Course Guide 2019 3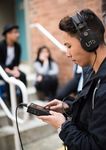 6th BEST CITY IN THE WORLD Condé Nast Traveler's 2017 9th BEST STUDENT CITY QS Best Student Cities 2018 10th BEST CITY FOR QUALITY OF LIFE Mercer's 2018 Quality of Living survey UTS IS: 5 minutes' walk to Central Station and Chinatown.
10 minutes' walk to cinemas, theatres, cafes, galleries, markets and live music venues. 10 minutes minutes by train to the Opera House. 30 minutes by public transport to Bondi Beach or Coogee Beach. 90 minutes by train to bushwalking, camping and rock climbing in the Blue Mountains. 10 11 10 11 9 5 UTS campus UTS Insearch campus Powerhouse Museum Central Station Chinatown Darling Harbour Town Hall Sydney Tower The Rocks Sydney Opera House Sydney Harbour Bridge SYDNEY CBD About Sydney 4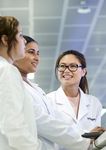 Information source: www.australia.com Photo: Destination NSW Photo: Destination NSW SYDNEY'S CLIMATE IS MODERATE Celsius °C Fahrenheit °F Sunny days Autumn March – May 15–22 58–72 59 Winter June – August 9–17 48–63 63 Spring September – November 11–23 52–73 61 Summer December – February 19–26 65–78 60 SUMAN LAUDARI, NEPAL PhD: Education "I like Sydney because you get to meet people from all over the world, it is very multicultural. I also love being in nature and Sydney really offers that – if you take a train ride for half an hour, you can go to a place where you get to explore and enjoy nature." International Undergraduate Course Guide 2019 5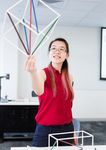 Sydney's City University About Us UTS and Sydney? They go hand in hand. Location is everything – and at UTS, our campus is at the heart of the action.You'll be right in the middle of a rapidly changing and vibrant urban environment, with industry opportunities just a few steps away. More than 40 per cent of Sydney's digital and creative industries are located right here in our neighbourhood – so you'll be surrounded by leading design, architecture, advertising, fashion and media companies.
We're also part of a vibrant technology hub, with more than 60 per cent of regional technology headquarters and operations centres based in Sydney.
It's also a great place to be an entrepreneur: Sydney is home to 60 per cent of Australia's start-ups, with lots of emerging tech companies situated right near our campus. UTS PROGRAMS OUTSIDE AUSTRALIA Study at UTS in China or Hong Kong. These fully accredited offshore courses have the same structure, learning outcomes and award as their Sydney counterparts. uts.edu.au/future-students/ international/offshore-courses SHANE FERNANDEZ, INDIA Master of Media Arts and Production (Graduate) Producer, Start VR "I decided to come to Sydney because it's where the opportunities are at the end of the day.
It's where all the headquarters of the big TV channels are in Australia and it has many commercial production houses. I found that Sydney has at least 100 production houses that I know of, so choosing Sydney was a no-brainer." Sydney is also Australia's business and financial capital. More than 90 per cent of banks have their regional headquarters here, as do more than 200 multinational organisations. As a student, there's no better place to launch your future!
But life at uni isn't all about work, work, work. At UTS, we also like to play! We're walking distance to lots of good stuff, including the CBD, Darling Harbour, shopping, food and nightlife.You'll also be close to a number of interesting Sydney neighbourhoods such as Newtown, Glebe and Surry Hills – with their unique micro-cultures, you'll see why Sydney is known as the city of villages. And, no matter where you're coming from – or going to! – UTS is easy to get to: we're just a few minutes' walk from Central Station and Railway Square.
Photo: Destination NSW 6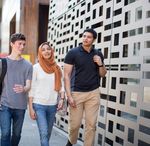 Everything you need is right on your doorstep.
At UTS, you're just minutes away from the best of what Sydney has to offer. CENTRAL PARK Central Park is a downtown oasis – and one of Australia's most talked-about developments. With open parklands, shopping, galleries, art installations and cinemas, there's something for everyone at Central Park. Hungry? Grab a bite at one of the many options in the neighbourhood – try Spice Alley for street food, Glider for great coffee, or the Old Clare Hotel for a long and lazy afternoon. DARLING HARBOUR Forget the NewYork High Line – walk (or cycle!) the Sydney Goods Line from UTS to Darling Harbour, passing UTS's Dr Chau Chak Wing Building on your way.
Once you arrive, jump on a ferry, visit the aquarium, grab a bite to eat or explore the Darling Quarter.Visiting at night? Watch spectacular fireworks displays during special events.
CHINATOWN Eat. Shop. Browse. Sing. It's all right here in Sydney's Chinatown, just a short walk from UTS. Eat out, explore night-time markets, sing your favourite karaoke tune, or pick up supplies at a specialty supermarket. Looking for something in particular? Paddy's Market is home to food, fashion, souvenirs and household supplies – and just about anything else you can think of. SPICE ALLEY Tucked behind a laneway next door to Central Park, an outdoor street-food market with dishes from across Asia invites you in. The aroma of exotic spices lures hungry locals to tasty eats at student prices.
Treat yourself to Cantonese comfort food, sushi burritos or a classic bowl of Vietnamese pho - there's something for all tastes!
BROADWAY SYDNEY If you fancy a short stroll, Broadway Sydney is just a 10 minute walk from UTS. The shopping centre features a large food court, grocery stores, a 12-screen cinema and major retailers including well-known fashion stores and chains. It's a great place to go if you're in the mood for some shopping and an afternoon movie. International Undergraduate Course Guide 2019 7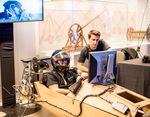 UTS Rankings 2017 SNAPSHOT OF UTS inAustralia globally 10th 44,753 students enrolled at UTS onshore and outside Australia 14,148 international students 1220 incoming study abroad and exchange students 560 UTS students studying overseas on exchange QS TOP 50 UNDER 50 2019 1st QUACQUARELLI SYMONDS (QS) QUACQUARELLI SYMONDS (QS) QUACQUARELLI SYMONDS (QS) 160 5 GLOBALLY STAR RATED World University Rankings 2019 for excellence across all categories QS Stars™ 2014-2017 95% AUSTRALIAN GOVERNMENT'S EXCELLENCE IN RESEARCH FOR AUSTRALIA (ERA) EVALUATION IN 2015.
of UTS research has been benchmarked at world standard or above About Us 8
in Australia globally 16th 880 UTS students studying overseas on a short-term experience 31,893 undergraduate students 10,853 postgraduate coursework students 2007 postgraduate research students 3632 full-time staff YOUNG UNIVERSITY RANKINGS 2018 1st TIMES HIGHER EDUCATION 250 OVERALL TIMES HIGHER EDUCATION World University Rankings 2018 TOP TOP 400 OVERALL SHANGHAI JIAO TONG Academic Ranking of World Universities (ARWU) 2017 FACT The iconic UTS Tower Building is the tallest educational building in Australia at a whopping 28 stories high!
International Undergraduate Course Guide 2019 9
The right connections We're well connected – and you will be too.
At UTS, we've built partnerships with leading organisations that share our passion for creativity and technology. These partners will play a key role in shaping your UTS experience, and they might even help to kick-start your future career. ACCESS TO INDUSTRY At UTS, all our degrees are shaped by extensive industry contribution. That means our course content responds to the realities of your future career.You'll work with industry-standard equipment, and learn best practice techniques as they relate to your chosen field.You'll also engage with industry projects, create solutions to real-world problems, and participate in industry-run competitions.You might even undertake a professional internship or industry placement as part of your degree.
Want more? Outside the classroom, you will establish connections at networking events and have mentoring opportunities.You'll even have access to a range of industry scholarships that'll support you to succeed. LEARN FROM THE BEST Practice makes perfect, and nobody knows that better than our exceptional teaching staff. Many of our teachers are accomplished practitioners, and bring a wealth of industry expertise – as well as government, community and professional connections – into the classroom. For example: Apple Co-founder Steve Wozniak is a Distinguished Professor of Technology in the Faculty of Engineering & Information Technology and a Core Member at the UTS Centre for Artificial Intelligence.
RESEARCH THAT COUNTS At UTS, we're responding to the big questions of tomorrow. We've got a fast-growing reputation as a progressive and futurefocused research university, with an emphasis on emerging issues of technological and social disruption. And we're working for the greater good: we're committed to embedding social justice as a core value of our research approach.
We're collaborative, too – we work closely with academic, industry and community partners, and we've established high quality research links with university partners around the world through our Key Technology Partnerships program. IMMERSIVE PARTNERSHIPS When it comes to industry connections, we're pushing the boundaries. Our new partnership with the Sydney Cricket and Sports Ground Trust (SCG Trust) is the first of its kind in Australia. This centre of excellence brings UTS students, and sector-leading sport and exercise scientists and physiotherapists together with elite athletes at Sydney's premier sporting precinct.
And it's great news for you: if you're a sport and exercise, sport management or postgraduate physiotherapy student, some of your studies will take place at our new Moore Park campus. You'll be immersed in a vibrant sports environment, surrounded by the elite sports programs that are based at the SCG – think cricket, rugby league, rugby union, Australian rules and football. 10
UTS STARTUPS startups.uts.edu.au startups@uts.edu.au Do you have big ideas? UTS Startups is a new community of young entrepreneurs across UTS. Its aim is to engage broadly with UTS students, inspire them to become startup founders, bring these startups together and connect them to opportunities and support.
UTS Startups is a founder-focused community, allowing students to see the opportunity in startups, and begin their journey when it's right for them. It's not about prescribing a path or formula, but instead creating the environment where UTS Startups are exposed to support, resources and opportunities to progress, both inside and outside the university. Who can join and how? To be recognised as a UTS Startup, applicants must demonstrate a compelling idea, that they're pursuing a large market, and that they plan to (or are currently) approaching that market in a scalable fashion. Any stage of startup can join, even just an idea, as long as there is at least one founding team member who has been a UTS student in the last 12 months.
What will they receive? Once accepted, UTS Startups members will join and leverage the community and industry resources, and spend time developing their venture. UTS SHOPFRONT shopfront.uts.edu.au UTS SHOPFRONT links UTS students with community organisations. The students gain real world experience and make a meaningful difference to local not-for-profit organisations through free projects, student volunteering and engaged research. Students can take part in the program through the award-winning Student Community Coursework Projects, which pairs coursework students with community-based organisations and UTS SOUL Award, a leadership and volunteering program for UTS Students.
A GLOBAL PERSPECTIVE global-exchange.uts.edu.au build.uts.edu.au A university degree is one thing, but a global outlook can take your qualifications to even greater heights. At UTS, we're committed to integrating international perspectives into every aspect of university life. We've got an extensive network of strategic international partnerships that support our pathway, joint research and exchange programs. We also have one of the largest student mobility programs in Australia: more than a third of UTS student spend time overseas as part of their university experience – and you can too! Spend one or two sessions studying overseas as part of our Global Exchange program, or choose a short-term international placement through UTS BUiLD, our innovative leadership program.
Looking for something closer to home?You can also build international connections right here on campus – connect with students from around the world through our Community Connections program, Peer Network and student clubs.
Note: some international students may not be able to get a visa to study in a third country while on an Australian student visa. JULIAN REJMANOWSKI, GERMANY Master of Management "I love the entrepreneurial spirit at UTS. The skills that you learn are very transferable to your future work. Design thinking was a big skill. They taught us not to focus on the solution but on the problem; from there you can build something really cool to solve the problem." ARISMA MELLINA, INDONESIA Master of Business and Human Resource Management "I joined UTS SHOPFRONT to practice my consulting skills. From this experience, I learnt how to become a consultant, how to structure projects and how to prepare a good report.
It was an integrated learning process, in which I put my theory from class into practice and employed my critical thinking and economic language skills. My group and I received a very good mark, and it's become my benchmark for pursing my consultancy career." GRETA BUTKEVICIUTE, UNITED KINGDOM Communications Global Exchange student at UTS "UTS offered a lot of different modules that would still be connected to my field but would be something different from what I'm used to in my home university. After I put UTS on my CV as another education institution, I got a chance to work on 'The X Factor' and I am now fully employed by the BBC.
It's great to have a full time job before actually graduating and receiving your diploma." International Undergraduate Course Guide 2019 11
More than just a campus At UTS, it's not just the course content that's inspiring. Our vibrant, interconnected and purpose-built campus is the result of a A$1 billion plus investment in the future of education. With tech-driven learning spaces, designated industry hubs, and student-centric environments for work and play, our campus is one of a kind. ENGINEERING AND IT BUILDING If the stunning façade isn't enough to get your heart racing, then the purpose-built facilities in the Engineering and IT Building just might do the trick.
Work in civil, electrical, information and communication technology, and mechanical laboratories, and put your skills to the test on industry standard equipment.
Study in classrooms and collaborative theatres that encourage a range of learning styles, or visit the Faculty Learning Precinct for individual and small group learning support. Want more? Watch research as it happens in our immersive 3D Data Arena, which draws academics and industry partners from all over the world. VICKI SARA BUILDING At UTS, we're all about hands-on experiences, and in theVicki Sara Building – home of the Faculty of Science and Graduate School of Health – hands-on experiences are exactly what you'll get.
From simulation labs to health care consulting rooms and clinics, world-class laboratories and problem-based learning spaces, this building recreates the sorts of environments that will be central to your future career in science or health care. DR CHAU CHAK WING BUILDING It's the iconic building at the heart of our campus master plan – and it's the only building in Australia designed by Frank Gehry. The Dr Chau Chak Wing Building is an urban treehouse that's been built on the concepts of collaboration and innovation. Housing the UTS Business School, classrooms facilitate discussion and dialogue, while lecture theatres encourage interaction and group work.
Need some downtime? Relax or study in the student lounge before or after class.
UTS LIBRARY With a mix of spaces for solo and group study, the UTS Library is more than just a place to borrow books. It's located down at Haymarket, a few steps from the law and business buildings – and from coffee or a bite to eat if you need a study break. Want a change of scene? Head up to the China Library – a gift from the Chinese Government – on level 4 and immerse yourself in its collection of books, audio visual materials and multimedia displays. UTS CENTRAL The UTS Central project is a significant part of the broader, A$ billion plus UTS City Campus Master Plan.
The first phase, to be completed in 2019, will see the transformation of Building 2 into a 17-storey futuristic-looking, glassenveloped student hub. The lower levels will become a central vibrant student hub and will accommodate a new UTS Library, scholarly reading room, learning commons, collaborative classrooms and theatres, and a student services counter. The nine storeys above will accommodate faculty and research spaces. A second phase of the UTS Central project proposes an extension to the neighbouring UTS Tower Building (Building 1). The main entrance to UTS will be redefined public and informal learning spaces will be enhanced.
ALUMNI GREEN The green heart of UTS – the Alumni Green – sits at the centre of the UTS campus. It's a great place to get together – play table tennis, relax on the grass or catch up with friends for lunch.
Artist's impression: FJMT STUDY SPACES Whether you need a place for group work, solo study or to catch up with friends, our purposebuilt student spaces have been designed with you in mind.You can find indoor and outdoor study spaces across the UTS campus – many are equipped with power and WIFI access. MOORE PARK CAMPUS UTS students work alongside sectorleading sport and exercise scientists and physiotherapists, as well as elite athletes, at Sydney's premier sporting precinct – Moore Park. The Rugby Australia Building, which UTS shares with the Australian Rugby Union (ARU), is fast becoming a world-class sport, education and research hub.
This centre of excellence is the first of its kind in Australia to combine university programs with major sporting venues, and is the result of an exciting partnership between UTS, the ARU and the Sydney Cricket & Sports Ground Trust (SCG Trust). This integration of science and sport is designed to be mutually beneficial, giving UTS hands-on access to elite athletes – and providing the ARU with access to valuable performance, injury-management and rehabilitation data. International Undergraduate Course Guide 2019 13
Connect. Live. Learn Study is important, but life at UTS is about work and play.
When you're not in class, make the most of our vibrant social calendar – join a club, attend some free events, explore the city and make new friends. Need support? We've got that too – take advantage of services such as health and counselling, careers advice, English-language tutoring and study skills workshops. ORIENTATION orientation.uts.edu.au Welcome to UTS! Our Orientation program is about preparing you for university life. Attend seminars, workshops and social events where you can find out more about your classes, learn about our support services, meet people and gain insider tips on living in Sydney.
It's really important to attend Orientation – once classes start, we want you to be ready to jump right in. PEER NETWORK uts.edu.au/current-students/ opportunities/peer-network-program Looking for a friendly face? Our volunteer Peer Networkers are here to help you when you first arrive on campus – just look for the people wearing orange t-shirts! Peer Networkers are current UTS students who'll help you settle into UTS, and into life in Sydney. They'll answer your questions and help you find your way around campus, and they'll also connect you with other UTS students through the weekly Network Café.
Support Services MONICA GEORGE, INDIA Master of Engineering Management and MBA "Orientation at UTS is super eventful, great fun and is really well organised by a team of welcoming volunteers. You get an overview of the plethora of opportunities available to anyone interested and also get to meet and make friends with so many new people in a short period of time." SUSHMITA MONDAL, BANGLADESH Master of IT (Extension) "I became a Peer Networker because I really love to help people. My role is to help arrange events for new students, such as the international welcome event, and to answer any questions." YOUSEF ABDULLAH A ALYOUSEF, SAUDI ARABIA Master of Accounting and Finance (Graduate) "The services that UTS provides for students are really top-notch.
Everyone wants to help you and as a student you are the top priority of the University." UTS INTERNATIONAL international.uts.edu.au Got a question, but don't know who to ask? Come and see us at UTS International. Our team provides friendly advice, assistance and guidance for all international students.You'll find us on level 3a of the UTS Tower Building. 14
HIGHER EDUCATION LANGUAGE AND PRESENTATION SUPPORT (HELPS) helps.uts.edu.au When you're studying, sometimes you just need a bit of extra help – and that's what UTS HELPS is for. This study skills program provides free English language and academic literacy support – think writing, presentation, study and reading skills workshops, as well as drop-in consultations for assignment writing and preparation. Need to improve your spoken language skills? Practise speaking English with student volunteers through the daily Conversations@UTS sessions and the HELPSMates Buddy program.
PEER LEARNING – U:PASS uts.edu.au/current-students/support/ upass Taking a tricky subject? Need a bit of help? U:PASS is a study program where senior students provide learning support for earlyyear students like you.
U:PASS tutors have studied the subject before, so they know what they're talking about. They'll work with you in small group sessions to help you review lecture notes, share study tips, participate in problemsolving activities or prepare for exams. MULTI-FAITH CHAPLAINCY uts.edu.au/current-students/support At UTS, we welcome and respect beliefs of all kinds. Our UTS Multi-faith Chaplaincy represents Buddhist, Christian,Jewish and Islamic staff and students. Whatever your faith, our chaplains are available to assist you with a variety of challenges or concerns, including homesickness, loneliness and spirituality.
DANIEL YANEZ, MEXICO Masters of Tourism "As an International student, the HELPS service is a key element to improving my English written skills and subject grades. I have been given some advice to improve my essays and I realise that my writing skills have improved. Another service that I used from HELPS was the International conversation club. It not only helped me to improve my conversation skills, but I also made many friends. I found in this club a friendly place where I could practise my English and socialise with people from all around the world." MICHELLE XIAO, CHINA Bachelor of Business (Graduate) "I attended U:Pass because some of my accounting subjects were difficult and I felt I didn't have enough time in tutorials.
I actually received good marks after attending some of the free tutorials - It's really great that UTS provides these support services to students.
U:Pass is more like an interactive group study. The U:Pass leader is a UTS student with a Distinction average, who will teach a group of students and help them practise tutorial work and answer questions." DARRELL BAGANG, PHILIPPINES Juris Doctor "I joined UTS Catholics Club and I have frequently been involved in different small group sessions and events in the Multi-faith Chaplaincy. It is a really good source of pastoral care for people of all faiths. Prayer rooms are available and I receive updates every week through email on the activities that are available." International Undergraduate Course Guide 2019 15
HEALTH AND WELLBEING uts.edu.au/current-students/support UTS offers students and staff a range of health and wellbeing services to ensure you stay healthy and safe – on and off campus. Medical service The UTS Health Service provides friendly and confidential medical services to students, staff, alumni and their families. Traditional Chinese Medicine clinic The Traditional Chinese Medicine clinic within the Faculty of Science offers acupuncture, herbal medicine and remedial massage to UTS students and staff, and the community. Mental health services Your health is important – and that includes your mental health.
Our confidential and free counselling service can help you with a range of personal, relationship, psychological, study and administrative difficulties, while our group counselling sessions and workshops can support you through the pressures of study, work and life. Face to-face counselling sessions are also available in Mandarin and Cantonese.
UTS Psychology Clinic psychology-clinic.uts.edu.au The UTS Psychology Clinic is a not-for-profit teaching and research clinic, and training facility for postgraduate Clinical Psychology students in the Graduate School of Health – and it's open to UTS students and staff, and the public. Support Services VAN SON TRAN, VIETNAM PhD student in environmental engineering "The UTS Health Centre has looked after my entire family when we have problems with our health. During my studies at UTS my wife was pregnant and we visited the UTS Health Centre for several check-ups." COMMUNITY CONNECTIONS communityconnections.uts.edu.au The best way to learn about another culture? Get to know the people in it! The Community Connections program connects international and Australian students both at UTS and in the wider Sydney community.
Take part in community and cultural events, welcome dinners, day trips and volunteering activities. ARPIT CHAWLA, INDIA Master of Engineering (Extension) "I attended The Welcome Dinner Project through The Community Connections program. The lunch was one of the most refreshing experiences I've had in Sydney, especially because I had never been to an Australian home before. It was amazing to not only meet locals but also people from different parts of the world and share stories about their life and culture. Everybody had smiles on their faces; it was just a really happy occasion." 16
SPORT AND RECREATION activateuts.com.au/sport Love sports?Join one of our 30 sports and recreation clubs, or take yourself to ActivateFit, the on-campus gym.You can also combine your love of fitness and travel with the ActivateUTS Recreation program – explore Sydney and its surrounds through sport events, day trips and weekend getaways. SAFE, FAIR AND SUPPORTIVE uts.edu.au/current-students/studentswith-accessibility-requirements/ accessibility-service UTS – it's for everyone. We value diversity and we're committed to supporting all students to join in the full range of university activities.
If you've got a disability or ongoing health condition that could affect your study, the UTS Accessibility Service is here to provide advice. ARJUN GUPTA, INDIA Master of Business Administration (Graduate) "I started a society called Net Impact UTS. The society encourages students from around the world to collaborate on ethical and sustainable decision-making, so once these students graduate they are in a senior management position where their decision can influence the world." VITOR CESAR TARANTO, BRAZIL PhD candidate, Centre for Forensic Science "I fight for UTS through the Kendo Club. We are currently training for Uni Games this year.
I loved Uni Games; it was one of the best experiences of being here for sure." TIZIANA ZINGALI, ITALY PhD Thesis, ithree Institute "UTS is a fantastic mix of different people, languages, and customs. It is also very sensitive to social themes such as sexual harassment, the presence of women in research, racism and social equity. Everyone is free to express their opinion and contribute a little to research progress." SOCIAL CLUBS AND EVENTS activateuts.com.au There's more to life than study. With 130 social clubs and a jam-packed events calendar that includes free weekly breakfasts during session, barbecues, live music and festivals, there are lots of ways to get involved in life beyond the classroom.
International Undergraduate Course Guide 2019 17
Support Services A day in the life 7.30AM Wake up fresh by starting the day with a work-out at our fully-equipped fitness centre. 9.15AM Hungry from your workout? On Wednesdays grab a free breakfast on your way to class from the Bluebird Brekkie Bar. 10.15AM Attend class in one of our state-of-the-art lecture theatres. 12.00PM Work on your class notes to prepare for your afternoon group meeting. 12.45PM Got a question? Drop in to one of our Student Centres for some assistance. 1.15PM Refuel at a variety of eateries on campus or takeaway outlets in The Underground.
University isn't just about attending classes. At UTS, there are plenty of places to study, catch-up with friends and relax. 18
2.00PM Play a game of table tennis or relax on the grass of Alumni Green to recharge for the afternoon. 2.45PM Meet up at the Courtyard in Haymarket to finish a group assignment. Plug in to the outdoor power ports and connect to WIFI. 6.30PM Grab a quick snack and head to a HELPS workshop to improve your academic skills. 4.15PM Compete with your team in one of the UTS Social Sports competitions. 8.45PM Kick back with the latest films or a game of pool at The Underground. 11.30PM Need to pull an all-nighter to finish your assignment? UTS has 24-hour access to computer labs and UTS Security can escort you to UTS buildings, residences and Central Station.
A Security Shuttle Bus is available to Housing residents seven nights a week from 6.30pm to 1.30am. International Undergraduate Course Guide 2019 19
BUiLD (Beyond UTS International Leadership and Development) Were you born to lead? BUiLD is a dynamic leadership program that will take you beyond your degree. Develop your leadership skills – through local and global opportunities – exploring issues of social enterprise, entrepreneurship, sustainability and social justice, and gain a global perspective on what being a good leader is all about. From workshops, seminars, company visits and networking sessions to keynote presentations from leading influencers, this unique program will prepare you for the world beyond the classroom.
Previous keynote speakers include: – – Dr Ela Gandhi, Granddaughter of Mahatma Gandhi – – Senator Sekai M Holland MP, Zimbabwe, Human Rights Activist and UTS Alumna – – Jackie Ruddock, CEO of ethical fashion brand, The Social Outfit – – Tony Broderick, Head of TV Partnerships, Twitter BUiLD participants have enjoyed exclusive site visits to: – – Animal Logic – Award-winning animation andVFX studio (The LEGO Movie, Happy Feet, Iron Man 3).
Muru-D – Telstra's accelerator program for start-ups.
ATP Innovations – Technology business incubator at Australian Technology Park. – – Commonwealth Bank Innovation Lab – A hub to explore the bank's innovation processes and latest products. BUILD ABROAD It's a big world out there – and BUiLD Abroad is your launching pad! BUiLD Abroad programs range from summer schools and experiential learning programs to conferences and community development projects all over the world.You can even apply for a BUiLD Abroad scholarship to support your travel. Previous BUiLD Abroad programs include: – – University of Stuttgart Winter School – A six-week total immersion in German language and culture right in the heart of Europe.
Shanghai University – A first-hand economic, cultural and historical experience that combines Chineselanguage classes business lectures, industry field trips and cultural activities. – – Engineers without Borders: Humanitarian Design Summit in India and Cambodia – An opportunity to explore the role that engineering and technology play in driving change in developing communities. – – International Internship and Cultural Immersion in Indonesia – An immersive experience of Indonesian culture that combines work and study in a thriving Asian metropolis.
Shape the world, your way build.uts.edu.au MAIA STERNBERG, SWEDEN Bachelor of Business BUiLD Program: Drishtee Samaahit Immersion Program, India 2016 In 2016, Maia spent two and a half weeks in Saurath, a small rural village in the state of Bihar, India as part of the Drishtee Samaahit Immersion Program organised by the UTS BUiLD program.
Innovation is one of our time's biggest buzzwords. Almost every business claims to be 'innovative', but in real life many are doing exactly the same thing as others in their field. I have learned that innovation is those ideas that seem weird, impossible or different at the start, but turn out to be a great solution in the end.
[During the Drishtee Samaahit Immersion Program], we spent about five days in innovation workshops aiming to generate sustainable business concepts based on the actual needs we saw in the village. These concepts were prototyped and later piloted to key target groups in the village. We put our entrepreneurial skills into action during the program. It takes a lot of resilience, focus and self-reliance to execute your idea, especially if it seems a little odd at first glance. I learned that self-reflection and co-creation is the key: a co-created solution is much easier to implement into the greater community as people already support the idea.
You must take on the end-user's advice and dare to face yourself by re-thinking your own concepts and assumptions.
I can definitely differentiate my way of thinking before and after the program. I've shaken off many of the little 'mental prisons' that were previously limiting me without my knowing. For example, I was wary of taking risks before but now I do take risks and speak my words freely since I know I can only learn by trial and error." 20
Careers Your career is in your hands; preparation for graduate success can start from your first months at university as you begin building your professional network. UTS offers resources and tools to guide you on the path to your professional career.
How the UTS Careers service can help you: Getting to know us in your first year – – Attend Orientation for new students Orientation is a great place to start your time at UTS.You will be warmly welcomed and shown around campus by current students.You will have the opportunity to meet current staff and students in your faculty and ask questions about what it is like to study at UTS.You will also be introduced to the UTS Careers Service and how it can help you advance your career from the beginning of your time at UTS. – – Look for work opportunities with UTS Careers Taking on part-time work to complement your studies is a great way to meet people and discover more about the Australian workplace culture.
Discover exclusive job opportunities via UTS CareerHub. We also have a range of workshops, drop-in sessions and resources available to help you in your job search.
Build your networks Build your personal and professional networks by getting involved on campus. Meet other students by joining UTS Network Café.You can also learn professional communications and work in a team by becoming a Peer Networker. Develop new skills and experience the Australian workplace by becoming a volunteer. Gain specialist employability skills: Mid-way through your degree – – Get personal advice about your future career You have access to our personalised and free 15 minute consultations with one of UTS Careers' friendly and helpful advisors. Discuss your future career options, or ask any work related questions you need to know including advice on applications, excelling in job interviews or networking tips and tricks.
Put your skills on paper Looking for a job?Your resume is your chance to make a great first impression. Make sure your resume is up to scratch with a Resume Review session. Our professional advisors will assist you in making your resume perfect for that job you want.
Gain skills to excel in the interview UTS Careers has a range of resources to help you excel in the interview.Join us for workshops to help you build your soft skills or mock interviews to help you overcome nervousness. XUE BAI, CHINA Bachelor of Nursing "The Careers Service at UTS has been helpful in assisting me with my individual job application process. They also hold workshops for students to apply for graduate programs. These particular workshops have provided us with tips on how to prepare for the interview stage." Enter the workplace with confidence: Advanced knowledge and ongoing support from the Careers service in your final years – – Gain workplace confidence with Accomplish Award The Accomplish Award program aims to increase your employability skills and prepare you for the Australian workplace.
During a series of workshops, you will develop your communication and networking skills.You will also learn about job search strategies.
Meet employers who are interested in hiring you UTS Careers offers a number of careers fairs for students to meet their future employers and scope out life after their degree. Our annual Careers Fair is open to all students, and there are faculty focused career fairs, and a career fair exclusively for international students. – – Keep in touch! Your journey at UTS and relationship with UTS Careers continues long after you've closed your textbooks. UTS has dedicated Alumni Careers Services to help recent graduates starting out on their career path to navigate the recruitment process. Keep in touch through the UTS Alumni website, join the UTS Alumni Linkedin group or follow @ UTSalumni on Instagram.
Your pathway to graduate success careers.uts.edu.au International Undergraduate Course Guide 2019 21
RAVIRO CHINEKA, GHANA PhD, Education "Without the Australia Awards Scholarship I wouldn't be here, as I couldn't afford the fees. The scholarship pays for my living allowance and covers health insurance for both myself and my family." CHAMATH EDIRSINGHEGE, SRI LANKA Bachelor of Engineering "With the full tuition scholarship I received a big opportunity to study in another country. Without it I wouldn't have been able to study in Australia. I'm someone who likes to explore the world and I don't want to remain in one place – I want to go everywhere.
So receiving the scholarship is one of the best things for me." Scholarships Are you a high-achieving student? When it comes to financial support, we're making a big investment: we've dedicated A$30 million to provide grants and scholarships support for international students over a five-year period.
From academic excellence awards and full-tuition scholarships, to government-sponsored grants and faculty scholarships, we support students – like you! uts.edu.au/scholarships UTS International scholarships – – Full Tuition Scholarships: full degree scholarships offered to international undergraduate students for up to four years of study at UTS. – – Academic Excellence Awards: awarded to commencing international undergraduate students, and valued at A$10,000, the awards will be credited as two separate A$5,000 instalments for a total of two sessions.
UTS Insearch Graduate Scholarship: grants awarded to high-achieving UTS Insearch graduates commencing at UTS.
UNDERGRADUATE SCHOLARSHIPS AND GRANTS Our scholarships are for the best of the best – they're competitive, and awarded solely on the basis of academic achievement. All the scholarships listed here are open to international students. To be eligible, you must meet the relevant selection criteria, and have been admitted to – or be eligible for admission – to a course at UTS. For more information, visit uts.edu.au/scholarships 22
Faculty Scholarships Several faculties offer scholarships for international students: ENGINEERING – – Engineering International Undergraduate Excellence Scholarship INFORMATION TECHNOLOGY – – Information Technology International Undergraduate Excellence Scholarship SCIENCE – – UTS Science International Undergraduate Scholarship for Excellence – – UTS Science International Scholarship for AustralianYear 12 Students – – UTS Science International Diploma to Degree Scholarship for Excellence (UTS Insearch) – – UTS Science International Diploma to Degree Scholarship for Excellence (Polytechnics in Singapore) Australian Government Scholarships AUSTRALIA AWARDS SCHOLARSHIPS These prestigious international scholarships and fellowships offer the next generation of global leaders an opportunity to undertake study, research and professional development in Australia.
Funded by the Australian Government's Department of Foreign Affairs and Trade (DFAT), the Australia Awards support international students to gain qualifications that will help them contribute to development success back home.
Please visit: dfat.gov.au/people-to-people/ australia-awards/Pages/australia-awards. aspx ALUMNI? IT'S AN ADVANTAGE! Thinking of further study? If you're a previous UTS graduate, you could be eligible for a 10 per cent saving on your tuition fees through the Alumni Advantage Program. The discount applies to full-fee-paying courses, and will be applied automatically when you enrol. alumni.uts.edu.au/advantage Financial Aid and Loans Are you from Canada, Denmark, Germany, Norway, Sweden or the USA?You might be eligible for financial aid to support your studies at UTS. Check with your home government for eligibility requirements.
International Undergraduate Course Guide 2019 23
Feel at home housing.uts.edu.au UTS-OWNED ACCOMMODATION International students at UTS can choose from four residences, all of which are close to campus: – – Geegal is a purpose-built group of townhouses accommodating 57 students – – Bulga Ngurra is a modern apartment building accommodating 119 students – – Gumal Ngurang is a modern apartment building accommodating 252 students in studio, and shared apartments – – Yura Mudang has 720 beds comprising studios and shared apartments conveniently located above UTS Building 6 – – Wattle Lane has 58 beds which are all studios located only minutes away from the main UTS building.
This residence is dedicated to indigenous students and is therefore not available to international students.
All UTS residences have spacious communal and barbecue areas, study rooms, games and computer rooms (except Wattle Lane). Gumal Ngurang andYura Mudang also have a rooftop garden, andYura has a music room. All are self-catered, secure and competitively priced. All bedrooms are for one person (except twin shares), with shared kitchens, bathrooms and living areas. Apartments are fully furnished and rent includes gas, electricity, water, cabled internet in bedrooms and limited wireless internet access in communal areas.
LIVING COSTS The table on the next page details approximate establishment and ongoing costs you may incur while studying at UTS and living in Sydney.
This table should be used only as a guide, as individual spending may vary. It is a requirement of the Australian government that prospective international students can demonstrate that they have access to at least A$20,290 a year to fund their living costs in Australia, and additional funds if bringing partners or family. ESTABLISHMENT COSTS You should expect to pay approximately A$5200 start-up or establishment costs for independent accommodation. Allow an additional A$1000 to A$1500 for a computer and printer, if required. These costs include items such as a rental bond (up to four weeks' rent), rent in advance, linen, furniture, telephone and internet connection, kitchenware, personal items and electricity connection, and must be budgeted for.
For UTS Housing, you will need to budget for the application fee (A$40), the acceptance fee (A$120), the bond (equivalent of 4 weeks' rent), two weeks rent in advance and any personal items you wish to purchase. RESIDENTIAL LIFE PROGRAM UTS Housing accommodates 1206 students from across Australia and around the world. The Residential Life program provides students with a dedicated support network that assists with the transition of living away from home, enhances learning and organises social activities.
You will need to provide your own bed linen and cooking equipment. Licence fees are different for each residence and room type. There are two non-refundable fees: A$40 application fee and A$120 acceptance fee (subject to change). Due to the high volume of applications, UTS Housing has also sourced reserved beds for students with off-campus providers (Urbanest, UniLodge and Iglu). For more information visit: housing.uts.edu.au RENTING PRIVATE ACCOMMODATION If you are organising private accommodation, we recommend you arrange short-term accommodation in Sydney so you can view properties on your arrival and choose something that really suits your needs for the long-term.
Visit UTS Housing's off-campus accommodation website, to find share rooms in private houses and apartments around UTS: uts.studystays.com.au Share accommodation means you usually have your own room and share a kitchen, living area and bathroom with other students or people who work. Alternatively, you may choose a studio or one-bedroom apartment to live in on your own, but this is more expensive. All accommodation rentals should come with a residential or tenancy agreement. If you need any help or advice, please contact the UTS Housing Off-Campus Officer at housing.welfare@uts.edu.au or the UTS Student Legal Service at studentlegalservice@uts.edu.au who are here to help you.
ACCOMMODATION TIP Don't pay any money before viewing and being satisfied with a non-UTS property. Until you arrive and get a feel for the area you want to live in, you won't know whether it is right for you.