Madeira Cake Mix - CSM Bakery Solutions
Page content transcription ( If your browser does not render page correctly, please read the page content below )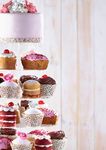 1
    Easy to use, Craigmillar's classic Madeira cake is firm
    yet moist in texture and offers a superb, clean eating
    experience. The new improved mix produces cakes with an
    even larger volume than before. It can be used to produce
    a variety of shapes and sizes from Madeira and Genoese
    sheets to celebration cakes, loaf cakes and cupcakes.
    The basic batter can be coloured and flavoured, it holds
    inclusions brilliantly and baked cakes can be sliced easily
    without crumbling. Just add water.




    Try a tasty
    Freak Shake!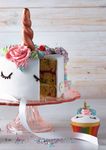 Madeira Cake Mix

• Plain mix to produce a variety
  of cakes in different shapes and
  sizes
• Easy to use – just add water
• Firm, yet light textured
• Excellent volume
• Basic batter can be coloured and
  flavoured
• Holds inclusions
• Does not crumble when sliced
• Size: 12.5kg




                  TIP:
                   Create
            Freakshakes with left
         over pieces of cake. Load
         a container with layers of
        cake and layer with a range
         of Craigmillar fillings and
          toppings such as Vanilla
         Light N Fluffy, Strawberry
         or Raspberry Merjel, RTU
             Toffee Sauce, fruit
                and sweets!!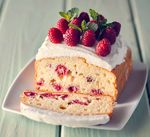 3
    Perfect
                 Craigmillar's superior range of icings,
                 toppings and fillings are made using the
                 finest quality ingredients and have been


    Toppings     created by our team of experts using the
                 latest in baking technology.



    & Fillings


                 Raspberry Merjel
                       & Crembel
                     Fudge Icing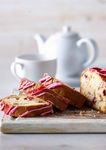 Craigmillar's convenient products offer the best solutions for creating the most
                 appealing products that offer something extra special.



             Crembel Fudge Icings                                           Vanilla Light N Fluffy
•    Ready to use fudge icing for topping, filling and         •   Ready to use aerated filling cream (buttercream
     coating                                                       alternative) with light texture
•    Use on a wide range of confectionery items                •   Vanilla flavoured
•    Can be beaten, piped, topped or filled on to cakes,       •   Spread or pipe straight from the pail
     cupcakes and gateaux                                      •   Pack size: 8kg pail
•    Freeze / thaw stable                                      •   Product code: 10144413
•    Melt to 45°C for dipping and piping
•    Long shelf life on finished product
•    Non sticky finish, giving a slight skin but with a soft                 Double Fudge Icing
     eat
•    Crembel can be beaten and used instead of a               •   Ready to use dark chocolate icing for filling and
     frosting                                                      coating a wide range of confectionery
•    Pack size: 12.5kg pail                                    •   Rich dark chocolate with a softer eat effect for
•    Product codes: Caramel 10143343, Chocolate                    using on brownie, fudge and chocolate cakes
     10143325, Vanilla 10143336, Lemon 10143328                •   Spread or pipe straight from the pail, or heat to
                                                                   40°C for dipping
                                                               •   Pack size: 12.5kg pail
     Merjel Strawberry and Raspberry                           •   Product code: 10142151

•    Cold process jelly with either strawberry colour and
     flavour or raspberry                                                            Mellomallo
•    Superb flavour
•    High clarity to enhance the appearance of fruit           •   Albumen based marshmallow made from highest
•    Use straight from the pail                                    grade albumen

•    Used for strawberry tarts and other cake toppings         •   Suitable for buttercream type fillings

•    Pack size: 12.5kg pail                                    •   Takes colours and flavours well – add at final stages
                                                                   of whipping
•    Product codes: Strawberry 10143335, Raspberry
     10143152                                                  •   Use for long life mallow fillings for Swiss rolls, cakes,
                                                                   gateaux and marshmallow fancies
                                                               •   Use for toppings that need to be oven-flashed such
                                                                   as lemon meringue pies
                Castle Shortening                              •   Can be used to make a cost effective royal icing
                                                                   with addition of CASTLE shortening
•    Good quality white shortening
•    Good shortening properties in cake and pastry
     making
•    Can be used in bread making as a crumb softener
•    Mass Balanced Palm Oil
•    Non Hydrogenated
•    Halal Certified
•    Emulsifier free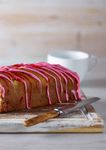 5
    Blueberry Loaf        Ingredients
                          MADIERA CAKE MIX         1000g

    Cake Recipe           Water
                          Blueberries
                                                   400g
                                                   140g




                                             Instructions
                           1   Place mix into a machine bowl fitted with a beater
                           2 Add approximately two thirds of the water over 1
                             minute on first speed
                           3 Mix for 4 minutes on second speed
                           4 Add remaining water over 1 minute on first speed
                           5 Scrape down
                           6 Mix for 2 minutes on first speed
                           7 Add blueberries and blend well
                           8 Scale at 310g into prepared Pullman tins
                           9 Sprinkle with blueberries for decoration
                           10 Bake at 180°C for approximately 40 minutes (+/- 5
                              minutes)




                          Ingredients
    Chocolate Madeira     MADIERA CAKE MIX         950g

    with Black Cherries
                          Cocoa Powder             50g
                          Water                    400g
                          Dark Cherries            140g

    Recipe


                                             Instructions
                           1   Place mix into a machine bowl fitted with a beater
                           2 Add cocoa powder to mix and blend well
                           3 Add approximately two thirds of the water over 1
                             minute on first speed
                           4 Mix for 4 minutes on second speed
                           5 Add remaining water over 1 minute on first speed
                           6 Scrape down
                           7 Mix for 2 minutes on first speed
                           8 Add dark cherries and blend well
                           9 Scale at 310g into prepared Pullman tins
                               0Place dark cherries on top for decoration
                           11 Bake at 180°C for approximately 40 minutes (+/- 5
                              minutes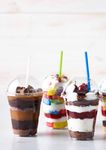 6
                      Ingredients
    Lemon & Poppy     MADIERA CAKE MIX         1000g

    Seed Bundt Cake
                      Water                    400g
                      Lemon Zest               20g
                      Lemon Juice              10g

    Recipe
                      Poppy Seeds              30g

                      Topping
                      CREMBEL FUDGE ICING - LEMON




                                         Instructions
                       1   Place mix into a machine bowl fitted with a beater
                       2 Add approximately two thirds of the water over 1
                         minute on first speed
                       3 Mix for 4 minutes on second speed
                       4 Add remaining water over 1 minute on first speed
                       5 Scrape down
                       6 Mix for 2 minutes on first speed
                       7 Add poppy seeds and blend well
                       8 Scale at 310g into prepared Pullman tins
                       9 Bake at 180°C for approximately 40 minutes (+/- 5
                         minutes)
                       10 Once cool, decorate with a drizzle of LEMON
                          CREMBEL




    Pistachio &       Ingredients
                      PLAIN CRÈME CAKE MIX 1000g

    Raspberry         Egg
                      Saladin Oil
                      Water
                                           360g
                                           360g
                                           220g

    Muffin Recipe     Crushed Pistachios

                      Topping
                                           200g


                      CREMBEL FUDGE ICING - VANILLA
                      RASPBERRY MERJEL




                                         Instructions
                       1   Place mix into a machine bowl fitted with a beater
                       2 Add approximately two thirds of the water over 1
                         minute on first speed
                       3 Mix for 4 minutes on second speed
                       4 Add remaining water over 1 minute on first speed
                       5 Scrape down
                       6 Mix for 2 minutes on first speed
                       7 Add raspberries and blend well
                       8 Scale at 310g into prepared Pullman tins
                       9 Bake at 180°C for approximately 40 minutes (+/- 5
                         minutes)
                       10 Once cool, decorate with VANILLA CRMEBEL
                          coloured with raspberry colour and flavour and
                           RASPBERRY MERJEL
7

    Wedding Cake
    Recipe
    Ingredients
    MADIERA CAKE MIX       1000g
    Water                  400g
    VANILLA LIGHT N FLUFFY
    Raspberry Jam



                         Instructions
      1   Place mix into a machine bowl fitted with a beater
      2 Add approximately two thirds of the water over 1
        minute on first speed
      3 Mix for 4 minutes on second speed
      4 Add remaining water over 1 minute on first speed.
      5 Scrape down
      6 Mix for 2 minutes on first speed
      7 Scale at 400g into 6in cake tins
      8 Bake for approximately 35 minutes (+/- 5 minutes)
      9 Once cool, sandwich with VANILLA LIGHT N
        FLUFFY and raspberry jam
      10 Mask with VANILLA LIGHT N FLUFFY and
         decorate with EASY-PEASY MALLO PASTE
         (see recipe below)




    Easy-Peasy
    Mallo Paste
    Recipe
    Ingredients
    Icing Sugar (very fine)     2,100g
    MELLOMALLO                  880g
    CASTLE Shortening           170g
    Food Colouring



                         Instructions
      1   Place MELLOMALLO and CASTLE into a mixer
          (with a metal bowl)
      2 Blend
      3 Add icing sugar to mixer
      4 Mix for 3 minutes (+/- 30 seconds)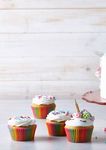 Decorative Flowers
Recipe
Ingredients
Icing Sugar (very fine)    210g
MELLOMALLO                 88g
CASTLE Shortening          17g
Gum Tragacanth*            7g
Food Colouring
*Depending on how firm you want the paste, you will need
approx. 7g (1 teaspoon) for the above recipe



                    Instructions
  1   Place MELLOMALLO and CASTLE into a mixer
      (with a metal bowl)
  2 Blend
  3 Add icing sugar to mixer
  4 Mix for 3 minutes (+/- 30 seconds)
  5 Add appropriate amount of Gum Tragacanth and
    leave completely covered for at least 1 hour to
    develop before using




  Advantages of Easy-Peasy Mallo Paste
  • Quick and easy to produce – weigh & mix
    and ready to use in 5 minutes
  • Very cost effective
  • Consistency can be easily adjusted to your
    own preferences and / or environmental
    changes
  • Not as sweet and sickly as industrial sugar
    paste
  • Unlimited colouring and flavouring
    possibilities
  • Excellent shelf life – 3 months from the day
    of production
  • To store, cover in good quality plastic bags
    to prevent skinning and drying then mark
    with production code and use by date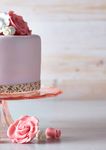 9

    Vintage Wedding
    Cake Tower
    Assorted Mini Cakes & Cupcakes





    Plain Madeira                                                           Instructions

    Batter Recipe                                      1   Place mix into a machine bowl fitted with a beater
                                                       2 Add approximately two thirds of the water over 1
                                                         minute on first speed
                                                       3 Mix for 4 minutes on second speed
    Ingredients                                        4 Add remaining water over 1 minute on first speed
    MADEIRA CAKE MIX 1000g                             5 Scrape down
    Water            400g
                                                       6 Mix for 2 minutes on first speed

                                                       7 Scale into appropriate baking tins or cases
                                                       8 Bake as recipe requires




    Chocolate                                                          Instructions

    Madeira Batter
                                                       1   Place mix and cocoa powder into a into a machine bowl
                                                           fitted with a beater and blend well
                                                       2 Add approximately two thirds of the water over 1 minute

    Recipe                                               on first speed
                                                       3 Mix for 4 minutes on second speed
                                                       4 Add remaining water over 1 minute on first speed
                                                       5 Scrape down
    Ingredients                                        6 Mix for 2 minutes on first speed
    MADEIRA CAKE MIX 1000g                             7 Scale into appropriate baking tins or cases
    Water            400g
    Cocoa Powder     50g                               8 Bake as recipe requires





    Vanilla Cupcakes                                                        Instructions

    Recipe                                             1   Follow steps 1-6 of plain MADEIRA batter recipe
                                                       2 Scale at 60g into cupcake cases
                                                       3 Bake at 180°C for approximately 25 minutes(+/- 5
                    Ingredients                          minutes)
                                                       4 Once cool, take EASY-PEASY MALLO PASTE, roll out
                    As per Plain MADEIRA Batter          and cut into circles. Fix onto top of cupcake with small
                                                         blob of VANILLA LIGHT N FLUFFY
                    Filling:
                                                       5 Place EASY-PEASY MALLO flower on top, fixed with a
                    VANILLA LIGHT N FLUFFY
                                                         small amount of FONDAX
                    FONDAX
                    MELLOMALLO (for Easy-Peasy
                    Mallo Paste see recipe on page 5
10
     Mini Raspberry
     Loaf Cakes Recipe
                        Ingredients
                        As per Plain MADEIRA Batter
                        Raspberries           140g

                        Filling:
                        VANILLA CREMBEL
                        RASPBERRY MERJEL



                     Instructions
     1   Follow steps 1-6 of plain MADEIRA batter recipe
     2 Add raspberries and blend well
     3 Scale at 80g into mini loaf tins
     4 Bake at 180°C for approximately 25 minutes
       (+/- 5 minutes)
     5 Once cooled decorate with VANILLA CREMBEL
       coloured with raspberry colour and flavour,
       RASPBERRY MERJEL and dried raspberry
       sprinkles




     Mini Victoria
     Sponges Recipe
                        Ingredients
                        As per Plain MADEIRA Batter

                        Filling:
                        VANILLA LIGHT N FLUFFY
                        Raspberry Jam



                     Instructions
     1   Follow steps 1-6 of plain MADEIRA batter
         recipe
     2 Scale at 60g into lined 2.5cm cake rings
     3 Bake at 180°C for approximately 25 minutes
       (+/- 5 minutes)
     4 Once cool, cut into 3 layers
     5 Spread VANILLA LIGHT N FLUFFY on one
       layer and raspberry jam on the other
     6 Dredge the top with icing sugar
12
     Mini Red Velvet                                                Instructions

     Cakes Recipe                               1   Follow steps 1-6 for choc MADEIRA batter recipe
                                                2 Scale at 60g into lined 2.5cm cake rings
                                                3 Bake at 180°C for approximately 25 minutes (+/- 5
                                                  minutes)
           Ingredients                          4 Once cool cut into 3 layers
           As per Choc MADEIRA Batter           5 Pipe VANILLA LIGHT N FLUFFY in bulbs between
           (but only use 15g cocoa powder)        each layer
           Red Food Colouring 5g
                                                6 Pipe VANILLA LIGHT N FLUFFY on top of cake and
           Topping:                               sprinkle with red velvet crumb
           VANILLA LIGHT N FLUFFY




     Mini Chocolate                                                 Instructions

     Raspberry Cakes                            1   Follow steps 1-6 of choc MADEIRA batter recipe
                                                2 Scale at 60g into cupcake cases


     Recipe
                                                3 Bake at 180°C for approximately 25 minutes (+/- 5
                                                  minutes)
                                                4 Once cool, cut into 3 layers
                                                5 Beat CHOCOLATE CREMBEL with MARVELLO to make
             Ingredients                          a buttercream filling and spread one layer with this
                                                  filling and the other layer with raspberry jam
             As per Choc MADEIRA Batter
                                                6 Heat DOUBLE FUDGE ICING and drizzle over top of
             Filling & Topping:                   cake, garnish with a fresh raspberry
             CHOCOLATE CREMBEL           300g
             MARVELLO                    100g
             DOUBLE FUDGE ICING
             Raspberry Jam
             Fresh Raspberries (for garnish)




     Mini Cherry                                                     Instructions

     Cakes Recipe
                                                1   Follow steps 1-6 of plain MADEIRA batter recipe
                                                2 Blend in cherries and ensure well distributed
                                                3 Scale at 60g into lined 2.5cm cake rings
                                                4 Bake at 180°C for approximately 25 minutes (+/- 5
               Ingredients                        minutes)
               As per Plain MADEIRA Batter      5 Once cool, pipe a swirl of VANILLA LIGHT N FLUFFY
                                                  on top and a cherry to garnish
               Filling:
               VANILLA LIGHT N FLUFFY
               Chopped Cherries




     Chocolate &                                                    Instructions

     Raspberry                                  1   Follow steps 1-6 of choc MADEIRA batter recipe
                                                2 Scale at 80g into cupcake cases

     Cupcakes Recipe                            3 Bake at 180°C for approximately 25 minutes(+/- 5
                                                  minutes)
                                                4 Once cooled create a buttercream topping by beating
                                                  300g CHOCOLATE CREMBEL with 100g MARVELLO
              Ingredients                       5 Pipe approx. 40g of buttercream style icing onto
                                                  cupcake and sprinkle with raspberry pieces
             As per Choc MADEIRA Batter

              Filling:
              CHOCOLATE CREMBEL       300g
              MARVELLO                100g
              Raspberry Pieces        140g
13
     Unicorn Cake
     Recipe
     Ingredients
     MADEIRA CAKE MIX     1000g
     Water                400g
     Coloured Sprinkles   100g

     Filling:
     VANILLA LIGHT N FLUFFY
     Raspberry Jam
     EASY-PEASY MALLO PASTE
     Food colours
     DOUBLE FUDGE ICING
Instructions
1   Place mix into a machine bowl fitted with a beater
2 Add approximately two thirds of the water over 1
  minute on first speed
3 Mix for 4 minutes on second speed
4 Add remaining water over 1 minute on first speed
5 Scrape down
6 Mix for 2 minutes on first speed
7 Add sprinkles and blend well
8 Scale at 400g into three 6in round cake tins
9 Bake at 180°C for approximately 40minutes (+/- 5
  minutes)
10 Once cool, level, and sandwich with VANILLA LIGHT N
   FLUFFY and raspberry jam
11 Mask with VANILLA LIGHT N FLUFFY and cover with
   EASY-PEASY MALLO PASTE (see recipe on page 5)



                                                                         To Decorate
                                                         1   Cover the cake with approx. 500g of EASY-
                                                             PEASY MALLO PASTE
                                                         2 Twist 2 EASY-PEASY MALLO PASTE together
                                                           to produce a unicorn horn and stabilise with a
                                                           dowel. Paint with rose gold edible paint and
                                                           leave to dry
                                                         3 To create the a unicorn mane of pastel flowers,
                                                           colour VANILLA LIGHT N FLUFFY pastel
                                                           colours such as blue, purple, pink and green
                                                           and pipe small flowers using different shapes
                                                           of piping tubes on and down the sides of the
                                                           cake
                                                         4 Place the unicorn horn toward the front of the
                                                           cake at an angle
                                                         5 Pipe DOUBLE FUDGE ICING to create
                                                           eyelashes
Our Products
                          TRADITIONAL                                        SCONE
          Code          Product                  Size      Code       Product                  Size
          10141882      Complete Sponge          12.5kg    0141565    Buttery Scone Mix        12.5kg
          10141779      Chocolate Sponge         12.5kg    10143370   Scone Mix                12.5kg
          10141758      Chocolate Cake           12.5kg    10142089   Delite 2000 Scone        24kg
                                                                      Concentrate
          10141872      Coconut Macaroon Mix     10kg
                                                           10140541   2 Way Savoury Scone      16kg
          10141788      Choux Paste Mix          10kg
                                                                      Concentrate
          10142320      Farmhouse Cake           12.5kg
                                                           10143922   2 Way Scone              16kg
          10222223      Genoese Cake Mix         12.5kg               Concentrate
          10142523      Ginger Cake              12.5kg
          10143090      Madeira Cake             12.5kg
                                                                      FILLING CREAMS
          10143771      Rich Celebration Cake    12.5kg
                                                           Code        Product                     Size
                                                           10187152   Lactofil Classic            4x5 litre
                           AMERICAN
                                                           10187153   Lactofil Classic            12x1 litre
          Code          Product                  Size      10220431   Lactofil Supreme            10 litres
          10141770      American Muffin Mix -    12.5kg    10220430   Lactofil Ultralife          12x1 litre
                        Chocolate                          10144413   Vanilla Light N Fluffy      8kg pail
          10143608      American Muffin Mix -    12.5kg
                        Plain
                                                               ICINGS, FILLINGS & TOPPINGS
          10141376      Banana Cake              12.5kg
          10141615      Carrot Cake Mix          12.5kg    Code       Product		 Size
          10141735      Crème Cake Mix -         12.5kg    10140933   American Cream 		 10kg
                        Chocolate                                     Cheese Icing
          10143601      Crème Cake Mix - Plain   12.5kg    10141616   Carrot Cake Topping		 10kg
          10141762      Extra Moist Cake Mix -   12.5kg    10141944   Craigmillar Caramel		 12.5kg
                        Chocolate
                                                           10143343   Crembel Fudge Icing - 		 12.5kg
          10143603      Extra Moist Cake Mix -   12.5kg               Caramel
                        Plain
                                                           10143325   Crembel Fudge Icing - 		 12.5kg
          10142288      Extra Moist Cake Mix -   12.5kg               Chocolate
                        Toffee
                                                           10143328   Crembel Fudge Icing - 		 12.5kg
          10141740      Fudge Brownie Mix        12.5kg               Lemon
                                                           10143336   Crembel Fudge Icing - 		 12.5kg
                            DOUGHNUT                                  Vanilla
                                                           10141960   Crembel Fudge Icing 		 12.5kg
          Code          Product                   Size                Original - Caramel
          10142156      Doughnut Concentrate      16kg     10185266   Original Crème Patisserie     10kg
                        (50%)
                                                           10142151   Double Fudge Icing		 12.5kg
          10142843      Kielder Doughnut          25kg
                                                           10176895   Frosting - Chocolate		 5kg
                        Concentrate (50%)
                                                           10176900   Frosting - Vanilla		 5kg
          10188769      Meister Berliner          25kg
                        Complete Mix                       10143095   Magi-Glaze		 12.5kg
          10143898      Satin Doughnut            12.5kg   10143849   RTU Toffee Sauce		 10kg
                        Concentrate (20%)                  10144512   White Wrap Ice		 12.5kg




CSM (United Kingdom) Ltd
Stadium Road | Brombrough | CH62 3NU
Freephone: 0800-783-4697
www.csmbakerysolutions.com

CSM092