YEAR 4 - RECIPE BOOK - SOUP INVENTION
Page content transcription ( If your browser does not render page correctly, please read the page content below )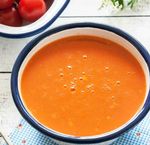 Vegetable Soup

             Ingredients
Makes 4 portions.

•   2 Tbs oil
•   3 spring onions
•   2 carrots
•   2 medium potatoes
•   1/2 tin chopped tomatoes
•   1/2 tsp chilli flakes
•   1 Tbs (15ml) bouillon powder
•   750ml water


                                Equipment

    Chopping Board, Sharp Knife, Scissors, Peeler, Large Saucepan,
    Measuring Spoons, Measuring Jug, Wooden Spoon, Hand Blender

                                   Method
1. Peel the potatoes & carrots.
2. Cut all the vegetables into small pieces (1 cm cubes).
3. Heat the oil in a pan and add the raw vegetables (onions, carrots &
potatoes).
4. Fry for 3 minutes until slightly soft.
5. Add the water, tomatoes, chilli and bouillon powder.
6. Heat the mixture to boiling point, and then reduce the heat to a
simmer. Put the pan lid on and cook for 15 minutes.
7. Check that the potatoes are cooked, if not cook for a little longer.
8. Briefly purée the soup with a hand blender.
9. Serve & enjoy!




                     www.healthyeating4schools.co.uk
                            Mars Graphics Ltd ©2018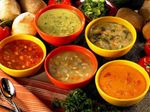 Carrot Soup
                               By Curtis

             Ingredients
•    2 Tbs olive oil
•    3 spring onions
•    2 cloves garlic
•    1/2 tin chopped tomatoes
•    4 carrots
•    1 tsp ground coriander
•    Black pepper to serve
•    1 Tbs bouillon powder
•    750ml water

                               Equipment

    Chopping Board, Sharp Knife, Scissors, Peeler, Large Saucepan,
    Measuring Spoons, Measuring Jug, Wooden Spoon, Hand Blender

                             Method
1. Cut the spring onions into small pieces & peel & chop the
carrots into 1 cm cubes. Crush the garlic.
2. Heat the oil in the pan & fry the onions for 3 minutes, until
they are soft.
3. Add the garlic to the pan & fry for a minute.
4. Add the carrots, tomatoes, water, bouillon powder &
coriander.
5. Heat the mixture to boiling point, and then reduce the heat
to a simmer.
6. Put the pan lid on and cook for 15 minutes, until the carrots
are soft. Add a little more water, if needed.
7. Purée the soup with a hand blender.
8. Serve with grind of black pepper & enjoy!
                    www.healthyeating4schools.co.uk
                           Mars Graphics Ltd ©2018
Borscht
                              by Nina
           Ingredients
•   2 Tbs olive oil
•   3 spring onions
•   1 carrot
•   300g cooked beetroot
•   1/4 cabbage
•   3 tsp bouillon powder
•   750ml water




                             Equipment

Chopping Board, Sharp Knife, Scissors, Peeler, Large Saucepan,
Measuring Spoons, Measuring Jug, Wooden Spoon, Hand Blender

                             Method
1. Cut the spring onions and cabbage into small pieces.
2. Peel the carrot and cut the carrot & the beetroot into 1 cm
cubes.
3. Heat the oil in the pan & fry the onions and carrot for 3
minutes, until they are soft.
4. Add the chopped cabbage, water & bouillon powder.
5. Heat the mixture to boiling point, and then reduce the heat
to a simmer.
6. Put the pan lid on and cook for 15 minutes, until the carrots
are soft.
7. Add the chopped beetroot and heat through for 1 minute.
8. Purée the soup with a hand blender.
9. Serve & enjoy!
                 www.healthyeating4schools.co.uk
                         Mars Graphics Ltd ©2018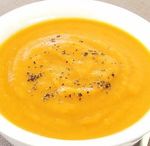 Herb, Peas & Carrot Soup
                               By Rhea

             Ingredients
•    1 Tbs olive oil
•    3 spring onions
•    1 celery stick
•    4 carrots
•    2 Tbs tomato purée
•    2 bay leaves
•    3 Tbs peas
•    1/2 tsp mixed herbs
•    1 Tbs bouillon powder
•    750ml water
                              Equipment

    Chopping Board, Sharp Knife, Scissors, Peeler, Large Saucepan,
    Measuring Spoons, Measuring Jug, Wooden Spoon, Hand Blender

                             Method
1. Cut the spring onions and celery into small pieces & peel the
carrots & chop them into 1 cm cubes.
2. Heat the oil in the pan & fry the vegetables for 3 minutes,
until the onions are soft.
3. Add the water, tomato purée, bouillon powder & bay leaf.
4. Heat the mixture to boiling point, and then reduce the heat
to a simmer.
5. Put the pan lid on and cook for 15 minutes, until the carrots
are soft.
6. Purée the soup with a hand blender, then add the peas &
mixed herbs and allow to warm through for 1 minute.
7. Serve with grind of black pepper & enjoy!

                    www.healthyeating4schools.co.uk
                          Mars Graphics Ltd ©2018
Vegetable Soup

              Ingredients
•    1 Tbs olive oil
•    3 spring onions
•    1 celery stick
•    1 leek
•    1 clove garlic
•    2 potatoes
•    1 courgette
•    2 Tbs frozen peas
•    2 Tbs sweet corn
•    1 Tbs bouillon powder
•    750ml water              Equipment

    Chopping Board, Sharp Knife, Scissors, Peeler, Large Saucepan,
    Measuring Spoons, Measuring Jug, Wooden Spoon, Hand Blender

                             Method
1. Peel the potatoes and cut them into 1 cm cubes.
2. Cut the courgette into 1 cm cubes.
3. Cut the spring onions, celery & leeks into small pieces &
crush the garlic.
4. Heat the oil in the pan & fry the onions celery and leeks
for 3 minutes. Add the garlic for 1 minute.
5. Add the water, bouillon powder, potatoes and courgette.
6. Heat the mixture to boiling point, and then reduce the heat
to a simmer.
7. Put the pan lid on and cook for 15 minutes.
8. Purée the soup with a hand blender, then add the peas &
sweet corn and allow to warm through for 1 minute.
9. Serve with grind of black pepper & enjoy!
                    www.healthyeating4schools.co.uk
                          Mars Graphics Ltd ©2018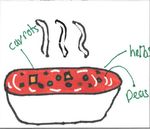 Tomato Soup

             Ingredients
•    2 Tbs oil
•    3 spring onions
•    1 clove garlic
•    6 tomatoes
•    1 Tbs tomato purée
•    1 Tbs bouillon powder
•    750ml water



                               Equipment

    Chopping Board, Sharp Knife, Scissors, Peeler, Large Saucepan,
    Measuring Spoons, Measuring Jug, Wooden Spoon, Hand Blender

                                 Method

1. Cut the spring onions into small pieces & crush the garlic.
2. Cut the tomatoes into quarters.
3. Heat the oil in the pan & fry the onions for 2 minutes, until
they are soft then add the garlic and fry for a minute.
4. Add the water, bouillon powder, tomatoes and tomato purée
5. Heat the mixture to boiling point, and then reduce the heat
to a simmer.
7. Put the pan lid on and cook for 15 minutes.
8. Purée the soup with a hand blender.
9. Serve with grind of black pepper & enjoy!



                    www.healthyeating4schools.co.uk
                           Mars Graphics Ltd ©2018
The Bridge Hold




  Year 4 have been learning to make vegetable soup.
      Everyone invented their own soup recipe
and we picked the most delicious tasting ones to cook.
   This booklet contains the recipes that we used.

    We learned to cut safely with a sharp knife,
               using the bridge hold.
 We also learned to wash up, dry up, wipe the tables,
 sweep the floor and make sure the kitchen is clean
              before tasting our soup.

           All the soups were delicious.
        We hope you will make some at home.