Master Of Business And Science - Science Meets Business NEW STUDENT ONLINE ORIENTATION Fall 2018 - Master of ...
Page content transcription
If your browser does not render page correctly, please read the page content below
mbs.rutgers.edu

           Master Of
           Business And
           Science
           Science Meets Business

NEW STUDENT ONLINE ORIENTATION
            Fall 2018
2

    Congratulations on your admission!
1        Getting started

2        Registering for courses

3        MBS curriculum

4
         Colloquium & Professional Development

5        Graduation

6        Staying Connected

         Advising
7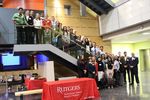 3

RSVP to our in person orientation!

 August 28, 2018              4:00 PM to 8:00 PM

 CoRE Building, Room 101, 1st Floor Auditorium
 Busch Campus, Rutgers University. 96 Frelinghuysen Road, Piscataway, NJ 08854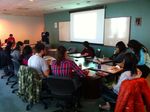 4

                                           Who We Are

          DR. DEBORAH SILVER                        DR. MATTHEW SILLS                   KATHLEEN CASHMAN
                   Executive Director          Life Sciences Curriculum Coordinator      Adjunct Professor, Internship
                                                                                         Facilitator, Executive Coach

VICKI PASIGOS                      ABBE ROSENTHAL                     REGINA RIBAUDO-
                                                                                                             DEBBIE SCLAFANI
 Program Manager                   Corporate Outreach/Career            DOUGHERTY                              Administrative Assistant
                                    Development Specialist           Business/Financial Specialist
6

                      Obtaining a Net ID
What is a NetID?

• All faculty, staff, and students are assigned a Rutgers unique identifier known as
  a NetID,
• NetID is comprised of initials and a unique number (e.g. jqs23).
• In order to access many of the electronic services available to you at Rutgers,
  you need to activate your Rutgers NetID.
• Your assigned NetID will appear on the activation screen.

 How to get your NetID?

 Go to https://netid.rutgers.edu/index.htm

 *Please see the new student orientation packet for more info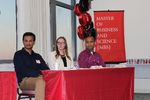 7

                             RU ID Card
• The RUconnection Card is the official photo
  identification card issued to faculty, staff,
  students, and guests on all Rutgers
  University campuses.
• This unified photo ID card serves as the
  primary form of identity verification
  throughout the university.

How do I get my RU ID Card?
There are various locations on campus where you can get your RU ID Card.
Please see : http://ruconnection.rutgers.edu/
8

                       my.rutgers.edu
my.rutgers.edu - The myRutgers portal is a one-stop tool that provides you with access
to important information at Rutgers.

Using the customizable channels in myRutgers, you can
• read your email,
• check your grades,
• drop a class,
• search the Rutgers libraries,
• see a calendar of events at the university,
• and much more….
9

Sakai / Canvas / Ecollege / Blackboard

     Course Management Systems:

           • Sakai      - most science
           • Canvas     - some business/science courses
           • Ecollege   - online courses
           • Blackboard - business school

      Sakai PSM student resources:

           • PSM Student Resources
           • MBS Graduation check list
10

          Parking & Transportation

Department of Transportation Services (DOTS):

•DOTS link - rudots.Rutgers.edu

•Tickets – will hold your grades & graduation

•Different parking options available

•FAQ - http://rudots.rutgers.edu/faq.shtml
11

     Registering for Classes

1   Rutgers Online Schedule of Classes

2   WebReg

3   Special Permission Numbers

4   Registrar

5   Student Accounting
12

How to see what courses are available: http://sis.rutgers.edu/soc/
13

Select whether you'd like to search by Subject, Keyword, etc.
In this example - a        search was used to find MBS courses, 16:137:xxx.
Our program code is 137
14

    *Special Permission Numbers*

What is a special permission number?

• A special permission number is needed to register for many of the MBS
  courses and some of the other graduate courses.
• Each course needs its own special permission number.
15

      *Special Permission Numbers*
For MBS courses (16:137:xxx) :
• Our office can only issue SPNs directly to students for these courses.
• Fill out the SPN form on our website.
• Please allow at least 24 hours for a response.

For all other courses :

• You must contact the professor or graduate director of the course Dept.
• subject # gives the course department.
16

                              Registrar
• The registrar's office is in charge of calendars, transcripts, diplomas, grades, and
  records.
• All student registration inquiries, including class registration, address changes,
  and contact information are handled by the registrar as well as graduation and
  commencement information.
• You can visit them at nbregistrar.rutgers.edu
17

Graduate Fall 2018 Registration Calendar
     LINK - http://nbregistrar.rutgers.edu/grad/index.htm

                                             Soon the website will be updated with Fall 2018 calendar
18

                     Student Accounting
• The Office of Student Accounting, Billing, and Cashiering provides
  - access to your online term bill,
  - processes refunds,
  - administers payment plans,
  - coordinates exit counseling,
  - and assists with issues that arise with your student account.
• Our department is also referred to as
  - the Bursar's Office,
  - the Campus Business Office,
  - or the Cashier's Office.
• You can visit them at studentabc.rutgers.edu
19

      THE MASTER OF
BUSINESS & SCIENCE DEGREE
20

               MBS Requirements

• Science Concentration                – 24 credits (Core + Electives)

• Business Courses                     – 19 credits (Core + Electives)

• Colloquium Requirement              – 12 lectures/workshops/events

• Relevant Work Experience
– Full time students must show work experience and can take up to 6
  credits in internship.
21

                          Business Curriculum
     COURSE ID                                       COURSE                                  CREDITS   SEMESTERS OFFERED

 16:137:530         Principles of Finance & Accounting                                         3       Fall, Spring & Summer

 16:137:502         Communication & Leadership                                                 3       Fall & Spring

                     • Marketing
                     • Special topics: Marketing for Sci Tech Management
 16:137:507/650,     • MiniMBA (fall, spring)-see mbs website for registration process
                                                                                               3
 651,652             • Online Training through CCPD, Center for Continuing Professional
                       Development (fall, spring, summer)-see mbs website for registration
                       process

                    Science & Technology Management Electives ( can include project
                                                                                               6
                    management, management of innovation, et al. )

                    Ethics & Professionalism ( online/hybrid )                                 1       Fall, Spring, Summer

 16:137:600         Capstone - business case, intrapreneurship, entrepreneurship               3       Fall & Spring

*Please note: Capstone can only be taken after the student has taken a minimum of 3 pre-requisites: Communications
& Leadership, Marketing and Principles of Finance & Accounting
22

           Fall 2018 Business courses

Courses are listed on the MBS
website under the Program
Information tab, Courses by
Semester
24

          Professional Workshops
• Resume Writing

• Interviewing Techniques

• Professional Etiquette

• Alumni Mixer events

• Industry Panels

• Branding yourself

• Mock Interviews
25

                        Colloquium Series
• Colloquium – MBS students must attend 12 sessions of events (lectures, seminars,
  mixers, etc.) over the course of their studies

• 9 must be PSM run or co-/sponsored events; 3 can be outside events (outside events
  are events not sponsored or run by the PSM office)

• Student register for a 0 credit colloquium course in the last semester

• Form in packet with explanation

To see upcoming events, go to the MBS website and look at the calendar!
26

              Relevant Work Experience
• If you are already working in your field, you have fulfilled this requirement

• If you are not employed in your field, you can fulfill this requirement in a number of
  ways:
   – Internship (for credit or not)
   – Summer work
   – Part-time work
   – Co-op
27

               Professional Internships

• 16:137:608 (fall) 609 (spring) 610 (summer)
• Goal: to have relevant work experience
• 400 hours for up to 3 credits
• Either Business and/or Science elective(s)
• Employed students can also do internship at their place of work – but in another
  division
28

                Academic Integrity Policy
 As a Student, all work submitted in a graduate course must be your own.
 Students may never:
• Quote or paraphrase another, including material from the internet, without complete
  citation;
• Cite a source that has been identified through a secondary source but has not been
  consulted;
• Collaborate with others on assignments or exams without the explicit permission of
  the instructor;
• Use materials during an exam that have not been sanctioned by the instructor of the
  course;
• Look at or copy the work of another student during an exam;
• Submit the work completed in one class to fulfill an assignment in another without the
  consent of the instructor.
29

               Graduate Academic Policy
The following are examples of conditions which usually indicate lack of satisfactory
academic progress:
•   Earning a grade below B in more than 3 courses counting towards the degree,
•   Grade point average below B (3.0) for one academic year,
•   Excessive course withdrawals (W grades) after the normal course add/drop period,
•   Excessive incomplete (IN) grades,
•   An F in any course.
•   Failure to make up incomplete grades,
•   Exceeding the time limit for completing the degree program: three (3) years for full-
    time students.
30

      10 Point Graduation Checklist
*All forms and further details are on the Sakai site, PSM Student Resources*

1.   Courses Requirements
2.   Work Experience
3.   Colloquium Attendance
4.   ePortfolio
5.   Exit Survey completed
6.   CV upload
7.   LinkedIn Profile connected to Rutgers MBS and Rutgers MBS Alumni
8.   Candidacy Form
9.   Testimonial (optional) uploaded
10. Apply for diploma online
31

                   International Students
PALS (Program in American Language Studies) Exam
AlI International students must take the Language Placement Exam.

What is PALS?
•The PALS program is designed for Master of Business and Science students to gain
writing and reading skills necessary for graduate courses in their program. International
students from the MBS program are offered reading and writing courses with the goal
of developing their writing at the academic and research level. The MBS program
seeks to develop each students 'academic writing ability so they can develop into
competitive candidates for the job market.

 Fall 2018 - PALS EXAM date : 08/24/2018
 If you can not make this date, additional exams dates will be posted soon
32

        Student Organizations

Connect with us on our social networks!

              https://www.facebook.com/RutgersMBS

              https://www.linkedin.com/in/rutgerspsm

              https://twitter.com/Rutgers_PSM
33

                                       Advising
                     http://mbs.rutgers.edu/book-appointment-advisor

                CONCENTRATION                            ADVISOR                   EMAIL -ID

 Analytics/Cybersecurity/Computer &Information
                                                    Dr. Christie Nelson   cgrewe@dimacs.rutgers.edu
 Sciences

 Engineering Management/Computer &
                                                    Dr. Deborah Silver    silver@docs.rutgers.edu
 Information Sciences

 All of the Life Sciences, Health & Wellness, and
                                                    Dr. Matthew Sills     msills@docs.rutgers.edu
 Agriculture & Food concentrations

You may schedule an in person or over the phone advising appointment on the
MBS website
34

              Course Registration Summary

         01                  Visit MBS website to learn about courses.

                             Concentrations - http://mbs.rutgers.edu/concentrations
    MBS WEBSITE
                             Course by semester - http://mbs.rutgers.edu/course-list

         02                  Book an advising session if needed to clarify course selections.

                             Refer Slide 36 of this PPT
  Advising Session

         03                  Follow the course registration procedure to enroll for classes.

                             Refer Slide 11 to 19 of this PPT
        Register

• Core courses and electives can be taken in any order in any semester based on course offerings as the curriculum is
  professionally driven.
• Only practicum courses and capstone require core course completion before registering for them.
If you have any questions, please feel free to
contact us:

   848-445-5117

  psminfo@docs.rutgers.edu

                  Science Meets Business