NARASINHA DUTT COLLEGE - RUSA 2.0 - Prospectus 2020
Page content transcription
If your browser does not render page correctly, please read the page content below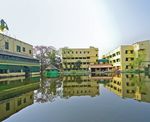 Prospectus 2020

                                           ved
                                     Recei
                                       S  A 2.00
                                     U
                                    R nt 2018-202
                                    Gra

  NARASINHA
DUTT COLLEGE
  Having B++ Grade in Re-accreditation by NAAC
              129 Belilious Road, Howrah 711 101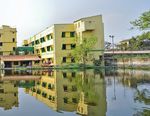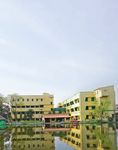 VISION                                               MISSION

T    he college logo bears the motto of
     this seat of higher learning: "Jnanat
Parataram Nahi" (There is no higher
                                             A    part from imparting effective quality
                                                  education at the Undergraduate and
                                             Post-Graduate levels in the district of
attainment than knowledge). Accordingly,     Howrah and its adjoining areas, our mission
apart from delivering the curricular and     is to make the learning process more
co-curricular in effective and learner-      student-centric for holistic development
friendly manner, our vision is to achieve    of an individual, to make the curriculum
excellence in teaching and learning in       more inter and intra-disciplinary in nature,
a peaceful and friendly environment,         more flexible and choice-based and at par
catering to the social and moral needs       with international standards. We also look
and obligations of young learners in their   forward to introduce Open and Distance
pursuit of becoming truly knowledgeable      Learning programmes parallel to the
and responsible human beings.                formal courses, gradual introduction of
                                             Post-Graduate Courses in more subjects,
                                             gradual commencement of need-based
                                             research work in the subjects having
                                             Post-Graduate courses in future years with
                                             the help of our well equipped faculty, and
                                             introducing full-fledged PhD programmes.
                                             Our missions also include introduction of
                                             vocational/job-oriented courses/training
                                             programmes to enhance skill based needs
                                             of the society and to make the students
                                             more employable.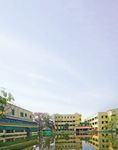 Principal's Message

Dear Students,
Narasinha Dutt College, the premier academic destination of Howrah, really feels proud of
its alumni, its copious torchbearers across the world. This age-old institution, serving the
mission of higher education with its motto of academic excellence, now stands gloriously at
the threshold of its centenary celebration. Eminent teachers, dedicated employees and above
all zealous students have given this institution its unique identity. Ever since its inception
in 1924, this herculean task is being carried forward successfully, the tradition of quality
teaching & learning being nurtured uninterruptedly. Range of variation & choice in academic
opportunity has always been a matter of pride for this college. Students are offered admission
in Commerce, Humanities and Science streams for both Honours and General courses. Four
rich literature subjects such as Bengali, English, Sanskrit and Urdu are the corner stones of
the building block of humanities along with other major disciplines, for example, Philosophy,
History and Political Science. Pure/Physical science and Bio science courses are offered in
all those subjects which are on students' demand. The domain of social science is also given
its due importance through the inclusion of Economics. Alongside various undergraduate
courses presently running under CBCS, Narasinha Dutt College also offers Post Graduate
Courses in English and Applied Mathematics under the same system. Numerous students
of these Post Graduate Departments are presently engaged in higher studies, research and
other jobs.
This college not only encourages studies. Students enjoy ample scope to prove their talents
in extracurricular activities and social outreach programmes like different sports & games,
NCC, NSS, St. John Ambulance and Nursing Division and so on.
This college is also functioning as the study centre of Maulana Azad National Urdu University,
a well known Central University of India.
George Telegraph, an esteemed institute of long-standing reputation, is providing job oriented
courses in collaboration with Narasinha Dutt College for future opportunity of the students.
Getting admitted in this college is to step in for an amazing panorama of experience involving
lots of academic, social and cultural endeavour. I extend warm welcome to you all to this
world of knowledge where you will be discovered by yourselves.

            ''True knowledge is not attained by thinking. It is what you are;
                               it is what you become.''
                                                                     - Sri Aurobindo
Introduction

In
           1924 Narasinha Dutt College came up in the residential building
           of the late I. R. Belilious in an inconspicuous manner with only
           seven teachers and 124 students. The step was indeed bold
enough as its prospects were challenging. The initiative in this regard was
taken by Late Suranjan Dutta, the second son of Late Narasinha Dutta.
The college started with Late Professor Motilal Chatterjee as Principal and
a renowned scholar, Late Jnanendranath Sen, as Vice-Principal. Later on,
Prof. Sen, as Principal, came to be reckoned as the architect of the college.
With the passage of time, role strength remarkably increased, new honours
courses were introduced and new buildings were added. The number of
courses (Hons & Gen) now stands at eighteen. At present 77 Substantive
full-time teachers and 43 State Aided College Teachers (SACT) teach
about five thousand students (Morning, Day and Evening) of the College.
22 Whole-time staff members and 21 Casual staff members are working
in our college. Post Graduate courses in Mathematics and English have
been introduced. Despite being located in an industrial belt, the college
campus is like an oasis with its old trees, lush green foliage, seasonal
flowers and a pleasant water body. The pond is maintained by Employees'
Co-operative Credit Society of the college. The facilities which attract
students from both rural and urban areas of Howrah and neighbouring
districts are being upgraded every year.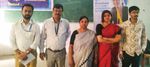 RUSA 2.0
Our college is one of the few colleges in West Bengal to receive the Rashtriya Uchchatar
Shiksha Abhiyan (RUSA) 2.0 Grant for the Financial Year 2018-20. The following are
details of the work under this grant:

Work done:
}   Upgradation of all science laboratories with modern equipments
}   Hundreds of books on various titles have been purchased in the library
}   Air Conditioners have been installed in many classrooms, library and laboratories
}   Renovation of roof of Administrative Building
}   Purchase of a large number of furniture & fixture and educational goods in various
    departments
}   Installation of the centralized/reticulated LPG gas distribution system and automatic
    fire alarm/detection system in the Department of Chemistry
}   Renovation of existing classrooms, library, canteen, laboratories, staffroom
}   Construction of new toilets, vertical extension of Computer Building
}   Repairing and polishing of existing furniture & fixture in various departments
}   Purchase of computers and other accessories

Work to be initiated:
}   Purchase of water coolers & purifiers
}   Staff room renovation
}   Toilet renovation
}   Vertical extension of Chemistry Building
                                                                                       Refrigerator purchased
}   All other work as per Detailed Project Report                                      under RUSA 2.0 for the
                                                                                       Department of Zoology

Roof of Administrative Building renovated under RUSA 2.0       AC installed in the Department of Zoology under
                                                               RUSA 2.0

                                                           5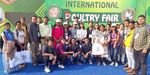 Facilities
Laboratory
The Science departments have large well equipped laboratories with modern instruments
to cater to the needs of the revised undergraduate curriculum.

The Central Library
The College Library of Narasinha Dutt
College has a long history since 1924 when
it was initiated in the old college building
Room No.-1. At the initial stage, the library
had in its stock a small number of books
and other documents received from the
personal collections of many renowned
persons of this area as well as the teachers.
Due to increase in the library stock it was
necessary to shift the entire library to
another big space. That apart, a large number
of books were damaged for water logging
in the college. So, then it was shifted at the
3rd floor of West Building of the college
during the period of 1976-77. The library
committee at that time managed to collect a
large number of books from various sources.
Yet the library faced various problems for
its location – very little number of users
accessed the library in the top floor of the
building, extreme heat gradually damaged
the books and extraneous effect was too
much for the users, damaged ceiling was
also a big problem for that room. Therefore,
the Library Committee further decided to
shift the library to a more suitable location.
During the period of 1998-99 it was finally
shifted at its present location i.e. 1st floor
of the New Building in this college. For
detailed information follow the library
website: http://narasinhaduttcollege.edu.in/library/

                                                       6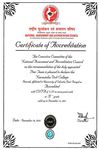 Celebrations (Teachers' Day/
Rabindra Jayanti etc.
The Central Library of this college organizes
exhibitions, cultural programmes, and
competitions on         various occasions.
During the last year, two exhibitions were
organized by the library in the Conference
Room of the library.

a) The first exhibition on "Tagore: Life and
Time" was organized during the period
of August 8-14, 2019 on the occasion of
Baishe Shraban, the death anniversary of
Rabindranath Tagore, in collaboration with
Cultural Sub-Committee. A large number
of students, teachers and other staff of the
college visited the exhibition.                     Principal in the exhibition on "Tagore: Life and Time"

                                                    Exhibition on "Tagore: Life and Time"

Exhibition on "Tagore: Life and Time"               Visitors in the exhibition on "Tagore: Life and Time"

                                                7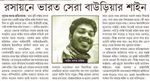 b) Another exhibition on the occasion of
Bicentennial Birthday Ceremony of Ishwar
Chandra Vidyasagar was held during
the period of September 26 - 30, 2019
in collaboration with the Department of
Bengali and Cultural Sub-Committee. A
special lecture was arranged to celebrate
this occasion in Room No. G-1 on 30th
September 2019. Dr. Shakti Sadhan
Mukhopadhyay, Secretary, Bangiya Sahitya
Parisad delivered his valuable speech in
this session.
                                                       Exhibition on Ishwar Chandra Vidyasagar opened by
                                                       Dr. Soma Bandyopadhyay, Principal

                                                       Speech by Dr. Shakti Sadhan Mukhopadhyay in the Special
                                                       Lecture Session on Ishwar Chandra Vidyasagar

Bicentennial Birthday Ceremony of Ishwar Chandra
                                                       Visitors in Exhibition on Ishwar Chandra Vidyasagar
Vidyasagar 2019

                                                   8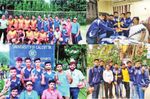 Special features of the department                   Many question papers, college magazines,
                                                     college prospectus and some rare books
}   Assistance in the project work of students       have already been digitized and available in
}   Arranging students-teachers meet on              the library.
    request
}   External membership                              Services & Facilities:
}   Assistance to manage the Seminar
    Libraries                                        }   Home loan of books
}   Assistance in compiling departmental             }   Scanning & printing
    reports and others on request                    }   Air conditioned Internet Resource
}   Users' Orientation Programme                         Centre
Collections:                                         }   Free Wi-Fi facilities in the library
The library holds about 45,000 books                 }   Reading room
(including seminar libraries) containing             }   Well decorated and air conditioned
all subjects taught in the college along with            conference hall
following collections:                               }   Referral services
} Reference collections                              }   Reference services
} Books on value education
} Books for competitive examinations                 Institutional Membership:
} Rare books and documents
} Archives
                                                     } Member of INFLIBNET
} Newspapers                                         } British Council Library
} E-books and e-journals through N-LIST
New subscription of Newspapers
During the period, the library subscribes
four newspapers – Anandabazar Patrika in
Bengali, the Statesman in English, Rozanam
Rasthriya Sahara in Urdu, Sanmarg in Hindi.
Library Automation:
} The Online Public Access Catalogue
  (OPAC) is available in the website
} Manage resource by KOHA Library
  Management Software                                Book Bank
} Barcode enabled Circulation System
                                                     The college provides Book Bank facility for
Digital Library:                                     more than 35 years. At present, the Bank
The library has installed 'D-Space' software         holds more than 17,000 books on different
to initiate a digital library in offline mode.       subjects in Arts, Science and Commerce.

                                                 9
Internet Resource Centre                             have their own computer laboratories. The
                                                     Department of commerce has a computer
The Air Conditioned Internet Resource                based IT Laboratory for students and
Centre has been established by the UGC               teachers.
sanctioned fund. Now it is located inside
the Central Library where the library                The College office is almost fully
members can access the internet facilities           automated with most of the services being
for their academic purposes. Presently,              computerised.
the Centre has been enriched with 6000+
e-journals and 31,35,000 e-books under               AV Room & Virtual Class Room
N-LIST Programme of INFLIBNET.                       An audio-visual room is constructed in the
                                                     Computer Science Block.

                                                     Grievance Redressal Cell
                                                     This cell has been formed with a view to
                                                     dealing with the grievances of the students,
                                                     teachers, employees and guardians.
                                                     Written complaints in all matters are to be
                                                     dropped in boxes specially marked for the
                                                     grievance redressal cell.

                                                     Parents - Teachers Meeting
                                                     Parents - Teachers meetings are held by
                                                     different departments to apprise the parents
                                                     about the performance and progress of their
                                                     wards in studies. All parents are advised to
                                                     keep in touch with the administration and
                                                     the teachers of the concerned departments.
Computer Facilities
A computer centre has been set up with
                                                     College
assistance from MPLAD fund in a separate             Publications
building having a large number of computer           JOCAS, the
terminals with internet connection. Besides          College Journal
this, all the teaching departments have their        of Commerce, Arts
respective desktop and laptop computers              & Science is being
with internet connections and Wi-fi                  published
system. The Department of Mathematics                twice a year.
and the Department of Computer Science

                                                10
Scholarship & Stipend                               Students Common Room
Provision for scholarships and stipends is          Separate common rooms for boys and girls
made for students securing good marks in            with newspapers, magazines and indoor
examinations. Besides this, the 'Kanyashree'        games facilities are provided.
programme of the state government can
also be availed of by the girl students.            Gym
Students Aid Fund                                   A newly built multigym for boys & girls has
                                                    recently been opened.
It offers financial and academic help to
needy students.                                     Cheap Store
Students Welfare Fund                               The cheap store of the college enables the
                                                    students to buy books and stationery at
It looks into the welfare of the students in        reasonable price.
academic and social matters.

Garden                                              Two Wheeler Stand
                                                    There is a spacious Two-Wheeler stand
The college garden has some rare species of         with the capacity of keeping about four
botanical and medicinal plants. The newly           hundred vehicles against a payment of
installed statue of Swami Vivekananda and           Rs. 1.00 daily per vehicle.
a fountain beside the statue have further
added to the serenity and beauty of the
campus garden.

                                                    Parking Zone
                                                    There is a parking zone behind the West
                                                    Block for four wheelers.

                                               11
St. John Ambulance & Nursing Division
St. John Ambulance and Nursing Division has done its activities very enthusiastically.
21 cadets have been awarded first aid and nursing certificates by St. John Ambulance, Delhi
after passing the exam taken by the Doctors. Our cadets had been engaged in different
duties such as anti drug day, Nababarsha celebration and different sports event. Our
Nursing Team was the winner of All Bengal First Aid Championship held at Barasat on
15.12.2019. Our one day training camp was held at Bauria ITI College, Bauria. Our cadets
participated in the Republic Day, Independence Day and Netaji Subhas Chandra Basu
Birthday celebrations in our college.

Divisional Supervisory Committee
                     President
    Dr. Soma Bandyopadhyay, Principal.

           Divisional Commander
   Prof. Nimai Das, Ambulance Division

           Divisional Commander
Dr. Madhumita Bhadra, Nursing Division

                                                             Winner Nursing Team in All Bengal First Aid and
                                                             Nursing Competition held on 15.12.2019 at Barasat

Inauguration of One Day Camp at Bauria ITI College in
February, 2020                                               Practical Class of CPR

                                                        12
NCC Activities
}   23rd January, Netaji's Birthday celebration
}   26th January, Republic Day celebration
}   31st May, anti Tobacco Day awareness programme
}   5th, June, World Environment Day celebration
}   21st June, World Yoga Day celebration
}   26th June, Anti-drug awareness programme
}   15th August, Independence Day celebration
}   4th Sunday of November NCC Day celebration
}   Special duty for Durga Puja and Kali Puja with Bengal Police and Kolkata Police with
    the permission of Group head quarters
}   Other social service activities like tree plantation, road safety day, water body
    cleanings, Swachh Bharat Abhiyan programme etc.

                                            13
N.S.S. Unit
NSS or the National Service Scheme wing is an active and important unit of the college.
Initially, the NSS unit formally started w.e.f. 28th January; 2015 and the first committee was
formed on 9th February, 2015 according to the University norms.
The present NSS unit consists of 75 no. of student members and 19 teaching as well as
2 non-teaching staffs.The NSS unit encourages the students to be conscious about their
social responsibilities. It also nurtures the leadership qualities and organizing capabilities
among the students.
The teachers guide the students regularly in the various activities of the unit. Not only
that, they participate actively in all the programs of NSS. The non-teaching members also
extend all sorts of assistances.
With everybody's co-operation and hardwork, in this last academic session, the NSS unit
of our college has performed many important activities which are now stated below:-
} An awareness program on 'Drug
   Addiction and Rehabilitation' by an
   NGO "Bhalobasa"was organised by the
   NSS unit of Calcutta University on 26th
   June, 2019.
    Venue :- College Street Campus of C.U,
    Our college was one of the participants in
    this seminar and 11student volunteers of
                                                      Our student members in the seminar on 'Drug Addiction
    our NSS unit attended this programme.             and Rehabilitation' by an NGO "Bhalobasa" at Calcutta
                                                      University on 26th June , 2019
}   One unique programme which was newly
    introduced in this session was 'Raksha
    Bandhan Celebration' by the NSS unit. It
    was observed on the Independence Day,
    15th August 2019, to convey the message
    of harmony among all communities.
    The volunteers tied rakhi on the hand
    of other students and some of the local
    inhabitants as well.
}   During the session 2019-2020, the NSS
    unit of our college also organised several
                                                      Our student members tying Rakhi to the local children on
    outdoor clinics in the college campus             15th August, 2019

                                                 14
in collaboration with Howrah Municipal Corporation. This programme of NSS was
  running successfully since 7th December, 2017 and this year was no exception. On 21st
  August, 2019 , the 10th OPD and on 30th September, 2019, the11th OPD were held with
  competent doctors and health workers sent from HMC. There were arrangements for
  free health check-up which included blood pressure, blood sugar, body weight and other
  general ailments for all the students , staffs of the college , the private security guards ,
  employees of the canteen and even some local inhabitants. Free medicines were also
  distributed.
} A poster competition on various types of
  'pollutions' took place in the last session.
  Though the results were declared, prizes
  could not be distributed due to shortage
  of time. Henceforth in this session, a
  prize - giving ceremony was organised
  on 24th September 2019 and mementos
  were given to the position - holders.
                                                     The special OPD (No.12 ) on any sort of female related
    Not only that, medals were awarded               problems organised by NSS in collaboration with HMC on
    to several student volunteers who                03/03/2020 to commemorate International Women's Day.
    performed sincerely for the NSS unit.
    This was done in order to encourage the
    students to work more sincerely for the
    NSS in future.
}   'Distribution of old garments' among
    the local needy people and the industrial
    labourers from the surroundings is a
    very popular programme of NSS and it
    was started from 2015-16 session.
    It was carried out very successfully in
    this session also into two phases. One
    such distribution camp was organised
    just before the puja vacation and it was
    continued for two days owing to a very
    good response. The camp was on 26th Principal Madam giving away the prizes to the winners of
    and 27th September, 2019. Another the poster competition organized in the last session
    distribution programme was organized exclusively on 'winter garments' which has been
    newly introduced this year. The camp took place on 24th December, 2019 purposefully,
    so that the needy people may get some winter garments just before the Christmas.

                                                15
}   In this session, the NSS unit organised
    a very important seminar on Legal
    Awareness Programme on "Gender
    Sensitivity And Gender Equity" in
    collaboration with an NGO called
    "Raising Voice Foundation". The seminar
    was held on 22nd January, 2020.
}   Under the Annual Special Camp –
    2020, the 12th OPD was organised on
    3rd March, 2020. The uniqueness of
    this OPD was that, this was exclusively
    meant for girl students and female staffs         Medal giving ceremony to the good and sincere
                                                      performers of the NSS
    and accordingly, a well - reputed lady
    gynaeocologist attended the camp and
    provided treatment and free medicines
    for all sorts of female related problems.
    This special OPD was arranged keeping
    in mind the International Women's Day
    on 8th March, 2020.
}   Under the several programmes of Annual
    Camp, another important activity was
    performed by the student volunteers               Old garments distribution among the local inhabitants
    i.e. cleaning of the campus and the               and the labourers from the nearby factories just before
    surroundings on 4th and 12th March,               Durga Puja on26/09/19 and 27/09/19
    2020 to prevent the spread of Dengue
    and other vector borne diseases. The
    active participation and the hard work
    of the students was really appreciable.
    The Higher Education Department,
    Govt. of West Bengal, also sent a circular
    for taking up this programme by the NSS
    unit of the college.
}   A special 'Awareness' rally (keeping
    optimum distances among individuals)
    was organised by NSS on 11th March,
    2020 for spreading awareness among the            A special winter garments distribution camp on
    people around the neighbourhood about             24/12/2019 just before the Christmas

                                                 16
the dangers, symptoms and preventive
   measures to be taken against Dengue.
   Not only that, keeping in mind the threat
   of 'Covid–19' and 'Novel CORONA'
   virus, the symptoms, preventive
   measures and places of treatment etc.
   were also conveyed to the people through
   illustrative posters and leaflets which
   were distributed outside the college and                    Lighting the lamp at the inaugural session of the seminar
   also among the general students of the                      on "Legal Awareness on Domestic Violence against
   college. This venture was perhaps one of                    Women '' under the domain of "Gender Sensitivity And
                                                               Equity"on 22/01/ 2020
   the earliest attempts from the NSS unit of
   any college to make people aware about
   the lethal Corona Virus much before
   the announcement of lockdown by the
   Government.

NSS Supervisory Committee:
Chairman:                                                      Legal Advisor giving valuable advice in the seminar on
                                                               "Legal Awareness on Domestic Violence against Women
Dr. Soma Bandyopadhyay, Principal
                                                               '' under the domain of "Gender Sensitivity And Equity''on
Programme Officer:                                             22/01/ 2020
Dr.Taranannum Mushtaque
Convenor:
Prof. Manideepa Dutta Gupta (Ghosh)

                                                               Cleaning of college campus by the NSS volunteers to
                                                               prevent vector-borne diseases

Our student members in the special awareness
programme against 'Dengue and Corona Virus'
                 Our team with our Principal Madam in
                the special awareness programme against
                              'Dengue and Corona Virus'

                                                          17
Banking Service Within The Campus
We have a full-fledged branch of the nationalised
Central Bank of India. This Narasingha Dutta
College Branch of CBI in the college premises
serves the interest of the students, teachers and
staff members. An ATM Counter as also been installed inside the bank premises.

 Alumni Association                                    ADVISORY COMMITTEE
 The Alumni Association has been duly                        Chairperson
 registered and new initiatives are being          Dr. Soma Bandyopadhyay, Principal
 taken so that all former students of the
 College may actively participate in the                      Secretary
 development of their alma mater.                        Sri Sudhin Chatterjee
 Activities of the Alumni :
 1. The Alumni Association has                            CORE COMMITTEE
    introduced Life Membership                                President
    from this year, providing a Life                  Dr. Purnendu Bhattacharjee
    Membership Certificate duly signed
    by the Principal and President, to all                 Vice Presidents
    the Life Members.                                    Mrs. Jayashree Sarkar
 2. All the core committee members have                  Sri Swapan Mondol
    already volunteered themselves as Life                    Secretary
    members.                                                 Dr. Lipi Das
 3. A scholarship of Rs. 25,000 has been                 Assistant Secretary
    instituted for the B.Sc. (Bio) general               Dr. Sukhendu Kanrar
    students by the Secretary of the core                 Sri Proloy Mondol
    committee.
 4. It is also kept in view to conduct                        Treasurer
                                                          Sri Santiram Santra
    (a) Seminar
    (b) Organise a Health Care Camp for                   Cultural Secretary
          students                                          Sri Prantik Sen
    (c) Book Fair by the Publishers for the                   Members
          students of the college.                   Sri Krishna Kishore Mukherjee
    (d) Yoga Camp                                              Sri Tapan Pal
    (e) Outsourcing of funds.                                Sri Sanjay Sarkar

                                              18
Narasinha Dutt College                              Quest, organised by Ballygunge Science
                                                    College.
Science Club
During the sessions 2012-13 and 2013-               National Environment Awareness
14, our science club in association with            Programme
Thalassaemia Prevention unit of the
Department of Haematology of N.R.S.                 For the last five years our college participated
Medical College organised Thalassaemia              in this programme and secured top grades.
Prevention Awareness Programme with the             In 2011-12, we worked on bio-diversity
help of renowned doctors. Members of the            conservation under the supervision of the
science club participated in Birds Watching         Ministry of Environment and Forests.
Camp in Sibpur under the supervision of             Medicinal plantation and seed bank
Bird Watcher Dr. Kushal Chakraborty.                conservation work is under way.
Furthermore, for the last two years the
students of Zoology of our College are              Secretary
participating in a competition called Zoo-          Prof. Subrata Kumar Basu

Career Counselling
The Career Counselling Cell conducts seminars and workshops to guide the students
pursue their career in the right direction, possibilities for higher education, offer valuable
knowledge about resources and information, face challenges for various competitive
examinations and above all arranges for campus interview and placements.
} Seminars were organised by Ananda
   Bazar Patrika in association with
   Gillette Guard to enhance confidence
   and personality to face interviews and
   the need for right grooming.
}   Seminar was organised by Jagadis
    Bose National Science Talent Search
    for science students of Semester I and
    a consequent Senior Talent Search
    Examination was held for awarding
    scholarships to successful students.
}   A seminar and test on Tally was
    organised for Commerce students.
    Another seminar was organised by                Principal's address in Seminar organised by George
    Prudential Infotech Limited for students        Telegraph

                                               19
belonging to SC, ST and Other Backward
    Classes for offering Diploma in Cyber
    Security and Vocational Education
    Training Loan Scheme.
}   Seminars were conducted by RICE
    at Sarat Sadan and also in our college
    campus for imparting training for
    various competitive examinations. NIIT
    also conducted seminar with similar
    agenda.                                           Seminar by RICE

}   La Martinere SEOMP Society conducted
    seminar regarding Vocational Training
    Programme for young job aspirants.
}   Seminar was conducted by the Institute
    of Cost Accountants of India (ICA) for
    pursuing career as Cost Accountants.
    Another seminar was held by JISIASR for
    students of B. Sc. regarding translational
    research-oriented studies.
}   Notice was issued by Career Counselling
    Cell on various kinds of skill                    Banner by La Martinere SEOMP Society

Seminar by NIIT

                                                 20
development programs and 'Work from                 George Telegraph Training Institute and
    Campus Opportunity' by Mindgrad.                    two of them were selected for placement.
    (Link is available on college website).
                                                    }   Carreograph, Institute of Management
}   Some students of our college completed              Studies recruited some students of our
    various Certificate courses conducted by            college as Medical Representatives.

Seminar by ICA                                      Seminar by JISIASR

Canteen                                             Identity Card
We have a well-furnished canteen                    After admission, a student is required to
subsidised by the college to cater fresh and        get his/her identity card signed by the
hygienic food to the students and teaching          competent authority of the college. This
and non-teaching staff of the college.              card is a proof of his/her status as a student
                                                    of the college.

                                               21
Games and Sports
Narasinha Dutt College has a long and rich tradition in the field of games and sports,
especially in football, volleyball, athletics and gymnastics.

Football
Narasinha Dutt College has
earned its glorious reputation
and respect over the years
in football. Currently we are
Howrah District Champion in
football. N. D. College became
the winner at Howrah District
Football meet 2019-2020 for
Govt. and Govt. aided colleges
organized by Ramakrishna
Mission Vidyamandira, Belur Math defeating Ramakrishna Mission Vidyamandira
College in tiebreaker. Unfortunately, we lost to Purulia in 2nd round of State Football meet
2019-2020. We reached 2nd round in Herambha Chandra Shield organized by Calcutta
University and quarter final level in Reliance Cup 2019 – 2020. Our college had been the
champion in the district level football competition seven out of eight years between 2007-
2008 to 2014-15. To add to this glorious history our college had been the state champion in
the sessions 2010-11 and 2011-12. Moreover, we were the finalist in Inter-College Football
Championship organized by University of Calcutta (Herambha Chandra Shield) in 2014-
15 and 2015-16 and semifinalist in 2016-17. It is our pride to declare that Ajay Khatri and
Sayahanna Mondal represented Calcutta University (All India Football -Men) in 2019 –
2020, Soudip Samanta in 2018-19 (All India Football -Men), Abhijit Dey in 2017-18 (All
India Football -Men) and Dhiren Singh represented Calcutta University in 2015-16 and
2016-17 (All India Football -Men). Mahima Khatun represented Calcutta University (All
India) in 2015-16 and 2016-17 Football (W). She also represented Sr. Bengal (W) football
team at the National level for the session 2015-16.

Volleyball
N. D. college is now back to back champion in Inter-College Volleyball Tournament
(Men) organized by Calcutta University in 2019-2020 and in 2018-2019 respectively. Our
college has become champion in Inter-College Volleyball Tournament (Men) organized
by Calcutta University in 2019-20 beating Bhawanipur Education Society College in the
Finals in straight set. Last year we beat Serampore College in the finals to won the trophy

                                            22
after long time. We were the runner-up in 2016-17. Unfortunately, this competition was not
held in 2017-18. Shubham Shaw and Hriday Maity in 2016-17 and Hriday Maity in 2017-
18 represented Calcutta University Volleyball Team (M) at the zonal level. Sayantika Bag
represented University of Calcutta in Volleyball in 2016-17 at All India level. Shreyashee
Kanrar had played as a member of University of Calcutta Volleyball (Women) team at All
India Inter University Volleyball (Women) Tournament organized by IIS University, Jaipur,
Rajasthan during the year 2018-19 under the auspices AIU. The team ranked runner-up
in the East Zone Inter University Volleyball (Women) Tournament organized by Tripura
University, Agartala.

Cricket
Our college cricket team reached 3rd round in Inter-College Cricket Championship in
2016-17. But, we could not participate for the last three years. Swarnendu Ghosh and
Sagnik Pal of our college have been playing for Kolkata Port Trust and Kolkata Police in
2017-18. Sagnik Pal also represented Howrah district senior level as captain in 2017-18.
Swarnendu Ghosh has been playing for Paikpara Sports Club (1st Division) in 2018-19.

Athletics
This year has been a glorious year for N.D. College athletics team. Amit Guchait became State
champion in Discus throwing (Men) at State Athletics meet 2019-2020. He also won Gold
in Discus throwing (Men) and in Shot put (Men) at Howrah District Athletics Meet 2019-
2020 for Govt. and Govt. aided colleges organized by Ramakrishna Mission Vidyamandira,
Belur Math and thereby, selected as the champion of champions in this meet. He won Silver
in Discus throwing (Men) at C. U. Inter-College Athletics Meet 2019-2020. Sonia Khatun
in Long-jump (W) and Tista Adhurya in Discus throwing (W) won Bronze at Howrah
District Athletics meet 2019-2020. Tista Adhurya won Silver in Discus throwing (W) at
C. U. Inter-College Athletics Meet 2019-2020. In the session 2015-16, Sudipto Banerjee
won 1st prize in 800 m and 1500 m race at Inter-college District Athletic Meet. Sprinter
Sudipto Banerjee won 1st prize in 800 m (M) and 1500 m (M); sprinter Purnima Khasran
stood third in 1500 m (W); sprinter Sonia Khatun ranked third in 200 m (W) in District
Athletic Meet in 2016-17 organized jointly by State Govt. and Amta College. Sonia Khatun
won silver in 100 meter and bronze in 200 meter in District Athletic Meet organized by
Uday Narayanpur College and State Govt. of West Bengal in 2018-19 and qualified for State
Athletic Meet in 100m (W). She also became the Champion of Champions in Narasinha
Dutt College Annual Sport-2018-19. Dipankar Sardar won bronze in 400 m (M) in Inter-
College Athletic Meet organized by the University of Calcutta. He won gold in both 200 m
and 400 m and Surojit Hizli won silver in Long Jump in Howrah district Athletics Meet and
qualified for State Athletic Meet.

                                             23
Miscellaneous                                       Gymnastics Association. He also
}   Aditi Santra participated in the 6th            participated the 68th West Bengal State
    Netaji Subhas State Games-2018 held in          Artistic Gymnastics Championships' 17-
    Jalpaiguri and secured 1st place in Judo        18 (held in August, 2018) in Junior Boys
    (48 kgs/Women). She also participated           category organized by Udayan Bayam
    in 63 Kg/Women Judo event in the First          Samity, Bhadreswar, Hooghly.
    Khelo India School Games held at Delhi.
                                          } Amrita Paul represented Junior Bengal
} Soma Roy participated in the 6th          in Net Ball event in National Games in
  Netaji Subhas State Games-2018 held       2018-19.
  in Jalpaiguri and secured 2nd place in
  Judo (48 Kg/Women). She was placed } Ayan Ghosh participated in All India
  1st in Judo (57 Kg/Women) at 45th West    School Game in Karate after winning
  Bengal State Judo Championship-2018       gold in state and District School Games
  organized by Howrah District Judo         in Karate.
  Association. She also became first in
  Judo (57 Kg/Women) in Open State } Khukumani Khatun stood first in Inter
  Judo Championship (Tagore Challenger      District Championship organized by
  Cup 2017-18) organized by Tagore Judo     Etina Black Karate Sangha on 9.9.2018 in
  Association of Hooghly.                   Kata Black Belt (50 kg/21 years) and third
} Arkadeep Makhal stood 2nd in both         in Kumite in Girls group-A (21 years) in
  Vault and Horse Pommel in 4th Jr. State   the 14th All India Karate Championship
  Artistic Gymnastics Championship          Suman Karate Cup 2017 organized by
  2017-18 organized by Kolkata District     United Shotokan Karate-Do India.

                                               24
CCTV Coverage                                           Water Cooling Machine
Almost the entire college including                     The college installed three water cooling
Principal's    Chamber,      Administrative             machines with UV sterilization & filtration
offices, College Library, College Gates and             facilities. Two machines were installed
Cycle Stand is under CCTV Surveillance.                 : one in the canteen and the other one in
                                                        front of the girls' common room to serve
                                                        the students as well as the teaching and
                                                        non-teaching staff of the college. The
                                                        third one was installed in the English PG
                                                        Department. A new water cooler has been
                                                        installed in the staff room.

     Maulana Azad National Urdu University
   Maulana Azad National Urdu University                1. To promote and develop education the Urdu
   (MANUU) is a Central University                      language.
   established at the National Level in 1998 by         2. To provide wider access to people desirous
   an act of Parliament to promote and develop          of pursuing programs of higher education and
   the Urdu language and to impart vocational           training in Urdu medium through distance
   and technical education in Urdu medium               modes.
   through conventional and distance modes
                                                        Presently, the under mentioned courses, both
   for about 800 studens. The Headquarters of
                                                        postgraduate and undergraduate are going on
   the University is at an outstanding central
                                                        under Narasinha Dutt College study centre.
   location-Gachibowli, Hyderabad. Maulana
   Azad National Urdu University (MANUU)                1. M.A. in English
   has started its distance mode of education at
   Narasinha Dutt College on and from January
                                                        2. M.A. in Urdu
   1, 2019.                                             3. M.A. in History
   The objectives of the University are as              4. M.A. in Islamic studies
   follows:                                             5. B.A., B.Sc. and B.Com.

                                                   25
Departmental Activities
           Anthropology                                           } At Santiniketan, Bolpur for III yr. Hons.
                                                                    Field work (Prehistory), during the
Good academic results every year and a                              period 13.01.2020 -17.01.2020.
strong students – teachers bonding are the
strongest features of this department. One                        } At Santiniketan, Bolpur for III yr. Gen
student has been placed in Central Govt.                            Field work (Social) during the period
job and two in State Level in 2019-2020.                            12.02.2020 - 16.02.2020
Two students have qualified NET in this                           } At Indian Museum for III yr Gen Field
session as well. Regular students' seminars                         work on Museum Study, during the
are held in the department as a part of                             period 16.01.2020 -22.01.2020
the syllabus of both Honours and General
courses. A departmental students' seminar                         } II yr Gen Field work on goldsmith
on Archaeology, by the 3rd year honours                             workers and local flower market (in two
students was held on 16.09.2019.                                    separate batches) with their associated
                                                                    technology. Duration: 29.04.2019-
Field Work, both camp type and local, are a                         02.05.2019 (batch 1) ; 20.04.2019
regular feature of this department. In 2019                         -24.04.2019 (batch 2).
-2020, the field work included:-
                                                                  } 3rd year Hons. local field work on
} At Pakhiralaya, Sunderban for III yr.                             basic field methodology starting from
  Hons. Field work (Social Anthropology),                           14.10.2019
  during the period 04.12.2019 -18.12.2019

B. Sc. III Year Honours Fieldwork (Social) at Pakhiralaya,        B. Sc. III Year General Students at The Indian Museum as
Sundarbans (Dec 2019)                                             a part of Local Field, Kolkata (Jan 2020)

B. Sc. III Year General Students with their Supervisors at        B. Sc. III Year Honours Students at Scottish Cemetery,
the field, Shantiniketan, Bolpur (Feb 2020)                       Kolkata (Jan 2020)

                                                             26
} 3rd year Hons. project on the architec-
    tural features of a cemetery (Scottish
    Cemetery). Duration : 09.01.2020 and
    11.01.2020
A project was also conducted by the 1st
semester hons. students in September, 2019
on some basic methodologies of social
field work.
The Department maintains its own Wall
Magazine and Seminar Library. There
is a rich collection of books used by the
honours students of all years.
Teachers' Day was celebrated with much
enthusiasm as usual like each year. It was
coupled with Freshers' Welcome and
Farewell Programme of the students of
the Department. It was celebrated on                  Teachers' Day Celebration, 5th September 2019
05.09.2019. A cultural competition on
songs, dance and recitation was conducted             the best team of the district in Howrah
by the Department as instructed by the                District League Knockout Championship
Cultural Subcommittee. Regular class                  on 21. 08. 2019.
tests and internal assessment in this new             The Department holds regular parents
semester system are conducted with proper             teachers' meeting specially before each
evaluation. The faculty members try to                camp type field work (both Hons. and
counsel and mentor the students who                   General) informing all details including
seek their help and guidance with their               the financial involvement of students to the
best efforts.                                         guardians. Last year, the III yr Gen. field
                                                      work had to be postponed due to some
Most of the Students of Department of                 unprecedented political agitation At that
Anthropology are active members of                    time of crisis also, the department along
the NSS unit of the college and in this               with the Principal arranged an emergent
way they participate regularly in various             parent teachers meeting explaining them
social work activities conducted by NSS and           the reason for postponing the field . It was
other sports activities. Shreyasee Kanrar             later conducted in February. The faculty
(at present, a 4th semester student) is a star        members try their best to complete the
volleyball player and has been a participant          syllabus on time. Even in the time of crisis
in State Game Participation organized by              when the college was closed for a long time,
West Bengal Volleyball Association. She               the teachers have taken online video classes
was a Champion in 1st Division League                 through Skype, Google drive and YouTube.
Championship on 08.06.2019 and qualified              Students' feedback is taken every year
for Super Division. She is also member of             especially from the final year students.

                                                 27
Bengali                                          and boys. It is rich enough in diversity of
                                                             its student strength. Students of Bengali
The Department of Bengali language and                       department have been consistently
literature of Narasinha Dutt College is                      performing well under the University of
distinguished because it has its own special                 Calcutta. Many of our students secured
characteristics and identity. It started in the              Fist classes in University examinations
year 1968, with three year degree course,                    over the last five decades. Many of our
and till now its wheels are moving smoothly                  ex-students are established in several fields
with enormous vitality and prosperity. The                   like school and college teaching, Electronic
year 2018 witnessed the "Golden Jubilee" of                  Media , Print Media, Performing Arts etc.
the Bengali Department with an enthralling
cultural Programme staged by the students                    Apart from academic activities the Bengali
of the department. The Programme was                         Department is also proud of its cultural and
inaugurated by our respected Principal, Dr.                  extra-academic activities. The Department
Soma Bandopadhyay and other dignitaries                      organise 'Teachers' Day', 'International
of the college administration.                               Vernacular Day' (21st February), "Rabindra
                                                             Janma Jayanti" etc. Departmental wall
The Bengali department can accommodate                       magazine "srotoswini" edited by the
a large number of students, both girls                       students is published regularly which

Teachers' Day celebration                                    Departmental Wall Magazine

Educational Tour to Serampore Mission and William Carey's archives

                                                        28
expresses the artistic quality, aesthetic spirit                    Botany
and literary taste of the students.
                                                        The Botany Department of Narasinha
The Department arranges student seminars                Dutt College is one of the oldest Botany
and symposia to discuss various literary                departments of West Bengal, which was
topics and organizes Educational Tours                  established in 1985. Reputed teachers like
every year. We also arrange Parent-                     Prof. Raj Kumar Sen, Prof. Mohini Mohan
Teachers' Meetings where a good number                  Chatterjee, Prof. Narayan Krishna Dhar,
of enthusiastic parents actively participate            Prof. Srinibas Debnath, Prof. Probhat Dutta,
and exchange their views.                               Dr. Sona Sen, Dr. Animesh Ghorai and
Our department has cozy, healthy and                    Dr. Ashalata D'Rozario were the faculties of
homely atmosphere, where students feel                  the department. Late Sri Srimanta Pradhan,
free and comfortable, Teacher - student                 Late Sri Nemai Das, Late Sri Netai Pal were
bonding is very strong and deep rooted.                 associated as laboratory attendants.
We, the teachers of the 'Bengali Department'            The department has equipped laboratories,
earnestly try to inculcate good and strong              herbarium, and museum and seminar
social and moral values among our                       library. In addition to teaching-learning,
students. We hope students of Bengali                   there are several activities including
department will continue to uphold its                  Teachers' Day celebration, exhibition, Wall
tradition of excellence and distinction.                Magazine, Parent-Teacher Meeting, local
                                                        & long excursions, seminars, etc.
                                                        Most of the pass-out students are established
                                                        in different professional fields like teaching,
                                                        research, government and non-government
                                                        sectors, social service, etc. In this respect,

                                                        Ecological excursion to Kalyani University campus
Seminar Lectures                                        22-02-2020

                                                   29
the names of Dr. Sudha Gupta (University              i. 13th November, 2019 – A.J.C. Bose Indian
of Kalyani), Dr. Debajyoti Bhattacharya                    Botanic Garden visit (Semester III-CC3)
(Silchar University), Dr. Angshuman Saha              ii. 4th December, 2019 – Local excursion
(Charuchandra College, Kolkata), Dr.                       to Baniara, Howrah (BOTA Sem I CC1
Madhumanti Chatterjee (Moulana Azad                        & CC2)
College, Kolkata), Dr. Swadesh Sarkar                 iii. 22nd February, 2020 - Bidhan Chandra
(Chandannagar Govt. College), Md.                          Krishi Viswavidyalaya (BCKV) farms
Rakibur Rahaman (Deputy Magistrate,                        (BOTA Semester IV-CC 9)
Govt. of West Bengal), Dr. Sumit Manna
(Mayna College) and Mrs. Tania Dutta                  iv. 22nd February, 2020 – Visit to Kalyani
(Assistant Labour Commissioner, Govt. of                   University campus for Eco-floristic
West Bengal) can be mentioned.                             study (BOTA Sem IV –CC 8)
The department has organized 'Students                v. 22nd February, 2020 - Medicinal garden
Re-union' since 1990, where former and                     visit at Narendrapur Ramkrishna Mis-
present students share a common platform                   sion (BOTG III)
and exchange their thoughts & experience.             vi. 14th March, 2020 – Local ecological
Last year, 24th re-union in this department                field trip for Quadrat study on species
was held on 29th September and the                         diversity (BOTA Sem IV-CC8)
Departmental Wall Magazine was also                   The Botany Department organized a
inaugurated on that day.                              Science exhibition on 29.09.2019. Teachers'
A total of 37 students appeared for university        day was celebrated by the students on
exams this year and the highest marks                 5th September, 2019. Parents' Teachers'
obtained was 82%. The number of students              meeting was held on 29th February, 2020
pursuing post graduation at present is 10             for semester II and IV.
and one student is into research work. Two            Fifteen students of Botany department are
students got teaching jobs in schools. One            members of the NSS unit of the college. They
student qualified GATE and one SET.                   participate regularly in different activities
Educational Tour / Study Tour / Excursion             like awareness seminars, distribution of
/Field work / Project Work undertaken in              clothes, health check-up, etc. Students also
the last session -                                    take part in the college annual sports.

Botanic Garden visit 13-11-2019                       Science exhibition 29-9-2019

                                                 30
Chemistry                                 this department boasts of some of the big
                                                       names in academia and other spheres such
The Department of Chemistry started                    as Late Prof. Manindra Mohan Chakravorty
its journey with Chemistry as a General                (formerly of IACS, Jadavpur), Dr. Jyotimay
subject in the year 1924 in order to extend            Nandi (Scientist in USA), Dr. Jyotiprakash
the study of chemistry to the students                 Chatterjee (Scientist in USA), Prof. Subir
from the suburbs of Howrah district and                Basu Roy, Prof. Dilip Khamui (West Bengal
Howrah town under the stewardship of                   Education Department), Dr Omprakash
Prof Jnanendranath Sen who was the Vice-               Chatterjee (Scientist, CGCRI), Dr. Nijhuma
Principal of the college at that time. There           Mondal (Scientist, CGCRI), and many
were no colleges of higher education in                more who have established themselves in
Howrah at that time.                                   their respective fields.
Later on in the year 1948 the department               The department which initially started
introduced the Chemistry Honours course.               with two laboratories added to its tally with
At that time and years thereafter Narasinha            two more laboratories for Honours students
Dutt College emerged as the premier                    being set up in the newly constructed
learning institute in chemistry in the district        J.N. Sen Centenary Block which presently
of Howrah. Down the years teaching in the              houses the Chemistry department. Another
morning and evening sections were also                 make shift laboratory was built up recently
introduced along with the Day section. But             to compensate for the loss of space due
a couple of years back the morning and                 to demolition of the old building for new
evening sections were discontinued due to              construction purpose. All the laboratories
lack of teaching staff. Some of the notable            are well equipped according to UG level
teachers in this department were Prof.                 of study with most of the Modern
Himangshu Banerjee, Prof. Himangshu                    equipments present.
Bhattacharyya and Prof. Dr. Kshetra                    The performance of the students was
Prasad Sen Sharma. Prof Bhattacharyya                  traditionally good in this department.
later on joined Presidency College and                 The number of students getting high first
Prof Sen Sharma was the faculty member                 class marks has increased down the year
of Jadavpur University. The alumnus of                 and presently some of them are regularly

Alumni lecture series                                  Teachers' Day celebration

                                                  31
pursuing their higher studies in IITs.            The following students from 2016-2019
Recently five new teachers have been              batch have been academically placed as
recruited which makes the total tally of          given
eight teachers along with three laboratory        • M.Sc.: 5 (IIT, Kanpur:1, School of
attendants in this department. The faculty        Chemistry, Hydrabad: 1, IIEST Shibpur: 1,
members along with NTS members are                VC College: 1, Lady Brabourne College: 1)
working tirelessly to nurture the students
for a better future.                              • B.Tech in polymer sc. & tech: 5 (C.U.)
The University results of our students            Academic Achievements of our students in
have been traditionally good. In 2019, 15         recent years are given below:
students appeared in Chemistry Part III
                                                  Shain Sagar Mollick – All India Rank 1 in
(Hons) exam with 100% success and 11
                                                  JAM-2020.
of them got first class marks, the highest
being 73%. In Chemistry Sem III (Hons)
15 students appeared for the exam and 12
scored SGPA above 6, the highest being
8.056.

Picnic

Chandranath Banerjee Presentation                 Wall Magazine 2020

                                             32
Reunion Meeting
Akash Ghosh, all India Rank 106 in                4 Hons Students. The department also
JAM-2020 and getting admitted to IIT              celebrated Teachers' day and went for picnic
Bombay.                                           at Amrakunja Picnic Garden, Mankundu,
                                                  Hooghly, WB on 19.01.2020.
Suman Naskar, all India Rank 417 in
JAM-2020 and getting admitted to IIT              Parents teachers' Meeting was held on
Kanpur.                                           6.12 2009. Students can access the well
                                                  equipped seminar library and class tests are
Arka Chattyopadhyay and Promit                    taken regularly.
Chakraborty (Sem 3, Hons) participated
in Poster competition organized by                We are proud to mention the Gallantry
St. Xaviers' College, Kolkata during              award received by students.
National seminar on "Recent Advances              Shain Sagar Mollick (B.Sc. Part (III)
in Chemical and Biological Sciences";             Chemistry Hons) scored 76 out of 100 in
September 23, 2019.                               Joint Admission Test for M.Sc. 2020 and his
In the Alumni Lecture Series arranged             All India Rank in JAM-2020 was 1.
by the department the speakers were
Dr. Abhijit Samanta (Assistant Professor,                  Commerce
The Neotia University, Sarisha, West
Bengal) on 20.09.20 & Dr. Chandranath
Banerjee (Advanced Engineer, Weir EnSci,
Weir Minerals India) on 14.03.2020. The
Department also undertook an Academic
visit at IISER Kolkata on 03.01.2020 &
Industry visit at Anmol Industries Limited
on 22.02.2020.
Wall magazine for the year 2020 titled
"CrONickel 2020" was prepared by SEM              Semesterised system introduced

                                             33
Computer Science                                        Economics
Computer Science Honours started with                    The department was established in 1941.
17 students and 4 teachers in 2006. Now                  At present it offers Economics Honours
the department has three laboratories with               as well as Economics General Courses.
33 Desktops, 1 Laptop, and Class-rooms                   Interdisciplinary course of Business
with ICT facilities and Wi-Fi Internet                   Economics is also offered for the students of
connections. A departmental Library is                   Commerce Department. The department
also maintained.                                         is like a family where the teachers and
The Department celebrated Teachers'                      students are involved in the teaching-
day on 5.9.2019 and marked the occasion                  learning process not only during class hours
by a Tree Plantation Programme. The                      but also beyond that. This department has a
students maintain their Departmental                     long tradition of producing quality students
Wall Magazine and participate in college                 for the postgraduate level and for the job
programmes. Class tests are regularly taken              market as well.
by the teachers of the Department.
Our students Arnab Ghosh and Debopriyo
Ghosh were winners at CODE_BATTLE
WINNER CHAMPIONS, TECHNOVA18
organized by F.C. College.

CODE_BATTLE WINNER CHAMPIONS,                            Invited Lecture on 13.11.2019
TECHNOVA18 at F.C. College winners from Narasinha
Dutt College, Arnab Ghosh and Debopriyo Ghosh.

Tree Plantation on the eve of Teachers' day              Teachers' Day celebration

                                                    34
Two students appeared for University
Examination out of which one student
                                                               Education
got first class (495 total), Three students        The Education Department began with pass
who passed from the department in the              course in the college in 1985 and Honours
last three years were placed in jobs. One          course was started in 2006. In 1985 the
Seminar Lecture was organized for the              Department was started with the help of a
students on 13.11.2019. The students               Permanent full-time teacher in the morning
are mentored by the teachers and have              section. After that in 2002, General course
access to Departmental Seminar Library.            in education was introduced in the Evening
Two Parents Teachers' Meetings were                section for male students with the help of
held and Teachers' Day was celebrated              a part-time teacher in 2003. Another Part-
in the Department. One member of the               time teacher joined the evening section
faculty participated in Seminar & one in           and in November, 2006, one Contractual
workshop.                                          Full-Time Teacher joined in the morning
                                                   section ; one teacher has resigned from
                                                   service in December 2006. So now the
                                                   faculty includes one permanent full-time
                                                   teacher, two contractual full-time teachers,
                                                   two Part-time teachers and three guest
                                                   lecturers have been appointed.
                                                   The students regularly participate in
                                                   Teachers' Day programmes, Rabindra
                                                   Jayanti celebrations and Students' Seminars.
                                                   Students' Feedback is also taken on a yearly
                                                   basis.

Invited Lecture on 13.11.2019                      Teachers' Day celebration

                                              35
English                                            History
The Department of English has been a              The Dept. of History was established
part of the college since the time of its         in 1924. It has both Honors and General
foundation.                                       course. There is a large number of students
The Department of English has two                 in our general course. Eminent historian,
sections – Undergraduate and Postgraduate         Dr. Tapan Roychowdhry had started his
(self financing). There is a well equipped        career as a teacher of the department
Seminar Library for both UG and PG                of History in this esteemed institution.
students in the Department. Regular Tests         Our students have the opportunity to
are taken to ensure proper progress of            acquire knowledge from a number of
the students. Students' Feedback is also          efficient teachers. The tradition of good
regularly taken. Students take part in NSS        teachers is the most important feature of
and Sports activities too. The number of          this department.
students who appeared in UG (SEM III)
and were successful is- 89 hons ; 108 gen.
For PG the numbers are SEM I - 15; SEM
III – 22. The Department has organized
Students' Seminar, Teachers' Day, and
Seminar Lectures in the past year.

Students' Seminar

                                                  Teachers' Day celebration
                                                  The number of Students who were
                                                  successful in Last year University exam
                                                  was 55 and the Highest Marks obtained
                                                  was 474. The students regularly participate
                                                  in Teachers' Day programmes, Rabindra
                                                  Jayanti celebrations and Students' Seminars.
                                                  Students' Feedback is also taken on
Teachers' Day celebration 2019                    yearly basis.

                                             36
Mathematics                             Subrata Bera secured highest marks 633
                                                   (out of 800) in Mathematics Honours in the
Departmental meeting is an important               year 2018 among all Honours departments
part of the department. Department has             of the college and is currently doing
arranged meeting (both UG and PG)                  M.Sc. in Applied Mathematics under
regularly on different issues for smooth           Calcutta University and has also qualified
running of the department Students                 in NET examination held in December
of Mathematics department organised                2019.
"Teachers' Day Celebration".                       Sujan Shaw, a 2018 pass out student from
Teachers and students performed their              our department and currently doing M.Sc.
various activities on that day.                    in Pure Mathematics under C.U. has
A picnic was conducted in New Digha,               qualified in GATE-2020.
Chandannagar, Hoogly on 26th January               Two students from current outgoing batch
2020 with departmental teachers, staff             (3rd yr. (Hons.)-2020 have qualified in
and PG students. By this, students got             JAM-2020.
opportunities to closely interact with             Two ex-students have joined jobs as
teachers more freely.                              Assistant Teachers in Govt Schools. One
The UG and PG pass out students                    student has achieved NBHM scholarship
performed the following academic activities        for PhD.
in the academic session 2019-2020.

Departmmental Picnic                               Teachers' Day celebration

Departmmental Picnic

                                              37