National - MagS
If your browser does not support JavaScript, please read the page content below:
National - MagS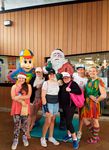 National Mag Summer 2018 What's happening inside: Rebecca's story Coming together Enjoying the season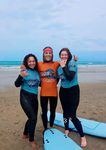 Pres report So much has happened already this year. On the 9th of February the board had its first meeting of the year and we were joined by our newly appointed Chairperson, Carol Scholes. Carol joined the CanTeen board just before the holidays, taking over from the ever-dedicated Dion Mortensen, who spent more than a decade with our organisation. Carol is a force in the business world; whip-smart and incredible at working with people from all walks of life, including young people.
The meeting felt like a new environment, with three new member directors also enjoying their second meeting. In the charity world, fundraising is tough. At the board meeting we discussed fundraising and made some decisions to ensure CanTeen has the resources needed to continue delivering its valuable support services. We're trying to be bold in our strategy for CanTeen's income for now and in the future. It was definitely a busy meeting but a great one that got us all energised for the year. CEO update Our Youth Support Coordinators are at the heart of the work we do with young people. They are there from diagnosis and help young people to navigate difficult times getting to appointments, staying in school and work.
Coping with uncomfortable conversations with friends, family and teachers and sometimes connecting them to other specialist services and support.
Providing individualised support The individualised and peer support we provide across New Zealand is the majority of the work we do and this year we are going to increase our impact with key strategies. Firstly, our parent strategy will open a conversation with parents so that we can find out how CanTeen can help parents to support the young people in their family in the future. Secondly, we are going to explore options for delivering online counselling and support to young people. We are also strengthening our relationship with CanTeen Australia, partnering with them to deliver cancer education and awareness sessions in schools and the delivery of the Foundations of Leadership Programme in the regions.
We look forward to an exciting period on the Board of Governance with Carol Scholes joining as Chairperson and the three Member Directors appointed in October. We will begin the recruitment for three new Independent Directors in March and will have made appointments by June, ready to focus on the future and build a strong strategy to take CanTeen into the next 5 years. I was fortunate enough to attend the Global AYA Cancer Congress in Atlanta in December, the aim of which was to share research and information and raise awareness of adolescent and young adult cancer. Throughout the conference I was reminded by young patients and researchers alike of the vital role of individualised support in managing the emotional, social and practical impact of cancer and the difference being able to talk to and get support from other young people makes to survival outcomes.
Rebecca's story I had survived cancer. So why was I so afraid? I looked like a normal twenty-year-old, like I was fine and everything was better. But everything wasn't fine. I desperately needed someone who understood what I had been through. My whole life got tipped upside down by cancer I was 19 when I was diagnosed with Acute Lymphoblastic Leukaemia (ALL), a type of blood cancer. The side effects of the treatment were harsh after chemotherapy and a stem cell transplant. Nausea, tiredness, fatigue, mouth ulcers, weight changes and hair loss became everyday, normal things. It was tough.
When I was in hospital, a CanTeen Youth Support Coordinator came to see me, but at the time I was too scared to meet new people because of how I looked and how I felt.
Everyone assumed I was fine Recovery took a long time. As I wore my wig after treatment, from the outside I looked normal, so people assumed I was okay. Lots of people would say, "You're looking good", when in fact I would feel tired or exhausted. Once I was in remission and wasn't distracted by treatment, I began obsessing that my body might reject the stem cell transplant. I would hear stories about people relapsing, and it terrified me. I became overly cautious because of my fear of germs and of getting sick. My family could tell I wasn't coping well and encouraged me to get help. Initially I got mad at them for even suggesting it.
But before I started uni again, I realised that talking to someone wasn't such a bad idea, because I was bottling everything up and exploding all the time.
CanTeen gave me my confidence back I decided to attend my first CanTeen programme, a weekend away with other young people affected by cancer. I was so scared going on it, because I didn't know anyone. I ended up having a huge panic attack on the first night and wanted to go home. But by the end of the weekend, I didn't want to leave. The programme gave everyone a chance to let go of the emotions they were holding and to realise we're not alone. It was the start of helping me get my confidence back and realising that what I was going through was normal.
I started going to more CanTeen events and it was through CanTeen that I got professional counselling.
It's given me tools and strategies to help overcome my anxiety and manage my fears about the cancer coming back. Having those coping mechanisms was very empowering and a big step forward for me. CanTeen made me feel safe again It has now been three years since my transplant. Although getting cancer really sucked, it brought CanTeen into my life. They helped me understand that what I was feeling after my treatment was normal and that I could get help. CanTeen has made me feel safe again, helping me regain my independence and giving me confidence to get on with my life.
Rebecca at REAL Rebecca and her mum It helps that we've already had a high this year to keep us energised. We've been putting greater focus on the relationships between CanTeen and parents, families and CanTeen alumni. Young people thrive in strong communities and is why we build those support networks for young people going through cancer. So it's exciting that we're engaging with these groups more and all in time for a wee thirtieth birthday celebration.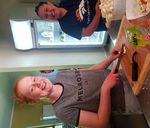 National Programmes Thank you • Joyce Fisher Charitable Trust for $37,000 to contribute towards the national programme reset • The Southern Trust for $32,000 to upgrade the server • Lottery Minister's Discretionary Fund for $4,700 excluding GST for the CEO attendance at the Global Adolescence and Young Adults Cancer Congress • Louise Sue (AYA Nurse who volunteered her time to the reset programme).
We've had some great programmes happen over the summer period with a new round of young people beginning their journey to a healthier lifestyle physically, emotionally, mentally and socially.
REAL 2.0 REAL 2.0 provides young people with the opportunity to reflect, connect and share experiences in a safe and supportive environment with other young people living with cancer. Through interacting with peers, participants are given the opportunity to explore strategies and gain knowledge to help overcome some of the challenges they face. The workshop promotes positive wellbeing through connection and peer support (similar experiences). Each participant receives a toolkit to take away to support participants with some self-care strategies for the future. Upcoming programmes • Art Workshop: 24-27 April 2018 • REAL: 4-6 May 2018 • Reset part 2: 18-20 May 2018 Celebrating the start of the reset programme Reset Studies have shown that lifestyle intervention, i.e.
physical exercise and a balanced diet, can greatly reduce the risk of cancer patients developing another chronic illness and/or secondary cancer. For this reason, we have developed a lifestyle intervention based programme for patient members. This comprehensive programme provides education/information on exercise, nutrition, self- care, and peer support.
This includes a specialist physiotherapist and dietitian developed programme with ongoing support, for young people who have had a cancer diagnosis and who have been deconditioned because of their cancer or cancer treatment, or have physical late effects. By focusing on educating and empowering our young people through lifestyle intervention it is our hope that young people are better placed for a better future and quality of life. The programme is made up of two weekend programmes with a 12-week challenge in between where exercise progress can be monitored via CanTeen's first ever app! We had a fantastic weekend at reset (23-25 February 2018), with 20 amazing young people in attendance.
It included: • Exercise testing (upper and lower body strength, core strength, cardio vascular fitness, balance and flexibility) This will be retested at reset part 2 to track progress • Paddle boarding • Exercise and nutrition education • Guest speakers on exercise and nutrition • Peer support Georgie - National Programmes Manager Cooking at reset Paddle boarding at reset "I really enjoyed it and am looking forward to becoming physically and hopefully mentally stronger." "I really enjoyed the weekend and there's lots of beneficial info I will utilise in the next 12 weeks." "It was an awesome weekend and the resources provided were great.
Very educational!"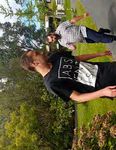 Auckland Our end-of-year break up party was not only to celebrate the end of 2017, but to reflect and acknowledge all CanTeen members. Member event highlights Five members of the leaders group organised a Christmas scavenger hunt for everyone to partake in which ran throughout the night. It revolved around the idea of "where did Santa leave his sack of presents". Teams completed various hilarious tasks to gain letters. It was a race to the finish as every team was frantically trying to piece together the letters, with little hints given along the way. There was lots of excitement, mystery, adrenalin, talking and bonding.
It was not only fun and entertaining to watch, but was very engaging and got every single member interacting with each other. It was a great way to end 2017 with everyone. Rebecca Auckland patient dinner For the patient dinner in December we were extremely lucky to have a change of scenery, moving from the CanTeen office to the beautiful Lei Café in Ponsonby. We had a live DJ throughout the night, which set the perfect vibe for the evening. Games were played, conversations flowed and a lot of great food was consumed! Overall, a fantastic night out for patient members to relax, chill and get a few special pressies from #NZSecretSantas as well! Samantha JTB November event For the Just the Boys (JTB) event in November, we headed to the Nexus Barbershop in Massey.
Nexus donated their time and skills so that a couple of members got free haircuts before a great meal at Lone Star. During the meal we had a bunch of interesting questions to get to know one another. Overall, it was a very successful evening where I got to know a lot of cool new people.
Jamie End of year break with scavenger hunt Nexus Barbershop giving free haircuts Marketing and fundraising It was more than an idea, it was a need. Young people living with cancer needed a support system. They needed services that catered to their unique needs. They needed to connect with others like them. They needed CanTeen. CanTeen turns 30 This year marks CanTeen's 30th anniversary in New Zealand and we plan to celebrate. Make sure you've signed up to receive our emails and follow us on Facebook, Instagram, Twitter or LinkedIn so you don't miss the celebrations. We can. I can.
World Cancer Day is a day where people, organisations and communities join together internationally to raise awareness of cancer to encourage its prevention, detection and treatment.
The tagline 'We can. I can.' is all about how everyone can do their part to reduce the global burden of cancer. Last year we literally turned ourselves upside down for young people whose lives were turned upside down by cancer and this year we shared some facts about youth cancer. Sharing these facts will hopefully not only inspire others to take action in support of CanTeen but to help raise awareness of youth cancer prevention, detection and treatment.
NZ Secret Santa does it again It truly was the season of giving, as Secret Santas all over New Zealand sent in gifts for CanTeen. It was all organised through NZ Post's #NZSecretSanta, which sees Twitter users tweeting, sleuthing and gifting all in the spirit of the season. With even the Prime Minister joining in, we were stoked to be the chosen charity again and to be able to make Christmas for young people living with cancer just that bit better. Entertainment Books now on sale Thank you to everyone who bought their Entertainment Book or Digital membership through us - together we raised $8,947 which will us help continue to support young people when their lives are derailed by cancer.
Pre-sales have started so make sure to get your 2018/2019 membership and help us continue our valuable work.
Thank you • Danny and the team at Nexus Barbershop and the team at Lone Star • Lei Café, DJ Leems, NZ Post #NZSecretSanta Ken and Compass Group • Paul Lelievre and the team at Fergs Kayaks • Ted & Mollie Carr Endowment Fund & Estate of Ernest Davis for $20,000 towards member support services • Southern Trust for $10,000 towards the salaries of Youth Support Coordinators • Pub Charity for $30,000 towards the salaries of Youth Support Coordinators • Four Winds Foundation for $8,000 towards the salaries of Youth Support Coordinators. A gift from #NZSecretSanta Opening gifts at the patient dinner at Lei Cafe
Northland Northland's Christmas breakup was an awesome time to catch up with everyone as we are quite dispersed in the region, so it's always a great to see everyone. Branch update We ended 2017 with a really chill evening hanging out and playing games. Everyone had a good time catching up and having a laugh, ready to welcome the new year which started off with a trip to Adventure Forest. A group of us had a lot of fun spending the afternoon up in the trees. It was an awesome way to build our confidence and be able to encourage each other to finish the course. We also got to meet Ana, the new youth support coordinator.
It was her first time up in Northland so she was sent up into the trees with us. She seemed quite nervous but the members took good care of her and she ended up having a good time.
Dana Having fun in the trees at Adventure Forest Introducing Marcus, Auckland/Northland Regional Manager Hi my name is Marcus and I'm the new Auckland/ Northland Regional Manager. Coming from my previous role as the National Manager for the Halberg Disability Trust, I am excited for this opportunity to continue empowering and making a difference in the lives of young New Zealanders as part of the CanTeen team. I love the philosophies and values that CanTeen stands for and in my short time here, have been inspired by the passion and commitment staff have to the vision that no young person should ever face cancer alone.
I'm looking forward to being a part of ensuring we provide the best services we can for CanTeen members, alongside my team of five amazing Youth Support Coordinators. Thank you • A huge thank you to the team at Adventure Forest for an awesome afternoon.
Waikato A new group of members attended the annual community- run event CanSurf. CanSurf We enjoyed the wonderful hospitality and spirit of the Waihi Beach community. CanTeen member Liam, was on the organising committee and did a great job of helping to create a space where great peer support happened. Te Kowhai School fundraiser Te Kowhai School held a twilight fiesta, showcasing the artistic talent of its students. An enjoyable evening was had by all and I was on hand to collect all the generous donations given by the community. Girls' night in A relaxing end to a busy year. Our young ladies gathered for a pyjama party with crafts and an outdoor movie.
Lots of great connections happened as we reflected on the year that was and the year ahead. Xmas celebration Once again we travelled to Rainbow's End for our end-of-year celebration. This time we were joined by the Bay of Plenty/Tauranga branch who brought our total number of members and their whanau attending to nearly 90! A great day was had by all, with families getting to know each other in an amazing race followed by lunch. This day was completely free of charge for CanTeen members due to the generosity of Rainbow's End. We were even able to provide transport, thanks to RaD Hire Hamilton.
Char - Youth Support Coordinator Thank you • Corinne Nicholson, inspired by her beautiful daughters Erin and Whitley, both of whom were members of CanTeen, raised $1,250 by completing Round the Bridges in Hamilton • Te Kowhai School raised $1,156.20 for us at their twilight fiesta • RaD car hire Hamilton for providing vehicles for us to transport CanTeen members and their families. With your support we were able to attend our Xmas party at Rainbow's End and CanSurf in Waihi. Thanks, Jim and Sally Introducing Nic, Waikato Regional Manager I am very excited to join CanTeen as the Waikato Regional Manager.
I come from a background of management in the early childhood sector and was looking for a change in direction. CanTeen ticked all the boxes for me in being such a people-focused organisation which really makes a difference in young people's lives. So far, I've really enjoyed getting out and meeting the Waikato team and some of our wonderful CanTeen members. I can't wait to meet more of the CanTeen community so if you're ever in the Hamilton area, please pop in and say hi. Thanking Te Kowhai school On the ropes at Adventure Forest Taking a breather at CanSurf • Trust Waikato for $10,000 towards the salaries of Youth Support Coordinators • Len Reynolds Trust for $1,250 towards the salaries of Youth Support Coordinators.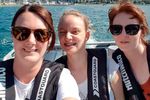 Bay of Plenty There have been some big changes in the staff team in the Bay over the summer. I've taken a year away from CanTeen to have my second child. I'll miss you all greatly but wish you all the best and make sure you keep that awesome CanTeen vibe going! Don't worry though, you're now in the safe hands of Natalie, who started with us in January. Be sure to give Natalie a huge welcome with our unique CanTeen vibe. Giving it a go We had an awesome time at CanSurf in November, seeing 35 members from across the division meet up with others in similar situations, for another memorable experience at Waihi beach.
There they offered each other that all-important peer support whilst learning to surf, having a go with the fire hoses at the fire station, and exploring the area on the back of a Harley Davidson. New friends and connections were made that will go beyond camp. We were very well fed by the CanSurf team, The Surf Shack and The Flat White Café, and well looked after by the team at Waihi Beach Top 10.
Christmas gathering We had some amazing activities happening in our area. We had an amazing turnout for our Christmas gathering, where we took a coachload of CanTeen members, their families and support people up to Rainbow's End for the day. The coach ride was fun and we realised we all need to brush up on our Christmas carols. We met up with the Waikato division and their crew before everyone let loose on the rides for a day full of fun. Charlie - Youth Support Coordinator Introducing Natalie, Youth Support Coordinator Like Charlie, I'm originally from the UK but have also worked across New Zealand and Australia as a social worker in hospitals and health care systems.
I wanted to work for CanTeen because I love what the charity stands for and can't wait to get out and about in the community, empowering people to make their own choices and actions. I'm excited to meet you all and take part in some of the awesome activities we are planning for this year. Thank you • Seugnet Toweel • CanSurf Committee and Volunteers • Waihi Beach Surf School • Bularangi Motorbikes New Zealand • Waihi Beach Volunteer Fire Brigade • Sew Hot Monograms • Right Price Rentals • Jeanette McCallum • Phil and Talitha Tanuvasa • Four Winds Foundation for $4,000 towards the salary of the Youth Support Coordinator.
Riding bikes at CanSurf East Cape In the last week before Christmas, we put together boxes of Christmas goodies and delivered our good wishes and extended our appreciation to some of our local Gisborne businesses who support us – Repco, Warehouse Stationery, Specsavers and Hertz.
Wairoa you wonder! In December I had an amazing day! I drove to Wairoa to receive donations totalling $7,622 from the incredibly generous Wairoa community. When the CanTeen donation bucket was taken from its long-standing spot at Osler's Bakery, local Wairoa woman Sarah Johansen stepped up and organised a community response that was going to turn this incident into something hugely positive. A fundraising commitment was made that showed just how much this community are behind CanTeen. It was very moving to see the acts of kindness and incredible support the Wairoa community have for CanTeen.
Celebrations and farewell One of our fabulous members, Morehu, celebrated his twenty-fifth birthday in December. We had a dinner to wish him all the best and thank him for being such a wonderful part of CanTeen for 13 years. We gifted him a quilt made by the wonderful volunteer quilters we have in our area and Morehu's whanau in return gifted us flowers and a beautiful card with personal messages from all his whanau.
Lianne - Youth Support Coordinator Thank you • JN Williams Memorial Trust & HB Williams Turanga Trust for $10,000 to contribute towards member support services • Hertz Gisborne for our vehicles for all our travel and connections • Thank you, Sarah, for taking the lead and a heartfelt thanks to everybody in Wairoa who came on board, your donations, fundraising, events, and head shaves, kind words all mean so much • Thanks to Affco Wairoa, Wairoa Lions Club, The Wairoa Club Inc., Wairoa District Council, Osler's Bakery, St Joseph's School, Wairoa Primary School, Tiaho Primary School, Sarah, Leonie and the entire Wairoa community.
Wairoa show their support Gifting Morehu with a beautiful quilt Looking super at CanSurf Giving some goodies to Warehouse Stationery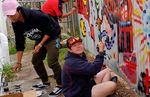 Rotorua We've got new members and families joining CanTeen, who I can't wait to get to know better and spend time with. Joining the CanTeen family is also Nicola, who is Waikato division's new Regional Manager. A warm welcome to you all. Outstanding CanSurf I was on leave during CanSurf last year, so Susie (Central Regional Manager) stepped in to help. It was not surprising to hear that she had an outstanding time with the support of our awesome volunteers pitching together to ensure CanTeen members had a great time. Every year, the amazing Waihi Beach community have come together to fundraise and coordinate an amazing weekend for CanTeen members, with this year being no different.
I always have members wanting to keep coming back because they have such a great time. So thank you to all those involved; you do an amazing job!
Splashing fun Our end-of-year activity saw us heading to Splash Planet with the East Cape, Manawatu and Hawkes Bay Branches to connect with members from around the country and celebrate our year. We had an amazing time on the go karts, bumper boats, hydro slides and lazy river. We couldn't have got everyone there if it wasn't for two amazing ladies who volunteered to drive another van down. You guys are awesome! We really appreciate you coming down with us and hope you had as much fun as we did.
4x4 Club In November the South Waikato 4x4 Club hosted the 20 Hazards Challenge as a fundraiser for our local branch.
It was an amazing day and we were overwhelmed by the support from the club and their members' generosity. On the day, I had the opportunity to thank them and share how every donation supports the amazing young people that I have the privilege of working with. Emma - Youth Support Coordinator Thank you • CanSurf Committee • Waihi Community • South Waikato 4X4 Club Another great year of CanSurf Enjoying some shade at Splash Planet Thanking South Waikato 4x4 Club Getting the firefighter experience at CanSurf Hawkes Bay Wow, summer has been a full-on busy time in Hawkes Bay! We have welcomed new members and said goodbye to members that have aged out, too.
Many members have chilled in the CanTeen lounge, helped out at fundraisers and enjoyed planning for the 2018 activities that are coming up in our branch. We'll be learning new skills, supporting each other and having a good dose of friendship and fun along the way. Hope you had a good break and look forward to catching up with everyone soon. Splash Planet end of year activity It was so good to see a range of members, staff and volunteers coming together to celebrate the end of a busy year in CanTeen – Manawatu, Rotorua and Gisborne joined Hawkes Bay members at Splash Planet for a range of activities including swimming (of course) and a BBQ lunch in amazing Hawkes Bay weather.
We swum around Splash Planet, raced the Go Karts and bumper boats all day, reuniting over a feast at lunch. There was so much laughter while catching up with old members and meeting the new. Any branches that ever want to visit Hawkes Bay, you are always welcome.
Emily Sausage party Our CanTeen Family was invited to attend Mitre 10 and Bay Skate's Outdoor Movie nights, where we did some fundraising by sizzling our "sausees". For just $2 a sausage we were able to combine it with onions and saucing skills, a.k.a. "THE WORKZ". We got to see "Moana", swing with Mowgli in "The Jungle Book" and hunt for customers during "Hunt for the Wilderpeople". This was a great fundraising experience, where we laughed, had fun and got to know each other a little bit more during each of the sausage sizzles. We were also upskilled and learnt new skills such as customer service, time management and money handling, which we'll able to use again in the future.
We hope to be back next season for more fun and food.
Blossom Thank you • A big thank you to all our partners, sponsors, supporters and volunteers who help us within the Hawkes Bay branch. We couldn't work our magic without your help and support • A big thanks to our friends at Mitre 10 Mega Hastings and Napier, the Bay Skate team, the Sizzling Mamas on the BBQ and The A Team • Pub Charity for $10,000 towards the salary of the Youth Support Coordinator. Enjoying the food at Splash Planet Crowd at Bay Skate's outdoor movie night Ready to serve some sausages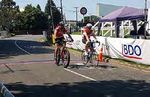 Taranaki We've had great weather over the summer season which has meant we've been taking more of our activities outdoors.
Enjoying the season It's been a busy summer full of outdoor activities. We had our annual ten pin bowling competition between CanTeen and CCF which had a fantastic turnout. We have also been paddle boarding, making the most of this beautiful weather. Over the next few months we are looking forward to all of the national programmes coming up which members will be able to attend.
Round the Mountain Cycle 2018 This year we competed again in the Round the Mountain Road Cycle. The team did an awesome job and we even beat our time from last year slightly. This was also a fundraiser, with over $1,200 raised. On top of that one of the CanTeen members, Logan, won an awesome spot-prize of a massive flat screen TV. Alex - Youth Support Coordinator Thank you • The Trusts Community Foundation for $5,000 towards the salary of the Youth Support Coordinator • A huge thank you goes to Selwyn and Gayle Brown, who run Round the Mountain Road cycle event every year and fundraise for us with donations given by participants at entry to the event.
Getting ready to ride Spot prize winner Finishing the Round the Mountain Road Cycle Manawatu There is always so much to plan and think about when you start a New Year and we did this with an awesome group of members who simply happened to be all guys, around lunch sponsored by Burger King, interspersed with board games. Such a cool way to slide into 2018 spending time with these dudes! The Great Bandanna Challenge We have started 2018 with a hiss and a roar as we head into the final stage of The Great Bandanna Challenge, which closes on 2nd March. It has been great working with Te Manawa, who is sponsoring the launch of the exhibition on 29th March, running it for three months.
We have planned to have an auction on 24th May for the remaining items that have been made by many people from around the country, in support of raising funds for CanTeen. Watch this space for the exciting designs and announcements of winners.
Summer events While we had an awesome Christmas party with graffiti wall and other creative activities, peer support and staying connected with other members is super important as well. So we joined forces with Rotorua, Gisborne and headed across to Splash Planet in Hawkes Bay. Everyone had a fantastic day slip-slop- slapping sunscreen, sliding and swimming and going for train and boat rides. It was great for the staff and volunteers to get together also after a super busy year. Reflection Reflecting on the end of last year, it was super special being in our own disability-friendly zone, allowing total inclusion of all members to come to our end of year bash.
We made our mark on our new space, creating our first graffiti wall. It was epic and is a fantastic zone for anyone who needs to come and think through or process anything to be able to "download" onto the wall. The last few months, this region has lost two amazing members. It is in these moments that I sit and know why I do what I do. It has been an immense privilege spending time getting to know these awesome young women and their families. Cancer knows no bounds. It crosses diversity, ethnicity, culture, age and gender and we often question why. However in the big scheme of life, no one really has any answers, but I do know this: these young women lived life to the fullest; they were kind, caring and gave themselves to others even in the midst of their own journey.
How inspirational is that! And that is why I do what I do! Karen - Youth Support Coordinator Thank you • Thanks to Loop Colours and Resene for donated paint • Thanks to Splash Planet for their sponsorship and support.
Making their mark on the graffiti wall Planning for the year ahead Cycling for a cause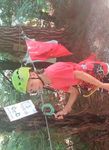 Wellington 2017 saw us say goodbye to a few people, but not without welcoming a few more to the CanTeen family. Looking forward to all the opportunities this year has to bring! CanTeen Christmas The food, the presents, the fun! Christmas in my own family has always been about the people you choose to share it with. Christmas at CanTeen is no different. A bunch of young people who probably once upon a time never dreamed they would be standing in a room together, gathered together to celebrate the year.
We voted for the best ugly Christmas sweater with Bridget winning with her Christmas tree dress. The lights on it actually lit up, so no one was ever coming close.
Jess - Youth Support Coordinator Monthly activity On Thursday 25 January, we met up at the waterfront for some waterfront cycling and a beach picnic. There were about 12 of us plus staff "Awesome" Alex and "Wacky" Warrick. It was my first time on a crocodile bike and definitely a lot of fun. The steering job by the people in the front was questionable at times, but in the end we all made it back. Later at the picnic a few of the members found the water guns and had a water fight which ended up in them all being drenched and in the ocean. I found the bubble- blowers, climbed to the top of the playground and spread bubbles over the whole area.
It was an awesome and sunny day out there meeting and hanging out with other CanTeeners. Zoe The winning Christmas sweater Selfie time at the monthly activity Introducing Alex, Youth Support Coordinator Hi, I'm Alex, the new Youth Support Coordinator in Wellington. I joined in January and have spent some fun times getting to know CanTeen members at our regular catch-ups and monthly activities. Face-to-face work with the members was a big draw for me to this role, as well as the member-driven holistic approach that CanTeen provides.
Thank you • Stiletto Studio for the amazing Minion Christmas cake • NZ Post #NZSecretSanta for providing our Christmas presents • The Longford Family Trust for their generous donation of $30,000 towards patient support services • To Toast Martinborough for having us as their charity partner; we raised $2,190.40 on the day. Thanks to the punters who donated, Outpost 42 and Amber and Hirini for collecting • To Jessie, a friend of Jarred Townsend, for raising $341.0 for CanTeen Wellington • Longford Family Trust for $30,000 to contribute towards member support services • John Ilott Charitable Trust for $2,000 towards the salaries of Youth Support Coordinators • The Trusts Community Foundation for $10,000 towards the salaries of Youth Support Coordinators.
Nelson/ Marlborough We're continuing to build relationships and connections in the Nelson/Marlborough area. It's great when we're able to connect with the local community to do so, which often makes for a great activity and day out. Coastguard Marlborough With the sun shining bright and not much wind to be heard, it was the perfect excuse to go out on the Coastguard Marlborough Boat and be treated to some delicious ice cream. Our small but mighty group all boarded the impressive vessel and sped off towards the stunning Lochmara Lodge, situated in the Marlborough Sounds.
Once our destination was in sight, it was time to kick back, relax and take some outstanding pictures, whilst of course enjoying some good ice cream.
After a brief walk to look around at the front part of the lodge, it was time to say goodbye and head back to Picton. The best part was yet to come - we all got turns at driving and controlling the boat, which was incredible. No injuries were sustained but many good laughs were shared as the boat crew watched on, admiring our 'skills'. With Blenheim being such a small town, it is difficult for people to realize how important connection and activities are, as they help to take our minds off cancer. With experiences like these, words to express our gratitude do not do it justice.
Stacey Crusing along the coast together Coastguard Marlborough crew welcoming us aboard Stacey taking control Thank you • Thank you so much Coastguard Marlborough for allowing CanTeen members and staff to take a trip out on the fifty knots, three hundred and fifty horsepower, three-motored vessel - it's an opportunity that'll be forever cherished.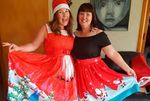 Canterbury/ West Coast Some of the worst news you can hear after already having cancer in the past, is that it has returned. For several young people like Meg, this is their reality. When it came back I have been a CanTeen member for almost five years now, but in the last few months, I feel like I have been a part of CanTeen more than ever.
This is because in October of last year, my life changed from what it was before, when I was told that I had been diagnosed with cancer for a second time. The school holidays were just starting off and I was sitting in the doctor's office being told that I have an osteosarcoma tumour in my lower leg. I thought at the time that being a CanTeen offspring, sibling and patient member was enough already, let alone being a patient twice over!
As I was part of CanTeen, I felt that they would like to know this information, and I am happy I told them, as ever since the diagnosis I have felt CanTeen becoming a larger part of my life. I especially appreciate it when my Youth Support Coordinator comes and visits me when I am sitting in my hospital room for days on end. She brings movies to watch and keeps me occupied, particularly on the days that are tougher than others. But, also the hours of conversations that are talking about everything and nothing at the same time are really helpful. CanTeen has helped me get through what I thought would not happen, after going through cancer as a child.
Meg Thank you • The Trusts Community Foundation for a grant of $7,500 towards the salaries of Youth Support Coordinators. Getting ready for her headshave Hugs after her headshave Day outside chilling Being awarded for showcasing team spirit Otago We can't do it alone. Thankfully we have volunteers and young people within CanTeen stepping up to ensure that no young person ever faces cancer alone. CanNection in action Shania is one of our CanNectors and since graduating in August has played a crucial role within our branch. She's helped ensure we provide opportunities for peer support in Otago, including taking the time to meet with members who are in the midst of treatment.
She's helped put new members at ease during their first group catch-ups and most recently jumped into the kitchen with a couple of members to whip up some lolly cake. Witnessing the depth of connection and power of peer support in action is a real honour. It makes me excited to know we have CanNectors like Shania around the country who play an important role giving their time, heart and compassion to other young people. Young people supporting young people is amazing! Anna - Youth Support Coordinator My time so far Being a volunteer for CanTeen is an immense privilege. It has opened my eyes to how cancer is affecting everyday individuals on so many different levels.
Being able to share time, stories and a laugh with the members has been a fun and rewarding experience. Particularly being able to have conversations with members about their particular story, which at first was not easy. I, like many, struggled to grapple with the gravity of the disease and the situation that these young people had been thrust into. However, over time the conversation has become more natural and flows a little easier. Just being able to listen and learn and hopefully in some way help has been a journey in itself for me.
One thing that really struck me is how the members are all in their own unique ways so normal. They are grappling with the same everyday issues of being adolescents and human, much like the rest of us, albeit having the added difficulty of cancer to deal with as well. I like to think that being human is one struggle I can help young people with. I have really enjoyed my six months with CanTeen and look forward to sharing the journey with CanTeen members for years to come. Steve - Volunteer Shania having some hat fun In the kitchen preparing food for the branch Stretching it out on the floor Steve and his dog shaking bucket
Southland We celebrated Christmas in style and even better, with new CanTeen members. It's been great getting to know new members and catching up with old ones too, which we'll be doing a lot of throughout this year. Southland Christmas celebration Volunteer Serra hosted our Christmas party again and we got to go for a swim in her pool. We played this crazy game where we you had to keep throwing the dice until you got a six, then you had to put a Santa hat and pot mitts on and try to unwrap a layer off a parcel before the person next to you threw a six. There was lots of screaming at the dice and it was really hard to get the paper off with the mitts on.
Maureen - Youth Support Coordinator CanTeen and Me My name is Cameron. I'm a gold and silver medalist swimmer and part of the Southland Special Olympics team. I love singing, playing music, technology, swimming and I'm a Bereaved Offspring member of CanTeen. The three words that describe CanTeen for me are amazing, joyful and supportive. The best thing about CanTeen is being able to hang out with people the same age who have been through a cancer journey like me. It's been a challenge for me talking about the tough stuff of my cancer journey, but when I say how I feel it's like a great weight off my shoulders.
I went to REAL last year and it was a good experience that helped this. I learnt new techniques to help me deal with things that were on my mind and met new people who I'm still in touch with.
My advice for new members would be to always ask for help. There's a youth support coordinator or fellow CanTeen member to help. Kerry is one of those CanTeen members you can turn to. She's always brightening up someone's day and really understanding, having been through her own cancer journey. It's always good to talk to her. Just remember, that you don't have to feel alone, especially if CanTeen is involved. Cameron Christmas curtsy greetings Coming together for Southland's Christmas party Cameron taking the mic Cameron and Brayden at REAL Farewell Ryder Many of you will have met Ryder during her time at CanTeen and have your own stories of her glamour and graciousness.
Here, Warrick and Karen share theirs. Living life her way Ryder was one of the first members I met in hospital when I first joined CanTeen. Although she was initially introduced to me as Rob, she emerged beautifully some months later (if somewhat surprisingly to me) from the hospital lift doors, in her sparkly silver dress, high heels, flawless make-up and long wig. She knew how to make an entrance and she knew herself, as well as who she wasn't. She made many difficult decisions to create her life and her life came with more than its fair share of challenges; cancer and treatment were just one of those.
In fact, living life by attending the Rihanna concert was not medically recommended, but it put cancer in its place.
Ryder was part of a youth panel discussing the challenges of being queer and receiving cancer treatment as part of the PONZ conference in Wellington. She was a panellist and despite not feeling well, gave a wonderfully candid and educational session, which was the highlight for many, before being whisked off to Auckland for Listen Up. Certainly, she gave more than she received. What I loved about Ryder was that despite the numerous challenges she kept on striving forward, being the first in her family to attend university. She saw life as filled with opportunities.
Ryder was always gracious, always thankful and never giving up.
At the end, she had amazing nails, eyelash extensions, eyebrows done, dress picked out, wig ready to go. Even her passing was an opportunity to show the world how beautiful she was. She will be remembered for her beautiful soul. Warrick - Youth Support Coordinator Ryder (centre) at the Youth Leadership Awards A legacy on diversity Ryder August passed away on 1st March, surrounded by her family. I saw her that morning but my time was minimal due to her exhaustion. We did though share a couple of awesome things and one of them was how she had lived life. Anyone who knew Ryder, knew she did that to the fullest, with highs and lows, extremes and cautions.
She embraced life with a tenacity and courage that we often see members do, but Ryder had a complex life outside of cancer and she rose above this constantly, doing so with a humility, grace and spunk.
Ryder was a committee member in Manawatu for years, before moving to Wellington and becoming a Listen Up rep. She packed so much in her in short life, more than what most people do in a lifetime. She was a character. Had me on my toes, chasing her to attend her appointments at hospital. She often walked out of the ward because she was put in a room with men and she was a woman deep down. Those of us who were here when she shared her story about trans gendering to Ryder, will know that she changed the face of CanTeen in that area. That leaves a legacy from Ryder for us to honour her in how we embrace diversity, culture and allow people to be who they are.
Ryder girl, you fought a good race and won in my books! Say hi to Tay – (no doubt you will both continue to get up to mischief) and give her a bit hug from me. Fly high beautiful girl and may you rest in total and absolute peace. Karen - Youth Support Coordinator Ryder at Homegrown Ryder at the AYA Launch
Have something you want to share? Contact us on info@canteen.org.nz /CanTeenNZ canteen.org.nz @CanTeenNZ /canteen_newzealand "Now I have a feel for CanTeen and it gives me the confidence to attend more things." "Learnt how much I have grown and changed." "(I learnt to) relax more and enjoy life."