NHS CEVEAS INFORMATION PACKAGES - NICOLA MAGRINI
Page content transcription ( If your browser does not render page correctly, please read the page content below )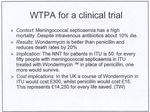 NHS CeVEAS Information Packages

                       Nicola Magrini
      CeVEAS - Centro per la Valutazione della Efficacia
                   dell'Assistenza Sanitaria
WHO Collaborating Centre for Evidence Based Research Synthesis
     and Guideline Development in Reproductive Health




                  Bologna 24 Settembre 2010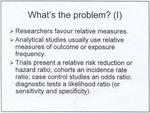 What I'll talk about

                Drug Information:
                what is essential?

                       Nicola Magrini
      CeVEAS - Centro per la Valutazione della Efficacia
                   dell'Assistenza Sanitaria
WHO Collaborating Centre for Evidence Based Research Synthesis
     and Guideline Development in Reproductive Health




               Bologna 24 Settembre 2010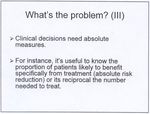 Contenuti della presentazione
• A foreword: what is essential? … or
  when less is more …
• Information pacakges and new formats …
• Conclusioni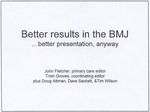 Essenziale … l'opposto di lungo?


… since I didn't have much time, I wrote it
 long …
Richard Smith,
BMJ editorial board meeting (2003-2004)
Statistica e interpretazione dei risultati:
   non scambiare i mezzi coi fini …




                            Bradford Hill.
               Textbook of medical statistics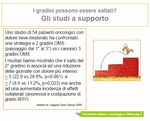 From clinical trials to clinical practice:
    three or four essential questions

Ø Are the results valid? Are they relevant?

Ø Are they applicable to my decisions/patients?

Ø Should I change my behaviour? [What do we know
  from other available studies? Do I suspect a strong
  publication bias? What are the other available options?]



                                           Emilio Maestri, 2000
BMJ, 28 August 2010
• When judging research, we were taught to ask
  three questions on behalf of the reader:
• Do I understand it, do I believe it, do I care?

• … no article was allowed to end with the
  redundant claim that more research is needed



                                    Fiona Godlee
The importance of
 publication bias
Its relevance is growing …
Changing the outcomes … is convenient
Changing outcomes means
 improving (falsifying) study results
• Reporting biases such as those we describe here
  increase the likelihood that interventions will appear to
  be effective when they are not.
• Such biases can lead to the omission of negative
  findings in systematic reviews of intervention
  effectiveness and in evidence-based guidelines.
• For example, the 2005 Cochrane systematic review
  regarding the effectiveness of gabapentin for acute and
  chronic pain concluded that it is effective on the basis of
  published findings and should now be updated with the
  inclusion of unpublished information made available
  through litigation.
Contenuti della presentazione
• A foreword: what is essential? … or when
  less is more …
• Information packages and new formats
  …
• Conclusioni
Improve format
P    of presentation:
        extract PICO
I   C from abstract
               or text

    O

        T
How we tried to improve the format


      P


I/C

O

T
Better use of graphs and
         images
2 or 3 steps in cancer pain
The importance
 of measuring
     pain
Improving formats
Comparing studies in absolute terms
 and using baseline risks … statins
Who is more informative?
The New York Times …
 or scientific journals?
Prescribers should know more
NY Times 18 febbraio 2005
NY Times 18 febbraio 2005



Dr. Christopher Grubb, a captain in the Army Medical Corps,
said soldiers in the 82nd Airborne were required to carry a cox-
2 drug in the event of a battlefield injury. Dr . Grubb said the
drugs had allowed many soldiers who otherwise would have
been sidelined by pain to be deployed overseas.

The drugs, he said, ''are essential for our global war on
terrorism.'' The comment prompted loud laughter in the
meeting.
FDA, votes and Panel decisions
• Perhaps most important, many members of the eighteen
  standing committees of experts that advise the FDA on
  drug approvals also have financial ties to the industry.
• After the painkiller Vioxx was removed from the market
  in 2005 (it increased the risk of heart attacks), the FDA
  convened a panel consisting of two of these committees
  to consider whether painkillers of the same class as
  Vioxx should also be removed from the market.
• Following three days of public hearings, the combined
  panel decided that, although these drugs—called COX-2
  inhibitors—did increase the risk of heart attacks, the
  benefits outweighed the risks.
• It therefore recommended that all three of the drugs,
  including Vioxx, be permitted to remain on the market,
  perhaps with strong warnings on the labels.
FDA, votes …
     scientific journals and NYT
• A week after the panel's decision, however, The
  New York Times revealed that of the 32 panel
  members, ten had financial ties to the
  manufacturers, and that if their votes had been
  excluded, only one of the drugs would have
  been permitted to stay on the market.
• As a result of this embarrassing revelation, the
  FDA reversed the panel and left only one of the
  drugs, Celebrex, on the market, with a warning
  on the label.
Contents of the presentation
• A foreword: what is essential? … or when
  less is more …
• Information packages and new formats …
• Conclusions
A good enough information…
• Be systematic, explicit, able to quantify the
  magnitude of expected benefits and harms
• Be simple, clear, atractive … the boredom of a
  research paper format …
• Produce information packages or enrichedand
  inclusive formats:
  – Regulatory agencies documents and decisions
  – Explain differences and soundness of guidelines and
    role of potential conflicts of interests
  – Have a look to what journals say …
  – Global evidences and local context …
Conclusioni


"To me, "knowledge" is about access
and understanding. Action is then a
choice (hopefully an informed one)
for the individual."
               Chris Silagy, Australia 1999