Parenting and Family Support Centre Research Report 1996-2021
Page content transcription
If your browser does not render page correctly, please read the page content below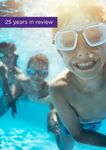 Acknowledgement of Country
The Parenting and Family Support Centre (PFSC) at The University of Queensland acknowledges the
Traditional Owners and their custodianship of the lands on which the PFSC operates.
We pay our respects to their Ancestors and their Descendants, who continue cultural and spiritual
connections to Country.
We recognise their valuable contributions to Australian and global society.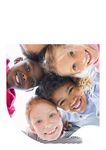 Contents
25 years in review ............................................................................................................................... 1
  Director's report ................................................................................................................................ 2
  Timeline of key events ...................................................................................................................... 4

People .................................................................................................................................................. 5
  Our staff ............................................................................................................................................ 6
  Our leadership team ......................................................................................................................... 7
  Our students ..................................................................................................................................... 9
  PFSC student alumni ....................................................................................................................... 10
  Awards ............................................................................................................................................. 14

Research highlights ..........................................................................................................................             17
  Population trials ...............................................................................................................................        18
  Reaching diverse cultural contexts ..................................................................................................                    19
  Innovation ........................................................................................................................................      22

Impact .................................................................................................................................................   27
  Program development and research outputs ..................................................................................                              28
  Publication metrics ..........................................................................................................................           29
  Policy and advocacy ........................................................................................................................             30
  Collaboration ....................................................................................................................................       31
  Teaching and professional activities ...............................................................................................                     34

Reach .................................................................................................................................................. 35
  Science communication ................................................................................................................... 36
  Events .............................................................................................................................................. 38

Future directions ...............................................................................................................................          39
  Ongoing projects ..............................................................................................................................          40
  Where to next? ................................................................................................................................          42
  Strategic objectives .........................................................................................................................           43

Appendix A: Grants ........................................................................................................................... 51

Appendix B: Scientific publications ................................................................................................ 63

Appendix C: Professional publications .......................................................................................... 89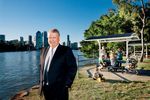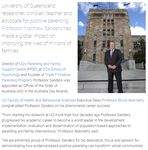 Director's report

                                                                                 Figure 1: Professor Matthew Sanders

The establishment of the Parenting and Family               evidence-based system of parenting support
Support Centre (PFSC) in June 1996 was a                    designed for all parents. Although the program
critical milestone that marked the start of a               started with his PhD work with disruptive
quarter of a century of sustained research                  preschool-aged children in the early 1980s, the
innovation and achievement, resulting in the                target groups expanded to incorporate parenting
PFSC's flagship program known as the Triple P               advice for all age groups from infancy through to
– Positive Parenting Program (Triple P). This               adolescence, including parents of children with
unique multilevel system of evidence-based                  developmental disabilities. The core clinical
parenting support has become the most                       resources were developed to publication
extensively studied and widely disseminated                 standard between 1994 and 1996.
parenting program in the world. It is used in 30
                                                            The PFSC has been responsible for many
countries in 22 languages, and has reached over
                                                            innovations over the years.
7 million families. Research on Triple P has been
conducted in 35 countries, involving over 1300              •     A multi-level, population-based system
researchers in 453 research institutions, resulting               comprising a five-level tiered system of
in 690 studies including 349 clinical trials. The                 evidence-based parenting support of
PFSC has attracted over $18.9 million in grant                    increasing intensity.
funding to support its research program (listed in          •     Blending both universal and targeted
Appendix A).
                                                                  programs to provide support to all families.
The PFSC began in 1996 with a 3-year
                                                            •     Use of flexible delivery modalities that
establishment grant from the Queensland                           include in-person individual and group
Government. A small team of clinical
                                                                  programs, online programs, television
psychologists led by the current director,
                                                                  programs, podcast series, telephone-
Professor Matthew Sanders, set about the
daunting task of developing and testing a unique,

2 Parenting and Family Support Centre Research Report 1996-2021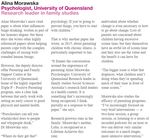 assisted and text based self-directed                  childhood adversity, Active Triple P for
    programs and text messaging.                           parents of children involved in team sports,
                                                           Family Transitions Triple P for separated or
•   A unique self-regulation framework to
                                                           divorced parents.
    promote personal agency in program
    delivery, training of practitioners and clinical   •   Quality training of HDR students. The PFSC
    supervision.                                           has supervised to completion 58 HDR
                                                           students who themselves have become
•   A multidisciplinary competency-based
                                                           leading researchers in parenting and family
    training program and implementation
                                                           psychology.
    support system.
                                                       •   Scientific impact. The PFSC has been a
•   A model for culturally sensitive adaptation
                                                           global leader in the development,
    and delivery of programs for Indigenous and
                                                           evaluation, and dissemination of a public
    culturally diverse families.
                                                           health approach to evidence-based
•   Programs targeting a diverse range of                  parenting support. PFSC researchers
    families. Expansion of programs to include a           conducted the world's first large scale
    diverse range of children and families                 population level implementation and
    (parents of children with chronic illness,             evaluation of a parenting intervention (Every
    obesity, anxiety disorders, ADHD, gifted and           Family) and collaborated with the University
    talented children, parents with mental health          of South Carolina and the Centers for
    problems, parents experiencing separation              Disease Control and Prevention in showing
    and divorce, socially disadvantaged parents,           that a population approach to parenting
    parents at risk of child maltreatment).                support could reduce the rates of child
                                                           maltreatment in a place based randomised
•   Use of diverse delivery contexts including
                                                           trial of the Triple P system.
    primary health care, early childhood
    education settings, paediatric and mental          •   Social impact. The PFSC has created UQ's
    health services, specialist clinics in hospital        leading social science innovation resulting in
    settings, family support services, telephone           the successful scaling and
    counselling services, early childhood                  commercialisation of UQ intellectual
    education settings, primary and secondary              property.
    schools, workplaces, community sporting
                                                       This report documents the collective contribution
    organisations, and via mass media
                                                       of a passionate and dedicated small group of
    (television, radio) and online.
                                                       researchers and students and our industry
•   Development of specific variants for               partners, committed to promoting the well-being
    vulnerable families such as Pathways Triple        of children and families everywhere.
    P for parents at risk of harming their
    children, Stepping Stones Triple P for
    parents of children with a disability, Lifestyle
    Triple P for parents of overweight or obese
    children, Family Life Skills Triple P for
                                                       Professor Matthew R. Sanders, AO, PhD
    parents with histories of trauma and

                                                                                  Supporting families for 25 years   3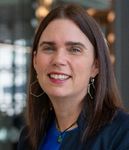 Our staff
 Leadership team                Position                                    Appointment
 Matthew Sanders                Director                                    Academic
 Karen Turner                   Deputy Director (Programs and Innovation)   Research Academic
 Alina Morawska                 Deputy Director (Research)                  Research Academic
 Cassandra Tellegen             Head, Curriculum Development                Research Academic
 Vanessa Cobham                 Head, Research on Families and Anxiety      Affiliate
 Yoni Kim                       Centre Coordinator                          General
 Research staff
 Jeanette Brown                 Indigenous Community Research Assistant     Casual Research General
 Carys Chainey                  Postdoctoral Research Fellow                Research General
 Jeffrey Chesters               Indigenous Community Research Assistant     Casual Research General
 Denise Clague                  Research Fellow                             Research General
 Elana Forbes                   Research Assistant                          Research General
 April Hoang                    Postdoctoral Research Fellow                Research General
 Julie Hodges                   Research Fellow                             Research Academic
 James Kirby                    Research Fellow                             Affiliate
 Antonia Kish                   Research Officer                            Casual Research General
 Kate Macklin                   Research Assistant                          Casual Research General
 Amy Mitchell                   Research Fellow                             Research Academic
 Honorary and affiliate research fellows
 Kylie Burke                    Honorary Research Fellow                    Honorary
 Cassandra Dittman              Honorary Research Fellow                    Honorary
 Divna Haslam                   Honorary Research Fellow                    Honorary
 Karyn Healy                    Honorary Research Fellow                    Honorary
 Trevor Mazzucchelli            Honorary Research Fellow                    Honorary
 Anilena Mejia                  Honorary Research Fellow                    Honorary
 Jenna McWilliam                Honorary Research Fellow                    Honorary
 Ron Prinz                      Honorary Research Fellow                    Honorary
 Francesca Puga                 Honorary Research Fellow                    Honorary
 Alan Ralph                     Honorary Research Fellow                    Honorary
 Kate Sofronoff                 Honorary Research Fellow                    Emeritus
 Helen Stallman                 Honorary Research Fellow                    Honorary
 Agnes Sumargi                  Honorary Research Fellow                    Honorary
 Koa Whittingham                Honorary Research Fellow                    Affiliate
 Leanne Winter                  Research Fellow                             Affiliate

6 Parenting and Family Support Centre Research Report 1996-2021
Our leadership team
             Centre Director
             Professor Matthew Sanders
             Matthew is considered a world leader in the field of evidence-based
             parenting and family interventions. As the founder of Triple P, his work has
             had a major international impact on child and parenting research, policy
             and practice. He has published extensively in the area of parenting, family
             psychology and the prevention of social, emotional and behavioural
             problems in children. He actively promotes positive parenting strategies
             throughout his local community through regular appearances in local,
             national and international media including radio, television and print media.

             Deputy Director (Programs and Innovation)
             Associate Professor Karen Turner
             Karen is a foundational co-author of the Triple P – Positive Parenting
             Program and has clinical and research experience relating to the
             prevention and treatment of childhood behavioural and emotional
             problems. She has also conducted research into: the dissemination of
             interventions in primary care and early childhood education settings;
             interactive online parenting programs; the cultural tailoring of programs for
             Indigenous families; and enhancing training and post-training support for
             Indigenous professionals.

             Deputy Director (Research)
             Associate Professor Alina Morawska
             Alina's research focuses on behavioural family intervention as a means for
             promoting positive family relationships, and a prevention and early
             intervention approach for families of young children at risk of developing
             behavioural and emotional problems, and health issues. In particular, her
             focus is on improving the health and overall wellbeing of children and
             families. She has published extensively in the field of parenting and family
             intervention and has recently been recognised as Australia's top scholar in
             family studies.

             Curriculum Development Leader
             Dr Cassie Tellegen
             Cassie is responsible for updating and creating Triple P training materials.
             She is a clinical psychologist and board approved clinical supervisor who
             completed her PhD in Clinical Psychology in 2013 at UQ. Her research and
             clinical work has focused on developmental disabilities with a special
             interest in Autism Spectrum Disorder. Her research in clinical psychology
             and behavioural family intervention has been cited extensively. In
             particular, her comprehensive meta-analyses have received international
             recognition.

             Anxiety Research Leader
             Associate Professor Vanessa Cobham
             Vanessa is an internationally recognised expert in child and adolescent
             anxiety and posttraumatic mental health (specifically disasters). She has
             worked as a clinical academic and a practicing clinical psychologist in the
             UK and Australia, and currently holds appointments with UQ and the Child
             and Youth Mental Health Service in Children's Health QLD. Vanessa is
             involved in Australian and international government initiatives to provide
             psychological care to children and adolescents affected by disaster and
             terror.

                                                                     Supporting families for 25 years   7
Organisational structure

                                                   Centre Director
                                              Matthew Sanders (.5FTE)

      Deputy Director                               Deputy Director
                                                      Research                           Centre Coordinator
  Progams and Innovation                                                                      Yoni Kim (.6FTE)
     Karen Turner (.8FTE)                       Alina Morawska (.7FTE)

      Curriculum Development
               Leader                          Statistician       Research Fellows
       Cassie Tellegen (.6FTE)                  (unfunded)            (grant funded)

          Communications Officer                                         Research Assistants
                  (unfunded)                                                 (grant funded)

8 Parenting and Family Support Centre Research Report 1996-2021
Our students
Student      Advisors         Topic                                               Degree        Start
Japheth      Alina Morawska   Efficacy and effectiveness of parenting              PhD          2020
Adina        Amy Mitchell     intervention for perinatal depression and
             Divna Haslam     infant developmental outcomes in a
                              resource-constrained setting: Baby Triple P
Carys        Kylie Burke      Childhood adversity in Australia: Can                PhD          2017
Chainey      Michele Haynes   parenting buffer against its effects on
                              wellbeing?
Kathryn      Divna Haslam     Parenting after migration: Exploration of            PhD          2014
Esparza      Alina Morawska   the unique parenting needs of migrant
             Ania Filus       parents to Australia
Carolina     Alina Morawska   Bridging the gap between parents and                 PhD          2020
Gonzalez     Divna Haslam     parenting interventions: A model of initial
Urrutia                       parental engagement
PhD
Amina        Alina Morawska   Impact of evidence-based parenting                   PhD          2018
Khalid       Karen Turner     intervention (Triple P – Positive Parenting
                              Program) on healing in children with history
                              of maltreatment
Hayley       Vanessa          Teaching parents of children with cystic             PhD          2018
Kimball      Cobham           fibrosis to manage their children's anxiety
             Matthew          using the Fear-less Triple P intervention
             Sanders
Grace        Matthew          The Alliance of Parents and Teachers                 PhD          2015
Kirby        Sanders          (APT) Project: Development and
             Julie Hodges     evaluation of a skills-based teacher
                              program to promote children's educational
                              and wellbeing outcomes through positive
                              home-school relationships
Yang Liu     Divna Haslam     Developing Triple P – Positive Parenting             PhD          2016
             Cassandra        Program for Chinese Fathers
             Dittman
Melinda      Alina Morawska   Raising voices: Examining the role of                PhD          2020
McBryde      Cassandra        parent-directed interventions in supporting
             Dittman          children's early language development
             Rebecca
             Armstrong
Nicole       Karen Turner     Women's energy entrepreneurship: The                 PhD          2017
Penman       Vigya Sharma     psychological mechanisms of
             Paul Lant        empowerment in remote Papua New
                              Guinea
Arvind       Karen Turner     Indigenous parent wellbeing: Implications            PhD          2019
Ponnapalli   Matthew          for early intervention parenting support in
             Sanders          Indigenous communities
Saumya       Karen Turner     Raising children in healthy environments in          PhD          2017
Singh        Peta Ashworth    India: Exploring 'familial agency' to mitigate
                              the negative impact of environmental
                              impoverishment

                                                                               Supporting families for 25 years   9
PFSC student alumni
  Student                  Supervisors              Topic                                               Year
  Michelle Adamson         Alina Morawska           Childhood feeding difficulties: A randomised        2011
  PhD                      Matthew Sanders          controlled trial of a group parenting
                                                    intervention
  Sabine Baker             Matthew Sanders          Broadening the reach of evidence-based              2017
  PhD                      Karen Turner             parenting interventions: Evaluation of a brief
                           Alina Morawska           online version of the Triple P – Positive
                                                    Parenting Program
  Jessica Bartlett         Matthew Sanders          The Lifestyle Triple P multilevel system of         2017
  PhD                      Gary Leong               parenting and family support for the
                                                    prevention and treatment of childhood obesity
  Mikaela Rae              Alina Morawska           Parenting and child behaviour as predictors         2018
  Berzinski                                         of tooth brushing difficulties in young children
  MPsych
  Felicity Brown           Kate Sofronoff           Supporting parents after paediatric acquired        2013
  PhD                      Koa Whittingham          brain injury: Evaluation of Stepping Stones
                           Roslyn Boyd              Triple P combined with Acceptance and
                           Lynne McKinlay           Commitment Therapy
  Samantha Brown           Alina Morawska           Surviving multiples: An evaluation of a group       2010
  DPsych                   Matthew Sanders          behavioural parenting intervention for parents
                                                    of twins and triplets
  Justine Burns            Matthew Sanders          The role of family factors in postpartum            2008
  PhD                                               depression
  Claire Chandler          Jeanie Sheffield         Being a foster carer in Queensland: Using           2013
  PhD                      Matthew Sanders          qualitative and quantitative research methods
                                                    to explore this experience and to tailor a
                                                    parenting intervention for carers
  Jamin Day                Matthew Sanders          Telephone-supported versus self-directed            2016
  PhD                      Alina Morawska           delivery of an online parenting program:
                                                    Outcomes, mediators and moderators of
                                                    change
  Tracy Evans              Koa Whittingham          Preventing relationship difficulties between a      2015
  PhD                      Roslyn Boyd              mother and her very preterm infant:
                           Paul Colditz             Implementation and evaluation of Baby Triple
                           Matthew Sanders          P for parents of a very preterm infant
  Agnes Gelmini            Alina Morawska           Promoting responsive feeding practices and          2017
  PhD                      Matthew Sanders          parenting skills in infancy to facilitate healthy
                                                    habits and reduce risk factors associated with
                                                    infant obesity
  Jade Grambower           Amy Mitchell             Managing type 1 diabetes in children: A             2017
  DPsych                                            parenting perspective
  Caroline Gregory         Alina Morawska           Asthma and parenting: Parents' perspectives         2010
  DPsych                                            on the challenges of paediatric asthma and
                                                    desired assistance
  Mingchun Guo             Alina Morawska           An evaluation of the Triple P - Positive            2015
  PhD                      Matthew Sanders          Parenting Program with Chinese parents in
                                                    mainland China with a look into the effects on
                                                    children's academic outcomes

10 Parenting and Family Support Centre Research Report 1996-2021
Student              Supervisors         Topic                                                  Year
Rayshell Harkin-     Alina Morawska      Unmet needs of new mothers in the postnatal            2019
Allen                                    period: A qualitative analysis of consumer-led
MPsych                                   feedback
Divna Haslam         Matthew Sanders     Teachers as Parents Project: Examining the             2009
PhD                  Kate Sofronoff      work-family interface and the efficacy of a
                     Jeannie Sheffield   workplace parenting intervention targeting
                                         work and family conflict
Karyn Healy          Matthew Sanders     Intervening with families of children bullied by       2014
PhD                  Aarti Iyer          peers
Michael Herd         Koa Whittingham     A randomised controlled trial to determine the         2015
PhD                  Roslyn Boyd         efficacy of Baby Triple P with parents of very
                     Paul Colditz        preterm infants on regulatory difficulties, child
                     Matthew Sanders     behaviour and parenting style
Sharon Hinton        Kate Sofronoff      Using telehealth technologies to engage and            2017
PhD                  Matthew Sanders     support parents of children with disabilities:
                                         An evaluation of a novel telehealth parenting
                                         programme
April Hoang          Matthew Sanders     The efficacy of Triple P plus compassion in            2020
PhD                  Divna Haslam        promoting co-parenting relationship between
                     James Kirby         parents and grandparents in Vietnam
Fiona Hoath          Kate Sofronoff      Stepping Stones Triple P: Acceptability and            2020
PhD                  Matthew Sanders     efficacy of a parenting programme for
                                         Indigenous families with a child with a
                                         disability
Lauren Hodge         Karen Turner        Evaluating the implementation and                      2016
PhD                  Matthew Sanders     sustainability of an evidence-based
                                         intervention: Delivering Triple P within
                                         Indigenous child welfare agencies
Julie Hodges         Alan Ralph          Implementation and Evaluation of connXionz             2013
PhD                  Jeanie Sheffield    for Boarding School Staff
James Kirby          Matthew Sanders     The development and evaluation of a                    2013
PhD                  Nancy Pachana       parenting program for grandparents:
                                         Grandparent Triple P
Antonia Kish         Peter Newcombe      The effect of work and family conflict on              2019
PhD                  Divna Haslam        quality of life of parents and children: An
                                         investigation in the context of child chronic
                                         illness
Gary Logan           Matthew Sanders     The relationship between child adjustment              1996
MPsychClin                               and parenting and family conflict variables
Aditi Lohan          Alina Morawska      Parenting interventions for parents of young           2017
PhD                  Amy Mitchell        children with type 1 diabetes
Clarissa Ya Yi Lui   Cassandra           Protective functions of parent-adolescent              2019
DPsych               Dittman             relationships and youth mental health
                     Kylie Burke         outcomes
Yuki Matsumoto       Monica Cuskelly     Community-based introduction model Triple P            2008
PhD                  Matthew Sanders     – Positive Parenting Program in Japanese
                     Kate Sofronoff      society
Cari McIlduff        Karen Turner        Cultural sensitivity in working with Indigenous        2020
PhD                  Matthew Sanders     Peoples: A model proposed and evaluated
                     Christine Brown     towards culturally sympathetic methodology
                     Wilson              for capacity building and social change

                                                                             Supporting families for 25 years   11
Student                  Supervisors              Topic                                              Year
  Philippa                 Matthew Sanders          The transition to primary school project:          2003
  McTaggart                                         Prevention or risk factors in the development
  PhD                                               of conduct problems
  Mandy Mihelic            Alina Morawska           Evaluation of the effectiveness of an              2016
  PhD                      Ania Filus               antenatal parenting program in high-risk
                                                    populations: Baby Triple P
  Amy Mitchell             Jennifer Fraser
                                                    The relationship between parents' self-
  PhD                      Patsy Yates
                                                    efficacy beliefs, outcome expectations, and
                           Joanne                                                                      2011
                                                    management of their child with atopic
                           Ramsbotham
                                                    dermatitis
                           Alina Morawska
  Alina Morawska           Matthew Sanders          Efficacy and effectiveness of self-directed        2004
  PhD                      Virginia Slaughter       behavioural family intervention
  Nicole Moretto           Alina Morawska           Infant feeding: An observational analysis of       2009
  MPsych                                            the feeding interactions of typically
                                                    developing infants
  Majella Murphy-          Matthew Sanders          Factors underlying the effective                   2007
  Brennan                                           implementation of evidence-based programs
  DPsych                                            in the field of family intervention
  Roslyn Pay               Alina Morawska           What is it like to parent a child or adolescent    2015
  DPsych                                            with type 1 diabetes: A qualitative study
  Vanessa Peachy           Divna Haslam             Dealing with disobedience: A randomized-           2014
  DPsych                   Alina Morawska           controlled trial investigating changes in parent
                                                    attitudes to smacking, parent anger and affect
                                                    following a brief parenting intervention
  John Pickering           Matthew Sanders          Innovation, engagement, and the evaluation         2016
  PhD                      Mark Dodgson             of a parenting intervention for improving
                                                    sibling relationships
  Aileen Pidgeon           Matthew Sanders          Attributional style and attributions for child     2006
  PhD                      Ross Young               and parenting behaviour: Assessment and
                                                    intervention with parents at risk of child
                                                    maltreatment
  Karen Plant              Matthew Sanders          Coping with care-giving: Behaviour problems        2007
  PhD                      Kenneth                  in preschool children with developmental
                           Pakenham                 disabilities
  Emina Prguda             Kylie Burke              Supporting families involved in the QLD            2020
  PhD                      Emma Antrobus            Community Corrections System: The role of
                           Sarah Bennett            parenting interventions in improving
                                                    adolescent and parent outcomes
  Gemma Roux               Kate Sofronoff           An evaluation of Group Stepping Stones             2009
  PhD                      Matthew Sanders          Triple P for parents of children with
                           Jeannie Sheffield        developmental disabilities
  Raziye Salari            Alan Ralph               Parent training programs for parents of            2009
  PhD                      Matthew Sanders          teenagers
  Mariajose Schulz         Divna Haslam             Understanding the role of parental attributions    2020
  PhD                      Alina Morawska           in parenting interventions
  Cheryl Seah              Alina Morawska           Enhancing sensitive parenting and reducing         2016
  PhD                      Virginia Slaughter       parenting stress: effects of Baby Triple P as a
                                                    postnatal parenting intervention

12 Parenting and Family Support Centre Research Report 1996-2021
Student                Supervisors           Topic                                                  Year
 Erik Simmons           Matthew Sanders       Psychology as a nexus for global change: the           2019
 PhD                    John Pickering        role of behavioural sciences in overcoming
                        Kelly Fielding        anthropogenic marine degradation
                        Kerrie Wilson
 Carmen Spry            Matthew Sanders       The Baby Triple P Project: Effects of a                2013
 PhD                    Alina Morawska        parenting intervention to promote a
                                              successful transition to parenthood
 Helen Stallman         Alan Ralph            The mental health of Australian university             2012
 PhD                    Matthew Sanders       students: Issues, correlates, and promotion
 Aleksandra             Fiona Bogossian       "I am the worst pregnant woman ever": A                2016
 Staneva                Alina Morawska        mixed-method study of the nature of
 PhD                    Anja Wittkowski       psychological distress during pregnancy
 Alya Sultan            Alina Morawska        Parental help seeking behaviour: Factors               2012
 DPsych                                       influencing parental help seeking behaviour
                                              and willingness to participate in their child's
                                              treatment intervention in the Sultanate of
                                              Oman
 Agnes Sumargi          Kate Sofronoff        Promoting parenting practices and child                2014
 PhD                    Alina Morawska        behaviour with an evidence-based program:
                                              A survey and Triple P – Positive Parenting
                                              Program trials with Indonesian parents
 Cassandra              Matthew Sanders       Parenting children with developmental                  2013
 Tellegen               Kate Sofronoff        disabilities: Evaluation of the Stepping Stones
 PhD                                          Triple P – Positive Parenting Program
 Sarah Teo              Alina Morawska        A randomised controlled trial of an                    2016
 DPsych                                       intervention to help parents communicate to
                                              children about sexuality
 Karen Turner           Matthew Sanders       Training primary care practitioners in brief           2003
 PhD                                          behavioural family intervention strategies
 Felicity West          Matthew Sanders       Lifestyle Triple P Project : exploring the link        2008
 PhD                    Alina Morawska        between parenting and childhood obesity
 Koa Whittingham        Kate Sofronoff        Implementation and evaluation of the                   2007
 PhD                    Jeanie Sheffield      parenting program Stepping Stones Triple P
                        Matthew Sanders       for children with Autism Spectrum Disorders
 Leanne Winter          Alina Morawska        Parent knowledge of effective parenting                2012
 PhD                    Matthew Sanders       strategies: Its relationship to parenting
                                              confidence, competence and problematic
                                              child behaviour in a population context

PFSC affiliate research fellows in in the School of Psychology have supervised a further 7 RHD
students to completion, and are currently supervising as additional 8 students completing doctoral
research in the School of Psychology.

                                                                                  Supporting families for 25 years   13
Awards
2020 Professor Matthew Sanders awarded Officer of the Order of Australia (Figure 3)
2020 Dr Amy Mitchell awarded Early Career Fellowship by
     the Children's Hospital Foundation
2019 Associate Professor Alina Morawska named Research
     Leader in Family Studies by The Australian (Figure 4)
2019 Associate Professor Alina Morawska received the UQ
     Health and Behavioural Sciences Faculty Award for
     Higher Degree Research Supervision
2018 Dr Amy Mitchell awarded an Early Career Fellowship
     by the Children's Hospital Foundation
2018 Professor Matthew Sanders received a Queensland
     Greats Award, Department of Premier and Cabinet
2017 Professor Matthew Sanders awarded the Australian
     Association for Cognitive and Behaviour Therapy's
     Distinguished Career Award
2016 Dr James Kirby received an Endeavour Fellowship
     enabling a residency at Stanford University
                                                                     Figure 2: Queensland iAwards article preview
2015 Dr Felicity Brown awarded the Endeavour Queen
     Elizabeth II Diamond Jubilee Scholarship to take up a postdoctoral position at the Harvard
     School of Public Health
2013 Professor Matthew Sanders received a UQ Top Innovator Award
2013 Associate Professor Karen Turner and Professor Matthew Sanders received Australian Institute
     for Training and Development 2013 National Learning Innovation Award
2013 Associate Professor Karen Turner and Professor Matthew Sanders received the Queensland
     iAward (Education) (Figure 2)
2010 Associate Professor Vanessa Cobham received a UQ 'Promoting Women' Fellowship
2009 Associate Professor Vanessa Cobham received the UQ Social and Behavioural Sciences
     Faculty Award for Innovation Excellence in Research
2008 Associate Professor Vanessa Cobham received the UQ Social and Behavioural Sciences
     Faculty Award for Teaching Excellence
2007 Professor Matthew Sanders received the Australian Psychological Society President's Award
     for Distinguished Contribution to Psychology
2007 Professor Matthew Sanders received the Association of Behavioral and Cognitive Therapies
     Trailblazer Award
2007 Professor Matthew Sanders named Queenslander of the Year
2005 Associate Professor Karen Turner received the UQ Social and Behavioural Sciences Faculty
     Award for Excellence in Research and its Dissemination to the Community
2004 Professor Matthew Sanders received an International Collaborative Prevention Science award
     from the US Society for Prevention Research
2001 Associate Professor Karen Turner awarded Dr Helen Row Zonta International Memorial Prize
1997 Professor Matthew Sanders received the Distinguished Career Award, Australian Association
     for Cognitive Behaviour Therapy
1997 Parenting and Family Support Centre awarded national first prize by the Australian Violence
     Prevention Award, Australian Heads of Government

14 Parenting and Family Support Centre Research Report 1996-2021
Figure 3: Professor Matthew Sanders Australian of the Year article

                                                       Supporting families for 25 years   15
Figure 4: Associate Professor Alina Morawska in The Australian

16 Parenting and Family Support Centre Research Report 1996-2021
Supporting families for 25 years   17
Population trials
Community-level outcomes
The Every Family Australian Triple P System Population Trial is a flagship PFSC project in
collaboration with the ARC Centre of Excellence for Children and Families over the Life Course (LCC).
This project is the largest ever Australian population-based trial of the Triple P system, targeting 33
highly disadvantaged communities in Ipswich, Moreton Bay and Toowoomba compared to matched
communities where Triple P is not being systematically implemented. Outcomes from the project will
provide critical information on the effects of a fully integrated social intervention on factors associated
with intergenerational transmission of disadvantage at the community level. For example, if there is a
certain level of community "saturation" of the program, do benefits spill-over to families who don't
directly receive the program, and can we see these benefits reflected in better outcomes at the
community level? The current Queensland state roll out of the Triple P System and the LCC
Population Trial of the System offer a never-before-seen opportunity to produce an in-depth
understanding of the role of social interventions such as Triple P in combatting factors associated with
inter-generational transmission of disadvantage at the whole-of-community level. In this sense, it is
similar to a major public health intervention, like vaccinations, which focus on directly addressing the
causes of an adverse outcome through prevention.

Child maltreatment outcomes
The prevention of child maltreatment necessitates a public health approach. In the 2009 U.S. Triple P
System Population Trial, 18 counties were randomly assigned to either dissemination of the Triple P
system or to the services-as-usual control condition. Dissemination involved Triple P professional
training for the existing workforce (over 600 service providers), as well as universal media and
communication strategies. Large effect sizes were found for three independently derived population
indicators: substantiated child maltreatment, child out-of-home placements, and child maltreatment
injuries. This study was the first to randomise geographical areas and show preventive impact on child
maltreatment at a population level using evidence-based parenting interventions.
The population-health approach also received widespread publicity in the County of Santa Cruz in
California when a 5-year report was recently launched which showed Triple P was one of a number of
programs used to buck the state trend and reduce child maltreatment indicators across the county.
Evaluators of a rollout of the Triple P system said Triple P had helped "turn the curve'' on children's
health and wellbeing in the county. Additionally, in San Diego, Jewish Family Services' delivery of
Triple P's suite of programs (including free workshops in 130 schools and community sites each year)
won the STARS award presented by the Child Abuse Prevention Coordinating Council, honouring the
program for demonstrated commitment to preventing child abuse in the San Diego County community.

Education outcomes
A large amount of publicity linking parenting intervention to education outcomes was generated in
Ireland when a long-term evaluation of the Irish Preparing For Life home visiting program was
released. All practitioners in the home visiting program were trained in the delivery of Triple P and a 7-
year RCT showed that children in the high treatment group, in which parents participated in Preparing
for Life, had a 10-point IQ gap over children in the low treatment group.
There was also widespread publicity of an evaluation of the effects of delivering a multi-level suite of
Triple P programs in Singaporean schools. An evaluation of a Ministry of Social and Family
Development pilot of Triple P in schools led to the expansion of the program to 175 schools.
Further evidence for education outcomes linked to Triple P also emerged in 2016 with news of a
Western Australian government 15-year follow-up study which also found educational outcomes for
Triple P. The study, produced by the Kids Telethon Institute, suggested that Triple P contributed to
long-term improvements in literacy and numeracy for primary school children and better attendance
for high schoolers.

18 Parenting and Family Support Centre Research Report 1996-2021
Reaching diverse cultural contexts
Kenya
Funded by the Edmund Rice Foundation, this
was the very first trial evaluating Triple P with
parents living in extreme poverty in the
informal settlements (slums) outside Nairobi.
The project was supported by the Brother
Beusang Catholic School. The program was
well received by local parents with requests for
more services to be available. Parents
                                                     Dr Divna Haslam and Nicole Penman with Triple P
reported being less likely to use traditional        group participants
methods of violent parenting practices
following the program. This project has led to a larger scale trial now under way in collaboration with
Kisumu Child Awareness Development and Management Initiative, Kenya; University of Konstanz,
Germany; and Queensland University of Technology.

India
Delegates from the PFSC travelled to India to visit six academic institutions in Bangalore and New
Delhi to develop research collaborations. An Indian National Parenting Survey project was established
with partners at Amity University. These relationships have resulted in a recently accepted position
paper on the importance of parenting in addressing the UN Sustainable Development Goals.

 Professor Matthew Sanders presenting a seminar to faculty
 and students at Amity University in New Delhi, India

Indonesia
The My Future, My Ocean Program was conducted in Indonesia in collaboration with Capturing Coral
Reef and Related Ecosystem Services (CCRES). This project used proven change mechanisms from
                                             Triple P in a new program addressing the way
                                             villagers of Selayar, Indonesia, interact with the reef
                                             and their livelihoods. Residents were empowered to
                                             build a healthy lifestyle and take care of the
                                             environment. The objective was to reduce the risk
                                             factors causing individuals to damage the reef,
                                             while enhancing the factors that lead to protection
                                             of the reef. Local partnerships were established
                                             with IPB (Bogor Agricultural University), LIPI (the
                                             CSIRO of Indonesia), and other teams within
                                             CCRES. The successful program was adopted by
                                             the community, supported by the World Bank.
                                             There have been several other collaborations in

                                                                                  Supporting families for 25 years   19
Indonesia, including policy advice to the Ministry of Education and Culture on the ministry agenda and
developing a parenting education centre.

Indigenous communities
Jandu Yani U (For All Families in Bunuba language)
In collaboration with the University of Sydney and Marninwarntikura Fitzroy Women's Resource
Centre, this NHMRC funded project aimed to provide parenting support for local families by engaging
with community to provide tailored delivery of Indigenous Triple P by local parent coaches. A
participatory action research focused effectiveness study demonstrated that local practitioners can be
successfully supported to deliver evidence-based parenting support in remote Aboriginal communities.

 Triple P trainer Margaret Weston and Indigenous Implementation Consultant Michell Forster training parent
 coaches in Fitzroy Crossing

Dar'in Djanum (Strong Together in Wakka Wakka language)
Building on Jandu Yani U, a Queensland Government funded population trial, is under way to explore
Indigenous conceptions of parent wellbeing, and to develop a community driven implementation
framework to deliver universal and targeted Triple P to enhance family wellbeing in Cherbourg.

Te Whanau Pou Toru (Three Pillars of Positive Parenting)
This project was conducted in
collaboration with Ngate Hine Health
Trust and University of Auckland,
funded by the New Zealand Ministry
of Health. A Collaborative
Participation Adaptation Model
(CPAM) was used, which involved
extensive hui/community consultation
with whānau/family and practitioners
                                               Professor Matthew Sanders with the Te Whanau Pou Toru team
as end users, the project team and

20 Parenting and Family Support Centre Research Report 1996-2021
program developers. Program resources were
reviewed to identify specific cultural adaptations in
delivering Triple P at hui that would enhance the Māori
worldview, inclusive of whakapapa, tupuna stories,
wairuatanga, and tikanga that reflect Māori traditional
ways of doing things together. Cultural acceptability,
relevance, and effectiveness of the program with a
broad range of Māori whānau as the Taonga or
Treasures were explored, as participants came
together generously sharing their views.

Disadvantaged communities
Triple P evaluations have been conducted in diverse
community settings including migrant and refugee
services (see below), and a current trial (in
collaboration with Western Sydney Area Health
Service) of a new program, Family Life Skills Triple P
for families with current disadvantage and histories of
trauma and adverse childhood experiences. This
program builds in and is being successfully run as
online Zoom groups due to COVID-19 restrictions on
in-person delivery.

Chronic illness
Positive Parenting for Healthy Living Triple P is an intervention developed for parents of a child with a
chronic health condition. Multiple trials have tested the program's efficacy for parents of children with
asthma, eczema, diabetes and phenylketonuria and show positive effects on children's and parent's
emotional wellbeing, and parenting and parenting confidence. Importantly, evidence is emerging that
the effects can also contribute to improvements in children's health.

                                                                                   Supporting families for 25 years   21
Innovation
Creating change through reality TV
                                                                      In 2005, Professor Sanders
                                                                      appeared in a UK reality series,
                                                                      "Driving Mum and Dad Mad" on
                                                                      ITV3 to track the progress of five
                                                                      families whose children were
                                                                      pushing their parents to the limit.
                                                                      Cameras tracked the families over
                                                                      eight weeks as they put Triple P
                                                                      advice into practice to re-build
                                                                      relationships, manage daily
                                                                      parenting challenges and set rules
                                                                      and limits. Tantrums and
                                                                      aggression were among the
behavioural problems captured on film. All five families benefited from Triple P, and thousands of
parents watched the series.
With a research grant from the UK Government's Home Office, in collaboration with the University of
Manchester, "The Great Parenting Experiment" assessed over 700 UK parents to see whether
watching "Driving Mum and Dad Mad" led to improvements in their children's behaviour and their own
stress levels.

Parents reported significant improvements in their child's behaviour, dysfunctional parenting, parental
anger, depression, and self-efficacy. Few sociodemographic, child or parent variables assessed at
pre-intervention predicted program outcomes or program engagement, suggesting that a wide range
of parents from diverse socioeconomic economic backgrounds benefited from the program. This
demonstrated that media interventions depicting evidence-based parenting programs may be a useful
means of reaching hard to engage families in population-level child maltreatment prevention
programs.

22 Parenting and Family Support Centre Research Report 1996-2021
Harnessing the reach of the Internet
Triple P Online was the first interactive online parenting program in the world. The first RCT was
published in 2012 and several large-scale trials have since been conducted with partners including
California State University Northridge, trialling the program within a social network for disadvantaged
parents in Los Angeles. In collaboration with the Oregon Research Institute and Seattle Children's
Hospital, a 3-level Triple P Online system of flexible dosage was compared with community paediatric
services in Washington State, USA. In collaboration with the University of South Carolina, a just-
published study compared Triple P Online to a staff-delivered Standard Triple P, holding program
content constant. This project
aimed to: test the equivalence of
the online intervention compared
to more established staff-delivered
intervention with respect to impact
on child behaviour, parenting, and
parent/family stress; conduct a
value analysis; assess consumer
satisfaction and explore how
logistical factors, participant
characteristics, and personal
preference are related to degree
of consumer satisfaction; and
document participant adherence
to the interventions.
Results from these projects have
helped the mental health field to
better understand the advantages
and disadvantages of online
interventions, particularly in light of a cost minimisation/effectiveness analysis. Trials show positive
parent and child outcomes, equivalence to face-to-face delivery, with significant cost benefits. Cost
minimization was driven primarily by personnel time and, to a lesser extent, by facilities cost and
family travel time.
Triple P Online has been incorporated into the Queensland Government's Triple P state-wide roll out,
including a version for parents of teenagers, making parenting support available for every Queensland
parent and carer.

               Professor Matthew Sanders and Associate Professor Karen Turner with
               Minister Di Farmer

                                                                                     Supporting families for 25 years   23
Supporting early childhood educators
Building on the success of Triple P Online, a parallel program, the Positive Early Childhood Education
(PECE) program, has been developed as an
in-service professional learning program for
educators in early childhood learning and
childcare settings for children up to 12 years
of age.
Trials have been conducted in Canada and
China, with positive results in terms of
acceptability, educator practices and
relationships with co-workers, and children
showed improved relationships with peers.
Centres that had been considering lowering
staff-to-child ratios no longer felt the need to
do so. Educators also reported a higher sense
of job control and satisfaction, and greater
self-confidence in being able to support
groups of children, which could lead to better
retention of staff in early childhood education
settings.

Innovation in the treatment of childhood anxiety
Fear Less Triple P is another major new innovation. It is an intervention targeting parents of primary
school-aged children with significant anxiety problems. Two randomised trials led by Associate
Professor Vanessa Cobham and Professor Matthew Sanders have shown that this parent-only
intervention is as effective as gold standard cognitive behavioural therapy treatment for children with
anxiety disorders. The "in person" delivered version of program is in the final stages of being prepared
for international dissemination. An online version of the program is planned.

24 Parenting and Family Support Centre Research Report 1996-2021
Supporting parents through children's sport
Play Well Triple P is a new online program in the Triple P system that specifically targets the
promotion of positive parenting in children's sport. The overarching goals of Play Well are to increase
the number of children participating in organised sport who are thriving physically, socially, and
emotionally, and to increase the number of parents who use positive parenting skills to support
children's enjoyment and participation in junior sporting activities.

It consists of Play Well Triple P Online, a single online module that is completed by each parent
enrolling their child in junior sport at the beginning of the season. The module introduces parents to
the important role of parenting in children's sport, parenting traps and hazards that can negatively
affect children in a sporting context, ten key positive parenting tips that avoid those traps, and planning
ahead to make changes. It uses a series of video vignettes, and testimonials from children and
parents describing specific positive strategies parents can use before, during and after games to
encourage children's participation and enjoyment of sport.

The second component is
Play Well Triple P Text
Messaging which involves
sending parents text
messages prior to and then
again on game day that
prompts parents to use
specific skills introduced in
the Play Well online program.
The third component is
referral to the Triple P Online
intervention for parents of
children with more serious
behaviour problems. An
evaluation is currently under
way with funding from The
National Rugby League.

                                                                                   Supporting families for 25 years   25
Parenting in a Pandemic
Recognising the stress of parents and children as the COVID-19 pandemic began to unfold, the
Parenting in a Pandemic team marshalled their expertise and connections to produce a multi-pronged
COVID-19 Parenting Support Response. In collaboration with government, industry and community
organisations, the UQ team developed and disseminated downloadable parenting resources, a 20-
episode podcast series, and 12-episode television series. While pivoting to online teaching, this agile
team rapidly produced high quality resources that were timely and relevant. The initiative embodied
exemplary leadership, respected the diversity of the Australian population, and protected the mental
health of UQ staff and the wider community through the COVID-19 pandemic.

26 Parenting and Family Support Centre Research Report 1996-2021
Impact

         Supporting families for 25 years   27
Program development and research outputs
•     PFSC research outputs include 581
      peer-reviewed publications (journal
      articles, books and book chapters; with
      a further 9 in press see Appendix B).

•     PFSC program development outputs
      include 165 Triple P professional
      resources and 117 translated
      resources (see Appendix C).

•     Globally, Triple P research has been
      published by 1,454 authors from 478
      institutions in 37 countries.

•     The 707 published papers relating to Triple P include
      355 evaluation trials and
      352 conceptual papers.

Growth over time is depicted below:

                         Growth in Triple P Research Output
    1400

    1200

    1000

     800

     600

     400

     200

       0

Since the formation of the PFSC, this equates to over 6,300% growth in researchers publishing
research on Triple P, 2,650% growth in publications about Triple P, 11,300% growth in research
institutions and 1,750% growth in countries where Triple P research is conducted.

28 Parenting and Family Support Centre Research Report 1996-2021
Publication metrics

                      Supporting families for 25 years   29
Policy and advocacy
Our core business is to engage, innovate and create research that drives global impact. We ensure
this happens by building the capacity of our researchers, staff and students to create change. All staff
are encouraged and supported to incorporate policy-level engagement in their research design and
implementation, in outreach across the community, in media and stakeholder engagement and in
presentations of their work at professional conferences and with potential philanthropic partners.
In February 2020, the PFSC formed an alliance of leading Australian researchers on evidence-based
parenting support, at a time when the country is facing one of the most significant health, social and
economic challenges of this generation, the COVID-19 pandemic.
The Parenting and Family Research Alliance (PAFRA) is a multidisciplinary group of researchers from
universities and centres nationally with the goal of increasing the reach of quality parenting support in
Australia and internationally. Membership of PAFRA is held by Australian university and research
centres, represented by researchers working in fields pertaining to parenting, family and EBPS.
Currently, representatives from 16 leading Australian universities and research centres are involved
with PAFRA:
•    ARC Centre of Excellence for Children and             •       Telethon Kids Institute (Professor Donna
     Families Across the Life Course (Professor                    Cross)
     Donna Cross, Professor Matthew Sanders)
                                                           •       The University of Melbourne (Associate
•    Australian Catholic University (Professor                     Professor Sophie Havighurst, Dr Karl
     Daryl Higgins)                                                Andriessen)
•    Australian National University (Professor             •       The University of Sydney (Professor Mark
     Alison Calear)                                                Dadds, Professor Adam Guastella,
                                                                   Associate Professor David Hawes, Dr
•    Curtin University (Dr Trevor Mazzucchelli)
                                                                   Frances Doyle)
•    Deakin University (Professor John
                                                           •       The University of Queensland (Professor
     Toumbourou)
                                                                   Matthew Sanders, Professor Christel
•    Griffith University (Professor Sharon Dawe,                   Middeldorp, Associate Professor Vanessa
     Professor Melanie Zimmer-Gembeck,                             Cobham, Associate Professor Alina
     Associate Professor Paul Harnett)                             Morawska, Associate Professor Karen
                                                                   Turner, Dr Kylie Burke, Dr James Kirby, Ms
•    La Trobe University (Professor Jan
                                                                   Carys Chainey)
     Nicholson)
•    Monash University (Professor Bruce Tonge,             •       The University of Western Australia
                                                                   (Professor Donna Cross, Associate
     Associate Professor Marie Yap)
                                                                   Professor Jeneva Ohan)
•    Parenting Research Centre (Mr Warren
                                                           •       University of the Sunshine Coast (Professor
     Cann)
                                                                   Helen Stallman)
•    Queensland University of Technology
     (Professor Ben Mathews, Associate
     Professor Kate Williams, Dr Divna Haslam)

Prior to the establishment of PAFRA, no advocacy groups or organisations specifically focused on
increasing public knowledge, multidisciplinary discourse, policy priority or funding to promote the
wellbeing of Australian children, families and communities through evidence-based parenting support.
The alliance has already made formal submissions to: Federal Health Minister Greg Hunt and the
National Cabinet, advocating for the wider adoption of EBPS as part of the COVID-19 mental health
response; the Commonwealth Department of Health, advocating for Medicare policy changes to
increase access to EBPS throughout the country; submissions to major news outlets; and two position
papers currently under review.

30 Parenting and Family Support Centre Research Report 1996-2021
Collaboration
A substantial amount of national and international collaboration occurs between the PFSC and other
research centres around the world. This research network provides diverse perspectives in the
research and increases the global impact of the PFSC's work.
One example is a collaboration between researchers from the PFSC and the Harvard Center on the
Developing Child which included a scientific think tank in 2018 and a series of scholarly papers on the
promotion of self-regulation that was published as a special issue of Clinical Child and Family
Psychology Review in 2019. This collaboration integrated self-regulation concepts as applied to child
development, evidence-based parenting support, training of professional and agency based
implementation of evidence-based programs in the community

Research centres
The following countries have been involved in Triple P research activities, working either
independently or collaboratively with the PFSC help evaluating aspects of the Triple P system.
•   Australia (Australian Catholic University,       •    China (Hong Kong Polytechnic University,
    Curtin University, Griffith University, Monash        Chinese University Hong Kong, Fujian
    University, QIMR Berghofer Medical                    Normal University)
    Research Institute, Queensland University
                                                     •    England (University of Manchester, Oxford
    of Technology, The University of Newcastle,
                                                          University, Cambridge University, Imperial
    The University of Queensland, University of
                                                          College London, University College London,
    Central Queensland, The University of
                                                          University of Exeter, Lancaster University,
    Sydney, The University of Western
                                                          University of East Anglia)
    Australia, University of Southern
    Queensland)                                      •    Germany (University of Braunschweig,
                                                          University of Konstanz, University of
•   Belgium (University of Antwerp)
                                                          Marburg)
•   Canada (McGill University, Seneca College,
                                                     •    India (Amity University, Jamia Millia Islamia,
    University of Western Ontario, University of
                                                          National Institute of Mental Health and
    Manitoba, Alberta Research Center for
                                                          Neuro Sciences, University of Delhi)
    Children, University of Ottawa, Douglas
    Hospital Research Center)                        •    Indonesia (Bangor Agricultural University,
                                                          PP LIPI, Universidad Indonesia, State
•   Chile (Pontificia Universidad Católica de
                                                          Islamic University (UIN) Yogyakarta)
    Chile, Universidad de los Andes,
    Universidad Santo Tomás)                         •    Iran (Medical University of Tehran)

                                                                                 Supporting families for 25 years   31