PRESS INFOR MATION - OSTPOL-LEIPZIG.DE
Page content transcription
If your browser does not render page correctly, please read the page content below
P R e S S I n F o R m at I o n

anSICHtSSaCHe 3
               Leipzig – Belgrade

УГАО ГЛЕДАЊА 3
                             Leipzig – Belgrade

  Project Description & Press Releases

  Film Information
         ouR LIttLe SeCRet
         FRagmentS
         gRanDFatHeR KovaCS
         maRIja
         WHeRe Have you gone
         gueStS aRe aBout to aRRIve

  Partners / network / team / Workshop

  Contact Details
Project anSICHtSSaCHe
anSICHtSSaCHe was founded in Leipzig in 2008 by oStPoL e.v. the international short film
project not only contributes to international understanding by creating an interdisciplinary dialogue
between young scriptwriters from Leipzig and international film schools, it also promotes effici-
ent and lasting international co-productions. It is a multi-step program, which distinguishes itself
through its twofold challenge of interdisciplinary cooperation and international exchange.

anSICHtSSaCHe – the international co-production project with up-and-coming scriptwriters from
Leipzig is taking place in 2011 for the third time. the successful cooperation between film schools
in the ukraine and Poland is being continued in cooperation with the Faculty of Dramatic arts (the-
ater, film, radio and television) Belgrade, Serbia. the german partner is – as before – the renow-
ned Deutsche Literaturinstitut Leipzig (german Creative Writing Programme - DLL).

In February 2011 a jury of media experts: Frank albers (Robert Bosch Stiftung), Dr. markus görsch
(mitteldeutsche medienförderung), Prof. Dr. Hans-ulrich treichel (DLL), Roland Rust (Filmfestival
Cottbus), Dr. Christian Lüffe (goethe Institut), andreas Richter (SLm) and Dr. Cathy de Haan (DLL)
chose six scripts for use with the Serbian film students.
the winners are Choleda jasdany, mónika Koncz, Babét mader, therese Schreiber, manuel Stall-
baumer und julia Walter. these young writers have developed exciting film material through the
scriptwriting seminar led by Cathy de Haan since october 2010 – in cooperation with eu candidate
Serbia. Whether tragic or comedic, each script has its own signature and invites the Serbian direc-
tors to enter into a creative dialogue.
In march 2011 – during the workshop in Belgrade – students of the directing department of FDu and
the authors from Leipzig build six teams and worked on the scripts to get them ready for shooting.
they had to face a double challenge: to work inter-disciplinary and think cross-culturally. the re-
nowned Serbian directors goran markovic, oleg novkovic, Stefan arsenijevic and narcisa Darijevic-
markovic as well as artistic director Cathy de Haan supported them throughout their collaboration.
afterwards the the six short feature films were produced in Serbia.
In november 2011 the finished films had their world premiere as a special showcase during the
international FilmFestival Cottbus and of course a Leipzig Premiere with all teams present. the six
films are already invited from various international film festivals and are touring the world.

                                                 anSICHtSaCHe 3 is a project of oStPoL e.v. /
                                                 Leipzig – association for the promotion of inter-
                                                 national cultural projects. Partners: Faculty of
                                                 Dramatic arts (theater, film, radio and television)
                                                 Belgrade and Deutsches Literaturinstitut Leipzig
                                                 (the german Creative Writing Program - DLL).
                                                 Supported by: the Robert Bosch Stiftung, mittel-
                                                 deutsche medienförderung (mDm), ministry of
                                                 Culture, media and Information Society / Serbia,
                                                 goethe-Institut Belgrade, Sächsische Landes-
                                                 anstalt für privaten Rundfunk und neue medien
                                                 (SLm), Filmverband Sachsen and the FilmFesti-
                                                 val Cottbus.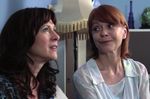 anS3 – Filminformationen
OUR LITTLE SECRET
original title / german title: naŠa maLa tajna / unSeR KLeIneS geHeImnIS
Serbia / germany 2011, 16:30 min
Director: Sanja Živković, Screenplay: Choleda jasdany
It's great to be young? not with a nagging mother and the burdensome responsibility for a young brother.
milica on the search for a hazard-ous means of escape from her sorrow.
jung sein ist schön??? nicht mit einer nörgelnden mutter und der drückenden verantwortung
für einen kleinen Bruder. milica sucht sich einen riskanten Fluchtweg aus der tristesse.

FRAGMENTS
original title / german titel: FRagmentI / FRagmente
Serbia / germany 2011, 12 min
Director: Ivan Stojiljković , Screenplay: therese Schreiber
What remains? Half-dreamed dreams, impassioned nights, friendship, struggles and jealousy;
memories from the brink of death.
Was bleibt? Halbgeträumte träume, leidenschaftliche nächte, Freundschaft, Kämpfe und eifersucht –
erinnerungen an der Schwelle des todes.

GRANDFATHER KOVÁCS
original title/ german titel: DeDa KovÁCS / gRoßvateR KovÁCS
Serbia / germany 2011, 12:50 min
Director: milica Djenić, Screenplay: mónika Koncz
the notorious Casanova Kovács is visited by his daughter and granddaughter from germany,
as well as his recently deceased wife. the latter has a score to settle with him...
Der notorische Casanova Kovacs bekommt Besuch von tochter und enkelin aus Deutschland und
von seiner kürzlich verstorbenen Frau. Denn die hat noch eine Rechnung offen ...

MARIJA
original title/ german titel: maRIja / maRIja
Serbia / germany 2011, 15 min
Director: nebojsa nenadić, Screenplay: manuel Stallbaumer
to devour or be devoured? not in marija's world. the six-year-old restructures life; without borders,
without walls, without shackles.
Fressen und gefressenwerden? nicht in marijas Welt. Die Sechsjährige ordnet das Leben neu.
ohne grenzen, ohne mauern, ohne Leinen.

WHERE HAVE YOU GONE
original title / german titel: Što te nema / WaRum BISt Du nICHt HIeR
Serbia / germany 2011, 16:45 min
Director: vladimir tagić, Screenplay: Babét mader
a shared terraced house, a shared breakfast, a shared son. a couple share many things, but in this case not the essen-
tials: love has long bid them farewell. yet the yearning thereafter is still alive.
gemeinsames Reihenhaus, gemeinsames Frühstück, gemeinsamer Sohn – ein Paar teilt vieles, nur nicht das Wesent-
liche – die Liebe hat sich schon lange aus ihrem Leben verabschiedet. Doch die Sehnsucht ist noch lebendig.

GUESTS ARE ABOUT TO ARRIVE
original title / german titel: goStI Samo Što nISu StIgLI / gLeICH Kommen DIe gÄSte
Serbia / germany 2011, 14:15 min
Director: tea Lukać, Screenplay: julia Walter
marija and her Cory's Shearwater – two strange birds trying to survive in Belgrade.
But one day an unexpected visitor causes confusion...
a little story about loneliness and hope. marija und ihr gelbschnabel-Sturmtaucher – zwei seltsame vögel versuchen, in
Belgrad zu überleben. Bis ein unerwarteter Besuch für verwirrung sorgt … eine kleine geschichte über einsamkeit und
Hoffnung.
3
                                                                                    AN
                                                                                       SIC
                                                                                      SA HTS
                                                                                         CH
                                                                                            E

 NAŠA MALA TAJNA
 OUR LITTLE SECRET
 UNSER KLEINES GEHEIMNIS

 It's great to be young? Not with a    Director Sanja Ž ivković          Cast
 nagging mother and the burden-        Screenplay Choleda Jasdany          Iva Stefanović (Milca)
 some responsibility for a young       Director of Photography             Ivan Banjalić (Sale)
 brother. Milica on the search for a   Nebojša Vasić                      Branka Šelić (Mother)
 hazardous means of escape from        Sound                               Sanja Pešić (Lady in the shop)
 her sorrow.                           Nikola Lukić, Mika Stevanović     Alexa Glisović (Policeman)
                                       Editor Vesna Grba                   Petar Uželac (Older Boy)
 Jung sein ist schön??? Nicht mit      Production Design Ana Hucka
 einer nörgelnden Mutter und der       Costume Maja Dimitrijević          Artistic Supervisors / Mentors
 drückenden Verantwortung für          Make-up Artist                      Cathy de Haan, Goran Marković,
 einen kleinen Bruder. Milica sucht    Aleksandra Zlatanović              Stefan Arsenijević
 sich einen riskanten Fluchtweg aus    Music Marko Marić                  Executive Producer
 der Tristesse.                        First Assistant Director            Vera Schmidt, Aleksandar
                                       Dejan Strika                        Ivanikov, Marina Fafulić
                                       Production Manager                  Producer
                                       Jakov Petrović, Andrija Sudarski   Cathy de Haan, Zoran Popović,
                                       Organisation Workshop Belgrade      Andrija Dimitrijević
                                       Vanja Acimović

 Serbia / Germany 2011
 Running Time: 16:30 min
 Format: HD Digital / Color / 16:9
 Original Version: Serbian
 Subtitled Versions: English, German
 Sound Technology: Stereo

infokarten_ansichtssache3 7                                                                       16.03.12 13:44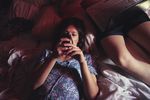 3
                                                                                              AN
                                                                                                  SIC
                                                                                                 SA HTS
                                                                                                    CH
                                                                                                       E

 CHOLEDA JASDANY Author                                                            ANSICHTSSACHE 3
 Choleda Jasdany was born in 1979 in Kabul. She grew up in Hamburg,                is the third edition of a remarkable experi-
                                                                                   ment by the Leipzig association OSTPOL.
 lived in New York and Mexico City. 2008 she graduated with a Bachelor of          The aim of this educational project is to
 Arts in Japanese Studies at the Freie Universität in Berlin. Since 2008 she       improve international understanding as
 has been studying Literary Writing at Deutsches Literaturinstitut Leipzig         well as to open up professional opportuni-
 (The German Creative Writing Program Leipzig). From 2009 to 2010 she              ties for future international co-productions
                                                                                   with Germany.
 organized "Hausdurchsuchung", literary readings from students of the DLL.
 She is a co-editor of the anthology "Tippgemeinschaft" 2011. Her own pub-         Partners are Faculty of Dramatic Arts
 lications were released in the anthology Roughbooks from Urs Engeler and          (theatre, film, radio and television)
 the Tippgemeinschaft 2010.                                                        Belgrade and Deutsches Literaturinstitut
                                                                                   Leipzig (The German Creative Writing
                                                                                   Program – DLL).
 SANJA Ž IVKOVIĆ Director
 Sanja Ž ivković was born in Belgrade, Serbia and immigrated with her family     ANSICHTSSACHE 3 is supported by
                                                                                   Robert Bosch Stiftung, Mitteldeutsche
 to Canada in 1994. In 2009 she finished Simon Fraser University's School for
                                                                                   Medienförderung (MDM), Ministry of
 the Contemporary Arts in Vancouver, majoring in Film Directing. Sanja has         Culture, Media and Information Society/
 directed, edited and produced a number of short narrative and documentary         Serbia, Goethe-Institut Belgrade, Säch-
 films, some of which have gained both national and international recognition.     sische Landesanstalt für privaten Rund-
 She now resides in Belgrade and studies at Faculty of Dramatic Arts.              funk und neue Medien (SLM), FilmFestival
                                                                                   Cottbus and Filmverband Sachsen e.V.

 ANDRIJA SUDARSKI Production Manager
 Andrija Sudarski was born in Belgrade. Has a degree in film and TV produc-
 tion at the Faculty of Dramatic Arts. Won the "Bojan Lukić -award" for being
 best student of film and TV production in 2009. Worked on many student
 films, projects, TV shows etc. One of the co-producers of a documentary film
 "Jednostavno Valter" dedicated to well-known actor Velimir Bata Ž ivojinović.
 The docu was supported by City of Belgrade Secretariat for Culture and TV
 series Mešano meso directed by Dejan Zeč ević and broadcasted on PRVA
 TV with high ratings. Worked as executive producer on several TV com-
 mercials supported by EU.                                                         Contact:
                                                                                   OSTPOL e.V.
                                                                                   Augustenstr. 20
 JAKOV PETROVIĆ Production Manager                                                04317 Leipzig / Germany
 After graduation on Faculty of Dramatic Arts in Belgrade started post             phone: + 49. 341. 68 94 962
                                                                                   info@ostpol-leipzig.de
 graduated studies on Faculty of Organisational Sciences. Worked as ex-            www.ostpol-leipzig.de
 ecutive producer in many student films. One of co-producers of documen-
 tary film dedicated to the well-known actor Velimir Bata Ž ivojinović called
                                                                                                                                  © weltprovinz.de

 "Jednostavno Valter" which was supported by City of Belgrade Secretariat
 for Culture and TV series Mešano meso directed by Dejan Zeč ević and
 broadcasted on PRVA TV.

infokarten_ansichtssache3 8                                                                                      16.03.12 13:44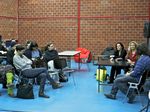 3
                                                                                    AN
                                                                                       SIC
                                                                                      SA HTS
                                                                                         CH
                                                                                            E

 FRAGMENTI
 FRAGMENTS
 FRAGMENTE

 What remains? Half-dreamed            Director Ivan Stojiljković         Cast
 dreams, impassioned nights,           Screenplay Therese Schreiber        Ana Mandić (Ana)
 friendship, struggles and jealousy;   Director of Photography             Jovan Beloprković (Jovan)
 memories from the brink of death.     Ivan Marković                      Boris Lukman (Boris / Brother)
                                       Camera Operator Igor Djordjević,   Marko Grabež (Boy from the party)
 Was bleibt? Halbgeträumte             Ivan Marković                      Igor Shinko (Boy from the party)
 Träume, leidenschaftliche Nächte,     Editor Ivan Stojiljković,          Vanja Dragišić (Girl with whom she
 Freundschaft, Kämpfe und              Ivan Marković                      is fighting)
 Eifersucht – Erinnerungen an der      Sound Recording Stevan Milošević   Milica Cakić (Girl from the party)
 Schwelle des Todes.                   Boom Operator Matija Leković,      Mimi Gvoydenović (Girl from the
                                       Stevan Milošević                   party)
                                       Make-up Artist                      Aleksandra Milosaveljvić (Boy from
                                       Jovana Vukosavljecić               the party)
                                       First Assistant Director            Nada Marković (Neighbour)
                                       Jelena Gavrilović
                                       Production Manager                  Artistic Supervisors / Mentors
                                       Vladimir Dudar                      Cathy de Haan, Goran Marković,
                                       Organisation Workshop Belgrade      Oleg Novković
                                       Vanja Acimović                     Executive Producer
                                                                           Vera Schmidt, Aleksandar
                                                                           Ivanjikov, Marina Fafulić
                                                                           Producer
 Serbia / Germany 2011                                                     Cathy de Haan, Zoran Popović,
 Running Time: 12 min                                                      Andrija Dimitrijević
 Format: HD Digital / Color / 16:9
 Original Version: Serbian
 Subtitled Versions: English, German
 Sound Technology: Stereo

infokarten_ansichtssache3 5                                                                       16.03.12 13:44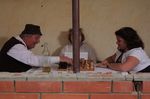 3
                                                                                             AN
                                                                                                 SIC
                                                                                                SA HTS
                                                                                                   CH
                                                                                                      E

 THERESE SCHREIBER Author                                                         ANSICHTSSACHE 3
 Therese Schreiber, born on the 11th of November 1981 near Dresden,               is the third edition of a remarkable experi-
                                                                                  ment by the Leipzig association OSTPOL.
 started pretty soon to take part in diverse local youth projects concerning      The aim of this educational project is to
 theatre and film. After spending a year abroad and graduating high school        improve international understanding as
 back home in 2001, she lived and worked temporarily in Berlin, inter alia as     well as to open up professional opportuni-
 a trainee at an animation studio. From 2004 to 2010 she studied children's       ties for future international co-productions
                                                                                  with Germany.
 book illustration in Hamburg, where she also wrote and stage-managed
 plays for an independent musical drama group. Next to that, she developed        Partners are Faculty of Dramatic Arts
 German-speaking songs for numerous own cabaret programs together with            (theatre, film, radio and television)
 her singer-songwriter trio "teewurst". Besides that, she attended writing        Belgrade and Deutsches Literaturinstitut
                                                                                  Leipzig (The German Creative Writing
 classes and author workshops on a regularly basis, published in the literary
                                                                                  Program – DLL).
 journal "die horen" and wrote the screenplay for a student short movie. Since
 2010 Therese Schreiber studies at Deutsches Literaturinstitut Leipzig (The       ANSICHTSSACHE 3 is supported by
 German Creative Writing Program Leipzig).                                        Robert Bosch Stiftung, Mitteldeutsche
                                                                                  Medienförderung (MDM), Ministry of
                                                                                  Culture, Media and Information Society/
 IVAN STOJILJKOVIĆ Director                                                      Serbia, Goethe-Institut Belgrade, Säch-
 Born in Karlovac in Croatia in 1984. Living, studying and working in Belgrade    sische Landesanstalt für privaten Rund-
 for the last eight years. He is student of fourth year at the Academy of Dra-    funk und neue Medien (SLM), FilmFestival
                                                                                  Cottbus and Filmverband Sachsen e.V.
 matic Arts in Belgrade (FDU). Before FDU he studied Japanese language
 at Faculty of Philology in Belgrade. So far Stojiljkovic made about fifteen
 short movies and had success with a short film from second year of studies
 "Yugo" which was in over twenty local and international festivals and won
 two awards. With another short movie "I'm good, I'm gone" he participated
 at five festivals. Written and directed five commercials for TV and filmed
 thirteen music videos for alternative and pop performers.

 VLADIMIR DUDAR Production Manager
 Vladimir Dudar is currently 2nd year student of the Faculty of Dramatic Arts –
 Department of Film and TV production. He has a short but rich experience         Contact:
                                                                                  OSTPOL e.V.
 in student movies (5) as executive producer, production manager and unit         Augustenstr. 20
 production manager. Also, since 2007 he is working as camera assistant in        04317 Leipzig / Germany
 Media plus and in that position took part in the production of many com-         phone: + 49. 341. 68 94 962
 mercials. During 2011, parallel with his obligations on Faculty he worked as     info@ostpol-leipzig.de
                                                                                  www.ostpol-leipzig.de
 one of the producers of "Feed Me Production" on several projects (short film,
 feature film and music video).
                                                                                                                                 © weltprovinz.de

infokarten_ansichtssache3 6                                                                                     16.03.12 13:44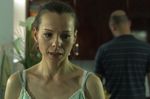 3
                                                                                       AN
                                                                                          SIC
                                                                                         SA HTS
                                                                                            CH
                                                                                               E

 DEDA KOVÁCS
 GRANDFATHER KOVÁCS
 GROSSVATER KOVÁCS

 The notorious Casanova Kovács is        Director Milica Djenić               Cast
 visited by his daughter and grand-      Screenplay Monika Koncz               Toma Kurozović (Grandpa Kovács)
 daughter from Germany, as well as       Director of Photography               Andelka Davidovac (Milica Kovács)
 his recently deceased wife. The lat-    Jelena Prekajski                      Isidora Minić (Vera)
 ter has a score to settle with him...   Camera Assistant Bojan Brbora         Emilija Terzić (Jelena)
                                         Sound Mixer Mihajlo Stevanović       Katalin Ladik (Rozi)
 Der notorische Casanova Kovacs          Boom Operator Aleksandar
 bekommt Besuch von Tochter und          Manja, Pavle Dinulović               Artistic Supervisors / Mentors
 Enkelin aus Deutschland und – von       Composer/Sound Design                 Cathy de Haan, Goran Marković,
 seiner kürzlich verstorbenen Frau.      Saša Rančić                         Narcisa Darijevic-Marković
 Denn die hat noch eine Rechnung         Editor Nikola Purić                  Executive Producer
 offen ...                               Production Design Mina Lazarević     Vera Schmidt, Aleksandar
                                         Costume Ida Ignjatović               Ivanjikov, Marina Fafulić
                                         Make-up Artist                        Producer
                                         Jovana Vukosavljević                 Cathy de Haan, Zoran Popović,
                                         Music Aleksandar Ranči               Andrija Dimitrijević
                                         Second Assistant Director
                                         Strahinja Savić
                                         First Assistant Director
                                         Luka Popadić
                                         Production Assistant Jovana Durić,
 Serbia / Germany 2011                   Tijana Medigović
 Running Time: 12:50 min                 Production Manager
 Format: HD Digital / Color / 16:9       Dušan Radenković,
 Original Version: Serbian               Ana Ž ivanović
 Subtitled Versions: English, German     Organisation Workshop Belgrade
 Sound Technology: Stereo                Vanja Acimović

infokarten_ansichtssache3 3                                                                         16.03.12 13:44
3
                                                                                           AN
                                                                                               SIC
                                                                                              SA HTS
                                                                                                 CH
                                                                                                    E

 MÓNIKA KONCZ Author                                                           ANSICHTSSACHE 3
 Mónika Koncz was born 1985 in Senta (Serbia). From 2004-2009 she               is the third edition of a remarkable experi-
                                                                                ment by the Leipzig association OSTPOL.
 studied German literature and history at the University of Freiburg (D).       The aim of this educational project is to
 2005 and 2006 she was organizer and presenter of the reading stage             improve international understanding as
 Slam Deluxe. 2008 she received the Paula Rombach-Literaturpreis for            well as to open up professional opportuni-
 her one-actor play "Matroska". Since 2009 she is student at Deutsches          ties for future international co-productions
                                                                                with Germany.
 Literaturinstitut Leipzig, studying creative writing. 2011 she won the MDR-
 Literaturpreis.                                                                Partners are Faculty of Dramatic Arts
                                                                                (theatre, film, radio and television)
                                                                                Belgrade and Deutsches Literaturinstitut
 MILICA DJENIĆ Director
                                                                                Leipzig (The German Creative Writing
 Born on 16th of April 1985 in Belgrade. From 2004 to 2007 attended film        Program – DLL).
 school "Kvadrat". In 2005 began studies at Faculty of Philosophy in Bel-
 grade (History of Art). Enrolled to Faculty of Dramatic Arts in Belgrade in    ANSICHTSSACHE 3 is supported by
                                                                                Robert Bosch Stiftung, Mitteldeutsche
 2007, and currently attends first year of master studies at the Department
                                                                                Medienförderung (MDM), Ministry of
 of Film and Television Directing. To this day, she made several short films    Culture, Media and Information Society/
 and documentaries.                                                             Serbia, Goethe-Institut Belgrade, Säch-
                                                                                sische Landesanstalt für privaten Rund-
                                                                                funk und neue Medien (SLM), FilmFestival
 ANA Ž IVANOVIĆ Production Manager                                            Cottbus and Filmverband Sachsen e.V.
 Ana is twenty-five years old and after graduating from the Faculty of
 Dramatic Arts in Belgrade – Department of Film and TV production, she
 started post graduated studies at the same school. During her studies
 she worked as an executive producer and production manager in many
 student movies. Also, she took part in the production of two features films.
 She was involved in the production of socially useful movies, too.

 DUŠAN RADENKOVIĆ Production Manager
 After graduating from the Faculty of Dramatic Arts in Belgrade – Depart-
 ment of Film and TV production, he started post graduated studies at the
                                                                                Contact:
 same school. During the studies he was working as executive producer           OSTPOL e.V.
 in many student projects. Also, he worked as executive producer of two         Augustenstr. 20
 feature films and several socially useful movies.                              04317 Leipzig / Germany
                                                                                phone: + 49. 341. 68 94 962
                                                                                info@ostpol-leipzig.de
                                                                                www.ostpol-leipzig.de
                                                                                                                               © weltprovinz.de

infokarten_ansichtssache3 4                                                                                   16.03.12 13:44
3
                                                                                      AN
                                                                                         SIC
                                                                                        SA HTS
                                                                                           CH
                                                                                              E

 MARIJA
 MARIJA
 MARIJA

 To devour or be devoured? Not in      Director Nebojša Nenadić              Cast
 Marija's world. The six-year-old      Screenplay Manuel Stallbaumer          Majda Vuković (Marija)
 restructures life: Without borders,   Director of Photography                Jasmina Avramović (Mother)
 without walls, without shackles.      Miloš Mitrović
                                       Editor Fed-a Hadžić                  Artistic Supervisors / Mentors
 Fressen und Gefressenwerden?          Sound Recording Mlad-an Matavulj       Cathy de Haan, Goran Marković,
 Nicht in Marijas Welt. Die Sechs-     Boom Operator                          Narcisa Darijević-Marković
 jährige ordnet das Leben neu:         Alessandro Toscano                     Executive Producer
 Ohne Grenzen, ohne Mauern,            Sound Design Nebojša Nenadić          Vera Schmidt, Aleksandar
 ohne Leinen.                          Production Design                      Ivanikov, Marina Fafulić
                                       Hristina Šormaz                        Producer
                                       Costume Senka Radivojević             Cathy de Haan, Zoran Popović,
                                       Make-up Artist                         Andrija Dimitrijević
                                       Jovana Vukosavljević, Ena Javić
                                       First Assistant Director
                                       Sonja Antanasijević
                                       Production Manager Irena -Dord-ević
                                       Organisation Workshop Belgrade
                                       Vanja Acimović

 Serbia / Germany 2011
 Running Time: 15 min
 Format: SD Digital / Color / 4:3
 Original Version: Serbian
 Subtitled Versions: English, German
 Sound Technology: Stereo

infokarten_ansichtssache3 9                                                                         16.03.12 13:44
3
                                                                                            AN
                                                                                                SIC
                                                                                               SA HTS
                                                                                                  CH
                                                                                                     E

 MANUEL STALLBAUMER Author                                                       ANSICHTSSACHE 3
 Manuel Stallbaumer, born 1990, grew up in Aidlingen, a small village near       is the third edition of a remarkable experi-
                                                                                 ment by the Leipzig association OSTPOL.
 Stuttgart. He graduated from Goldberg-Gymnasium in Sindelfingen where           The aim of this educational project is to
 he was a member of the theatre group and of several other projects. From        improve international understanding as
 2005-2009 he participated in writing workshops at the Literaturhaus in          well as to open up professional opportuni-
 Stuttgart where he gave his first readings and had his first release. He        ties for future international co-productions
                                                                                 with Germany.
 currently studies at Deutsches Literaturinstitut Leipzig (The German Crea-
 tive Writing Program Leipzig) and organizes the monthly public reading          Partners are Faculty of Dramatic Arts
 "Hausdurchsuchung". He mainly writes poems and was one of the finalists         (theatre, film, radio and television)
 of OPEN MIKE Berlin in November 2011.                                           Belgrade and Deutsches Literaturinstitut
                                                                                 Leipzig (The German Creative Writing
                                                                                 Program – DLL).
 NEBOJŠA NENADIĆ Director
 Born 1980 in Sremska Mitrovica. Graduated 1998 at a local high school           ANSICHTSSACHE 3 is supported by
                                                                                 Robert Bosch Stiftung, Mitteldeutsche
 for economics. From 2000 he's been working in Panč evo as a 3D-anima-
                                                                                 Medienförderung (MDM), Ministry of
 tor and editor. In 2005, he founded amateur film "company" called               Culture, Media and Information Society/
 "15 Minutes Pictures", that gathered film amateurs and wannabe film-            Serbia, Goethe-Institut Belgrade, Säch-
 makers. The group shot its first movies ("The Tamis Monster", feature film)     sische Landesanstalt für privaten Rund-
 with Digital-8 camera. Worked as director, writer, editor, cinematographer,     funk und neue Medien (SLM), FilmFestival
                                                                                 Cottbus and Filmverband Sachsen e.V.
 visual effects artist and music composer. He began studies at Faculty of
 Dramatic Arts in Belgrade at age of 27, on the Master's Desk for Film and
 Television Directing. His short "Red Poppies" has definitely secluded him
 from genre movies to more personal and poetic styles and themes. Direc-
 tor, editor and cinematographer of numerous music videos.
 Filmography:
 P.I.S.T. (2005) / BAD DAY (2005)– middle length
 ČUDOVIŠTE IZ TAMIŠA / THE TAMIŠ MONSTER (2006) – feature
 ZLA BABA / EVIL GRANNY (2007) – student short
 LARA CROFT (2008) – student short
 UBICA SA MASKOM / MASKED KILLER (2009) – student short                          Contact:
 ZVEZDA TRI / A STAR CALLED THREE (2009) – student short                         OSTPOL e.V.
                                                                                 Augustenstr. 20
 CRVENI MAKOVI / RED POPPIES (2010) – student short
                                                                                 04317 Leipzig / Germany
                                                                                 phone: + 49. 341. 68 94 962
 IRENA -DOR-DEVIĆ Production Manager                                            info@ostpol-leipzig.de
                                                                                 www.ostpol-leipzig.de
 Irena -Dord-ević is currently studying Film and TV production at the Faculty
 of Dramatic Arts in Belgrade. She has worked in many student films and
 TV projects as executive producer, production manager and unit produc-
                                                                                                                                © weltprovinz.de

 tion manager. Also, she took part in several productions of feature films.

infokarten_ansichtssache3 10                                                                                   16.03.12 13:44
3
                                                                                        AN
                                                                                           SIC
                                                                                          SA HTS
                                                                                             CH
                                                                                                E

 ŠTO TE NEMA
 WHERE HAVE YOU GONE
 WARUM BIST DU NICHT HIER

 A shared terraced house, a shared      Director Vladimir Tagić               Cast
 breakfast, a shared son. A couple      Screenplay Babét Mader                 Radmila Tomović (Bilja)
 share many things, but in this case    Director of Photography Ivan Kostić   Nenad Pećinar (Petar)
 not the essentials: Love has long      Editor Nataša Pantić                  Aleksandar Gligorić (Miloš)
 bid them farewell. Yet the yearning    Sound Recording                        Ivan Tomić (Zoran)
 thereafter is still alive.             Predrag Adamović,
                                        Uroš Krivokapić                       Artistic Supervisors / Mentors
 Gemeinsames Reihenhaus,                Sound Design Predrag Adamović,        Cathy de Haan, Goran Marković,
 gemeinsames Frühstück, gemein-         Stevan Milošević                      Oleg Novković
 samer Sohn – ein Paar teilt Vieles,    Production Design Ivana Lovre          Executive Producer
 nur nicht das Wesentliche: Die         Costume Milena Milenković,            Vera Schmidt, Aleksandar
 Liebe hat sich schon lange aus         Sonja Mrkobrada                        Ivanjikov, Marina Fafulić
 ihrem Leben verabschiedet. Doch        Make-up Artist Ena Jović              Producer
 die Sehnsucht ist noch lebendig.       Music Jadranka Stojaković             Cathy de Haan, Zoran Popović,
                                        (Singer), Aleksa Santić (Poet)        Andrija Dimitrijević
                                        Composer Predrag Adamović,
                                        Stevan Milosević
                                        Production Manager Tatjana Žeželj
                                        Organisation Workshop Belgrade
                                        Vanja Acimović

  Serbia / Germany 2011
  Running Time: 16:45 min
  Format: HD Digital / Color / 16:9
  Original Version: Serbian
  Subtitled Versions: English, German
  Sound Technology: Stereo

infokarten_ansichtssache3 1                                                                           16.03.12 13:44
3
                                                                                               AN
                                                                                                   SIC
                                                                                                  SA HTS
                                                                                                     CH
                                                                                                        E

 BABÉT MADER Author                                                                 ANSICHTSSACHE 3
 was born 1982 in Berlin. Since 2010 she is studying at Deutsches Litera-           is the third edition of a remarkable experi-
                                                                                    ment by the Leipzig association OSTPOL.
 tur institut Leipzig (The German Creative Writing Program Leipzig). 2008           The aim of this educational project is to
 she realised her first play "Das Spiel". In 2009 her first short film script       improve international understanding as
 "Coney Island Baby" was shot at Coney Island, New York.                            well as to open up professional opportuni-
                                                                                    ties for future international co-productions
                                                                                    with Germany.
 VLADIMIR TAGIĆ Director
 was born in 1986 in Belgrade. He is in his fifth year studying film directing      Partners are Faculty of Dramatic Arts
 at Faculty of Dramatic Arts in Belgrade. He is also studying literature at         (theatre, film, radio and television)
                                                                                    Belgrade and Deutsches Literaturinstitut
 Faculty of Philology in Belgrade. Vladimir made several short movies,
                                                                                    Leipzig (The German Creative Writing
 documentaries, commercials. He won an award for his screenplay for                 Program – DLL).
 advertising campaign "Against Violence in Sport". Movie "Good Morning,
 Mr. Petrovic" participated in several film festivals in Serbia. At international   ANSICHTSSACHE 3 is supported by
                                                                                    Robert Bosch Stiftung, Mitteldeutsche
 film festival "KRITERION" in Sarajevo in 2009, this movie got the prize for
                                                                                    Medienförderung (MDM), Ministry of
 best short fiction film. His film "Stevan M. Ž ivković " participated in nume-   Culture, Media and Information Society/
 rous of international film festivals, e.g. The Munich International Festival       Serbia, Goethe-Institut Belgrade, Säch-
 of Filmschools 2011. It won several awards. Vladimir was a participant of          sische Landesanstalt für privaten Rund-
 Sarajevo talent campus on Sarajevo film festival in 2010.                          funk und neue Medien (SLM), FilmFestival
                                                                                    Cottbus and Filmverband Sachsen e.V.
 Filmography:
 WJEŠTICA (2009) – documentary
 EUPHORIA (2009) – documentary
 GOOD MORNING, MR. PETROVIĆ (2009) – short/fiction
 STEVAN M. Ž IVKOVIĆ (2010) – short/fiction
 AWAKING (2011) – tv commercial
 WHERE HAVE YOU GONE (2011) – short/fiction

 TATJANA Ž EŽ ELJ Production Manager
 After graduating from the Faculty of Dramatic Arts in Belgrade, and enter-
 ing post graduate studies at the same, as well as the completion of the            Contact:
                                                                                    OSTPOL e.V.
 course at the London Film Academy, she won the UCLA fellowships in the             Augustenstr. 20
 United States. She began to acquire her experience in film during under-           04317 Leipzig / Germany
 graduate studies, but also through visits to various countries worldwide,          phone: + 49. 341. 68 94 962
 and has had the opportunity to participate in recordings and the realiza-          info@ostpol-leipzig.de
                                                                                    www.ostpol-leipzig.de
 tion of several foreign projects. In Serbia, she worked as a producer,
 executive producer, production manager or unit production manager, as
 well as the sector director in movies, TV shows, sitcoms and commercials.
                                                                                                                                   © weltprovinz.de

infokarten_ansichtssache3 2                                                                                       16.03.12 13:44
3
                                                                                           AN
                                                                                              SIC
                                                                                             SA HTS
                                                                                                CH
                                                                                                   E

 GOSTI SAMO ŠTO NISU STIGLI
 GUESTS ARE ABOUT TO ARRIVE
 GLEICH KOMMEN DIE GÄSTE

 Marija and her Cory's Shear-              Director Tea Lukać                    Production Manager
 water – two strange birds trying to       Screenplay Julia Walter                Nataša Janković
 survive in Belgrade. But one day an       Director of Photography                Organisation Workshop Belgrade
 unexpected visitor causes confu-          Igor Marović                          Vanja Ać imović
 sion... A little story about loneliness   Camera Assistant Uroš Milutinović,
 and hope.                                 Stašo Štih, Strahinja Marković        Cast
                                           Dolly Grip Ž arko Dudić              Neda Arnerić (Marija)
 Marija und ihr Gelbschnabel-              Editor Nataša Pantić                  Elizabeta Djorevska (Ž aklina)
 Sturmtaucher – zwei seltsame              Boom Operator Dora Filipović
 Vögel versuchen, in Belgrad zu            Sound Mix Boris Zaborski               Artistic Supervisors / Mentors
 überleben. Bis ein unerwarteter           Sound Recording / Design               Cathy de Haan, Goran Marković,
 Besuch für Verwirrung sorgt …             Dane Vlaisavljević                    Narcisa Darijević-Marković
 Eine kleine Geschichte über               Production Design                      Executive Producer
 Einsamkeit und Hoffnung.                  Veljko Stojanović                     Vera Schmidt, Aleksandar
                                           Costume Sanja Manakoska,               Ivanjikov, Marina Fafulić
                                           Jelena Antanasijević                  Producer
                                           Make-up Artist                         Cathy de Haan, Zoran Popović,
                                           Aleksandra Zlatanović,                Andrija Dimitrijević
                                           Ana Nedeljković
                                           Music Dane Vlaisavljević,
                                           Dimitrije Cvetković
                                           Composer Dane Vlaisavljević
                                           Aditional Assistant
 Serbia / Germany 2011                     Marija Stanošević
 Running Time: 14:15 min                   First Assistant Director
 Format: HD Digital / Color / 16:9         Raško Miljković
 Original Version: Serbian                 Production Assistant Dina Stipanić,
 Subtitled Versions: English,              Aleksandar Nećakov
 German
 Sound Technology: Stereo

infokarten_ansichtssache3 11                                                                              16.03.12 13:44
3
                                                                                             AN
                                                                                                 SIC
                                                                                                SA HTS
                                                                                                   CH
                                                                                                      E

 JULIA WALTER Author                                                              ANSICHTSSACHE 3
 Born 1983 in Schwäbisch Hall, studied Philosophy, Psychology and Ger-            is the third edition of a remarkable experi-
                                                                                  ment by the Leipzig association OSTPOL.
 man Literature Studies in Freiburg / Br. from 2003 till 2006. In 2007 she        The aim of this educational project is to
 did a practical training at the Verbrecher Verlag, an independent publisher      improve international understanding as
 in Berlin. She is a professional bookseller, from 2007 till 2010 she worked      well as to open up professional opportuni-
 at the Bücherbogen in Berlin, a bookstore specialized in art. Since 2010         ties for future international co-productions
                                                                                  with Germany.
 she studies Creative Writing at Deutsches Literaturinstitut Leipzig (The
 German Creative Writing Program Leipzig).                                        Partners are Faculty of Dramatic Arts
                                                                                  (theatre, film, radio and television)
                                                                                  Belgrade and Deutsches Literaturinstitut
 TEA LUKAĆ Director
                                                                                  Leipzig (The German Creative Writing
 Born 1989 in Sisak, Croatia, moves to Belgrade in 1994.                          Program – DLL).
 She wins the first prize at international film festival in Italy for her first
 short film, "Circle of Salt" in 2005, goes to numerous local and interna-        ANSICHTSSACHE 3 is supported by
                                                                                  Robert Bosch Stiftung, Mitteldeutsche
 tional workshops and festivals and enters the Faculty of Dramatic arts in
                                                                                  Medienförderung (MDM), Ministry of
 2008. She continues to make documentary and short fiction films, and             Culture, Media and Information Society/
 recently commercials and music videos. She's currently at her fourth             Serbia, Goethe-Institut Belgrade, Säch-
 year of studying film and tv directing at the Faculty of Dramatic Arts in        sische Landesanstalt für privaten Rund-
 Belgrade, Serbia.                                                                funk und neue Medien (SLM), FilmFestival
                                                                                  Cottbus and Filmverband Sachsen e.V.

 NATAŠA JANKOVIĆ Production Manager
 Natasa Janković is currently studying FTV production at the Faculty of
 Dramatic Arts in Belgrade. So far she has participated in making seven
 students' movies such as "Jovan Blagojevic's Last Call" (directed by
 Nenad Tesla), "Tales from the Grave" (directed by Damir Romanov) or
 "Package" (directed by Jelena Gavrilović). She has many years of experi-
 ence working as an anchor and editor of tv shows for children at several tv
 stations in Serbia such as RTS, Studio B, Channel D and Happy TV. Apart
 from the film production and journalism she is also highly interested in
 many other forms of art and culture.                                             Contact:
                                                                                  OSTPOL e.V.
                                                                                  Augustenstr. 20
                                                                                  04317 Leipzig / Germany
                                                                                  phone: + 49. 341. 68 94 962
                                                                                  info@ostpol-leipzig.de
                                                                                  www.ostpol-leipzig.de
                                                                                                                                 © weltprovinz.de

infokarten_ansichtssache3 12                                                                                    16.03.12 13:44
Partners / network

Faculty of Dramatic arts, Belgrad (FDu)
Faculty of Dramatic arts is a leading educational institution of higher learning in the field of theater,
film, radio and television in the Republic of Serbia and part of the university of arts in Belgrade.
thanks to the continuity of existence and sixty years of creative tradition, quality curriculum,
distinguished faculty and excellent conditions of study, it is prominent educational, artistic and
cultural institution, financed by the government of the Republic of Serbia.
objectives of the Faculty are: the discovery and training of talents, fostering creative and
intellectual abilities of students, encouraging free expression of ideas and the right to
communication, development of artistic, theoretical, managerial and cultural disciplines, and
constantly learning and improving. therefore, the Faculty of Dramatic arts has a leading role not
only in our country, but also in the region.
FDu is a member of organizations such as elia, enCatC, CILeCt, and also co-founder of the
international festival of mediterranean theater school – oLIve, european summer film school-
eSFS, Festival of International Student theatre-FISt...
www.fdu.edu.rs

Deutsches Literaturinstitut Leipzig (DLL)
the DLL is part of the university of Leipzig and germany's internationally most renowned school
for creative writing. each year, a maximum of only 20 students is accepted. apart from seminars
on prose, poetry and drama, there are courses on journalism, radio plays or screenplays. the
large number of successful graduates from the DLL (e.g. Saša Stanišić, winner of the Chamisso
Prize, juli Zeh and Clemens meyer) represents the vibrant german literature within germany and
abroad. as the students already have previous knowledge in literature, they are able to produce
competent screenplays for short films within a short time. the DLL supports us with substantial
supplies for the seminars accompanying anSICHtSSaCHe.
www.uni-leipzig.de/dll

Robert Bosch Stiftung
the Robert Bosch Stiftung is one of the major german foundations associated with a company.
It is both an operative foundation that pursues its aims with the help of its own programmes and a
grant-giving foundation that enables third parties to develop and realize interesting ideas – projects
and initiatives – in order to address social issues in germany and abroad.
there is a notion of creating a lasting impact, for instance as a platform that enables other people
to do something, and to achieve permanent change. For the foundation, it is very important to
convey knowledge and experience but also to change the attitudes and the behaviour of people.
this is why the foundation does not only award grants but also co-operates with individuals and
organisations that ensure a broader impact of its projects. the artistic director of anSICHtS-
SaCHe, Dr. Cathy de Haan, has been co-operating successfully with the Robert Bosch Stiftung for
several years. as a consequence, the foundation already supported the project anSICHtSSaCHe
since 2008 very generously. the foundation has a geographical focus on east-european projects
and anSICHtSSaCHe fits into this scheme with its partner countries ukraine, Poland and Serbia.
What convinced the Robert Bosch Stiftung most was the promotion of the understanding of nations.
according to the foundation, anSICHtSSaCHe's creative discussion of self-perception and the
perception of others was particularly beneficial in this aspect. Since 2008, the Robert Bosch Stif-
tung is the main supporter of the project.
www.bosch-stiftung.de

mitteldeutsche medienförderung (mDm)
Since its foundation in 1998, the mDm has supported an average of 100 projects annually with
approx. 12.5 million euros per year. It focuses particularly on the areas of story development, pro-
duction support, distribution and screening. the mDm is represented at most important festivals,
remains in close contact with producers and individuals or institutions that help to extend its impact
and seeks to establish international co-productions. the mDm is particularly delighted about the
fact that anSICHtSSaCHe 3 is a co-operation between germany and Serbia and might set the
path for future co-productions. Besides, anSICHtSSaCHe 3 meets the strategic goal of the mDm
to "further establish training courses and further education programmes related to practical work in
the region."
www.mdm-online.de

ministry of Culture, media and Information Society, Serbia
the ministry of Culture of the Republic of Serbia has overall responsibility for culture, which it partly
shares with the Secretary for Culture in the autonomous province of vojvodina.
ministry of Culture is the main body responsible for: policies and strategies for cultural develop-
ment, support for 25 cultural institutions of national importance, legal issues in the field of culture,
protection of the cultural heritage, and regulating and preparation of the laws relevant to the media
space.
www.kultura.gov.rs

goethe Institut Belgrade
the goethe-Institut is the Federal Republic of germany's globally operating cultural institution.
It promotes the study of german abroad and international cultural co-operations. It also fosters
knowledge about germany by providing information on its culture, society and politics.
the goethe-Institut has a large network of goethe-Instituts, goethe Centres, cultural societies,
reading rooms and exam and language teaching centres. together with its partners – the german
Foreign office or the Institut für auslandsbeziehungen (ifa) (Institute for Foreign Cultural Relations)
among others – the goethe-Institut organises german film weeks or other non-profit events
abroad. together with the goethe-Institut, we will draw up a plan to integrate the short films in the
abovementioned network. the goethe Institut Belgrad is supporting anSICHtSSaCHe 3 and we
are additionally exploring the possibility of support for our public relations work and further co-ope-
rations in Serbia.
www.goethe.de
Sächsische Landesanstalt für privaten Rundfunk und neue medien
(SLm)
the SLm is one of 14 state media institutions in germany. Its main task comprises the registration
and monitoring of private radio and tv programmes as well as media services in Saxony. the
legally required responsibilities include complementary cultural film funding. anSICHtSSaCHe
meets several of the required criteria, e.g. the promotion of young media talents in Saxony and
the setting of quality standards.
www.slmonline.de

Filmverband Sachsen – the Film Society of Saxony
Since 1991, the Dresden-based society of free-lancers and independent companies involved in
the film industry of Saxony, the Filmverband Sachsen e.v, has been representing the interests of
independent film and television companies and cinemas, film, television and video producers as
well as of film clubs and media studios in Saxony. the society currently has more than 70 mem-
bers including the International Dresden Film Festival and the Documentary Film Week of Leipzig.
It promotes the interests of the Saxon film industry on a regional and national level.
one of the main assignments of this non-profit society is to preserve and promote the development
of a regional and independent film sector within the growing media industry of Saxony and Central
germany.
the society also especially focuses on preserving the existing inventory and supporting the pro-
duction of animated cartoon films in Saxony and germany. Worth mentioning in this regard is the
fact that the renowned german Institute of animated Films (DIaF) in Dresden is also a member of
the society.
www.filmverband-sachsen.de

FilmFestival Cottbus - Festival of the east european Film
the Cottbus Film Festival is regarded as the most important festival of eastern european Cinema
worldwide. every year, filmmakers, producers and actors from eastern and Central europe meet
in Cottbus. the film industry platform "Connecting Cottbus" plays an important role in bringing
together filmmakers, producers and potential financiers. It even pushes some projects from the
first idea to the actual film. Cottbus Film Festival is a hallmark as a consumer and industry meeting
alike.With a representative overview of the current film production of the entire Central and eastern
european region, it has developed continuously into the leading festival for east european Cine-
ma. the premiere 2011 of the six german-Serbian short films will take place in Cottbus and the
filmmakers will have the chance to meet international professionals at the "Connecting Cottbus"
platform.
www.filmfestival-cottbus.de
Foto: mathias Bertram

juRy memBeRS

juRy meetIng on 3RD FeBRuaRy 2011 In LeIPZIg (from left to right)

DR. maRKuS göRSCH
Head of Department for international co-productions of
mitteldeutsche medienförderung mDm, Leipzig
www.mdm-online.de

DR. CatHy De Haan
tutor Deutsches Literaturinstitut Leipzig (german Creative Writing Programme // DLL)
Head of oStPoL e.v.
www.uni-leipzig.de/dll

PRoF. DR. HanS-uLRICH tReICHeL
Professor german Literature Literaturinstitut Leipzig (german Creative Writing Programme // DLL)
www.uni-leipzig.de/dll

RoLanD RuSt
Director Filmfestival Cottbus
www.filmfestival-cottbus.de

absent:
FRanK aLBeRS
Project Coordinator Film
Department Society and Culture Robert Bosch Stiftung
www.bosch-stiftung.de

DR. CHRIStIan LüFFe
Head of Central Division for Broadcasting, tv and Film
goethe Institut, International Headquarter munich
www.goethe.de

anDReaS RICHteR
Head of Central Division Programm jugendschutz Sächsische Landeszentrale
für privaten Rundfunk und neue medien (SLm)
www.slm-online.de
Die gewinner des
Drehbuchwettbewerbes

                                                            Foto: Mathias Bertram

Choleda jasdany, Dr. Cathy de Haan (Künstlerische
Leiterin), manuel Stallbaumer, julia Walter, Babét mader,
mónika Koncz, therese Schreiber (v.l.n.r.)
tutors

CatHy De Haan
aRtIStIC DIReCtoR anSICHtSSaCHe, juRy memBeR

goRan maRKovIC
FILm DIReCtoR

naRCISa DaRIjevIC maRKovIC
FILm anD teLevISIon DIReCtoR

oLeg novKovIC
FILm anD teLevISIon DIReCtoR

SteFan aRSenIjevIC
FILm anD teLevISIon DIReCtoR

Project manager
naRCISa DaRIjevIC maRKovIC
veRa SCHmIDt
tutoren und team in Belgrad

Stefan arsenijevic, vera Schmidt, vanja acimovic, narcisa Darijevic,
Katrin Haucke, Cathy de Haan, goran markovic, oleg novkovic
Workshop Filmschule Belgrad
21.03-27.03.2011 in Belgrade / Serbia
oStPoL e.v.

              oStPoL – which stands for "east Pole" – is located in Leipzig. It
              was established in 2008 as a non-profit association for promoting
              international cultural projects.

              oStPoL connects artistic initiatives originating in Leipzig with
              international partners and institutions. this cooperation forms an    51° 20' N
              interdisciplinary and intercultural dialogue that promotes the cre-               12° 23' E

              ative process and international understanding. Special focus is
              placed on supporting young and upcoming talent.

              the members of oStPoL are artists themselves who are active
              in different sections or represent organisations in the public sec-
              tor, or act as presenters and organizers of cultural events – and
              much more...

              the projects supported by oStPoL are either initiated by its
              members or brought to its notice by others who approach the
              organisation on their own initiative.

              Starting from its base in Leipzig, oStPoL is both locally and in-
              ternationally active, the objective being to establish networks and
              bring together like-minded people all over the world.

oStPoL e.v.                           Press Contact
augustenstr. 20
D 04317 Leipzig                       oStPoL e.v.
                                      Katrin Haucke
phone: + 49. 341. 689 49 62
                                      phone: + 49. 341. 306 76 86
info@ostpol-leipzig.de                fax: + 49. 3212. 115 78 10
www.ostpol-leipzig.de                 mobile: + 49. 176. 51 02 90 60

                                      presse@ostpol-leipzig.de
                                      www.ostpol-leipzig.de