JCX Coffee Brochure. McLane 2008.
If your browser does not support JavaScript, please read the page content below:
Coffeehouse Quality Now Convenient JCX™ was built on the belief that everyone deserves a great cup of coffee no matter where they choose to buy it. Our program allows you to offer the hand roasted specialty coffee your customers have been asking for in an eye-catching setting that's custom fit to your environment. Retailers see an average 30% increase in sales with the JCX program! Did you know? Hot dispensed beverages rank among the top 5 categories accounting for 70% of total gross margin dollars in a c-store!* *Source: "AWMA Update" April 17 , 2008.
http://awmanet.org/update/update.html (April 23,2008).
Convenience stores are in the middle of the morning coffee wars crossfire between coffeehouses and QSR's. "They need to decide whether they will be a battle casualty or step up to defend their turf."* In 2009, burger chains' share of specialty coffee servings increased from 9% to 11%—an increase of just over 22% from the prior year! An increase of two (2) share points is quite a jump, considering the coffee category in this segment was flat.** 3 * Source: Crawford, Mark. "The McCafe' Attack. " 22 February 2010. csnews.com. 8 March 2010. ** Source: Lisanti, Linda. "Feeling the Heat. " Convenience Store News - March 1, 2010.
The Perfect Cup At Java City™ we are committed to sourcing, roasting, and brewing the perfect cup of coffee by implementing our pillars of quality every step of the way. Pillars of Quality We will responsibly source from only the world's finest coffee farms. We will slowly hand roast our beans, locking in all of the natural flavors and aromas that give our coffee its uncommon smoothness. We will only use air to cool the roasted beans, producing coffee that is extraordinarily fresh. 4
2000 Java City merges with Bewley's coffee and tea in Dublin, Ireland 2002 Java City launches Java City Express™ , catering to convenience stores 2003 Java City introduces Eco-Grounds™ , a line of coffee that supports social, environmental, and economic causes in coffee producing countries 2008 JCX is born, ushering in Java City's cutting edge vision for specialty coffee in convenience stores 1985 Founded in Sacramento, California on the corner of 18th & Capitol Avenue Our Story 5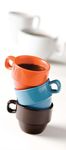 Your Customer Needs Increase your profits by meeting the demands of current and future specialty coffee customers. Top 3thingsthat influence beverage purchases* (76%)Taste (54%) Price (43%) Variety *Source: Chanil, Debra. "Convenience Store Shopping Behavior: Dispensed Beverages. " Convenience Store News Shopper Panel 2004: 58. Customer Need JCX Delivers Demands specialty coffee Starved for time Energy/caffeine Budget conscious Demands flavor options Comfortable environment Great tasting coffee with an uncommon smoothness Your customers won't need another stop Great alternative to those high-sugar energy drinks Coffeehouse quality at a fraction of the price Wide variety of creamers and cappuccino flavors Non-intimidating self-service atmosphere without long lines or fancy names 6
Sales Drivers *Source: "Realities of the Aisle. How C-Store Customers Shop. " A Supplement to Convenience Store News July 2004: 8. 7 JCX provides multiple touchpoints to bring customers into your store.
Sidewalk Sign
Gas Pump Topper
Window View Thru
Window/Gas Pump Decal
Customer Frequency Card Did you know? More than 50% of all gas customers pay at the pump and never enter the store at all!* STORE
8 Optimize Sales and Reduce Costs Airpots 1.5 Gallon Shuttles Cold Beverage So Placed away from set nex AIRPOT SYSTEM 1.5 GALLON SYSTEM 1.0 GALLON SYSTEM Double Black: Drive sales with highenergy coffee Cappuccino: Drive sales with quality and variety Travel mugs: Drive repeat business Hot tea: Average 79% profit margin Iced coffee: Capture additional sales with this creamy treat JCX is the one stop solution for your specialty coffee and tea, including hot and cold options.
9 1. Choose a coffee brewing solution AIRPOT SYSTEM Brewer with Airpots Serves up to 100 cups per day* Target up to 60 cups during peak demand* Space Requirement 6 to 8 ft of counter space 1.0 GALLON SYSTEM Brewer with 1.0 Gallon Airpots Serves 100–250 cups per day* Target 60–100 cups during peak demand* Space Requirement 8-10 ft of counter space 1.5 GALLON SYSTEM Brewer with 1.5 Gallon Shuttles Serves 200–500 cups per day* Target 100–400 cups during peak demand* Space Requirement Min. 12 ft of counter space 2. Choose program essentials Cappuccino
Iced coffee
Iced tea
Hot tea
JCX branded cups
Creamers
Sugar/Sweetener
Lids and stir sticks
3. Choose a beverage center solution
Single-Sided: for wall sets
Double-Sided: for island or window sets * Based on 16 oz cup Build Your JCX olution xt to ice supply. Iced tea: On demand, great taste profile, and operational simplicity
Equipment & Brewing Optimization Our team of experts will make sure that you have the right equipment to meet your brew demands at all times of the day. Profitability Morning (6 am - 10 am) Mid-Day (10 am - 2 pm) Evening (2 pm - 11 pm) Overnight (11 pm - 6 am) * Source: Bishop, David. "The State of Food Service. " 5 June 2007 . csdecisions.com. 12 May 2008. Did you know? 75% of all coffee is sold in the morning!* *Cost per cup includes product,16 oz cup, lid and sleeve. Volume and profitability subject to actual sales. PRODUCTS Coffee Cappuccino Hot Tea Iced Coffee Iced Tea Total Cost of Sale* $0.59 $0.68 $0.32 $0.80 $0.48 Suggested Retail Price (SRP) $1.39 $1.49 $1.39 $1.99 $1.39 Profit Per Cup $0.80 $0.81 $1.07 $1.19 $0.91 MARGIN 58% 54% 77% 60% 65% Profit & Margin Per 16 oz Cup Brew to match demand 10 Increase Retail Sales Finally, a specialty coffee program that increases both your sales and profits.
JCX will exceed your customers' expectations while generating the higher price point you need to drive your business. PRODUCTS PRODUCT MIX RATIO 500 400 300 200 100 Coffee 60% $240 $192 $144 $96 $48 Cappuccino 22% $89 $71 $53 $36 $18 Iced Coffee 10% $29 $48 $36 $24 $12 Iced Tea 6% $27 $22 $16 $11 $5 Hot Tea 2% $11 $9 $6 $4 $2 Profit Per Day $396 $342 $255 $171 $85 Profit Per Week $2,772 $2,394 $1,785 $1,197 $595 Profit Per Month $12,003 $10,366 $7,729 $5,183 $2,576 PROFIT PER YEAR $144,036 $124,392 $92,748 $62,196 $30,912 Volume Profitability Cups Per Day *Cost per cup includes product,16 oz cup, lid, and sleeve.
Volume and profitability subject to actual sales.
Dan Cox, president of Coffee Enterprises, Burlington, VT, shared his thoughts on what c-store operators can do to increase coffee performance: "The money is in selling coffee by the cup versus buying it by the pound. Do the math—coffee is 98.5% water, so start with good water and use enough of high quality coffee to achieve a great tasting cup. Consumers are now demanding great coffee everywhere they go... don't get left behind. " Dan Cox / Coffee Enterprises 11 "We have been a proud customer of Java City for many years and have had great success with capturing the morning commuter by offering their specialty coffee program.
RickTeske | Nella Oil
12 Our Coffee Taste for Every Palate We hand roast each coffee to lock in the flavors and aromas. We offer a large selection of bold, full, and smooth coffees to please every palate. TYPES OF COFFEE Smooth Pleasantly mild body, aromatic, and well-balanced Full A richer body, with pronounced aromas and flavors Bold A robust body, with a complex and rich flavor Flavored Rich tastes percolate medium-roasted, fine coffees Decaffeinated Same delicious taste profile, with the caffeine removed Coffees from Aroundthe World Our Roastmaster sources coffee from only the world's top crops, working with coffee farmers to find the most interesting and unique beans.
SUSTAINABLE COFFEE Java City works with growers who meet the environmentally, socially, and economically responsible standards that are critical to sustainability. These include Fair Trade Certified™, Rainforest Alliance, and certified organic coffees. Authentic specialty coffee so great, your customers won't go anywhere else!
13 76% 35% 34% 32% Refreshment Taste Mental Alertness Energy Boost Double Black delivers in all areas! Top 4 reasons customers purchase energy drinks: Complementing Products Double Black Extra STRENGTH, Extra CAFFEINE, Extra FLAVOR! Enter the heavyweight! Update and reinvigorate your coffee lineup by adding Double Black to your offering. Double Black brings extra profits and added value to your location. .03 / & .03&
'-"703 .03&
&/&3(: 53*1-&
4)05
.0$)" .03 / & .03&
'-"703 .03&
&/&3(: 53*1-&
4)05
.0$)" CAPPUCCINO HOTTEA SWEETENERS Triple Shot Mocha™ Your customers are going to love the extra caffeine, extra mocha taste, and extra energy from Triple Shot Mocha.
IcedTea Quench their thirst and bring in profit margins of 65% with superb flavors of Bewley's iced teas. Iced Coffee This delectable treat is the perfect way to bring in mid-morning and afternoon traffic. With a profit margin of 60%, how can you resist? Additional Products Each brew solution has the following products available to satisfy all of your customers' tastes:
Support 14 "Since installing the Java City program, we've experienced a 33% increase in coffee profits, and have increased cups per day sold. We are seeing new clientele and have received a positive response from our longtime customers.
It has been a great improvement compared to our previous program. We are happier with our coffee, service, and increased coffee sales. " Mike Butzis | C-Store Management
Support
Program implementation
On-site specialty coffee training
Professional account management
Quality assurance visits
National equipment service network
Distribution network Customer Care Java City has a team of customer service professionals located at our corporate office ready to serve you. 877.528.2289 www.javacity.com
Java City 1300 Del Paso Road Sacramento, Ca 95834 800.528.2289 www.javacity.com © 2008 Java City Inc. All Rights Reserved. JX-1890 Distributed by: