Purple friday participation guide 2019 - LGBT Youth Scotland
If your browser does not support JavaScript, please read the page content below:
Purple friday participation guide 2019 - LGBT Youth Scotland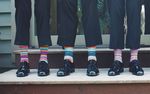 THE THEME FOR 2019 IS... February is LGBT History Month and on the last Friday of the month we celebrate Purple Friday - a day to stand against homophobia, biphobia and transphobia and show our support for LGBTI equality. The day, first celebrated in Canada in 2010, is named after the purple stripe on the LGBT rainbow flag, representing "spirit". In Scotland we celebrate Purple Friday in support of LGBT Youth Scotland. This day is all about taking action; standing for equality and inclusion and helping us make Scotland the best place for LGBTI young people to grow up.
This year's Purple Friday carries the same theme as the LGBT History Month: CATALYST: 50 years of activism. This theme marks the 50th anniversary of the Stonewall uprisings in New York in 1969, and the birth of the modern Pride movement. While we remember the people and events in the past that have kick-started the movement and brought about positive change for the LGBTI communities, we want to encourage you to be a CATALYST for change today and pledge your support for LGBTI equality. You can support Purple Friday by following #LGBTCatalyst on social media and tagging others who you would like to encourage to also be a catalyst for LGBTI inclusion and equality.
PURPLE FRIDAY PARTICIPATION GUIDE 2019 lgbtyouth.org.uk 22ND FEBRUARY IS PURPLE FRIDAY!
GET INVOLVED We have put together this guide to make it as easy as possible for you to join in with Purple Friday celebrations. Here you can find information on the three simple ways to get involved and links to resources you can order to use in your school, workplace or group. 1. DONATE TO LGBT YOUTH SCOTLAND There has never been more demand for our work as we see more young people come to LGBT Youth Scotland seeking support at points of crisis in their lives, often as a result of the painful impact of discrimination, rejection and isolation.
You can help us support these young people by making a donation to LGBT Youth Scotland via our fundraising page: FUNDRAISE FOR US 2. SIGN UP FOR THE LGBT CHARTER The LGBT Charter is a straightforward programme that enables your organisation to proactively include LGBT people in every aspect of your work, protecting your staff and providing a high quality service to your customers or service users. Send a positive message that your organisation is a champion of LGBT inclusion where LGBTI employees, customers, or service users will be safe, supported and included. LGBT CHARTER LGBT SCHOOLS CHARTER Click the link above to find out more about the LGBT Charter and how it can help your organisation be more LGBT inclusive.
Click the link above to find out more about our LGBT Schools Charter and how it can help your school be more LGBT inclusive for learners and staff.
PURPLE FRIDAY PARTICIPATION GUIDE 2019 lgbtyouth.org.uk DONATE NOW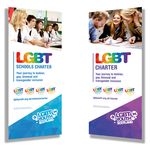 3. TURN THE MAP PURPLE! If you would like to pledge your support and stand together with activists of the past and present for LGBTI equality, pin a photo of yourself on our interactive map of Scotland and help turn it purple. We want you to take a photo of yourself (alone or with friends or colleagues) next to a local landmark, in your office or school, or just in a place that means something to you. You might want to wear purple or hold up a printout of our Catalyst megaphone (downloadable here).
Email us the photo and let us know your name and location, or tweet it using the hashtag #PurpleMap and we will pin the photo to our map of Scotland. When a local authority gets 25 purple pins on the map, that part of the map will turn purple. We want to turn the entire map purple with your help! EMAIL US TWEET US PURPLE FRIDAY PARTICIPATION GUIDE 2019 lgbtyouth.org.uk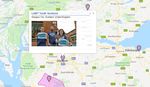 FUNDRAISING IDEAS Are you looking to raise vital funds for LGBT Youth Scotland but in need of some inspiration on what to do? Look no further! We have put together some tried and tested fundraising ideas to help you get started. Feel free to adapt these to suit your school or place of work. Swap the school uniforms or business suits for some purple. Participants pay a small fee to take part and not to worry if you don't have an entire purple outfit to hand – even a purple accessory such as a hairband or a hat, trainers or a t-shirt will do the job!
On your marks, get set, bake! Turn an ordinary bake sale into a special Purple Friday fundraiser by placing your cakes on your rainbow flag.
When people buy a cake they take it off the flag and sign their name in the space to say they are an ally for equality. Combine this with an order of our #LGBTCatalyst badges and when the cakes are long gone (and let's face it they never last long) people will still have their badge to wear with pride or pass on to their own LGBT catalyst. DRESS PURPLE DAY RAINBOW BAKE SALE GIVE IT UP!
71% of LGBT young people report being bullied in school because of their identity and this can be very isolating for them. Are you always glued to your phone, checking Facebook, Instagram and tweeting? Why not get your friends and family to sponsor you to give up your phone and social media for a day to experience a little bit of social isolation. Remember to tell us you're doing it beforehand as you'll not be able to tweet on the day! You can set up a Virgin Money Giving sponsorship page here. PURPLE FRIDAY PARTICIPATION GUIDE 2019 lgbtyouth.org.uk
RESOURCES You can order your resources via our website and either pay online or request a purchase order.
Please do so before 22 January 2019 to enable us to fulfil orders in time for Purple Friday. Our resources are limited so please order early to avoid disappointment. Please note: orders using a purchase order will not be fulfilled until the invoice is paid. RAINBOW FLAG TRANSGENDER FLAG CATALYST BADGE 15P PER BADGE (MIN ORDER 50) £4.50 EACH £4.50 EACH POSTAGE & PACKAGING FLAT FEE ON ALL ORDERS £3.50 LGBT Youth Scotland is a company limited by guarantee (No.SC244805) and a registered charity (SC024047) © 2018 PURPLE FRIDAY PARTICIPATION GUIDE 2019 lgbtyouth.org.uk
Going to next pages ...
Cancel